8/9/13

ART THAT RACES
It is still there for the looking, though admittedly less frequently as race cars become more regulated and uniform.

It's that little unexpected gem, that twist of creativity, skill in craftsmanship, that funky reuse of a discarded piece. You can see it in the approving smile of the passerby in the pit area.

Over the last couple of decades rat rodders have stretched funkiness into a whole new methodology – eye candy for sure, though sometimes over the top with the stale skulls and cross bones. In drag and oval-track racing, however, "rat" has been less purposeful, more coincidental.

Unquestionably, necessity has challenged many the racer to the off-the-wall solution for speedy repair. Case in point is in the photo above. Hunter "Hot Shoe" Bates, barely 14 years of age, was in his rookie year in a dirt modified at Devil's Bowl Speedway in Vermont. One night he mega-slammed the wall in his heat race, mangling his front end. But his Green Mountain team was full of beans and was going to make the main, thank you very much. Wrenches started flying. One stuck, helping piece together the front clip. The splint was unsightly and risky for sure, but don't laugh. They made it through the night. Hunter was track champion the next year at 15.

In other cases, probably artistic funk starts with someone looking around his or her garage shelves to find the solution to a problem. One of the most popular and grittiest stock car performers on the East Coast over the last 40 years has been Hall-of-Famer Peter "Travelin' Man" Fiandaca. Who could come even close to the number of races Pete has run with such painfully limited resources? Ask anyone about Pete and his cars. Usually blue, usually #135, brush-painted, they will tell you, along with some story about how he struggled to a win somewhere and commented in Victory Lane, "I'm not the fastest, but I got here first." And then, more often than not, they will tell you about the piece of art that symbolized Pete for years. His air cleaner.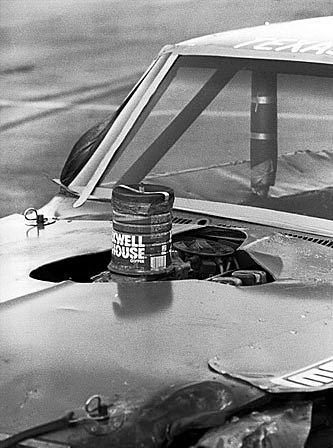 (Howie Hodge Photo)


Everyone in racing constantly carries on about money. It's been going on for a lot
of laps. Approaching the 1970 season, we were putting together a modified in our
garage on a shoestring. It came time to sort out the ergonomics. Despite being
monstrously impressed with Linda Vaughn, we were in no shape to order a Hurst
Golden Shifter. A couple of old tire irons did the trick, though looking at the
arrangement today, we were pretty nuts.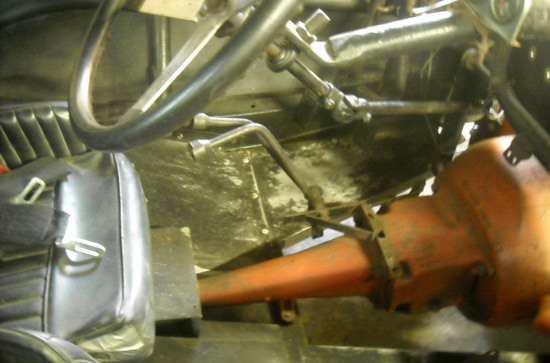 (Coastal 181 Photo)


It's just not in stock cars. Here's a caption and photo from a book we will be
bringing out next month with Joyce Standridge: DID YOU SEE THAT? Unforgettable
Moments in Midwest Open-Wheel Racing. "Shhh. Don't tell the Illinois Department of Transportation about the old road sign serving as a floorboard in the Kenny Brown-owned, Steve Knepper-wrecked car. The statute of limitations has run out for this 1998 caper, right? That's Dennis Mann (#44) and Bill Bauer (also #44) on the right. It's at the now-shuttered 16th Street Speedway in Indy."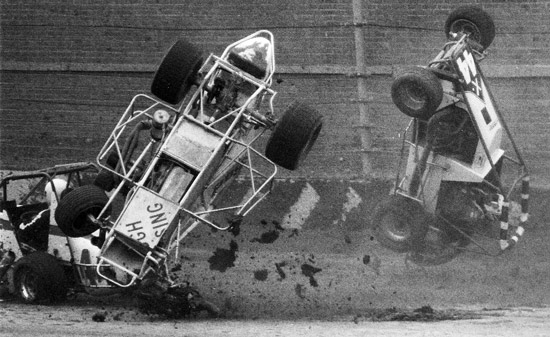 (Kevin Horcher Photo)
Last weekend was this year's Celebration for the Maine Vintage Race Car
Association at Beech Ridge Speedway. Lots of old-time race cars reappeared,
including some rough-and-ready bombers from back in the day. This particular Ford
coupe was built in 1959, raced a couple of years by George Wentworth, and
subsequently bought by Plum Potter. One thing to take to the bank: That shock
mount wasn't goin' anywhere, even though bomber racing was then a contact
sport. Formed from an axle it was, of course, solid steel. And you have to love the
steering arm headed south in circular fashion to hold the top of the second shock.
Few folks had the wit to think weight in those days.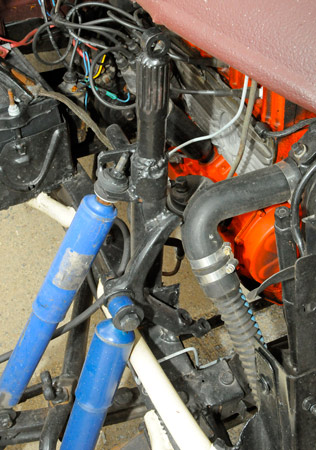 (North East Motor Sports Museum/Dick Berggren Photo)
You could see it at straight-line shows, too. Small can be beautiful. In the 1950s,
Scott Fern of New England's Strokers club built a rail dragster from the ground up.
It featured a truly minimalist front suspension. It might be called a "one point".
Note that single rubber biscuit!
On and on it went, the art of racing funk. Sometimes it even brightened the winter
months. Long-time friend and engine builder Jeff Mackay built this keepsake for
Illinois' favorite journalist, Joyce Standridge. She says, "This is Darrell, so named
because his jaws are perpetually open."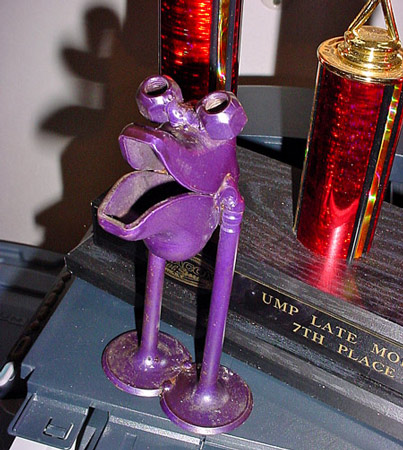 (Joyce Standridge Photo)