4/23/13

RACING NORTH OF THE BRIDGE – BOB BUSHLEY AND
THE P-38s
Folks refer to Maine, that Northeastern protrusion from New England, as "Down East." It's different. You sense it instantly motoring over the border, the huge Route
95 bridge above the Piscataqua River. The land in Maine is flatter, awash with scrubby pine trees in sandy soil, never far, it seems, from that jagged coastline and the
thousands of storybook little islands just beyond it.

Mainers have their own way of doing things. Even their dialect is quite famously different from the rest of the country. The same could be said about its racing.

Maybe it's the geography, or maybe just that bridge. But back in the day, few racers would cross the state line to compete. Down East racing developed with its
own brand of cars and its own stars.

Way back in the later 1940s, a hard-jawed, no-nonsense heavy equipment operator from Windham caught that vapor-trail fever. Over the next four decades he and his grainy-looking race cars came to symbolize the funky but ferocious competition of his
area and era.

Bob Bushley Sr. first buckled into open-wheelers, most notably Tommy Phelps' wire-wheeled big car that allegedly ran the Brickyard pre-War.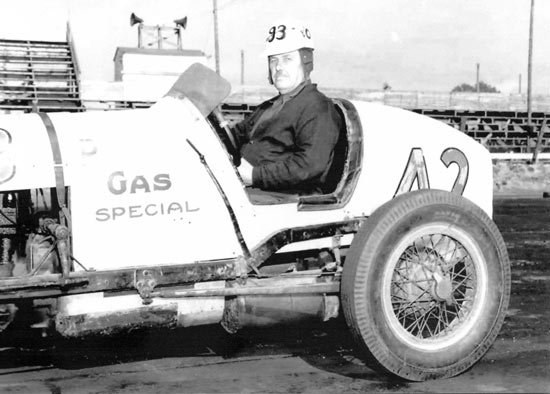 Bob Bushley – mustache and wire wheels. (Bushley Family Collection)


As stock cars flowed into pit areas across the nation – even Maine, Bushley manhandled coupes such as businessman Andrew Glance's P-38 over the rutty dirt
of Beech Ridge, Oxford Plains, Unity, and the like. He began to win prodigiously, soon in his own P-38 square-top coupes, even with warriors such as Ernie Gahan, Ralph Cusack, and Dick Garrett there in full combat. Both he and his cars were well known for their speed and their industrial strength.

That's Bushley in the P38 square top on July 4, 1952. Folks down Maine
were into their racing. (Bushley Family Collection)
But by 1962, Bushley's focus had changed. He'd become fascinated by a rough and tumble young truck driver who, largely unnoticed, was running bombers at
Beech Ridge. To everyone's amazement, Bushley hired him. His name was Homer Drew.

Bob glued together a "round top" cut down for his new shoe, fashioned after Andy Smith's infamous #99, an early A-framed super from Beverly, Mass. The little red
P-38 was no beauty, even when freshly built, but it was the talk of the pits. Given the crater-like holes at Maine tracks in those years, the clever Bushley replaced the
A-frames with a hearty twin I-beam front end, suspended on two coils with inflatable air bags inside to set the wedge.

It was one sturdy piece and a rocket ship from the start, the start of one of the most successful owner-driver combos in racing history. Bob's young sons, Bob Jr. and David, became the enthusiastic crew.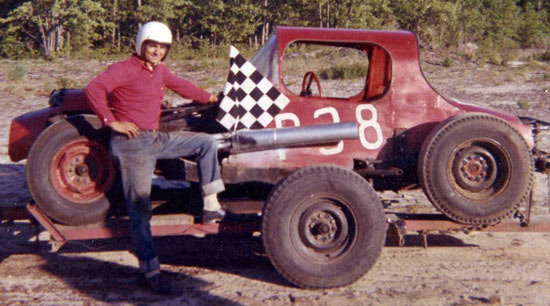 Bob Bushley saw the spark in a young Homer Drew and trained him with
that first "round top." (Bushley Family Collection)
It took Homer Drew, super-aggressive and extraordinarily fast, about ten laps to develop into a world-class chauffeur, as natural at twisting a wheel as his owner was at twisting a wrench. At Beech Ridge, Homer seemed to play to a rhythm and groove all his own, high, wide and handsome. Though he was completely in control, the crowd would regularly back away from the backstretch fence as he motored out of
turn two. It looked like there was no way he wouldn't slam into it full throttle.

David Bushley remembers Homer telling him, "I don't drive the car, I let it float." Veteran Maine racer Bruce Elder says something quite similar. "He didn't really drive
the car. That would mean they were two different things. He wore the car."

Bob cobbled together a new round-top P-38 in 1964, no more expensive, no prettier, no lighter, but even faster. They won the Ridge championship in 1967 and 1968. Tales abound about how they broke every normal technical procedure in our sport. Once the steering wheel came apart, so Bob sent Homer back out to finish the feature with vice grips in its stead. And that night a push rod broke in qualifying. Bob simply
pulled the plug out, and off went Homer, hissing and squeaking. David recalls Homer saying, "Yup, that motor was numb, but we got 'em," after winning again.

Maybe the most memorable performances, though, came farther up Route 95 in Sunday-night open competitions after Bob Bahre had purchased, rehabilitated, and paved Oxford Plains Speedway. Homer took that unsightly dirt car, weighing in at 2900
-3000 pounds, right to the podium, whupping some of the best equipped, shiniest asphalt modifieds in the East.

Aside from Homer, a lot of the magic came from Bushley's hand-built motors. Friend Mike Sargent commented, "Bob sure could put together some horsepower. All the right parts in all the right places. But all the rest of the show – that was just negative
eyewash to him."

Over the course of the seventies, Bushley did begin buying chassis from the outside world. In '73 it was an offset super Clyde Booth had built for Star (N.H.) Speedway. Eddie Skofield had taken a sky ride in it, so Bob clipped it and added a few hundred pounds of beef. They won the Beech Ridge championship that year.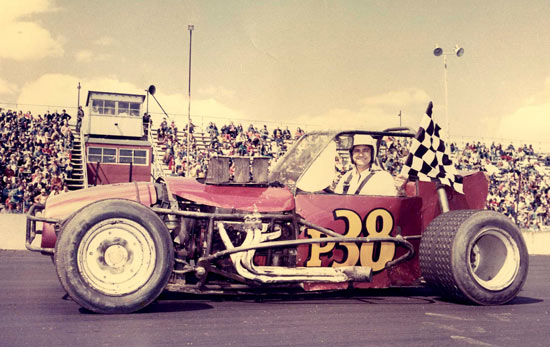 1973 and another championship at the Ridge. (Bushley Family Collection)


By now little could apparently stop the Bushley-Drew momentum, not even the devastatingly sad death of Bob Bushley Jr. in a sprint car at the Ridge in 1974.
Drew was soon lightning fast in a P-38 ex-USAC sprinter that Bob Sr. bought in Ohio and adapted to the Bushley way.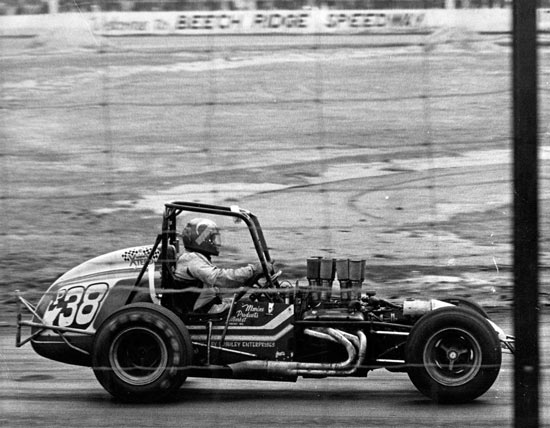 The sprinter was no special challenge for Drew. (Bushley Family Collection)


By 1980 the open competition cars were gone from Beech Ridge, so Bushley went to Massachusetts and purchased a torsion-front, spring-rear Pinto modified from the equally creative and tight-fisted Lenny Boehler.

It was only fitting that later that summer Homer romped to the win of the Bob Bushley Jr. memorial race in Scarborough. David recalls that during qualifying a rear main sprint leaf broke. His dad took it out and over to a local shop, and carefully welded it back together. Telling the disbelieving tech guys that he "would take full responsibility," Bob stuck it back in for the win. David claims that in actuality they ran it for a couple of weeks before they could locate a new one.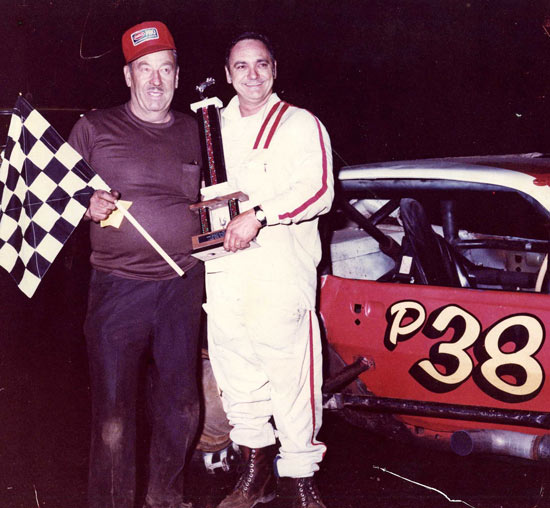 Bob Bushley and Homer Drew celebrate their win in the ex-Boehler Pinto
in the 1980 memorial race for Bob's son.

Over the eighties, Homer and Bob backed down the pace, and Bob began traveling with David, with supers, a Busch North episode, and modifieds. It had bothered
Dave that when he started racing, his father never came around. He was always at the other end of the pits with Homer. Finally, Bob did start showing some interest. In the later years on the road together, David was still upset and he asked his dad about it. Bob Sr. responded that he never wanted anyone to think that David had been given any silver spoon in racing. "No one helped me, so I'm not going to help you." Once David had shown his stuff and did some winning, Senior lightened up. Reflecting on that today, David comments – still pensively, "You know, I guess my Dad WAS pretty crafty."

In 2000, as if breaking down that bridge separating Maine and New Hampshire, Homer Drew was the first Maine driver to be inducted into the New England Auto
Racing Hall of Fame. Bob Sr. was there at the induction, but by then in very poor health. He leaned over to his long-chosen shoe and said, "Homer, this will
be our last great win."

In 2004, both Homer and Bob Sr. were inducted into the Maine Motorsports Hall of Fame. With a tearful speech, David accepted on behalf of his family. By that
time his dad passed away.

© 2013 Lew Boyd - Coastal 181

If you were interested in this Tearoff, you might enjoy the book below: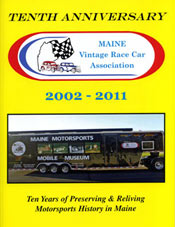 Maine Vintage Race Car Association: Tenth Anniversary 2002-2011

Ten Years of Preserving and Reliving Motorsports History in Maine