9/7/13

SPEED RICO
If youíve been to a high-end sprint car or midget show in the last couple of years, youíve likely seen him race Ė and, chances are, he blew your head off. If you havenít, stay tuned to his channel.

21-year-old Californian ďSpeed RicoĒ Abreu is red hot, just a rung or two behind his buddy Kyle Larson on the lofty ladder to racing stardom. Amazingly, Rico is also, as racing journalist Dennis Mattish puts it, ďthe fastest little person in the world.Ē

Equally amazing, though, is how fast Rico has come up to ďspeedĒ in some of the worldís most challenging racing. Before 2008 he had never stepped foot in a race car Ė even a go-kart, save in his back yard. But in January of this year, fresh back from sprint car racing in Australia, he received the loudest applause in the house at the Chili Bowl. He was on his hurried way to a spectacular 2013 season, dancing on the clay all over this country Ė Canyon, Belleville, Knoxville, Tulare, and on and on. Heís been back and forth to the Midwest like a ping pong ball.

To say this kid is unusual Ė and delightful - is an understatement. He took time out with me for a lap or so last week, and we talked about where he came from, what the dynamics of a little person in racing actually are, and what he would like to accomplish in the future.

Hereís what he had to say:

Iím out here in St. Helena, California. We have a family vineyard out here, but my Dad is really in the vineyard- management business. He manages the field work for 26 other ranches. I work with him some, but honestly Iím off racing most of the time.

There was no racing at all in my family. We did have some family friends who raced karts, and I thought that was cool. I first saw that when I was eight. But then one night I got to go to Calistoga and see the 410s. Wow. I had no idea something like that existed. Jac Haudenschild! I loved it. It stuck.

I got hooked. I pushed and pushed about racing, and I guess my parents were okay with it. For Christmas of 2008 they got me a real kart. I have to stress that we knew totally nothing about racing, but we were able to hook up with some good people. But, you know, even today I donít know many people from the racing community. Especially the old-timers.

Things went quick from there. It was from karts to 360s to 410s to midgets and then back and forth. I started racing a lot and that really helped me along. Brent Kaeding was a mentor in early sprint car days, and we were based in his shop. But I think he stopped telling me everything when I got faster. Oh boy. That comment will get him going!

I never got intimidated by racing, but I have had a problem with overthinking it. When things didnít go well, Iíd get very down on myself. I wanted to be successful so quickly. We had so little background I didnít understand all the ups and downs. But I have progressed, and itís a treat. Itís cool to be called the fastest little person.

I think I can keep up the progress as long as I keep racing just as much as I can. I try to compare myself to Kyle Larson. Weíre close. He tells me just to be myself more.

This year has been a big boost. My decisions are better and so are communications. And Iíve been surrounded with great people Ė like Keith Kunz with the midget and Paul Silva with the sprint car.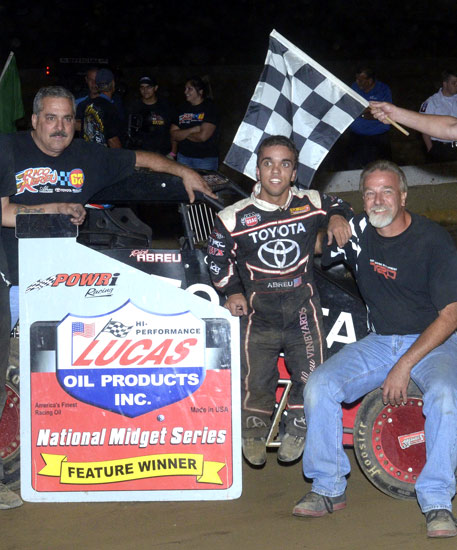 In 2012 Rico popped into Belle-Clair, Illinois, for a Midget show. He won despite two trips to the back of the pack in the feature. As Joyce Standridge recalls, there were some serious slide jobs along the way and the grandstands went wild. Thatís Uncle Jimmy Abreu on the left, Keith Kunz on the right. From DID YOU SEE THAT? Unforgettable Moments in Midwest Open-Wheel Racing, by Joyce Standridge.
(Allen Horcher Photo)


As a little person, I donít think I have any special advantage or disadvantage. Iím comfortable racing anyone. Weíre all the same when we buckle in and do what we have to do. But Iíll tell you 410s are the toughest. Theyíre my favorite. The guy who wins has the biggest heart.

I donít think Iím any different in strength than anyone. If you run a 30- lapper non-stop on a track that is heavy from rain, it can wear anyone out. Iíve talked to Kyle about that. He can do it two or three times a day. The trick is relaxation and breathing. Iíve got that down. I donít work out regularly; I race regularly.

There is actually one advantage to having my structure. Iím probably safer than others in a race car. Iím lower, the seat is a little more forward, and my feet are more away from the torque tube.

We donít really have to do much to the cockpits, especially the midgets, but we do put in six-inch pedal risers in the sprint car.

I havenít given a lot of thought to the future. Let the river take me where it flows. What I have set my mind to, though, is to have people admire what I do. I want to prove that anyone can do what they love if they put their heart and soul in it.

Right now I just want to keep racing. I want to run 90 shows a year and win a bunch of them. I believe I have the ability. I do love sprint cars, but I guess that Indy Car racing and Sprint Cup have to be a superior goal for any racer. Iíd like to get there, but Iíd never attempt to buy my way in. No way. And no way would I want to be there because I am a little person. I would want to go in just like Kyle Larson Ė because people could see that I was just that good.
© 2013 Lew Boyd - Coastal 181

If you were interested in this Tearoff, you might enjoy the books below:

DID YOU SEE THAT?
Unforgettable Moments in
Midwest Open-Wheel Racing

by Joyce Standridge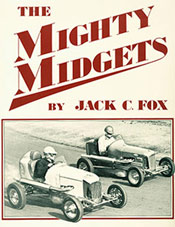 THE MIGHTY MIDGETS
by Jack C. Fox

Midget Chassis Technology
by Steve Smith & Wally Pankratz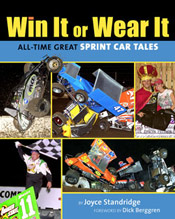 Win It or Wear It

by Joyce Standridge