3/8/13

DAVID'S DESTINY
That #22 isn't all that different from hundreds of other center-steer modifieds being busily prepped right now for the 2013 season on New York State's dirt tracks. Though it might not have all the trick-city bells and whistles or a $35,000 motor, the 22 is beautiful – carefully, even lovingly, assembled.

What makes this particular Bicknell stand out from all others is its brand. That brand – the flaming 22 – reaches back nearly 60 years in the Mohawk River Valley. Back to the 1950s, back to the birth of rock and roll, back to the emergence of its legendary first wheel-twister, Pete Corey.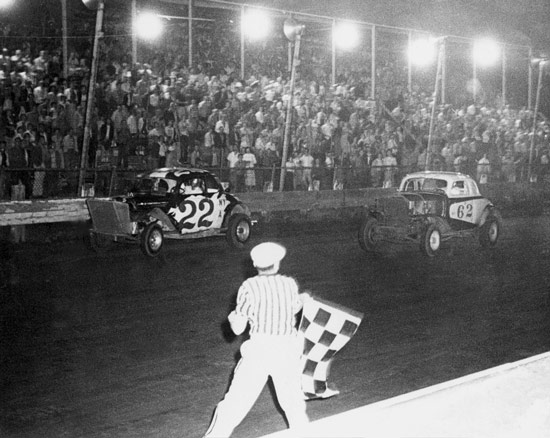 Pete Corey in an epic score with the Bob Whitbeck #22 out of Canajoharie in 1957. (R.S. Berg Photo, Ramona Feuz Collection)


Fifty years ago, on opening night 1964, the brand was oh-so-tentatively assumed by a lanky 16-year-old rookie from Canajoharie named David Lape. Green as the river bank in May, he hero-worshipped Corey and Bill Wimble and Steve Danish. He was determined to make a go of it on Fonda's dusty warpath. And so he did.

It seems beyond imagination that the same Dave Lape will be in that red car, yet again chugging onto the half-mile oval for warm-ups for the Fonda opener next month. Consider just what that means. Beyond all the other tracks he frequented during the week and on Fridays and Sundays, Dave Lape has spent the last 1,000 Saturday nights doing battle on one of the most spirited bull rings in the country.

No question David has made his mark. Over the decades, he himself became the brand and the legacy. With 99 wins at Fonda, he stands behind only Jack Johnson and his ol' buddy from Utica, Lou Lazzaro. He has seven championships at the Montgomery County oval alone, countless top-five finishes, all spiced with frequent Most Popular Driver awards. At one point, overwhelmed by groupies, David chirped, "You know, the real purpose of the catch fence is to keep the fans away from the drivers."

Especially remarkable is that in the vast percentage of his races over five decades – whether at Fonda or afar – David was his own crew chief, aboard his own car, often on top of a chassis he designed and welded up himself. He has had considerable support from sponsors/owners over the years – the Knapfel Brothers, the Grims, Dick Putman, Fred Burrows Andy Romano, the Palmers, and Pat Riley – and he treated them equally respectfully. His relationship with Fred Burrows lasted 17 years.

David persevered with calm and competence. Though a professional race car driver, his budget often seemed to be about $50 a week, while some of his competitors appeared to be spending big on musical cars. In the winter of 1970, David built the car that really brought him to prominence. He rode it for six years, first with Camaro and then Caddy coupe tin. He estimates it galloped along for over 400 shows before collapsing.

It's so interesting to talk with David these days. A definite wild streak from his youth has worn smooth, and he no longer travels hither and yon. Instead he has concentrated on Fonda, and he and wife Jackie and daughter Jessica have settled into a spectacular home he built himself overlooking the Valley. Over the years he has become increasingly interested in racing history, as if to validate the Herculean effort he has made for so long in the sport we all love.

At age 66 it takes David quite a while to climb into the tiny and scarily inaccessible cockpit of a dirt modified. He injured his back badly at Fonda, once hitting a rut viciously in the Burrows car and once flipping endo after breaking a spindle a couple of years back. He no longer blasts flat out into turn one, the left front of the Caddy coupe solidly up in the infield as if to give him more rear bite. Nor does he run so much up in the popcorn groove by the Cow Palace, where he flung the Romano Bicknell on his way to Victory Lane. But, when the track is good, the kid from Canajoharie is still truckin' the brand. The form is still there.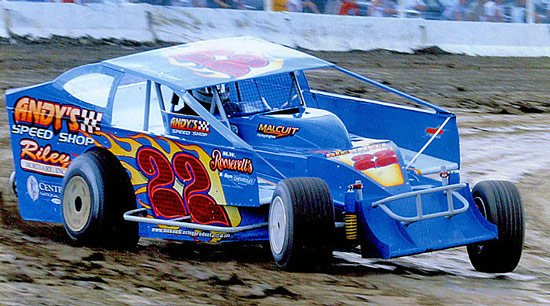 David tempts the cushion off turn four. (Otto Graham Photo)
The new red car and this '13 season will both be David's last. Tribute events will be held to honor him at Albany-Saratoga, Utica-Rome, and Fonda.

Thousands of fans are wondering if David might somehow pull out win #100 at Fonda. If he ever could, those old covered wooden grandstands would be rocked and rolled like never before. David, though, seems curiously uninvested in that thought. He seems to be quietly appreciative of what he has been able to accomplish throughout his career. "Sure, win 100 would be cool, but what means more to me is the 50 years. Honestly, I don't believe anyone could ever beat that."

David, I think you can take it to the bank.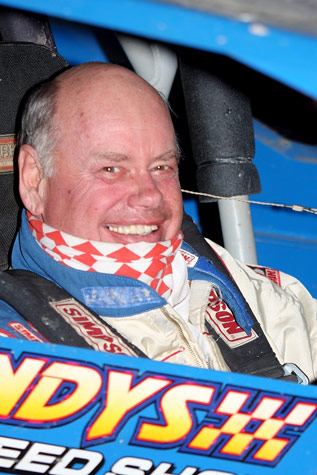 (Lape Family Collection)


© 2013 Lew Boyd - Coastal 181

If you were interested in this Tearoff, you might enjoy the book below:

I'LL NEVER BE LAST AGAIN
– My journey from dirt-poor dairy farmer to NASCAR National Champion to Lifelong Entrepreneur



by Bill Wimble with Lew Boyd

THE HOME OF HEROES:
Fifty Years of Racing at Utica-Rome Speedway



by Bones Bourcier

MODIFIED STOCK CAR RACING OF THE '60S & '70S: An Illustrated History Featuring the Drivers, Cars, and Tracks of the Northeastern U.S.



by Steve Kennedy