10/7/13

JOY IN RACING
It's not that there's not good racing anymore. Quite the contrary.

After 60 years of taking in the action, the most gripping competition I have ever seen came just this year when the Swindells, Sr. and Jr., toured the Chili Bowl at warp speed, lap after lap, that peach fuzz demi-god Kyle Larson dancing off their front and rear bumpers.

And anyone who watched will tell you what an over-the-top fabulous spectacle preceded Tony Kaanan's gleeful gulp of milk at the 2013 Indy 500.

So why would it be that the most passion and gaiety of any other show this year came last weekend at the annual reunion of the Pines Speedway in Groveland, Mass.? Why would it be that a retro day for gray hairs at a backyard track shuttered since 1973 would outdraw anything else in the area?

Sure, there are the canned responses: the sad state of our economy for all but the gated few; the ridiculous costs of running competitively virtually anywhere; the unfortunate pall cast over the sport by recent shenanigans in NASCAR; the intolerance of yuppie neo-neighbors that threatens the continuation of so many
short tracks.

What the Pines popularity may be speaking to is a lost sense of community. Even contentious situations among racers were often laced with humor and quick wit. Just maybe in these serious and unsettled times it's an underlying, special joy about being a racer that has been ground down.

Case in point. Our first book here at Coastal 181 was THEY CALLED ME THE SHOE, the autobiography of one of the East's greatest modified dirt slingers. Ken Shoemaker, the consummate tough guy, was dying, and he described his racing in a gritty way, but threads of humor and joy ran throughout. Consider this incident, just after he came into the pits at Lebanon Valley one night from warming up Tony Trombley's car. "We were experimenting with tunnel ram induction, and the linkage was sticking, which could create a dangerous situation. While we were talking, a guy who insisted I'd passed his car a little rough, kept putting his nose in my face. I kept telling him, 'Just let me finish with my car owner, and I'll give you all the time you want.' He wouldn't quit bothering me. So I excused myself from Tony, moved Tony aside, and gave this guy a good smack. He flew right over the top of one of those dual-height roller took boxes. I figured the situation was over, but sometimes life ain't that easy. It turns out that the guy was my son Keith's automotive teacher over in Hudson. Oh well."

And, wow, how about that Rene Charland, the multi-time NASCAR national champ who died earlier this week! In my own racing years, I wanted more than anything else to win a modified show at Fonda, N.Y. It was a tall order, and it proved too tough for me. But one night I was especially close – and I honestly thought it would be mine. That's until, with just a few laps to go, Rene snuck by me under a caution flag oh so cleverly, and undetected, went on to win. Quite possibly I have never been madder at a human being in my whole life. I marched right over to "da Champ" to give him a piece of my mind (and my broken heart). A crowd gathered as I approached, and Rene reached for his pocket and shot me right in the face with a water pistol. With a big grin he announced, "Kid, nobody f–cks the f–cker!" What could I do but smile at myself, load up, and start that 250-mile journey home?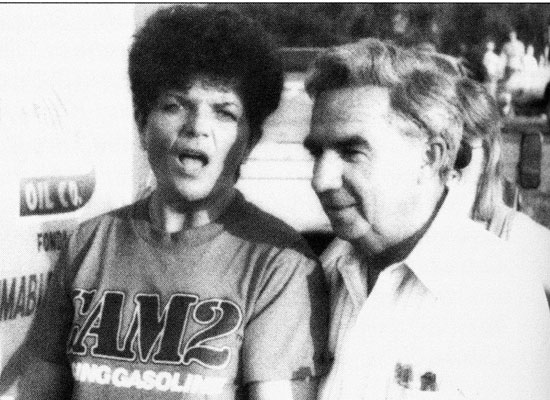 Rene Charland greets a female fan. Racing season was goosing season.
(From FONDA! by Andy Fusco, Lew Boyd and Jim Rigney. Miller Photo)


Dave Dion, now a major player in the Living Legends group down in Daytona, is a former Pines racer who emerged as one of the Northeast's most popular late model drivers. Dave operated on wooden pennies, crewed by his amazing brothers, and in 1978 they had a short-lived but rather adventuresome fling with the Grand National circuit. A couple of races in, at Richmond, the green Yankees, on used tires, shocked the Southerners by time-trialing fourth, behind Darrell Waltrip, Neil Bonnett, and Cale Yarborough.

You can feel Dave smiling when he reminisced with Dave Moody in their book LIFE WIDE OPEN. "First lap, second turn, Neil's car gets sideways, caught the wall, and spun right in front of me….and drilled me in the left rear corner. All I could hear was Cale – now buried in my driver's door – wide open. He was trying to spin me all the way around and continue on, and, when I heard that, I locked up the brakes. I thought, 'You Sonofabitch, if I'm going, you're going with me.' All three of us slammed into the wall….

"I came down the pit road at about 100 mph, we pried the fenders back, and I hustled back out to beat the pace car. Just as I got to the end of pit road, there was Cale's wrecked car with Junior Johnson himself trying to beat the sheet metal back into place. Junior saw me coming and shook his fist at me. I flew by like I was shot from a canon, and just as I got to Junior, I stuck my hand out the window and gave him the finger.

"I'll never forget the look on his face if I live to be 150 years old."

A favorite – and more recent – example of that old-time, joyous thrill in the outrageousness of racing was on July 18, 1987 on the shores of Lake Ontario.
Bentley Warren and Doug "the Young One" Heveron were engaged in a battle royale in the $10,000-to-win Mr. Supermodified title feature at Oswego. On and on they dueled until into the third turn they flew, neither knowing that someone had just blown a motor. Oil treats each of its recipients differently. Bentley took a brutal hit sideways on the wall, while Doug piled in nearly head-on. There was wreckage everywhere. Just recently Doug recalled the incident with Bones Bourcier. "We both clobbered that wall so damn hard. Got out of the cars and lay down on the track, both of us kind of dazed and amazed. But then we looked at each other, realized neither was badly hurt, and started laughing. We'd had so much fun racing those previous ten laps wheel to wheel we couldn't help it. The ambulances were coming and there are the two of us, lying there laughing. I'll never forget that."

May we please have some more of that in 2014?