2/20/13

RACIN' WRECKED
It's been going on for decades – race teams competing day after day, week after week, with an impossibly overloaded schedule.

There were the traveling midgeteers in the post-War boom, headed by the legendary Pappy Hough, who was said to lead his caravan of "Little Pigs" race cars, tooling down endless Eastern highways, eyes wide open but sound asleep.

More recently there's UMP's Summernationals (aka "the Hell Tour") when the dirt late models rack up thousands of miles through the steamy Midwest heat with only a night or two off along the way. The tour is so physically demanding that towards the end, car wash wands are pointed more on the drivers than the cars – to cool them down and wake them up.

It's easy to wonder just what impact this kind of relentless fatigue would have on performance. How about those East Coast NASCAR Sportsman and Modified point chasers in the '60s who raced from the Gulf of Mexico to the Gulf of Maine, typically 100 or more events in a season! I've talked with a bunch of them about it over the years.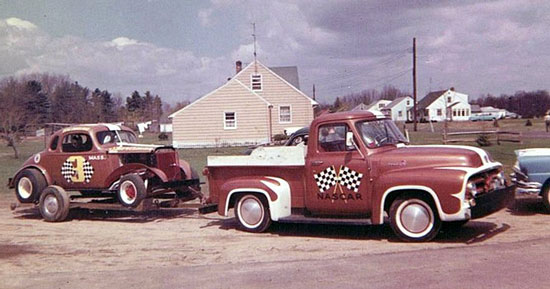 Rene Charland's luxury on wheels back in 1961.
(Jeff Martel Collection – North East Auto Racing Photos and Memories)


Multi-time Sportsman champ, Rene Charland (rig pictured above), gave his usual wise-cracking answer about how the trials affected him. "The travel was hard on those other guys but different for me. I had two guys all the time, and they would take turns driving down the road. Me? I was king. I could sleep on the floorboards between them. That's why I beat everybody."

Ernie Gahan, top modified man in 1966, remembered a particular ride home to New Hampshire, after finishing up a week with a 400- and a 200-lapper on Sunday in upstate New York. "Oh my God, those years were something. That Sunday night I don't believe I had slept since Thursday, but I had to get home for Monday morning. I was coming up over Hogback Mountain and I got so damned tired that all I could see out of the windshield was darkness. I just grabbed onto that wheel, gritted my teeth, and waited for the crash….But, before it came, everything suddenly stopped. I realized I had already pulled the truck off the road and fallen asleep."

And Bill Wimble, in his book I'LL NEVER BE LAST AGAIN, recalls: "Many nights I would be in bed at home just two nights a week. With the farm and racing, my sleep deficit grew and grew, and it became scarily evident. One morning I woke up with my car's front bumper against a neighbor's mailbox. I had run Montreal the night before, driven back to Lisbon, and fallen asleep at the wheel. I rode right across their lawn, never waking up."

Just recently Denny Zimmerman (former modified "Eastern Bandit" road warrior, subsequent Indianapolis Rookie of the Year, and current midget racer) ruminated about his experiences. "I usually traveled alone, following Eddie Flemke. Generally speaking I was okay, though I did run off the Thruway near Trenton, New Jersey, once, falling asleep."

The really compelling issue, though, is whether sleeplessness can also compromise on-track driving performance so dangerously. Denny thinks not. "I found I could easily doze off all buckled up, in line, ready to go out. But once you fire up that race car, the adrenalin really takes over. Racing is intense. There's that focus that comes over you."

Likely Denny is right that adrenalin has been a savior. It certainly would be an interesting question for a sleep research team. There had to be something that has kept so many American racers on the move and out on the track for all those weary circuits. No one I talked to could provide an example of a driver who crashed because of sleep deficit (and admitted it).

But one thing is for sure. There is a fine line that can't be crossed. Enter any other variable - like partying, and there can be big trouble.

Everyone admires former national champion Bugsy Stevens, even the more if they have read the book BUGSY! he did with Bones Bourcier. Bugsy's wisdom and stark honesty are apparent throughout. Speaking of his modified point-chasing days with Lenny Boehler, he wrote: "We raced in Baton Rouge on a Saturday night. I got tangled up with some of those Louisiana boys after the races. They hauled me down to this tavern, and we had ourselves one hell of a time. I crawled out of that place skunk drunk at 3:00 a.m. …I ended up sleeping in the car.

"As soon as it got light, someone woke me up, and at 6:30 I was on a plane to New York City. Then we landed a small plane in a cornfield just down the street from Thompson (Connecticut Speedway), and a few minutes later, I was walking through the pit gate like a hero.

"Some hero. Later that afternoon, I was halfway down the back straightaway when everything went dark. All I can figure is that I must have passed out from the hangover and lack of sleep. That coupe hit the third-turn sandbank running wide open, flew over some trees, and nosed into a swamp.

"Was it stupid? Of course it was. The crash could have killed me, and it all went back to that barroom in Baton Rouge. I've got no real excuse for it. All I can say is that those were different times."
© 2013 Lew Boyd - Coastal 181

If you were interested in this Tearoff, you might enjoy the books below: