1/23/14

ON THE PLANE FROM TULSA
What a boon to the economy out there in Tulsa – and such sweet thunder for race fans in winter.

Over the last 27 years, the Chili Bowl has emerged as one of the most engaging – and thrilling – annual events in all of motorsports. For miles around the River Spirit Expo Center each second week in January, all restaurants, bars, and hotels are three-deep with folks colorfully branded with open-wheel shirts and paraphernalia.

The facility itself is mind-boggling – a building sprawling enough to accommodate a grandstand for 15,500, a near quarter-mile dirt track, an adjacent pit area large enough for 300 Midgets, their trailers, a trade show, likely 300 beer stands, and every Hooters girl in mid-America.

The five days of racing, weeding this year's crop of 281 entries down to 24 Saturday night A-mainers, went by in a flash. Anyone who witnessed it will take home an impatience for dragged-out events. For racers it spelled the end of tiresome suggestions like, "You can't win on the first lap" or "Let the race come to you." You're balls to the wall when the green drops or you're on your way home.

On Sunday morning flying home, everything still loomed so fresh, so large. It seemed natural to lean over to the guy sitting next to me and ask him how many years he had been coming.

He smiled. "My name's Bob Berryhill. Let's just say that I used to have a company called the Chili Bowl." As you can imagine, that was the end of reading the newspaper for the rest of the flight.

"I'm originally from Tulsa and have been around racing forever. I got to be a hobby racer. Like my older brother, I ran Midgets for years around Oklahoma and Arkansas. Sure would have liked to go farther, but I had my family – and that business.

"A long time ago, my dad, a real entrepreneur, started a little restaurant in Tulsa called the Chili Bowl. That was fine, but it didn't stop just there. You know the expression that a bumblebee is not supposed to be able to fly because of its weight and small wings, but it does. Well, that was us.

"Over time we started doing frozen chili in pans like bricks after hours and delivering them to grocery stores in a '47 Dodge. Hard, hard work, but it began to grow. We were becoming a food-service business.

"By the mid-eighties we were really cookin'. We were private labeling for companies, Walmart and others. It's hard to believe but we were the largest frozen chili company in the country.

"One day I heard Emmett Hahn and Lanny Edwards were trying to start this midwinter, indoor Midget race. I had known those guys for years, so I called them to see if I could help. They said sure, so I sponsored them. It was really an issue of me liking them and liking racing rather than any commercial benefit. By that time I did not even have a retail product to advertise.

"It just seemed that back then in 1987 everything merged together. You know, Tulsa used to be the home of oil and oil exploration businesses before Houston. Their expositions were what the Expo Center was built for. It was so perfect. So was the location – right in the middle of the country where everyone could reach it – with great local infrastructure. And everyone could use some racing in January, the time of all the bowl games. And didn't my company name just sound perfect?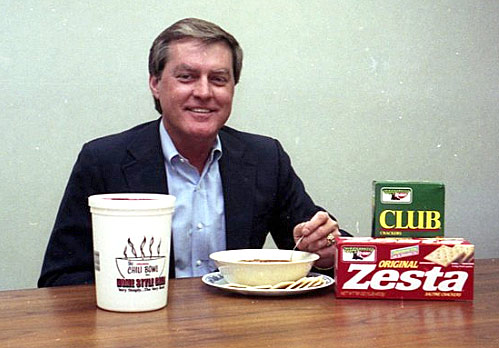 Bob Berryhill chows down on a bowl of chili in a publicity shot for sale
of his company. (File photo Tulsa World, Bryan Hulbert Collection)


"The first couple of years were so-so. A few days before the first one, Rich Vogler flew down to help with the PR. What a great guy. In the race he ended up beating just over 50 cars. At the time they were mostly local guys with local equipment.

"But the racing was good. Emmett and Lanny were very clever to use that same gumbo clay that Emmett knew from racing so long himself on the adjacent fairgrounds track. They still store it and bring it out, working it in, as they know how to do so well.

"And, if Lanny is brilliant with the track surface, Emmett is the same with marketing. He realized he had to spice things up a bit, so he started bringing in more "name" drivers – the Swindells, Jeff Gordon, etc.

"By 1990 it was really hot. But Emmett had had to do his magic. I remember one drivers' meeting when the locals were fussin' about the hot dogs coming to town. Emmett told them, 'I don't want to hear anymore. You guys are supposed to be race car drivers and you run Midgets all year long. You should have a big advantage. This is your chance to whup Tony Stewart, so buckle up and get out there.' Case closed.

"I was still sponsoring the show in 1990. But, by coincidence, on opening day that year I closed the sale of my business to the Keebler food people. Of course, I invited them to the event to see if they wanted to continue the sponsorship, but the dirt-track environment was like pouring soup on their suits. It wasn't a golf tournament, so they left. But the Chili Bowl name was a fixture, so it stayed.

"I've been coming often, though I had to miss a few with an illness. All I have seen have been phenomenal. How about last night's?! I will never forget the year JJ Yeley and Tony Stewart went flat out, side by side, lap after lap, both front wheels on both cars way up in the air going down both straightaways. Pure motorized artistry.

"It's hard to know what will happen with the Chili Bowl next. I'm sure that Emmett and Lanny have discussed bigger venues like the Astrodome, but I'm not sure that would work. In my view, it's the intimacy of the Chili Bowl that is really special. The fans are right on top of the action and they can communicate with the competitors. It's all right there. And rumor is – and I can imagine it is true – that the Show Down for the Kart, Micros, etc., for the younger racers the week before, pays for the whole two weeks. I suspect, though, with Lucas and MAVTV we could see some future developments.

"In 1991, after my company sold, I went racing with my son Aaron on the World of Outlaws tour. He was Rookie of the Year, a real thrill. And it was a big thrill to watch him beat Smoke in a heat race at the Chili Bowl and go on to run fifth in the main until getting boxed up with a couple to go.

"Aaron got really badly hurt in a sprint car flip at Devil's Bowl, Lanny's track in Mesquite, in May of 2011. The poor kid has had successive operations on his leg and is STILL healing. But 2014 will be another big one for the Berryhills. My grandson Tanner, Adrian's boy, will be at Daytona in a Nationwide car. They are working real hard, but this economy is near impossible for racing at that level."

The plane's door popped open. We were already in Dallas.

I must admit there were no visible Chili Bowl tee shirts on the flight up to Boston. Folks were more bundled up, anticipating the next winter storm. But a couple rows up sat Jim and Scott Martel, New England's popular father/son Supermodified racers.

Bet Scott was the only one on the flight who has won at Oswego.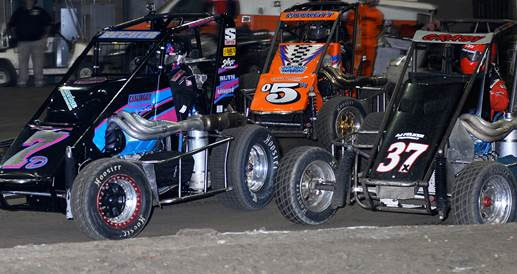 Traffic pattern on the gumbo. (John DaDalt Photo)
© 2014 Lew Boyd - Coastal 181
If you were interested in this Tearoff, you might enjoy the books below:

Distant Thunder: When Midgets Were Mighty





by Dick Wallen

THE MIGHTY MIDGETS

by Jack C. Fox
Eastern Midget Classics - DVD