5/11/14

INNER TOUGH
He's fresh on the scene, but long on the genes.

Sure, racing has been in Brad Keselowski's family since the world was young. But his own meteoric rise through the ranks to both Nationwide and Cup championships and 37 NASCAR wins has been simply glorious.

You'd have to be pretty talented to pull that off, riding so hard on that ragged edge. But, beware going over it - making a mistake, because things can get pretty lonely, pretty quickly.

Earlier this month Brad was on the hammer at Talladega, determined to dig out of some sub-par outings. All of a sudden, six laps down, he swapped ends in front of the pack. It was a big one, wadding up 14 cars, top names, top teams.

Needless to say, folks were far from pleased as Brad came back to the pits. He accepted full responsibility for the carnage. "I don't know what happened. I just spun out in front of the whole field."

What kind of psychological process do you think Keselowski went through the next week to get ready for Kansas - to stay tough, with the confidence to take it to the limit again in front of another 100,000 fans and worldwide television?

Most any race car driver will tell you that's hard to do, regardless of the scale of his or her racing.


Back in the mid-seventies, we had a rudimentary, minimally funded dirt modified based in the Boston area. We were focused on the unlikely goal of winning at Fonda, New York, a tough half-mile dirt 250 miles to the west, and paying for it by running locally.

The season had started out with promise, but blown engines, rears, wrecks, and those endless stretches of highway ground through our energy and resolve.

The final race, a Christopher Columbus 100-lap open competition, was coming up, and our mentor, a wonderful New England Hall of Famer, Bill Welch, told us about how he'd had a luckless season back in the fifties. For the last race, he painted his car black, lettered it #4, and won the feature. So much for our blue and yellow #181. Out came the brushes.

It turned out to be a cool, damp night out in the Mohawk Valley. The pits were full of cars - maybe 60 modifieds. But those were the days before innumerable support divisions, so it seemed the track might stay fresh. There was some comfort to that thought because we missed warm-ups.

Co-owner Bruce Cohen went to draw for our heat-race starting position. Of course. It was last in the fourth and last heat.

Gary Balough, Tommy Hager, and Stanley Wetmore won their qualifiers. As we chugged out for the heat, there was a nice cushion, a nice deep surface. It made me feel a little racy.

Off we went, and our little black #4 felt good. And better. And better. With two to go, we were second, behind a famous gasser from Western New York, George Ely. After working the upstairs a couple of times going into turn three, I crossed and snuck under him for the win. That was cool because the main was going to have a heads-up start.

We didn't touch the car for the feature. We wouldn't have known what to do and we surely had no fresh rubber.

Everyone was all over me to take it easy for a while, and I so did. The four of us pulled away from the field regularly during that typical series of Fonda cautions.

Again our car and our little Lenny Boehler-built 427 seemed pleased with themselves. We eventually got by Stan Wetmore, the popular, smooth-driving New York legend, and went after Tommy Hager. That was another story.

Hager, up from the wars in Pennsylvania and New Jersey, was some aggressive wheelman. He was all the more formidable when he climbed out of the cockpit of that #43. His nickname was "Beef."

Tommy and I went at it for a couple of laps. Then, at about half way, he seemed to snag a rut off turn four and bounce over half a groove. I dove under him, but he wasn't having any. We hit. And Tommy was out of the show.

Terror went through me like a harpoon through a tub of butter. Surely Mr. Beef would be there sizzling at the end of the race, waiting for me. But I had other things on my plate at the moment. Suddenly I realized we were running second to Balough and I never noticed that Tommy subsequently loaded up early and went home.

Balough was, as always, lightning fast in the Ferraiuolo #73. But something strange happened. I found that after a couple of laps of building momentum, I could run with him. Especially in that third "graveyard turn," I could haul it in flat out, up against the cushion. The sensation was joyful - almost spiritual.

There were a couple more cautions, and I began to feel that the starter was actually favoring us. Right before restart, I would drop back a couple of lengths and then gas it - and he would let us go.

The only problem was one lapped car, driven by a Fonda veteran who had gone temporarily nutso. He almost cleaned us out when we slipped by. On the next lap, out came the red. He had flipped violently and completely self-destructed.

That's when I got a look at the gauges. Not good. Our oil pressure was fluttering.

When the green came back out, with just a few to go, we were right there with Gary. If anything, he seemed to be slowing. Overheating? Maybe we could win this thing!

And, then, out of the blue, out came the black. When I saw that flag, my heart dropped. I assumed we must be smoking, that our beloved Boehler 427 was coming apart.

When I pulled into the pits - in the infield in those days, the crew waved wildly for me to go right back out. The black flag was not for us. IT WAS FOR RENE CHARLAND.

Emotions going wild, I took another lap, looked at the fading oil pressure, came back in for a couple of quarts, and rode it out.

I remember as if it were yesterday how grim I felt coming in after that race, in 20th . I feel exactly the same way about it today.

The car was surrounded by people reminding me with huge condescending smiles that I could easily have won if I weren't so stupid. It was a very quiet ride back to Boston - and you can imagine how the media and the rumor mills were buzzing the next week.

I have just loved racing and have been able to stay at it for 43 years. I even won a few along the way, albeit not at Fonda. But I will tell you this. That Christopher Columbus night - all those seasons back - did one big number on me.


Man, that Brad Keselowski must be an awful lot tougher than I am.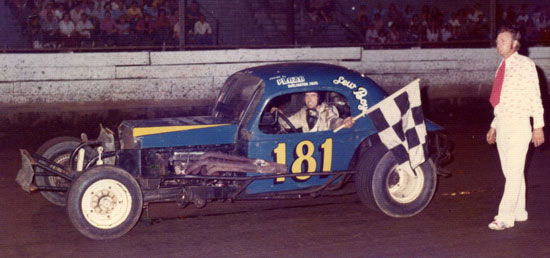 A Fonda feature never came our way. Here's one of a number of qualifying wins. But note the trail of power-steering fluid lubricating the track… (John Grady Photo)
© 2014 Lew Boyd - Coastal 181



If you were interested in this Tearoff, you might enjoy the book below: