11/10/13

SHARP GUY
Sometimes up here in the Northeast we can get a little defensive about our racing.

Sure, we have not achieved the notoriety of some other areas – the 'shine'-soaked hills of the Southeast and their down-home roster of early NASCAR "runners," those spongy dirt ovals in the Midwest that bounced the best of their broad-sliders onto the bricks of Indy, the road courses and dry lakes where the more glamorous Southern Californians played.

But, in actuality, New England has had its full measure of extraordinarily talented hot shoes.

It has been the charge of the Connecticut-based NEAR Hall of Fame to recognize these history-makers, and the group has done so impressively, with nearly 120 inductees to date. One of the most pleasing – and unusual – aspects of NEAR is that its aim is to cover all forms of motor racing – large track and small, ovals, drag, and road racing. The annual HoF banquet was held Sunday, November 10. My charge was to introduce Bob Sharp, the perfect prototype of a self-made racer and entrepreneur par excellence, as presented in the induction remarks below: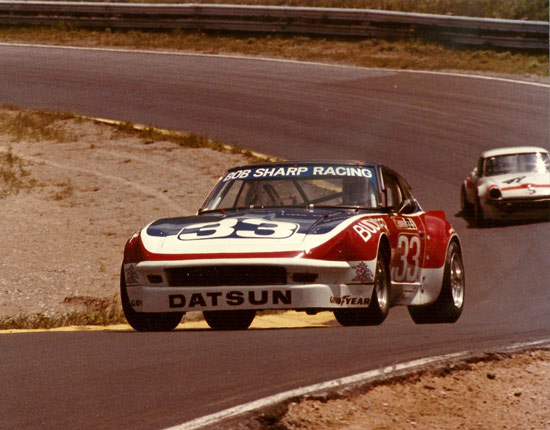 The Sharp brand in a hurry.


There is no question that over time we have enrolled a glorious list of racers into the NEAR Hall of Fame, but there is also no question that we are three laps down in the area of road racing. We have honored Phil Walters and John Fitch, but there are many more extremely successful competitors in New England's annals. What a pleasure to be here today to introduce the next of them, Bob Sharp, clearly an exceptional talent.

The storyline begins in the 1960s in a leased Gulf station in Ridgefield, Connecticut. Bob Sharp was fresh out of a middling college career. Little interested him except the marketing classes. Now he was pumping gas and pumping out used cars, but he was obsessionally focused on his $1700 bugeye Sprite and the Corvette that towed it.

Just 16 years later, he had won countless races, six national SCCA championships and the IMSA GTU crown.

This meteoric success was self-made in every way. He landed what was likely one of the very first factory sponsorships in the sport. He built a robust racing enterprise nationally recognized for both technology and driver development.

Weekdays he leveraged his car lot to a case study in dealership and real-estate development, on its way to peddling over 2000 units a year, Datsuns, Ferraris and Maseratis among their number.

Beyond just plain passion and hard work, three attributes seemed to interweave to make it all possible.

First, that interest in marketing. Bob was a lateral thinker, who could think creatively but with focus and purpose. How he talked a group of Japanese guys into factory-backing a team based in a gas station is storybook stuff.

But that accomplished, he turned his focus to precision in engineering and preparation. It paid off on the track and in the showroom. He lured enthusiasts to his facilities with race-proven performance upgrades. His red, white, and blue #33s became a nationally recognized brand. It's curious to consider how popular they became – so similar to the red, white, and black #33 modifieds wheeled to national championships by Bill Wimble. What a treat to look over at that table and see them sitting together.

And, it was precision on the track as well. Bob was calm, cool – there at the end of the race. He was like Eddie Flemke. Bob told me that in 17 years behind the wheel, he only got off the track four times. He said, "Even if you just drop one wheel off the track, that's time out. It's time to go out to the barn and thrash yourself." It was that discipline that brought him wins in two-thirds of his races in his last ten years.

1976, however, was laced with that nagging orneriness of racing. In April at Road Atlanta, Bob's GTU car stumbled and he went end for end. Then at Lime Rock in August, a freakish brush with another car left him to compete for the rest of the day with a sore arm. On the way home, he stopped by the hospital. His wrist was savagely broken and his mobility would be permanently threatened if he did not ease up.

So that was it behind the wheel, but hardly the end of race cars.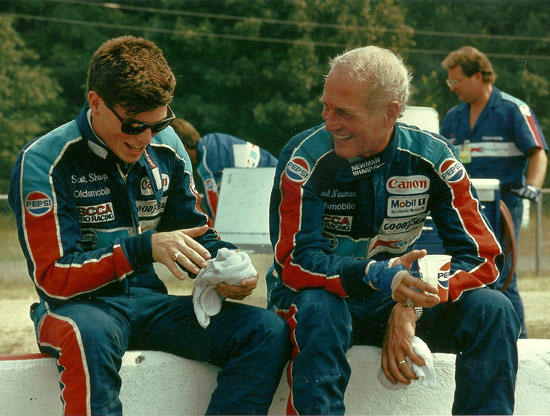 Scott Sharp and Paul Newman, team drivers in the 1980s


There is another way that Bob Sharp was like Eddie Flemke, whom Bones Bourcier labeled as modified racing's professor. Bob was professorial, too, frequently working with aspiring drivers. He'd often take riders for instructionally aggressive rides around Lime Rock.

Three of them are of special note.

The first showed up in the early seventies. Bob describes him as "a pleasant guy with sunglasses I didn't know. I was taken by how interested and unfazed he was. Later he showed up at my shop and said he wanted to become a winning race car driver. He was 48. He was Paul Newman."

They became close friends and team partners, and Newman became a truly great racer over a 20-year span.

Newman and others drove to over 15 additional national championships for Sharp. Among them were Jim Fitzgerald, Elliott Forbes-Robinson, New Englander Sam Posey, footballer Walter Peyton, and actor Tom Cruise.

The second lucky passenger riding with Bob at brisk Lime Rock pace was an extraordinarily successful go-kart racer, still with peach fuzz. He was Bob's son, Scott. Bob already had recognized that Scott had the goods and he now sought to teach him "the heart of racing." In the 1980s, when Scott won his first national championship, he was in a car Bob himself had driven for six years. It was the most emotional racing moment ever for the family Sharp. Bob smiles and says, "Scott even listened to some of the stuff I told him." Scott, of course, went on to IRL racing, has sat on the pole at Indy, won at New Hampshire, and is still very active today.

The third fortunate tourist was a media guy – and a wonderful one. Our own Charlie Mitchell. Good people always seem to connect, and so did Bob and the late Charlie.

Charlie, of course, was a mainstay of the NEAR Hall of Fame Selection Committee. I guess that ride at Lime Rock really impressed him, as it was Charlie who originally brought Bob's name into our fold.

So, how about a big ol' welcome for Bob Sharp as we induct him into the New England Racing Hall of Fame.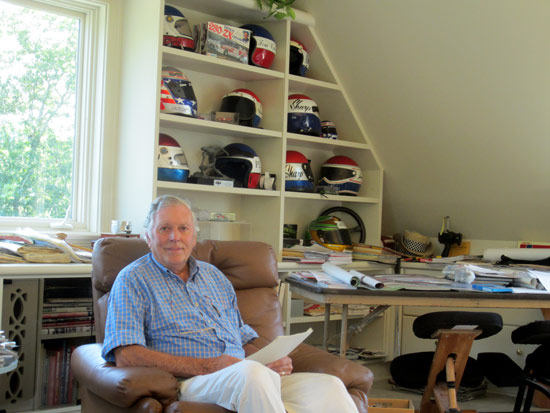 Bob Sharp in his hilltop hacienda, Sherman, CT.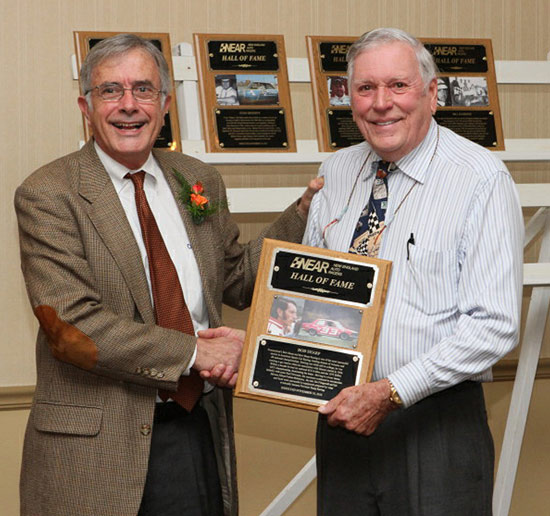 Lew Boyd and Bob Sharp at the 11-10-13 NEAR HOF Induction
© 2013 Lew Boyd - Coastal 181