6/5/13

CORKY COOKMAN
It was a time for beginnings.

In 1969 New York's Lebanon Valley Speedway had an affordable small block modified
class, and, pits overflowing, there were typically two consolation races – 24 cars each – to handle the throng. We were just getting our start, along with a lot of others.

Opening night, a coupe driven by a "Black Bart" parked next to us. That was a fresh-faced Denny Soltis who still dances there at the Valley 44 winters later.

On the other side was another beginner. He towed in with a black Caddy four-door
sedan, a pretty square top Ford #04 out back. He was a fit, handsome, well-dressed
young guy – understated with a shy smile that used up only half his face. His image was not that of the normal Saturday night throttle jockey. His name was Prentice Cookman, but everyone called him "Corky."

Like all of us, Corky got banged around his share as he climbed up the learning curve of those high banks. But he was a characteristically smooth and deliberate driver, soon qualifying regularly for the mains. He even took on Langhorne with that modest square top. And then, when he copped a top ten in a 100-lap open competition at Lebanon, he figured, "That's as much as I can hope to do here," and he started building a big block Chevy coach for Middletown and Nazareth.

During the winter of '71-72, I stayed with Corky in Connecticut a few times while
promoting the first Spring Sizzler race at Stafford Springs Speedway.

If Corky seemed a tad unusual at the races, his situation at home was definitely out of the ordinary. He lived in an apartment at Green Farms Academy, a tony private finishing school, located on the magnificently groomed grounds of a former Vanderbilt estate. Corky was the facilities guy, handling all things building and grounds, equipment, and vehicles. It seemed clinically perfect for him. He could go about his work in his quiet, gentlemanly way and run all systems with his consistent precision.

But there was something else. He was well-respected and so he was allowed a big garage right there on the premises to pursue his passion. With Corky Cookman, other than a side order of hockey and the Rangers, racing was life.

He was such a good guy. Out of friendship, he brought that unlikely big ol' Middletown dirt coach up to our Spring Sizzler race on Stafford's asphalt. It didn't work too well – there or later in the season on the dirt. Corky, beginning to be quite the fabricator and
experimental designer, had come up with a rear suspension he was sure would be the hot setup. When it wasn't, he decided to go pavement racing, at the old Danbury Fair
Racearena.

Arguably the polish of Corky's driving style was more suited for pavement than dirt.
Though he never won a feature at Danbury, he was in the hunt: top ten in points three
out of four years.

Corky's record was impressive in that he was doing everything himself, with the part-time companionship and sponsorship of Bob Ermark and Corky's long time girlfriend, comely Carla McLean. Years later Jim Torok bought and restored one of the Cookman Danbury cars. He was surprised to discover that underneath, although an obsessive Corky had fitted all the joints perfectly, he did not weld the undersides. That, says Torok, was to save weight.

In the end, though, Danbury suited Corky no better than the dirt. The extremely popular but tightly contained quarter-mile was famous for its crashes, often big, multi-car stackups. No one at Danbury was spared the carnage, and Corky tired of carrying his meticulously prepared creations home in a basket. He thought he would be better off stepping up to a NASCAR modified.

It was high noon back then at the turn of the eighties. NASCAR tracks in New England and New York were lit with stars like Richie Evans, Reggie Ruggiero, Jeff Fuller, Steve Park, Mike McLaughlin. Corky redoubled his focus. If you called him on Thanksgiving Day, he would be working on the #04. Or on building beautifully conceived hauling equipment or tooling up his Green Farms shop.

When he appeared on NASCAR's stage, often accompanied solely by Carla, the troops
noticed immediately the quality of his equipment and reliability of his performance behind the wheel. However, there was a bit of small talk in the background. Just who is this guy who looks more like a teacher than a wildman racer, who interacts with people so haltingly, and who is surely no steady customer at the beer stand after the races? Dick Berggren remembers meeting Corky: "He seemed so gentle somehow. Out of place. How can a guy like this relate to the violence of modified racing?"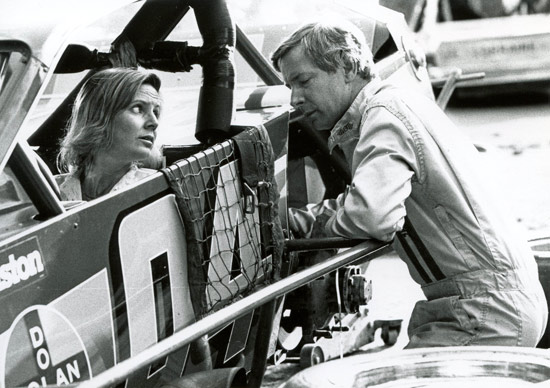 Bob Ermark said that in fact Corky and Carla made an unbelievably good team.
(Howie Hodge photo)


Before long rumors spread that Corky really was something different – that he came from huge money related to the Otis elevator fortune. Bob Ermark, who likely knew Corky as well as anyone, says that, if wealth was in the picture, Corky never let it show. Corky, he says, traded on hard work rather than any treasure chest.

And over time, some guys – especially from smaller teams – began to befriend Corky.
Among them was Brian Ross whose very competent crew chief/son Chris worked with
Corky whenever Brian was not running.

Another was modified car owner Ralph Solhem, who worked off and on with Corky for
several years. "It helped us both," says Ralph today. "I had the knowledge and the
people to help him; he had all that great equipment in his shop to help me – and he sure kept my passion going."

It all worked out. Corky was soon a top runner with NASCAR and took a prestigious win at the Manchester Oil Heat 100 at Stafford in 1982.

But racing can have its dark laps, and there was something curiously star-crossed about the cautious Corky. A year after the Manchester Oil Heat victory – in that same race at Stafford, Corky caught a wheel on Mike Hornat's car and was launched over the fourth- turn wall. The catch fence collapsed, and the blue and yellow '04 landed in the stands, knocking out all the lights. It could only be described as a battleground. Thirty-two fans were injured, though, mercifully, no one died. Corky was understandably shaken physically and emotionally, but his drive was undeterred. He was repairing the car the next morning.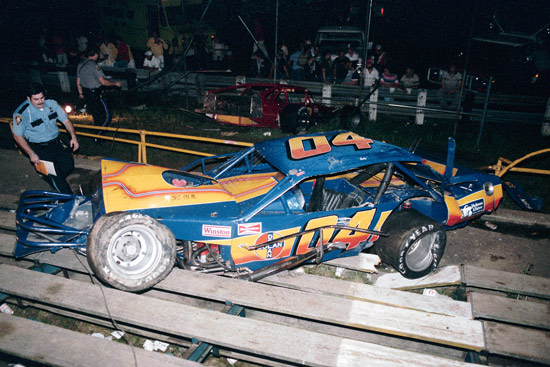 Stafford Speedway 1983. (Howie Hodge photo)
In 1985 the NASCAR Modified Tour was conceived, replacing weekly shows with Series specials all over the East Coast. Corky was right there on the roster, and it was, of course, the year of the Richie Evans' fatality at Martinsville. That incident was horribly reenacted – once again at Martinsville – in the spring of 1987 when Charlie Jarzombek died on that same unforgiving wall. A sense of imminent danger hung over the modified community.

On July 21 that year, Corky headed up to Thompson for a Sunday-night Tour memorial
show that honored Jarzombek. Ralph Solhem, just back from Wall Stadium the night
before, joined in to help out. "It was strange traveling anywhere with Corky. He did
enjoy his privacy, so there was lots of dead air time. But that particular night, he talked about how hard it was to keep going. We discussed whether he should just build a Busch South car and run only six or so shows a year. He could have done that. He wasn't a hired-gun gasser type, but he was a tremendous racer."

In the early stages of the feature, Corky, was running well, just ahead of Bugsy Stevens and Brian Ross, motoring down the backstretch. Both say they saw the right front dip down in a shower of sparks before the car blasted the wall, spun around, and hit it again with the rear.

As the safety crews pulled Corky out the back window, fans in a packed bleachers
assumed it was bad. They were right. The quiet 43-year-old was dead.

"It was a basal skull fracture. Blunt force trauma," says Ralph. "After that, rules began to be tightened up with tires and with less rigid chassis. When I got back from the hospital, Jerry Cook and I went and looked over the car. It wasn't good. We took the air cleaner off and could see that the carb was still locked wide open. Just like in Charlie's car. And the carb rules were changed, too."

Unfortunately, that time of dying in the modifieds and all the sadness would extend a few seasons longer. Tommy Druar and Don Pratt both perished in 1989, while Tony
Jankowiak was killed at the Spring Sizzler at Stafford the next April.

"That period was so hard on us all," Brian Ross reflects. "You've got to realize that we were combatants, but we spent each weekend with each other. We got close. People came to admire Corky, even though he was a loner."

There's a fundamental and sad irony in Corky's end. Here was Corky Cookman, quiet
and private, who chose the flamboyant and colorful arena of the modfieds to express
himself, and it would be the arena itself that took him away.

It just may have been hardest on Ralph. "It's funny I can't say that I ever felt I REALLY
knew him, but we sure were good friends. He'd call me all the time. We'd talk about
setups. He would want to know everything that was going on in racing, but he would
never ask anyone else himself. It must have been a long, quiet struggle for him. If I was sleeping late after a long race night or having a nap, that's right when he would call. I'm not kidding, even today when the phone rings at the odd time, my first thought is 'it's Corky.'"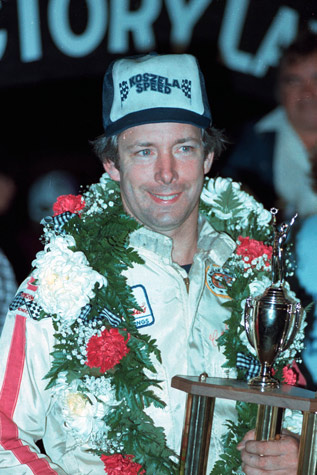 (Howie Hodge photo)