5/8/13

RAY AND THE RECORD BOOK
There have been thousands and thousands of races like it. Last Saturday night at Bear Ridge Speedway, way up atop Vermont's Green Mountains, 18 cars lined up for their feature shootout – 25 laps around a quarter-mile dirt track for the wingless midgets. Not for the faint of heart.

But this one turned out just a tad different – and very special. On Monday morning out in Indianapolis, USAC historians were scurrying about, beginning to review records back to 1957. By winning the race, did East Granby, Connecticut's Ray Miller, who celebrates his 71st birthday today, become the oldest winner in their open-wheel annals?

Miller, a New England Hall of Fame modified driver, is absorbing it all with his normal engaged but laid- back fashion.

"You know, the first challenge was to get in the cockpit.

"Sure, back in the sixties, seventies, and early eighties – the golden age of the asphalt modifieds at Stafford and Riverside Park, we had a blast. But I always loved dirt. How I remember broadsliding through that third turn at Fonda.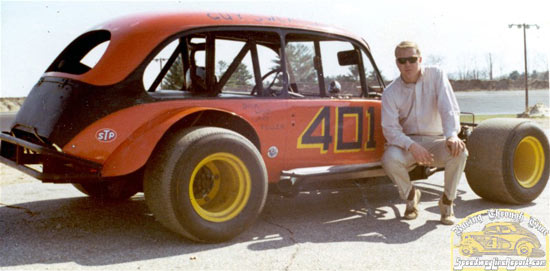 Ray back in the '60s (David Dykes Collection)


"Then a few years back, I saw Denny Zimmerman (1972 Indy Rookie of the Year and a couple years older than Ray) playing on the dirt in midgets. I hadn't raced in quite a while, and he was my inspiration to get with it.

"I was at 217 pounds and knew I had to get down to 175. There was lots of walking, weight-lifting, and dieting. I do my beer and ice cream in February when I go see Bugsy Stevens and Georgie Summers in Daytona, but that's it.

"It really woke me up when I did a trial 10-lap exhibition race at Bear Ridge near the beginning. Man, I was looking for that checker on about the third lap. It was exhausting and I knew I was going to have to amp it up if I was going to get this done. There is no question that you have to have the desire. That's what I admire so much about Red Farmer and Buzzie Reutimann and Dave Lape.

"So, I had been preparing for this, but in a relaxed state of mind. I don't have that pressure there used to be in the modifieds to run up front because of all the money involved. It's a pleasure now that I don't have to win to have a good time, and it's satisfying to know now that I can go the whole distance with my conditioning. No problem. And I haven't been too concerned about getting banged up, even in these cars. In all the years I've raced, I've never been on my roof. And this year I added
more restraints around the seat to be extra careful.

"So, on Saturday I won my heat, and, coincidentally, Denny and I brought up the front row. It was a straight-up start, and I got the lead.

"I was really concentrating on my driving, hitting my marks. It was dry slick. There were a couple of cautions, and soon I could feel some presence around me. Then I saw Scott Viet's nose (his teammate) and I heard Kevin Chaffee trying it upstairs in Skip Matczak's car. I knew they were working me.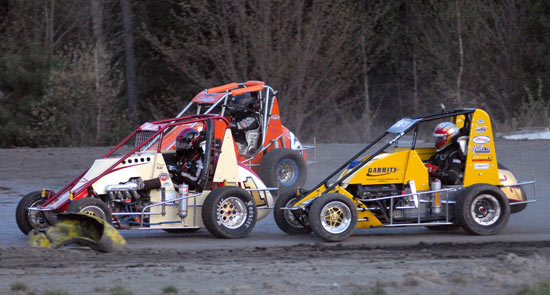 That's Scott Viets looking to the Ray's inside, while Kevin Chaffee gives it
a shot on top. (Howie Hodge Photo)


"Then, maybe 15 laps in, I missed my mark in a turn. It's so hard to keep that bottom covered. I opened up a big hole, but, fortunately, no one filled it, so I got back to business, back to concentrating.

"Four to go and there was another caution. At that point I thought, 'Hey, I could actually bag this thing!' My expectation had been a middle-of-the-road finish. The competition in that USAC/Dirt Midget Association is really tough. But, when you're in the cockpit, there's this natural instinct. I doubled down on my focus, and we won, but they were four long, long laps.

"The whole thing is sinking in now. I figure I should enjoy it because it won't be long 'til Denny wins and knocks me off this perch.

"But, you know, the real joy of it is what it means for my stable. Back in 1947, my dad bought a Kurtis Kraft midget and had Charlie Ethier drive. I was six years old and captivated. And here we are, 66 years later – midgets in that same garage – and we won. My dad would have been horrified if I had wanted to run midgets earlier in my career because they were so dangerous. Now, with all the safety stuff, I know he would have been thrilled."

Needless to say, there was quite a celebration on that chilly night up on the Ridge. And not everyone was as stuck as Ray on the history of it all. They had just seen one helluva race.

One of them was Ray's significant other, Zetti. Skip Matczak, DMA's founder, says, "She hugged that trophy so hard she choked it."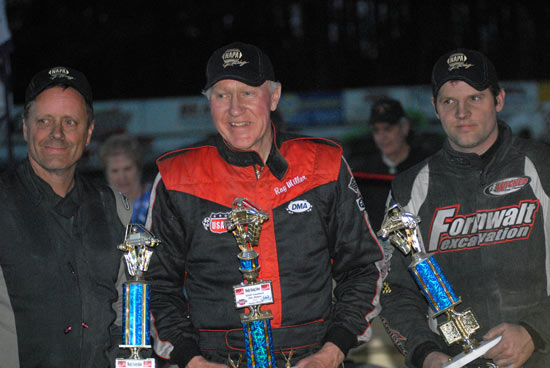 That's Saturday's podium: L, scrappy veteran Scott Viets; Ray, the top dog;
and R, third-place finisher, up-and-coming Fairlee Flyer, Kevin Chaffee.
(Howie Hodge Photo)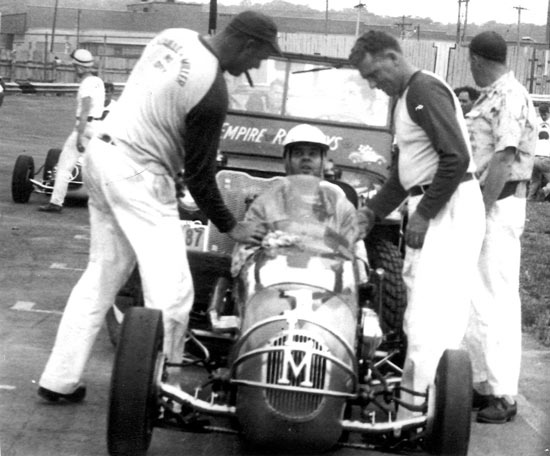 It's 1948 back at the Empire Speedway in Menands, NY. Ray Miller's dad, left,
joins partner Ray Lataille (right) buttoning up their Offy before Charlie Ethier
gets pushed off. (Miller Family Collection)

© 2013 Lew Boyd - Coastal 181

If you were interested in this Tearoff, you might enjoy the books below: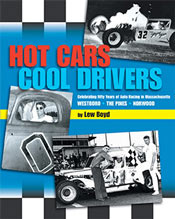 Hot Cars
Cool Drivers

By Lew Boyd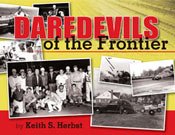 DAREDEVILS OF
THE FRONTIER
By Keith Herbst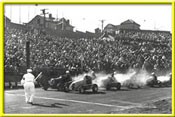 Eastern Midget Classics

- DVD