6/9/14

THE RING AND ITS RINGMASTERS
We've had our perilous places. The "High Banks" (or "The Hills") come to mind – Salem, Winchester, Dayton, those fearsomely steep Midwest half-miles. Back in the day, the three were required steps up the ladder to a national driving title, but even so, some among the gutsiest open-wheelers ever would refuse to sign in.

And, back East, there was the tiny 1/6th-mile Nutley Velodrome, where Midget wheelmen taunted fate in 1938 on the unthinkably demanding 45-degree banking. So many died there that the facility went quiet before the end of the next season.

Meanwhile, motorsport in Europe has traditionally been characterized by road courses, so fundamentally different from American ovals. By the mid-70s, the FIA had approved over 100 European circuits for racing, but a few of them stood out, unique for their intensity, danger, and popularity. High among them has been a course in Nürburg, Germany, 40 miles from Cologne.

The Nürburgring was built in the late 1920s, originally winding 14 miles around the Eifel Mountains for both motorcycle and automotive contests. It was grueling, involving 170 turns per lap, with the elevation varying a full 1,000 feet.

The original motivation for the enormous project was to create jobs for locals, a place to test cars for the developing German auto industry, and a facility to be admired by racers worldwide.

Since the beginning, the Ring has offered up sanctioned racing as well as access to driving enthusiasts on weekends to test their limits with no oncoming traffic or speed limitations. Some of the layout's early eccentricities were smoothed out, but, still, it has been lethal from the start. Over 200 people have lost their lives on the twisting course. In 1968, after a courageous run through forest, rain, and fog to win the 1968 German Grand Prix, Jackie Stewart labeled the Ring "Green Hell," and the name stuck.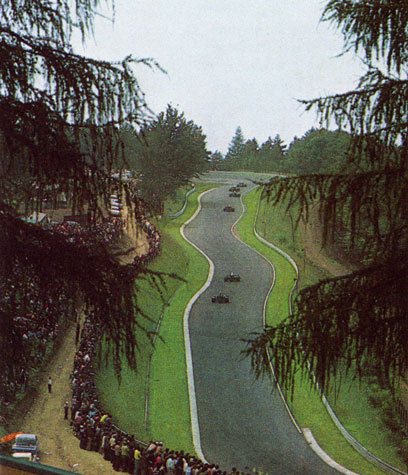 "Green Hell"
(Photo Credit – from World of Speed/Nurburgring)


Precious few drivers are imbued with the ultimate skill, strength, and bravery required the master the place. Before the War, the most noted of these "Ringmasters" were Rudolf Caracciola, Bernd Rosemeyer, and Tazio Nuvolari. In 1935, Tazio Nuvolari won the German Grand Prix at Nürburg with an astonishing performance amid high geo-political drama.

By the mid-1930s, like so much of the European continent, Nürburg was consumed by the darkness of Third Reich imperialism. Hitler, obsessed with the prestige of German victory on the motorsports battleground, gave lush subsidies to companies such as Mercedes and Auto Union to demonstrate superiority.

Nuvolari, the "Flying Mantuan," was an apolitical, five-foot, two-inch Italian, subdued in life style, but Herculean in a race car. He was tremendously admired by 1935 but considered an underdog at the Ring. He was there with an Alfa Romeo P3, giving up over 100 horsepower to each of the nine throaty Auto Union and Mercedes entries.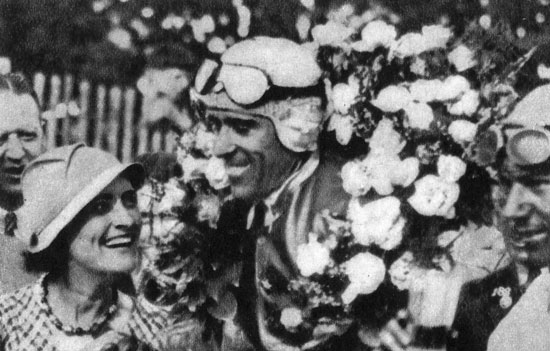 Nuvolari was devoted to his wife, Carolina Perina, and their two boys, both of whom pre-deceased their parents. In his race car, he was wild, often beating the sides of the cockpit with one hand as he executed full tilt, four-wheel broadslides.
From RACING CARS, by Paul Hamlyn. (Central Press Photos)


Three-hundred thousand spectators watched as Manfred von Brauchitsch motored proudly away in his Mercedes, already sniffing the sweet scent of victory. Meanwhile, the Mantuan struggled, first with a poor start and then a badly botched pit stop. But then he came on, pushing the car to its limit. With one lap to go, Nuvolari still had 35 seconds to make up – which he did, totally stunning the German High Command. So sure they were of winning, they had only brought music for the German national anthem to be played in Victory Circle. And the wreath, destined, they thought, for the shoulders of one of their beefier German drivers, dwarfed the diminutive Italian who had just achieved what history now calls "the Impossible Win."

After the War, as racing regained its more balanced footing, the grandest Ringmasters were Alberto Ascari, Juan-Manuel Fangio, and a Commander of the Order of the British Empire, Sir Stirling Moss. Like Nuvolari's, Moss's most sensational drive may have been through those Eifel Mountains.

In 1961, Enzo Ferrari thought he'd be all set. New F1 rules called for smaller 1.5-litre engines, so Ferrari plunked a powerful but lightweight V-6 in the back of his #156 "Sharknose" team cars. Phil Hill, hometowner Wolfgang von Trips, and newcomer Giancarlo Baghetti had all won in them earlier in the season when they arrived in Nürburg. Meanwhile, Stirling Moss appeared with a modest Climax four-cylinder – independently underfunded and overweight.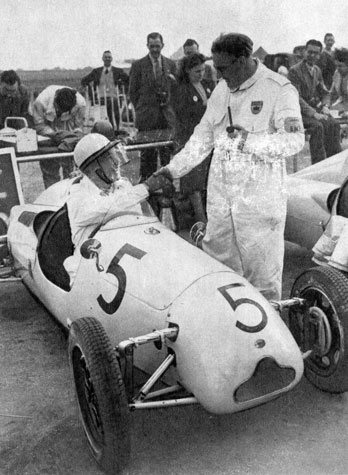 It was 1948, and Englishman Stirling Moss was about to motor off on his very first race. Wishing him good luck was his father, who actually would have preferred his boy become a dentist. But he really couldn't complain too much. He himself had run Indianapolis back in the thirties. From RACING CARS, by Paul Hamlyn.
(Keystone Press Agency Photo)
Phil Hill muscled onto the pole with glory, the first ever to circle the Ring in under nine minutes. Moss was third, von Trips fifth.

A ferocious battle ensued between the red rabbits and Moss's green turtle. As they approached lap ten, both Hill and von Trips were cutting race laps under the record, while Moss scooted around, a sitting duck, just to their front.

That's when the rains came. Before the start, the cagey Moss had disobeyed Dunlop's advice. While most of the field was shoed in dry-track tires, Moss went with rubber for a wet surface. He knew he would have to be on the hammer aggressively and he thought the wet tires seemed to wear more slowly than the technicians thought. Amazingly, when the checkered flag flew, the phenomenally talented Moss was well out front; von Trips was second, Hill third.

After the race, von Trips, who, along with 14 spectators, would die at Monza in the very next event, was awed by what he saw. "On some laps I'd get as many as 15 corners really right, but Moss, he gets them all on every lap." (www.formula1.com, July 2013)

Moss, along with Fangio and Nuvolari often considered the greatest road racers ever, started the 1962 season with wins in Australia and Daytona. But at the Easter F1 event at Greenwood, England, he crashed and was trapped in his Lotus and suffered career-ending head injuries.

Nürburgring itself would also shape-shift in the 1960s, ending its most deadly period. F1 drivers would boycott the course, considering it too dangerous for their rocket-like machinery. However, continuous refinements did not prevent Niki Lauda's infamously fiery wreck in 1976, nor the demise of F1 drivers such as Mike Hailwood and Ian Ashley. Finally, in 1984, the legendary course was completely reconfigured and made massively safer for competitors and the fans, now seated much farther away from the action.

Some mourn the loss of the old character and intensity. They say the name should change, too, that the new configuration isn't worthy of the name Nürburgring. Let the new track be known just as "Eifelring."


© 2014 Lew Boyd - Coastal 181