-
Last weekend was the grand finale of racing at the Syracuse Fairgrounds after 110 years, and it was a doozy.
Super Dirt Week on the "Moody Mile" attracted masses of Northeastern race enthusiasts, all fully addicted to center-steer stock cars. The teams showed up in full force as well; hundreds of Big Blocks, 358s, Sportsman, and Pro Stocks.
Passion pegged the meter. Fans were boisterous, loudly angry at Governor Cuomo for the track's closure, and quite often inebriated. Car owners, meanwhile, had seemed to compete with each other to spend the most preparing for the weekend. The Big Block pit, particularly, looked like Charlotte in NASCAR's heyday. Cars and spare cars were splashed with sponsor branding. There were stacker trailers, tents, and all manner of slick equipment, whether actually needed or not.
That said, there was a noticeable difference in the nearby USAC Silver Crown area. The open-wheelers had arrived in more modest trailers and pickup trucks, lightly but efficiently packed. You could tell their focus was on long-distance travel rather than ostentatiousness.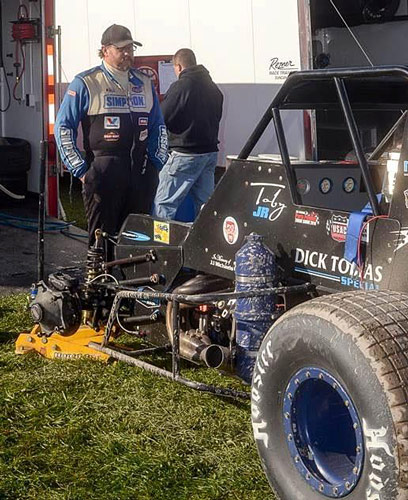 Richie Tobias, in his unadorned pit with his homemade car,
displaced polish with speed
(John DaDalt Photo)
The stock car racing was generally good, with particularly competitive Sportsman racing and a dusty 358 feature. The 200 for Big Blocks was awash with long cautions, but, in the end, fell to a popular winner, Stew Friesen, who overwhelmed all comers once again with his truly Olympian talent.
But something unexpected along the way turned out to be a blissful and memorable bluebird to old-time race enthusiasts.
Weather has always been an issue at the facility, not so far from those Great Lakes. No surprise that it poured on Friday and the track became Syracuse soup. With all racing scheduled for the day postponed, Saturday promised to be a logistical nightmare. Then the revised schedule came out, and folks took note. At first light on Saturday morning, the entire field of 18 Silver Crown cars would take to the track for 20 minutes for warm-ups. They could pit as much as they wanted, change anything, and their best lap would be their qualifying time. Many of us knew the track would be heavy and wet that early - and that this could be quite something to see.
I went to a favorite spot just outside the entrance to turn three, right up by the fence. The scene was absolutely mind-bending. You could hear each car pick it up out of turn two and scream down the back straight with the surface accepting every bit of horsepower on offer. By the turn, the scene was primal, high-speed violence. A cushion - so unusual at Syracuse - called for a merest burp of the throttle, a snap of the wheel, and a wild ass, rooster-tailed broadslide all the way through four. Close your eyes just a bit and you were watching Jud Larson and Jimmy Bryan. Andy Hillenburg, who has choreographed the recent resurgence of Silver Crown, said succinctly, "It was 20 minutes of glory."
Those of us on turn three would agree that the gutsiest of the group were Richie Tobias and Jason Grant. Whiskered, individualistic Tobias, son of the late Toby, has authored some of the most spectacular runs in Syracuse history, aboard both Modifieds and open-wheelers. Grant, a young sonny from California (see previous TEAROFF dated 9/3/15), was over-the-top spectacular. New to Silver Crown racing this year, he'd never seen the track before the 20 minute trial of testosterone. He set fast time and on that lap he must have seen God.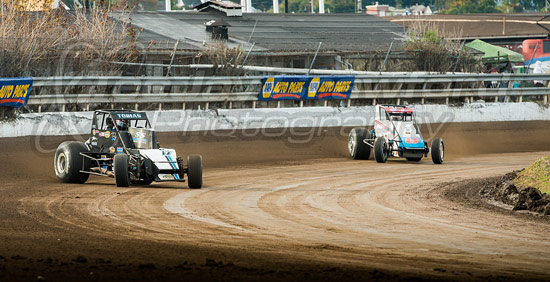 Tobias and Grant flirt with the cushion in three and four.
(TeeJay Crawford Photo)
By Silver Crown feature time in the afternoon, the surface was sun-soaked and locked down by hundreds of Hoosiers on stock cars running all morning long. The top was gone, as was the grip, but Kody Swanson demonstrated definitively why he has been Series Champion for the last two years as he motored off to another win.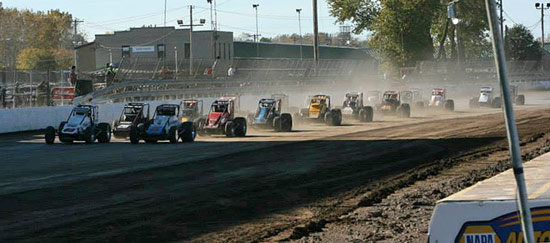 By the time Justin brought them down for the feature that afternoon,
they were racing on another surface.
(John Lehmann Photo)