8/7/14

TWO LUCKY GUYS AND THEIR MODIFIEDS
It all started just about a year ago.

New Hampshire Motor Speedway was hosting its Vintage Celebration, and a surprise entry showed up all the way from Redondo Beach, California. It was Jimmy Dilamarter, the ultra-athletic, seventy-something, former crew chief and current business manager for Parnelli Jones. As a fun project, Jimmy had just built himself a drop-dead beautiful East Coast Modified, never mind that he had never even seen one in action. He modeled it generally after the older Troyer Pinto style, but, with its impeccable construction and detail, it is eye-candy to the experienced racer. He had just towed it across the country to shake it down at Loudon. Parnelli was with him and signed lots of his books. Needless to say, they drew quite a crowd.

One of the on-lookers was 55-year-old Ricky "Newt" Bennett, a wired Danbury, Connecticut, resident who ran his first race in a go-kart in 1955. Twenty-five years later, he spent a weekend on Bob Cuneo's jig with Ceech Garbe, welding up an early copy of a Bo-Dyn chassis. Out of money when it came time for the tin work, they dragged an old
Ford coupe body out of the pile and plopped it on.

By any definition, that car, so modestly conceived, compiled some kind of resume for itself over the seasons. There was feature win after feature win at Stafford, Connecticut, with notable wheelmen like Randy LaJoie, Bo Gunning, and Danny Gallulo aboard. Then in 1991, Newt's son, Ricky Jr., hustled it –clad in Dodge Challenger skin –
to Rookie-of-the-Year honors.

As vintage racing ramped up in the 2000s, the time-honored coupe body was back, and Newt has been an aggressively fast participant. That day at Loudon, he and Jimmy did lots of laps together and became fast friends.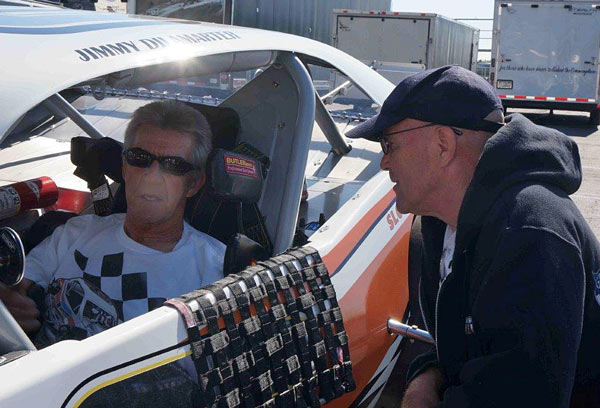 Jimmy and Newt discuss what no one had done before.
(Albert Wong Photo, Dilamarter Collection)



In a phone conversation over the winter, the two got talking about a Brickyard Vintage Racing Invitational to be run this summer at IMS. They called and were somewhat surprised to be invited to attend without hesitation. (It may have helped that Jimmy knows Tony Parella, the Sportscar Vintage Racing Association president, and that Parnelli became the event's Grand Marshal).

So, on June 4, Jimmy and Newt met halfway between their homes, unloaded, and became the first two ever to tour the 2.5 miles of Indy in Modifieds. And you can take it to the bank that both of them are still grinning. Jimmy says, "We were on an honor system – to do what we wanted down the straights, but to slow in the turns, totally honoring the guy in front of you.

"Of course I've been around Indy a hundred times, doing track drying and riding in pace cars, so I thought I would know what to expect. But, when I stepped on that throttle in that car I had built, I was just stunned. Indy is so fast. And what they all say is true. Turn three is fairly open, but that turn one! When you go down the front stretch, it is
just like Main Street and a left onto Elm. You can't see any of the turn because of all those grandstands. You feel like you are in a stadium.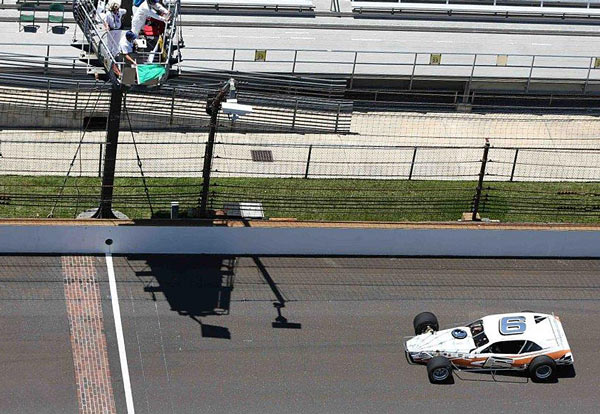 Jimmy takes the green. (Albert Wong Photo, Dilamarter Collection)


"I got going a conservative 133 or 134 mph, and, all of a sudden, Ricky went by me like I was standing like a post. We had really done nothing special to the car to get it ready, so I was being careful. Then I started going deeper and deeper into one, and I figure I got up to about 147. It was just as thrilling for me to do that as it was to win the 500 as a mechanic. And 147 was a thrill enough!"

Like Jimmy, Ricky did little to prepare for his Indiana adventure. "I even kept in my gears from Loudon, which, of course, is just a mile, not even half as big. I figured that would keep me from getting going too quick. "I just can't tell you how nice it was to go down that backstretch and set the car into that third turn. My car didn't even wiggle. In the first warm-ups, I think I scared the guys a little by hot rodding.

"As I got used to it, I'd keep it at 7000 rpm down the back, which was about half throttle. I became aware of some problems. I was concerned about cutting a rear tire with body squat. I will definitely build some little spoilers for the front tires if we can go back next year. That front end was lifting at speed, and the steering became pretty touchy.
"On the front stretch a few times I did take it up a little over 8500 rpm. Apparently, someone clocked me there on a measured distance and had me at 173.8 mph. In any case, I can tell you this, it is an experience every racer should have."

If Newt and his antiquarian #83 were really turning over 170 mph, he was in rarified space. Who knows for sure how fast the Modifieds used to roar around the big track at Pocono, at Trenton, down the straight at Watkins Glen, or in the days when superspeedway-equipped Mods ran down the backstretch at Daytona?

What Modified enthusiast would not have given anything to be with Jimmy and Ricky on their grand Indy adventure. And could it also possibly be that on that trip the little #83 coupe went as fast as a Modified ever has on a closed course?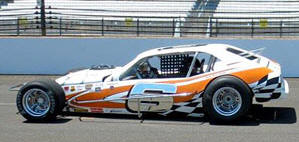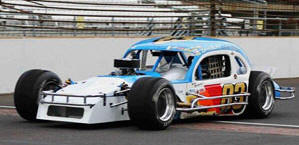 As seen in the rear-tire clearance with the #6 at speed, both Jimmy and Newt had to be careful not to cut tires. Both cars, however, ran flawlessly.
(Albert Wong Photo, Dilamarter Collection)
© 2014 Lew Boyd - Coastal 181



If you were interested in this Tearoff, you might enjoy the book below: