You'll see him at most any USAC Sprint Car or Silver Crown show, sliding easily into the cockpit. He is the tailored image of what a race car driver today should be. Handsome, diminutive but athletic, articulate, bright, upbeat without the flamboyance, and calmly self-confident. He goes like the wind and he's just 24.

The deeper appeal of Justin Grant, though, is beneath the surface. His is not a checkbook talent; his father did not win the Indy 500. He climbed the heights of short-track open-wheel racing the old fashioned way, a million dusty nights, fueled by his only real resource - a passion beyond reason. His pathway has been the road once taken by horsepower hoboes like Parnelli Jones from the West, Jim Hurtubise from back East, and Texan Gordon Woolley.

When we launched our Dave Darland book last year at Kokomo, I spotted Justin and asked author Bones Bourcier who he was. Bones smiled. "He's from California. I first saw him at a BCRA Midget show in Hanford. It was a big race. He started 17th and rode the high side at full song 'til he was leading. Then he seemed to slow just a bit, and, after quite a battle, finished third. I had to go over and find out who he was and what had happened. He was only 16, still a rookie, with minimal equipment and crew, and his power steering had let go, spraying all over him for laps. He went through all his tear-offs, and the shield was an oily mess, so up went the visor. He accepted whatever might come. You should have seen his eyes - almost swollen shut. I told him, 'That was pretty impressive but don't you ever do that again.'"


-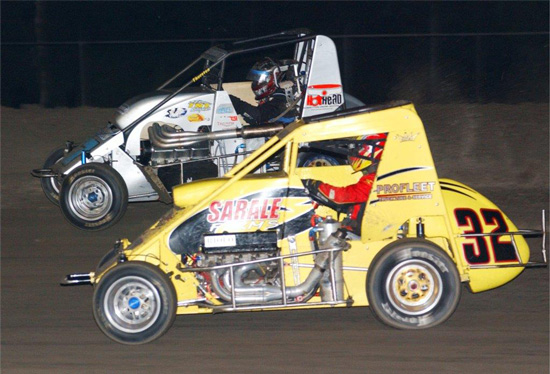 That's Justin upstairs, visor up and visually challenged, getting around John
Sarale at Hanford on turn three of the last lap to secure the BCRA championship.
(M&M Photo)


He may have been green, but Justin was serious. At age two he preferred TV races to cartoons. Then it was constant NASCAR and Thursday Night Thunder and wearing his dad out about taking him to Placerville for the Sprint Cars. And, just as young Rico Abreu's future dreams were shaped when he saw the Wild Child Haudenschild broad-slide around Calistoga, Jac played the same tune on Justin at Placerville. "He was so exciting. That was it." recalls Justin. "I was going to drive Sprint Cars."

Justin's father, Tim, admits he had little interest in racing and even less experience with a 9/16 wrench, but he was supportive of his son. There was a big catch, however. Tim made it clear "that if Justin was going to race, he would have to be self-reliant. I told him he was not from a racing family or a money tree. When we got the first Quarter Midget when Justin was 8, he took it all apart. He learned back then to do his own thing - set-ups, shocks, the works. Even then he had more perseverance than any human being I have known."

Hundreds of Quarter Midget and outlaw kart races followed, spiced with consistent wins and championships. Within a year Justin caught the eye of strong dirt Midget team owner Dave Thurston. A friendship sparked immediately, which has continued over time. Justin would drive for others from that moment on.

"We got along so well. Even went to the Chili Bowl when I was still 16. It was nerve-wracking, but I stayed reasonably calm. I think my comfort was my ignorance," Justin says. "And then I ran into a real mentor, Jimmy Sills. I called him the day after I got my license and started driving up there (two hours each way) to help him mechanically, which I could do while learning so much more. Already my dad's insistence that I learn all about what I was racing was paying off. I had a good summer with Dave and I won a non-wing Sprint race at Hanford for Steve Harris. That had a moment. I passed Peter Murphy on the third turn of the last lap and we kinda bumped wheels. I was a little worried when he headed my way in victory lane, but then his hand came out."

Justin graduated from high school early in the autumn and headed back out to the Chili Bowl, racing's winter meet and greet. Justin ran into Bones Bourcier again, who, in turn, introduced him to Jeff Walker, the prominent Midwest open-wheel owner. The two hit if off big time, and at 17, Justin, all alone, headed east over the mountains and plains to Noblesville, Indiana, to work on Sprint Cars. "He paid $300 a week and I had a place to stay. My parents were okay with it, but I am not sure whether they thought I would be back home in a month."

The occasional ride came Justin's way, but the big moment arrived the night the Walker team took both Bryan Clauson's and Levi Jones' cars to Gas City, and Levi didn't show up. "We stuffed all kind of pillows into the seat, and out I went in that car. I was really anxious not to mess things up, and the evening was uneventful. The next day was Kokomo and I was on the pole. Hunter Schuerenberg was in the other car, starting way back. That had me real nervous. On top of it, Jeff came strolling over and walked me way up to the wall, above the cushion. He says, 'You run here above the cushion. If you don't, you'll never drive my car again. If you do and you crash, you might.' I went up there and I led for 18 laps. Then, wouldn't you know it, Hunter and I got together, and we were knocked out. But I did what I was told."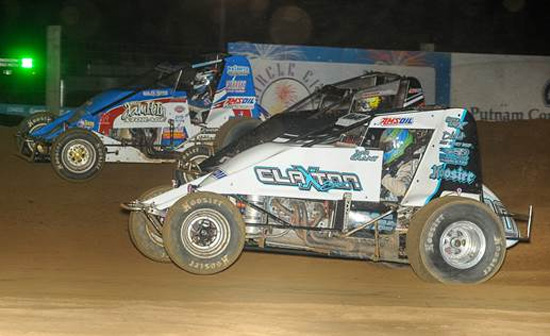 Justin diggin' in down low at Lincoln Park, Indiana Speed Week, 2014.
(John DaDalt Photo)


Various rides followed, and Justin was often favored because he could maintain the cars. Case in point came with his relationship with Ken Baldwin in Lafayette, Indiana. "It was full-time Sprint Cars. No social life, but everything for me was so new and exciting, focused on the next weekend. I had no savings. Nothing. Then one night when we went to Bloomington, I climbed a tire and flipped big time. Things became a little different. It was my introduction to reality. I broke blood vessels in my eyes and was temporarily blind. The bolts in the seat dug into my back. It was off to the hospital. These things can hurt you."

After a period with Jeff again, Justin was off to Piqua, Ohio, with a small duffle bag and laundry soap to turn the wheel and the wrenches for Mark Hery. After a nasty flip the first night ("that's been a recurring theme and I will have to figure out why"), they waltzed off to 65 events with nine wins.

Despite his obvious talent, Justin's zigzag trail was riddled with potholes. In 2013, coming back from taking in the World 100 at Eldora, Justin was sleeping, Mark's son driving. They crashed and rolled. Justin was tossed out of the car and broke his neck. He recuperated slowly, working as he could with Jeff. Recovery took a while, but the wins returned.

There was no time off at all for the 2014 misadventure. Justin had Shane Hmiel's Midget running on a chassis dyno when an oil line burst and a fire erupted. Justin had third-degree burns and was told to stay home for four months. He raced that same night, but, every Monday for the rest of the season, it was off to the crash house for burn scraping.

Ever resilient with his life and his friendships, he was back with Mark Hery for 2014, proceeding at a more thoughtful pace, as he still is today. His Silver Crown car, formerly Tracy Hines equipment, is owned by Chris Carli from Elk Grove, California, and Justin turns the wrenches on it as well. They've known each other since Justin was six.

"I am doing just what I want to do and I am hanging on a little better. I'm based now in a rented house in Indianapolis with my girlfriend, Ashley Jones, and young, Brogan. Ashley is Bubby Jones's daughter - and he has certainly helped me with set-ups. I guess I have come along quite a ways."

There can be little disagreement about that. Justin's is such an appealing American story at a time when wealth and privilege so often trump talent and hard work. That's especially so now, a time when even those Midwestern dirt tracks, though still racy, are hardly still egalitarian.

And what would Justin's message be to someone who wanted to follow? "First, seek mentors and keep your friends. Find someone really good at what they do and go devote a year to learn with them. You must know what to do around winning cars. Second, don't expect to have a lot of nice things. That is not a part of this life, but expecting to get hurt is. Third, keep track of whether it is really worth it. For me, it is the moments like at the Springfield mile this August in Chris Carli's Silver Crown car. I timed trialed second, right up against the fence and never cracked the throttle all the way around. What an incredible feeling! Maybe I was a little bit like Jac Haudenschild back at Chico. It is what I aspire to do. But it comes fast and it goes fast. In the feature, the left rear developed wicked wheel hop, so we ended up mid-pack. What can you do? It's all part of our game."


-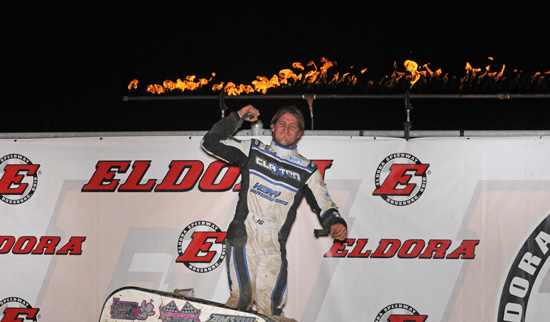 (Travis Branch Photo)