7/7/15

RICKEY'S RESILIENCE
Steve Stroud was at home on May 21, 2015. The much-admired benefactor of the racing community and the force behind the Arizona Open Wheel Racing Museum may have been in Phoenix, but his mind was in Indiana. Glued to his computer, he was monitoring the progress of his employee, Rickey Hood, at the Hoosier Hundred Silver Crown race. When at one point Rickey popped to the top of the qualifying chart, Steve smiled with a dash of relief. The day would go well. And so it did.

Rickey Hood is son of legendary East Coast gunslinger Hooker Hood and himself an old-time outlaw nigh on to his 63rd birthday. It had been a dozen years since he had ventured onto a mile track and, remarkably, he ended up 15th on the starting grid and cruised to a solid 7th in a stout field of 34 entries.

Racing on those miles has never been for the faint of heart. Folks have certainly been jawing about Rickey's accomplishment, especially noteworthy at a time the whole sport is aging and a generation of graying drivers is coping with the question of just how long they can actually perform.

Rickey is remarkably resilient - and reflective. Here's what he had to tell us.

Right now I'm really lucky. I'm at work at Steve's Museum and I'm looking at an old Supermodified - all restored. It was like yesterday that Dad bent those roll cage bars around an oak tree in our backyard in Tennessee. It didn't look that pretty back then. We had nothing, but Dad won anyway.

When I was 15, Dad gave me that car and built another one. He taught me so much, but I think I learned more by watching him. Dad was on the hammer. Most of the time he would get through, but sometimes he didn't. I decided on a different approach. A little easier into the turn, a little stronger at the payoff.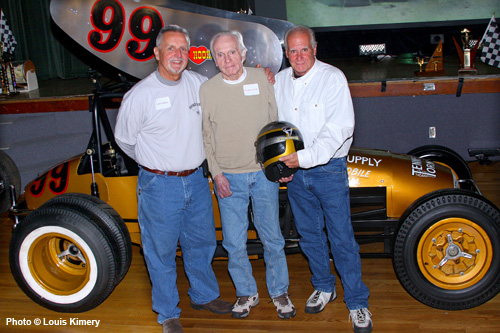 That's the restored Hood family Supermodified back in Tennessee in 2009.
L-R are Larry Nolan (restorer), the late Hooker Hood, and look-alike Rickey.
(Louis Kimery Photo, Memphis Rodder Collection)
We won lots of regional races. Tennessee was kind of on the racing border. Dad raced regionally and some in NASCAR and the South. For better or worse, I ran regionally and then began to go north into open-wheel territory.

I guess I got noticed around 1980 and on July 15 of that year I was living in Indiana and started driving for Pat Corsi. It was a great ride, and we won 27 by the fall, including a couple of Outlaw shows. My strategy didn't change. I'd like to say I became a calculating driver.

Later we moved to Phoenix, and I drove for the Herrera Family. Johnny was running up in the Midwest then. You know, we'd go two to three years without crashing, and my stuff would wear out. Thinking about it, I probably would have won more if I had hit more and needed more new parts along the way.

I've never been one to be too concerned about physical training, but I've always ridden a bicycle. Everywhere I can. Getting groceries, whatever. I still do.

One time I really thought about that was in 1985. That had been a good period. I had just wrapped up the USAC Sprint Car championship and I went out to the Western at Manzanita that fall. We were in the first practice, everything okay, so I walked over to the corner to see who was fast. A guy apparently turned way too early and clipped my legs and then hit nine others. I was really broken up and was laid up for weeks.

I've always been conscious of concussions because I want to keep racing. It's a good thing I've never been knocked out. But, I have to say, it might have been better to have the lights out that night at Manzi.
Winter didn't last too long, though. Dean Thompson couldn't make the opener at El Centro (CA) in February 1986, so Bruce Bromme called me and asked me to drive for him. I think my injury may have slipped his mind. I showed up in a walker, but we ran second. I could feel the metal inside my leg flexing when I got on the brake.

I lost 35 pounds recuperating. We went to a longer race the next week back at Manzi. I was leading and I just plain wore out and began to fade. Thank goodness there was a caution, and I was able to recover. We won, and I am sure glad I had done that bike riding.

It's funny how a certain race can stand out for me. There was a Silver Crown show at DuQuoin - probably in the late nineties. Steve Chassey was leading, followed by Chuck Gurney. I was third, wondering how I could pull something off. Then, going down the backstretch around mile 95, Chassey's car burped and Gurney shot to the outside around him. I went upstairs to the third groove, right around both of them into the turn. It probably looked pretty ballsy. Now, you could say that it was a real Hooker move, but it really wasn't that bad and it sure was satisfying.

I've been running Sprinters right along out here in Phoenix, trying to keep it going.
Just two shows last year. I just got a hankering to try those miles again, so I called Galen Fox and asked him for a ride in the Hoosier Hundred. It was one of those "Oh, I don't know. I'll have to talk to my boys." I heard nothing back. Finally I called him again. Over to the Indiana Fairground they came with the blue #56.

I wasn't really nervous up there, but it did have my attention. Back when I was running those miles, I was running 80 times a year. Could I still go the distance? Those cars can really jump out and hurt you.

It all came back so quickly. As always, Galen's car was perfectly prepared. Qualifying felt real good.

In the race I kept to my usual way - trying to roll it in and pick it up early coming out. We were just a little bit tight and it stayed that way. There is little we could do. You put so much fuel in those things that, when it burns up, the rear lightens a lot, and you push more. But we trucked on and landed in 7th. It was cool. Even people from back in Tennessee had come to watch.

Aside from working for Steve right now, I just got a Maxim chassis and will try to do 10 or 12 shows this summer. Also, I have called Galen and said, "How about us doing Silver Crown again at Springfield and DuQuoin?"

You guessed right. He said "Well, I don't know. I'll have to talk to my boys...."

You can bet I will be calling him again.
-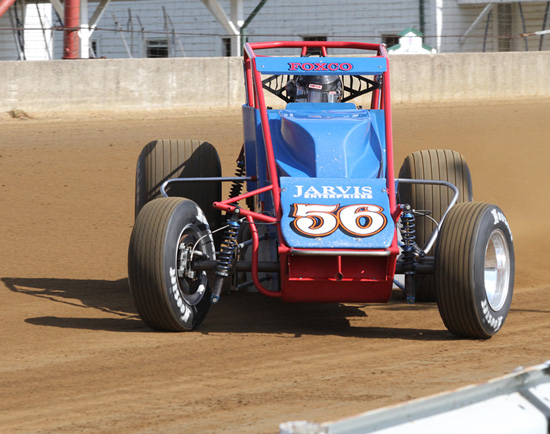 "It all came back so quickly." (John Mahoney Photo)