9/3/14

THE LINDSAY FLASH
It will be well worth a couple minutes.
Take a look at this informal Sprinter in-car video from Lawton (OK) Speedway on June 29, 2013. It's the heart of Sprint Car racing. Check out how the driver dallies around the inside for a few laps before going upstairs and finding something to bite on. Then it's about chasing down, stalking, and finally getting the leader, Danny Smith, for the win. No small feat. Fifty-something "Oklahoma Danny" Smith has been racing Sprinters for years, including on the World of Outlaws tour.

It was somewhat surprising to see just who it was jumping out of the cockpit in Victory Lane: Oklahoma's "Lindsay Flash," 19-year-old, 103-pound Harli White, who ended up winning both the winged and non-wing Oil Capital Racing Series for 2013. That name might well ring a bell. Her story is incredible.

Back in 2008, at age 12, Harli ventured onto 1-44 Speedway in Oklahoma City, for her first race. That Okie clay was already in her blood, direct from her dad, Charlie, a journeyman Modified wheelman. Harli got the hang of it right off the trailer. She was passing cars in the B-main when she slipped into the wall, went onto her side, and the car burst into flames. She was trapped while Charlie and others struggled mightily for what seemed an eternity to get her out. She could hear her Dad's mournful calls, assumed it was all over, shut her eyes, and gave up.

The next thing she remembers was lying on the track, outside the car, someone on top of her. It was Donnie Ray Crawford, an ultra-popular, up and coming racer, still in his fire suit, gloves, and helmet. Lined up for the next event, he had leapt out of his car, run down the straightaway, charged right into the inferno, unhooked Harli, and rolled her on the ground to extinguish the flames. The injuries were savage, covering 40% of her body. She calls the pain a million on a scale of one to ten, especially in therapy at Shriner's Hospital. It lasted six months.

But, exactly one year later – same car, same track, same race, she was back in the office, amazingly ending up fourth in points for the season at both I-44 and Dutton Speedways. "If someone told me I couldn't race again, then I should have died in my accident. I'm not going to turn down my dreams for some scars."

Some of this resilience certainly stemmed from a supportive relationship with Donnie Ray who became a mentor to her, in racing and in life. Their families became close as well.

Then, with January of 2012, came a misfortune even more hauntingly shocking than the first one. As she prepared to climb into a Midget at the Chili Bowl, news came that Donnie Ray had been shot and killed at his home by his mentally ill grandfather, who also died in the fray. All this happened the day before Donnie Ray was to move in with the Whites while he would take coursework in petroleum engineering at University of Oklahoma The entire racing community was stunned; the Crawfords and Whites were understandably devastated.

After three winters, Donnie Ray remains ever-present in Harli's mind. "He was my hero. He saved me and now he is gone. That's not how it is supposed to work. So I race. And the more I race, the more I think I am making him happy."

As the 2102 season went into summer, Harli experimented with a Sprinter she and her father put together. It went well – and 2013 turned out sensationally. 2014 has been strong too, especially with some top ten runs in USAC Sprint races.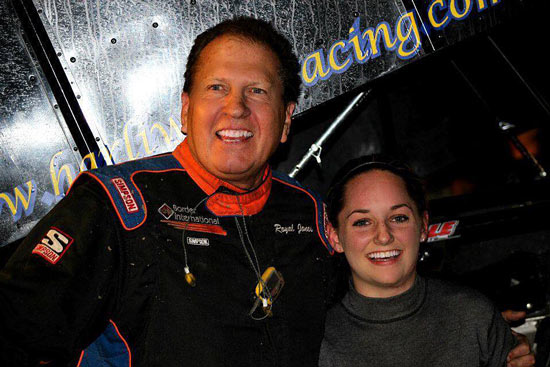 Royal Jones, here with Harli, knows racing. As well as running an eight-figure trucking concern, he races Modifieds and Sprinters and promotes El Paso Speedway Park and Southern New Mexico Speedway. Not knowing who she was, he recently ended up racing against Harli. "We were side by side, lap after lap, a quarter-inch apart, passing high and low. I thought, 'Man, who is this girl?' Right afterwards I went over to give her a hug and tell her how good she is. She drives way beyond her years. I'm helping sponsor her now. She's going places." (White Family Collection)


Here's what Harli, now a full-time racer with a small graphics side business, says about that race at Lawton:

"Wow, was that surface ever dry slick. You had to grab whatever you could down there on the bottom, so I had to go looking for something. It was fun then to blow by those guys on the outside.

Then came Danny Smith. Gosh, he's been racing a lot longer than I am old. I knew it would be tough, but I thought I could eventually get him. I tried a couple of times. Then, going into one, I slid him, and powered by on the inside.

I think I am in pretty good shape now. People ask me if I am as good a driver as I was before the fire. Of course I am. I've had six years to progress.

There have been hurdles. I have definitely lost some of that sensory feedback from burns on my back and legs, but it never really worried me. I had no internal injuries and I have no problem with endurance. And there are no lingering issues in my head. Frankly, I am comfortable in the car. I guess God gave me strength and not fear.

I haven't any new mentors. I still look up to Donnie Ray. He's the only one. I watched him race and operate in the pits whenever I possibly could. Like him, I do everything on the car – setups, valves, whatever is necessary. I still use what I learned back in those days, and it is my intention to be doing the same thing ten years from now, preferably with the Outlaws.

Donnie Ray could really take it into the turn. He was aggressive, but smart. Patient. Smooth. Fast."

Sure sounds like what we saw in that YouTube clip.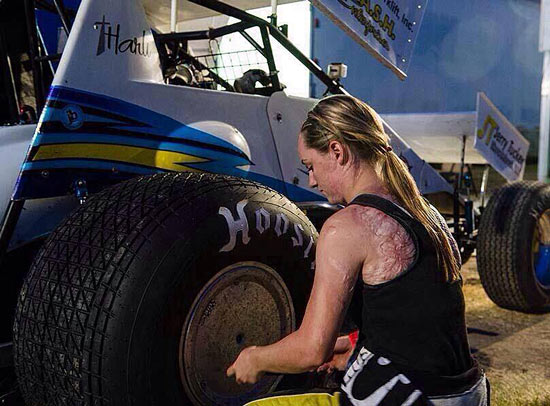 Harli. (White Family Collection)
© 2014 Lew Boyd - Coastal 181



If you were interested in this Tearoff, you might enjoy the books below: