3/3/15

FOUR BOUNCES OF BERGIE
On Wednesday, February 23, in the middle of Speedweeks, the Living Legends of Auto Racing hosted a sell-out crowd at their annual awards banquet in Daytona. The honorees were Linda Vaughn, Ken Schrader, Buddy Parrott, "Tiger Tom" Pistone, Eddie Spurling, and Dr. Dick Berggren.
Berggren, of Ipswich, Massachusetts, won the Russ Moyer Media Award for his 45 whirlwind years in print, television, radio, and personal appearances. He received thunderous applause following his gracious acceptance.
It was an honor to make the presentation.
Dick Berggren. My goodness.

You might think you know him down here, but just maybe you don't.

You do know about his journalistic and photographic achievements, first with Stock Car Racing Magazine, then Open Wheel, and Speedway Illustrated. You know of his lively, intelligent, so well-prepared TV pit road reporting. You know of his role as racing's representative and host at countless racing functions nationwide.

But you likely don't know about what he's been for us...the Northern faction of the racing community that has been held up in igloos for the last couple of months.

That Dr. Dick Berggren is the essence of intensity - a joyful, high-speed ball that goes higher and higher with every bounce through life. His nicknames are spot on: Dr. Burp and The Rolaid Rocket. Of course, we just know him as "Bergie."

A perfect example came when Bergie was just 16. A friend suggested he cruise by the local drive-in to check out the counter girl. Opposites attract. Kathy Kanehl was - and is - beautiful, long and luscious hair, as serene as a high mountain. Man, did the Rolaid Rocket ever bounce off when he saw her. And thank God. Only Kathy Berggren has been able to keep him somewhat tethered for the last 50 years.

And there was that tipping point in Bergie's schooling. He was not an engaged student as a kid. He was a doodler, drawing pictures of race cars and rushing off to his afternoon job in Connecticut's tobacco fields. Then one day a guidance counselor told him he'd never amount to a hill of beans. Wow. Did Bergie ever bounce out of that office. He wiggled into Quinnipiac College, earned straight As, always sending his report cards back to the guidance guy. Then, even while working non-stop and racing, he was awarded a Ph.D from the prestigious Tufts University. The unlikely subject: sleep deprivation.

You can all take it to the bank that there were some outrageous moments in Dick's career behind the wheel. Few, however, can match the scene of his first win. That came in 1971. It was in a clapped-out Supermodified-from-hell on a gritty, dangerous oiled dirt 5/8 mile in New England called Lakeville. He had no right to win. And, as the car sat in Victory Lane, it was smoking, reeking, leaking from every orifice. Bergie was off to the nearby Golden Spur ranch with his crew, spending the entire purse on bubbly.

But something on that crazy day hit that bounce cord. He realized how much more he would have to do to race successfully. He befriended a serious engineer from RCA, Doug Gore, bought a Don Edmunds Sprint Car, and took no prisoners. He ended up a major feature winner and all-time record-holder at Beech Ridge up in Maine.

As you can gather, the guy had to work fulltime back in racing days to keep it all going. He'd supplement his income writing press releases and taking photos for the New England Super Modified Association. He was reporting up at Arundel, Maine, one day in the late 1960s when, of all things, a rabbit ran out in front of the pack and was disassembled. Russ Conway, the announcer, quipped, "So much for the Easter Bunny..."

At the end of the show, a grandmother accosted Russ saying he had ruined the lives of her sobbing grandkids. "No problem," said Russ. "We have just hired a new announcer," turning to the dumbstruck Dick Berggren. It was not so many Februarys later that Bergie was interviewing Dale Earnhardt at the start of the Daytona 500.

It was really at that moment that Dick began leaving us for his national adventure, making all of us in New England so proud. We grooved on his success, as we did with Ralph Moody, Pete Hamilton, Ron Bouchard, Ken Squier, Mike Joy. We applauded as he won....

As Bergie's TV career wound down, we've seen a bit more of him. Quite predictably, all that unendingly energy is going to a charitable project that will benefit us all.

Bergie has been back and forth, up and down and all around New England of late, choreographing the construction of a formidable motorsports museum on the grounds of New Hampshire Motor Speedway. Even in this uncertain economic time, he has assembled a blue chip team, raised hundreds of thousands of dollars, and already amassed an enormous collection of photos, memorabilia and even cars.

To be honest, all of us up North raised an eyebrow when Dick and Kathy bought a house recently here in Holly Hill. I think we're all gonna have to talk about that. A couple of months in the winter is OK, but the summers are ours. What's fair is fair.
And, now, will our friend, Dr. Dick Berggren, please approach the podium for acceptance of the Russ Moyer Media Award.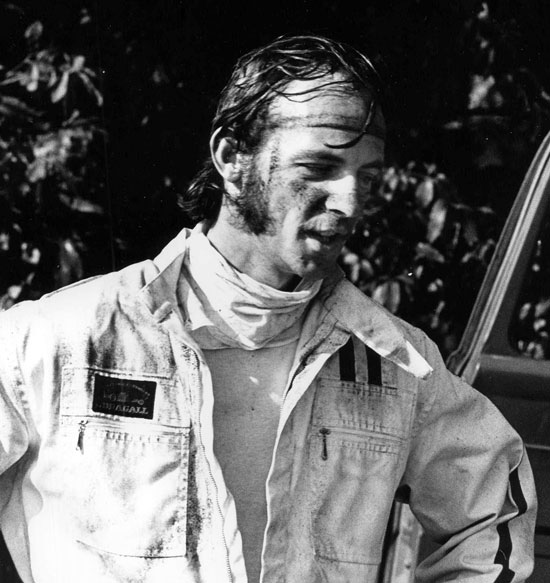 Bergie back in Sprint Car days in the early '70s. (Coastal 181 Collection)
© 2015 Lew Boyd, Coastal 181



If you were interested in this Tearoff, you might enjoy the book below: