-
On February 23, 2017, Will Cagle, the extraordinary Modified driver out of Tampa, Florida, was inducted into the Living Legends of Auto Racing at the Shore Resort in Daytona Beach. It was an honor to do the presentation.


So, I'm from up North.

We've got a tradition up that way of great pavement Late Model and Modified racing. We've also got lots of clay tracks, especially under the sanction of D.I.R.T.

But there is something that is a little embarrassing for us. One of the plaques in the DIRT HALL OF FAME in New York reads, "If Yankee Stadium was the house that Babe Ruth built, then DIRT is the circuit that Will Cagle built."

The problem is that Will Cagle is from Florida, his nickname "The Tampa Terror."

Will was a single child, raised by his mom, and she was pretty freaked out about his growing passion for racing. His granddad saw that Will was special and came to the rescue, buying him a rudimentary Midget at 16 and sending him off to the racing wars out in Kansas City.

"It was rough," Will recalls. "I could never make more than $5 a night out there with that car. I came back home flat broke in my first and last train ride, but I sure had had my college education."

After a couple of seasons of winning prodigiously in Florida - pulling in around $100 for a feature, he heard about the Northlands where a good run might be worth $400.

So in 1959, with wife Barbara and son Billy alongside, he motored to New Jersey with a Sprint Car, a 283 Chevy with three carbs up front. The first race would be in Lancaster, NY, way up by Lake Erie. It was not a welcoming adventure.

On the way up north, the Cagles tried to sleep in the homemade wooden cap on their pickup, and it got VERY cold, especially for Floridians. Then, at the track, still dirt at the time, it got VERY dusty, and that's when Will got bonked in the face by a big rock. He pulled into the infield and fell over onto his hot exhaust headers. At the hospital an unaccomplished doctor sewed his eye shut by mistake.

But, back in New Jersey, almost immediately Will ran into some uncommonly good luck - a famous and funky stock car owner named Lucky Jordan. They became instant buddies, and Lucky announced, "Well, you've got a ride. I'll treat you just like a camshaft. I'll run you for two weeks. If you don't work out, I'll put you back on the shelf. No hard feelings." They never looked back.

Over the next few summers Will blistered 'em at East Windsor, Reading, Flemington, Nazareth, and Middletown. In the winter, the family Cagle was back in the Sunshine state, running Supermodifieds on the short tracks and on the Daytona tri-oval three times. He won hundreds of shows.

Then, having met Glenn Donnelly, Will ventured even further north, a territory ruled by Donnelly's DIRT organization. Will was flat-out incredible, almost all of the time aboard his own machinery. Seventy DIRT trophies at Rolling Wheels, 53 at Canandaigua, 84 at Weedsport - and four straight Syracuse qualifier championships.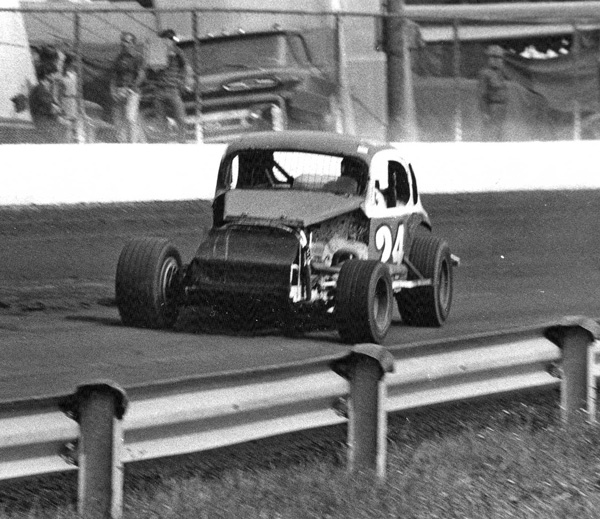 "Cagle on the dirt at Syracuse"
(Racing History Preservation Group Collection, Dick Berggren Photo)
A non-drinker, always intense, up on the wheel, Cagle did what he had to do to win. That determination seemed to be born within him. Way back on Labor Day of 1952, in his first race ever, Will whupped a huge Soap Box Derby field that included Buzzie Reutimann. His advantage was the weighty V-8 cylinder head that he hid under the cowl to give him more momentum.

Years later in the pits at an All Star show at Weedsport, all eyes were on him to see what rubber he would pick for the main. He bolted on hards and motored out to the lineup early. Then, right before the pace laps, he snuck back into the pits where his waiting crew hustled on a set of softs. He blew them all away. "The Tampa Terror" was now also "Wily Will."

Astoundingly, all in all, by August 18, 1985, Wily Will, Barbara, Billy, and his sister Vicky, had visited 115 different race tracks and won on 75 of them, for a tally of over 900 victories. His best year was likely 1966, when he romped off with both Middletown's EASTERN STATES 200 and his favorite win, Langhorne, in its second year as pavement. Amazingly he did that with his dirt car, refitted with different springs and shocks, powered by a 402 small block he assembled with Buzzie Reutimann, and shoed with some special chemistry from Marvin Rifchin's M&H Tire.

But everything has its season.

That August night at Weedsport, a driveshaft in Will's Modified broke, wrapping up his leg in an unsightly, bloody mess right in front of the grandstands. It took 45 minutes to extricate him from the car. The leg was saved - barely - at the cost of 31 agonizing days and nights in the hospital.

Subsequently Will would withdraw from driving. He spent the next decade promoting the races at Middletown for Donnelly and later, moving back south, at East Bay near Tampa.

He did jump back in the seat briefly, running Legends at Charlotte at age 69. He was very impressive.

Today Will and Barbara live in Lutz, Florida, and they summer in the Smokeys. He's sharp as a razor, always loving to recall his racing days on the road. It could be, however, that Will Cagle's greatest triumph was not his high speed competence behind the wheel. It was his unusually cautious way of life, always attentive to his family, never spending on credit, never partying. Very few family units were able to survive the trials, the grind, danger, and expense of those 60 racing years with the devotion that the Cagles clearly share.

And, now, will the one and only Tampa Terror, the wily Southerner who took the Union down, please approach the podium to join in perpetuity the Living Legends of Auto Racing.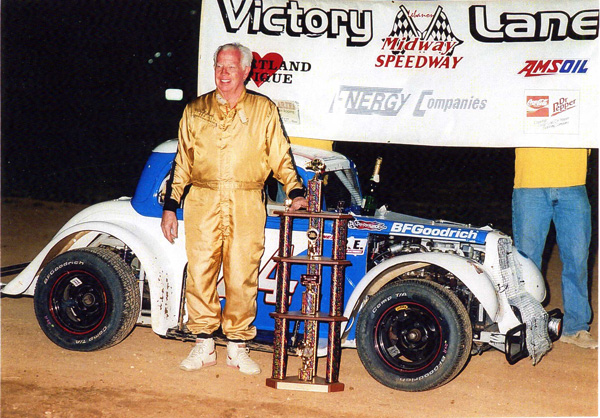 "Winning in the Legends"
(Racing History Preservation Group Photo)