jJOIN OUR
MAILING LIST


for advance notice




of special offers!




(emails are never




shared or sold)


-



Email us at info@coastal181.com

---

Previous Photos of the Day - PAGE 7

Previous Photos of the Day - PAGE 6

Previous Photos of the Day - PAGE 5

Previous Photos of the Day - PAGE 4

Previous Photos of the Day - PAGE 3

Previous Photos of the Day - PAGE 2

Previous Photos of the Day - PAGE 1
---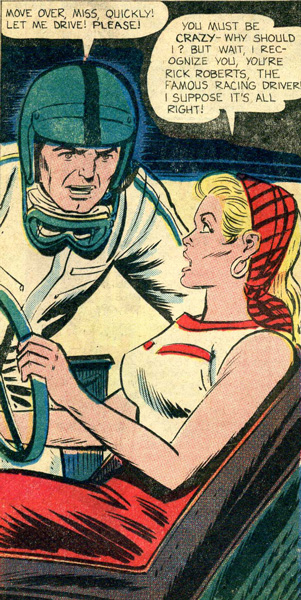 #1700 - From "Grand Prix," published in the 1960s by Charlton Comics.
A
---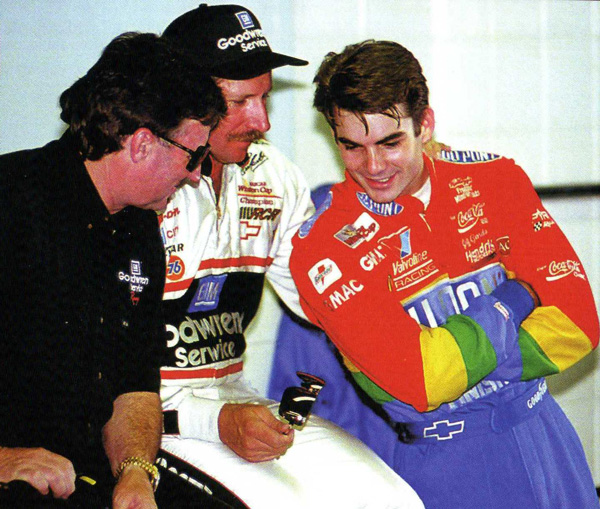 #1699 - Dale Earnhardt: "I get along with Jeff, but we don't travel in the same circles. He plays video games, I go big-game hunting. He wears athletic shoes, I wear boots. What we have in common is that we love to race." Photo and quote from

DALE EARNHARDT: The Pass in the Grass

, Edited by Joseph J. Bannon, Jr., (Christopher A. Record Photo)
a
---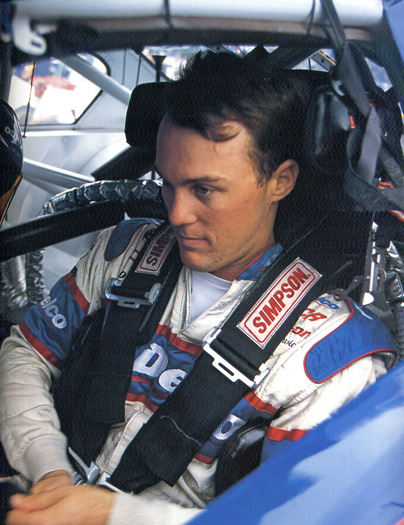 #1698 - In the fall of 2000 things were looking pretty bright for Kevin Harvick. He had just ended up a remarkable rookie season in the Busch Series as part of the Hendrick organization. He got three wins and a third-place finish in the standings. From SECOND TO NONE: The History of the NASCAR Busch Series, by Rick Houston (Phil Cavali Photo)
A
---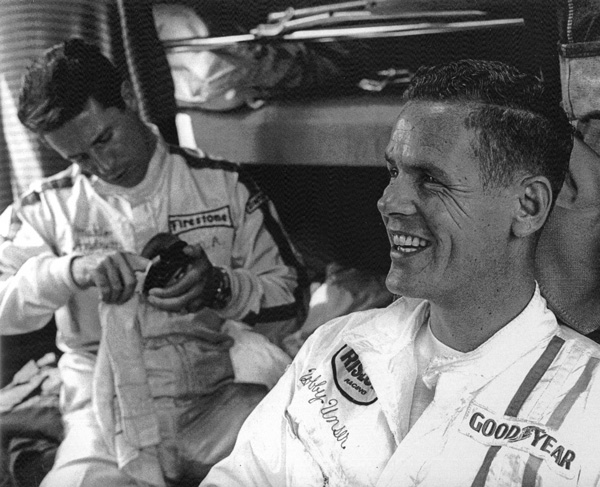 #1697 - This is a follow-up to Photo of the Day #1652. It seems that Bobby Unser was with Mario Andretti on an incredible weekend that was actually in 1968, not 1971. Here are the two at Monza on a Friday, getting ready to practice for the Italian Grand Prix. Afterwards, they hustled back over the Atlantic to run the Hoosier Hundred on Saturday and then it was back to Europe for the Formula 1 event. But there was a rub. The FIA would not let them run because no driver was supposed to compete in two racing events in a 24-hour period. Here's what Bobby had to say: "That was all political stuff, the crap they pulled on us at Monza. They let us fly all that way for nothing. And then, we drove all the way from the airport like idiots, maniacs, trying to make it. I risked both Mario's and my life just getting to the race track. We ran on sidewalks through towns, Italian cops were wavin' their arms and yellin' at us, we just went and went. Mario read the signs, tell me where to go, and I'm drivin'. Stupidest thing I've ever done. And all the time, we wasn't gonna have a chance to run anyway." From THE AMERICAN LEGACY IN FORMULA 1.
a
---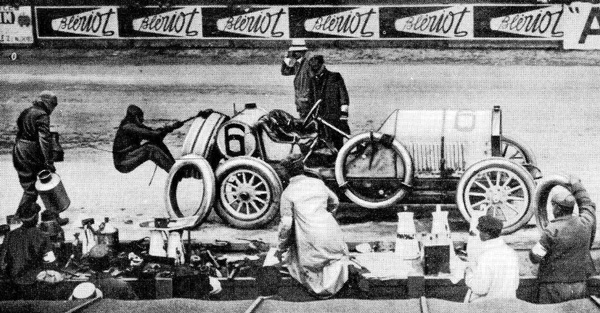 #1696 - Before the merger with Mercedes, Karl Benz hired Hans Nibel to revise some of his designs. This car didn't look like much, but it did win the 1908 French Grand Prix. (Note the below level pits!). It was actually pretty rugged. It won the St. Petersburg to Moscow race that year when Victor Hemery hustled it over 429 miles of what were called "virtually non-existent roads" at an average of 51 mph. From THE BOOK OF SPORTS CARS, by Charles Lam Markmann and Mark Sherwin (Photo Courtesy of Daimler-Benz A.G.)
a
---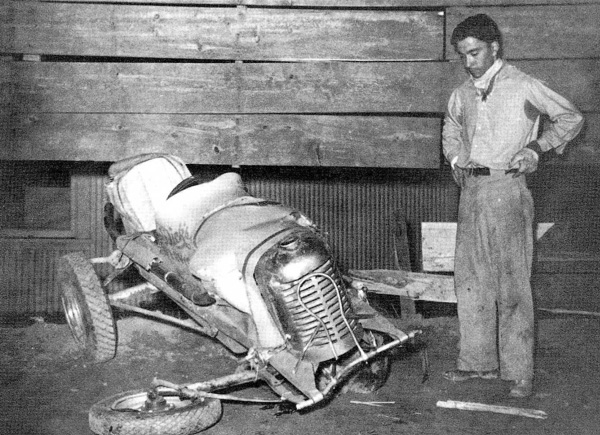 #1695 - Some days are diamonds, some are stones, according to crooner John Denver. Bill Vukovich would likely have agreed. Here he surveys the situation in 1940 at California's Atlantic Speedway, on land that is now the Long Beach Expressway. From DISTANT THUNDER: When Midgets Were Mighty, by Dick Wallen (Dick Wallen Collection)
a
---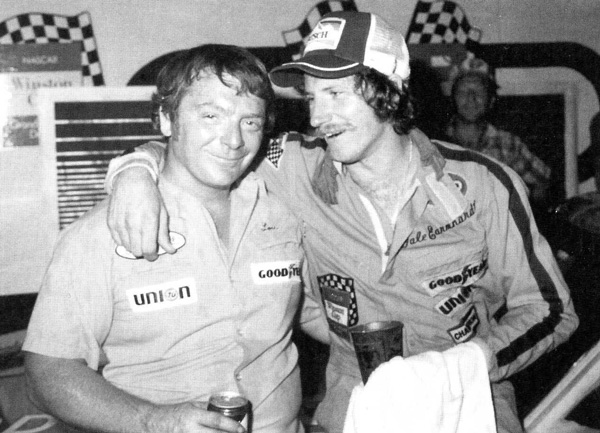 #1694 - It was season's end 37 summers ago. Dale Earnhardt had just won the Rookie of the Year award for 1979. Here he conferred with motor man, Lou LaRosa. He said about the award, "That ain't shit. I don't care about that. I want to be Winston Cup champion next year." That worked out just fine. Photo and Quote from THE LAST LAP, by Peter Golenbock. (Lou LaRosa Collection)

A
---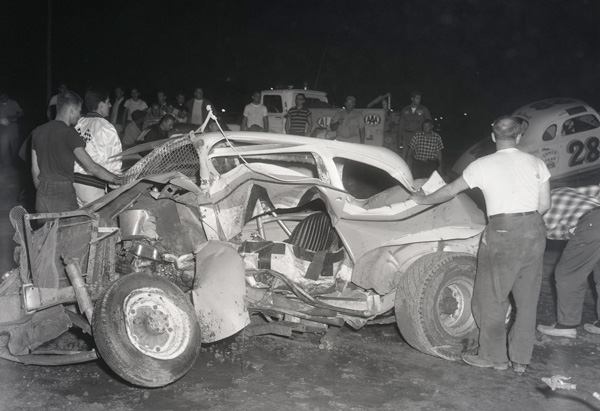 #1693 - It was dirt days at Stafford Speedway, on the backstretch just outside the pit area, September 4, 1964. Gene Bergin got sideways in Sharkey Gaudiosi's Plymouth coach and was drilled big time by Don Rounds and Dick Bundy. All three drivers were injured, Gene most seriously. It is thought that the only thing that saved him was the center seating, and it was a year before he climbed into another race car. It was a tough night for Sharkey, too. That's him in the white T-shirt thinking about all the work he has to do. From A HISTORY OF AUTO RACING IN NEW ENGLAND by the North East Motor Sports Museum. (Shany Lorenzet Photo)
A
---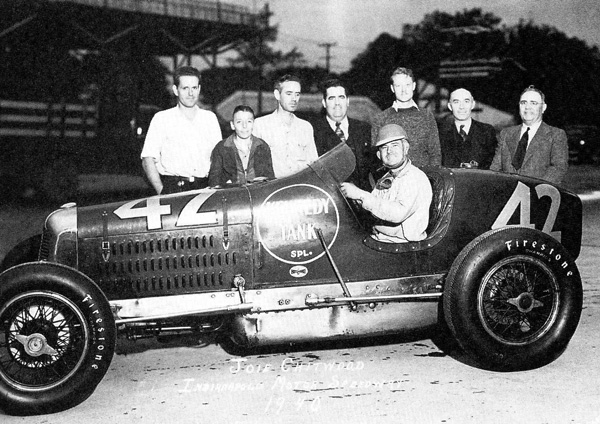 #1692 - This was Joie Chitwood's first official photo at Indy. It was taken in 1940. But it was the next year that he made history at the Brickyard. He became the first person to run the 500 with a seatbelt. In his words, "A lot of guys didn't use seat belts in race cars. They wanted to get thrown out if the car crashed. Rex Mays and Wilbur Shaw were head of AAA Drivers' Association and they had a rule that at Indianapolis seat belts would not be used. I couldn't hold my foot on the accelerator because I was bouncing up and down so much. I tried to get the owner to change the car and he said 'No, if you don't want to drive it, we'll get someone else.' So I went out to my dirt track car and got my seat belt and put it in. When Rex Mays and Wilbur Shaw found out about it, they came to me and tried to stop me from using it. I told them, 'I'm doing this so I can stay in the car and drive it. I won't be able to qualify if I don't.' They finally let me use it after I promised to release the belt if I thought I was going to crash, something I never did at Indy. In fact, I never spun at Indy or was I involved in any of the wrecks." From SAFE AT ANY SPEED: The Great Double Career of Joie Chitwood, by Jim Russell and Ed Watson.

c
---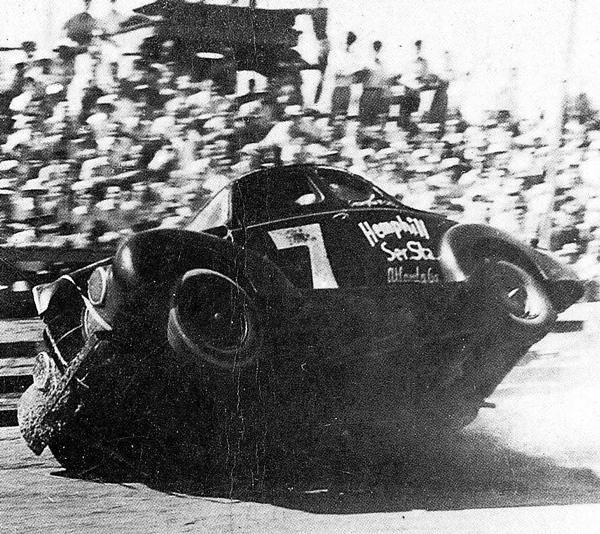 #1691 - This was Lloyd Seay not exactly tiptoeing his way around the North Turn of Daytona's Beach Road track. He was full-time spectacular, as was acknowledged by Bill France Sr., who called him "the greatest stock car driver who ever lived." In one feature the Dawsonville driver was said to have flipped twice and still finished fourth. On August 24, 1941, he swept the Daytona field (which included his cousin Roy Hall, about whom Jim Croce sang the song "Rapid Roy the Stock Car Boy"). Seay led every lap of the 160-miler. But just eight days afterwards, he was shot to death by another cousin, Woodrow Anderson, following a dispute about moonshine. Quote and photo from NASCAR: The Complete History, by Greg Fielden
a
---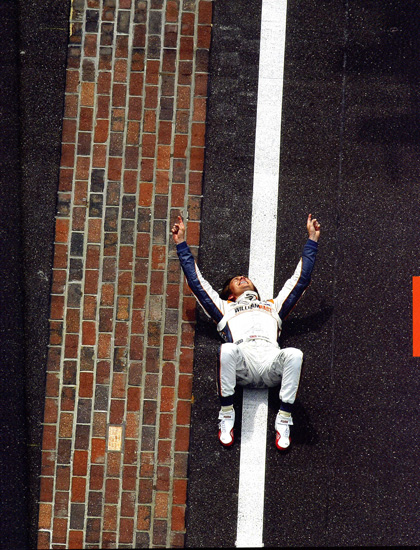 #1690 - The finish of the 2011 Indy 500 could only be described as drama on steroids. An articulate young racer from California surprised everyone by leading the very end of the race only to go wide off the fourth turn, brush the wall, and end up second. The winner, the late Dan Wheldon was taken aback: "I just felt so much relief. Obviously I knew he was okay because I could see him moving. I've been runner-up for two years before this and I never gave up. I mean Kanaan nearly put me in the wall going into three which was very, very interesting but there's a lot of great storylines today….It's just an incredible day. I'm taking my kids to Disney, baby; I'm taking my kids to Disney." Quote and Photo from LIONHEART: Remembering Dan Wheldon, by Andy Hallbery and Jeff Olson. (Dan Helrigel/IMS Photo)
a
---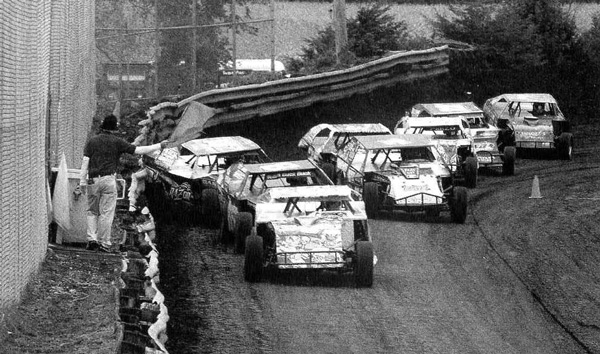 #1689 - Those are IMCA Modifieds off the fourth turn on the third-mile dirt of Boone Speedway in Iowa. Doesn't the flagman look a little nonchalant to you? From RACING THROUGH TIME: A History of Automobile Racing in Iowa, by Bill Haglund. (Bruce Badgley Photo)
a
---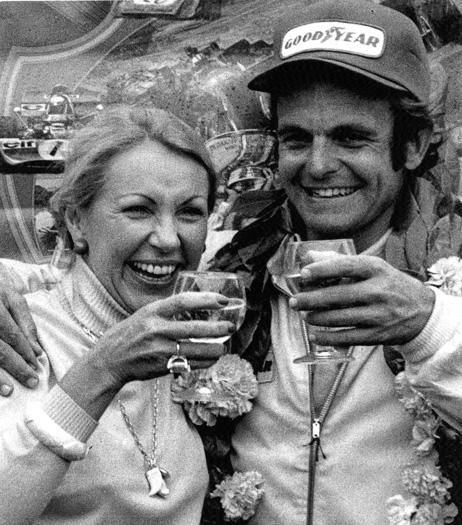 #1688 - Here's star-crossed American Peter Revson in arguably his finest moment. Celebrating with Joan Cahier, wife of the famous French motorsports photojournalist Bernard, Revson had just won the July 14, 1973 F1 event at Silverstone in England. The handsome Revson was heir to the Revlon Cosmetics fortune, but passed it all up to become a road racer. He spoke of how "my old man was secretly hoping I'd fail and return home." Unfortunately he died eight months later testing in Kyalami, South Africa. His brother, Douglas, had died in 1967 in a race car in Denmark. Quote and Photo from THE AMERICAN LEGACY IN FORMULA 1, by Philip van Osten. (Cahier Archive Photo)
a
---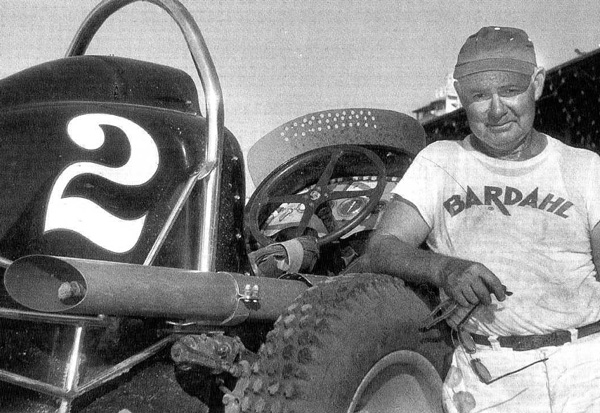 #1687 - Hector "Pappy" Honore, out of Pana "the City of Roses" Illinois, had an amazing 32-season career with open-wheelers. Initially a driver himself, Honore turned to the wrenches before the war and won a championship on the MDTRA "Kerosene Circuit" with Cliff Griffith at the helm. By the end of the 1967 campaign, Honore had had enough of the road, having towed an estimated 1,100,000 miles to fairgrounds far and wide. With over 20 wheelmen in the chair – including Spider Webb, Bobby Grim, Pete Folse, Scratch Daniels, and Don Branson, Honore and his "Black Deuce" Bardahl Special racked up 432 wins and is said in Wikipedia to be the winningest Sprint Car in history. Photo from RACING THROUGH TIME: A History of Automobile Racing in Iowa, by Bill Haglund. (Leroy Byers Photo)
A
---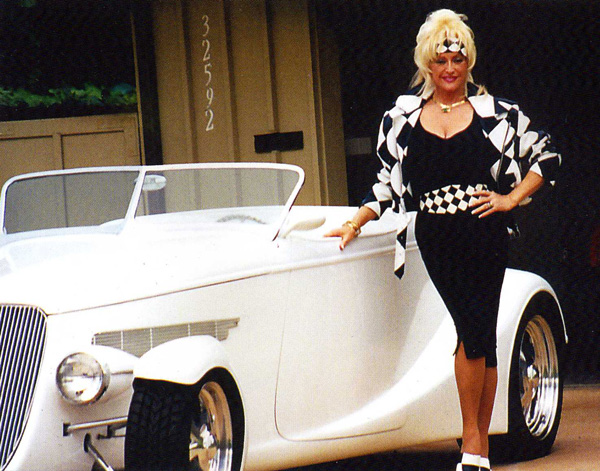 #1686 - "In my driveway at home with my hot rod Lincoln. I built the Lincoln with my boys: Guy Caldwell and Edsel Ford got me the engine, a 32-valve V-8 from a Lincoln Mark VIII mounted in the back like a Ferrari. Gene Winfield painted it, and Carroll Shelby finished it up for me. We made the SEMA Car of the Year the same year as the Plymouth Prowler. We built a hot rod that was affordable for people to power with either a Ford, Chevy, Cadillac, Oldsmobile, or any engine. I wanted to have something affordable for American engines. I tell women when it's at a show, 'There sits my facelift, tummy tuck, my swimming pool, and my fence around my house!' It took nine months to build so it was like giving birth, but I'm glad I built it. My boyfriend Greg Chamberlain took the photo." From LINDA VAUGHN: The First Lady of Motorsports, by Linda Vaughn with Rob Kinnan.
a
---

#1685 - It was first-turn action at Gardena (CA) Stadium in the 1950s with the notorious California Jalopy Association. That was quite a popular spectacle back then in Southern California, as often 100 cars would turn up to try to qualify for the main. Parnelli Jones commented, "Take it from me, the competition wasn't just fierce, it was like a war." Perhaps it was just the result of survival in the rough and tumble era, but it sure seems these two cars had far better cages than the typical coupe or coach would have looked east of the Rockies. Quote and photo from MEMORIES OF THE CALIFORNIA JALOPY ASSOCIATION, by Thomas D. Luce. (Dick Barry Collection)
a
---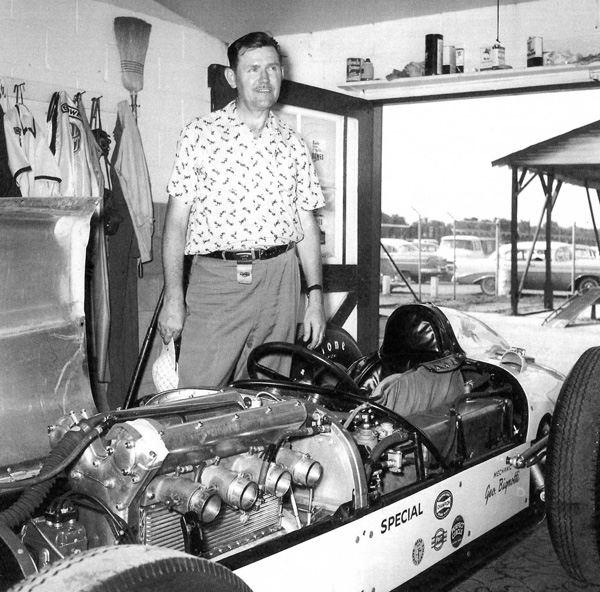 #1684 - Standing tall over his roadster at the Brickyard in 1956 was Frank Kurtis, all 6' 4" of him. The 1956 "500E" was lower and lighter than previous versions. Johnny Boyd was in the cockpit, while George Bignotti turned the wrenches. Unhappily, they sprang an oil leak after 35 laps, and that was the name of that tune. From INDY CARS of the 1950s, Ludvigsen Library Collection.
a
---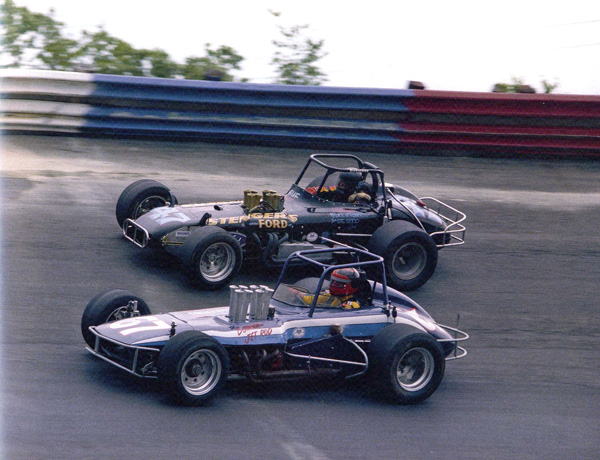 #1683 - Beautiful "roadster" Sprinters. Marvin Carmen in the Jet Engineering Special has a slight lead over Jeff Bloom in a USAC show at Dayton, Ohio, July 1, 1979. From UNITED STATES AUTO CLUB: Fifty Years of Speed and Glory, by Dick Wallen. (Armin Krueger Photo)
A
---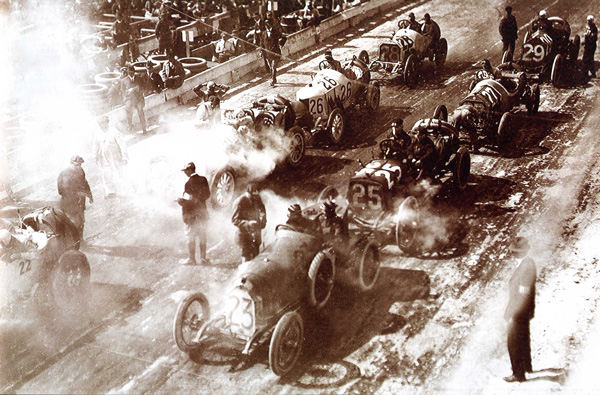 #1682 - Mercifully, the EPA emissions-testing team was nowhere to be seen at the Vanderbilt Cup in Milwaukee on October 2, 1912. Here the starting field of eight warms up for the 300-miler. By the look of the pit boxes, tire chargers were planning to be pretty busy. The race was won by Ralph De Palma and his mechanic Tom Alley. They were in the #22 Mercedes on the outside pole. From The 1912 Milwaukee Races: Vanderbilt Cup and Grand Prize, by Joel E. Finn.
---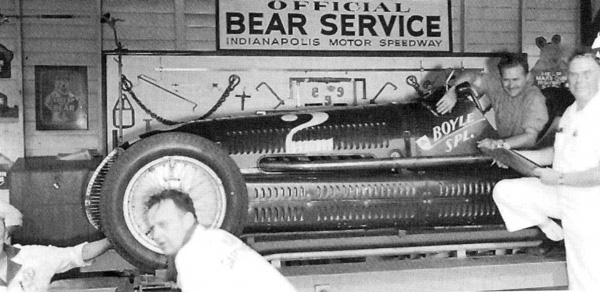 #1681 - That's Wilbur Shaw aboard the Boyle Special at Indy in 1941. He was on the Bear Shops alignment table after qualifying third at 127.836. The race did not turn out exactly as planned for the star driver and team. He completed 151 laps ending up in 18th, but there's quite a back story. There was a fire in the garage area early in the morning on race day. A wheel that had been marked as defective had the markings washed off in the fire's aftermath. And somehow that wheel ended up on the car, and it collapsed. Shaw, who was leading, crashed, ending his pursuit of three wins in a row. From A PICTORIAL VIEW OF THE BEAR SHOPS AT INDIANAPOLIS, by Richard. J. Iverson
a
---

#1680 - Between the mid-'50s and the late '90s there was a 1/3-mile paved oval and a 1.6-mile paved road circuit in Upper Marlboro, MD, called Marlboro Motor Raceway. One of their more interesting events, often run in January, was the Refrigerator Bowl. By the time this photo was taken in 1963, the field had become amazingly diverse. Would you have wanted to insure it? Elmo Langley showed up in a Ford Galaxie he was getting ready for the Daytona 500 and he ran fifth. Dick Thompson and three others in Corvettes would beat him to the line. Also in the field was a V-8-60 Midget, a go kart, and some Formula Juniors. From LOST ROAD COURSES, by Martin Rudow. (Bill Dobbins Photo)
Z
---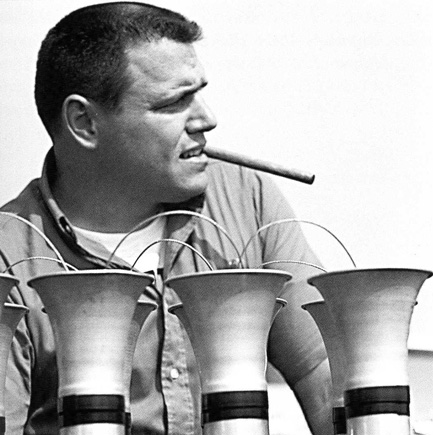 #1679 - If it had Mopar power and doors and ran real fast in a straight line during the Muscle Car Era, it may well have belonged to Dandy Dick Landy. The San Fernando Valley native and racing Hall of Famer was a promoter's delight – spotless in appearance with perfectly coiffed hair and perpetually unlit cigar, and gloriously fast with his wheel-standing assaults on drag strips nationwide. His career behind the wheel began in the 1960s and lasted until 1981. He passed away in 2007 at age 69. From LANDY'S DODGES, by Geoff Stunkard, (Photo TEN: The Enthusiast Network)

a
---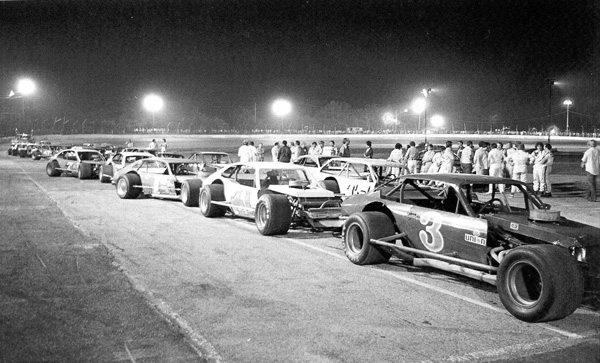 #1678 - It was a great time in Modified racing, the start of the 1978 All Star race at the New London/Waterford Speedbowl. That was Fred DeSarro in the Boehler #3, Bugs Stevens in the Brady #4, Fred Schulz in the Dunn T-5, and Geoff Bodine in the Armstrong #1. It was also a seriously great time for Bodine. He won this one along with 54 others in 84 starts that year. From MODIFIED STOCK CAR RACING OF THE '60s and '70s, by Steve Kennedy.
a
---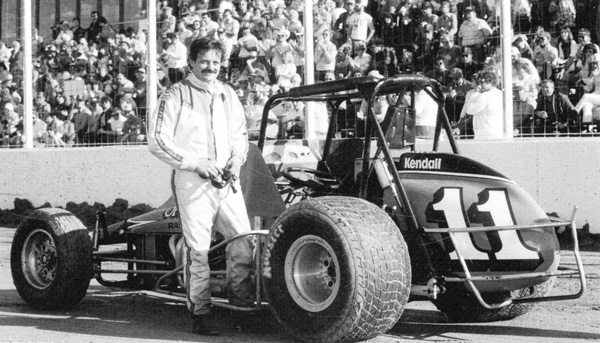 #1677 - "Jerry Stone was a three-time NCRA kingpin driving for car owner Lloyd K. Stephens. Stoney stepped onto the national stage out of nowhere in 1977, when he whipped a stellar field of USAC Midgets at the Seattle Kingdome, driving a Midget built by Jelly Wilhelm and powered by a Wilson V-4, built by Jerry Wilson. All three were Wichita, Kansas, locals. Stephens was a fair but demanding car owner of NCRA and USAC Champ Cars and WoO Sprints. Lloyd handled his tenure as Chairman of the Board of Ofixco (Oklahoma Fixture Company) the same way. When the board inquired about the non-stop spending on dirt track cars, Stephens informed the board that the company was broke when he started it, and it would be broke when he finished. They voted him out, and Ofixco was bankrupt in two years. Stoney was one of Stephen's most bankable employees and he looks ready to go at Tampa in 1985." Quote and Photo from COMPETITION PORTRAITS: The Dirt Champion Cars, by Bob Mays (John Mahoney Photo)
a
---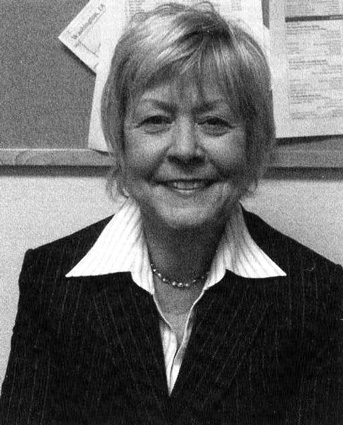 #1676 - That's Christie Vilsack, wife of Tom Vilsack, our current Secretary of Agriculture. Prior to going to Washington, he was Governor of Iowa and she was First Lady. On July 1, 2000 she snuck out of the Governor's Mansion and competed in a Thunder Car event at 34 Raceway in West Burlington, Iowa. She ran fourth. From RACING THROUGH TIME: A History of Automobile Racing in Iowa, by Bill Haglund
a
---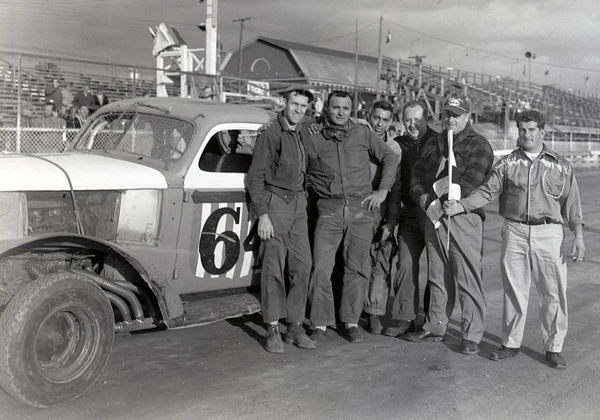 #1675 - Lionel Arel was an old-time dirt tracker around New England. He looks pretty pleased with himself in this image and he had a right to be. He had just won the annual Fair Race at the old Stafford Speedway in Connecticut, his second victory there that year. Arel was a particular favorite at the infamous Rhythm Inn Speedway up across the state line in Millers Falls, MA, where he was the top of the National Speed Sports News' ballots for most popular driver. Our reader Stan Klepadlo recalls that Arel used the same Chrysler engine in his hauler and his race car. One night he blew up in the heat, so the crew replaced the engine with the one in the truck. The crew might have missed some of the traditional post-race beers at the adjoining Rhythm Inn where the payoff was distributed. They were busy putting the engine back in the truck in order to get back home to Northampton, MA. (North East Motor Sports Museum Collection)
a
---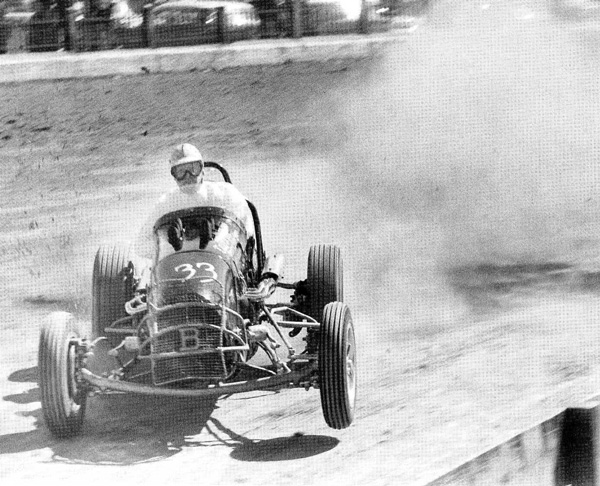 #1674 - Every photo of the Reading (PA) Fairgrounds seems to convey a sense of serious speed. There is no question about why from anyone who saw a race there. Here is Joe Barzda in his Chevy-powered stretch Midget stretching a lead in the September 15 USAC Eastern Sprint Car Series feature in 1957. Running like a rabbit paid off big time. Rain came on the 13th round of the scheduled 20-lapper, the race was called, and Barzda won it. He was followed by a gaggle of Offies, ridden by Johnny Thomson, Tommy Hinnershitz, and Bill Randall. From The EASTERN BULL RINGS: The History of the Eastern Big Car Championships 1945-1960, by Buzz Rose. (Dave Knox Photo)
a
---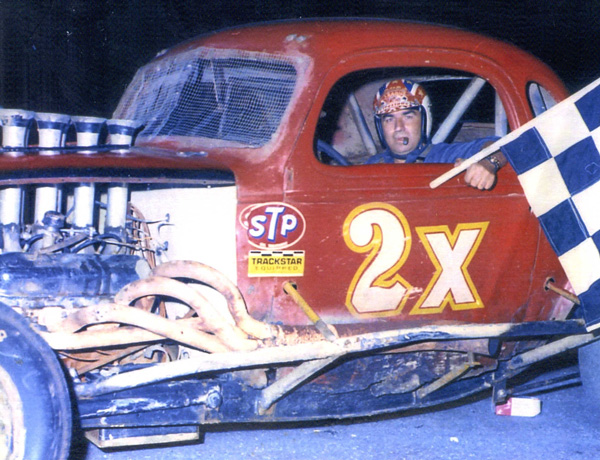 #1673 - Bobby Judkins is one of the all-time great East Coast Modified owners. His most famous coupe, shown here, came right before his #2x compact that launched the Pinto Revolution. The coupe was a true utility car, never polished and burnished, but there at every race – small track, large track, pavement or dirt – always in the hunt. And what a bunch of executives sat in that office! They included Gene Bergin, Fats Caruso, Jim Hurtubise, Kenny Shoemaker, Eddie Flemke, and, as shown in this shot from a pavement All Star show, the irrepressible Rene "Champ" Charland. The car has been restored, complete with those glorious injectors, by Long Island's Phil Elliston. (Elliston Family Collection)

a
---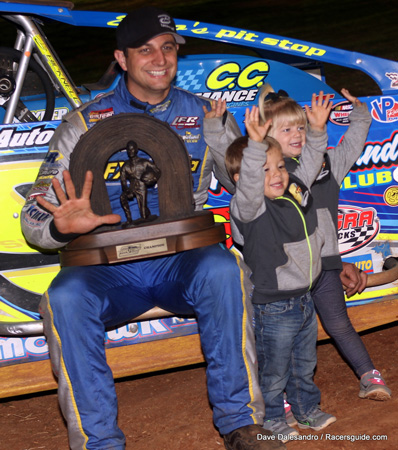 #1672 - Wheeling a car owned by a team he formed just last winter, pole-sitter Super Matt Sheppard ran away from the 28 car at the 40-lap Charlotte World Finals on October 28. He's shown celebrating with his niece and nephew. He had every right to – he had set a new record for the number of features won in one season on the Super DIRTcar Series. "A dream season," he called it. Photo by our Man from Amsterdam, Dave Dalesandro

a
---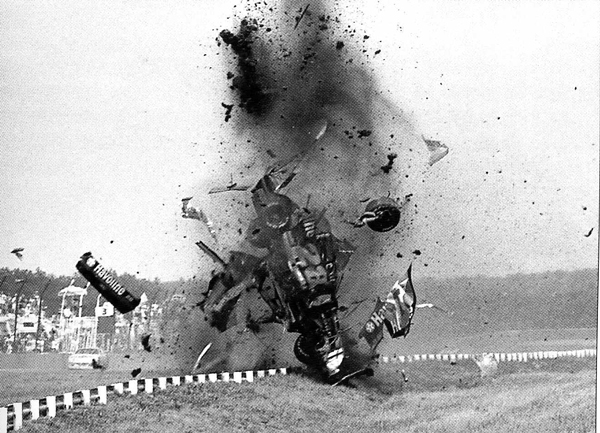 #1671 - Davey Allison, the 27-year-old winner of the 1992 Daytona 500 and red hot in the other early-season races in his Texaco-Havoline Ford, had his season take a serious hit at Pocono, on July 19. After contact on his rear quarter by Darrell Waltrip, Allison went for quite a ride, a catapult followed by barrel rolls. He had a bad concussion, a broken wrist, arm, and collar bone. Allison had been a closely followed contender for the Winston Cup that year. The title ended up being won by "Special K," Alan Kulwicki in the Hooters Ford. Kulwicki would die the following April in a place crash. From NASCAR'S GREATEST RACE: The 1992 Hooters 500, by Rick Houston (Jim Smith Photo)

A
---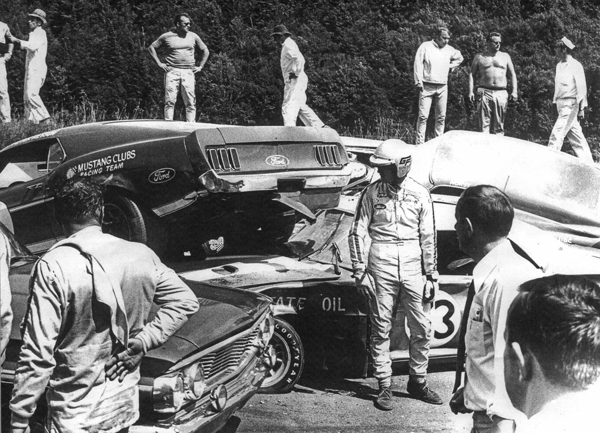 #1670 - As Daniel Lipetz's cool new book (TRANS-AM ERA: The Golden Years In Photographs: 1966-1972) makes clear, those Trans-Am guys were on the hammer. Here was the scene at St. Jovite - Mont Tremblant in Quebec in 1969. "George Follmer inspects the carnage resulting from his blown engine and poor flagging by course workers. While a marshal did display a yellow flag, the oil flag only came out when Follmer took it from another marshal after decking him. Vic Campbell's #73 Firebird and Peter Revson's Boss 302 joined the fray. Revson actually arrived at the scene after Campbell, yet he still wound up high on the pile of cars. Revson later said he 'saw the waving yellow flag and slowed down to a speed I thought would get me through anything.' Amazingly, he was unhurt from the initial impact but he was so stunned that he failed to realize he was several feet off the ground when he exited the car. He suffered minor ankle and shoulder injuries in the fall." (Photo Don Markle Collection)
a
---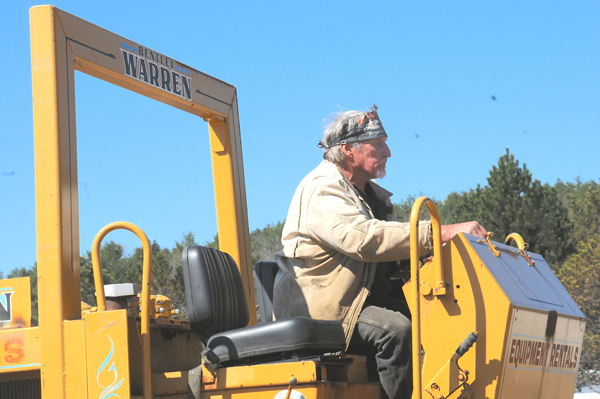 #1669 - The racing world remembers Bentley Warren as one of the most successful Supermodified drivers in the sport's history. With seven Oswego Speedway championships and six Oswego Classic wins he's one of the greatest all-time in that track's storied history. But, in addition, he won the Little 500 in Anderson, IN, twice and earned 45 ISMA wins. He won the Star Speedway Classis six times and the Sandusky Hy-Miler three times. Now nearing his 76th birthday, Bentley begins each day before the sun rises with a power-walk through the neighborhood. His plate is full as owner of a huge sand-and-gravel trucking operation and New England's most successful biker Bar, Bentley's Saloon in Arundel, ME. He recently completed construction of a huge auto museum on his estate in Kennebunk, ME. Bentley's also one of the most significant personalities in the creation of the North East Motor Sports Museum, where he's donated heavy equipment (such as he's shown driving at the museum) for the site work, been a major donor to the project and has been one of the go-to people who have helped shape the project's major decisions. (Photo and caption by Dick Berggren)
a
---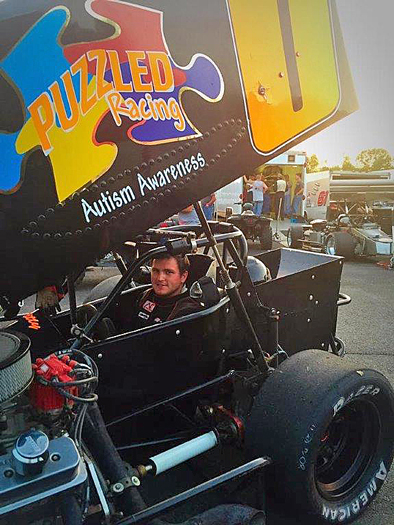 #1668 - Brad Babb comes a racing family in Maine, and he's on the gas. At 24 he already has a Super Late Model championship at Beech Ridge, Maine, and all kinds of Late Model wins. He'd always wanted to try an Open Wheeler and got his chance in the Small Block Super Modified race at this year's Star Classic in Epping, New Hampshire. He recalls, "It was different for sure. When I pushed off, I felt with no roof and windshield that I was actually outside of the car. And it was SO MUCH faster into and out of the turns. The biggest things were not having a mirror and a spotter. You've gotta keep your eyes and ears open!" Remarkably, he ran second in the main. (Photo Babb Collection)
a
---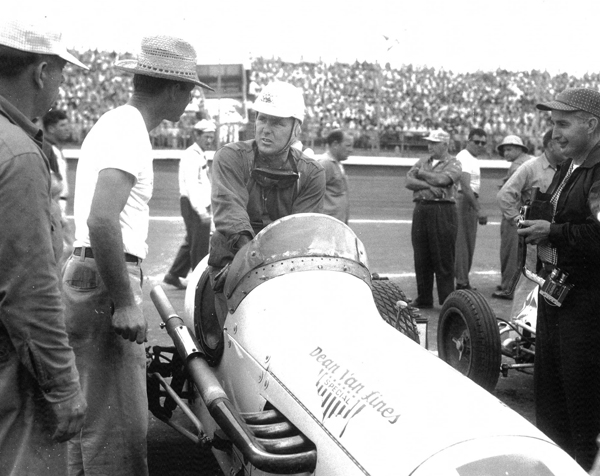 #667 - The best in the business. Jimmy Bryan and Clint Brawner confer before the AAA race at Langhorne on Sunday, June 19, 1955. They won, but with drama in a show that lasted a week. On lap 44 Johnny Thomson spiraled into a wicked end-for-end in front of the grandstands. He ended up unconscious, pinned beneath the Pete Schmidt Special #44. Brawner "braving the traffic, ran out and rocked it off the badly injured driver." That's when the rains came. A busy Brawner was quick to whisk his Dean Van Lines Special out of the place when he realized the event was about to be rescheduled for a week. There is no way he wanted his car impounded anywhere. Bryan had reported the engine was making naughty noises. Brawner rebuilt it over the next few days, replacing a broken valve guide and a bent valve. On the next Sunday, Bryan continued his unique high groove assault on the circular mile, and they won. Quote from LANGHORNE!: No Man's Land, by L. Spencer Riggs. (Photo by Charles Zulla, Ken Edsell Collection.)
A
---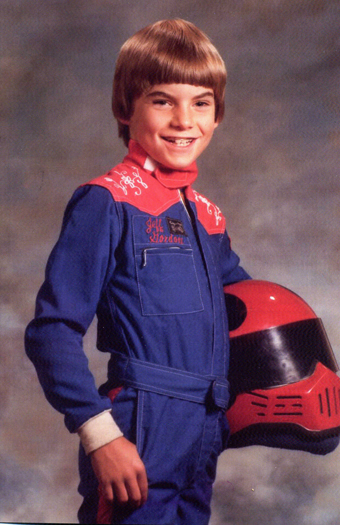 #1666 - "The Wonder Boy" when he was the Wonder Kid. Jeff Gordon was lookin' pretty preppy at age seven. His stepdad, John Bickford, had just given him this Simpson uniform. It had to be specially ordered from Bill Simpson because uniforms this small were certainly not listed in the catalogue. From JEFF GORDON: His Dream, Drive, and Destiny, by Joe Garner.
a
---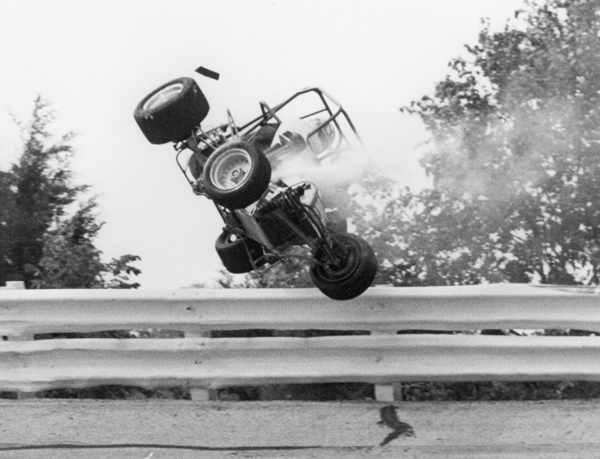 #1665 - "Long-time Midwesterners will recall the miserable summer of 1988, when drought and many 100-degree days marked the summer. As the racing season was winding down, Danny Williams Jr. had a particularly bad day at Salem (Indiana). Bruce Fields spun and collected Williams. But typically for Salem, it didn't stop there. Williams went airborne and vaulted the fence. Because of the drought, his hot header pipes caught a pine tree on fire. It took some time to get rescue personnel to him, and meanwhile, his parents were convinced he could not have survived the horrendous wreck and fire. In one of those inexplicable racing moments, not only was Williams alive, but at least part of the tree survived as well." Caption and photo from DID YOU SEE THAT? Unforgettable Moments in Midwest Open-Wheel Racing by Joyce Standridge. (Allen Horcher Photo)
A
---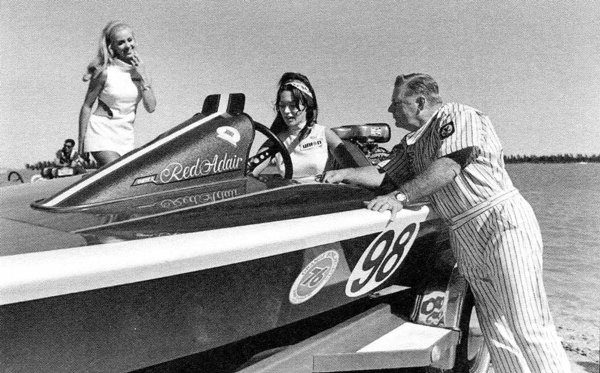 #1664 - Back in the 1970s, a common and comical response to "Where ya been?" was "Off fightin' oil well fires and chasin' wild women." Likely the most famous of all the real well-fire fighters was the unstoppable Red Adair. Among other things he was a power boat racer and APDA Hall of Famer. That's Red on the right, showing Racestopper Sharon Brown the cockpit of one of his boats. He passed away in 2004, age 89. But it would seem he had all that covered, too. Upon his death, newspaper clippings quoted him saying, "I've done a deal with the devil. He said he's going to give me an air-conditioned space when I go down there so I won't put any fires out." Photo from WHEN THE LEGENDS BEGAN: Thirty Years of Racing Photography through the LENS of Pal Parker.

a
---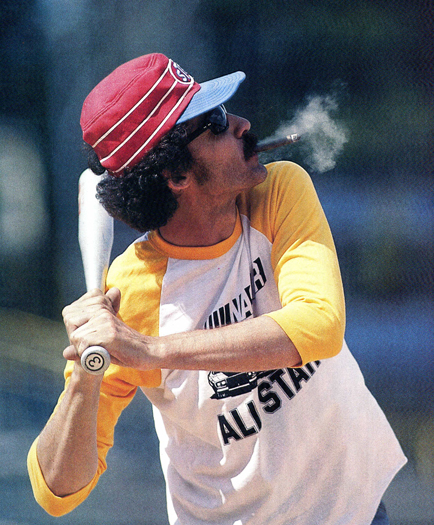 #1663 - Some guys were born to play baseball and some just weren't. Photo from GRAND NATIONAL STOCK CAR RACING, by Randy Hallman and Bob Jones
A
---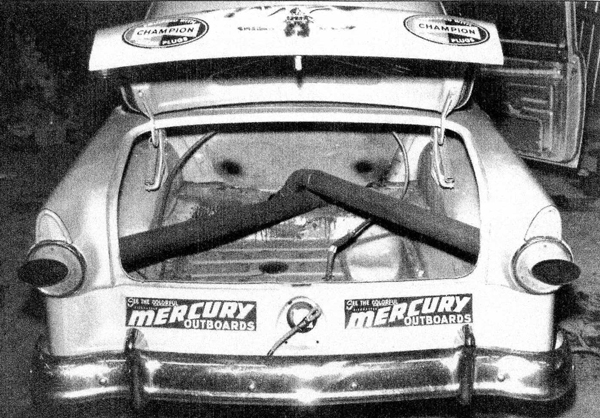 #1662 - The normally Chrysler-oriented Carl Kiekhaefer operation ran a Ford at the short-lived but infamous 1.5-mile dirt Memphis-Arkansas Speedway in Lehi, Arkansas. Speedy Thompson was aboard and captained it to the win with an impressive 84.72 mph average, two laps ahead of Marvin Panch. The exhaust system was pretty impressive, too. From FULL JEWELLED: Stock Car Racing 1951-1961, as told to Russ Hamilton.
a
---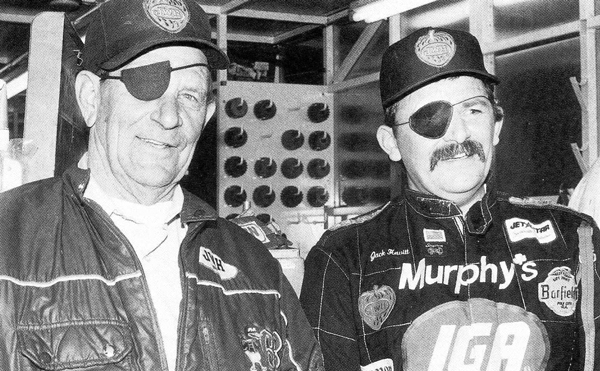 #1661 - Earl Baltes once recalled that the very first driver ever to go around Eldora – even before it was graded – was Don Hewitt, Jack's dad (L). This shot of them was taken by Phil Kunz in 1993 when Jack was wearing the result of an accident – or maybe some other kind of altercation. From ELDORA SPEEDWAY: The Most Famous Short Track in America, by Bill Holder with Earl Baltes.
a
---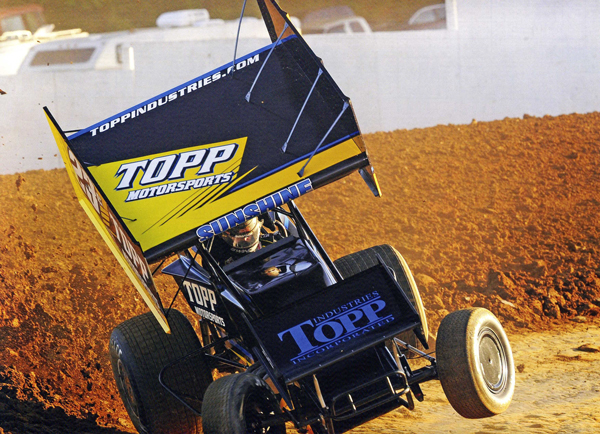 #1660 - They call him "Sunshine," and he managed to keep the sunny side up. That was Tyler Courtney qualifying on the cushion at Lincoln Park Speedway, Putnamville, IN. From the Paul Oxman 2017 Sprint Racing Calendar . (David Nearpass Photo)
a
---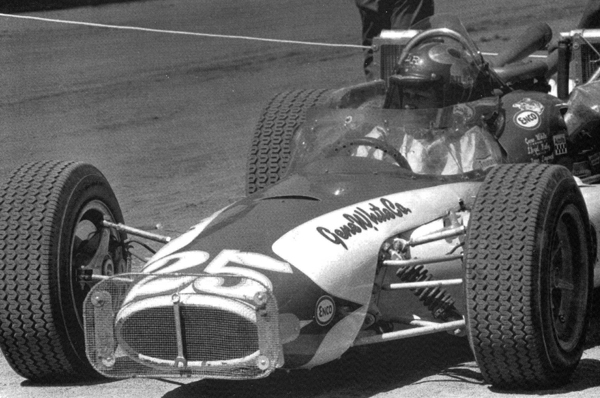 #1659 - It seems kinda surprising that he tried that. "Hard Luck Lloyd" Ruby was fourth in 1968 National Championship points going into the September 2 race at Du Quoin. He showed up with the rear-engined Mongoose-Drake Gene White car. He had won both of the Milwaukee races in the car, but it just didn't cut it on the dirt. He probably didn't feel too badly, though. Other non-qualifiers included Bud Tingelstad, Larry Dickson, Rollie Beale, Wally Dallenbach, Greg Weld, and Bobby Grim. From THAT MAGIC MILE: The National Championship at Du Quoin 1948-1970, by Thomas Nasti (Southern Illinoisan Photo)
A
---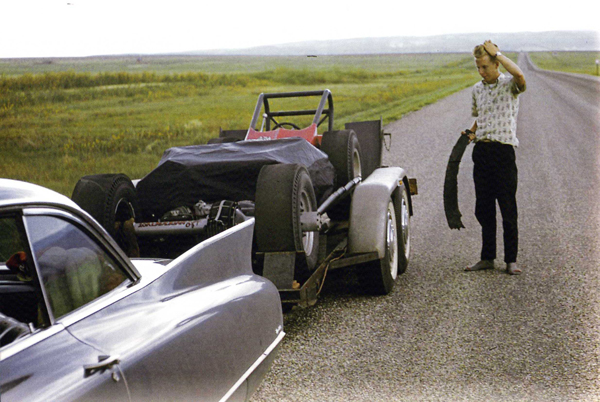 #1658 - TV Tommy. From LOST DRAG STRIPS II: More Ghosts of Quarter Miles Past, by Scotty Gosson, (Tommy Ivo Collection)
a
---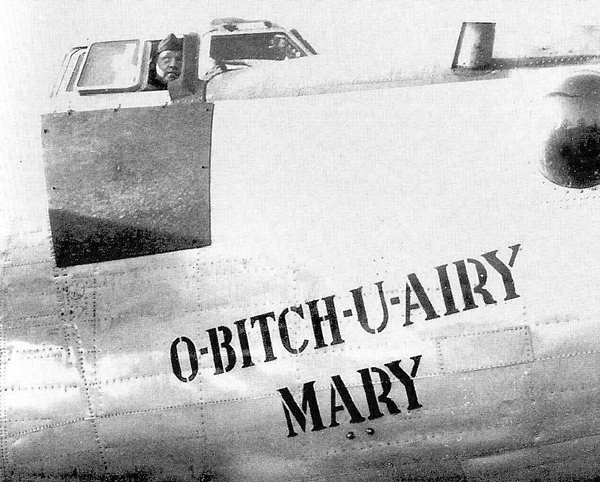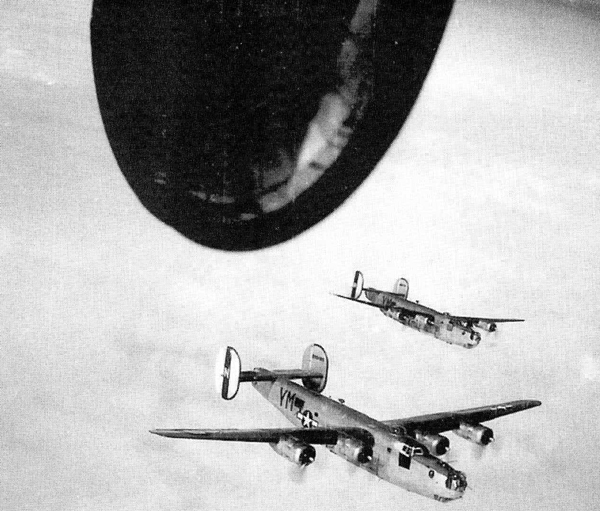 #1657 - That's Cheektowaga, New York's Captain Vern Harriman aboard the Consolidated B-24 Liberator, "O-Bitch-U-Airy Mary" that he flew in 35 missions in World War II. The last lap was over Berlin when he was hit, knocking out both engines. In the second photo the O-Bitch-U-Airy Mary (in the foreground) is damaged and separates from the rest of the squadron. Fortunately, one engine sputtered back to life, and Harriman was able to sneak low back across the English Channel. But, then, to make things even worse, despite his radio communications, the British batteries opened up on him. Somehow he and his crew were able to land safely on the three mile long Woodridge Field. Like many returning American heroes, he seemed to need continuing excitement, so he turned to open-wheel racing. He was fast and aggressive, but was never seriously banged up. In 1951 he won a Canadian National Championship. And curiously, he was especially fast at "the Square," the old 5/8-mile dirt in Flemington, New Jersey. He won the Labor Day weekend URC event there multiple times. He passed away in 2008. From DAREDEVILS OT THE FRONTIER, by Keith S. Herbst. (Vern Harriman Collection)
a
---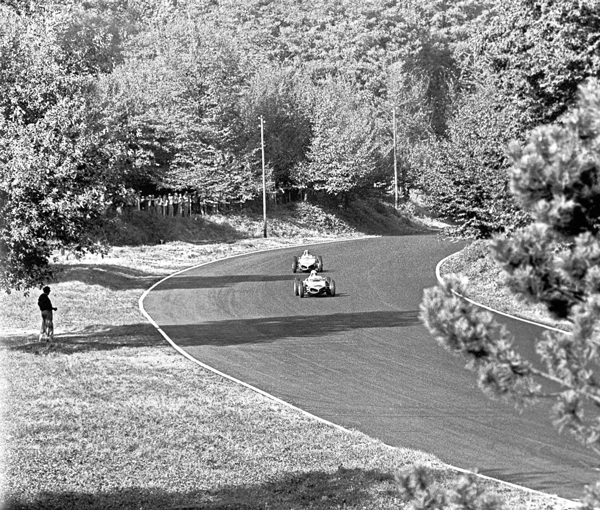 #1656 - American tourists. California buddies Phil Hill and Richie Ginther work their way through Monza's park in 1961. From THE AMERICAN LEGACY IN FORMULA 1, published by the Circuit of the Americas.
a
---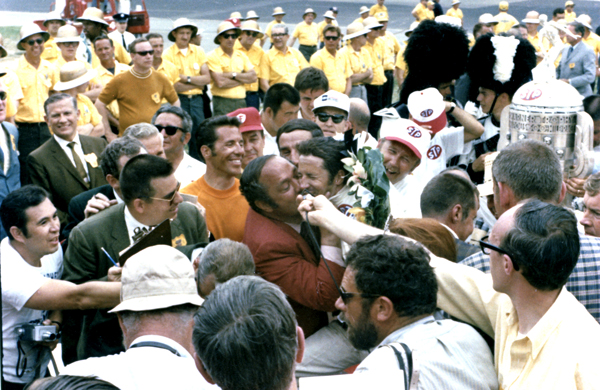 #1655 - There are very few ways you can feel sorry for someone who had just captured the grandest prize in American racing, but this was one of them. Mario Andretti clearly had "no place to go" when car owner Andy Granatelli came running over after they had won the Indy 500 in 1969. From FOYT, ANDRETTI, PETTY: America's Racing Trinity, by Bones Bourcier (John Mahoney Photo)
a
---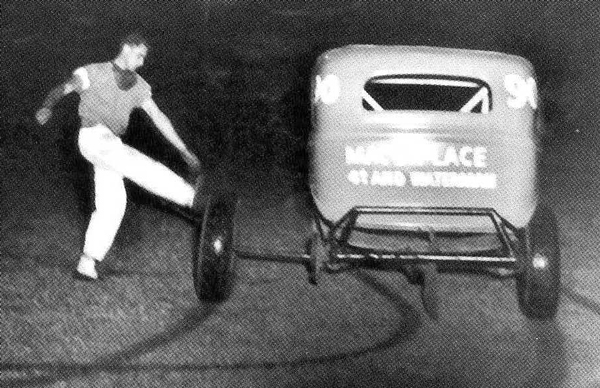 #1654 - Back in the jalopy days in 1950s, so much racing work was done creatively by hand – and foot. This a CCRA driver dealing with a rear-axle problem at the Orange Show Speedway in San Bernardino in 1954. From MEMORIES OF THE CALIFORNIA JALOPY ASSOCIATION, by Tom Luce. (Bill Holmes Photo)
AA
---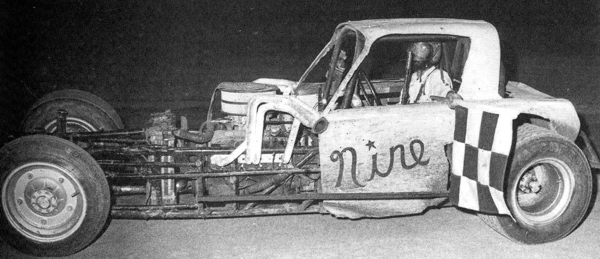 #1653 - Only rarely do they come along as cool as Bob McCreadie, the very popular and very different Modified stalwart out of Watertown, NY. And perhaps the coolest car of his many was his 'Cuda. Dreamed up in his garage in 1975, it whisked him to his first year of stardom. He recalls, "Narrower is lighter…so I called Dick Tobias and asked him, 'How narrow can you make a car?' He paused for a moment and said 'I guess until it flops over.' So that 'Cuda had a chassis about as wide as my shoulders. The driver's compartment of that car was wicked small…..The first time I drove it (May 10, 1975 at Can-Am Speedway), I couldn't fit into the thing, so I had to take my boots off to have enough room to work the pedals. The legend is that's the night the nickname 'Barefoot' got started and it's stuck with me ever since." The photo shows his first Can-Am feature win, three weeks later. By August 9th, a bonus was announced for anyone who could beat him. From BAREFOOT: The Autobiography of Bob McCreadie, as told to the late Andy Fusco, (Wayne Storey Photo)
a
---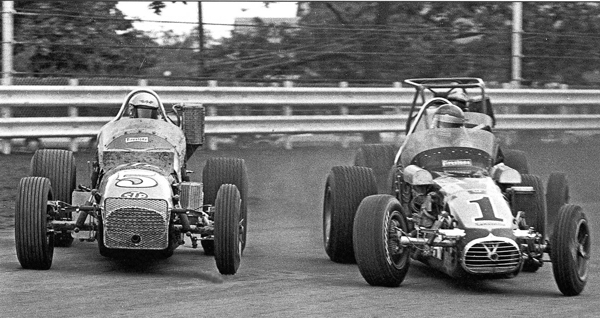 #1652 - The way of the big boys. Mario Andretti in the STP #5 leads the Hoosier Hundred at the Indiana State Fairgrounds in 1971, dueling with Al Unser. He had just qualified a Ferrari at Monza in Italy and flown back across the Atlantic to Indianapolis. After his 17th place finish on the dirt, he jetted back to Monza for the Grand Prix. But there was a problem. The Federation Internationale de L'Automobile (FIA) wouldn't let him run. They said no driver was allowed to race two times in 24 hours. From FEARLESS: Dangerous Days in American Open Wheel Racing, by Gene Crucean.
(Gene Crucean Photo)
a
---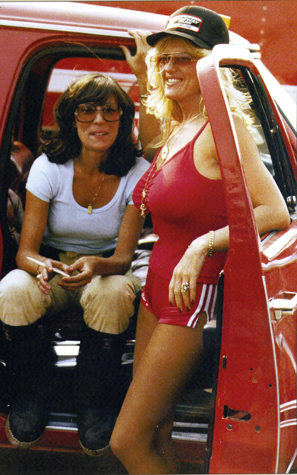 #1651 - Linda Vaughn's book is out and it's cool. Here's what she says about Shirley "Cha Cha" Muldowney (left) : "I was with her through her hard years, getting started, the rips she had to take with men in the pits. It was brand new and therefore a learning experience for all of us, and she was abused a lot along the way, but she became a national monument for all of us. Every time I could help I was there for her, and she was there for me." From LINDA VAUGHN: The First Lady of Motorsports, by Linda Vaughn with Rob Kinnan
A
---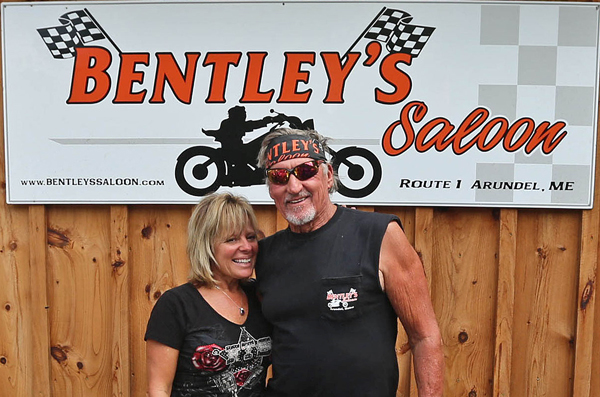 #1650 - That's the infamous Bentley Warren and Lisa Zatalava at his fabulously popular establishment in Maine. There is a charm about Bentley that certainly includes a full measure of joking and almost goofiness. But in the words of old-time Supermodified great Eddie Witkum Sr., "Any flies on that guy pay rent." Photo from WICKED FAST: Racing Through Life with Bentley Warren (as told to Bones Boucier), Bentley Warren Collection
A
---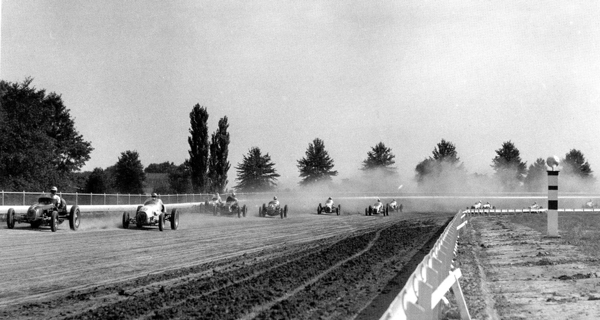 #1649 - What would you give to have been right there, right then? It was lap one the September 100-mile Championship at Du Quoin in 1951. Leading was Paul Russo, with Johnnie Parsons, Duane Carter, and Jack McGrath in pursuit. Tony Bettenhausen took command on the eighth go-around and never gave it up. From TONY BETTENHAUSEN AND SONS: An American Family Album, by Gordon Kirby. (Armin Krueger Photo, Bettenhausen Collection)
a
---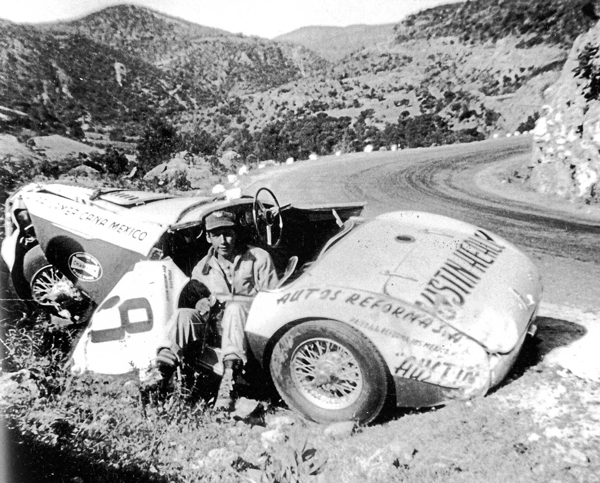 #1648 - The Mexican Road Race, run five times in the early 1950s must have been really something. Here's what Carroll Shelby had to say after an incident in the second leg of the 1,932-mile route. "When I left Oaxaca, I started dicing with those big Lincolns, really giving them hell. I passed all of them except Ray Crawford. I had just passed Vukovich and was taking off after Ray when I came around a corner a little too fast. Suddenly there was a big rock standing in my way. The rock never batted an eyelash. I went end over end four or five times like the daring young man on the flying trapeze. Only it was a lot more painful….The wheels of the driver's side were torn off, as was the passenger-side door. It was lucky we had decided to drive solo, because if Roy (Jackson-Moore) had been in the passenger's seat, he probably would have been killed." From CARROLL SHELBY - A Collection of my Favorite Racing Photos, by Art Evans with Carroll Shelby.
A
---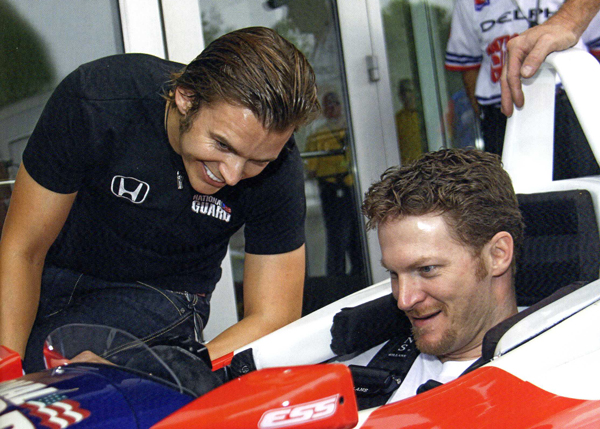 #1647 - The late Dan Wheldon takes Dale Jr. for a tour around the tight office of an Indy car. Junior recalls, "I had just a handful of opportunities to be around him. You assume that other drivers - whether they are in NASCAR or Formula 1 - are very confident. A lot of times when your confidence and their confidence are in the same range, it might create a little bit too much ego for one place. But with Dan, it was never like that." From brand new LIONHEART: Remembering Dan Wheldon, by Andy Hallbery and Jeff Olson.
a
---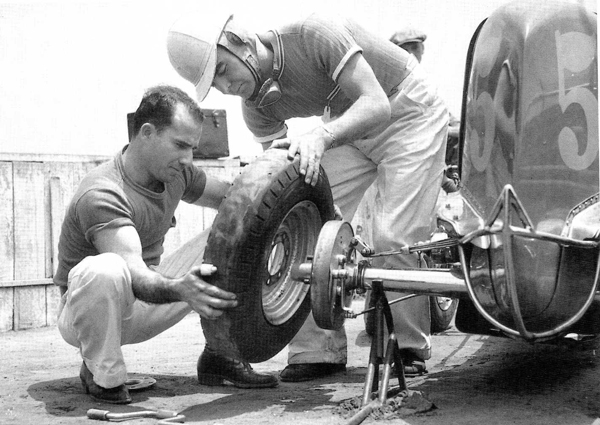 #1646 - That was West Coast Midgeteer Danny Oakes working on his left rear in 1940. A couple of years earlier he had had quite the incident in Chamberlain, South Dakota. In his words, he got into "a big hole that a Coca Cola truck had made while they were wheel-packing before the race and my car flipped ass-over-tea kettle onto the main straightaway. It broke the seat belt and threw me half out of the car, only my foot was caught under the clutch pedal. I'm trying to hold on, but I'm out over the back wheel with one leg past the tail and the other inside the cockpit, and I'm trying to get hold of something. The tire knobs are rubbing on me and I was really getting it. Well, Carl Forberg has run out of fuel or something, so he ran over and got hold of the brake handle while the car was still running and going choke, choke, choke. When the car goes by him, he makes a leap for the brake handle and got a hold of it and killed the engine. He almost killed me, too, because he landed right on top of me." From DISTANT THUNDER: When Midgets Were Mighty, by Dick Wallen (Jim Chini Collection)
a
---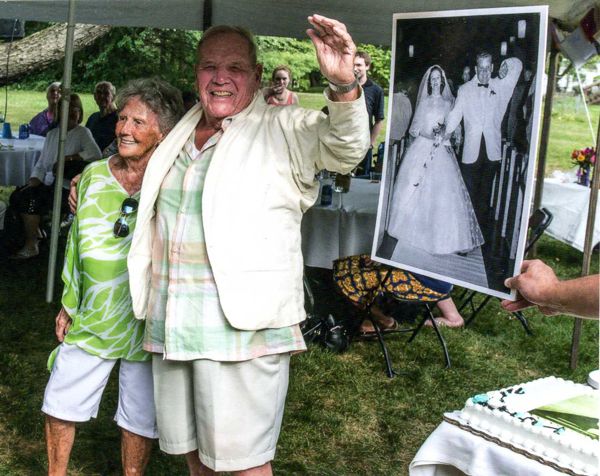 #1645 - Ultra-popular New England Hall of Famer George Summers performed remarkable feats during his long racing career. None, though, can match one week back in 1956. He was involved in a horrendous crash at the old Westboro (MA) Speedway and was really busted up. He was put into a full body cast, immobilizing his upper body and left arm to support the healing. The only problem was that he was being married the following weekend. This year a 60th wedding anniversary celebration was held for George and his bride, Maggie, shown above. In the background there is a shot from the wedding showing the couple coming down the aisle, George's left arm in stationary position, pointed to the heavens. In the foreground are Maggie and George today, wearing the special jacket his sisters had sewn up to cover the cast and that arm. George's comment was, "Man, did that jacket ever shrink." (Maggie Summers Collection)
a
---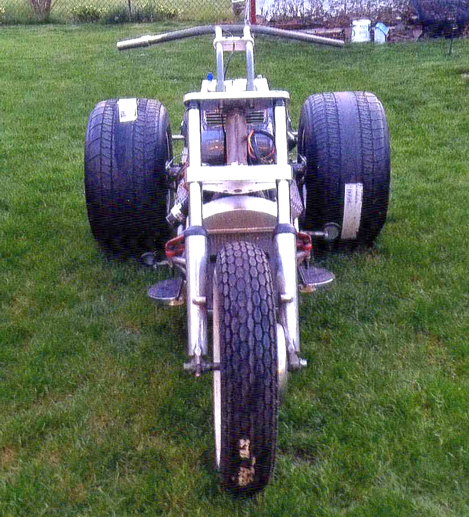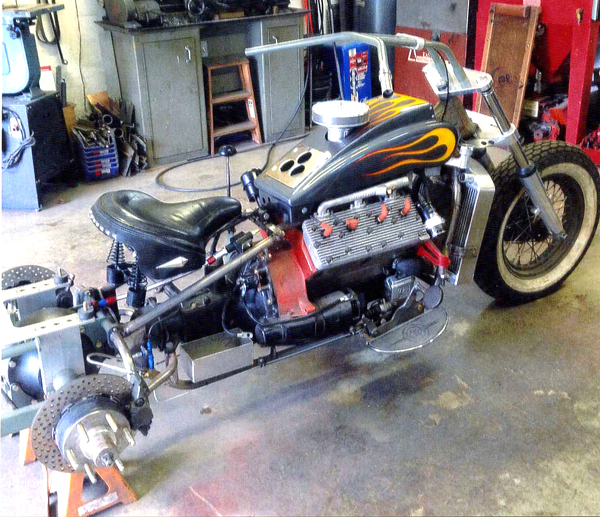 #1644 - Dan Curley in Marlboro, MA, just can't stop building very cool things. A long-time open-wheel guy who supported the legendary "Boston Louie" Seymour and his sons in their racing endeavors, the ever-smiling Dan is well-known for his incredible talents as an aluminum shaper. His most recent project has been this trike. It features a V-8/60 (with a tin side block) cooled by a brand new Offy radiator. The power is delivered by a V-8/60 tranny to a Model A rear with Midget brakes. The front gooseneck is from a Honda. It purrs like a kitten, and he's all over town with it. (Photos Dan Curley Collection)
a
---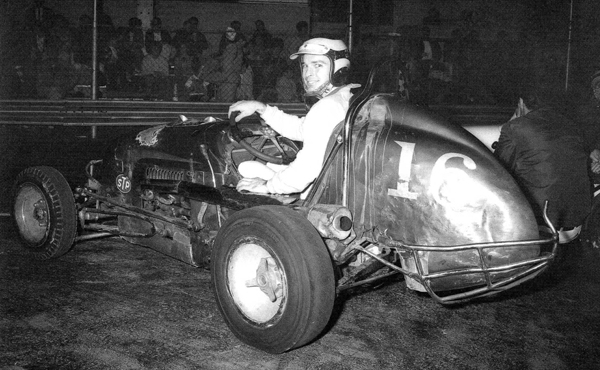 #1643 - The great American Sprint Car driver Jan Opperman was originally from Long Beach, California. He had a fling with the Midgets early on, and it did not work out all that well. Here he is getting started indoors at Oakland in 1967. As you can see, the panels on Jim Montgomery's Ford had that used, beanbag look. Montgomery said that after Jan there was no piece of straight metal on it. From INDOORS, Tracks of the West, by Tom Motter. (Jack Fox Photo)
a
---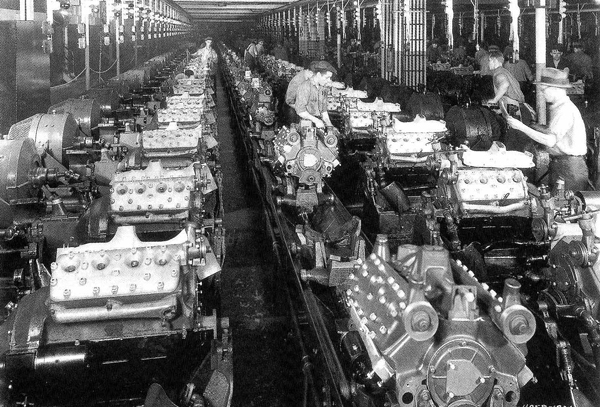 #1642 - That's the testing room of Ford's River Rouge Plant, southeast of Detroit, in 1934. How many of those Flatheads would have made their way into race cars? It took little time for one to get to Indy. That same year Chet Miller drove a roadster entered by Bohn Aluminum and Brass Company, powered by a Flathead with Bonalite aluminum heads and a Don Sullivan intake with Stromberg carburetion. It reached 109.252 miles an hour, but took a detour over the wall on lap 11. From FLATHEAD FORD ENGINES, by Tony Thacker and Mike Herman. (Ford Images Photo)
a
---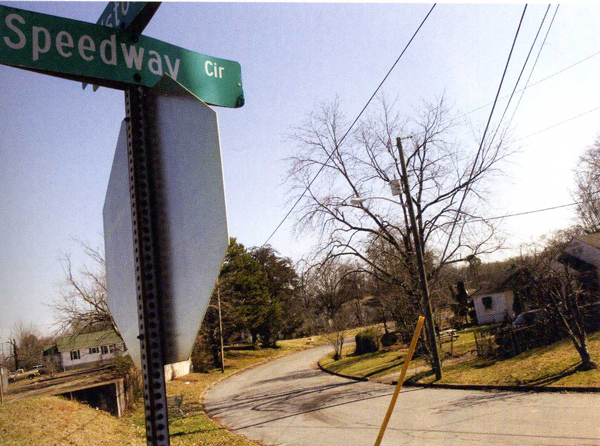 -#1641 - Who would have known? In the late 1800s a businessman named Cal Johnson, who was also a former slave, opened a half-mile dirt oval near Chilhowee Park in Tennessee. In 1910 he expanded his horizons by promoting the area's initial landing of an airplane. Somewhat later he staged a race between a Wright Brothers biplane and a car, and by 1916, race cars had taken over and continued until the early 1920s. Quite remarkably, the original configuration of the oval remains today. Paved, it is called Speedway Circle and it is bordered by over 50 homes and a church. From A HISTORY OF EAST TENNESSEE AUTO RACING: The Thrill of The Mountains, by David McGee. (David McGee Photo)

a
---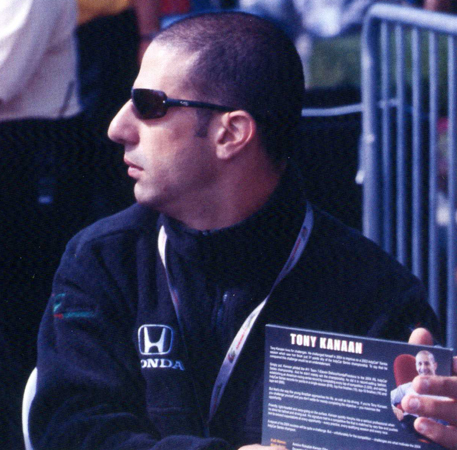 #1640 - "Kanaan is among the most popular drivers in the paddock. He's VERY proud of his nose. When he finally secured an Indy victory after about a dozen noble attempts, he relished the fact that he'd have his image added to the Borg-Warner trophy. Now, he quips that he's anxious to repeat the victory so that they can add another portrait to the opposite side and use the 'noses' as handles." From THE RACE: Inside the Indy 500, by James McGuane. (James McGuane Photo)
a
---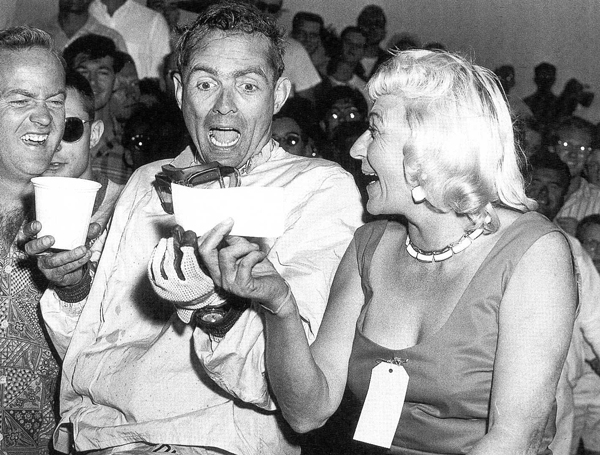 #1639 - A happy driver at the payoff window? That was a while ago – October 11, 1959, when Phil Hill whipped 65 other entries to win the L.A. Times Grand Prix at Riverside. His sponsor, Eleanor von Neuman, also seemed pleased with the $7500 chunk of the $25,000 purse. From RIVERSIDE RACEWAY: Palace of Speed, by Dick Wallen. (David Friedman Photo)
A
---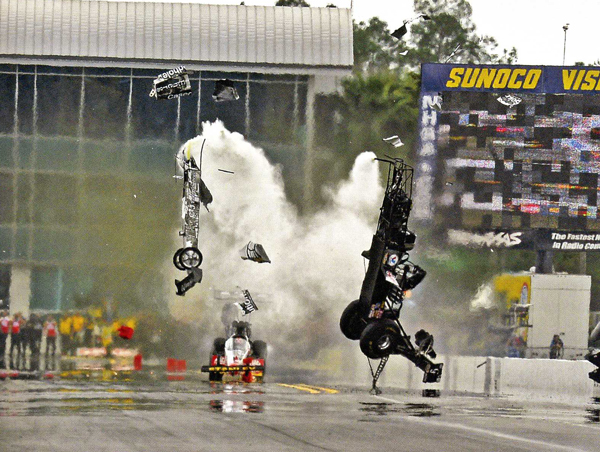 #1638 - About 900 feet into his run last year at Gainesville, Florida, things went awry for Larry Dixon. The chassis of the Bob Vandergriff's team Top Fuel Dragster came apart, and Dixon went aerial. Other than a banged up knee, he was fine – so much so that he was racing at Charlotte a couple of weeks later. From TOP FUEL DRAGSTERS: Drag Racing's Rear-Engine Revolution, by Steve Reyes (Ron Lewis Photo)
a
---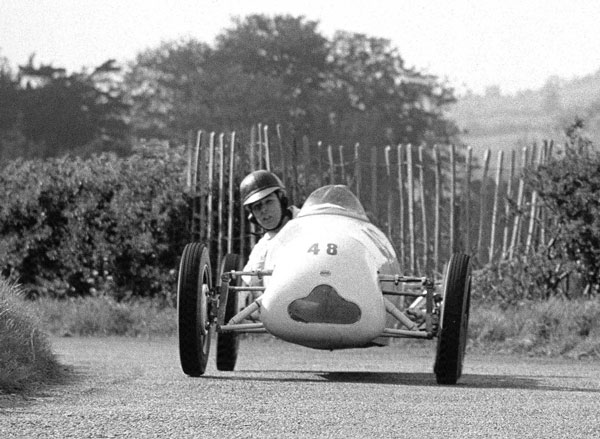 #

1637 -

Another point of view. Stirling Moss, Prescott Hill Climb, May 9, 1948; Cooper J.A.P. 500 MK II. (Louis Klemantaski Photo, Coastal 181 Collection)
A
---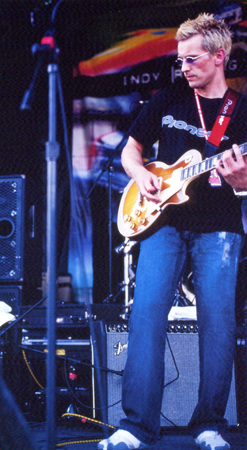 #

1636 -

"(Indy driver) Kenny Brack performs a high-volume set for the raucous Carb Day fans. His group is Kenny Brack and the Subwoofers." From THE RACE: Inside the Indy 500, by James McGuane,
A
---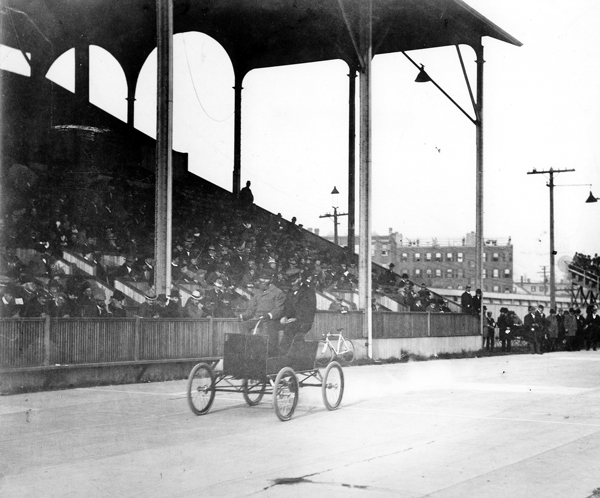 #

1635 -

It just has to be one of the oldest oval-track auto racing photos anywhere. This was time trials on the 1/3-mile Charles River Park track right near Harvard University in Cambridge/Allston, MA. Aboard the Steamer were the Stanley Brother twins. They will be inducted into the New England Auto Racing (NEAR) Hall of Fame in November. (Photo Courtesy Stanley Museum)
A
---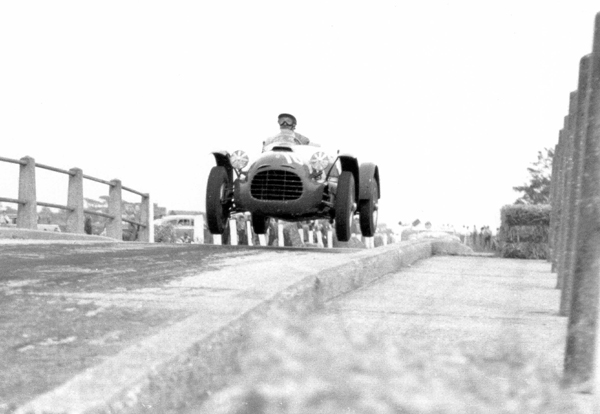 #

1634 -

There was a long tradition of road racing on Long Island, and post-World War II the action was in the village of Bridgehampton. Many of the competitors were gentlemen racers, and Briggs Cunningham, shown here, was surely among their number. He was on the gas. Here he's up on the wheel and airborne in a Ferrari 1661 motoring over Sand Pond Bridge. From BRIDGEHAMPTON: Bridgehampton Racing - From the Streets to the Bridge, by Joel E. Finn (Dan Rubin Photo)
A
---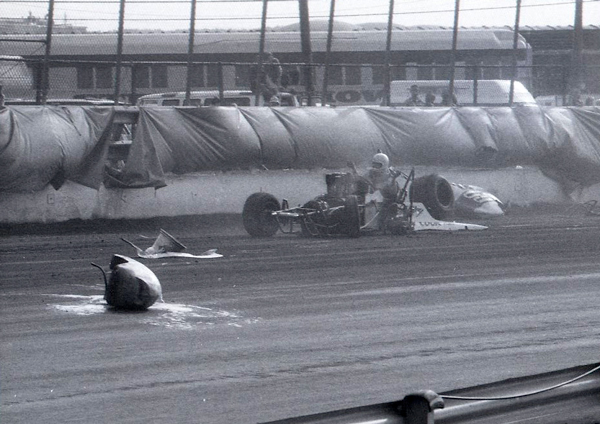 #

1633 -

Auto racing has always been dangerous business but in the late 1970s it was especially so. Van May flipped at Syracuse and as the car rolled, the cage broke apart leaving a surprised driver sitting uninjured in his seat. The fuel tank and other components also left what had been May's car. The accident was eerily similar to the crash that took Dick Tobias's life at Flemington. Doug Gore and French Grimes went to work to find out why steel was shattering rather than bending in wrecks. They discovered that there were two types of chrome moly tubing, Condition-N (normalized) and non-normalized. If chrome moly isn't normalized, a process in which heat is slowly removed when the tubing is manufactured, the moly is brittle. The cages that broke up weren't Condition-N. (Photo and Caption from Dick Berggren, North East Motor Sports Museum)
A
---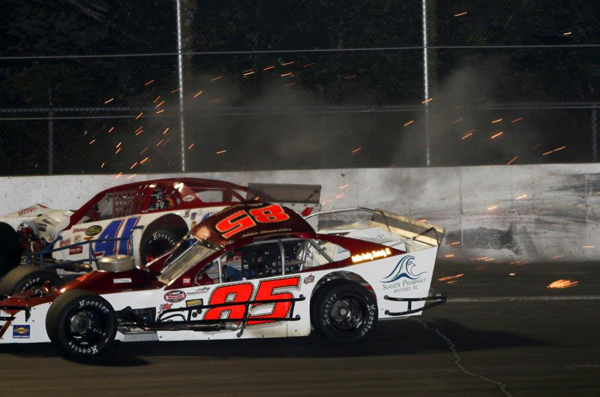 #

1632 -

The wreck of the old #41, one of Coastal 181's favorite asphalt Modifieds, first built 26 winters back. The ever-active Karl Fredrickson, owner/publisher of Speedway Illustrated magazine, blasted the fence at New London, CT, a week or two back. It was one of those vicious ones when you crash while your wheels are still in the air. But Karl practices what he preaches in his magazine. The 41 may be done, but Karl had all the safety kit he and his staff recommend. His backside was a little sore and his left hand was puffed up, but he was back in New Hampshire on his keyboard the next morning banging out a new story. (Speedway Illustrated Collection)
a
---
#

1631 -

We really love this image. Its photographer, Jack Kromer, has this to say about it: "The start of heat race action at Williams Grove with Brock Zearfoss pushing in the loose stuff, Lance Dewease hanging it out, Eric Tomecek running a little loose, and Tim Wagaman and Brian Montieth hitting it straight."
a
---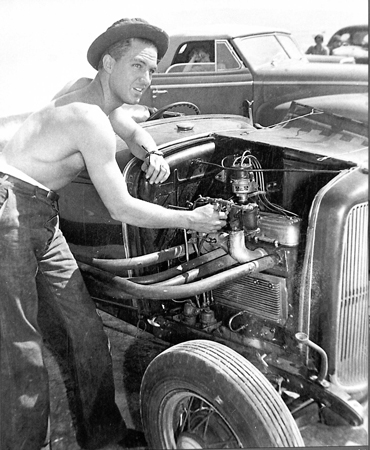 #

1630 -

The way it was – and the way it still is. That's actor Robert Stack (of the "Untouchables" on TV), seriously back in the day, tuning the twin Winfields on the Cragar head in his Model A. Check out his girl in the convertible wondering just how long this hot rod stuff is gonna last. From

Hot Rod Gallery II

, by Pat Ganahl. (Eldon Snapp Photo)
a
---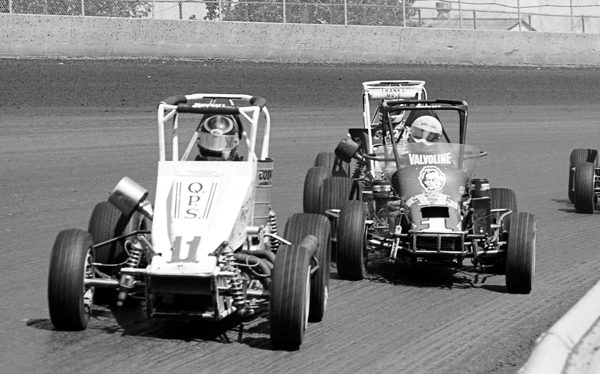 #

1629 -

From our observation point, it has always seemed that Midgets on a mile are about as hairy as racing can be. This shot is from our forthcoming book (available this fall) on the rather outrageous Kevin Olson, (aka KO), called CAGES ARE FOR MONKEYS. He is shown leading two of his buddies in USAC cars on the dirt of the Springfield mile back in 1987. He agrees with our assessment. "You put in a very high gear for those big, fast tracks like Springfield and Phoenix, so it takes a while to get up to speed. But do you ever! At well over 100 mph you feel the wind pressing your helmet back. And back then there were no containment seats, so you were flopping around inside the car. Add huge G-forces and dirt flying all around, and you know you are going really fast. You can't do anything drastic because the result will be certain disaster. But it's always a balancing act. When three guys like Vogler, Wente, and I are racing, some of the caution goes out the window. You go for it." From CAGES ARE FOR MONKEYS, by Kevin Olson. (John Mahoney Photo)
A
---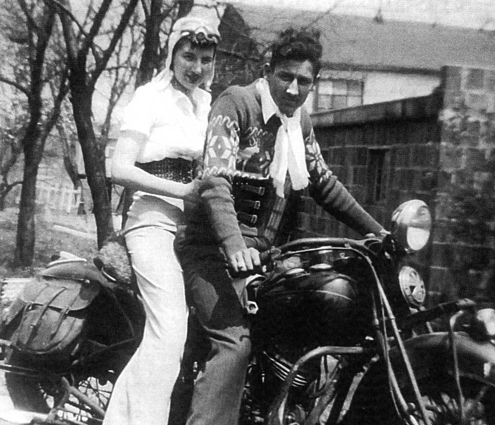 #

1628 -

There was something predictive about that look in the eye and the racy stance of Art Arfons on his Indian in the '40s, long before his land speed record runs in the Green Monster. His sister, Lou, looked racy too. From SPEED DUEL: The Inside Story of the Land Speed Record in the Sixties, by Samuel Hawley. (Tom Joswick Photo)
a
---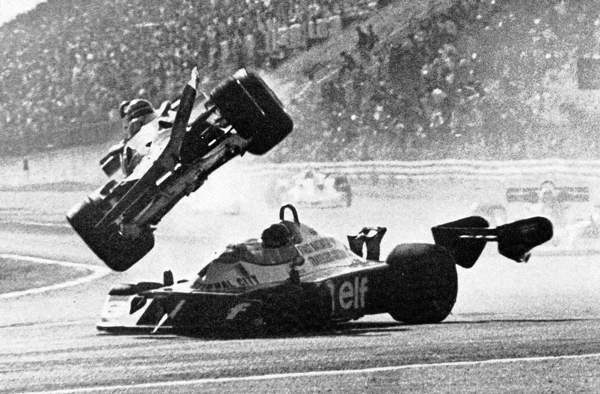 #

1627 -

It happened at the right-hand turn at the end of the main straight at the Japanese Grand Prix in 1977. Gilles Villeneuve chased the brake pedal all the way to the floor, as he tried to slow to avoid hitting Ronnie Peterson's Tyrrell. He ran over Peterson's rear wheel, breaking off his wing. Villeneuve cartwheeled high in the air and into an area prohibited for spectators. A marshal was there, trying to usher eager fans away, but it was too late. Villeneuve climbed out of his monocoque/engine unit unhurt, but the marshal and a spectator were killed and seven others injured. From AUTOCOURSE 1978-79, Edited by Mike Kettlewell.
a
---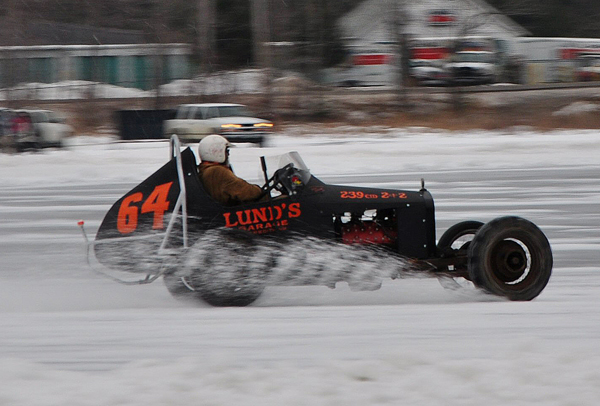 #

1626 -

Here's a note from a reader, Larry Moore, about our Photo of the Day from last Friday (#1625). "Thought you might like to see a photo of Dave Bennett's car at speed at Berry Pond (Moultonborough, NH) in 2010. The car really does run!" (Larry Moore Photo)
a
---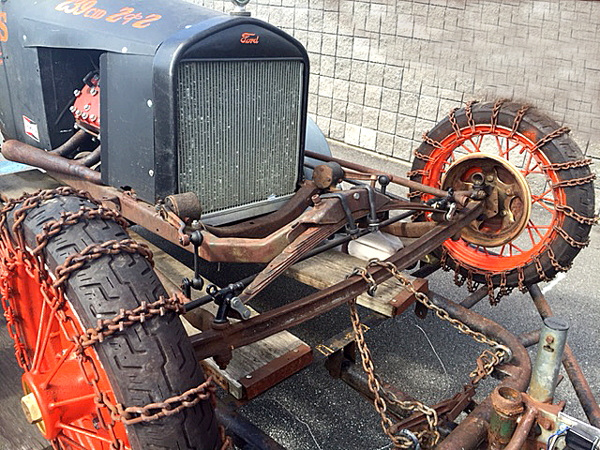 #

1625 -

It may cause me to be arrested, but I think this was the neatest front end on all the cars Thursday at New Hampshire Motor Speedway's vintage celebration -- and there was a whole bunch of some classically beautiful open-wheelers and stock cars to consider. It has always seemed to me that "suicide front ends" were a defining moment in the progression from jalopies to race cars. The motor could go back, and the frame could go down. This setup is from an ice racer built by Dave Bennett in Meredith, New Hampshire, from pieces and parts "lyin' around the barnyard." The spring perch and spring are from a Model T. The perch is welded in tipped back, allowing some pretty substantial caster on the axle. That may be the hot setup on the ice, but, in any case, it is way cool. (Coastal 181 Photo)
a
---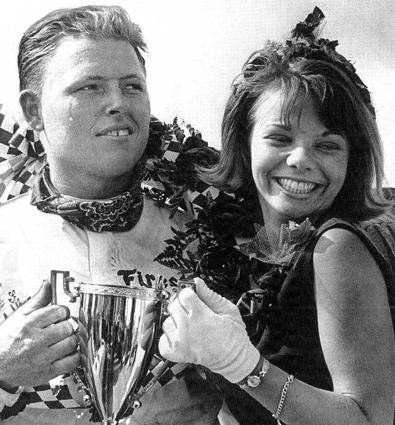 #

1624 -

So why the tear in the eye? Greg Weld had just won the 1967 USAC Sprint Car title for Dr. Ward Dunseth and Paul Leffler. He had a particularly sensational middle of the season and had racked up eight victories. Besides, she was so pretty. From UNITED STATES AUTO CLUB: Fifty Years of Speed and Glory, by Dick Wallen. (Dick Wallen Collection)
A
---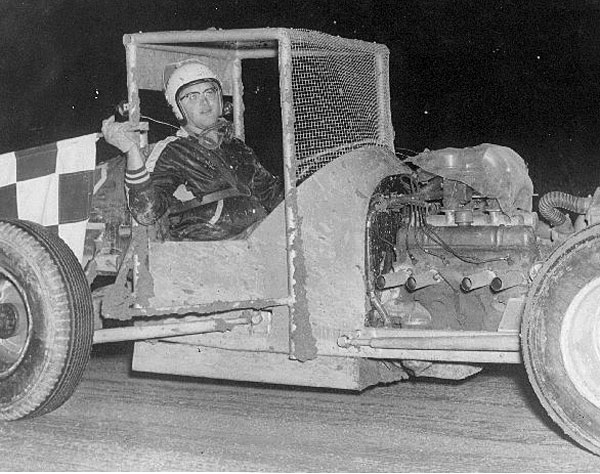 #

1623 -

Mike Clark (or "Old Man Clark" as he was known more recently in Allegany, NY) was a fun-loving guy with a life motto of "Don't sweat the small stuff." He was a passionate racer in the '50s and '60s at area tracks such as Olean – and what a cool time it was. Check him out in his cutdown: Open helmet, Sam Brown belt, a cage not even legal for a wheel chair, and an OHV Buick with advanced filtration. Another neat photo from Ford Easton.
A
---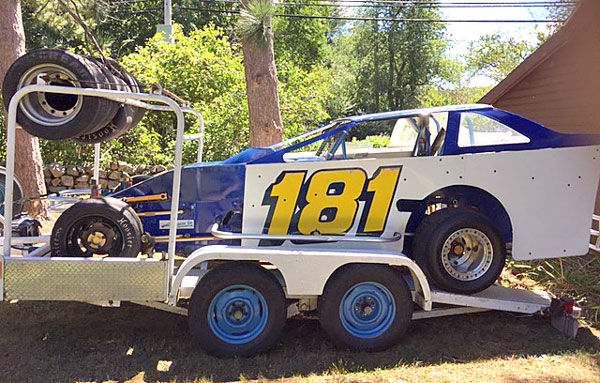 #

1622 - Here's "Jean," the youngest of the Coastal 181 race cars, all loaded up to support Thursday and Friday's Vintage Celebration at the New Hampshire Motor Speedway. Unfortunately, she is likely to get more time on the trailer than on the track when we get to Loudon. Our driver at vintage events, New York's Kenn VanWert, suffered serious abdominal injuries when an air compressor let go a month ago. He had a great surgeon and will recover fully, but, given his huge new zipper, he understandably is not into taut seat belts and harnesses just now. (Coastal 181 Photo)
A
---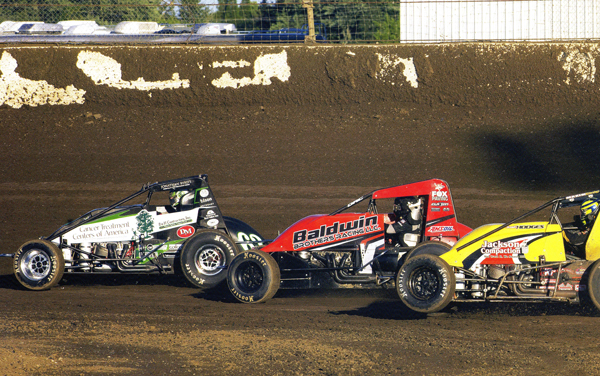 #

1621 -

It was such a beautiful thing for American racing. After running the Indy 500 and actually leading a lap, the late Bryan Clauson whisked over to Kokomo Speedway for the evening's Sprint Car show. Here he has just taken the lead in the heat over Chris Windom and Josh Hodges. He motored on to win the main. From PAUL OXMAN SPRINT RACING 2017 CALENDAR - Tim Aylwin Photo
a
---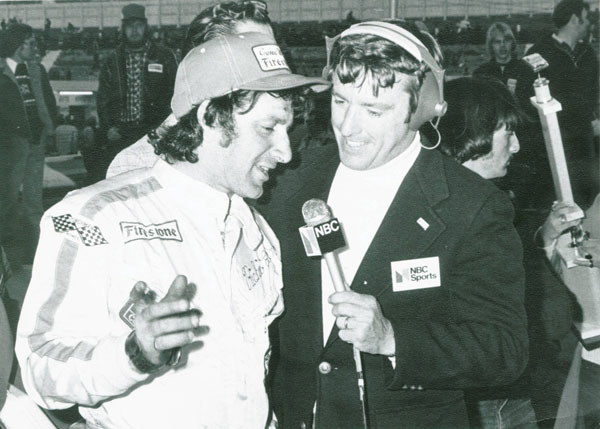 #

1620 -

Richie Evans and Johnny Rutherford, Martinsville, Virginia, 1978. It was an interview between two worlds, awash with mutual respect. Both were inducted into the Talladega's International Motorsports Hall of Fame in 1996. From RICHIE!: The Fast Life and Times of NASCAR'S Greatest Modified Driver, by Bones Bourcier. (Balser Photo)
a
---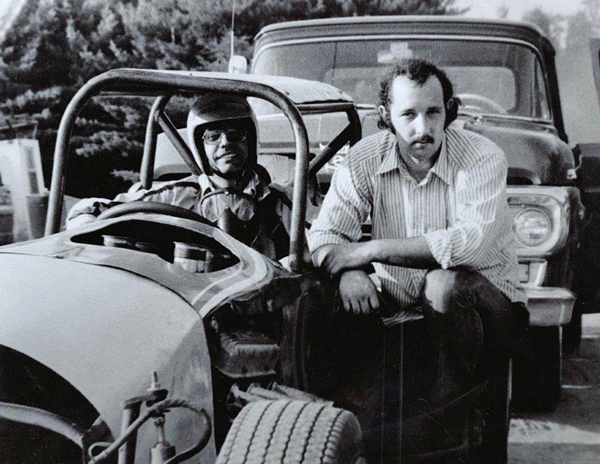 #

1619 -

That's the late master racer Ollie Silva and master builder Vic Miller, kings of Supermodified racing in New England's Merrimack Valley. Vic says, "That was fun, back in the 1970s era. That little car was so simple. There was nothing to it -- just a single line running to the injection, one return line, and the pill. Now we're here thrashing on a new Super every night, trying to get ready for a show at Oswego. You should see it. It is so complicated. It seems the injection has eight lines coming and eight lines going. There are Ts and by-passes everywhere!" (RA Silvia Collection)
a
---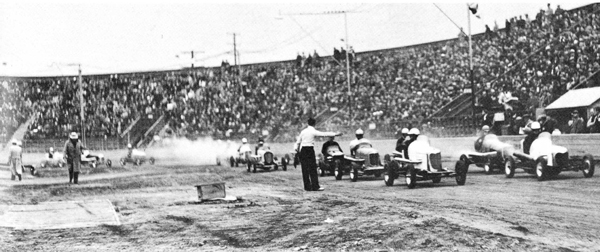 #

1618 -

It was the parade lap on January 24, 1936 at Atlantic Speedway, East Los Angeles. Nope, the picture isn't backwards. It was a Figure 8 race for Midgets. The promoter, Dave Koetzla, had laid out the 3/8-mile dirt course inside the regularly used D-shaped track for the event. Making the whole thing even more unusual was that a bridge and a tunnel were installed at the "X", so the cars would be separated aerially. The infamous, rough and tumble ex-boxer Peewee Distarce won the race, but he wove around a bit with dizziness when receiving the trophy. From THE MIGHTY MIDGETS, by Jack C, Fox. (Craig-Alvarez Collection)
a
---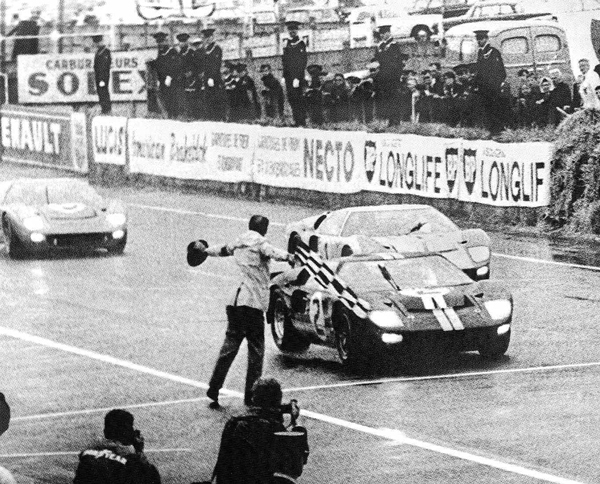 #

1617 -

In the early 1960s there was some talk between Henry Ford II and Enzo Ferrari about Ford taking over Ferrari. It appears, though, that by 1966 Ford had little reason to continue the negotiations. This was the rainy finish of Le Mans that year. Ford GT40s are shown above sweeping the top three positions. The first two were out of the Shelby shop while the third came from Holman Moody. So, Henry was on the podium, and Enzo was on his way home. Photo from FORD TOTAL PERFORMANCE: Ford's Legendary High-Performance Street and Race Cars, by Martyn L. Schorr. (Ford Motor Company Collection)
a
---
#

1616 - Here's a photo from our buddy Dale Snyder's collection. And here's his reaction to it: "I don't see much difference between this pit area (Oakland, CA, in 1940) and the pit area of today's NASCAR and Indy Car teams….can you?"
A
---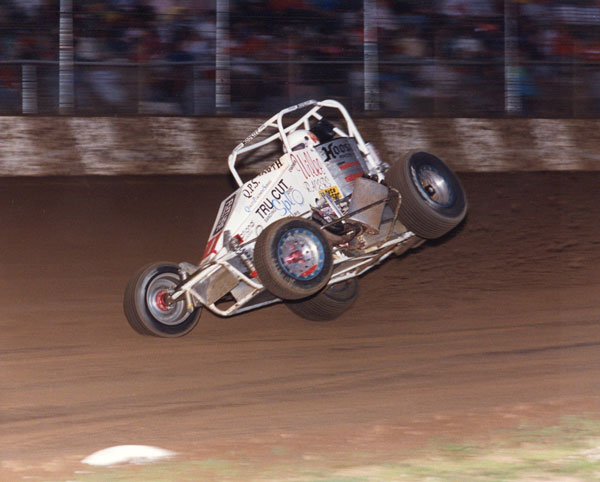 #

1615 -

We are full throttle on our Kevin Olson book, which will be out this fall. Here he is bicycling at Sun Prairie in a Wilke Midget. Wouldn't it be cool if we could say that he pulled it out and won the feature? He didn't; he went over the fence. (Mark Wilke Collection)
a
---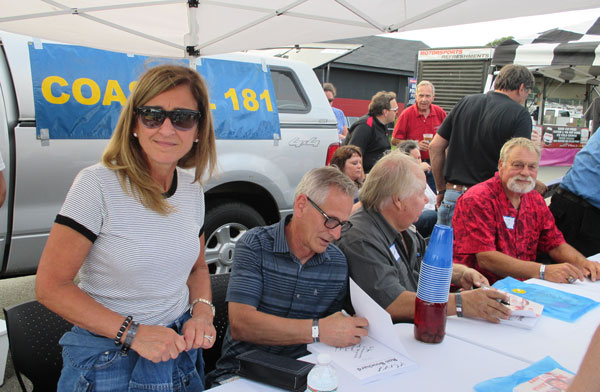 #1614 - A moment from the launch of Bones Bourcier and Coastal 181's latest book, RON BOUCHARD: Remembering the Kid from Fitchburg, last night at Thompson Speedway. Signing the book in this shot are Paula Flemke Bouchard; Ed Flemke Jr.; Vic Kangas, former NASCAR crew chief and Ronnie's early chassis man; and Steve Bird, part of Ronnie's Winston Cup team and later a four-time championship crew chief in the Busch Series. Many others involved in the book participated in the signing, and it was a warm gathering of old friends and Bouchard fans.
A
---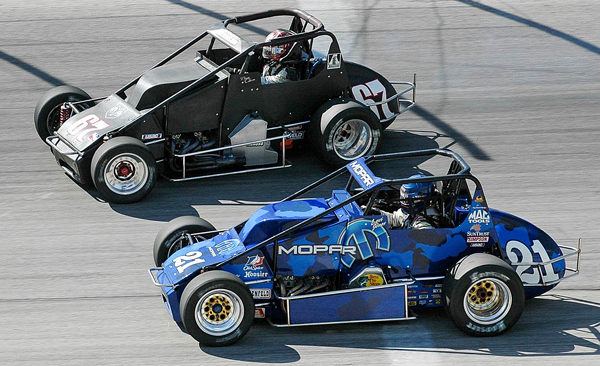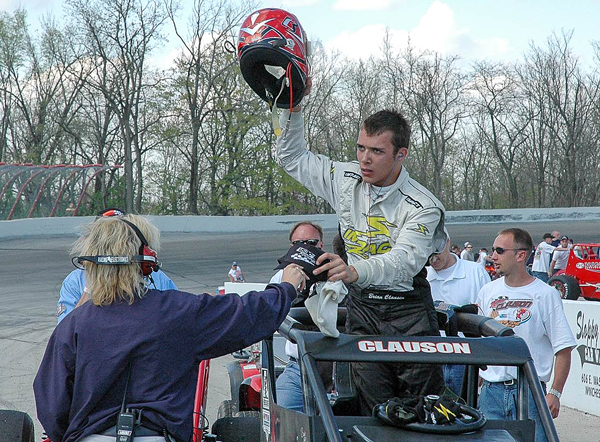 #

1613 -

Everyone in the racing world is devastated at the loss of Bryan Clauson. Ace photographer John DaDalt contributed the two photos above with the following thoughts:

"In April of 2006 I had the pleasure of watching BC's first USAC Sprint Car win at Winchester of all places. Not yet 17 years old and he's got the back end hung out like a dirt-tracker racing Levi Jones. That's how I'll remember him."
A
---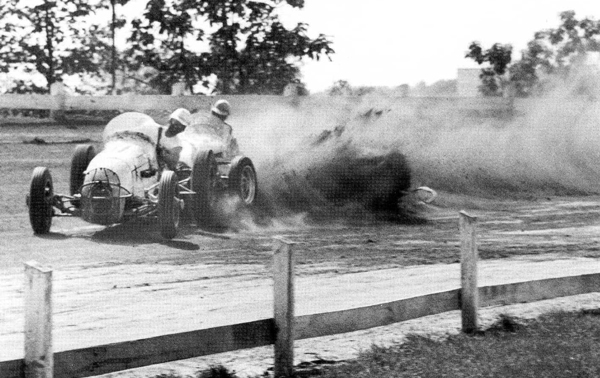 #

1612 -

It could probably be said that not too many strokers have turned laps at Williams Grove Speedway since its inaugural show in May of 1939. In August 1955 the big boys were in town, and they played hardball just like the locals. Here Elmer George has gotten into the turn just a tad hot – and then into Mike Magill. Magill leans to the left, likely a reaction to the hit. That's his rear bumper in the dust trail behind George. From THE EASTERN BULL RINGS, by Buzz Rose. (Dave Knox Photo)
A
---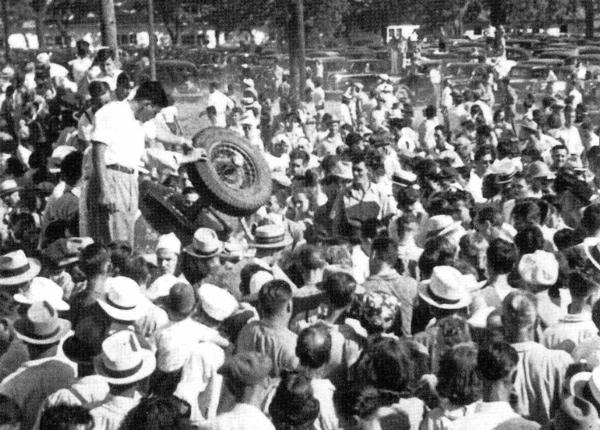 #

1611 -

There was a frightful accident 66 years ago (August 9, 1940) in Franklin, Indiana. The CSRA open wheelmen Ray Tellis and Eddie Zalucki tangled entering the first turn. Zalucki flipped and tore through a wooden fence and into the crowd. He ended up hanging in the car with a broken arm, surrounded by 14 injured spectators. It was worse on the track. Tellis had come to a stop in the groove and was blasted by Jim Sampson who rode right over the top of him, shearing the tail right off the car. Tellis was killed. Zalucki's car is shown during the cleanup process. From THE RIM RIDERS: The World's Fastest Racing Circuit, by Buzz Rose (Jim Graybeal Collection)
A
---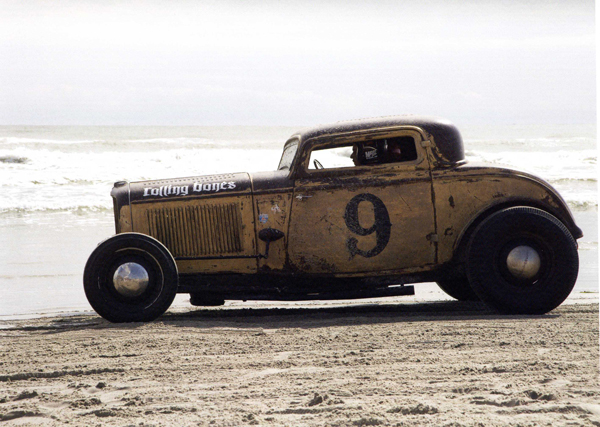 #

1610 -

This is the much discussed Race of Gentlemen in Wildwood, New Jersey. The image comes from a recently published book by Peter Vincent about the work of the Rolling Bones Hot Rod Shop near Saratoga Springs in upstate New York. The builders are Keith Cornell, Matt Schmidt, and Ken Schmidt, and they have become cult heroes. The book contains a couple hundred pages of glorious photography from all over the country of traditional old-time American hot rods and the culture that surrounds them. From ROLLING BONES, by Peter Vincent.
a
---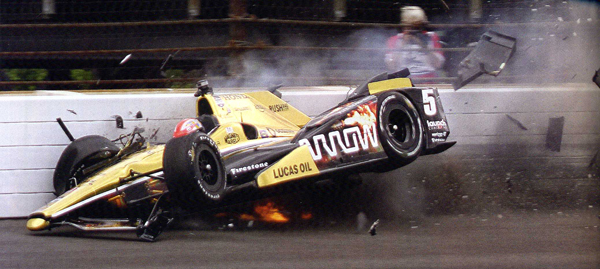 #

1609 -

"James Hinchcliffe recalls what he can about what happened practicing for the 99th Indy 500 on May 18th a year ago. 'I remember the start of the day, waking up. I remember getting into the car and getting the program going. I remember running behind Juan Pablo Montoya the lap before my crash, and then the start of that lap is when I lose everything else. The next thing I know I'm under bright lights in the hospital with a tube down my throat. People standing around me with tears in their eyes. That is when I figured out that something happened and it probably wasn't a great thing.' It wasn't, but it didn't stop him from grabbing the pole and running seventh this year. (Photo and Quote from May 29, 2016 INDY 500 Program, Presented by PennGrade)
A
---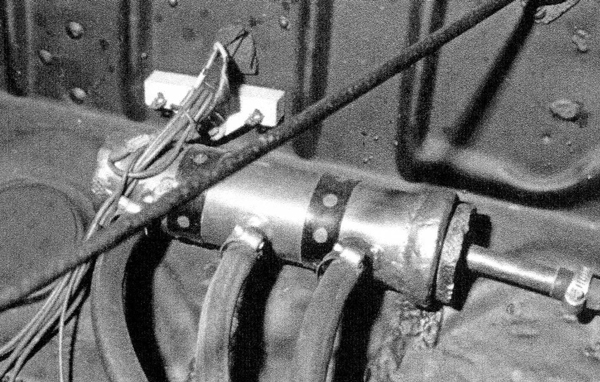 #

1608 -

Gober Sosebee of Dawson County, Georgia, was a Grand National driver who actually had more success hustling around in the Sportsman and Modified coupes. He came to the 1950 Daytona Beach Race with his #50 Cherokee Garage '39 Ford Standard coupe. It may have looked ordinary, but hardly anything was original. Case in point was the cool copper fuel log he fabricated and bolted to the firewall. He had experienced some starvation under load with the three two-barrel carburetors on his flathead, and this unit, complete with an internal screen, did the trick. He won. He ran the car until 1954 then parked it until 1987 when he, his sons, and Dawsonville friends restored it to its current condition. The clever Goober himself died in a farming accident in 1996. From WE'D RACE ANYWHERE, by Russ Hamilton.
A
---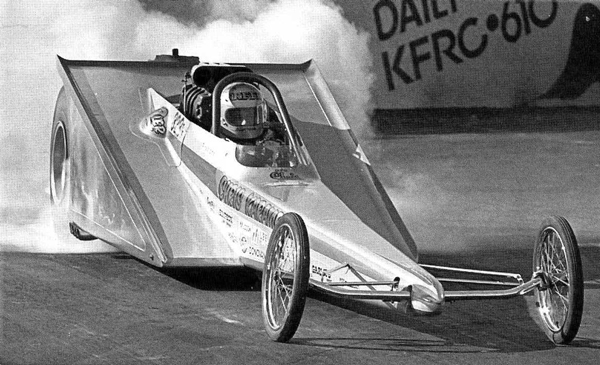 #

1607 -

For a little while in the early 1970s there was a wedge fascination among some of the Top Fueler crowd. Chris "the Greek" Karamesines gave one a try in 1971, but it didn't seem to do anything more for him than it had for others. He didn't have to mess around with it for too long, however. One day in Fremont, Ohio, Jim Nicoll, driving the Greek's push truck, broke a push bar and he launched right over the top of the car. Chris was unscathed, but, as for the car – that was the name of that tune. From 1001 DRAG RACING FACTS, by Doug Boyce. (Courtesy James Hardy)
A
---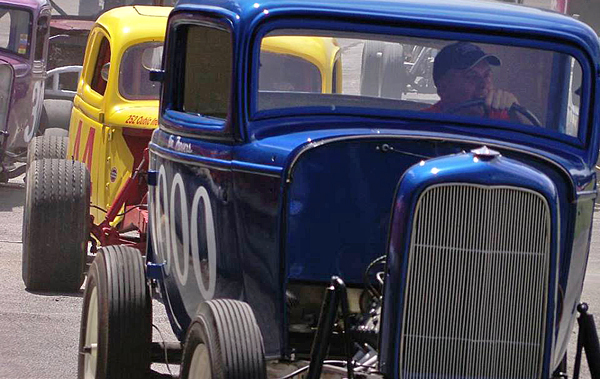 #

1606 -

That's the Howard Townes restored #000 flathead-powered square top at the recent reunion at the old Northeastern Speedway in West Waterford, Vermont. Hall of Famer Marty Harty built the car for Jimmy Travers, and it was a winner. It purred with really perfect pitch, though, when another Hall of Famer, Freddie Borden showed up to chauffeur it. That happened on Memorial Day of 1960 when Jim decided to go to Indy. Freddie jumped in and quickly assumed the lead in the special holiday event on the 1/5 mile Brookline (NH) Speedway. His lead did diminish as the laps went by, but he snuck out the win. Borden was approached by the rather excited and self-absorbed second place finisher. He warned that in a more couple of laps he would have been passed and, if he came back again, he should not expect to be up front. Freddie smiled with feigned agreement. Only he and Marty knew that, once out front, Freddie dropped it into third gear and purred around to make it look like a closer race. (Photo Ace Kolar Collection)
A
---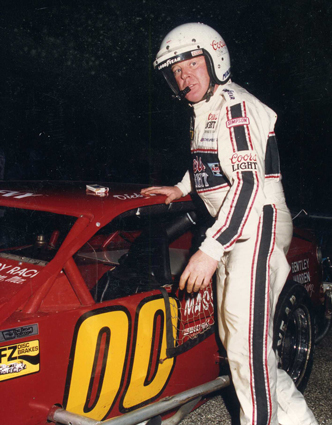 #

1605 -

The late, great Dick Trickle raced just about everywhere. Here he's shown at New Smyrna, Florida, in a Northeastern pavement Modified owned by the popular Joe Brady, who passed away last fall. The car survives, however, dutifully cared for by Mark Alden in Framingham, Mass. Father Dale Grubba is currently writing a book on Trickle and Tom Refner, who both had extraordinary seasons in which they won 76 races. (Coastal 181 Collection)

a
---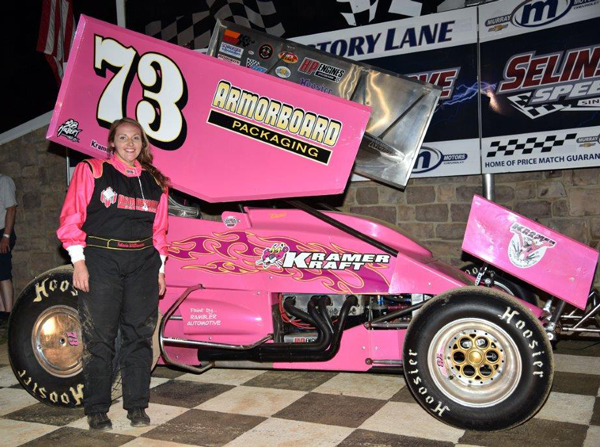 #

1604 -

One thousand, two hundred and ninety-five Photos of the Day ago, back at #307, we posted an image of Felicia Williamson texting inside her dad's Sprinter in the pits at Delaware Speedway in 2011. It didn't bother Kramer. He went out and won anyway. Two seasons later, however, he perished in a crash at Lincoln (PA) Speedway. This year when URC's memorial event, the Kramer Cup, was run at Selinsgrove, PA, Felicia was back in the car. She paced the field, looking like a pro. Our friend Chad Culver is working on a Kramer Williamson book, and we can't wait. (Photo by "the Guy with the Hat", Frank Simek)
A
---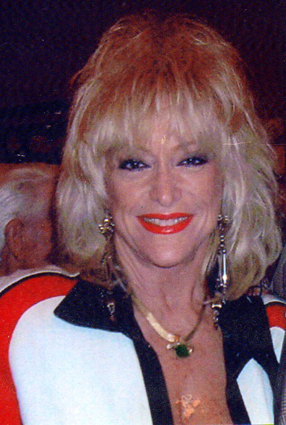 #

1603 -

Another quote from Art Garner's new INDY MEMORIES book. You gotta love racing people, especially Linda Vaughn: "A. J. and I have always had this thing for each other. He's cantankerous as hell. He walked up to me at the starting line one year, one year when I was really skinny, and he said, 'Wow, Linda, you have a case of no ass.' I said 'Yeah, A. J., and you found it. It's on your belly.' After that he said ' I'm gonna leave you alone. I know better.' But he's a great man." (Billy Harman Photo, Coastal 181 Collection)
A
---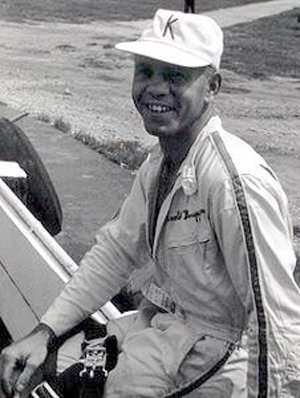 #

1602 -

"Qualifying in 1968 was plagued by rain, and it was well after 6 p.m. on Monday (yes Monday) when my dad, Arnie Knepper, finally qualified Rolla Vollstedt's car. It was an evil handling car, but he put it in the race in 32nd spot. There was hardly a soul in the place at the time, except officials and crew members. When they interviewed dad after his run, he said, "I'm tired, hungry and I'm broke, and I have to go to the bathroom." Quote from Art Garner's great new book INDY 500 MEMORIES: An Oral History of "The Greatest Spectacle In Racing." (Photo: www.FindaGrave.com)
A
---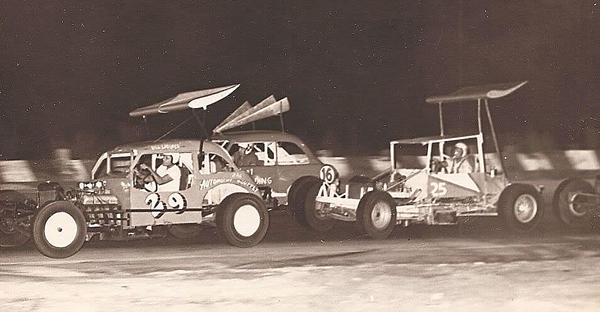 #

1601 -

Please, Is there just one short track anywhere that does not run cookie-cutter cars these days? Sunshine Speedway in Pinellas Park, FL, sure had sweetness of all flavors when they ran the Supers back in the 1970s. (Cal Lane Collection )

A
---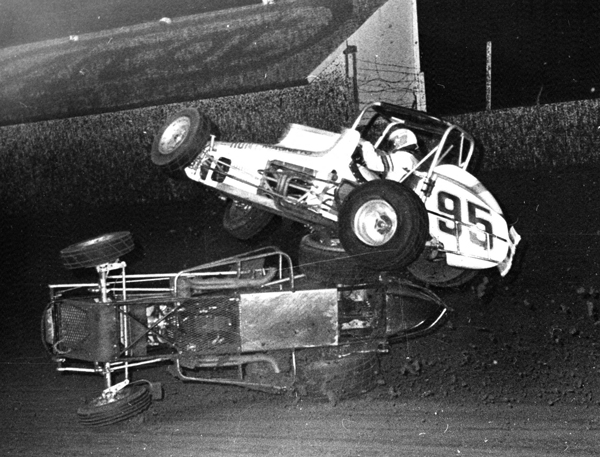 #

1600 -

What a place Ascot Park was, out there in Gardena, California. A night at the races was an affirmation of the greatness of short-track open-wheel racing. If you sat in the first turn as the Sprinters backed it in, pounding the cushion, you'd be bombarded by flying balls of clay – and you needed to be wary of the occasional flying car. In this shot Tony Hunt (#95) hit Mike Sweeney off turn four and was launched some 25 feet in the air. He went end over end and then rolled side to side, landing on his wheels near the starting line, engine still running. No one was injured, though Hunt understandably reported some sore and stretched muscles. (Dean Leeds Photo, Cal Lane Collection)
A
---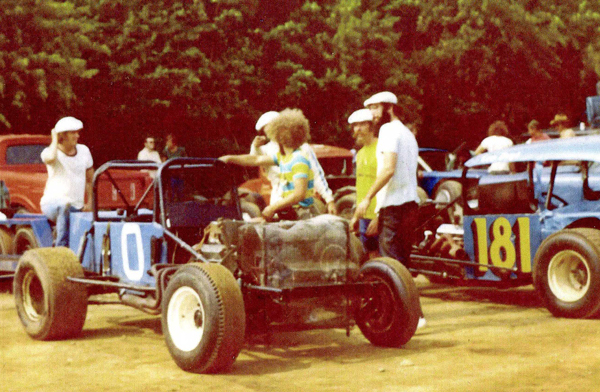 #

1599 -

Who do the caps on those disreputable guys remind you of? You got it! That's Dick Berggren ("Doctor Dirt") next to the back bumper giving highly knowledgeable instruction to his pit crew. It was in 1970 or so, back at the old Lakeville Speedway near Providence, Rhode Island. His #0 was quite the unit – a renegade from Oscar Ridlon's URDC group that eventually led to the New England Super Modified Association (NESMRA). They actually won with it. (Coastal 181 Collection)
A
---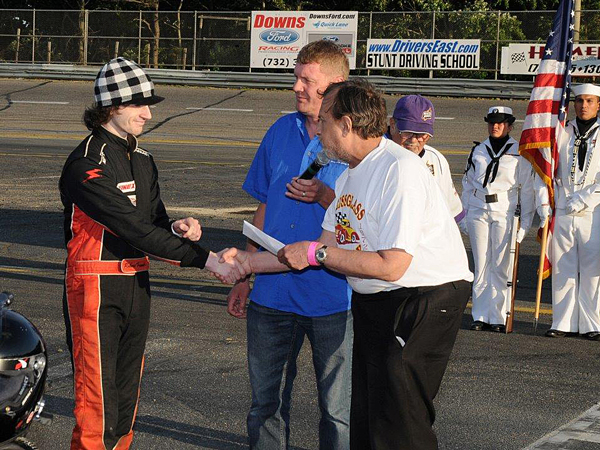 #1598 -

Our world of racing sure has its characters, but the one standing to the right in the photo above is world class. That's Gary Heiderich of Sunnyside (Queens), New York. Gary is one of the few native English-speaking cab drivers in NYC, but more famously he is known as "Jalopy Jack." He runs a racing call-in hot line at 212-707-1150. Check it out. Here Gary was presenting a check from one of his grand slam contests to Legends driver Robert French at New Jersey's Wall Stadium, as announcer Gary Larsen looks on. (Jim Smith Photo)

A
---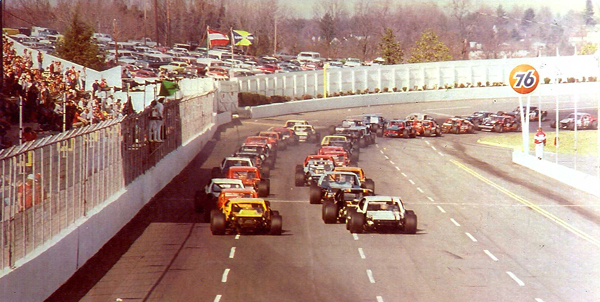 #1597 -

Here's a shot reminiscent of that glorious period when the asphalt Modifieds traveled the Eastern Seaboard. It's the Modified portion of the Dogwood 500 at Martinsville, VA, in March of 1979. That's George Kent in the Carl Smales #41; the Rapid Roman on the outside; and Ronnie Bouchard in third. Kent won it while Evans was fourth, and Bouchard ended up on the trailer. The image was taken by old-time New England Modified shoe Mike McClelland, now settled in West Palm Beach. (Mike McClelland Photo)
A
---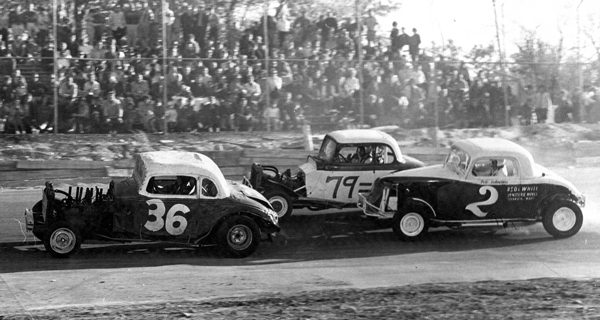 #1596 -

Grand old autumn days in New England. On October 24, 1962 the Atlantic Auto Racing Association hosted an afternoon show at the Brookline Speedway, just over the New Hampshire line from Townsend, Massachusetts. AARN was trying to control costs by still allowing only single-carb flatheads and six cylinders in the engine compartment. It was pretty racy stuff, though, and here were some of the best, all feature winners. It was Carl Valenti in the #36, a former Non Ford car, New Hampshire's country band performer Lucky Thompson in the #79, and Pete "The All American Boy" and future mentor to Ron Bouchard in the Red & White three window. (Bill Balser Photo, Cathy and Don Donahue Collection)
A
---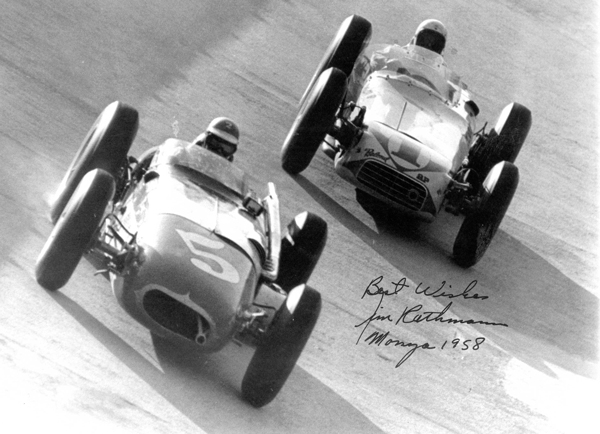 #1595 -

Jim Rathmann, leading above, won all three portions of the 1958 500 Miles of Monza in Italy. Jimmy Bryan, following Rathmann, was second in the tally. The "Race of Two Worlds" pitted USAC Champ Car teams against the Formula 1 guys. Newcomer A.J. Foyt, fresh from a run at Indianapolis, said, "At Monza there is more sensation of speed. For one thing, we were going past Europeans about like you pass slower cars on an Interstate." It was the fastest recorded race in history with a 166.705 mph average. The fastest European to finish was Stirling Moss who managed fourth place in a Maserati in the second segment. It would sure seem that by a decade later the Europeans had avenged themselves fully at Indianapolis with the rear-engine revolution. Photo and quote from RAY CRAWFORD: Speed Merchant, by Andrew Layton. (Dick Wallen Collection)
A
---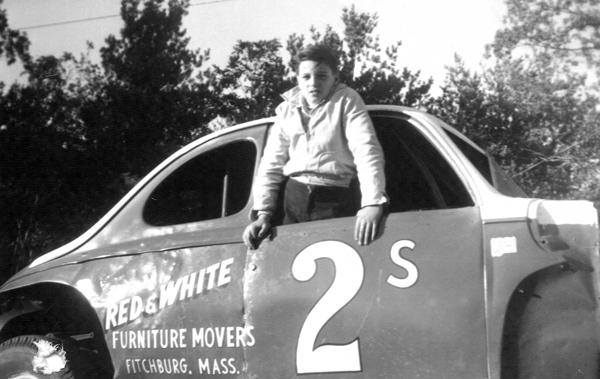 #1594 -

That's the late Ronnie Bouchard, age 12, testing his fit in one of his dad's coupes in 1960. Five years later it was no longer pretend. He was winning in Supermodifieds on his way to 100s of short-track wins. Sixteen years later in 1981 he was winner of the dramatic August Talladega race and Winston Cup Rookie of the year. The sky cried when he died last December of cancer. With Ronnie's close friend Bones Bourcier, we will be launching his biography at the August 10 Modified event at Thompson, CT, Speedway. (Bouchard Family Photo)
a
---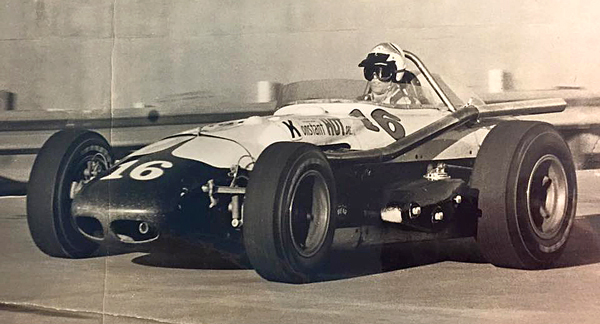 #1593 -

That's the great Arnie Knepper in full concentration in a Vatis roadster at Phoenix in the Fall of 1964. His rides to date had been dirt cars, and his widow, Wanda, says he was absolutely thrilled to finally be in a pavement car. He drove it at the Brickyard the next spring, running well until a cylinder let go. Arnie died of cancer in 1992, and his 25th memorial race for Midgets will be run this Friday night at the ultra-racy Belle-Clair Speedway in Belleville, Illinois. Amazingly it has been won by his nephew, Steve Knepper, six times to date. Wanda is a beloved part of Coastal 181, helping run our booth annually at the Chili Bowl with a gracious grin and an iron hand. (Knepper Family Collection)
A
---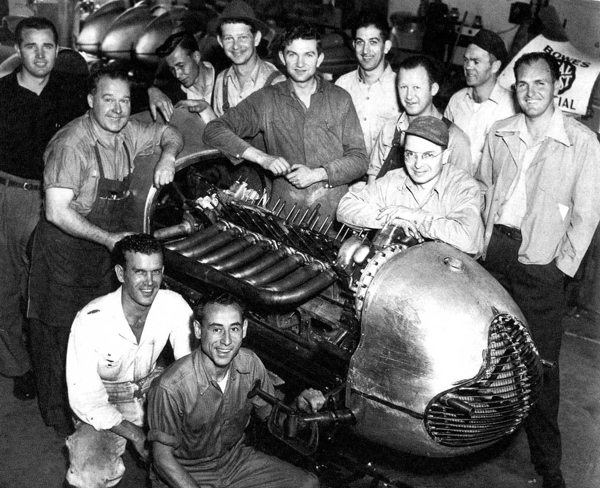 #1592 -

Rex Mays (far right) and his associate Pete Clark (left in apron) pose with the Kurtis Kraft team preparing their Indy car for 1947 at the Brickyard. Despite the success of tube-frame Midgets (note the Midget tails in the background), they elected to go with a rail chassis outfitted with a straight eight. Rex, a two-time AAA champion, qualified 20th at 124,412 and hustled to a sixth-place finish. He died in November 1949, after being thrown from a Champ Car at Del Mar, California. From POLE POSITION: Rex Mays, by Bob Schilling. (Mays Family Collection)
a
---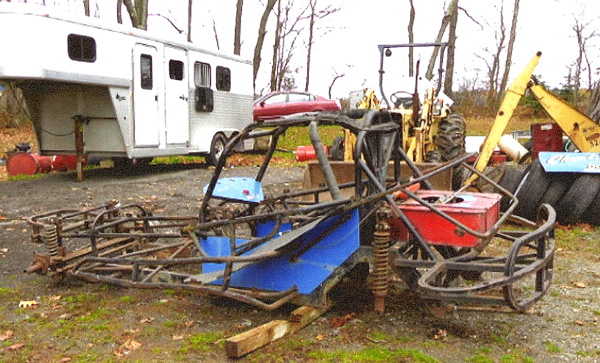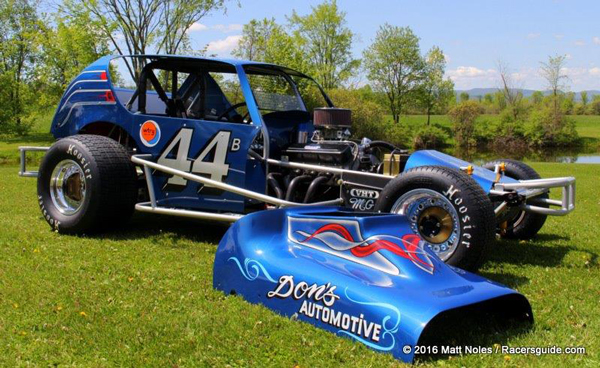 #1591 -

Recently retired Northeastern Modified stalwart Dave Lape was noted for building and maintaining his own cars for the vast majority of his long career. And he did it with an enormous tub of elbow grease rather than a string of financial sugar daddies. Somewhat unusually, he did pick up one of "Toby's Tubes" chassis in the '70s, a four-bar chassis kit from Dick Tobias in Lebanon, PA. Numbered the #44b, it turned out to be a widely feared rocket ship, so much faster than all the others that Tobias came to take a look. Seems that the "secret" was that Lape had mistakenly put the bars in backwards – and it worked! The car ended up being sold and wheeled by a number of others, including Jan Opperman. Lape heard recently that the car had been spotted near Middletown, NY, and he went to pick it up. A sorry sight it was. Lape went to work in his efficiently careful way and spent 745 hours on the project. When done, he brought it to Fonda Speedway on June 25 for a Dave Lape Celebration night. It was drop-dead beautiful. (Top Photo – Dave Lape Collection; Bottom Photo – Matt Noles)

a
---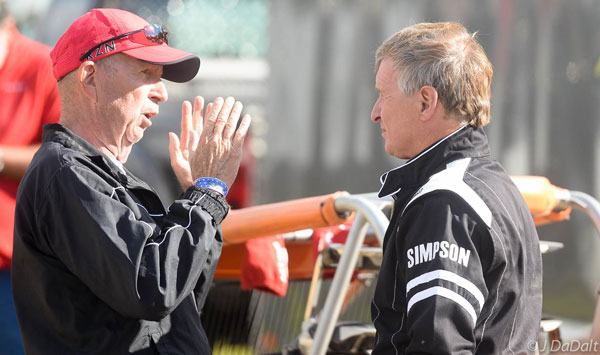 #1590 -

Sit back for a minute and contemplate just how many laps these veteran open-wheelers have cut over the seasons. On the left that's Indy 500 Rookie of the Year Denny Zimmerman, and to the right Johnny "Hot Rod" Heydenreich, Chili Bowl Champion. Where are they found on a Saturday night in June? On top of the Green Mountains of Vermont of course, grooving on a feisty little track called Bear Ridge Speedway. (John DaDalt Photo)
a
---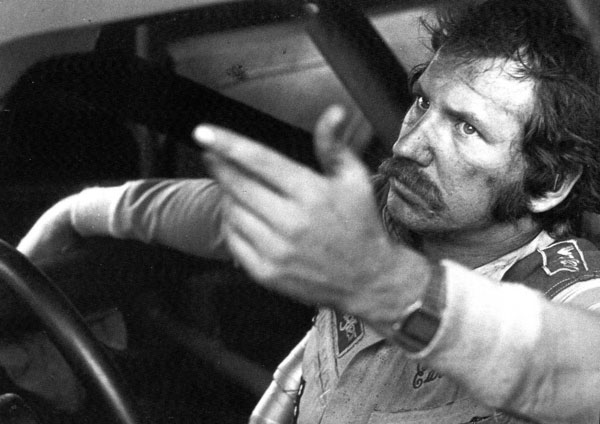 #1589 -

Speaking of what happened when he came upon a slower Greg Sacks at a World 600, Dale Earnhardt said, "It was close, but I didn't hit him. Maybe our bumpers touched or I touched him a bit but it wasn't like I rammed the hell out of him. I don't think I nudged him." (And, then, with a smile) "I might've been a-gin him." Sacks did a samba, going into the wall, across the track, and into the grass. Photo and quote from THE PASS IN THE GRASS: and Other Incredible Moments from Racing's Greatest Legend, edited by Joseph J. Bannon, Jr. (Mark B. Sluder Photo)
A
---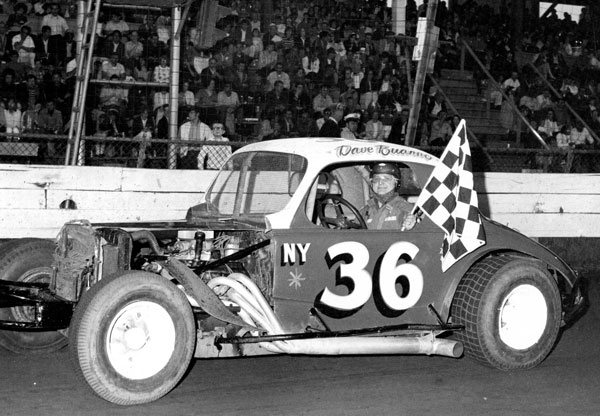 #1588 -

When this photo of Dave Buanno winning a qualifier at Fonda (NY) Speedway on Memorial Day 1970 was taken, he was one busy guy. As well as campaigning his own Modified, he was working for the family business and tending to the new property he had obtained in the fields above the Mohawk Canal in Amsterdam, NY. He carefully planted evergreens all around the house. They are now enormous and have come to serve him well. Three years back, in August 2013, Dave went to Fonda to visit with old buddies. Out of the blue, a wheel and tire dislodged from a car, flew over the wheel fence, and struck him savagely. He is permanently paralyzed. On warm summer afternoons, he is often in his wheelchair in the cooling shade of those trees, his wife, Linda, by his side. Cards can reach them at 1008 Sacandaga Road, Fort Johnson, NY 12070
A
---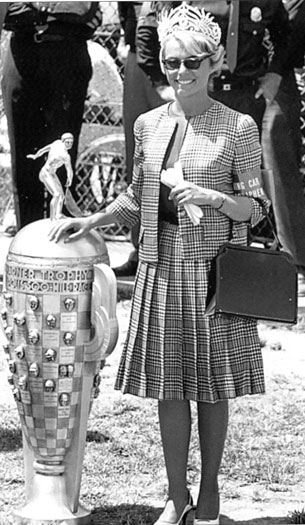 #1587 - Indianapolis Motor Speedway management surely hired a different talent agency for the 1965 500 than J.C. Agajanian typically used to find those racy trophy girls out at the California Racing Association. 500 Festival Queen Suzanne Devine was the definition of prim and proper as she posed next to the Borg Warner trophy. From

THE INDY 500 1956-1965

, by Ben Lawrence, W.C. Madden and Christopher Baas. (Ben Lawrence Photo)
A
---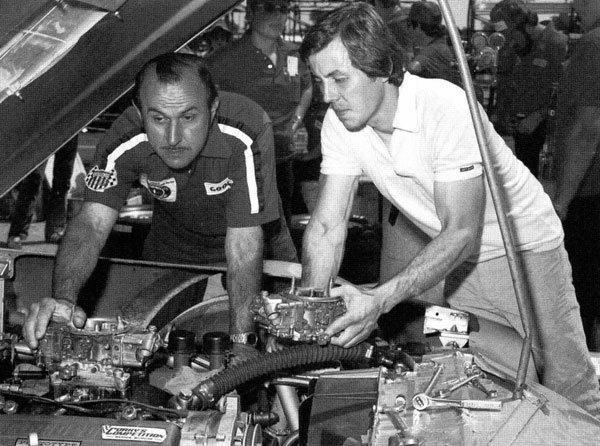 #1586 - "Alan Kulwicki (right) and his father, Gerry, work on their car together on August 3, 1980 (at the Milwaukee Mile). Gerry, a well-known builder of stock car engines, worked with championship driver Norm Nelson. Alan won a number of short track races in the area and an ASA race on the Mile on July 10, 1983 before moving south and winning the 1992 NASCAR Winston Cup Championship." Quote and Photo from THE MILWAUKEE MILE, by Brenda Magee. (Photo – Russ Lake and Mary Champion)
a
---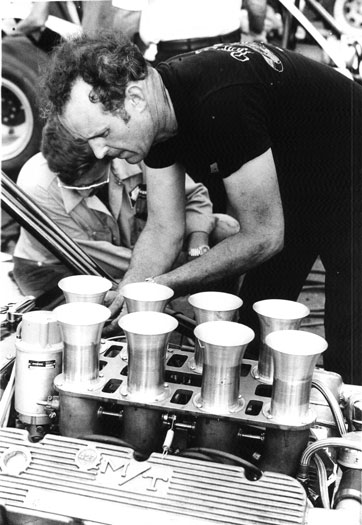 #1585 - That's Modified maestro, Bob Judkins tunin' up one of his legendary 2X rocket ships. Bob had a lengthy list of world-class shoes in the seat, including Kenny Shoemaker, Jim Hurtubise, Tony Mordino, Jerry Wheeler, Stan Gregor, Fats Caruso, Bugsy Stevens, Gene Bergin. But he also spent a lot of time with Ronnie Bouchard, both in 2X machines and in #7 M&H cars owned by Marvin Rifchin. Here's what Bob has to say in our new book, RON BOUCHARD: Remembering the Kid from Fitchburg. "Ronnie and I clicked really well, right from the start. I think that's probably because we were both pretty laid-back. He used to tell me, 'Judkins, you're going to live forever, because nothing ever bothers you.' But he was the same way, even at the races. He was really easy to work with. He'd go out and practice, then come in and tell me what the car was doing. He wasn't a chassis guy himself, and he didn't try to be. He'd just describe what it was doing, and leave it up to me." They won a ton. (Ron Bouchard Museum Collection)
A
---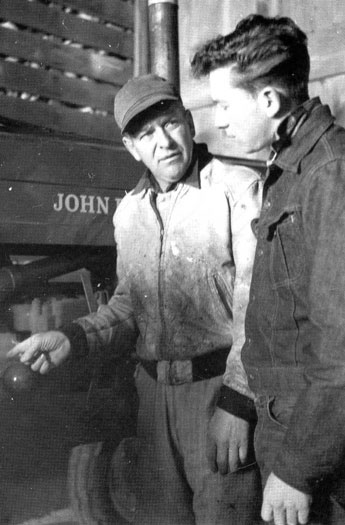 #1584 - Melvin "Tony" Bettenhausen was one serious racer. Originally part of the barn-storming Midgeteers known as the "Chicago Gang," he went on to win the Big Car National Championship in 1951 and 1958. He was also serious about his 500-acre farm in Tinley Park. On this day there was no racing, and he was talking crops with son Gary. He boasted he could plow more corn in a day than anyone in Northern Illinois. From TONY BETTENHAUSEN AND SONS: An American Racing Family Album, by Gordon Kirby with Merle and Susan Bettenhausen (Wavelyn Bettenhausen Collection)
a
---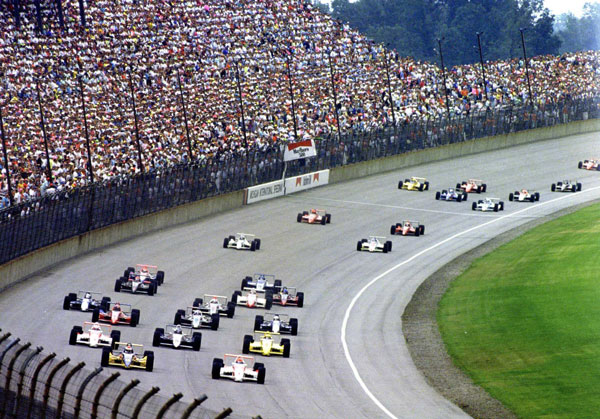 #1583 - It was not so long ago. A packed grandstand and tobacco branding everywhere. Emerson Fittipaldi leads away from the green, chased by Bobby Rahal, Al Unser Jr., and Rick Mears at the 1990 Marlboro 500 at Michigan. From PENSKE'S MAESTRO: Karl Kainhofer and the History of Penske Racing, by Gordon Kirby (Karl Kainhofer Collection)
a
---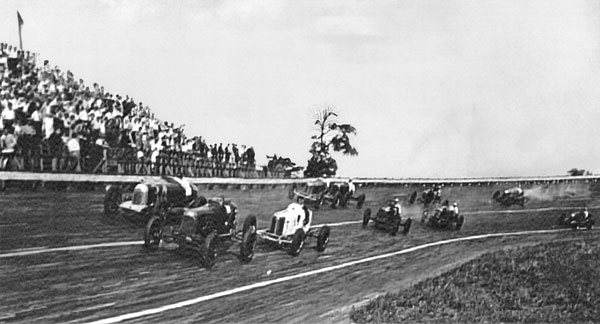 #1582 - The site of the Woodbridge, New Jersey, High School looked a little different back in the 1930s. It housed what was called "the World's Fastest Half-Mile Race Track," a board oval with 31 degree bankings. On this date a noteworthy front row – Billy Winn in a Fronty Ford and Fred Frame in his familiar #34 Duesenberg brought them down for the green. After the final race on the wood the next month, the track was transformed into a half-mile dirt, and after World War II, the old-time Big Cars and their daredevil drivers were never to return. But, when the high school was built, the grandstands remained, servicing far more gentle sporting events. (Photo by Mildred Pauline Mikaolen, Bob Moore Collection)
A
---

#1581 - The passion-stirring "dirt cars" will make thunder again at the Vintage Indycar Celebration at Pocono Raceway in PA, with track time scheduled for Friday August 20th. Cars such as George Edward's 1972 Grant King Chevy #36, Jeffrey Bardour's 1975 Steve Stapp #4, and Paul Mondo's 1964 Meskowski 255 Offy #15 and 1968 Trevis Chey #42 will represent the division, which appears to be experiencing a very welcome rebirth of late. (Gary Mondschein Collection)
a
---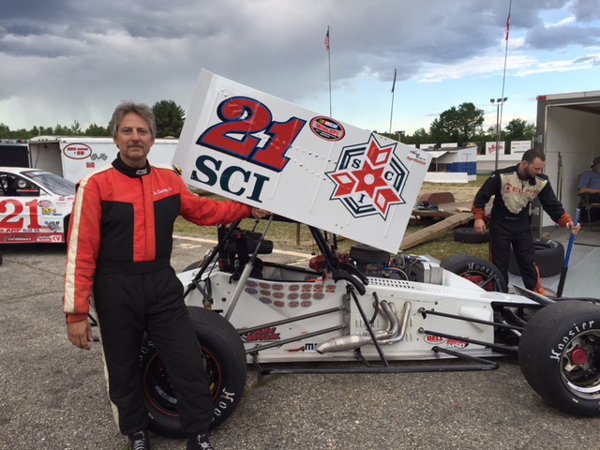 #1580 - Jim Lowrey, proprietor of Lowrey Auto Restoration in Tilton, NH, is a master craftsman building world-class, period-correct hot rods. He's soft-spoken, gentlemanly, with an endearing smile. Who would have known that he is perhaps the most versatile open-wheel competitor in New England. Although he is selective about where and what he races, quite remarkably he has won in Midgets, Sprints, dirt track Modifieds, pavement Modifieds, and big block Supers. Last Friday night he stopped by Lee USA (NH) Speedway to run Bob and Eddie Witkum's small block Super. They have struggled with their car since a flip last fall, but Bob remarked "that Lowrey has a wealth of talent. He'll be back with us next week." (Coastal 181 Photo)http://www.coastal181.com/nlm-working-April-2005/openwheel-1.htm#LONE_WOLF_
http://www.coastal181.com/nlm-working-April-2005/openwheel-1.htm#LONE_WOLF_
a
---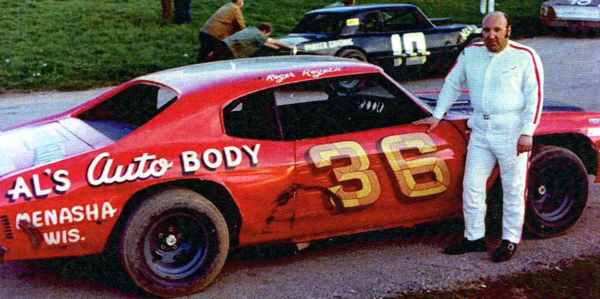 #1579 - Seventies-era racer Roger "The Bear" Regeth sure had everyone's attention on the Wisconsin short tracks. Lightning fast, he was winner of an estimated 500 features. He was also known to do whatever it took to get the job done. In his words," The fans booed me, but, hey, they were just making noise. But I'd get the drivers mad, too. At the start of every race, I'd ram the guy ahead of me square to get the field katty-whompus. I'd pass three or four cars that way. I got Pete Parker so mad at me one night after I pulled one of those moves he came right after me. That's just the way it was." Photo and Quote from LIFE IN THE PAST LANE: A History of Stock Car Racing in Northeast Wisconsin from 1950 -1980, by Joe Verdegan (Photo by Tim Verstegen)
a
---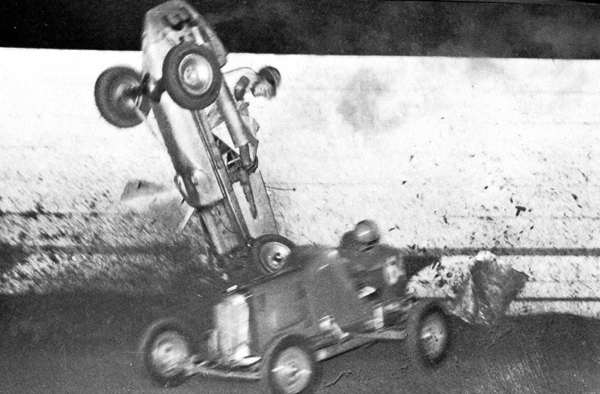 #1578 - That's high-flying Reynold Coleman executing an end-over-end at the old Gilmore Stadium in California in the 1930s. In his book THE MIGHTY MIDGETS, Jack Fox claims that the resulting head injuries helped persuade Coleman to go to college rather than trying to become a race driver headed for Indy. He dropped his racing name in favor of his full name, Reynold Coleman MacDonald. He was to become a high-flying steel-industry magnate, and in the 1970s (according to USAC's Dick Jordan), the Chief Operating Officer of USAC and subsequently its Chairman. From THE MIGHTY MIDGETS, by Jack C. Fox. (Craig-Alvarez Photo)
a
---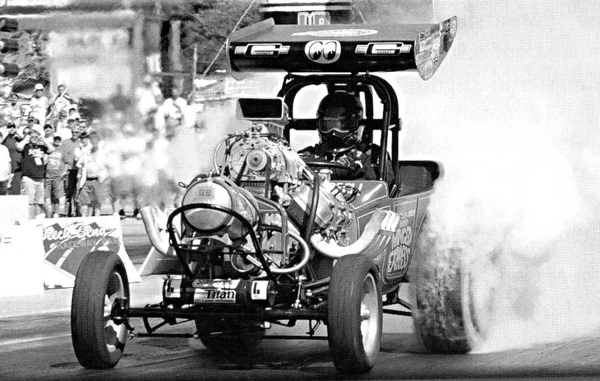 #1577 -

"Wild Willie Borach and Al 'Mousie' Marcellus' Winged Express was the Fuel Altered to end all Fuel Altereds. The first of three Winged Express Ts was built in 1960. As wild and competitive as the car was, it's probably best remembered for Willie's one-handed sideways burnouts. Willie was initially unaware that he was 'hanging on.' The reason he did it was because his 6-foot 1-inch frame was too small for the seat and he'd slide all over if he didn't hang on. Few people knew that Willie suffered from narcolepsy. It wasn't unusual to find him fast asleep in the staging lanes with his fire suit on. You have to wonder how he survived more than 20 years of quarter-mile passes." Quote from 1001 DRAG RACING FACTS: The Golden Age of Top Fuel, Funny Cars, Door Slammers, & More, by Doug Boyce (Photo Courtesy Bob Wenzelburger)
a
---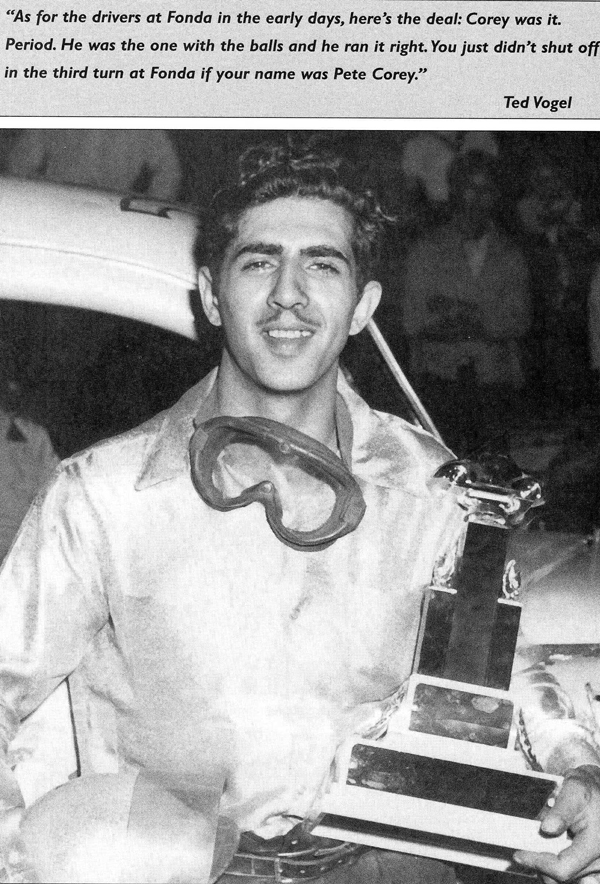 #1576 - Pete Corey, who died of leukemia in 2000, was quite likely the most popular AND the most dramatic competitor in Fonda (NY) Speedway history. (See TEAROFF dated 4/11/2010). Tomorrow night, Corey and his sometime racing partner, Eddie Pieniazek, will be honored at the popular half-miler in upstate New York. Pete Corey Jr. will be towing up from North Carolina for the event with a yellow #3 replica of his dad's coupes that he currently races on the Southern circuit. Page from FONDA: An Illustrated and Documented History of the Legendary Fonda Speedway, by Andy Fusco, Lew Boyd, and Jim Rigney. (Photo Dave Lape Collection)
a
---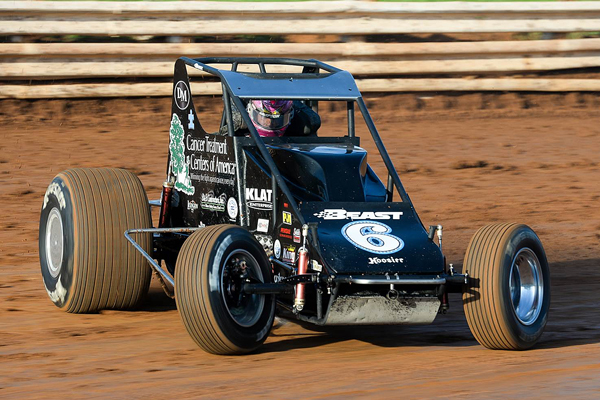 #1575 - Our buddy from Connecticut, photographer par excellence John DaDalt, has been keeping an eye on that Bryan Clauson. "I just got back from PA and thought I'd send along a shot of Bryan Clauson. He has had a pretty good two weeks since Indy where he led three laps of the 500. Then he hustled up to Kokomo to win the Sprint Car feature. Next he raced the USAC Indiana Midget Week, where he finished four times in the top three positions and won the Week's championship. After that he took three races on the USAC Sprint Car Eastern Storm tour and won that championship. On Friday he hopped in a Silver Crown car and put on a late charge almost stealing the win from Chris Windom. He finished 2nd. Here he is backing in the Klatt #6 Silver Crown car in Williams Grove warm-ups." (John DaDalt photo)
a
---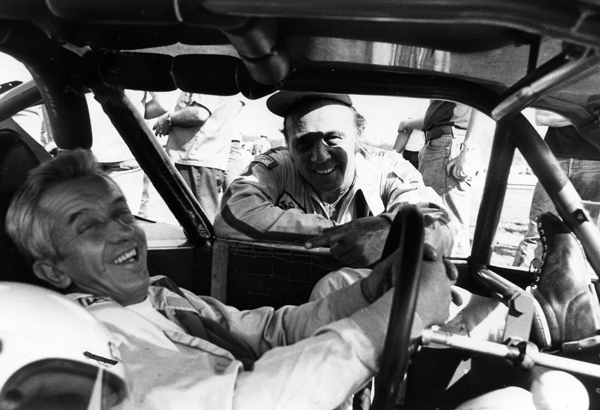 #1574 -

Two buddies and starring East Coast Modified drivers (Eddie Flemke in car and Gene Bergin leaning in) shared a smile before the start of the 1981 Thompson 300. Here was Gene's take on things: "He and I were very different drivers. Eddie was like a great dancer, just so smooth, so light with his touch. Me, I was totally the opposite: hard into the corner, slipping and sliding, tough on the car. Just more aggressive in general, I guess. I'd put the hammer down and go. I got my style from people like Jimmy Little and Frankie Blum. Most people today have never heard of those guys, but they were incredible racer drivers; just give 'em a steering wheel and they'd go fast, whether the track was dirt or asphalt. They'd go charging into the corner and slide through it, and I just loved watching them. That, I thought, was how you were supposed to drive a race car." Photo and quote from STEADY EDDIE: Memories of Ed Flemke, Modified Racing's Fastest Professor, Edited by Bones Bourcier (Howie Hodge Photo, Val LeSieur Collection)
A
---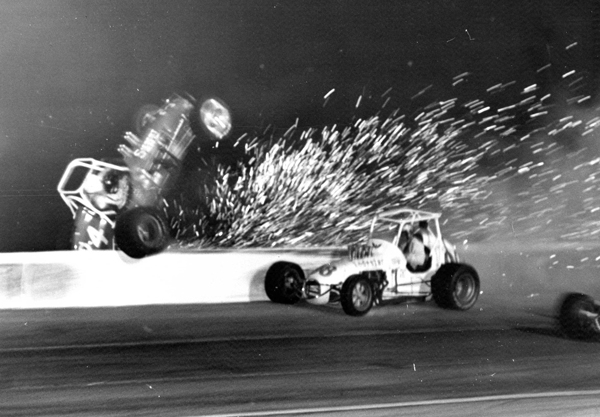 #1573 -

It was out of his hands. That was Kentuckian Charlie Masters, just married, going very fast on May 18,1974 in his USAC Sprinter at Indianapolis Raceway Park – backwards, tail to the wall, on his way outta the park. Meanwhile, Mel Cornett in the #98 is on his way, too - outta town. He likely knew Charlie was not too pleased. (Cal Lane Collection, Tom Dick Photo)
A
---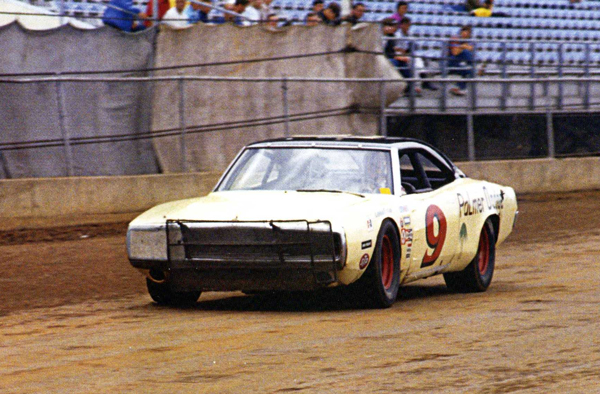 #1572 -
On March 24, 1970, Buddy Baker wrestled a Dodge Daytona known as the DC-93 over the 200-mile barrier at Talladega for a world record on a closed course. The car was subsequently used for testing in 1970, but was not to race again. When the car was no longer useful to Chrysler, Ronnie Householder gave it to a two-time USAC stock car champion in Keokuk, Iowa, named Don White. White, who passed away last April 29, reskinned the car without the nose cone and wing and took it on tour to asphalt and dirt tracks, big and small, as shown above. After White motored on with other machinery in 1976, the DC-93 sat unceremoniously in a field out there by the Mississippi. Years later a Chrysler technician named Greg Kwiatkowski became interested in the car, hunted it down, and purchased it from White for $5000. It was in rough shape but is now being restored to 200mph fitness. From DODGE DAYTONA & PLYMOUTH SUPERBIRD: Design, Development, Production and Competition, by Steve Lehto. (Greg Kwiatkowski Collection)
a
---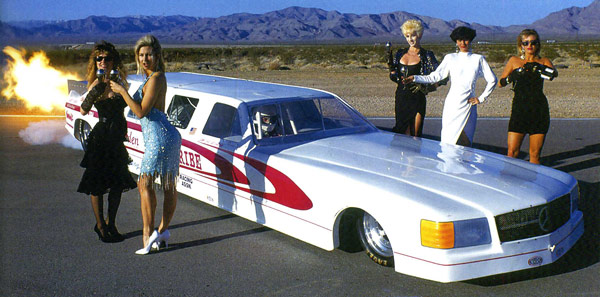 #1571 -

"The only printable image from a very comprehensive photo shoot that Steve Reyes and assistant Tim Marshall were hired to do on Jim Neilsen's Mercedes jet limo. Reyes fondly recalls, 'Neilsen wanted some ink for himself and his sponsor (Olympic Gardens Gentlemen's Club in Vegas). The ladies were from the club. It was a fun shoot, out at the drag strip. Two of the ladies had just gotten new boobs, and these were the first photos of them." All naughty stuff aside, however, Jim "The Jet"'s limo is the real deal. Outfitted with an 18,000hp Westinghouse J-34 engine with dual afterburners, the one-seater hits 100mph in one second. From LOST DRAGSTRIPS II: More Ghosts of Quarter-Miles Past, by Scotty Gosson (Photo Courtesy Steve Reyes)
a
---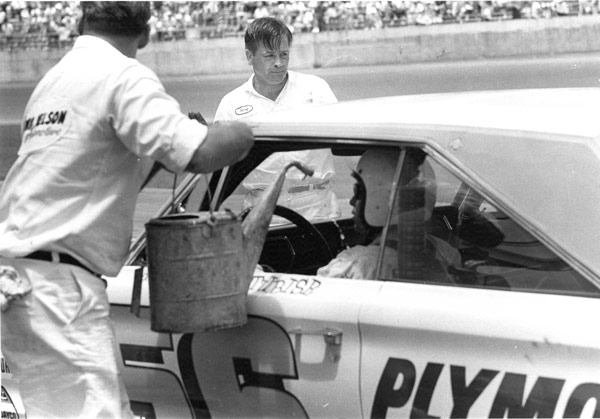 #1570 -

Cool Suit. (North East Motor Sports Museum Collection)
A
---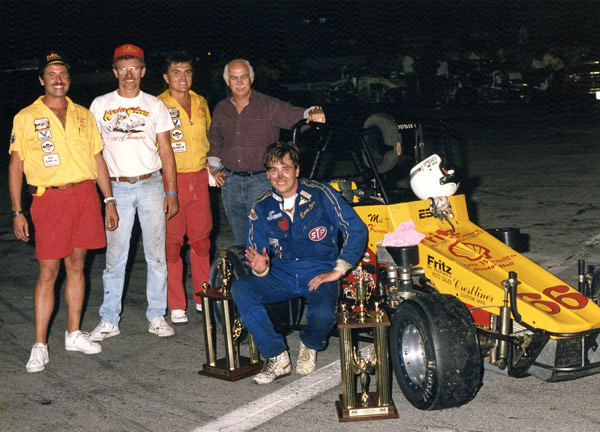 #1569 -

We're working on our book about that Kevin Olson for release this fall. My goodness, does that guy ever go round and round. Here's what he has to say about the photo above: "That was a 1988 500-lap USAC National race at the Indy Speedrome. I was teamed with Mel Kenyon. You had to make one pit stop and actually get out of the car. With all the fumes (of course I had an open face helmet) and laps, when I got out I was a bit disoriented and dizzy – kinda like when I leave a bar. As they finished the fueling, I was standing there pointed the wrong way so Lou Cicconi grabbed me by the shoulders and steered me around so I could get back in the car. We ended up winning the race. The car had manual steering and, when the track had rubber, it got real hard to turn. I was physically exhausted and sore and couldn't hear for a few days. But drinking beer gradually re-energized my body back to life…." (John Mahoney Photo, KO Collection)
a
---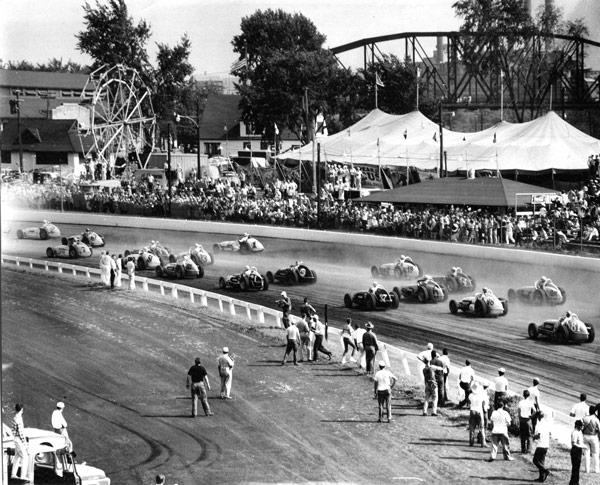 #1568 -

Everything about the 100th Indy 500 this year was pleasingly packed with passion and people. Saturday's Memorabilia Show in the IMS Pagoda Pavilion was no exception. Our friend Cal Lane was there from Burdett, NY, with his huge racing picture collection. We picked up this very cool Fairgrounds shot, but we need help. We asked just about everyone we could at the Pavilion about it, and to the one they loved its historic context, but no one could tell us where it was. Do you know? (Cal Lane Collection)
a
---
#1567 -

Racing has its way of trickling down through family generations, but sometimes it trickles up. Such was the case with Jennifer Demers, shown here at the top of the hill in Akron, Ohio, on July 28, 2001, the 64th running of the All American Soap Box Derby World Championship. Jennifer made such an impression on folks out there with her performance – and personality – that she and sister Lauren were invited to compete in the Soap Box Championships in Berlin, Germany. Their dad, Bob Demers, who owns MidWay Buick GMC in Somersworth, NH, was also quite impressed. So much so, that, already in his forties, he started SCCA racing. He was quick, too, and is still going strong today. He's a Touring 4 record-holder at Thompson, CT; Lime Rock, CT; and Loudon, NH. (Bob Demers Collection)

a
---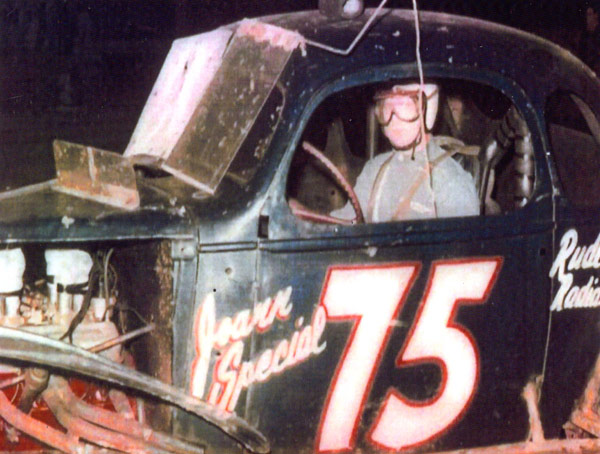 #1566 -

It was way back in the mid-1960s, and the whole thing was just beginning. That's Bugsy Stevens in an early Lenny Boehler Modified even before they became #3, let alone "Ole Blue" – and national champions. They were running everywhere, even on the dirt, as shown here at a Sunday night open-competition 100-lapper in Lebanon Valley, New York. Bugsy insists that he ran right up front in that race, but dropped back to third on the last lap because his goggles fell off. Do you believe him? (Don White Collection)
A
---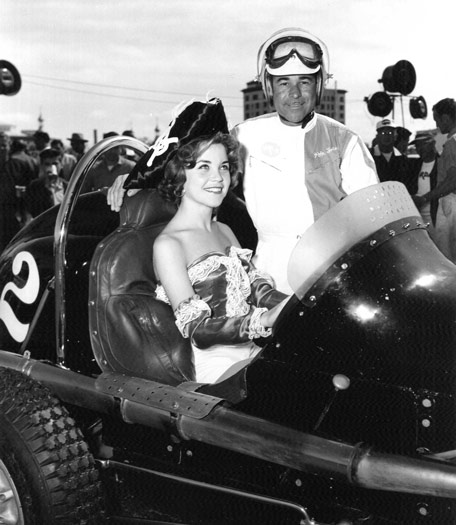 #1565 -

Showing up at the Winter Nationals in Tampa with Hector Honore's revamped Offy, three-time IMCA champion Pete Folse was certainly focused on regaining the title after Johnny White snatched it in 1962. However, Janet Palmer, "Miss Tampa," may have caused just a bit of distraction along the way. (Cal Lane Collection)
a
---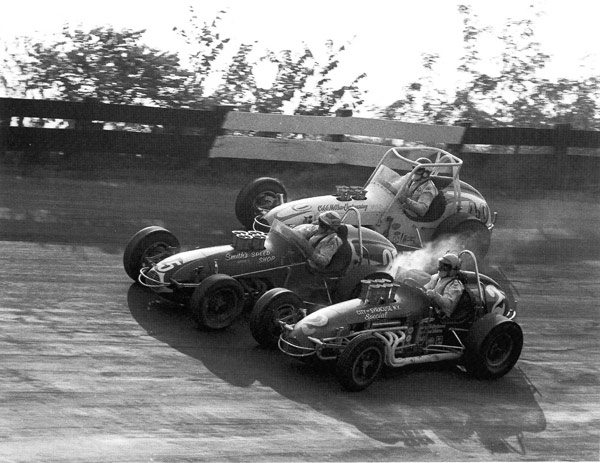 #1564 -

We are thrilled to be carrying Gordon Kirby and Joe Freeman's brand new book, TONY BETTENHAUSEN & SONS: An American Racing Family Album. The volume is beautifully packaged with compelling text, complete records, and fabulous photography. Here's a John Mahoney shot that redefines "wheel to wheel." Rollie Beale, Bruce Walkup, and Gary Bettenhausen (in Willie Davis' infamous "City of Syracuse" Sprinter) have their minds set on the very same real estate.
a
---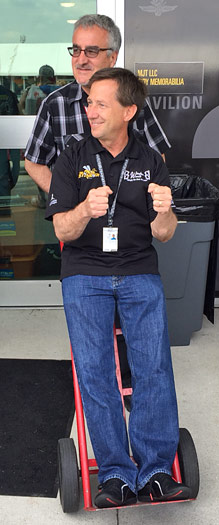 #1563

-

These days it seems most Sprint Cup drivers need mini-Hummers to get around the infield area. For IndyCar drivers, an amped-up golf cart is pretty typical. But John Andretti has a simpler, greener solution. A hand truck with Bones-power works just fine, as shown as they departed the Memorabilia Show at the IMS Pavilion last Saturday. (Dave Darland photo)
a
---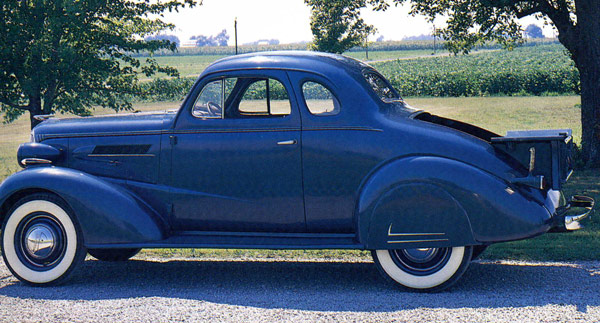 #1562 - "Everything about the 1937 Chevrolet seemed new and everything seemed right. With the previous year's hydraulic brake system, Knee-Action ride and all-steel body, it was given a new 216.5 cu. in., 85 hp, 6 cylinder engine – a compact improved 'Cast Iron Wonder' that was more wonderful than ever. The new frame, which added 4 in, and the new hyoid axle, which lowered the floor some 2 in., created more interior space and an opportunity to create a well-executed exterior that made this an important Chevrolet transition model, continuing it as the number one sales leader." The coupe – and particularly that relatively slippery body – sure drew the loyalty of the short track stock car crowd over the years. One wonders how many of these Master coupes still exist, untouched by relentless cutting torches. Quote and Photo from GM: The First 75 Years of Transportation Products, by the Editors of Automotive Quarterly Magazine.
a
---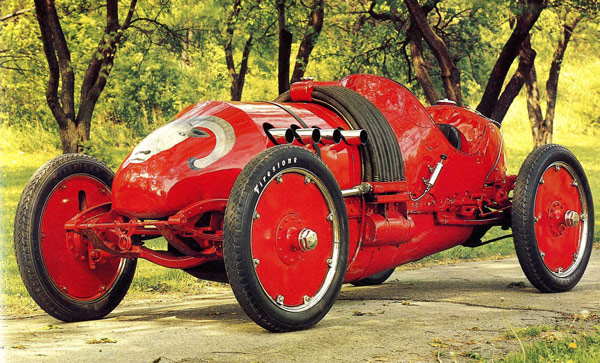 #1562 -

The place was already known as the Brickyard in 1910, but the 500 was still a year away when Louis Chevrolet and teammate Bob Burman brought this Buick Bug into town. A hefty four-cylinder engine would haul it down the straightaways, and Burman reached a record-setting 105mph. The turns, however, were another story. The nose cone, definitely more ornamental than functional, and the body were so narrow that the car pitched badly. It was a snail pace on the bankings. Photo from GM: The First 75 Years of Transportation Products, by the Editors of Automotive Quarterly Magazine.
a
---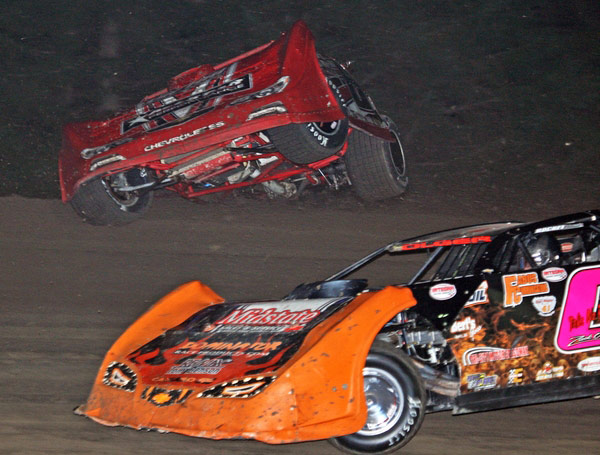 #1561 - Things didn't look all that good for Houghton Lake, Michigan's winning Super Late Model shoe Dona Marcoullier entering the turn at Merritt Speedway last Labor Day Weekend. It didn't get any better either, but Dona was able to scramble uninjured after an endo. (Mike Adaskaveg Photo)
A
---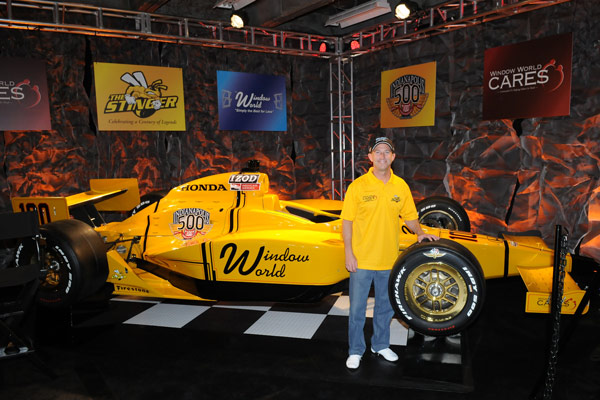 #1560 - A huge commitment to charity is shared by John Andretti and his long-time sponsor, Window World. Over the last couple of years they have been preparing this beautiful updated replica – called The Stinger – of the bumblebee-yellow Marmon Wasp with which Ray Harroun captured the original Indy 500. In an enormous effort, John traveled countrywide to have nearly every one of the 273 living Indy drivers autograph the car, making it perhaps the most valuable piece of racing memorabilia of all time. On Wednesday of next week, May 25 at 6:00 pm the car will be auctioned off at the Dallara IndyCar Factory with the proceeds going to St. Jude's Children's Research Hospital. Then, on Saturday from 11-12:00 noon, John will join Bones Bourcier at the Coastal 181 booth at the Indy Memorabilia Show to sign copies of THE STINGER: 273 Drivers Speeding Toward Hope, the book they co-wrote describing the project. Photo from THE STINGER by Bourcier and Andretti.
A
---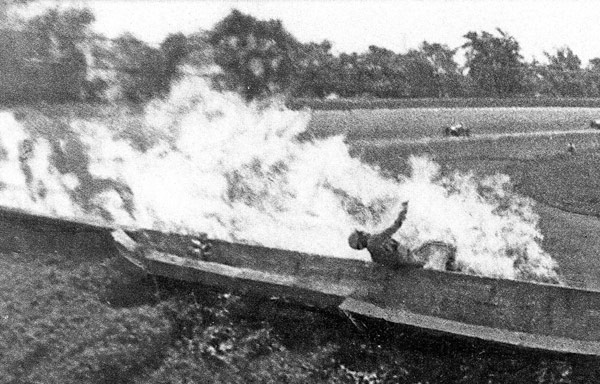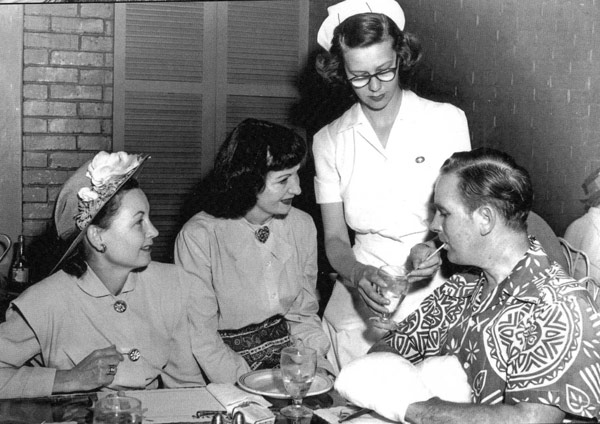 #1559A&B - Dennis Nalon really was the "Iron Duke." Sixty-seven winters ago, he whisked his Novi into the lead at Indy from the pole. He was haulin' the freight for 23 laps when suddenly his left rear axle snapped in the third turn. He slid frighteningly along the wall completely ablaze, but had the sense to hold his breath, so as to save his lungs. He was able to scoot out of the fire when the car stopped. In the second image he is all cooled off in recuperation, recipient of nourishment from the nurse and warm glances from his wife, Fran, and Mrs. Wilbur Shaw to her right. From FEARLESS: Dangerous Days in American Open Wheel Racing, by Gene Crucean. (Top photo Gene Crucean Collection, Bottom photo Len Schofner, Paul Johnson Collection)
a
---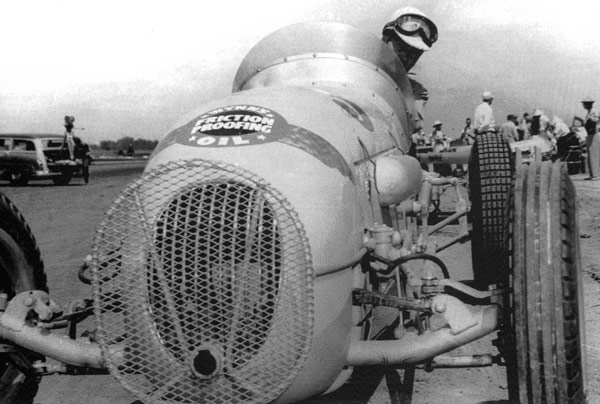 #1558 - On September 1, 1951 Johnnie Parsons showed up at Du Quoin with the Wynn's Friction Kurtis 300 for the 100-mile Big Car race. He proceeded to win the pole position with a lap of 98.87mph around the heavy, rock-strewn mile. Check out those tires – and that roll cage. How fast would you have gone? From THAT MAGIC MILE: The National Championship at Du Quoin 1948-1970, by Tom Nasti. (Phil Harms Collection)

a
---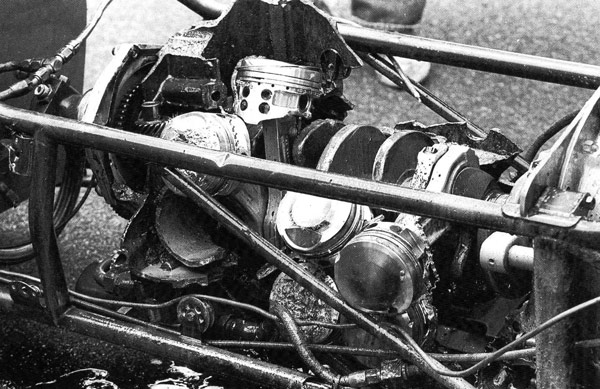 #1557 - Oh dear. Grant Stoms encountered a bit of an engine problem with the RAMPAGE Top Fuel dragster at Englishtown, NJ, in 1976. From TOP FUEL DRAGSTERS, by Steve Reyes. (Norman Blake Photo)
A
---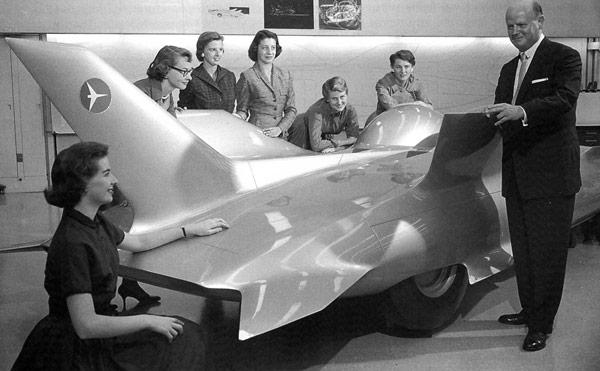 #1556 - The noted car designer Harley Earl – responsible for such accomplishments as leading the team that conceptualized the Corvette – organized a group of women in the 1950s nicknamed the "Damsels of Design." They did some pretty racy stuff, including work on the Firebird III (above). Shown with them, however, was their new boss, Bill Mitchell, who became VP of GM Design. Stating that "No women are going to stand next to any senior designers of mine," he disbanded the team. Perhaps it was a sign of the times. The women were not too put out. According the a piece in the New York Times in June of 2010, "they shrugged off hurdles or obstacles simply focusing on 'being really good' at what they did." From THE CARS OF HARLEY EARL by David W. Temple. (Photo GM Media Archive)
A
---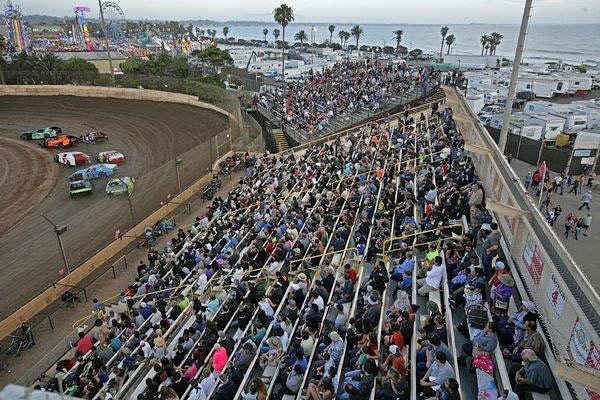 #1555 - How about that Ventura Speedway, so curiously positioned right there on the coastline of Southern California? Once a dirt half-mile, then tenth of a mile, and now a fifth, it has offered up all kinds of racing, starting with motorcycles, for 106 seasons. Do you figure when the Offies ran there folks could hear them in Waikiki? (Mike Adaskaveg Photo)
a
---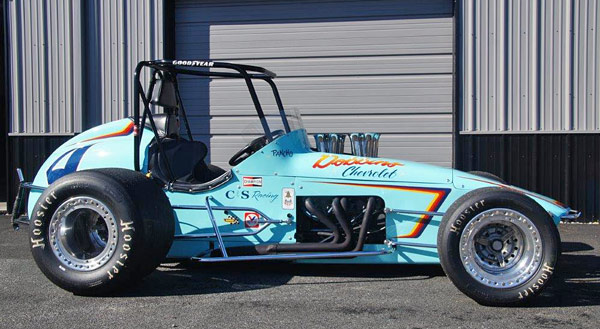 #1554 - Back in Colonial times there was a fiery preacher named George Whitfield whose eyes would do laps in different directions when he spoke. One day after biting into a strawberry, he commented with enormous enthusiasm, "Quite possibly the Lord may have made a sweeter berry, but quite possibly He never did." What in the world would He have said about the drop-dead beautiful specimen Jeff and Karen Bardour towed up from Pennsylvania to the Vintage Days last week at Thompson (CT) Speedway?. It was the masterfully restored Dobbins Chevrolet Sprinter built by Steve Stapp. Pancho Carter wheeled it to the USAC Championship in 1974 and 1976. It was seen in Victory Lane at Eldora, Terre Haute, Winchester, the Indy Fairgrounds, New Brennan, and Salem. (Deb VanWert Photo)
a
---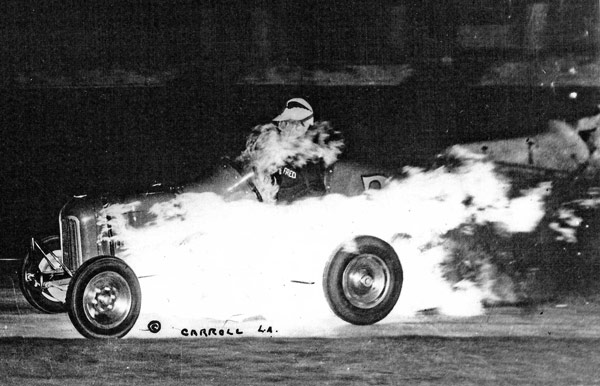 #1553 - It almost seemed that the Gilmore Oil Company was as focused on delivery of needed entertainment to Depression-weary Americans as it was to fueling them up in their chain of service stations. And much of their attention was on auto-racing promotions and racing cars. It's said that organized Midget racing in Southern California was just a year old when Earl Gilmore erected the Gilmore Stadium in L.A. in 1934. Gilmore's enormous crowd must have been thrilled the October night in '38 that Fred Friday got all fired up – and relieved big time when he scampered out uninjured. From ROAR WITH GILMORE: The Story of America's Most Unusual Oil Company, by Charles Seims and Alan Darr.
a
---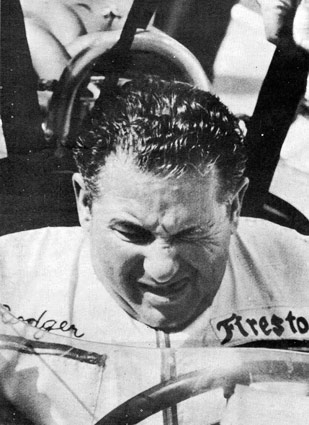 #1552 - Fifty years ago an Illustrated Speedway News photographer caught Rodger Ward, the undeniably testosterone-fueled winner of the Indy 500 in 1959 and 1962, about to climb from the Bryant Heating Special. He had just qualified fifth row inside for the 1966 running and was letting loose a tear or two. He had missed the show the year before. Such was the passion of the Bricks. (Illustrated Speedway News Photo, May 24, 1966)
A
---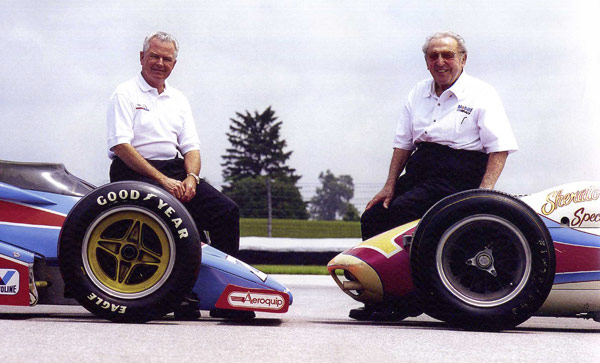 #1551 - Massachusetts native Jim McGee (L) and California's George Bignotti were "the master Indy car chief mechanics of their era. Jim's cars won 90 races from 1965-2005 and Bignotti's machines won 85 times between 1958-83." Photo and Caption from JIM McGEE: Crew Chief of Champions, by Gordon Kirby. (Mike Levitt/LAT Photo)
a
---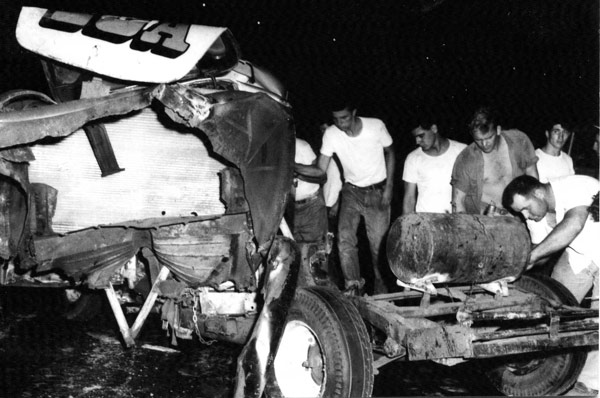 #1550 -

Rough one. (Location, date, and origin all unknown.)
A
---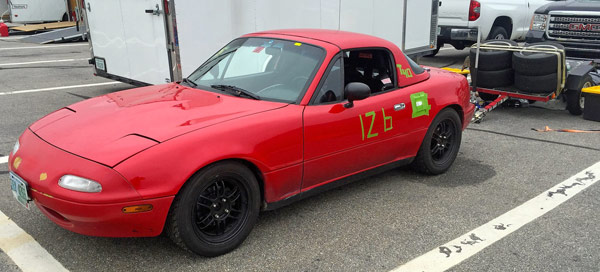 #1549 -

Think you might like to race but don't have a race car, tools or a lot of money? There are opportunities all across America just like COM, an offshoot of an old Corvette club that does high-speed timed laps at Northeast road-racing circuits. This photo shows one of their most popular cars, a Mazda Miata. Look carefully because behind the 'race' car, which was driven to a recent event at New Hampshire Motor Speedway, is a small trailer with the car's spare tires and toolbox! The race car tows its own pit supplies to the track. Most of the cars that participate are very inexpensive and have two seats, one for the driver and one for an instructor, which COM will provide. The club costs $35 to join, new members get a $100 discount off their first event and a full weekend on-track is $425. You need to wear a helmet, non-open-toe shoes, slacks (no shorts) and a helmet. And you must have a valid driver's license. Firesuits and roll cages aren't required. You can drive your car to the track, tape a number to the door and see how fast you can go. Laps with instructors are required before drivers are turned loose on their own. The club may be able to help you secure a rent-a-car for a weekend in which you can get started. Lots of couples participate. The website is www.comscc.com . (Photo and caption by Dick Berggren)
a
---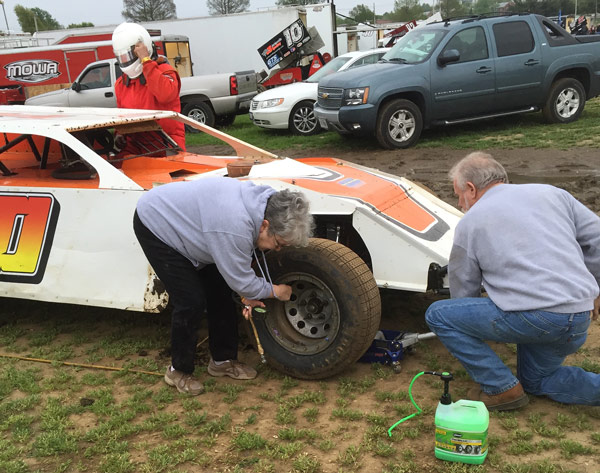 #1548 - One of our all-time favorite racers is soft-spoken, perpetually underfinanced, and exceptionally proficient Rick Standridge of Collinsville, Illinois. Currently in his 46th season, he stopped counting trophies at 200, Sprinter and Late Model wins among their number. And look who was making a sneak air pressure adjustment a week ago at Jacksonville Speedway while Rick was climbing aboard. That's wife Joyce Standridge, the world-class racing journalist who has penned as many pages as Rick has turned laps. As well as her time-honored columns in Speedway Illustrated, Joyce has also authored books such as

GOTTA RACE!

(Kenny Schrader), INSIDE HERMAN'S WORLD (Kenny Wallace), WIN IT OR WEAR IT (Sprint Car tales), FAST MEMORIES (the old Springfield Speedway), and AUTO RACING, I GAVE YOU THE BEST YEARS OF MY LIFE (racing reflections). (Photo by Nancy Standridge)
A
---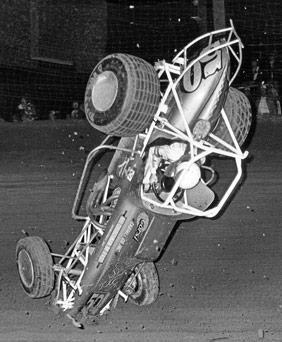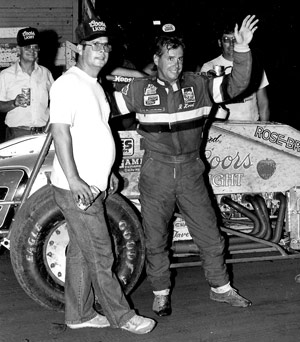 #1547 - "The National Sprint Car Hall of Fame was still in the future when Rickey Hood came to Springfield, Illinois. Once, it didn't turn out so well, as shown to the left. But on the right he is in Victory Lane. The previous evening, a local driver had won the feature, and in the pay line Rickey told him, 'You won't get the winner's pay tomorrow night because you showed me the line.' Sure enough." Photos and caption from FAST MEMORIES: Springfield Speedway 1947-1987, by Joyce Standridge. (Crash photo, Allen Horcher; Rickey in firesuit, Kevin Horcher)
a
---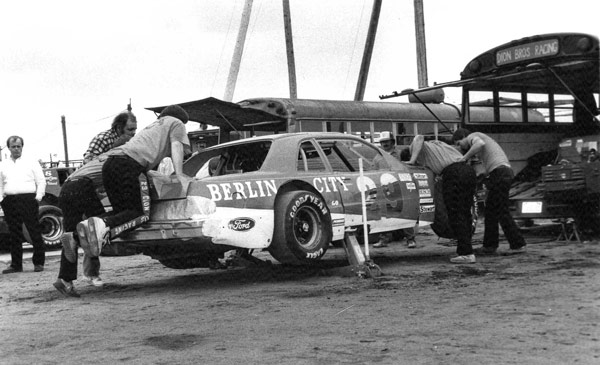 #1546 - Those Dion Brothers, the great Late Model team out of New Hampshire, were at the top of their game for over 25 years. They were Ford guys – and, wouldn't you know, great friends of the Wood Brothers. It also turns out that the two teams were very much alike in mechanical creativity. Here is a Dion Brothers' version of what the Wood Brothers did for the British in their pit stops at Indy: Some years ago Bob Bahre, then promoting Oxford Plains Speedway in Maine, banned the use of air wrenches for pit stops in his marquee Oxford 250 event. That was enough to get the Dion brains all heated up. They decided they could win if they could still change two outside tires without losing a lap. So, they developed trick-city hand-spinner wrenches. Using four-ways, they flared them back and filled the outside ends with lead. They installed bearings where the changer placed his hands, and they balanced them. Then Roger and Paul spent a month practicing tire changes. It worked like a champ. Driver Dave brought her in at 150 laps, they changed the outer two tires, and he went out like a rocket ship. It looked like a sure win, but fate intervened. Dave got drilled in the left rear, bouncing the oil tank off the tire, and he left the track in a ball of fire. (Robin Hartford Photo, North East Motor Sports Museum Collection)
A
---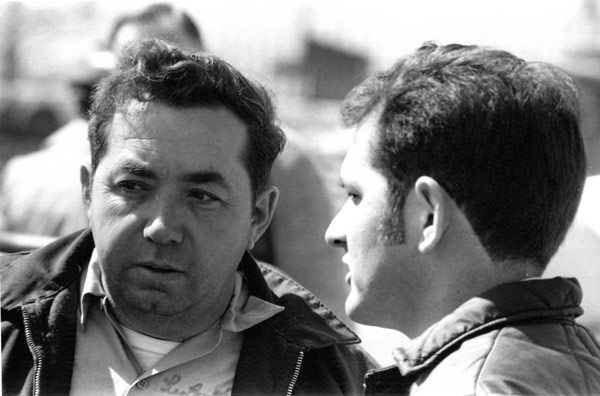 #1545 - Dick Berggren captured a pivotal moment between two serious racing professionals at the USAC Sprint Car event at Reading, PA, on March 28, 1971. Joe Saldana (right) had just walked up to legendary owner "Boston Louie" Seymour and said, "Hi, my name's Saldana, and I am here from Nebraska to drive your race car." Like a classic Casablanca movie rerun, it was the beginning of a beautiful friendship. Saldana drove off and on for the Seymours for years, both in Sprinters and Silver Crown events. And in later years, as Louie's sons Bobby and Mike entered the open-wheel speed parts business, they did lots of business with Joe's innovative company, Saldana Plastic Tanks.
a
---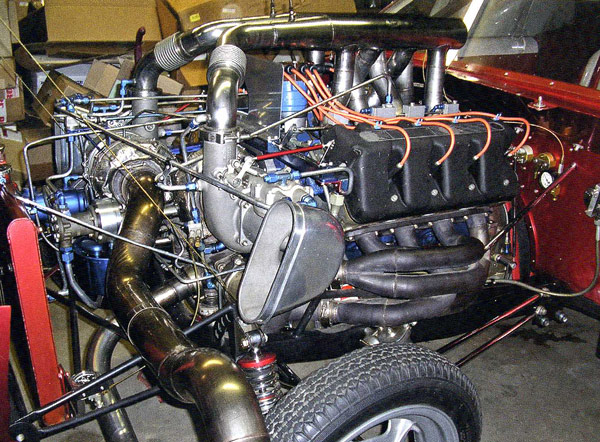 #1544 - Working out of Dayton, "Ohio George" Montgomery was an alpha competitor in the infamous drag racing "Gasser Wars" of the 1960s. He was lightning fast behind the wheel, but equally successful at the workbench. He was certainly not averse to complex design, and the classic example may have been this boss 429 he built for Ford Motor Company and the Mr. Gasket Gasser. It was as if George conceptualized it as two separate four-cylinder engines. He put on two separate turbocharged intake systems. From "OHIO GEORGE" MONTGOMERY: Drag Racing's Gasser King, by Patrick Ertel with Bill Holder. (Phil Kunz Photo)
a
---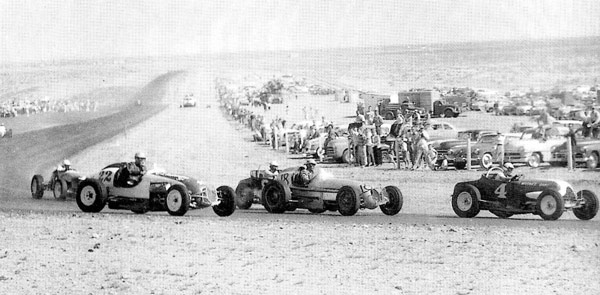 #1543 - This would definitely have been fun to watch. 1956 was the final year for the California Racing Association roadsters, and by early spring fields were weakening. So on March 23, the club tried something different. A mixed Sprint Car/Roadster show was held at the Willow Springs sports car track, called by Dick Wallen "a windy, dusty, high desert venue… The circuit itself was wonderful, with some fair-sized straights, elevation changes, challenging turns in both directions and a fast sweeper that tightened at the end. The pavement wasn't very good … And don't ask about the sanitary facilities. Just bring your own Sears and Roebuck catalogue." Danny "Termite" Jones bested the 32-car field and the big-boy slice of the hefty $2,000 pie. From ROARING ROADSTERS: The Road To Indy, by Dick Wallen. (Greg Sharp Collection)
A
---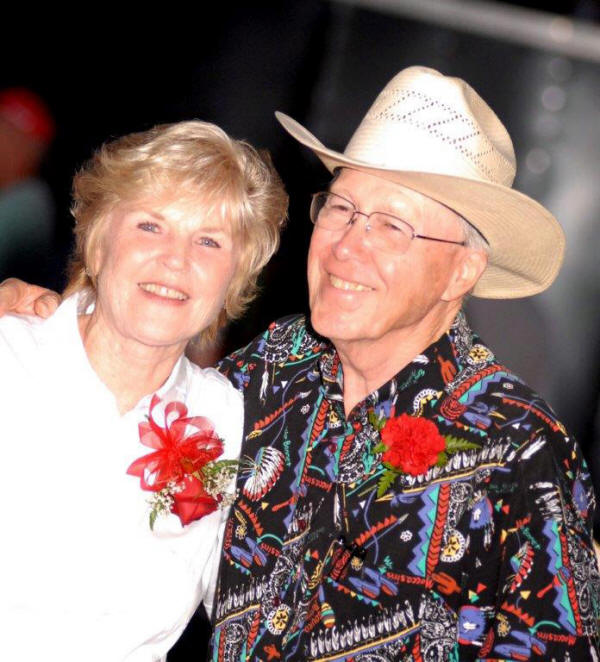 #1542 - That's racer Bill Wimble, who died Sunday, April 24, and his beloved wife, Nancy. Few men have ever shown more elemental kindness and love for family during their years than Bill. He also was the consummate American entrepreneur, working his way from a dirt-poor dairy farm on the St. Lawrence Seaway to the CEO role with major transportation concerns. And somehow along the way, he also managed to emerge as one of the best circle-track competitors ever in the Eastern half of the United States. He was multi-time NASCAR Sportsman champion in the '60s, winner of 100s of features, and admired by 1000s of fans for the last seven decades. He will be remembered by his friends for his unending determination, as demonstrated dramatically in a racing situation in the TEAROFF dated 12/16/2008. Services will be held for Bill on Monday morning in Riverview, Florida. (Frank Simek Photo).
a
---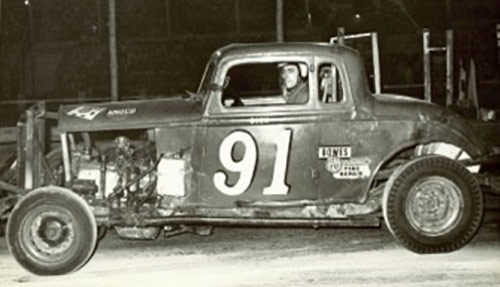 #1541 - Upstate New York has been a hot spot right since the first short track racers made thunder. While much of the region is dotted with dirt tracks, in the 1950s and 1960s there was an active asphalt circuit in the Hudson Valley, including venues like Pine Bowl, Menands, Coxsackie, and Rhinebeck. Some of their entries complied with Non-Ford rules, a very popular division in the Northeast at the time. A spirited standout among the competitors was Red Hook's Dick Hansen, known early on as "the Flying Grocery Boy" and later on with more ferocious monikers. He's shown here at Rhinebeck after a win in a pretty square top with a Chrysler Spitfire. That engine was built in a college dorm room by Stu Murray, who later as CEO of Wirtgen America sponsored the likes of Mark Kinser, Bentley Warren, and the Seymours of Boston. Hansen and a gaggle of his fellow competitors will be appearing a Rhinebeck Reunion on May 7, as described below. (Photo Dick Hansen Collection)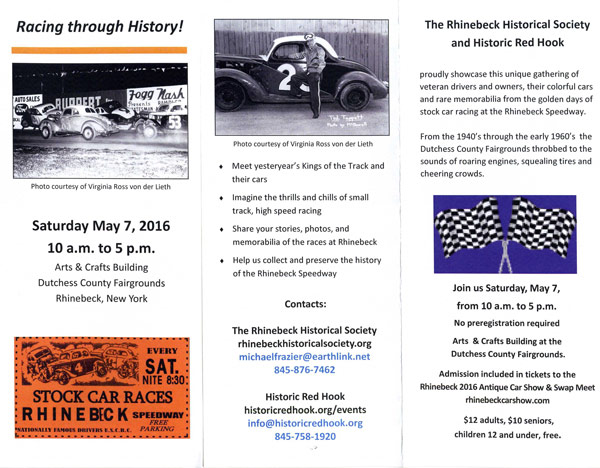 a
---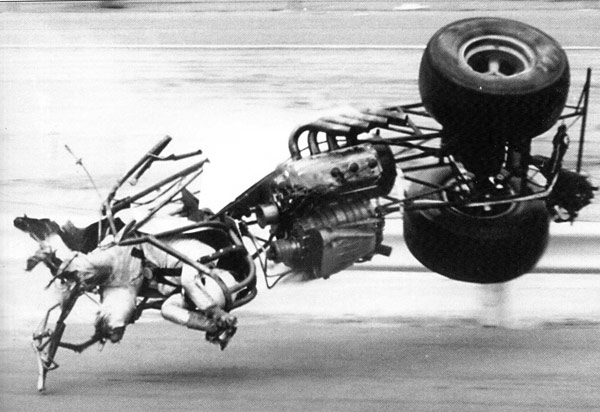 #1540 - "The biggest unspoken fear of the rear-engine Top Fuel dragster driver was "what if" a rear-engine Top Fuel car hit an Armco guardrail head on. Unfortunately, Kenny Logan showed all too well what happens to a driver and a car when this type of accident happens. Logan's car hit a slick spot at the Orange County International Raceway, sending it hurtling at speed into the Armco guardrail barrier. The ensuing crash cost Logan his legs and right hand. He was dead at the scene, but the OCIR emergency crew had a new respirator and used it to bring Kenny back to life, and he recovered. The crash …resulted in the Armco being replaced with concrete barriers. Kenny is still around and attends the annual Hot Rod Reunion in Bakersfield, California. Quote and Photo from TOP FUEL DRAGSTERS: Drag Racing's Rear-Engine Revolution, by Steve Reyes.
A
---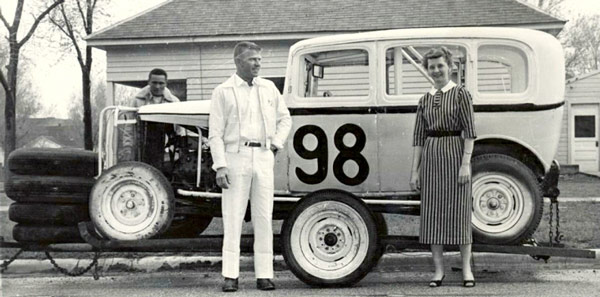 #1539 - It was opening Day, April 27, 1958. Alvin "Gene" Coffman picked up the race car from owner Clarice Palmer in Tyrone, OK. They ran at Larned, Kansas, grabbing a third in the heat and a fifth in the B Main for a haul of $8.88. (Photo from Bob Lawrence's Kansas Racing History)
a
---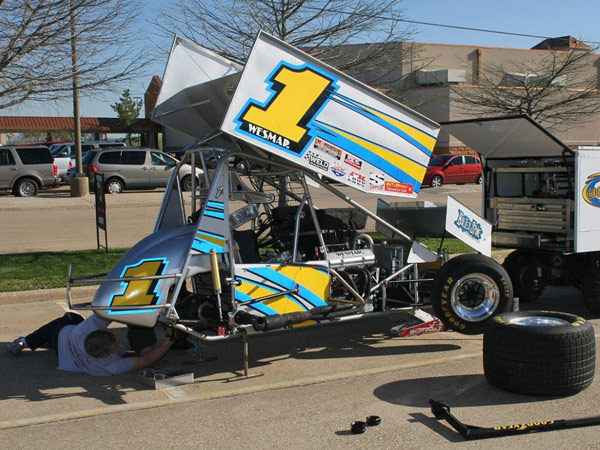 #1538 - How many times have you walked out of a motel room in the middle part of the country and come across a Sprint Car in a million pieces in the parking lot being prepped for another evening's activities? In this case it was Danny Jennings out of Norman, OK, getting ready for ASCS racing at Devil's Bowl in Mesquite, TX. That particular morning, though, seems especially shiny. So does the Wesmar #1. There's nary a dollop of clay anywhere. (Steve Janek Photo)
a
---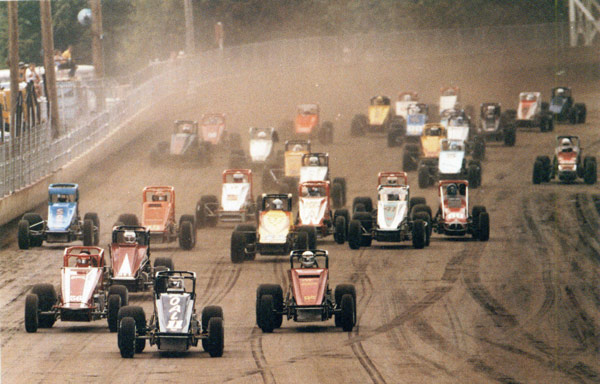 #1537 - It was one loud and glorious moment: the start of the Bettenhausen 100 on the Springfield, Illinois, mile on August 20, 1988. The race was first run in 1956. On this occasion, Carmel, Indiana's Steve Chassey was first across the finish line, followed by Gary Bettenhausen and Bruce Field. From NATIONAL SPRINT CAR ANNUAL – 1988. (Photo Dr. Harlan Hunter)
A
---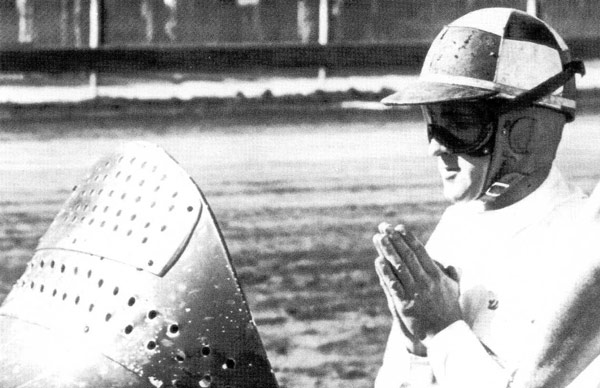 #1536 - Everything about Eddie Sachs seems so wrapped in color and outrage that an image such as this seems a bit unusual. There was a more thoughtful side to him, though. In 1961 he was leading the Indy 500, but he noticed right rear tire wear. Surprisingly (but wisely), he pulled into the pits for a tire change, and A.J. Foyt powered by to beat him to the win by eight seconds. Sachs later commented, "I'd rather be second than dead." It was quite a dramatic moment. A.J. recalled, "I felt a vibration. It wasn't the car. It was the crowd. There were 300,000 people screaming. I knew something had happened to Sachs. I came around and saw his car in the pits." Quote from AUTOCOURSE – Official History of the Indianapolis 500, Second Edition, by Donald Davidson and Rich Shaffer. (Photo from THE EASTERN BULL RINGS: The History of the Eastern Big Car Championships, 1945-1960, by Buzz Rose. Sam Traylor Collection)
a
---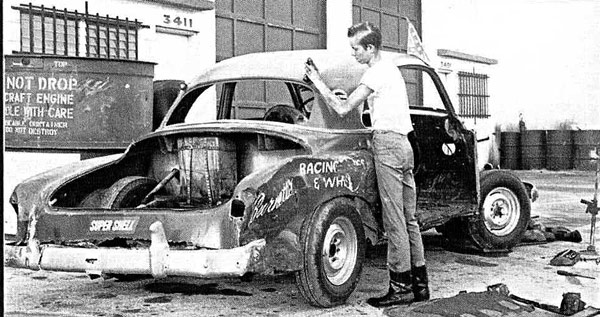 #1535 - We're not really too big into the "guess who" deal, but this one is SO unintuitive. The location is Florida, the year 1962, and the car the Chevy jalopy from hell. Who is that long-legged, thin-armed teeny-bopper who continued on to a moon-shot career? (The answer is next to the photo credit). From FLORIDA MOTORSPORTS RETROSPECTIVE PICTORIAL Vol. 1, 2nd Edition, by Eddie Roche. (Bobby 5x5 Day Photo -- It's Gary Balough)
A
---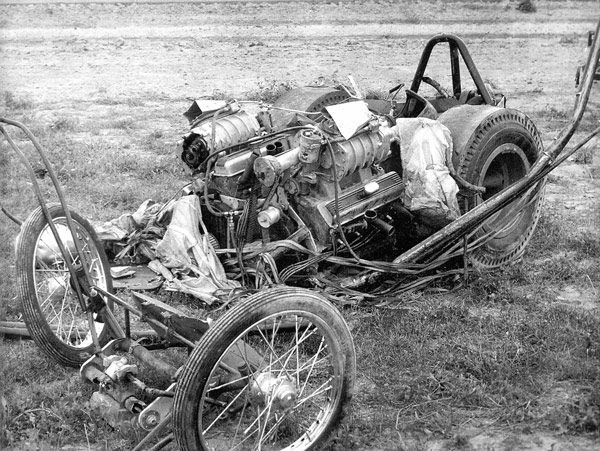 #1534 - Two was just too much. In 1962, Dan Knapp, Chester Blazik, and driver Don Westerdale, towed from Michigan to the newly opened the Niagara Airport Drag Strip. Their gas rail, "Double Trouble," housed two direct-drive, co-joined 327s and it turned an impressive 7.99 ET. As was the case with many twin-engine dragsters and hot rods, however, chassis stresses broke up the whole deal. From LOST DRAGSTRIPS II: More Ghosts of Quarter-Miles Past, by Scotty Gosson. (Dean Johnson Collection)
A
---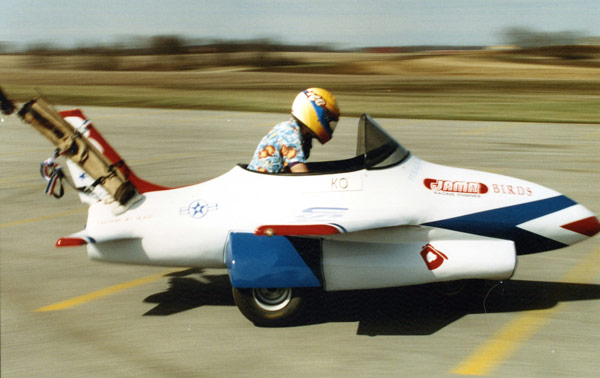 #1533 - So, we're doing a Kevin Olson book. Problem is that we don't even know where to start! (Photo: KO's Pathological Collection)

a
---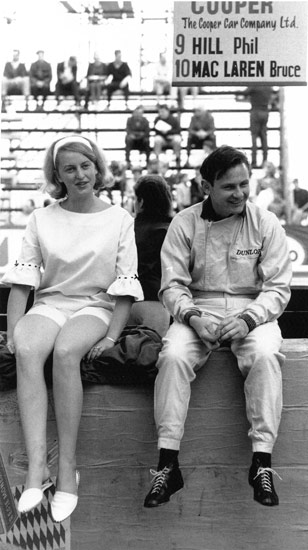 #1532 - That's the "Speedy Kiwi," Bruce McLaren, with his wife, Pat, at Monaco in 1964. McLaren, despite illness as a child that left him with a limp, was lightning fast, the youngest GP winner ever at age 22 with his triumph at the US Grand Prix in 1959. His substantial design and engineering capabilities were obvious, with tremendous success with the CAN-AM Series in the US and Canada. He died testing at the Goodwood Circuit in England on June 2, 1970. From PORTRAITS OF THE 60s: Formula 1, by Hartmut Lehbrink. (Rainer W. Schlegelmilch Photo)
A
---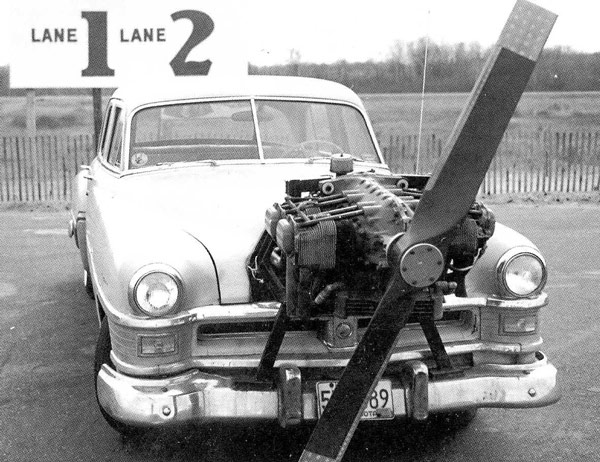 #1531 - The Twin Cities Optimist Clubs Timing Association opened Minnesota Dragways in Coon Rapids in July 1959 with grand passion. After a somewhat rocky start, the venue grew in popularity, peaking with 30,000 spectators at an appearance of Evel Knievel in 1972. There is no question that the Optimist guys also demonstrated grand creativity as well. Here is one of their track dryers, a 1952 Chrysler up-fitted with an aircraft engine and prop to deal with rain, oil, and likely snow. Encroaching neighbors got pretty hostile when racing was switched to evenings and the roar of engines filled the nighttime air. Sadly the facility closed in November of 1976. Photo from LOST DRAG STRIPS II – More Ghosts of Quarter-Miles Past, by Scotty Gosson. (John Foster Jr. Collection)
a
---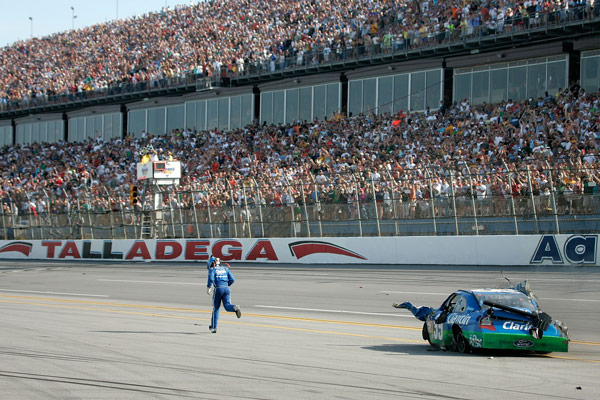 #1530 - It was not the first time oval-track competitors had used bipedal locomotion to reach that checkered flag. In 1912, Raffaele "Ralph" DePalma and riding mechanic Rupert Jeffkins gallantly pushed their Mercedes, beset with a cracked piston, for the final two laps of the Indy 500 for an 11th-place finish. Another case – far more grass roots – went down in the 1960s at the old Pines Speedway in Groveland, Massachusetts. Character of characters, Al "Rocket" Crockett abandoned his totally trashed Bomber sedan to reach the starter's box with his engineer boots. But the athletic and spirited Carl Edwards has to take the prize on this one. After a dramatically terrifying flip along the front-stretch wall in the April 2009 race at Talladega, Carl delighted a huge crowd and an international television audience with his insistence on completing the job. (Photo from www.danspitstopracing.com)
A
---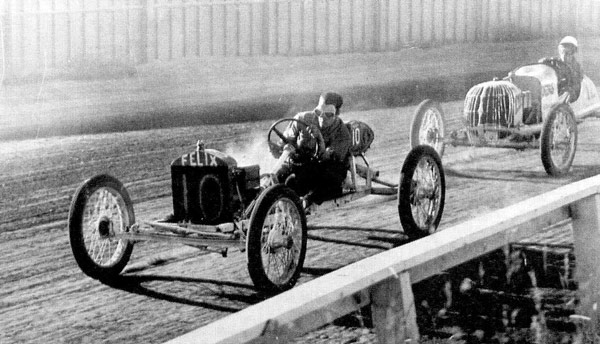 #1529 - In 1941 the good folks at the Lions Club of Calgary, Canada, decided to promote an auto race for stripped-down Model Ts to raise money for children in England orphaned by the war. What a success it turned out to be. Twelve thousand spectators turned out on September 1 for the 100-mile event, raising a sprightly $5000 for the kids. So, the races at the Stampede Fairgrounds at Victoria Park kept right on going. Here Len Erlam leads into the turn in 1945. The cars, still sans seat belt and body (and the drivers sans helmet and belt), were beginning to look something other than Model T. They would soon earn the designation as Sprint Cars. Photo from THE SPEEDIEST LAND TRAVELER, by Richard McDonell. (Tim Erlam Collection)
A
---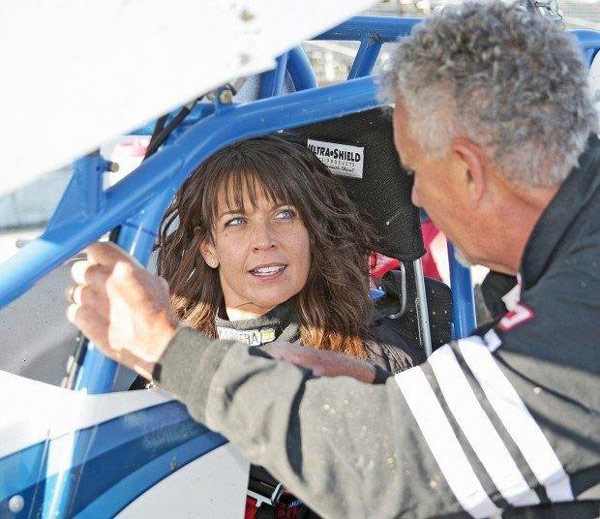 #1528 - We have been just a little worried about our buddy Jimmy Sills. Jimmy was very professorial in his day at his Northern California Sprint Car driving school, mentoring many a student in the ins and outs of competitive driving. However, he could not quite recall the name of this particularly attractive attendee. You can take it to the bank we would have remembered. (Sills Collection)
A
---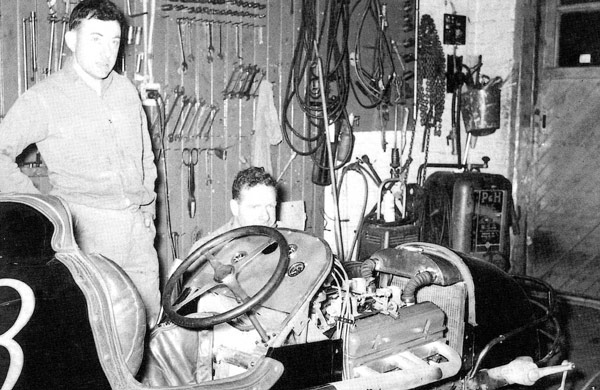 #1527 - Joe Barzda and his brother Jim were proprietors of California Speed & Sports Shop for years and years in New Brunswick, NJ, and fielded many cars – both for Joe and for others. Here their crew squeezes one of the first Chevy V-8s into a Sprinter. Joe's career, which included several attempts at the Brickyard, was sadly marked by racing fatalities. In 1940 at Union, NJ, he was caught up in a Midget melee that took the life of promising Tommy Simonetti. In August nineteen seasons later he crashed with Pittsburgh's Van Johnson aboard the Vargo Champ Car, the same car in which Dick Linder had died at Trenton in April (see Photo of the Day #1396). Both Barzda and Johnson flipped, and Johnson died. That was pretty much it for the driving, but Joe continued on as a car owner. From THE EASTERN BULL RINGS, by Buzz Rose. (Paul Barzda Collection)
A
---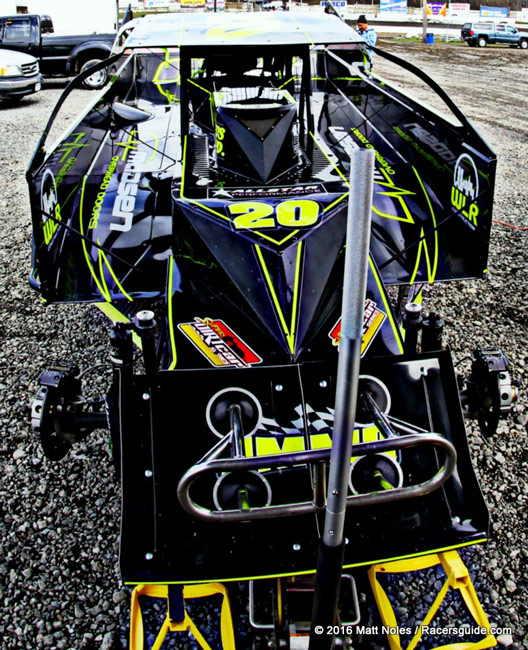 #1526 - He was most definitely the fastest car all day at Brett Deyo's Short Track Super Series Hard Clay Open. And Brett "the Corporate Jet" Hearn led nearly all 50 circuits to win yet another Modified feature at the Orange County Fair Speedway (Middletown, NY), beating Tommy Meier and Danny Johnson to the line. However, during post-race inspection, the Madsen Overhead Door team refused to remove the valve covers on their small-block for a P&G test. This resulted in Hearn being disqualified, and the victory and $5000 payday moved on to second-place finisher Tommy Meier. Hearn proceeded to go on to win the 25-lap crate sportsman feature which paid $1000-to-win and he immediately donated his winnings to charity. (Photo and Caption by Matt Noles/Racersguide.com)
A
---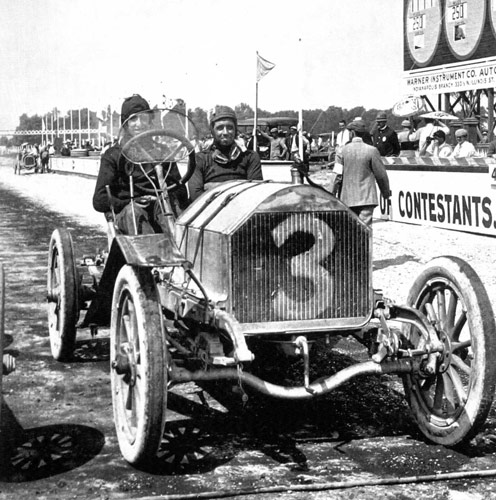 #1525 - On August 19, 1909, a 250-mile championship race was held at Indianapolis Motor Speedway. Wilfred "Ray" Bourque, a Canadian hill climber who often raced for the Knox automobile team out of Massachusetts, was running second of nine starters at the145-miles mark with his riding mechanic, Harry Holcomb. Coming off the fourth turn, they got sideways and shot into the infield. The car flipped and both were killed, the first recorded fatalities in the history of the Brickyard. RACERS AT REST: The Checkered Flag, 1905-2008, by Buzz Rose, Joe Heisler, Fred Chaparro, and Jeff Sharpe. (Scott Photo)

A
---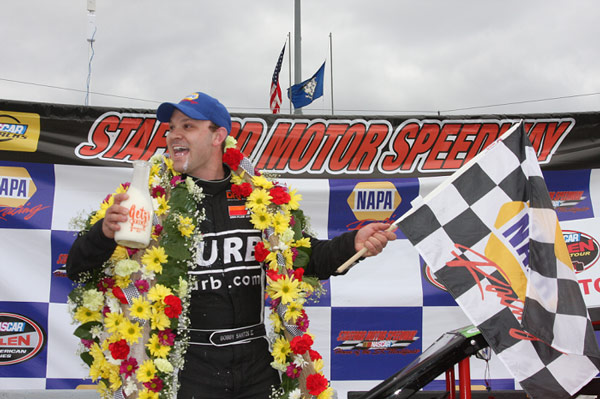 #1524 - That Bobby Santos III sure is fleet-footed. Some years ago he turned a blistering lap on the 7/8ths-mile Iowa Speedway for an all-time closed-course Midget record of 147 mph. Back at Coastal 181, we asked him what it felt like. "Aw, nuthin' much," he said."But it did get a little breezy." Yesterday we got a call from Alabama. The "King of the Wing" Sprinters were at Montgomery Motor Speedway. Four of them beat the track record, and, yep, the fastest was Bobby Santos with a 15.03 on the half. He's fast in Modifieds, too, as shown here, winning his second straight Spring Sizzler at Stafford Speedway in 2014. (Santos Collection)
a
---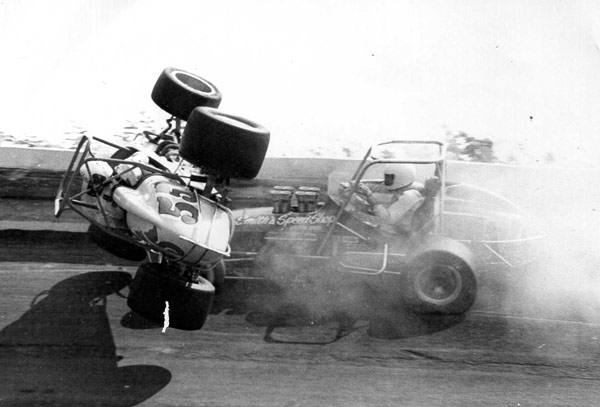 #1523 - It always seemed to me that flipping to the left ended up more painful than flipping to the right. You had to feel sorry for George Snider #55 in this one. He was running Winchester on July 27, 1975, high and wide, leading in the USAC Sprint points. Then he got into Darl Harrison in the #14 Smith Chevy, flipped, slid on his cage, and catapulted out of the place. The result: two broken arms and no shot at the title. (John Mahoney Photo, Cal Lane Collection)

A
---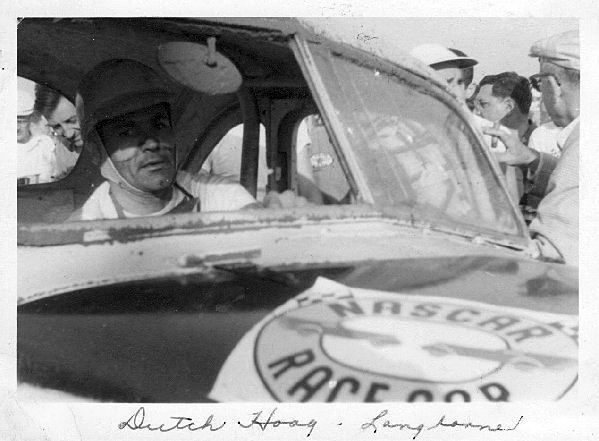 #1522 -

Even the celebrated National Open for dirt track Modifieds and Sportsman was a pretty gritty affair in 1956. Here Dutch Hoag, the undisputed king of the old mile circle in Langhorne, PA, after the 100-miler. It was some battle. At the green flag Buck Holliday darted to the lead in the 60-car field. By halfway, defending winner Pete Corey, Lee Bliss, Shorty York, Pee Wee Jones, Don Hendenberg, and George Horvath had all taken turns at the head of the parade. Then on lap 55 Hoag, from Penn Yann, NY, rim rode into the lead and held it until the checker for his first Langhorne win and a new race record of 77.34mph. The model of competence, Hoag went on to victory in 1960 and 1963 on dirt and in 1967 and 1968 when the surface was pavement. (Photo by Dick Hurd, Ford Easton Collection)
a
---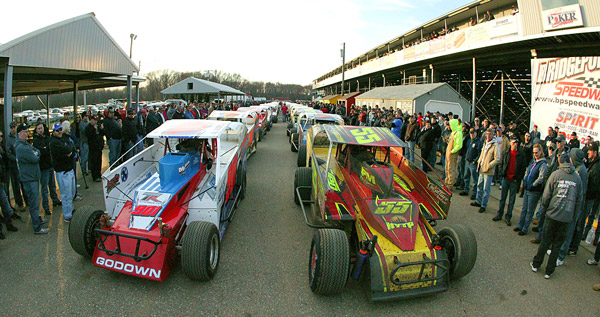 #1521 -

Saturday, March 26 was a picture-perfect day for the Doug Hoffman 60 Over, with a great field of 35 cars and an outstanding crowd. There at Bridgeport (NJ) Speedway, they place the starting lineup down behind the stands so the fans can get up close and personal with the drivers. Here's the starting lineup ready to roll off. Dom Buffalino won it, chased by Ryan Godown and Rick Laubach. Photo and Caption by Our Man from Amsterdam, Dave Dalesandro (Racersguide.com)
a
---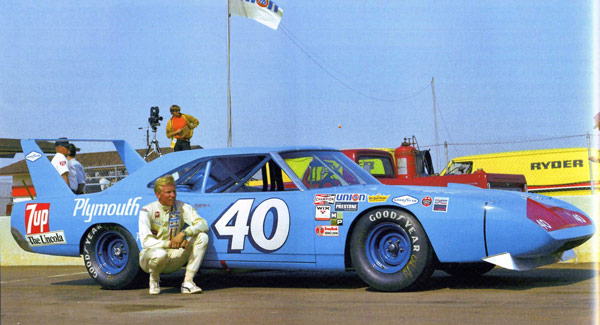 #1520 -

George Wallace was definitely his own kind of engineer on the Superbird team in NASCAR around 1970. He sure got Pete Hamilton's attention. Pete (shown above) recalls being surprised "anyone would get in a car at Talladega with us and run 190mph. George would take out a handkerchief out and hold it inside the car to see what the wind was doing. The guy trusted me enough where he's wrapped up back there where the back seat would be with his legs and arms and backside hung around the roll cage to see what the air was doing inside the car. I knew that was a lot sicker than we were. Holy cow! It was unbelievable. It was a wild time." Quote and photo from DODGE DAYTONA AND PLYMOUTH SUPERBIRD: Design, Development, Production and Competition, by Steve Lehto. (Photo courtesy of Cal Lane)

a
---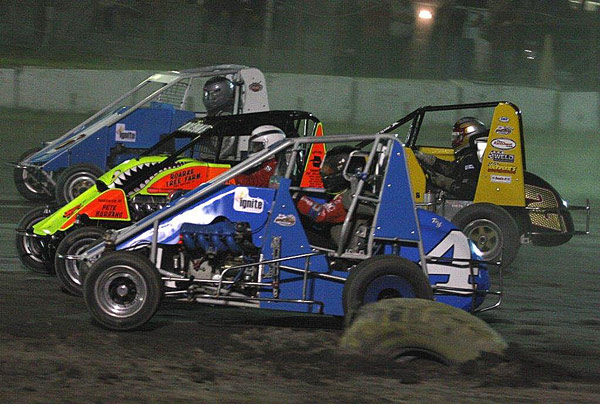 #1519 -

Here's a snarly bunch at Bear Ridge (VT) Speedway a few seasons back. Joe Krawiec #4, Scott Holcomb #47, and Scott Viets #2 assume tight formation, while the adventuresome Kevin Chaffee #6 contemplates four deep. Chaffee impressed many at the Chili Bowl last January in Skip Matczak's car. And he himself came away pretty impressed with the speeds in Tulsa. (Alan Ward Photo)

a
---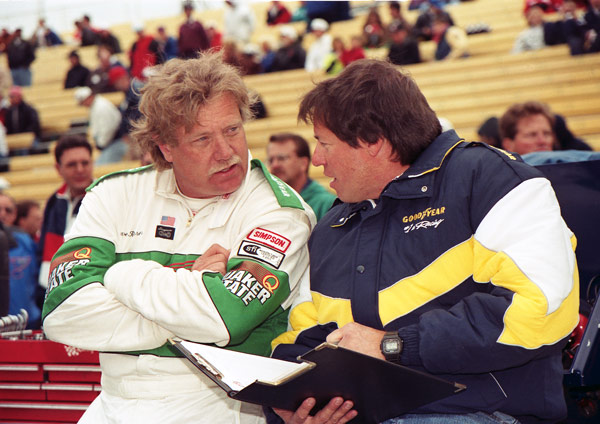 #1518 -

"Dubbed 'King of the Outlaws' by Sprint Car fans, Steve Kinser comes by that name honestly. Since 1978 he has been World of Outlaws series champion 20 times. His official WoO victory total is well over 500; add 300 wins with other sanctioning bodies or in WoO preliminary-night features. In 1997, Steve made his only Indy 500 appearance. He's shown here with chief mechanic Owen Snyder. He was on pace for a top-10 finish until he clipped a slowing car 11 laps from the checkers. He placed 14th." Quote and Photo from THE STINGER: 273 Drivers Speeding Towards Hope, by Bones Bourcier and John Andretti. (John Mahoney Photo)
a
---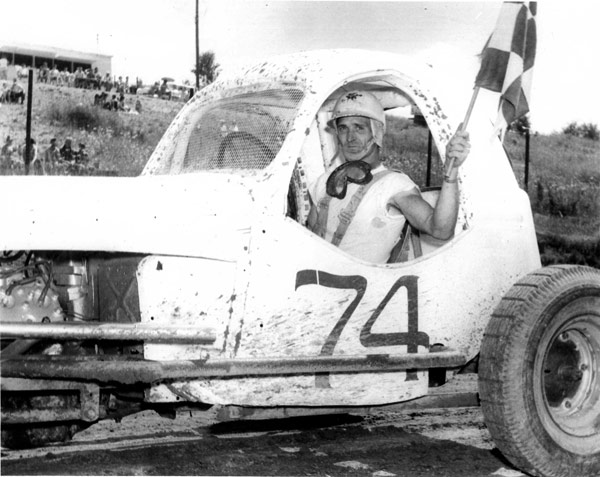 #1517 -

The late 1950s and early '60s were really spicy in short track racing. Some of the pre-war coupes and coaches remained "full coupes," while at other venues they were chopped, channeled, and modified – on their way to becoming Supermodifieds or Sprint Cars. Notable driver Gavin Couper labeled the pavement "Cut-downs" of New England so dangerous "you could get hurt looking at one." Out to the west on the dirt of upstate New York, it seemed no different. This was Joe Povoski's "Bug" – a radicalized 1935 Ford shown at Hornell Raceway in 1962. The car is much remembered for the Fish carburetion on that flathead, but it probably wouldn't have been a good idea to flip it. (Cal Lane Photo)

a
---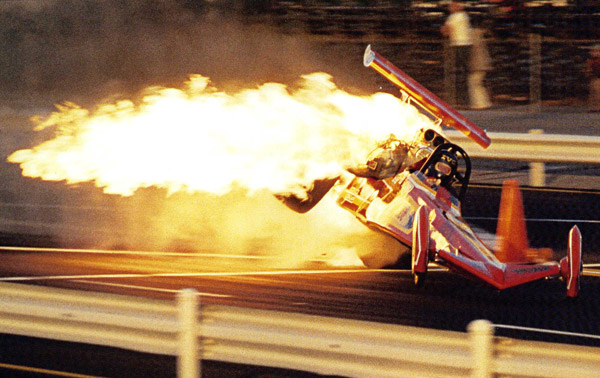 #1516 -

The reliably dramatic TV Tommy Ivo may have been a tad over the top this night at Pomona, California, but he did walk away. From TOP FUEL DRAGSTERS: Drag Racing's Rear-Engine Revolution, by Steve Reyes. (Paul Sadler Photo)
A
---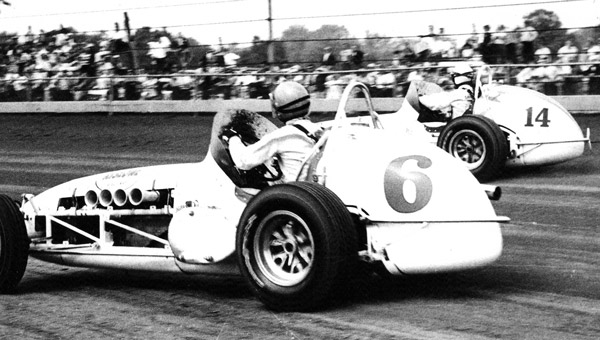 #1515 -
On September 9, 1967, the Champ Cars were still the featured division at the Hoosier Hundred at the Indiana State Fairgrounds. A.J. Foyt, upstairs, and Bobby Unser were surely in the hunt, both so stylistically relaxed. Foyt was after his fourth win of the event, while Unser poked his nose beneath, seeking his first. When the Fat Lady sang, however, Mario Andretti was at her side for the second time in two years. (Cal Lane Collection)
A
---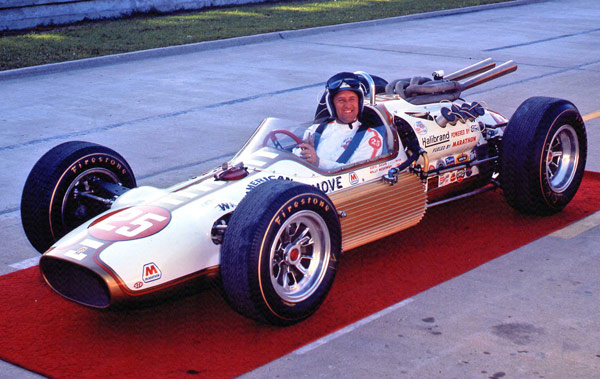 #1514 -

This was the colorful Eddie Sachs, dutifully situated on a red carpet in his American Red Ball Special Halibrand/Ford at Indy in 1964. He started in 17th and on lap two was caught up in the historic front-stretch inferno. Johnny Rutherford recalls following him. "I was right with Eddie. One thing I remember is that Eddie had a fluorescent orange ball (honoring his sponsor) painted on the top of his helmet. I could see that orange ball on either side of his roll bar as he moved his head looking for a way through. I was hard on the brakes, concentrating on Eddie, as we headed into this curtain [of fire] being drawn across the front straightaway." Johnny made it through; Eddie did not. A dark tarp was draped over the #25. (Photo Cal Lane Collection, quote from As A Matter Of Fact, I AM Parnelli Jones, by Parnelli Jones with Bones Bourcier)
A
---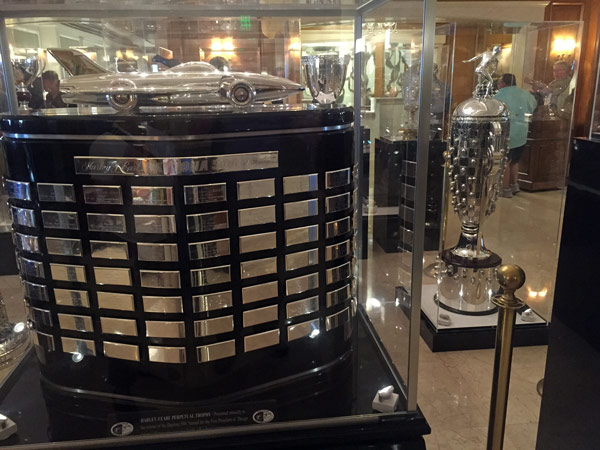 #1513 -

On March 11-13, 2016, the golf course at the elegant Ritz Carlton Hotel on Amelia Island in northern Florida turned into the stage for one of the most magnificent car shows of the year, the Concours d'Elegance. In an event that stretched over three full days, hundreds of hot rods, customs, and magnificent vintage street and racing cars were seen by hundreds of thousands of guests. The hotel lobby was turned into part of the show with a display of trophies from around the world. Included were the trophies of America's two most important races, the Daytona 500 (Harley J. Earl Trophy) and the Indy 500 (Borg Warner Trophy) which sat nearly side by side. Others in the display were from the Monza "Race of Two Worlds" event that pitted Indy cars and drivers against their counterparts in F-1. There was a trophy from Indy that was retired in the 1930s and stood nearly six feet tall. The last winner was Harry Hartz. The stars of the show, however, were the cars. (Dick Berggren caption and photo)
a
---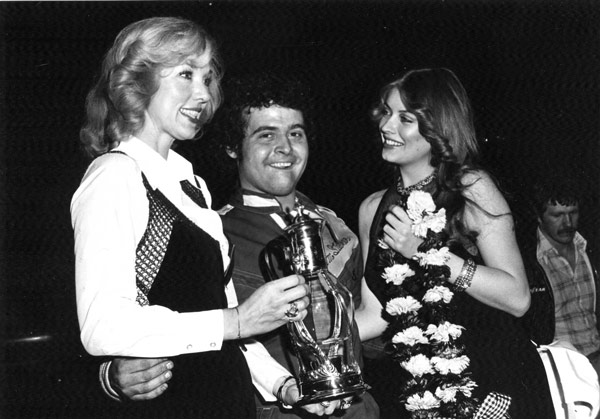 #1512 - Tom Steiner, who raced in the 1960s and '70s, was said to be one top-notch pavement Midgeteer. Along the way he won URARA, NAMAR, and BADGER championships. On this day in the mid-'70s at Indiana State Fairgrounds Coliseum's indoor twin 35-lappers, he hustled his dad's VW to the front. He had three reasons to look so pleased with himself. First, it was his first-ever USAC indoor win. The other two are obvious. After the show, Tom was off to Florida with his traveling companion at the time, none other than Kevin Olson. Later he had a horrid highway crash that essentially ended his career. (Stan Kalwasinksi Photo, Cal Lane Collection)
A
---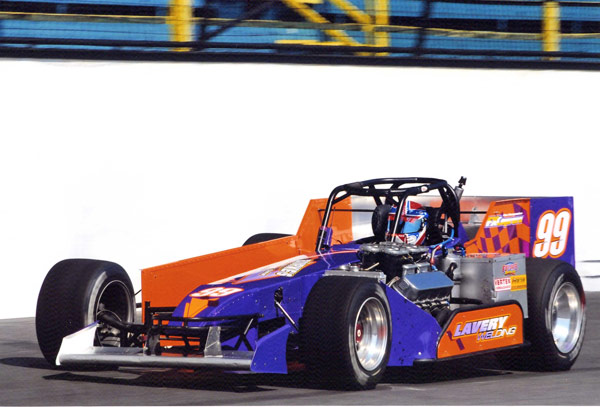 #1511 - Joey Payne had quite the Classic at Oswego last fall. Shown above, he started in 24th and slid back to a conservative 32nd. Then, late in the race, he started a world-class run to the front, ending up in an impressive third place. It was emotional on the podium. Joey announced he would not be back. Today he recalls, "I was thinking I had lost my focus. You see, my son Anthony was off somewhere else in the process of winning the NEMA Lites Championship, and I couldn't get my mind off of him. I was texting every ten minutes. I'd raced all my life. It seemed like time." But the next day was pretty emotional, too. That's when the family had a meeting and told him to get real; his wife said there was no way he was going to quit until after she joined him in victory lane at the Classic. So, "I changed my mind. My other son has started racing too, so now I'm concentrating on when all three of us will be on the track at once." (Chris Burgess Photo)
a
---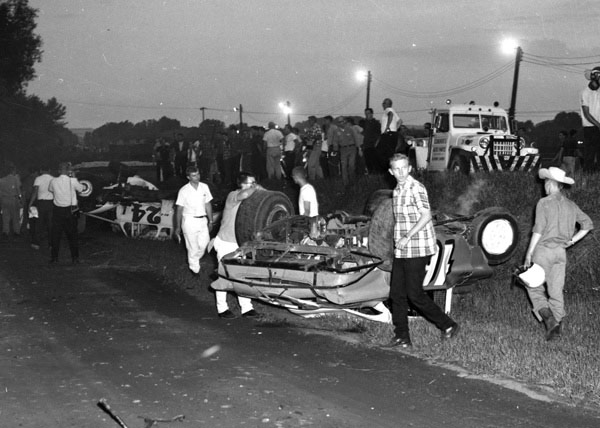 #1510 -

This Photo of the Day first ran as #1373. Duncan Clark, son of big block Modified star Dick Clark, came by the Coastal 181 booth at the Gater Motorsports Expo in New York last weekend, and we chuckled about it. Duncan said, "I bet that was the night that my Dad and Kenny Shoemaker both flipped on the backstretch at Fonda and landed upside down. Both still hanging in their cars, Kenny yelled over, 'Dick, did you hit me?' Of course Dad hollered back, 'No, Kenny, you hit me!' The conversation ended when Kenny said, 'Never mind. Now comes the part I hate most.'" He was unbuckling his belts, about to land with a thud on the inside of the roof. Kenny had to be approaching 300 pounds in those days. Tremors were likely felt the along the entirety of the Mohawk River Valley. (Coastal 181 Collection)
a
---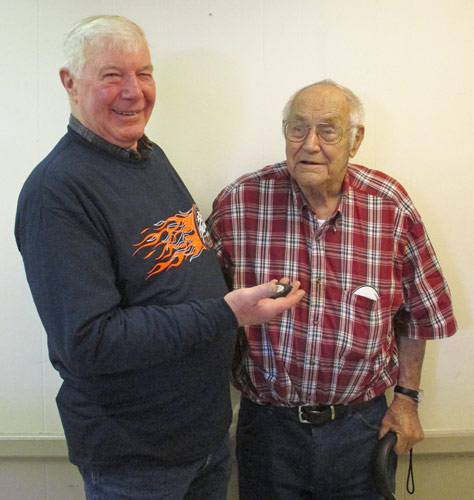 #1509 -

Adrian Flath (L) and perennial Langhorne winner Dutch Hoag, two upstate New York racing greats, reunited at the Coastal 181 booth at the Gater Motorsports Expo in Syracuse last Saturday. Naturally, they got to reminiscing. Turns out that 50 years ago, Adrian hauled down to Langhorne with his car and struggled a bit. He met Dutch and asked if he could come to visit back in New York for some advice. When he did, Dutch opened his garage fully. Adrian picked up an A-frame and asked Dutch how big it was. Dutch responded. "Adrian, there's a tape measure in that tool box. And don't you put it back until you leave. You should never be without a tape measure." When Adrian got home, he bought one – and it's been in his pocket ever since. Yup, as you can see, he pulled it right out to show Dutch at the show. (Coastal 181 Photo)
a
---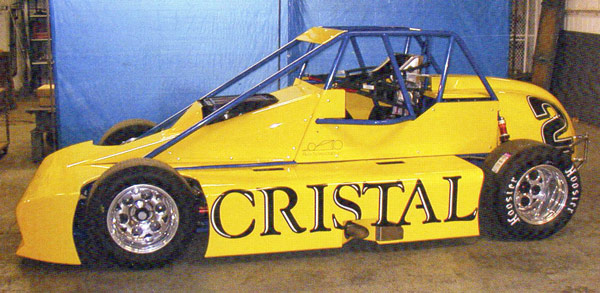 #1508 -

"When NASCAR Chairman Bill France, Jr. and USAC got together to create a new Silver Crown car, Riley Tech [Bob Riley's world-class motorsports design firm] was hired to design and build it. We met all the criteria, but, when the fans did not like the appearance, USAC decided the car looked too different from the traditional cars. It was a tough lesson. You must pay attention to the appearance for an established category." Quote and Photo from THE ART OF RACE CAR DESIGN, by Bob Riley with Jonathan Ingram.
A
---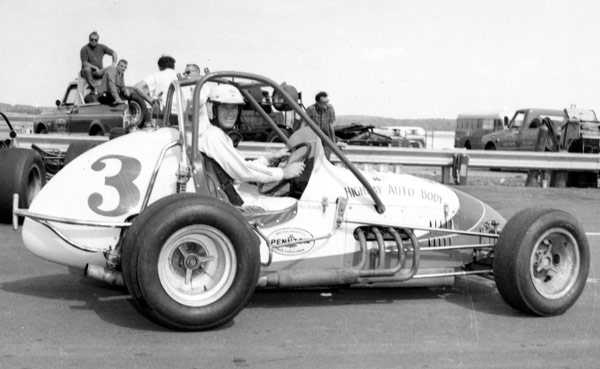 #1507 - Things were just getting started in Pocono, Pennsylvania. On September 28, 1969 a formidable wide-open competition was held, bringing all kinds of open-wheel machines, including Hank Rogers in the Highway Auto Body Sprinter. The big track wasn't complete at the time, and so the racing was held on the three-quarter-miler. There were upright Supers, rear-engine cars, and former Indy roadsters. It all turned savagely tragic. Eighteen-year-old Troy Ruttman Jr., in just his first race, pierced the fence and perished. (Dale Snyder Photo)
a
---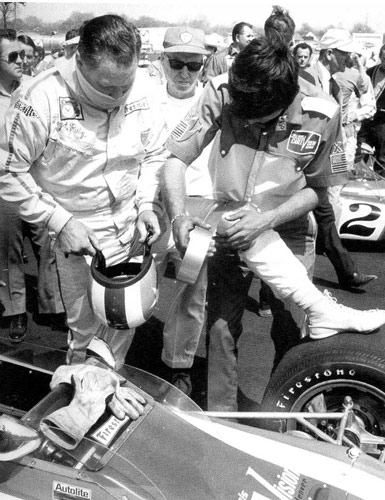 #1506 - A crew member taped a pad on Lloyd Ruby's knee to make the inside of the cramped Daniel's Cablevision Indy Car more comfortable before running the 200 at Trenton in 1970. Folks were watching Ruby, wondering if his horrid luck on the 1.5-mile oval would continue. He had dropped out of 13 of 18 starts in New Jersey, mostly for mechanical gremlins. And, on this day, things were ominous. Al Unser had already snatched the pole position from under Ruby's nose. But the duct tape ergonomics did its job. Ruby won it, his final USAC Championship victory. From HARD LUCK LLOYD, by John Lingle (Racemaker Press Archives)
a
---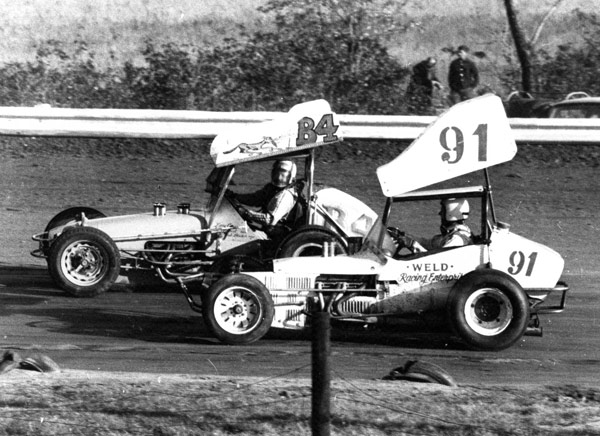 #1505 - Some of the delight of the old time marquee races was that you never knew who would tow in. Case in point was the National Open at Williams Grove, PA. On October 29, 1967, Larry "Boom Boom" Cannon was in town with Kenny Weld (#91), both with war wagons bearing scars of the season past. Bobby Adamson won. (Walter T. Chernokal Photo, North East Motor Sports Museum Collection)

a
---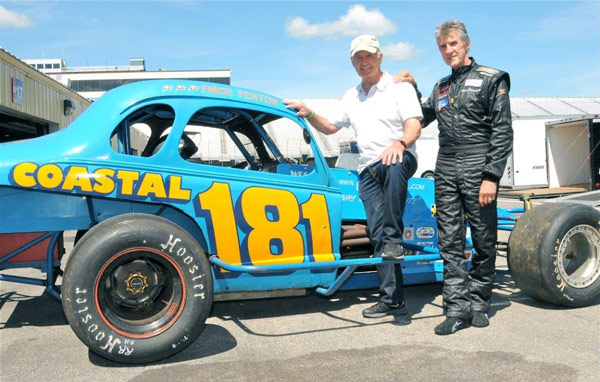 #1504 - The summer after we published our book As A Matter Of Fact I AM Parnelli Jones, Parnelli (L) and Jimmy Dilamarter (his long-time crew chief and current business manager) came out to New Hampshire Motor Speedway. They were trying out a drop-dead beautiful Modified that Jimmy had built. (Jimmy also ran it around Indianapolis - see the 8-7-14 Tearoff ). Of course, while there, they were obliged to look around at some pretty modest other equipment….
A
---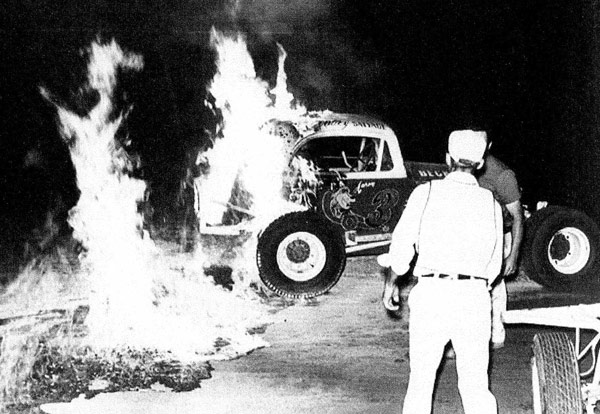 #1503 - There was a glorious era of dirt track racing in the greater Milwaukee area from the late 1950s into the 1970s. The cars, cutdowns of every flavor, were fast, and all the drivers became local heroes. During the summer of 1970, racer Aaron Solsrud reached his pinnacle. He was red hot, though never more so than on the night of August 25 at Beaver Dam Speedway. Early on in the feature he got mixed up in a multi-car episode. Things went downhill from there. Coming back through the pack, he flipped right over Wally Jors' car and tore his own fuel line off in the process. He did land on all four, but the fuel was sparked and flames lit the nighttime air. Solsrud was able to spring to safety, but the drama was not over. Safety crew workers were unable to get the pin out of their fire extinguisher, and the blaze burned on. Finally someone cruised over with the track water truck to douse the inferno, but you can imagine what shape the car was in. From THE MILWAUKEE MODIFIED ERA 1959-1973, by Fr. Dale Grubba. (Mike Buday Photo, Patrick Heaney Collection)
A
---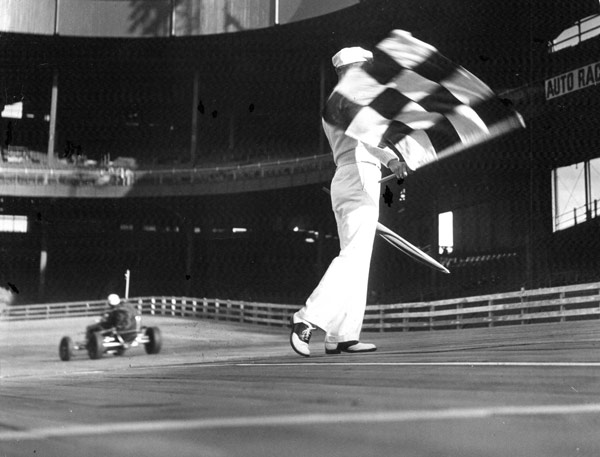 #1502 - This artful shot was taken at the Polo Grounds in New York in 1948. A group of visionaries had built a portable indoor board track for Midgets. A disappointment in New York, it would subsequently be dismantled and moved to San Jose, CA. Unfortunately, it drew no bigger crowds out west and it sallied forth no further. (RA Silvia Collection)
a
---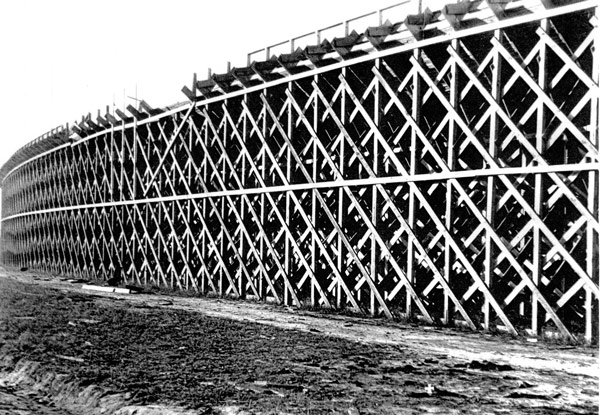 #1501 - A grim reminder of the darkness of the board-track era of the 1920s. This was the Kansas City Speedway, a 1.25-mile oval with turns banked 35 degrees. On September 17, 1922 Roscoe Sarles, a respected racer with six AAA feature wins and four starts at Indy, broke a steering knuckle on his Durant, tangled with Pete DePaolo, and flew over the guard rail. The car landed far below, upside down and on fire on the spot marked in the lower right. Sarles was trapped beneath and did not survive. (RA Silvia Collection)
A
---
a

Previous Photos of the Day - PAGE 7

Previous Photos of the Day - PAGE 6

Previous Photos of the Day - PAGE 5

Previous Photos of the Day - PAGE 4

Previous Photos of the Day - PAGE 3

Previous Photos of the Day - PAGE 2

Previous Photos of the Day - PAGE 1