Join Our Mailing List
for advance notice
of special offers!
(emails are never
shared or sold)

PHOTO OF THE DAY
---

Previous Photos of the Day - PAGE
3

Previous Photos of the Day - PAGE 2

Previous Photos of the Day - PAGE 1
.
---
aaaaaa
---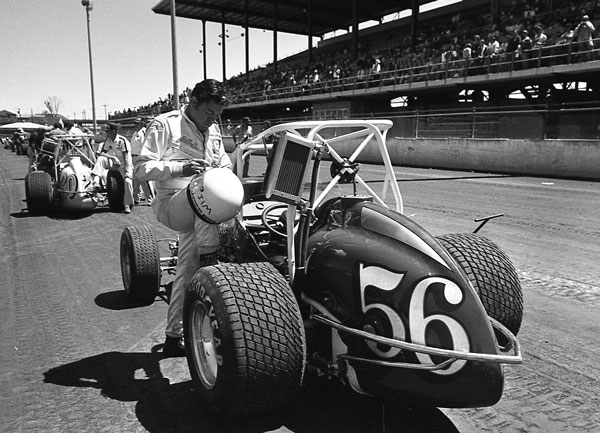 #700 - The calm before the din. Big Jim McElreath has almost a placid look as he piles on his tear-offs prior to hopping into the Genesee Beer Wagon for the 1978 Syracuse 100. He wasn't gonna be placid in about five minutes – and he got fourth.
(Harry Cella Photo)
aaaaaaa
---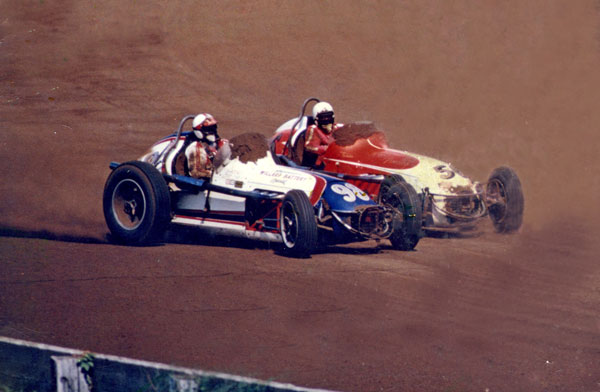 #699 - It always seems to happen. We just released some our brand new Parnelli Jones book, and already folks are sending in cool and relevant photos. Here's one from Dale Snyder, veteran racing videographer from Nazareth, PA. That's Parnelli out on the edge of a heavy Langhorne with his traveling companion and racing combatant, Jim Hurtubise. As you can see, neither was too generous to the other about that extra inch. We sure would have liked to have this one for the book!
(Dale Snyder Collection)
aaaaaaa
---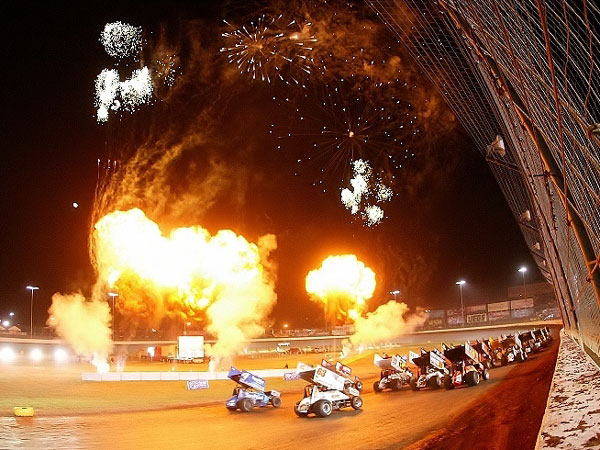 #698 - There was pageantry – and action – on the night of November 11 at the 4/10 mile oval at Charlotte. It was the final show for the WoO Sprint cars for 2012. A sellout crowd –- and photographer Dave Dalesandro – grooved on the fireworks on the parade lap. Fireworks were offered up again in the final laps by Dave Blaney who out-dueled charging Paul McMahan in a torrid battle for the prestigious win.
(Dave Dalesandro Photo)
---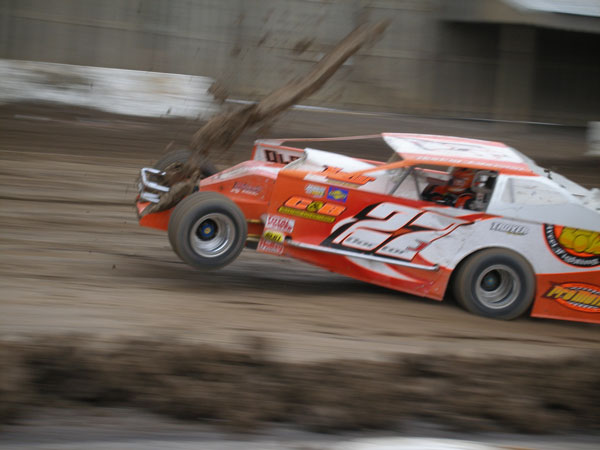 #697 - It was April 14, 2010, the track at Fonda was heavy with the water table of spring. Doug Zupan was right there "with my old camera" in the first turn at this moment when Danny "the Doctor" Johnson came by. He wasn't on the hook, he was on call. On the hammer or what! (Doug Zupan Photo)
aaaaaaaaa
---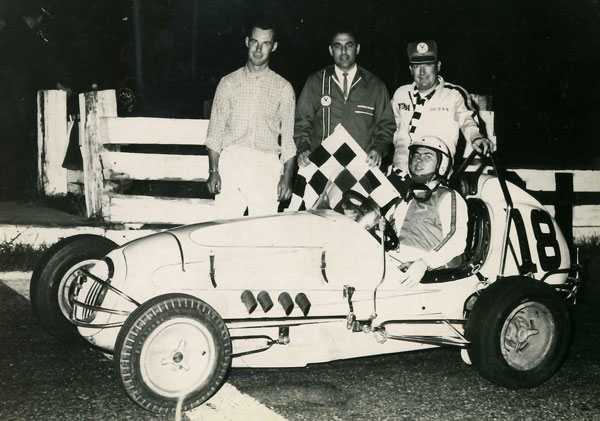 #696 - Our friend Jim Smith sent in this classic midget image and the accompanying caption: "Norwalk, CT, has always been a hotbed of racing activity. ARDC champion car owner Rich Hennessy hailed from the city, as does Don Lajoie (Nationwide Series champ Randy's father), and most recently NASCAR 2011 modified champion Ronnie Silk. This photo shows another competitor from Norwalk who passed away on November 14th at the too-early age of 70. Frank Gehlin is pictured with car owner Frank Fahey (L), starter Frank Ferrara, and NEMA president John McCarthy (R) after a 100-lap win at Westboro Speedway in 1967. Frank backed this win up with another one at Westboro a few weeks later in his own # 98 Offy, finishing 3rd in the 1967 NEMA point standings. A frequent competitor with NEMA and ARDC, Frank's career was halted by head injuries received at the half-mile Nazareth (PA) Speedway in 1968. Those injuries, coupled with a string of fatal incidents during the same year finally forced both ARDC and NEMA to make roll cages mandatory beginning in 1969."
(Frank Gehlin Collection)
aaaaaa
---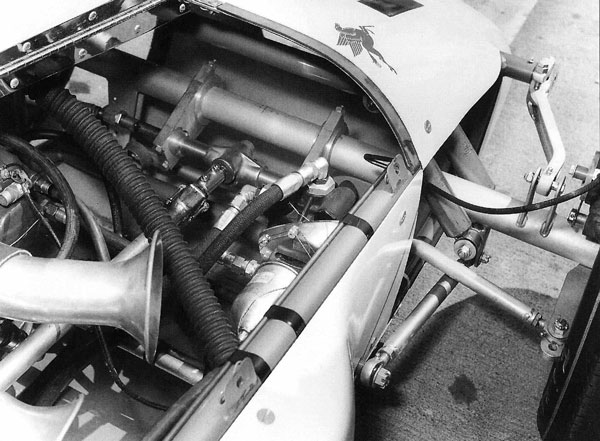 #695 - Yet another sign of the Indy roadsters' last hurrah. Karl Ludvigsen writes, "Designers were still striving [in the mid-sixties] to improve and lighten up the traditional roadster to keep it competitive with the new mid-engined 'funny cars.' This new chassis by Eddie Kuzma carried its steering rack bolted to the tubular front axle as unsprung weight. This had the merit of providing absolutely rigid and precise guidance of the front wheels with respect to the axle, eliminating any effects caused by jounce and rebound. Detailed refinements were not enough to save the front-engined roadsters." From INDY CARS of the SIXTIES.
(Photo from Ludvigsen Library Series)
---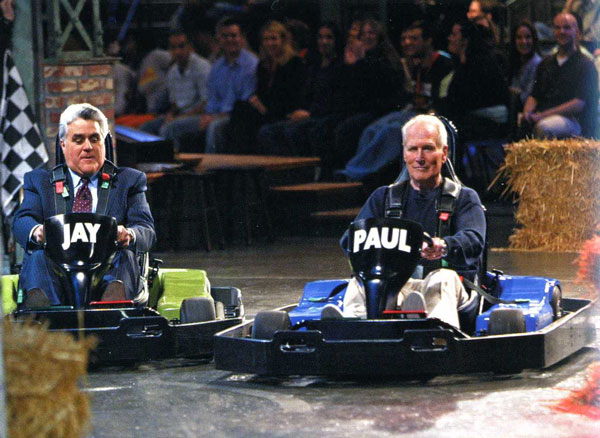 -#694 - It was dubbed "The Great Midget Race" and its two segments were aired on the "Tonight Show.' Jay Leno and Paul Newman went at it twice with karts, and Newman won 'em both. Jay Leno chided Newman for "jumping the start," but, in fairness, of the two, Newman seemed the far more comfortable behind the wheel. From WINNING – the Racing Life of Paul Newman, by Matt Stone and Preston Lerner. (Photo by Dave Bjerke)
AAAAAAAA
---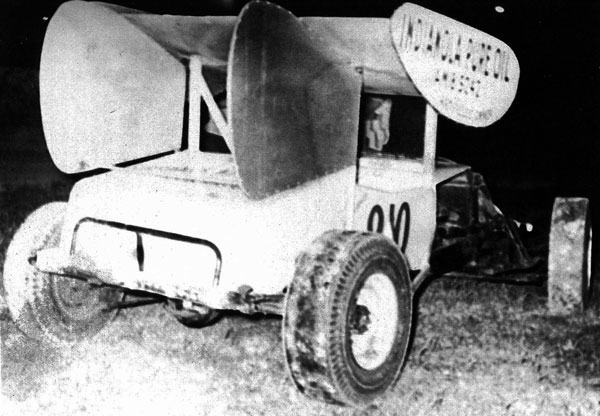 #693 - In his book about racing in the sixties in Southeast Ohio and neighboring West Virginia, Tony Martin has this to say: "In 1959 Jim Cushman brought the first winged race car, the Aerodynamic Special, to Atomic Raceway. I guess I was so excited to get this photo of racing history, I forgot to focus the camera properly. The rudders were geared to turn with the steering to make the car handle better but were found to be just too heavy for any benefit. Note the width of the wing which was reported to be a section of a P51 fighter wing. Despite running slicks that night on the dirt, Cushman was able to finish second in the feature." From ECHOES OF THUNDER IN THE HILLS, by Tony Martin. (Tony Martin Photo)
---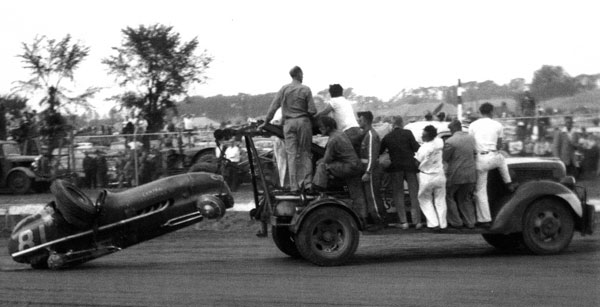 #692 Racing's bummers are nothing new. How about this one. Young Eddie Russo was coming on strong in the big car race on the Syracuse mile in September of 1953. But then he crashed. The reason: A piece of newspaper flew in his face, and he spun. The car was pretty dislocated, and so, too, was Russo's shoulder. From Damn Few Died in Bed, by Thomas F. Saal. (Tom Reel Collection)
aaaaa
---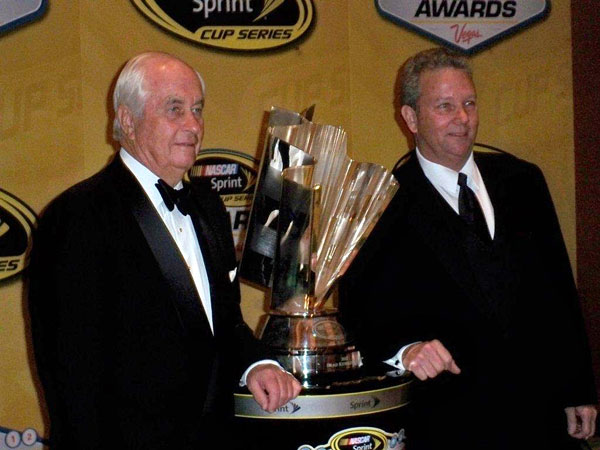 #691 - Highly respected and knowledgeable citizen of Florida's racing community Marty Little is pretty proud of his younger brother, David. Here's what Marty has to say. "David was first involved with our family-owned Winston Cup team, Tilitco Enterprises, with driver Randy Tissot. For the 1976 season the team concentrated on the old NASCAR Late Model Sportsman division (pre-Busch Series) with several good finishes, including a runner-up effort at Talladega. David subsequently went on his own for a short time before landing with former Miami-based Rahmoc and their laundry list of drivers in the No. 75 cars. From Rahmoc it was off to the famed Junior Johnson & Associates in the mid 1980s with the Budweiser-backed Chevrolet team, Neil Bonnett at the wheel. David then teamed with the Stavola Brothers and driver Bobby Hillin in the Snickers-sponsored Buicks. 1990 was the year David was recruited for the new Penske effort in 1990, becoming one of the ten original hires when then-named Penske Racing South went into business. He has been there ever since. In the photo attached from the NASCAR Awards Banquet on November 30, David is thanked by Roger Penske for his long-time services." (Little Family Photo)
aaaaaa
---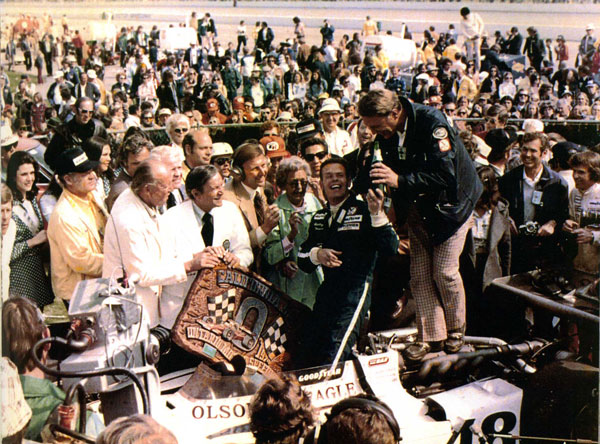 #690 - There was much merriment at the season opening California 500 in 1974. Tony Hulman and "Mom" Unser joined in after Bobby Unser swept to the win. His Olsonite Eagle team had been experimenting with ground effects for the first time. Owner Dan Gurney was clearly psyched, as shown here standing on the engine. He really needed to lose those pants, though. From DAN GURNEY'S EAGLE RACING CARS, by John Zimmerman. (Pete Piro Photo/AAR Archives)
AAAAAAAA
---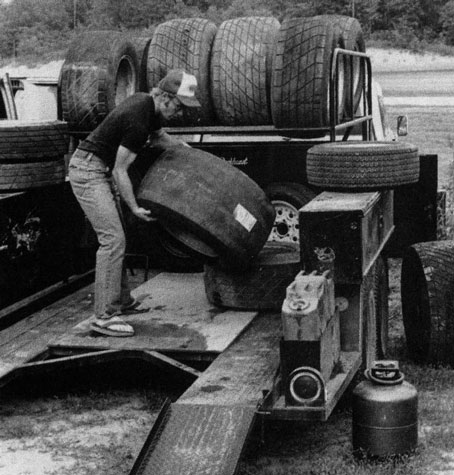 #689 - It was 1978, the year the World of Outlaws went on the road. That's Doug Wolfgang working with what he had. It was just before the time of more elegant travel with upstairs/downstairs enclosed trailers and mobile hotels. But one thing for sure: Doug didn't have to worry about going to the health club. Check out those biceps. From LONE WOLF, by Doug Wolfgang with Dave Argabright. (John Mahoney Photo)
GOIY
---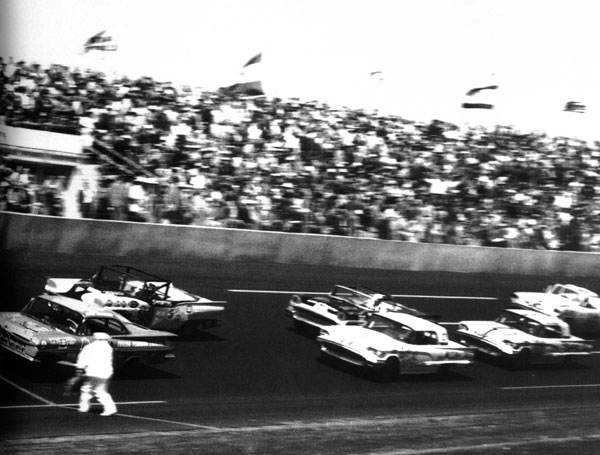 #688 - Four brave men, Bob Welborn (Pole), Shorty Rollins (outside), and Fritz Wilson and Tom Pistone brought the field down to the start of the very first Daytona 500 in 1959. But were any of them braver than the starter, Johnny Bruner Sr.?
From DAYTONA 500: Official History, by Bob Zeller
four
---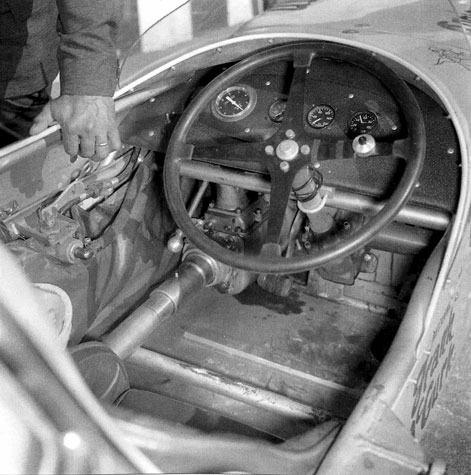 #687 - J.C. Agajanian and mechanic Frank McGurk brought a modified Kurtis 500G to the Brickyard for Troy Ruttman in 1958. It was one colorful team, but the environment in Ruttman's office was on the Spartan side. There were the transmission, the fuel shutoff, and the kill switch….From INDY CARS OF THE 1950s, Introduction by Karl Ludvigsen.
FOUR
---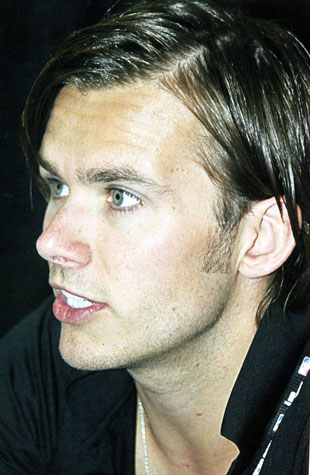 #686 - Dan Wheldon in 2008. From THE BRITISH AT INDIANAPOLIS, by Ian Wagstaff. (Author's Collection)
four
---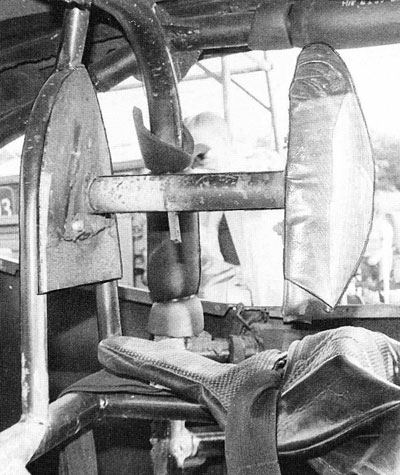 #685 - In his Autosports how-to-race books, Steve Smith has been advising racers about how to get around more quickly for years. He's also been quite clear on things not to do, if you want to keep goin' around. A good example is this massively formidable head rest. "Bounce your helmet off this one and you'll be seeing stars,"
he says. From STREET STOCK CHASSIS TECHNOLOGY, by Steve Smith.
four
---
#684 - Harry Cella captured this image of Rene Charland a few years back at Syracuse. It is so hard to conceive of the once hyper-caffeinated Champ now at rest, so totally inactive, in a nursing home in Amsterdam, NY. He always had his foot on the pedal and an edgy comment for any occasion. He told me once, "All those drivers' wives get pretty worked up about me, you know. But I don't have time to mess with them 'cause I'm too busy out beating their husbands." (Harry Cella Photo)
---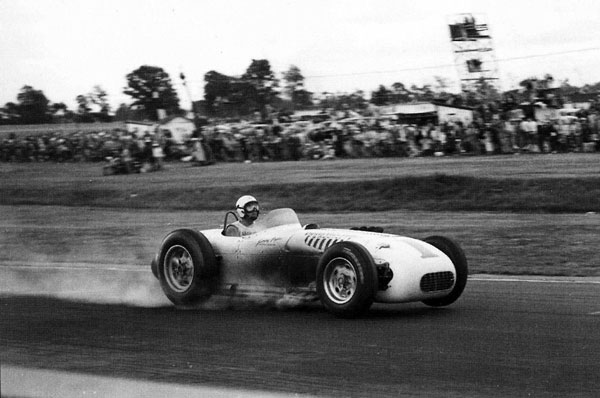 #683 - Jimmy Bryan ran his first Indy 500 in 1952. Two years later he was way fast, ending up second. In 1955 he came to Indiana with high hopes. He was aboard a Kuzma-Offy wrenched by Clint Brawner, bills paid by Dean Van Lines. They blew. The Cowboy finally got his Brickyard triumph in 1958. Photo from
INDY CARS of the 1950s, Introduction by Karl Ludvigsen.
FOUR
---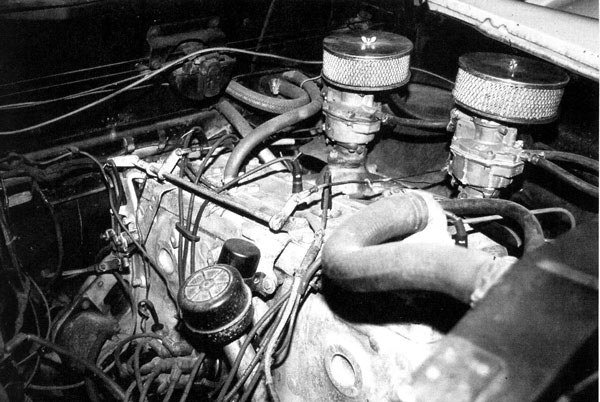 #682 - Hudson Hornets won more AAA and NASCAR races than any other brand from 1951 through 1954. It was pretty amazing because the bulky cars were definitely overweight, powered by in-line sixes rather than V-8s. But driver Marshall Teague really liked the low center of gravity, and he taught the factory so much about piping up the straight sixes that the cars became know as "Teaguemobiles." Here's an early dual-carb setup on a Hudson six driven by Tim Flock. From FAMOUS STOCK CAR ENGINES, by John Carollo and Bill Holder. (Bob Fairman Photo)
four
---
681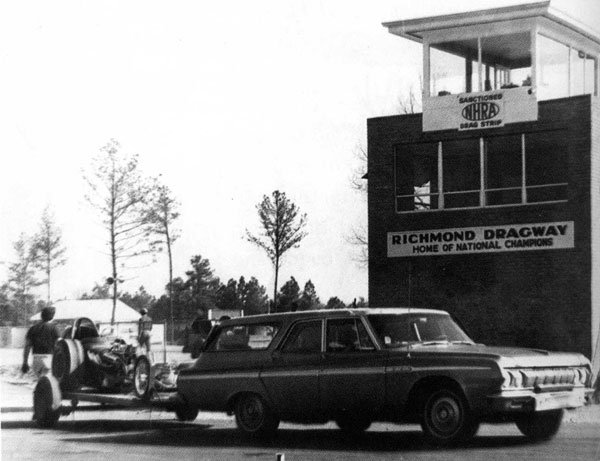 #681 - In his latest book with Bones Bourcier, Bill Simpson is just as ornery as ever. But so much of what he says carries that resilient ring of the truth. Here's what he says about this image: "Every time I see one of today's spoiled brat racers climb out of the family toterhome, I want to remind them just how easy they've got things. I once hauled my dragster from Los Angeles to Virginia with this fancy rig." From THROUGH THE FIRE, by Bill Simpson with Bones Bourcier. (Bill Simpson Collection)
four
---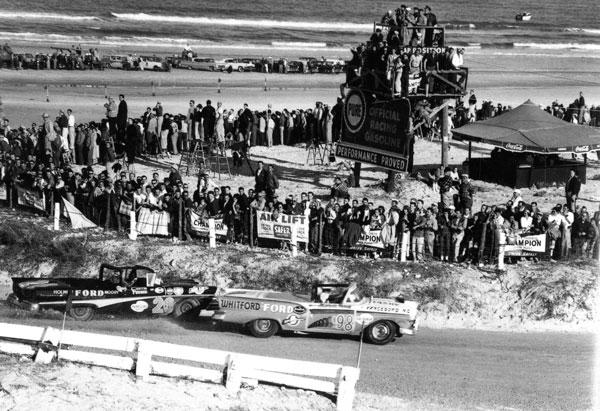 #680 - Curtis "Pops" Turner drove a hard bargain, whether winning or losing fortunes on timberland sales or making his way forcibly to the front in some 360 auto races. Here he's shown in a Holman Moody ragtop working over Marvin Panch off the turn at the Beach on February 22, 1958. From NASCAR - THE THUNDER OF AMERICA 1948-1998 (Daytona Racing Archives Photo)
four
---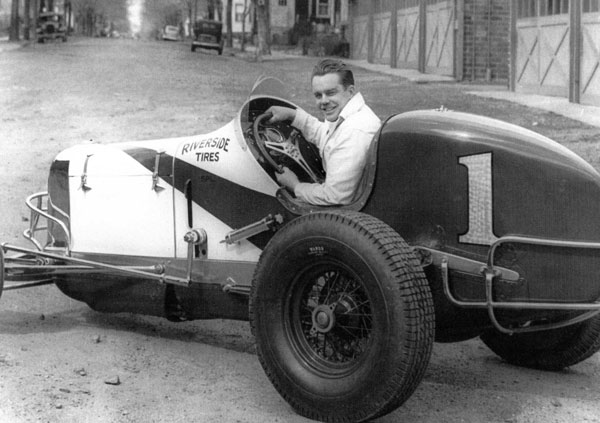 #679 - Ultra-talented Californian Eylard Theodore "Ted" Horn ventured East from California in 1934 and never went back. He was Central States Racing Champ in 1941 and 1945, top dog with AAA 1946,'47 and '48. He usually ran right up front at Indy, but was never quite able to seal the deal. He was popular – and handsome, as evident in this shot of him in the car he called "Baby". He died at DuQuoin in 1948. From THE RIM RIDERS: The World's Fastest Racing Circuit, by Buzz Rose. (Phil Harms Collection)
four
---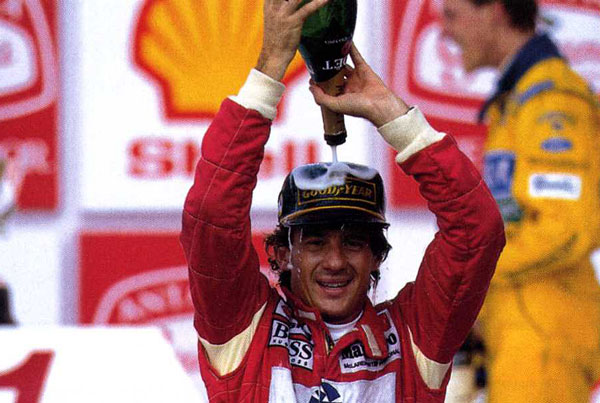 #678 - Ayrton Senna won three World Championships in a ten-year run beginning in 1984 and has been voted the greatest Formula One driver ever. After he died leading the San Marino Grand Prix in 1994, three days of national mourning were declared in his native Brazil. The documentary DVD, SENNA – No Fear, No Limits, No Equal – has truly stunning and touching footage and is easily one of our most popular items this season.
four
---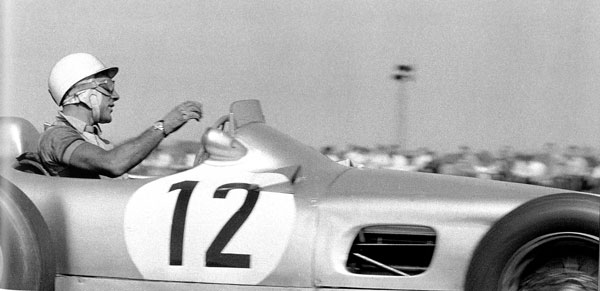 #677 - Stirling Moss once said: "Some people liked to throw the car around. But I had seen 'Nino' Farina drive. He looked so relaxed. I sort of modeled my style on his. I liked to lean back, in the straight-arm position, because that way you had more control than if you were close by. Smoothness was everything." Photo and Caption from REAL RACERS: Formula 1 Racing in the 1950s and 1960s, by Stuart Codling. (Klemantaski Collection Photo)
four
---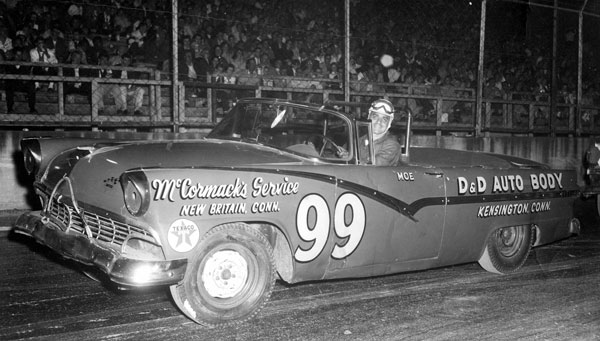 #676 - Our buddy in Ohio, Bruce Pike, used to run Riverside Park in Agawam, MA, on Tuesday nights, along with the occasional fling out to Empire Raceway in Menands, NY. He sent us this rare photo of Hall of Famer Moe "Money Bags" Gherzi at the Park. For a short period starting in the mid- to late-fifties, late model specials were run as an alternative to the normal coupes and coaches. The cars were often pretty, but generally not too fast. That was a good thing. Take a look at the rather minimalist "roll bar" on Moe's Ford – and at the way the bends in the tubing were made.
(Bruce Pike Collection)
our
---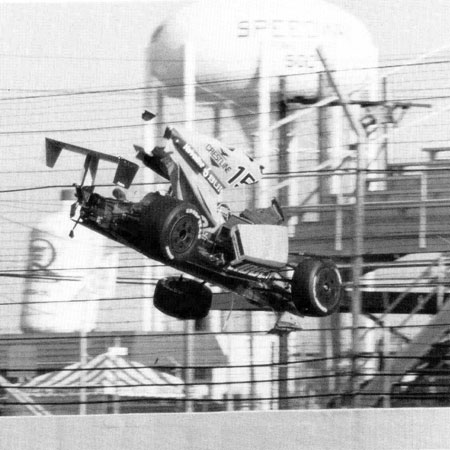 #675 - Scotsman Jim Crawford joined the Menard Team for the Brickyard in 1990. In practice, he spun and drilled the wall in the South short chute and went impressively aerial. Amazingly his injuries were minor – so minor, in fact, that he was able to soldier home for 15th in the 500. From THE ILLUSTRATED HISTORY OF THE INDIANAPOLIS 500: 1911-1994, by Jack C. Fox.
FOUR
---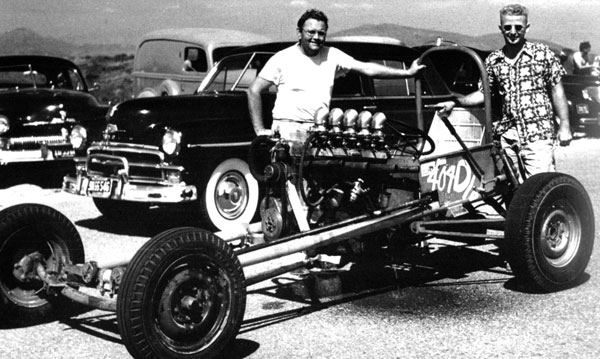 #674 - When drag racing took first flight in California at places like Goleta, Santa Ana, Saugus and Salinas in the early 1950s, the majority of the machinery consisted of hot rods from the street and cars from the dry lake speed runs. That was to change quite quickly, however. In 1951 Bob Rounthwaite and Tom McLaughlin showed up with "the Thingie." It was one of the very first rail-job designs with the driver atop the rear end. Everybody move back. From OLD HOT RODS SCRAPBOOK, by Don Montgomery. (Bob Rounthwaite Collection)
four
---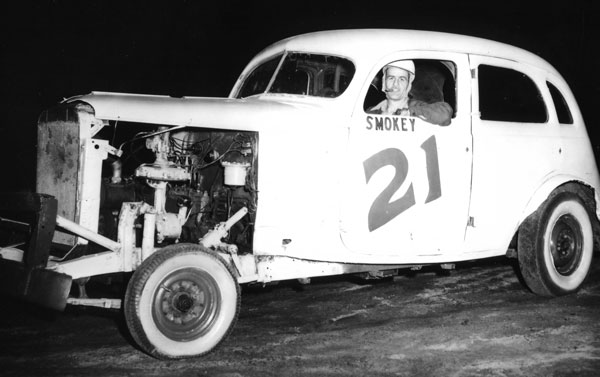 #673 - It was 1954, and the pit areas in the Northeast overflowed with all manner of race cars. The fan favorite at Seekonk and Westboro Speedways was this hulk of a car wheeled by the incomparable "Smokey Joe" DelGinio. That Graham coach with its supercharger was the hot setup, and Smokey was red hot, too, with his omnipresent stogie. (Howard White Photo, RA Silvia Collection)
four
---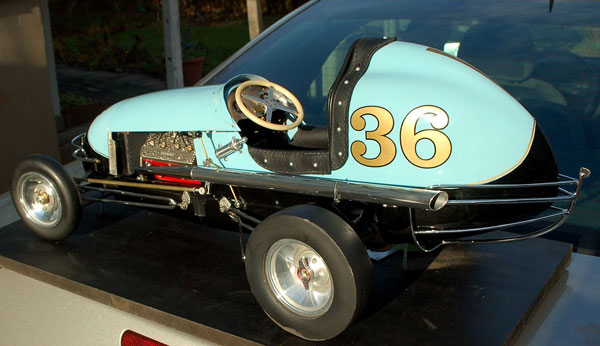 #672 - That Al Novotnik is at it again. (See Photo of the Day #559). The Connecticut-based open wheel aficionado and craftsman extraordinaire has hand built this exquisite quarter-scale model of Kurtis Kraft midget 0-86-47. According to Bill Montgomery's KURTIS-KRAFT MIDGET GENEALOGY (Companion Edition), the chassis at one time housed an Offy and a V8-60, but whatever was in it, it was Georgie Rice's favorite ride. The original full sized #36, originally owned by Eddie Bourgnon, is now lovingly cared for by Long Islander Bill St. George, a kingpin of The Atlantic Coast Old Timers traveling club. (Al Novotnik Photo)
four
---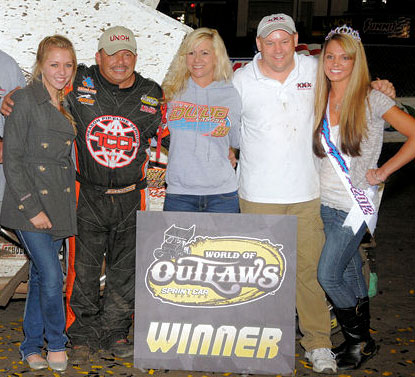 #671 - Our buddy "Wrench-it Rich" Mersereau always has his perspective, this time being that 'it ain't over 'til it's over'. He sent us this image of Danny Lasoski at the WoO opener at Volusia County (FL) Speedway in 2006. He wrote: "Danny came in after hot laps and declared with a very worried look that 'either the u-joint is cracked or the engine is about to blow.' With no time to fix either, he decided to take one quick qualifying lap, then pull off and fix the problem. He timed in 10th, pulled the engine, changed the u-joint, stuck the engine back in the car just in time to roll off on the outside pole of the 3rd heat. He won the heat, dash, and feature to kick the season off in style." (Rich Mersereau Collection)
four
---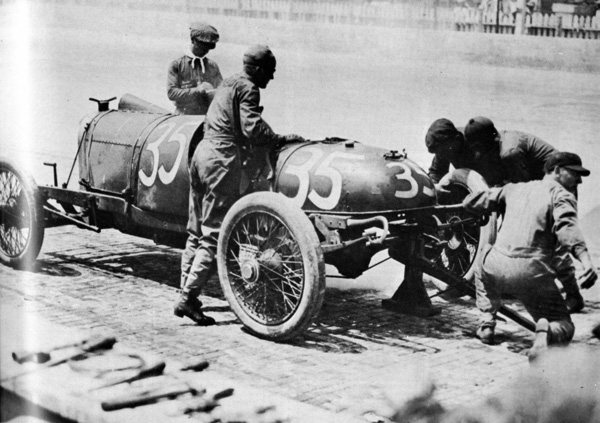 #670 - Next Memorial Day will be 100 years since Willie Haupt pulled into the pits at Indy, dismounted, and watched as his crew changed the right rear. Haupt hustled his Mason, race cars constructed by the Duesenberg Brothers, to a ninth-place finish in the 27-car field. From The Illustrated History of the Indianapolis 500: 1911-1994, by Jack C. Fox.
gour
---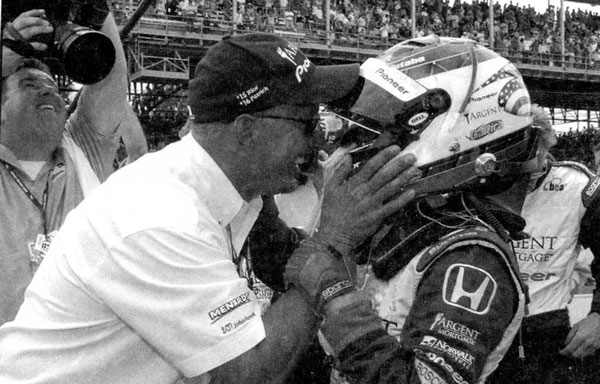 #669 - A happy day in the Hoosier State in 2005. Danica Patrick became the first woman to lead a lap at Indy and, fact is, she was leading with ten to go and had a legitimate shot at the win. She ended up fourth, again a first for a woman driver. Do you think her team co-owner Bobby Rahal was pleased? From TALES FROM THE INDIANAPOLIS 500, by Jack Arute. (IMS Photo)
fpor
---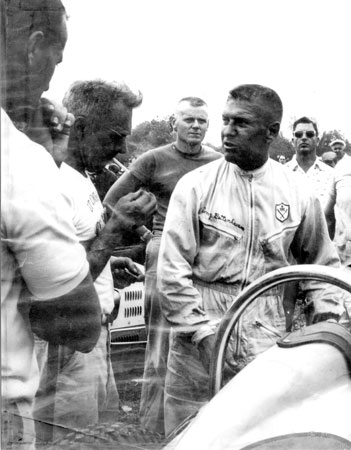 #668 - Frank Simek, that "Guy with the Hat," sent us this photo of one of those heavy moments. Here's what he said: "Thought you might like this one. Unfortunately, the shooter is totally unknown, but here are the facts. The guy in the uniform that looks upset is Tony Bettenhausen, the guy he is looking at (lighting the cigarette) is Charlie Sacks (of the Sacks-Hal Offy Killer fame), and the guy biting his thumbnail is A. J. Foyt. Charlie is firing Bettenhausen and replacing him with Foyt at the Allentown Fairgrounds in 1959." (Pete Sacks Collection)
four
---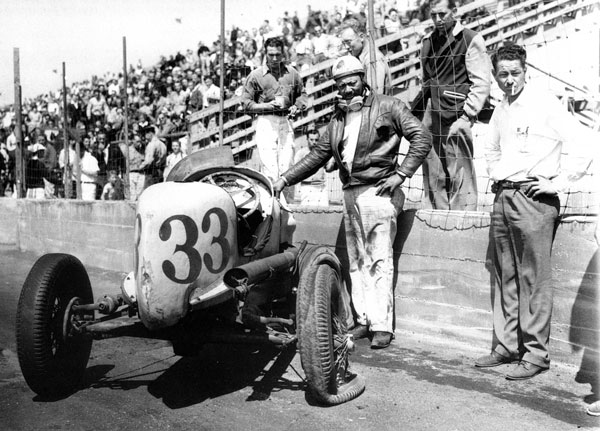 #667 - Here is another (see Photo of the Day #526) of the great African-American open wheeler "Rajo Jack." Apparently his real name was John DeSoto, but he became so widely known for racing heads produced by the Rajo Company in the 1920s that everyone referred to him by his nickname. He is shown here late in his career, on Sunday afternoon, July 7, 1946, after a slip on a slippery track and an ensuing encounter with the wall at the 5/8th mile Oakland (CA) Stadium. He died of a heart attack a decade later, his death certificate identifying him as Rajo Jack in perpetuity. From A HISTORY OF OAKLAND STADIUM 1946-1955, by Tom Motter. (Russ Reed Photo/Motter Collection)
four
---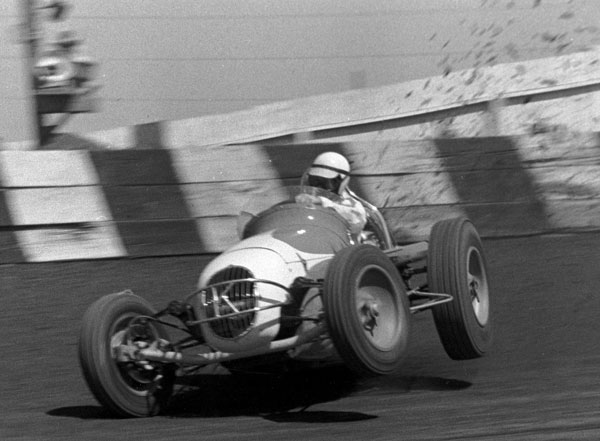 #666 - Ace Nutmeg State photographer, John DaDalt sent us this image. He has no idea where it was or who took it, but he thinks it's pretty cool. So do we. (John DaDalt Collection)
four
---
665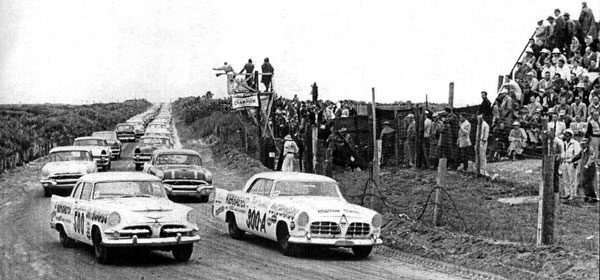 #665 - The frost is on the pumpkin up here in New England, and, as always this time of year, some thoughts begin to reach out to the February splendor of Speed Weeks and the Daytona 500. It is remarkable to contemplate just how much the scene in Florida has changed. Overlay this image in your mind on the current first turn of the Superspeedway. It's the parade lap back on February 26, 1956. Tim Flock (#300-A) and Speedy Thompson pace a huge field into the old South Turn. Just think about what it must have been like to pass on that guitar string of a road-turned-race track. From FULLY JEWELLED, Stock Car Racing 1951-1956, As Told to Russ Hamilton. (Russ Hamilton Photo)
four
---
#664 - Here's Scotsman Jimmy Clark playing the bagpipes after the 1963 Indy 500. He looks a little race-worn; he had just finished second to Parnelli Jones. Where Clark really did a tune on Indy, though, was his leading role in the international rear-engine invasion of the sixties. He would win the 500 in 1965. From THE INDY 500 1956-1965, by Ben Lawrence with W.C. Madden and Christopher Baas. (Ben Lawrence Photo)
four
---

#663 - Officials at the Los Angeles Coliseum were pretty busy with their midget shows in 1946. They pulled in over 60,000 to watch a 250-lapper. Mel Hansen (flipping), Bob Pankratz (#32), and Danny Oakes (#10) also had their hands full. From
THE MIGHTY MIDGETS
, by Jack C. Fox. (Fox Collection)
FOUR
---
662

#662 - This is a Hudson replica that was produced as a display for the debut of the CARS film at Charlotte in 2005. In truth, although the original Hudson Hornets were the hot setup for racing, this one was even quicker. Its chassis was actually Kyle Petty's Craftsman Truck. Verifying its speed was the late Paul Newman, then a sprightly 80 years of age. He toured the oval at 165 mph. From WINNING – The Racing Life of Paul Newman, by Matt Stone. (Jeff Siner Photo )
four
---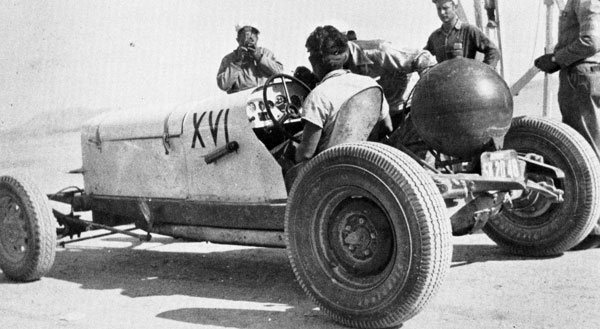 #661 - The Marmon, a luxury car built from 1931-1933, boasted a 16-cylinder, 490 cubic inch engine, the largest in America. Few of these weighty (930 lbs) powerplants found their way into race cars, but Tony Capanna stuck one in this hot rod for the Southern California Timing Association runs in 1946. He set fast time of 145.39 – and then, in all likelihood, drove it home. From HOT RODS AS THEY WERE, by Don Montgomery. (Kobo Fukataki Collection)
FOUR
---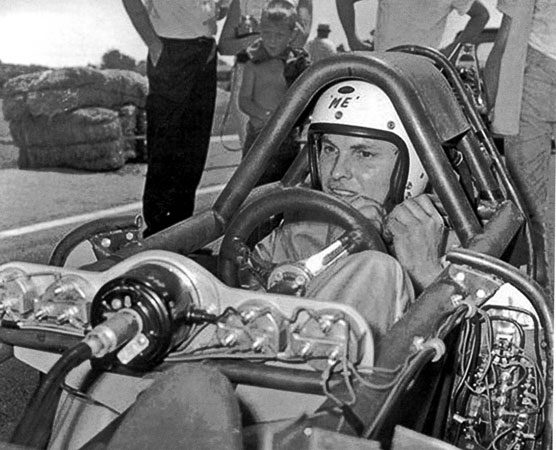 #660 - On November 12, 1965 Bob Summers strapped himself into the minimalist cockpit of the "Goldenrod," a land-speed streamliner at Bonneville. Along with his brother Bill, the two hot rodders from Ontario, CA, built the sleek 32-foot machine in a small shed, determined to have the fastest piston-engined auto in the world. George Hurst donated $5,000 and Chrysler put up four 426 Hemis, which sat one after another in front of Bob. The average speed of his two runs was 409 mph, beating record-holder Donald Campbell, the Brit who had run 403 mph the year before.
From PROVING GROUND – A History of Dodge, Chrysler, and Plymouth Racing,
by Jim Schild. (Summers Brothers Collection)
FOUR
---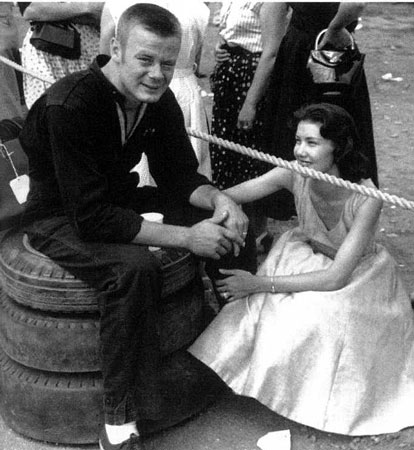 #659 - Can't you just see the joy in Diane Baker's smile? She had just married popular, up-and-coming, open wheel racer Jerry Hoyt right at the AAA race at Dayton, Ohio, on June 26, 1955. Hoyt was hot and he went on to run first in his heat and second in the feature. The happiness was short-lived, however. Just two weeks later the Indianapolis-based driver crashed over the wall at Oklahoma City and was whisked off to the hospital with massive head injuries. A 3½-hour effort on the operating table was to no avail, and he died, bride at his side. From KINGS OF THE HILLS – AAA-USAC Midwest and Pacific Coast Sprint Car Championships 1945-1960, by Buzz Rose.
four
---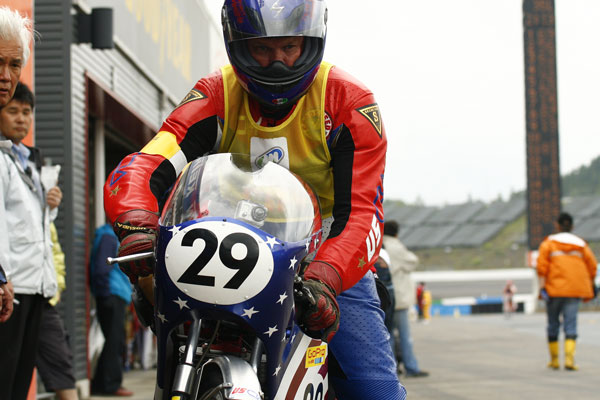 #658 - Bob Coy, now 67, is as neat as they come. He promotes motorcycle racing events, has himself competed since 1964, and is a Director of the North East Motor Sports Museum. Check out what he has to say about this photo:

"This is the seven-hour endurance race I did at Motegi in Japan in 2009. The motorcycle was a replica of the 50cc Honda CR110 race bike of the early 1960s. In the mid-90s Honda reproduced and slightly updated the bike to celebrate their 50th anniversary. Still, it was a double overhead cam 4 valve 50cc engine that was most comfortable at 14,000 rpm. Our bike was further race kitted to 90cc to be more competitive with the race displacement maximum of 100cc.

Our team consisted of old racing friends from Japan, Canada, the US and Poland. Our team held several distinctions at the event. We were the only non-Japanese team in a field of 150 teams. We were the oldest team, with an average age of 65 (youngest member was 62 and oldest 71). We were the heaviest team (I set the record there). Our support group was all Japanese and didn't speak English. We had the bike built for us in Japan, but the Japanese Federation would not accept foreign-made leathers, so I flew into Japan, was measured, and had a custom suit made in two days for the race. That was expensive!!! (Bob Coy Collection)
four
---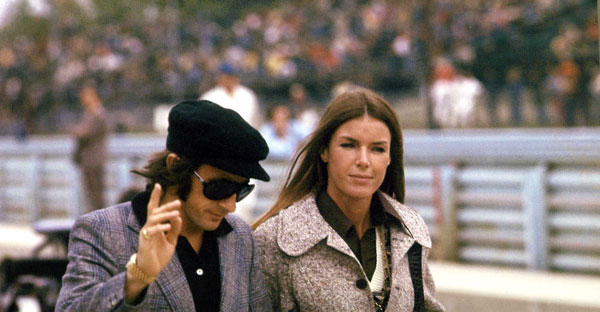 #657 - The 1973 U.S. Grand Prix at Watkins Glen should have been joyous day for Jackie Stewart. He had run 99 Formula One races to date, with 27 wins. He had planned to retire after this event, but he never started it. Popular Parisian pilot Francois Cevert was killed in qualifying, and with sorrow, car-owner Ken Tyrell withdrew both Stewart's and Chris Amon's rides for the race. Here Stewart and his wife Helen appear to be bidding farewell to both the track and to Formula One. From FORMULA ONE AT WATKINS GLEN: 20 Years of the United States Grand Prix 1961-1980, by Michael Argetsinger. (Luongo Photo)
four
---
656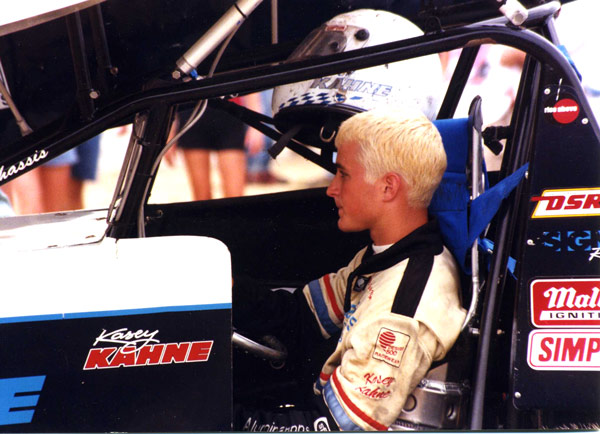 #656 - A very focused 19-year-old KK brought a West Coast look to the King's Royal at Eldora Speedway in 1999. (Jim Cooling Photo)
four
---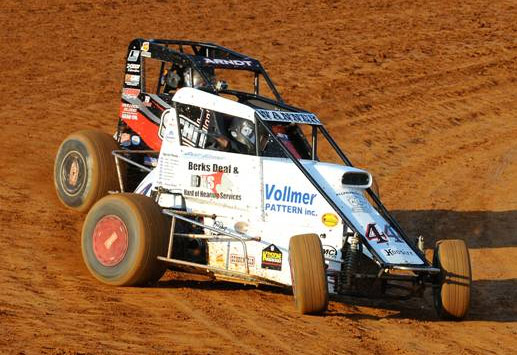 #655 - John DaDalt caught this memory of a couple of racy Bretts (Wanner and Arndt) booking it around Port Royal (PA) Speedway last spring in their ARDC midgets. Brett Wanner, a 22-year-old rookie, overcame some early-season technical tribulations to scoop his first win at Virginia's Winchester Speedway in August. It is particularly remarkable because Wanner and the majority of his crew are either deaf or hearing impaired. Winchester's announcer played the Victory Circle interview brilliantly, asking the crowd to stand so that Wanner could comprehend visually the fans' admiration. As for the rest of the ARDC drivers and crew members, their enthusiasm was obvious. They all gathered around to celebrate this very cool accomplishment.
(John DaDalt Photo)
FOUR
---
654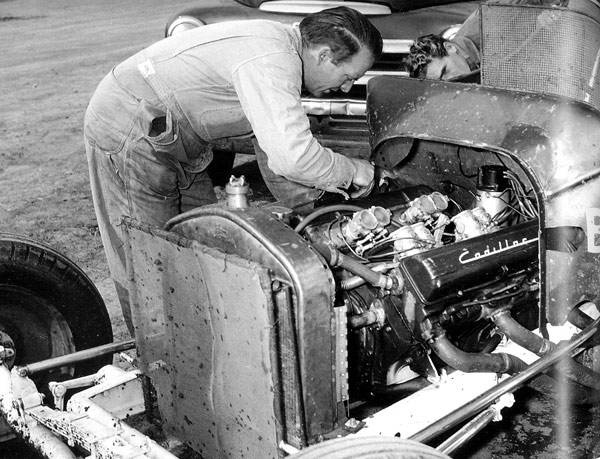 #654 - It is amazing how certain racing engineers have been so many laps ahead of their time – and their peers. Case in point was the prolific technologist Howard Johansen, most famous for his Howards Racing Cams for early dragsters. Way back in 1953 he was racing track roadsters at Carrell Speedway, a mile north of Gardena, California's Ascot Park. Sixty years ago, most guys were experimenting with flatheads as an up-fit over six cylinders and, sometimes, even equipping them with a couple of carbs. Howard is shown here working the Bebek Brothers' CRA car. He built the stout looking Cadillac OHV and built the fuel injection system as well. George Amick cut an astounding lap of 19.90 on the half-mile that year, which will stand as the all-time lap record at the infamous old facility, also once known as the Gardena Bowl. From MERCHANTS OF SPEED – The Men Who Built America's Performance Industry, by Paul D. Smith. (Don Johansen Collection)

four
---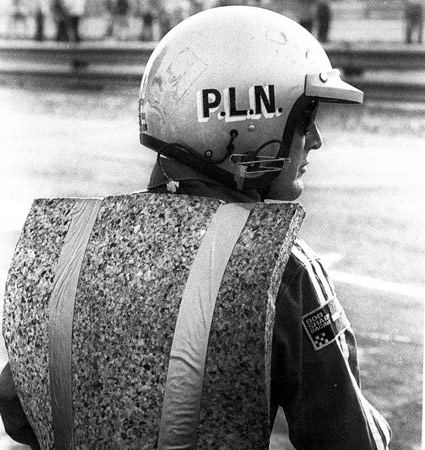 #653 - The Datsun Factory team, including drivers Sam Posey and Masahiro Hasemi, was fast in the 1980 ISMA Series. They had not yet, however, hooked up with Randy Lajoie and his Joie of Seating's technical offerings. Here is their third driver, Paul Newman, with a slab of foam taped to his back. Not a lot of fitting and pre-molding here. From WINNING: The Racing Life of Paul Newman, by Matt Stone and Preston Lerner. (John Rettie Photo)
four
---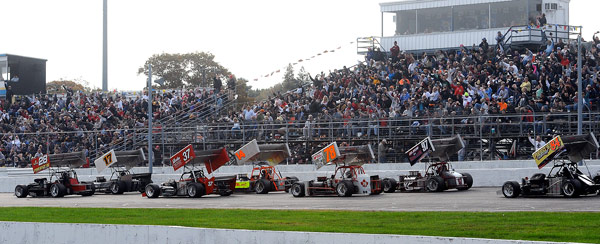 #652 - It was the annual autumn shot of Red Bull for a packed grandstand – the growling ISMA supermodifieds on their final pace lap for the World Series event at Thompson (CT) Speedway. This year Ben Seitz (#17) and Bob Dawson (#28) brought them down, but the field didn't quite make it to the green before the crashing began. A bunch of competitors, including Chris Perley, a five-time winner of the show in recent years, was gathered up. There was a whole new start, but trouble again. So, in the end, the field went off single file on its high-speed romp. Nine cars ended up finishing, with Rob Summers, aboard the Chris Perley/Vic Miller team car, winning it. (John DaDalt photo)
FOUR
---
651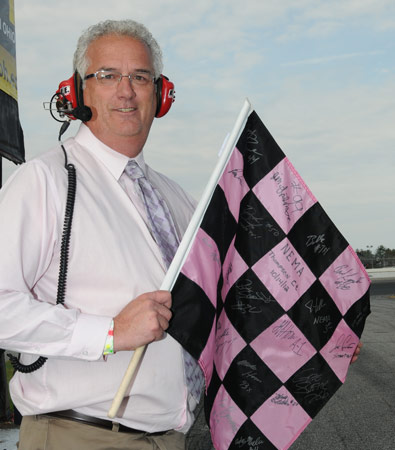 #
651 - Connecticut good guy Bill VanSlyke has been offering marketing assistance to the Northeastern Midget Association, as well as to October's Breast Cancer Awareness campaign. Nowhere have his contributions been more colorfully evident than at the annual midget wrap-up at Thompson Speedway's World Series last Sunday. There was pink duct tape everywhere on the open wheel rocket ships; even the letters "HOOSIER" on the tires were colored pink, and pink hats and shirts were the style of the day in the pits. And here's NEMA's grand flagger, Steve Grant, his white shirt now pink – and his flag with a new twist on the traditional checkered pattern. The flag was autographed by NEMA drivers and, to hearty rounds of applause, given to a car owner's wife who is stricken with the disease. (Dick Berggren Photo)
four
---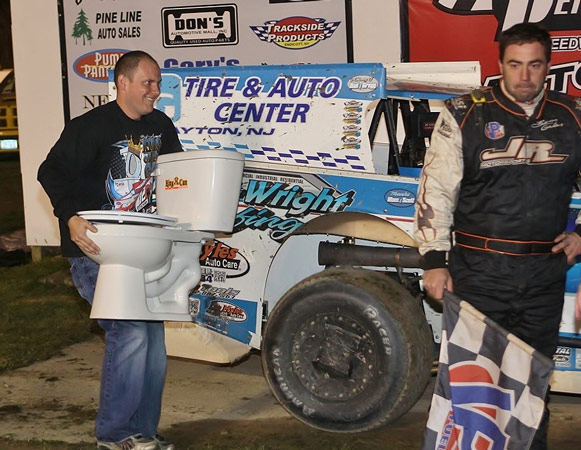 #650 - Energetic roving promoter Brett Deyo was out to make the 13th King of the Can for modifieds last Friday night at Pennsylvania's Penn Can Speedway as colorful an event as possible. He was glad he did. He had a good crowd on hand and 100 cars in the pits and he felt awful that it was so darn cold. When Ryan Godown backed up his great season for the win, Brett presented him with a reminder of his new princely position. "As you can see," said Brett, "Ryan was totally blown away and didn't know just what to say! And there was a real roar from the crowd. That was good to hear, because at that point it was about 22 degrees and I felt that they were the last survivors of the Titanic!" (Dave Dalesandro Photo)
FOUR
---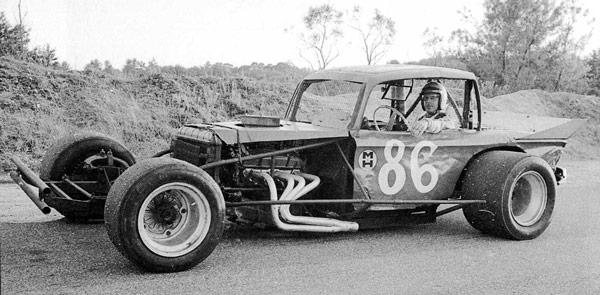 #649 - Photographer Steve Kennedy is one of Cape Cod's all time best gifts to racing. Equally comfortable capturing the image of a trawler on the briny deep or a bomber feature on Saturday night, Steve has just now compiled a cool captioned pictorial on the glory era of the Northeastern modifieds - MODIFIED STOCK CAR RACING OF THE '60S & '70S: An Illustrated History Featuring the Drivers, Cars, and Tracks of the Northeastern U.S. Included, of course, is this neat shot of Daring Dick Caso in his small block Corvair at Thompson, CT. Caso, a serious gasser, knew the only direction was forward, and the #86 knew how to get him there. It was a flyweight, A-framed car, demonstrating major dirt influence. It rests today in the Pronyne Motorsports Museum in Pawtucket, RI. (Steve Kennedy Photo)
four
---

#648 - The annual Pines Reunion took place last Saturday in Groveland, Mass., and it was, no contest, the best ever. Fifty-one cars were towed in, and by noontime it was difficult to move for all the people. As in the past, Andy Halwood from nearby Byfield showed up with this bit of rolling racing nostalgia. The car is the infamous, completely original McNutt Bros V-8/60 midget built in 1938. No chrome. It was wheeled back in the day by "Wildman" Georgie Lewis during the midget heyday in the Northeast. Note the roll bar over the rear – one of the first in the area and hardly flip-worthy. The trailer is original, and the tow vehicle is a gem in its own right. The 1930 Model A is fitted with a '46 Lincoln V-12 with a '41 Mercury rear. Over the top cool.
(Dick Berggren Photo)
four
---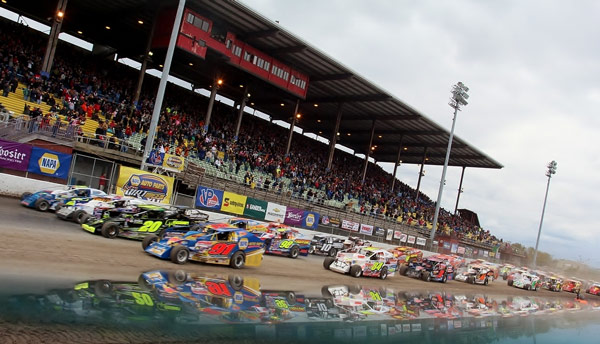 #647 - Last week was Super Dirt Week on the mile oval at Syracuse Fairgrounds. Our buddy Dave Dalesandro was there to capture the field, lined up and parading placidly towards their ferocious fight. After a 17-year absence from victory lane at the Fairgrounds, 54-year-old Brett Hearn out-hustled 44 others to the win, rain shortened to 113 out of 200 miles. (Dave Dalesandro Photo)
FOUR
---
646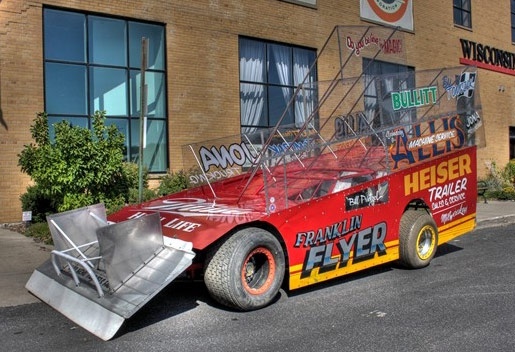 #646 - Here's one neat Franklin Flyer. In 1985 Bill Prietzel hustled it to a new track record at the season-ending open comp show at Wisconsin's Hales Corners Speedway, but he wadded it up in the feature. He was back the next year with a vengeance, roaring to another track record, this one lasting 12 years. It was the first time a late model toured the place in under 16 seconds. He also swept the qualifier and the main. This year the car with all its aero-outrageousness was pieced back together for the Hales Corners Reunion, held on August 17, 2012. (From the Photo Collection of John Surges, President of Wisconsin's Modified Stock Car Club)
four
---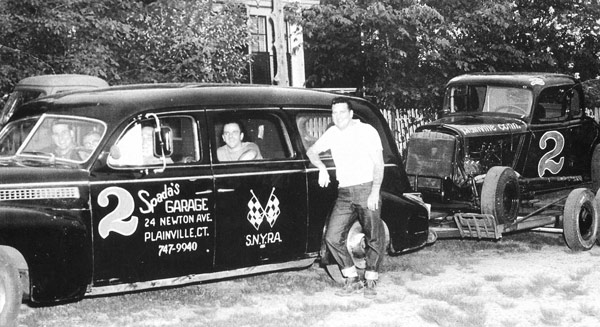 #645 - Here's a neat shot sent to us by Mark Hann, CEO of Connecticut's Victory Motorsports Marketing Services. It's the Spada Garage team off to Danbury Racearena or perhaps Plainville Stadium, back in the day. The race car, a '32 Ford, was Kenny Webb's first machine, purchased for $25. Kenny was a founding member of the Southern New York Racing Association and the third winningest driver in Danbury's history. By the looks of it, Kenny and his boys were off to have a pretty good time that night, at the races and afterwards. Probably a much better time than people in the tow vehicle had during its previous use. (Mark Hann Collection)
four
---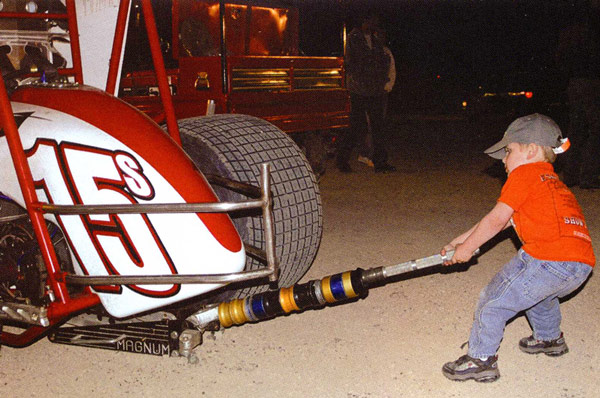 #644 - Here's Jase Randolph working on Nick Smith's sprinter at Devil's Bowl in Mesquite, TX, in 2005. Wonder if he is driving a 410 yet. From Paul Oxman's SPRINT CAR RACING CALENDAR 2005. (Tim Aylwin Photo)
four
---
643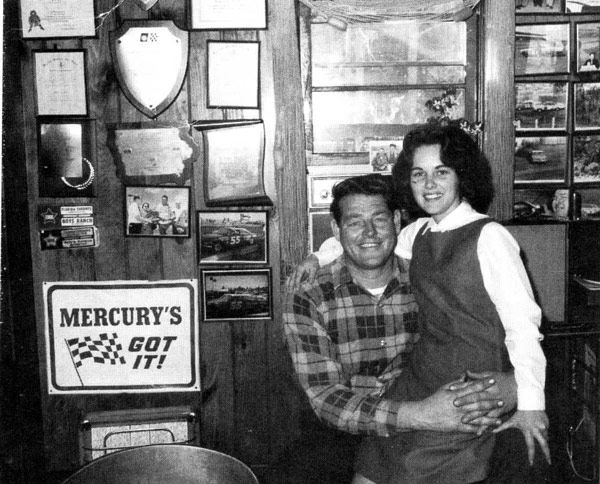 #643 - When six-foot, five-inch, 270-pound Tiny Lund left Harlan, Iowa, to go south to NASCAR land, he had been used to having his way on the short tracks. His NASCAR career was spectacular from the get-go, a wild convergence of wrecks and wins that continued until his death at Talladega in 1975. Off track, he was pretty accustomed to getting what he wanted as well. Here he is with his wife, Wanda. When the two met, she says, "He turned me over and set my heinie-end on fire like a two-year old kid. Then we were an item after that." From THE LAST LAP – The Life and Times of NASCAR's Legendary Heroes, by Peter Golenbock. (Wanda Lund Early Collection)
four
---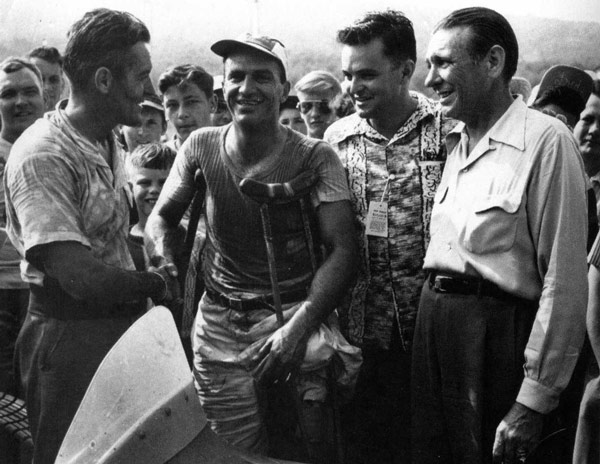 #642 - Chris Economaki's funeral was yesterday, right near his lifelong home in Ridgewood, NJ. So much has been written and said over the last few days about the depth of our Dean's enduring contribution to motorsports, and the image above certainly offers some perspective. Left to right are Johnnie Parsons, Bill Schindler, Chris, and early East Coast promoter Sam Nunis, back when the world was young. From LET 'EM ALL GO – The Story of Auto Racing by the Man who was There, by Chris Economaki with Dave Argabright
four
---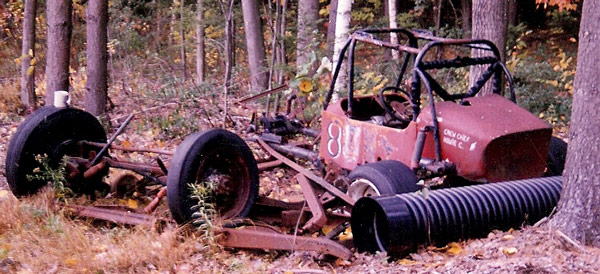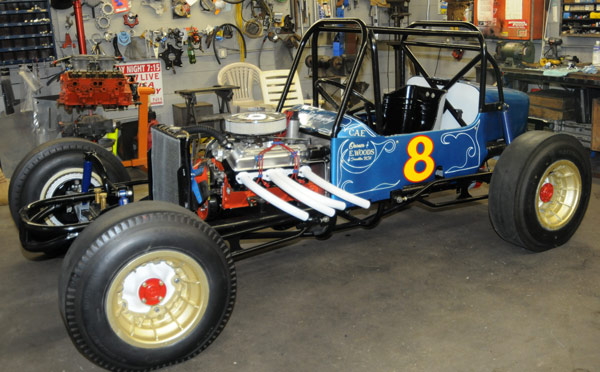 #641 - If you are anywhere east of the Mississippi this weekend, you have to come to the Pines Speedway Reunion at the site of the notorious old oval in Groveland, MA. The annual event, executed so well each year by the Groveland Historical Society and local racing historian Dwight Lowes, will be held this coming Saturday, October 6. It is just off a major highway, the foliage will be at full throttle, and take a look at just one of the displays you will see. This old time supermodified, driven by Northeast star Billy Murphy, was found a few years back by Pete Von Sneidern, who began the restoration. Jim Martel completed the project, including building the engine, assembling a working driveline, directing finish work such as paint and lettering by Justin Belfiore, creating and installing a fuel system and bracketry, etc. Dick Berggren has been financial cheerleader and official photographer on the project. (Woods photo by Pete Von Sneidern and garage photo by Dick Berggren)
FOUR
---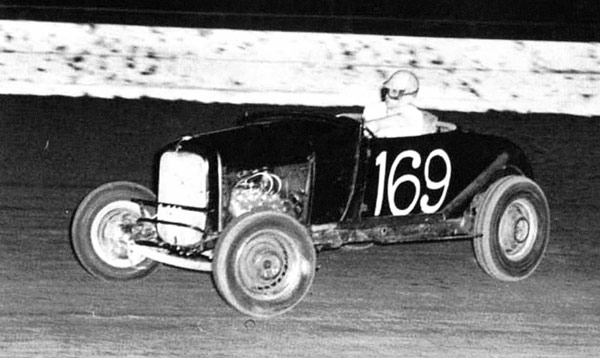 #640 - Californian Ed Elisian, shown in 1947 at Lazy J Speedway near Sacramento, was one star-crossed driver. In 1958 he qualified on the front row at Indy and spun on the first lap, triggering a fiery 15-car melee. Popular veteran Pat O'Connor was killed, and Elisian was blamed by many fans and competitors. The next month he was in another wreck, this time in a sprinter at New Bremen, Ohio, and Jim Davis perished. Fourteen months later at the Milwaukee Mile Elisian crashed his Indy roadster, flipped, and burned to death. From SACRAMENTO – Dirt Capital of the World, by Tom Motter. (Elisian/Rushing Collection)
four
---
#639 - John Force is another non-stopper. Can you imagine the level of energy when he and Kenny Wallace both showed up at Lenny Sammons' Motorsports show to sign books this past January? When they left for the airport, everyone else was exhausted but they kept right on talkin'. From JOHN FORCE – the Straight Story of Drag Racing's 300mph Superstar, by Erik Arneson. (John Asher Photo)
FOUR
---
638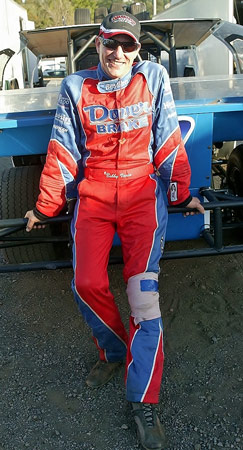 #638 - Tough guy, Bobby Varin. It was just last month that he crashed big time in an ESS sprint car show at Canandaigua, NY. "I flipped backwards and then landed on the front bumper and bounced back the other way. It was the hardest hit I've ever had. The hit was so hard my forehead was bruised by the helmet". And then there was the knee, totally torn up and chipped, two cracked ribs and two broken ones." Asked how he felt pitching Dave Cruikshank's Dover Brake #00 mod into the turns at Utica Rome a week or so later, Bobby said, "Sure, it's uncomfortable. But nothing like I felt crawling around the garage floor, fixing the torque arm slider getting ready." Nothing seems to slow him down. He's won the big sail panel show at Utica since then and put in a stirring visiting performance at Grandview (PA), coming in a close second in the Freedom 76'r to Jeff Strunk over 75 other entries. Now he's busy gearing up for Super Dirt week in Syracuse. Hang on. (Dave Dalesandro Photo)
FOUR
---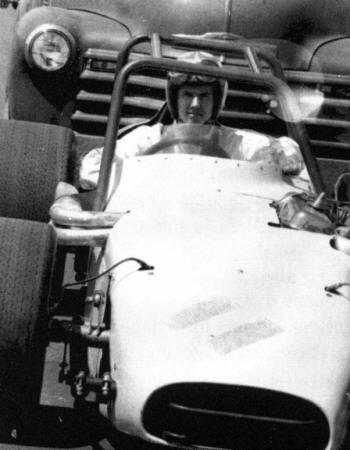 #637 - In his brand new book CALIFORNIA GOLD: the Legendary Life of Troy Ruttman, Bob Gates details one of American motorsports' saddest days. Troy Ruttman, Jr., a bright-eyed, handsome high-schooler, showed up at Pocono Raceway for a Supermodified event. He had both vigorously and cleverly converted his dad's 1962 Indy roadster for the event and was right up front in his qualifier. In the feature, however, something went horribly awry. Propelled by a honking big block Chevy, the car ploughed right under the Armco barrier. The impact was so violent that the front end was shredded, the engine in pieces, and the roll cage torn off. The popular youngster, so full of dreams and desire, died instantly. From CALIFORNIA GOLD: the Legendary Life of Troy Ruttman (Beverly Ruttman Collection)
FOUR
---

#636 - Racing motors – the music of the night – will fill the air at Seekonk (MA) Speedway this coming Saturday, September 29. The ISMA Supermodifieds will join the NEMA midgets, NEMA lights, and open comp Street Stocks for the Seekonk 200, featuring the Boston Louie Memorial Classic. The event honors the late Louie Seymour, the beloved USAC car owner, "the man who towed a million miles" in pursuit of his oily grail. One of his favorite former drivers, Bentley Warren, will serve as Grand Marshal, and the NEMA midgets, shown above at the start of last year's
Seekonk D. Anthony Venditti Memorial event, will compete for the Coastal 181 Cup. (Norm Marx Photo)
four
---
635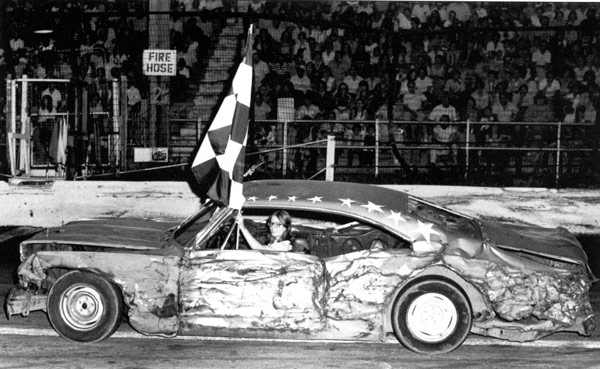 #635 - Women racers were regular competitors in the 62-year history of Blue Island Raceway Park. Barbara Bosak, shown here, and Nancy Price were very aggressive rivals in the 1970s. Barbara was especially successful and became hobby stock champ in 1978. Wonder what the side of Nancy's car looked like. From BLUE ISLAND RACEWAY PARK, by Stan Kalwasinski and Samuel Beck. (Courtesy of Stan Kalwasinski)
OUR
---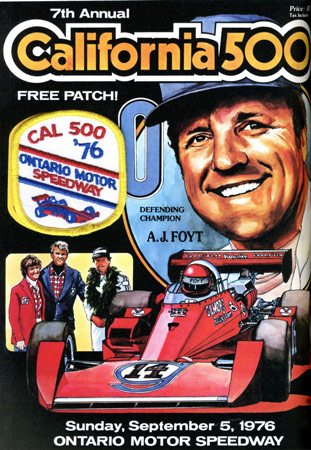 #634 - This is the cover of the program for the California 500 at Ontario, complete with the neat rendering of A.J.'s sponsors, Jim and Diana Gilmore. The work was done by pioneering motorsports artist John Jodauga. His work is presented in his book, THE ART OF DRAG RACING, with Melissa Pasillas. What a curious beginning it was to the style we so commonly see on T-shirts and at race tracks all over the country today.
four
---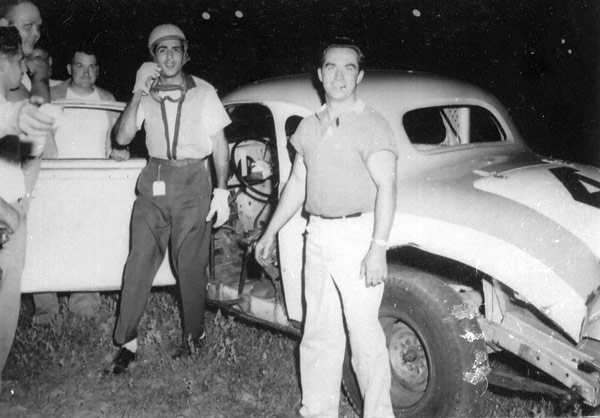 #633 - No two Eastern modified pioneers were more colorful than Pete Corey (with helmet) and Rene Charland, pictured here at Empire Raceway in Menands, NY, in the '50s, likely next to an early Sharkey Gaudiosi coupe. Corey, winner of the 1955 Langhorne National Open, and Charland, multi-time NASCAR national sportsman champ, were fierce competitors and not always "buddy-buddy." It is said that one night Charland taunted the starting field at Fonda by walking down the lineup and shaking a live snake at each driver inside his car. When Rene got to Corey, the story goes, Pete grabbed the snake, calmly said, "I like snakes," and bit its head off. (John Grady Collection)
foir
---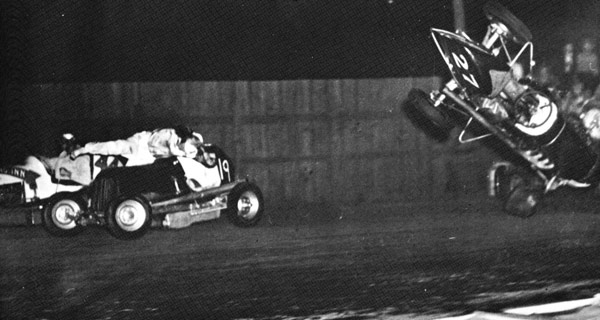 #632 - It was an accident with a couple of chapters. Bert McNeece got to flipping violently at Denver's Lakeside Speedway back in 1939. Along the way, he was tossed to the heavens. When he came back down, he was a surprise rider atop the #44 of Bill Logan and Harold Mainard's #19. His only hurt was a skinned knee, but the same could not be said of his #27 Offy. From THE MIGHTY MIDGETS, by Jack C. Fox. (Leroy Byers Collection)
four
---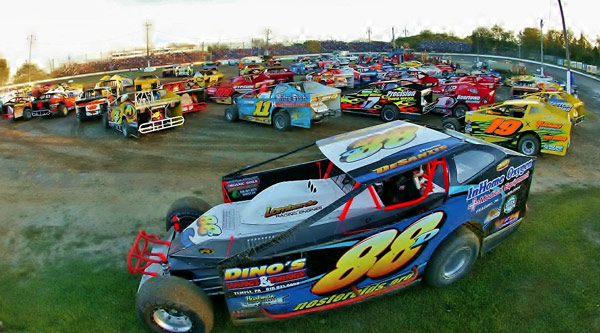 #631 - It was 50 years and 50 grand to the winner. Last Saturday night a full pit with 80 of the best center-steer modified teams towed into Grandview (PA) Speedway for its 50th anniversary Freedom 76 event. Jeff Strunk, big time Grandview regular, re-energized his less than grand season with a great hometown victory over New York invaders Bobby Varin and Billy Decker. (Dave Dalesandro Photo)
FOUR
---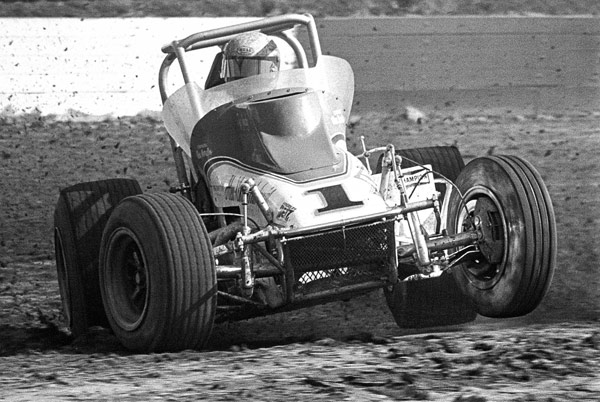 #630 - Here's Rick Goudy tossin' it in big time at the 1979 CRA mid-winter open at Ascot. Back in the seventies, Goudy and his buddy Jimmy Oskie were on the hammer with a vengeance, but in the pits it was levity and good humor. "We had to be that way," recalls Oskie. "Those were rough days. You lost a lot and won not many." Goudy's career was off to a shaky start with a fiery accident there in Gardena. But the summer before this photo was taken, he became CRA Champion. From OLD SCHOOL: Volume 2 – 1978-1979, by Mike Arthur. (Mike Arthur Photo)
four
---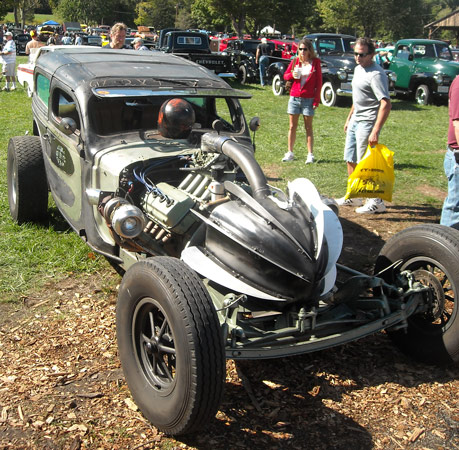 #629 - If rat rods compete to be "over the top," this one redefines the altitude. It pulled in late in the day last Sunday at the Ty-Rods 40th Annual old-time car show in Lancaster, MA. The coach body was way cool, as was the Hemi, the exhaust/headlight co-mounting, and the suicide front end. But that induction system from that Darth Vader hat over the front end to the carburetor just had to be inspired by a mushroom. (Coastal 181 Photo)
four
---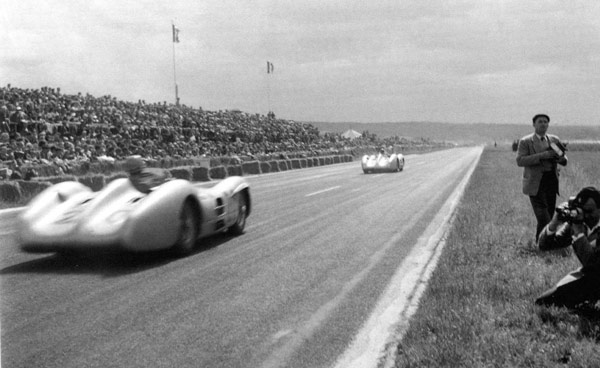 #628 - English photographer Alan R. Smith captured this amazing image of Juan Manuel Fangio and Karl Kling in their Mercedes streamliners whistling towards the distant start-finish line at the 1954 French Grand Prix at Reims, totally dominating the event. The photography was certainly first class, but the guard rails protecting the lensmen were a bit lacking…as were the hay bales protecting the crowd. From THE GOLDEN AGE – Images from the Klemantaski Collection. (Alan R. Smith Photo)
four
---
627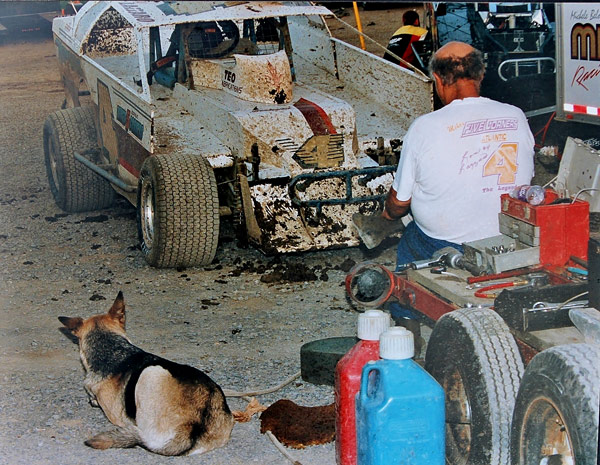 #627 - As basic as dirt. This was the great Eastern modified driver, Lou Lazzaro, near the end. He once said, "Some people think I'm lazy, but somehow I get to the races every week." He sure did. (Dave Dalesandro Photo)
FOUR
---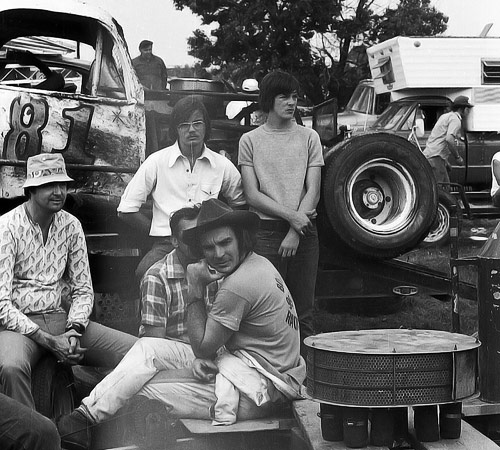 #626 - He was known primarily for his exhibitionism in sprinters, but Jan Opperman had an eye for any kind of racing. He's shown here in the mid-1970s at Syracuse's Super Dirt week, ready to wheel Joey Lawrence's famous gold and black #16 Mustang. One spring night a few years earlier at Reading, PA, for the USAC races, Opperman had his first look at the injected East Coast modifieds. After watching a whole gaggle of them warm up, he commented, "Keep an eye on that #57 coach. That guy is really workin'." That guy was Kenny Brightbill, just getting started. (Harry Cella Collection)
FOUR
---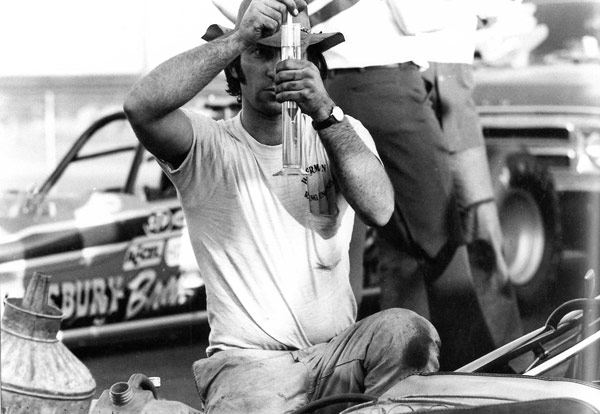 #625 - "The percentage of nitro in the fuel mixture must be carefully checked with a hydrometer. Nitro methane burns yellow and the fantastic white flame seen above the stacks at night is raw burning hydrogen. The flame front of nitro measures 7,050 degrees Fahrenheit and, under full throttle, a dragster consumes 1½ gallons per second; the same rate as a fully loaded 747 jet with four times the energy volume." Quote and Photo from TOP FUEL DRAGSTERS OF THE 1970s, by Howard V. Koby
four
---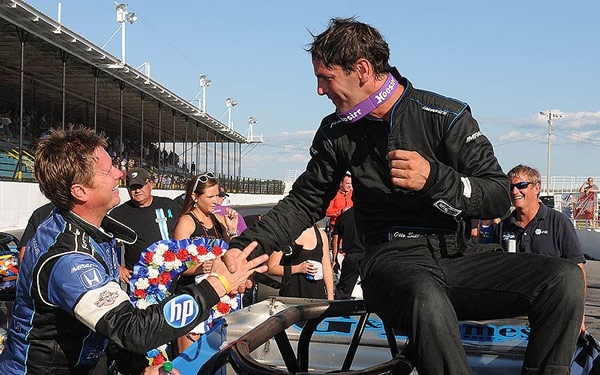 #624 - Despite running the Indianapolis 500 on several occasions, Davey Hamilton (left) still longs to beat good friend and teammate Otto Sitterly (right) for another International Classic title at Oswego (NY) Speedway, the Home of the Supermodifieds. Sitterly, who won his third Budweiser International Classic 200 on Sunday, September 2 at Oswego just ahead of Hamilton, maintains and prepares Hamilton's Supermodified ride as a part of John Nicotra Racing. Perhaps next season the roles will be reversed, as Hamilton continues to look for his first Classic win since 1997. (Photo by Otto Graham – Caption by Dan Kapucinski)
FOUR
---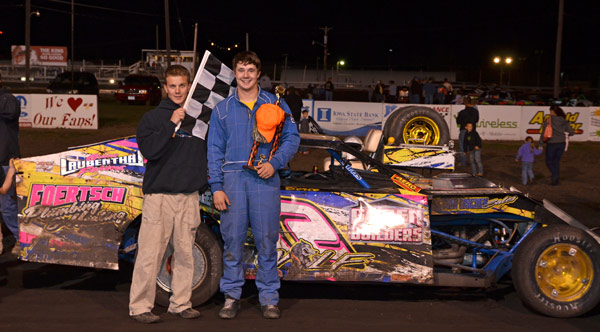 #623 - Here's a mid-August photo of Iowa's somewhat weary looking Austin Wolf and his Mod after a win at Kossuth County Speedway. Last Saturday night he wrapped up the track point chase, becoming, at just 21, the youngest modified champ in track history. He was also a winner along the way at Britt. The amazing thing about Austin's performance over the summer is that he was also dealing with a new, mission-critical job. During the week he is literally going all around the country servicing sophisticated energy systems on generators operating in oil and gas drilling sites. Who knows how he was able to get home in time to race, let alone to work on his car and become top dog. But the real question is how he will balance everything this week – and somehow end up in the A-main on Saturday night at the Boone Nationals. (Wolf Family Photo)
FOUR
---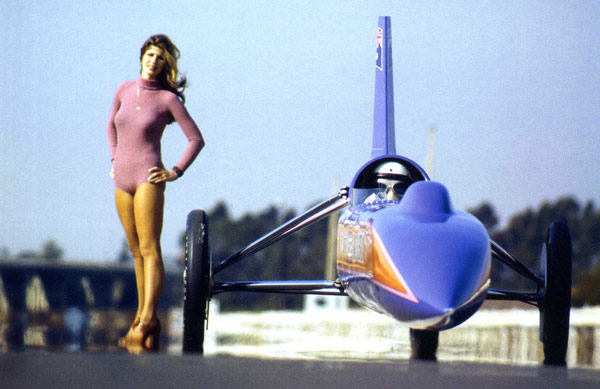 #622 - The "Courage of Australia" blew everyone away on November 11, 1971 at Southern California's Orange County Raceway, turning an incredible 5.107 at 311.41 mph. The 27', 1,100 lb. needle-shaped monocoque machine was powered by a 12,000 HP, hydrogen peroxide-fueled rocket engine. Stephanie Rose's lines looked pretty sleek, too. From DRAG RACING'S EXHIBITION ATTRACTIONS, by Lou Hart and Cory Lee. (Steve Reyes Photo)
FOUR
---
621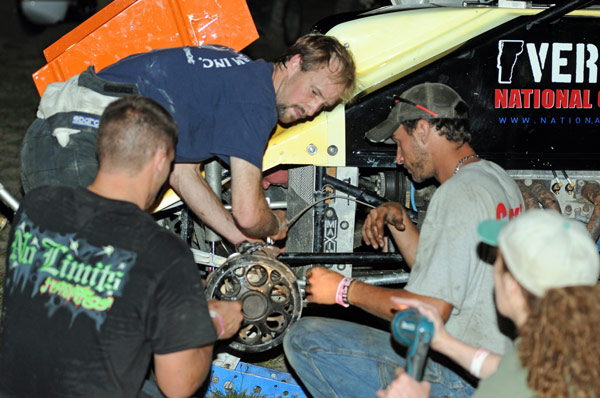 #621 - Last weekend was Sprint Cars of New England's Triple Crown Championship, a three-race series at Canaan, Bear Ridge, and Legion Speedways. On the very first lap of the very first night at Canaan, Will Hull, a soft-spoken newcomer, caught a wheel and rode out a violent end-over-end off turn one, trashing his low-budget but speedy sprinter. No problem for a guy who's good – and gutsy. As soon as Will was back in the pits and clearly walking upright, replacement parts began appearing out of nowhere. A wing from one team, front wing from another. Then came a front axle and rear-end pieces. Here's Will bleeding the brakes, getting ready to go. The popular Vermonter more than repaid the favors by delivering a stunning performance over the weekend – a seventh at Canaan that night and a tie for sixth in the three-race chase. (Don MacIntosh Photo)

FOUR
---
620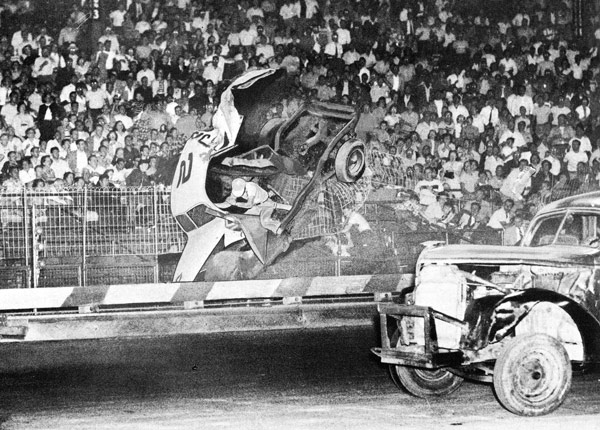 #620 - Nearly sixty years ago, in 1954, this photograph drew national attention. Ed Wolf's coupe got to flipping along the front stretch wall and catch fence at Roosevelt Stadium in Jersey City. It must have been pretty impressive for him – and for some of the nearby spectators. Thanks to his lap belt, he was not seriously injured. But it sure was a good thing he did not have to rely on the integrity of his roll cage, interior sheet metal or side bars. Photo from SPEED AGE magazine, August 1954.
FOUR
---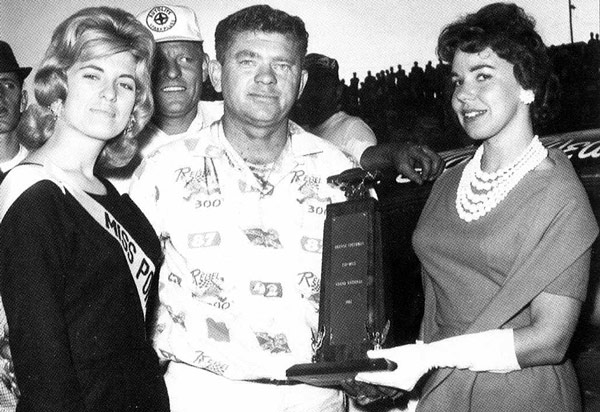 #619 - It was October 29, 1961 at a 150-lap Grand National race at the old Orange Speedway in Hillsboro, NC. The three in victory lane were right at the door of enduring NASCAR greatness, but only two were to continue. Pretty Miss Pontiac was none other than Linda Vaughn, soon to become Miss Hurst Golden Shifter. Behind Joe stands Bud Moore, owner of the winning Mercury. He was about to be named NASCAR Mechanic of the Year, to win multiple championships and honors right through his induction into the International Motorsports Hall of Fame in 2009. Li'l Joe Weatherly, with the trophy, had just led 149 laps of the feature to a stunning win. He would drive Bud's car to the championship the next year. At Riverside, CA, in January of 1964, however, his concern about being in a race car fire arguably got the best of him. Refusing to wear anything but a lap belt so he could exit the cockpit quickly, he had little containment protection when he whacked the right turn #6 wall sideways. He was killed instantly. From NASCAR – The Complete History, by Greg Fielden.
FOUR
---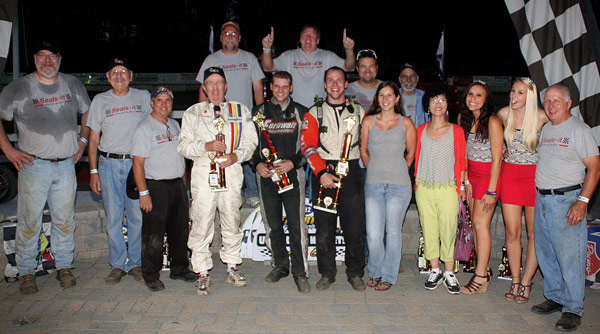 #618 - Last Saturday night saw an unforgettable race at Bear Ridge Speedway in Bradford, Vermont. Three teammates, among the finest open-wheelers in New England, joined one another on the podium following the USAC Dirt Midget Association feature. Joe Krawiec, center right in black and white suit, was the winner. The Connecticut racer, appropriately labeled "Flatfoot," is a former Whip City Champ and has been red hot on the dirt up in those Green Mountains. Second place, was Kevin Chaffee (black suit), the young "Fairlee Flyer," who has come out of nowhere and last year won the Vermont Driver of the Year award for his spectacular performances in midgets, sprinters, AND modifieds. Third, to Kevin's right, was Denny Zimmerman. All that needs to be said of the much admired and irrepressible Denny is that, yes, he is the same Denny Zimmerman who was Rookie of the Year at Indy in 1971. But the real victor of the evening had to be another New England Hall of Famer, Skip Matczak (far right), whose efforts led the formation of the DMA a couple of years back. Skip owns all three of Saturday's winning cars and, as such, rightfully becomes midget's newest Pappy Hough. (Sealsit Collection)
FOUR
---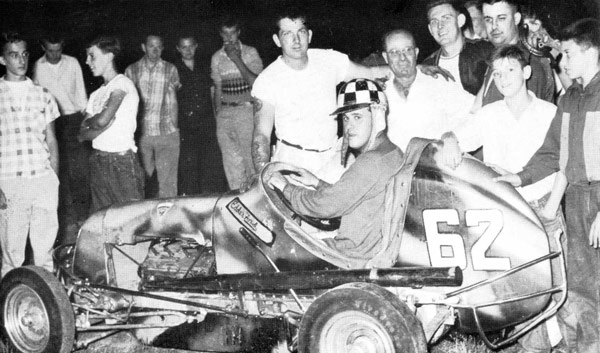 #617 - "Hoppy" Redner earned his nickname by accidentally sawing off one leg while working on a roof in Guam during WWII. The Schenectady, NY, resident, a non-stop Epicurean in every way, just loved his midgets. Here he is aboard the Czyzewski Ford at Empire Raceway in Menands, NY, in 1956 for a NEMA 200-lapper. He was a top runner in NASCAR midgets and a MARC champ in 1958 and '59. He also just plain loved his suds. One fall he loaded up his station wagon with beer, forsaking tools and spare parts, and towed a stock car down to the Langhorne National Open. It didn't turn out quite as merrily as he had hoped and he had to sell both the tow vehicle car and the race car to get out of a jam down there. That accomplished, he bummed a ride back north with Hall of Fame wheelman Irv Taylor. Irv reports that not long afterwards, Hoppy, back with wheels, was told it was last call at a local watering hole and that he was shut off. Hoppy was incensed. He drove his car right through the building on the way home. From MIDGET AUTO RACING HISTORY, Vol 3, by Crocky Wright. (Les King Photo)
FOUR
---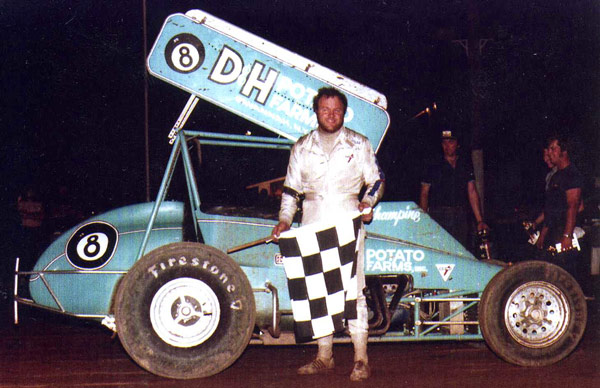 #616 - Jim Shampine could do just about anything with an automobile. He was
especially good at winning, be it in a super, a pavement or a dirt mod.
But it really seemed over the top when he got in a temporary tiff with the
management of Oswego Speedway, got intrigued with sprinters, bought one
from Pop Lloyd, and won almost immediately with it at a URC show at
Rolling Wheels (NY) Raceway. He seems just a little more normal when we
hear that he did have the very occasional misstep. Racer/journalist Dave
Wickham writes: "Late that year Jim and I showed up at Sharon (OH)
Speedway for a regular Friday night show. It had rained. When the sprints
got to warm up on the track, there was one groove and it was greasy. I
knew that the only thing to do was to warm up the engine and keep the car
from getting loaded with clay. After a few laps they dropped the green and
Jim came around the outside of me coming out of two and blew by. When we
got to three, I backed off way early but he hauled right on in there. His
car went mostly straight, right up to the third turn wall and flipped.
That was one night he watched the races from the pits".
(Photo John Grady Collection)
FOUR
---
615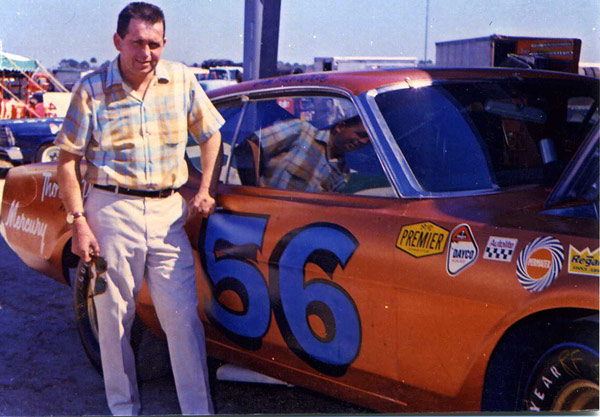 #615 - After his horrific fire in an Indy car at Milwaukee in June of 1964, it was curious that the return of the people's racer, Jim Hurtubise, came in a stock car race, the Atlanta 500. As Kim Chapin wrote in a Sports Illustrated article in 1978, "He won it by cheating. During practice Hurtubise determined that if his car rode as high off the ground as it needed to in order to satisfy the NASCAR rulebook, it was unstable and slow. But he found that an adjusting nut that controlled the height of his front end could be reached by cutting a hole through the floorboard, and further, that exactly 70 turns of the nut with a ratchet wrench would lower the front end just enough to make him competitive. After the pre-race inspection, Hurtubise walked rather stiff-legged to his car, a wrench hidden in the right leg of his driving uniform, and before the green flag he casually went to work. When the race was over and he had taken the checkered flag, he made what must have been the slowest victory lap in NASCAR history, cranking that nut 70 turns in the opposite direction. As he cruised through the third turn, out of view of the NASCAR inspectors in the pits, he simply threw the wrench into the infield. No sweat." (Photo John Grady Collection)
four
---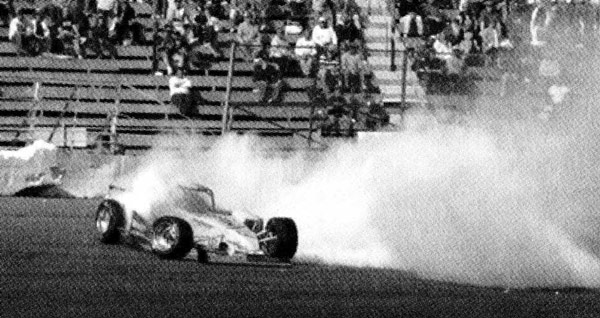 #614 - Other than the thought that Oswego Speedway's 56th International Classic is just two weeks away, nothing much else can be taken for granted. Take 2006 for example. One week before the race that year, Otto Sitterly was red hot – and surely a favorite for the win. He had won the Mr. Supermodified event and its $10,000 payday, wrapping up the track championship for the year. He was running solidly in the top ten on Classic weekend only to break a suspension part on lap 126. Otto clobbered the infield barrier just past the starter's stand and was knocked out. The car rocketed on, finally doing smoky, wide-open donuts in the first turn until the track crew managed to reach the kill switch. The popular Canajoharie wheelman ended up in the horizontal mode at the Syracuse Hospital with rib and facial injuries. From 50 Years Oswego Speedway International Classic, by George Caruso Jr. with Carol D. Haynes.
four
---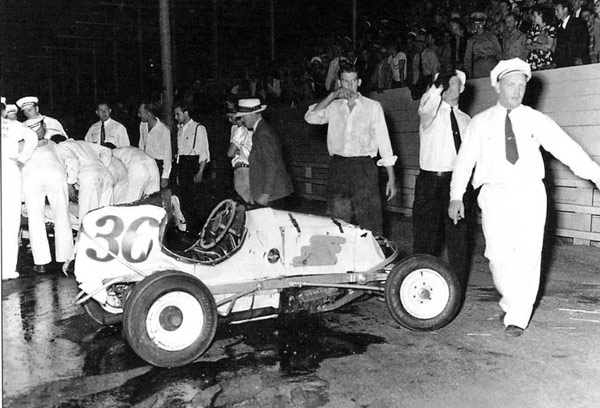 #613 - Brothers Buddy and Vic Shay (Schey) were standout mid-Western midgeteers before the War. Buddy reworked the chassis in his #36 to accommodate a V8-60, which he installed upside down. It took some doing, but the thing was fast. It was Vic who drove it on July 4, 1942 at Lakeside Speedway in Kansas City. He had a broken leg from a motorcycle crash at the time, and the pit crew rigged up a left foot throttle for him. Here the track crew tends to him after the accident. No one knows whether his foot got tangled up or the pedal just stuck, but he died two days later. From DECADES OF DARING - Midget Racing in the Rocky Mountains, by Bill Hill.

FOUR
---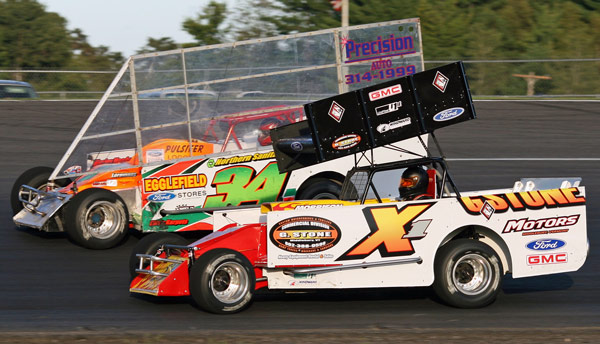 #612 How can you not love open competition? Last Saturday was "run what ya brung" way up at Airborne Park Speedway in Plattsburgh, NY, just a click south of the Canadian border. That dash of creative aerial outrageousness really amps up the fans and the competitors. And speaking of the competitors (that's Todd Stone, eventual winner in the #1x and veteran George Foley in the #34), Speedway Illustrated's Karl Fredrickson said after competing in the race, "It's incredible to watch either of them drive a race car from the grandstands or on the track. It's just a bit more humiliating on the track." (Photo by Andy Watts)
four
---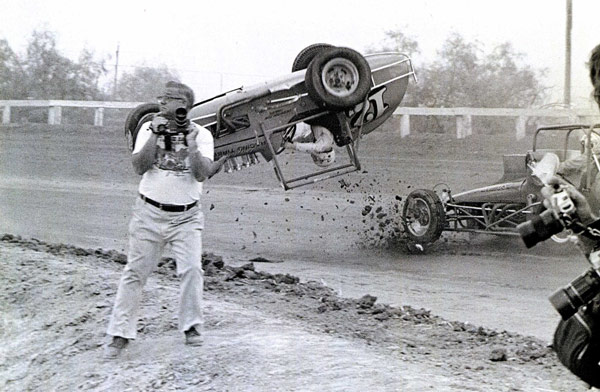 #611 - Mike Arthur caught this interesting scene in 1976. That's CRA and USAC competitor Doug Coulter taking a flyer in the Mid-Winter race at California's Imperial Fairgrounds. If you're in the infield at a sprint car race, it's best to have eyes in the back of your head. Photographer Bill Korbacher, pictured above, missed the shot. From OLD SCHOOL: Vol. One – 1971-1977, by Mike Arthur. (Mike Arthur Photo)
four
---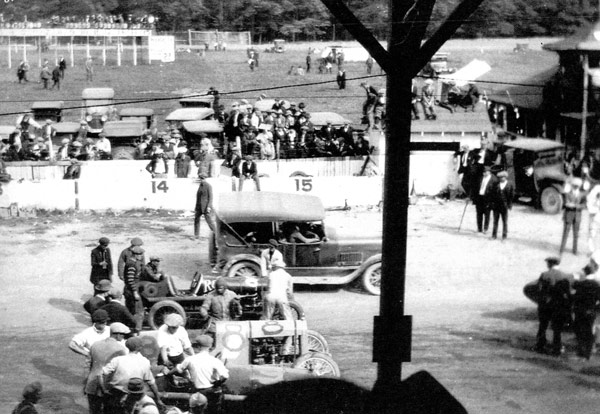 #610 - Here is Funk's Speedway in the early 1920s, a few years after its 1914 opening. It was on its way to becoming Winchester Speedway, the "World's Fastest Half-Mile," asphalt sister track to Eldora. Bill Holder has written a detailed history of the track, ONE HUNDRED YEARS OF SPEED, published just in time for the track's centennial birthday next year.
four
---
609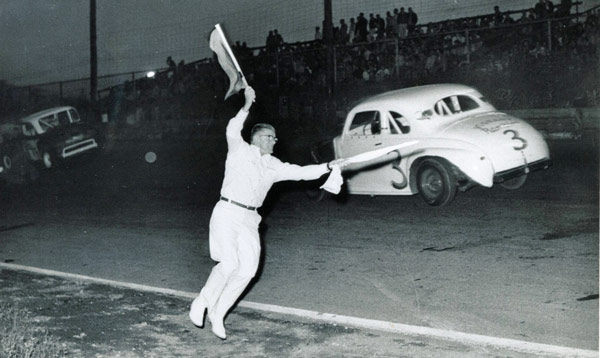 #609 - Wally "the Doctor" Faulkner played every role at Northeast speedways in the '40s, '50, and '60s – starter, promoter, concessionaire, even track "doctor." About seven o'clock one rainy evening, Wally was closing up the concession when, to his surprise, in drove a bunch of cars, trucks, and trailers. It was the folks who were going to put on the animal show that night as an added attraction to the races. Their lead guy was soon in the office sparring with The Doctor. He was of the mind that, despite the rainout, he had still brought all of his animals, his people, and equipment and he should be paid. In full. The Doctor, less than thrilled with this arrangement, shot back, "When I pay for an animal show, I get an animal show." He forced the troupe to unload in the pouring rain and to perform in front of a completely empty grandstand.
From HOT CARS COOL DRIVERS, by Lew Boyd. (Bill Balser Photo)
FOUR
---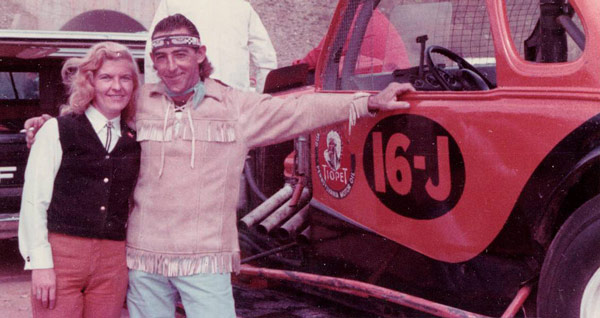 #608 - Tex Enright, shown here with his wife Sally, was a very popular and slightly naughty East Coast starter in the 1960s and '70s. He once said, "I adopted a style of my own. I stayed with the whites okay, but with the widest bell bottoms you've ever seen. Enough to make a kid today go around the corner and cry. And I hunted around for the wildest hat I could find. Three feet in diameter. I wore it for one race. I watched them coming out the fourth corner and I'm crouched down there and they're all lined up neat. I go up into the air to drop the green and I swear that hat held me up there like the Flying Nun on TV. I floated. And the cars came on. When I finally landed, in time, I tore that hat off and threw it away. Once was enough." From PAVED TRACK DIRT TRACK, by Lew Boyd. (Sophie Hertkorn Photo, Dale Snyder Collection)
four
---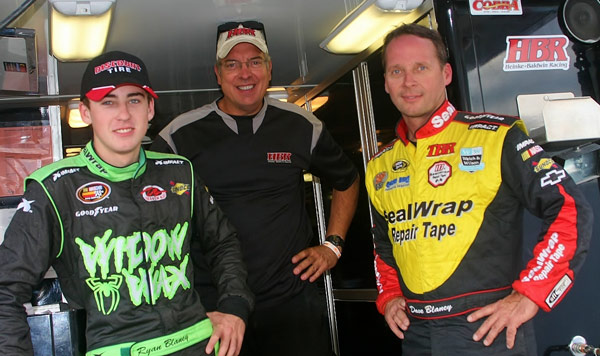 #607 - Check this out. Last Saturday night, August 11, 2012, Dave Blaney (R) and his son Ryan ran dirt modifieds at "the Land of Legends," Canandaigua Motorsports Park in NY. They wheeled Troyer Engineering house cars and are shown here with top Troyer crew guy Randy Kisacky. Now check out Photo of the Day #591 from last month. Can you believe how much Ryan has grown up in four years? And, meanwhile, Dad hasn't changed an iota. (Dave Dalesandro/MSI Photo)
four
---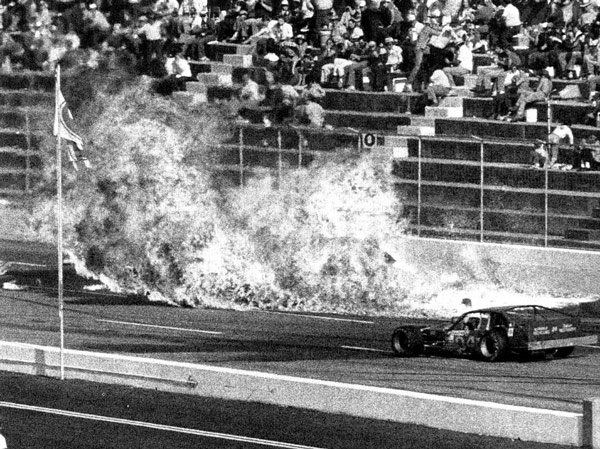 #606 - It was Martinsville, turn two, on the 166th lap of the modified race on Halloween Day, 1982. Ray Evernham's car stalled and was drilled big time by Tony Siscone, a talented racer and school teacher from New Jersey. Both cars were destroyed and both drivers were burned, particularly Siscone. He had taken of his sweat-drenched racing gloves a few laps earlier, and his hands were horribly burned. Of his recovery he said, "The hands were in horrible shape….I couldn't do anything. There were many a night I cried myself to sleep. It was really tough.". Evernham, whose wounds healed more quickly, reflected that "It's changed my outlook as far as I honestly believe now that I could die in a race car. Before, I tended to think it could happen, but never to me." Both would return to the cockpit over time. Image and quotes from DUST TO GLORY, by Morris Stephenson and Dick Thompson.
(David Allio Photo)
four
---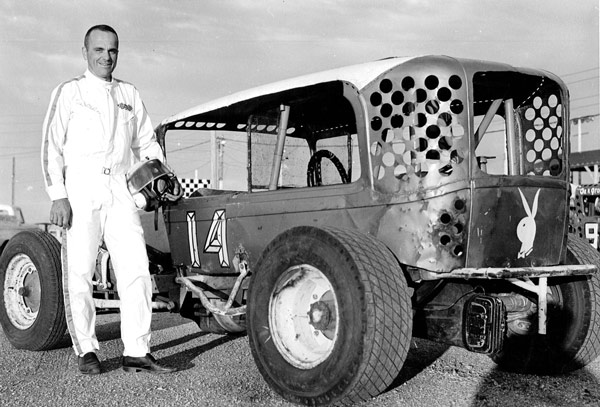 #605 - Back in 1967 Les Wilden (above) and Jim Edgington were masters of the Midwest modifieds – and great buddies. Jim was wheeling this totally cool coach that he co-owned with Ron Barton and Roger Hendrickson, but he had a hankering to run the shows at Knoxville in Daryl Ahrend's sprinter. (See Tearoff dated 11/7/11).
No problem. Les took over the reins on those nights and drove the car to the championship at Jackson, MN. Meanwhile, Jim won the title with it at Fairmont, MN. (Chad Meyer Collection)
FOUR
---
604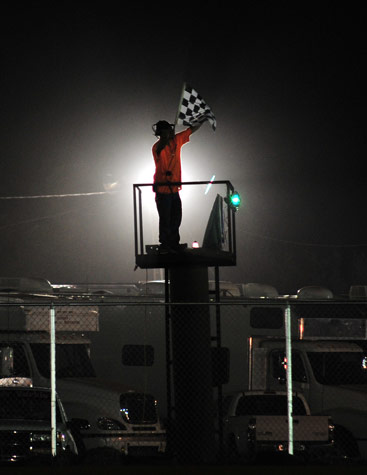 #604 - Here the checkered flies over the 13th annual REBEL YELL super late model event at Georgia's Screven Motor Speedway on July 21. Mike Marlar won it – and $5300. Too bad we couldn't hear the hootin' and hollerin'. (Craig Whyte Photo)
four
---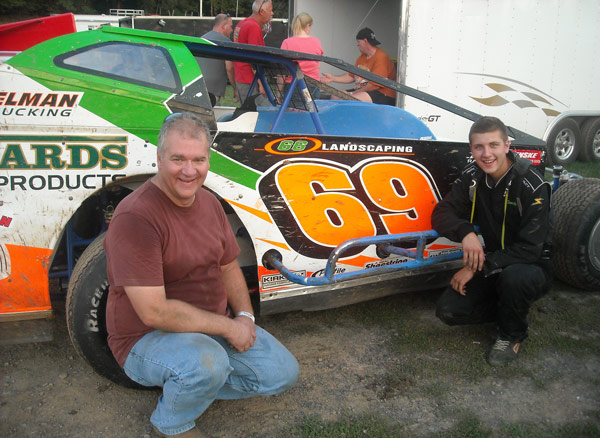 #603 - Back in the sixties and seventies, there was a pretty green coupe, #69, at seemingly every dirt track race in New York, chauffeured by popular nice-guy Bobby Green. Then in September 1982 the unthinkable happened. Bob flipped at Accord, NY, and incurred a traumatic brain injury. In the words of his son Robbie (L), "He lived for 12 more years, but he left this earth that day at Accord." Robbie carried on the green #69 legacy and he, too, earned great notoriety and popularity – and 99 career wins to date. Just last year he put his helmet on the shelf to launch his son Randy's career. Here's the family's latest car. Robbie is itchin' to get back behind the wheel himself, but it may be a while longer. You see, there's Randy's younger brother Travis, who is just about ready….. (Coastal 181 Photo)
FOUR
---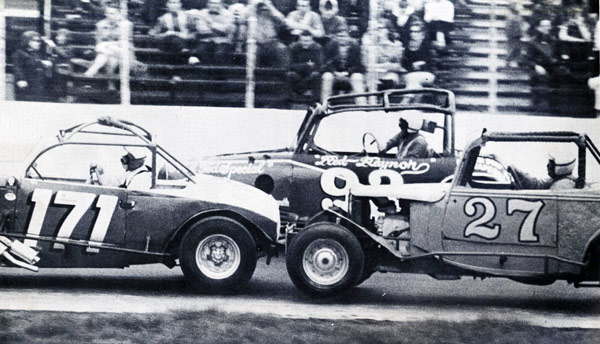 #602b - In just two weeks it will be time for the 20th annual Topless 100, a popular event at Batesville, AR. Topless shows – where presumably you can see more of the performer by unclasping the roof or the wing or whatever – are run quite frequently these days with modifieds, late models, and sprinters. The idea is hardly new, however. Somewhat less suggestively, the old Freeport Stadium on Long Island ran "open wheel modifieds" back in 1966. Here Red Raynor manhandles his #93 up the outside past Jerry Klaus in the #171 and Dave Beck in the #27 for the win. (Ed Appoldt Photo, Illustrated Speedway News, Dick Hansen Collection)
four
---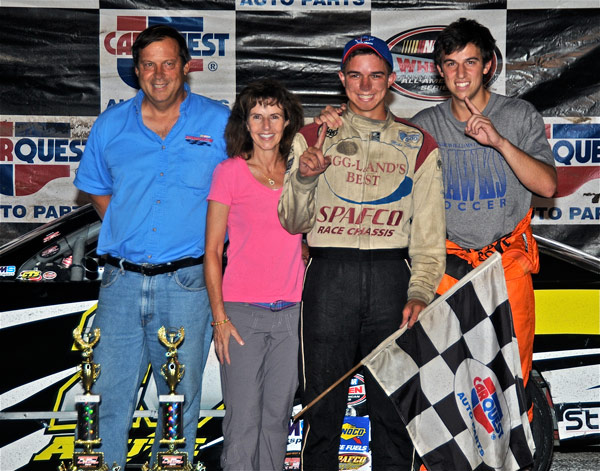 #602 - It's said that the family that races together, stays together. When Stafford Speedway owner Jack Arute passed away, his son Mark (left) and wife Lisa took over running the track. One of their sons, David, has long driven race cars, but on Friday night, August 3, he scored the biggest victory of his young life by winning the Limited Late Model feature at the family's track. Joining the victory-lane celebration was his brother Paul (right) who works on the track crew. David, who is still a student, drove a brilliant race in which he demonstrated that he could be both smooth and tough. Don't think, however, that his is a high-dollar effort. The driving suit he is wearing bears the name "Mike Stefanik." Arute bought it at a charity auction.
(Dick Berggren caption and photo)
four
---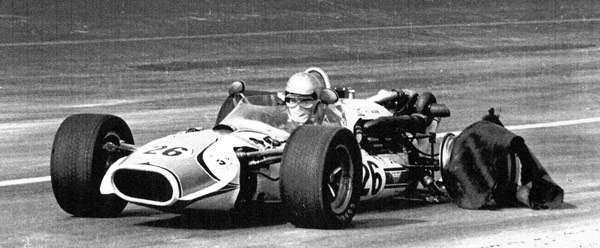 #601 - The brand new high-banked oval in Irish Hills, Michigan, opened with a 250-miler in the autumn of 1968. Jim Jorgensen's struggling team from Connecticut brought its two cars loaded with hope, but there was heartbreak on the apron. Bob Harkey, shown here, drove their Offy from 20th starting spot to 5th place with three to go. That's when the left rear let go, and he hobbled around the inside to capture whatever bit of purse money he could. He got 13th. Teammate Denny Zimmerman had problems with the Chevy, but turned in another demonstration of smooth artistry and brought it home in 11th from 25th. Author Walt Scadden details Jorgensen's career in Coastal 181's brand new book SWAMP YANKEE: The Racing Life of Jim Jorgensen. (Bob Harkey Collection)
FOUR
---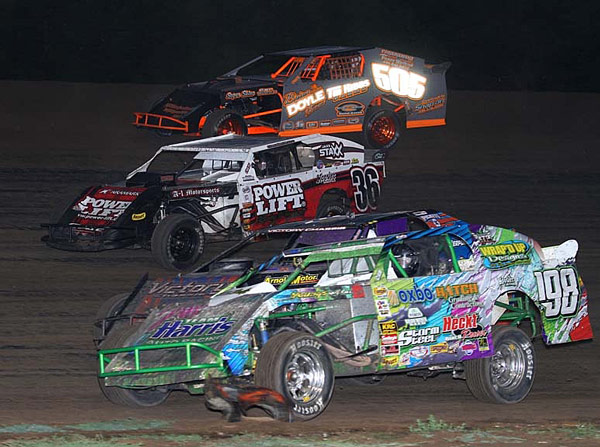 #600 - Do you think Toby Kruse has anything going on these days? New promoter at Knoxville Raceway, he's in the midst of that seriously heavy-duty August racing schedule on the legendary dirt. He's also still promoting Marshalltown (Iowa) Speedway, as he has done so successfully for eight years. Here's a shot from Marshalltown a couple of weeks back. Toby says, "That's, bottom to top, Sam Wieben #198, Scott Davis #81D, Jason Mallicoat #36, and Racer Hulin #505. The young man on the bottom just turned 14 and is amazing, like all our drivers." Seems on top of it all that Toby's still a fan! (Bruce Badgley/Motorsports Photography)
FOUR
---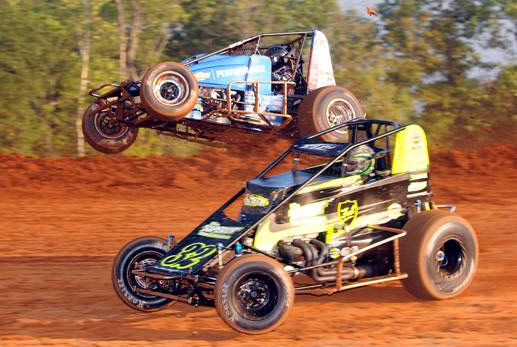 #599 - The all-surrounding, record-setting heat, a couple of rainouts, the horrid economy – everything seemed to conspire to take the wind out of this year's Indiana Sprint week. Not! All seven venues had good crowds, strong car counts, and juicy topless racing. Photographer John DaDalt says, "Here's Levi Jones getting some air time at Bloomington. Levi showed why he is a champ that week. He was in the Semi four times, yet always found his way to the front. He had six top fives in seven races. Worst finish was 8th. And he ended up with the Sprint Week Championship." Check out the look of that surface! (John DaDalt Photo)
four
---
598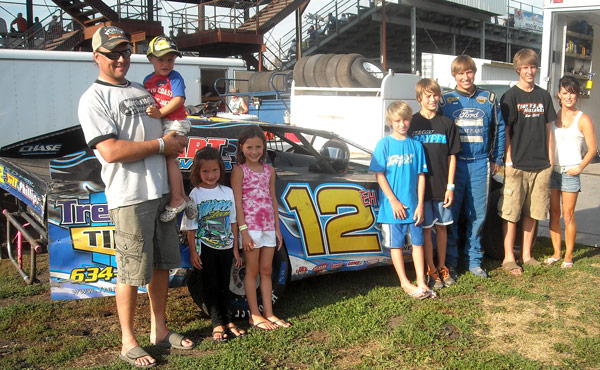 #598 - How about Trent and Trish Emmel out of Oungre, Saskatchewan, Canada, and their full-race concept of a wee family vacation?! They loaded up their modified, packed up the motorhome, and headed south with just a few people aboard. Let's see: Left to right, that's Trent with daughters Jace, Jenna, and Jayda, sons Austin, Dylan, and Riley, and Riley's buddy Isaiah Geisel. Riley, just sixteen, has become quite the racer, and the Family Emmel ran the Dakota Modified Tour, motored up into Wisconsin where Riley ran some POWRi Lucas midget events, and then wended their way down for some mod racin' in corn country. We ran into them at I-35 Speedway in Webster City, Iowa, where Riley showed smooth speed on the grand old half-mile dirt. Riley will be off to Australia and New Zealand midget racing over the winter, but when he comes back, he'll be pretty much on his own. "After all," says Trent, "I've got Dylan and Austin coming right along, and they're lookin' pretty good at our track back home." Better keep that motorhome packed, Trish. (Coastal 181 Photo)
FOUR
---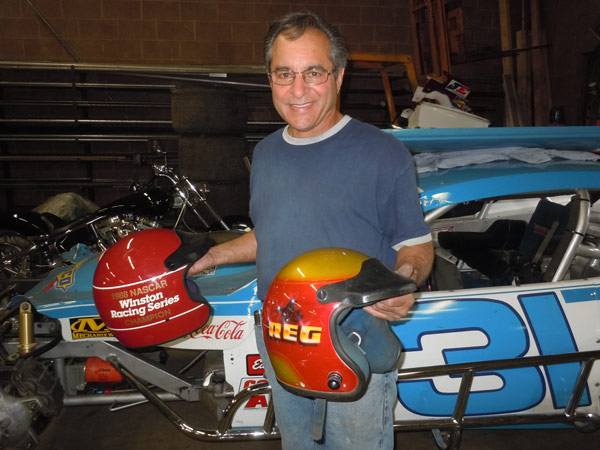 #597 - Called the greatest modified driver never to win a NASCAR Tour championship, Reggie Ruggiero was runner-up seven times. Now concentrating with Ed Flemke Jr. on their Race Works Chassis business in Berlin, CT, he is also turning his attention to the rapidly evolving North East Motor Sports Museum. He's shown here with some of the neat items he's donating to the organization for display. And he warns that the next time the Museum guys come calling, they'd better bring a truck.
(Dick Berggren Photo)
FOUR
---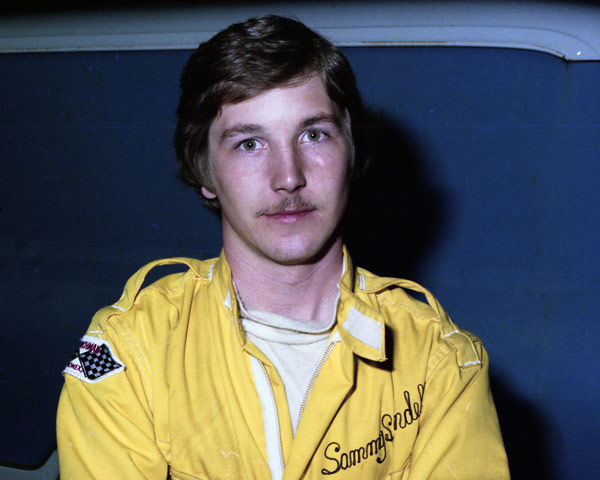 #596 - A guy could get used to it. In 1971, 15-year-old Sammy Swindell won 11 features at Riverside Speedway in Arkansas. Two weeks ago Sammy, shown here at Golden Gate's Florida 500 in 1977, swept his third King's Royal crown at Eldora, hauling home yet another $50,000. And last week his son Kevin led every lap on his way to victory in the ARCA 100-lapper at Chicagoland Speedway.
(Photo by Gene Marderness)
four
---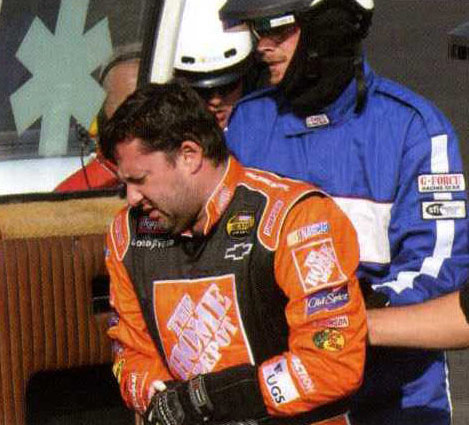 #595 - Ouch! Tony Stewart was red hot in 2006. Starting the Coca Cola 600 at Charlotte on May 28, he was running second in points. It was all good until he popped a tire and slapped the wall, breaking his shoulder and leaving the race. At Dover the following week, Smoke fought the good fight but after 37 laps handed the car over to Ricky Rudd, who finished the race for him. Just a week after that, Smoke endured the whole race at Pocono and took third. (From NASCAR: The Complete History, by Greg Fielden, Bryan Hallman, and Auto Editors of Consumer Guide.)
four
---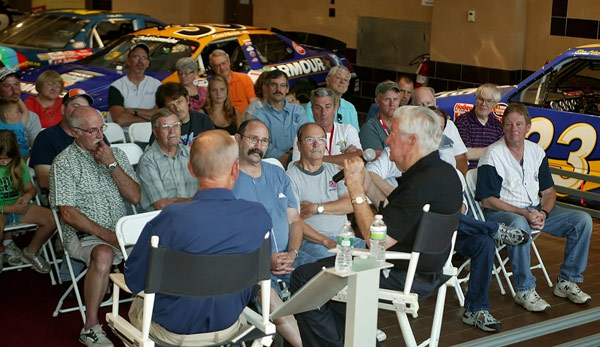 #594 - Remember that Photo of the Day yesterday of Bobby Allison in Victory Lane at Daytona in 1978? Well, he's still one busy guy today. Here he is earlier this month at Saratoga (NY) Auto Museum's "Moonshine to Millionaires" exhibition, choreographed by Ron Hedger (L). Betcha Bobby's telling those guys about the trophy girls!
four
---
SI_3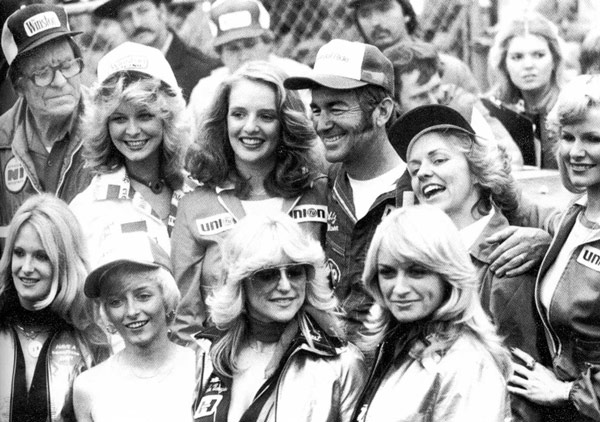 #593 - After a 67-race drought, Bobby Allison, just then in Bud Moore's machine, romped from the back to the front the 1978 Daytona 500. Bobby said, "I'm so tickled I can't see straight." Hmmmm. Photo and Quote from NASCAR – The Complete History, by Greg Fielden and the Auto Editors of Consumer Guide.
four
---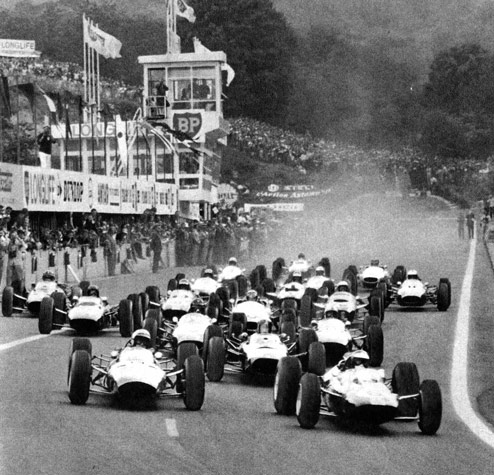 #593 - Scary togetherness! Sixty-four tires were edgily bunched as Jimmy Clark in his Lotus Climax brought the field down for the start of the 1965 French Grand Prix. The event was held in the Auvergne Mountains and was watched by 250,000. Forty laps later Clark would take it, followed by Jackie Stewart in a BRM and John Surtees' Ferrari. From RACING CARS, by Richard Hough. (British Petroleum Co., Ltd. Photo)
four
---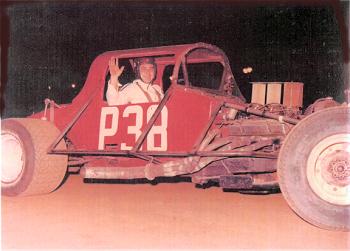 #592 - Some of the "cutdowns" in the 1960s in the Pine Tree State of Maine were truly remarkable. They were fashioned far more by ingenuity than with engineered parts. One of the most remarkable was the P-38, owned by Bob Bushley Sr. and wheeled by the incomparable Homer Drew. It was as if they could overcome any issue and still win. One night Homer was towed in from feature action because the steering wheel dislodged. That was hardly a problem. Bushley snapped on a pair of vice grips, and Homer went back to work. They won. (Photo from Maine Vintage Race Car Association Collection - mainevintageracecars.com)
four
---
591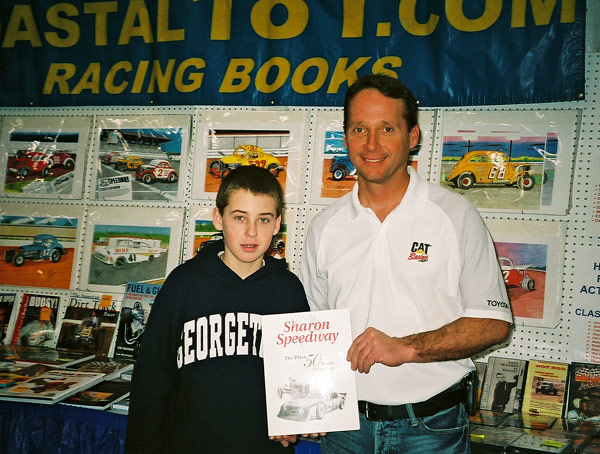 #591 - It seems like yesterday when, in 2008, way cool WoO Champion and Sprint Cup regular Dave Blaney and his 14-year-old son Ryan stopped by the Coastal 181 booth at Lenny Sammons' AARN Motorsports Expo. Quiet like his Dad, Ryan told us in an understated way about his racing adventures to date in the development division cars. Somehow, there just seemed to be something special about him. Trust that intuition! Last weekend Penske Racing announced that Ryan would be wheeling the Penske #22 Nationwide car for selected events the rest of the season. First start – Iowa Speedway, August 4. Good luck, Ryan! (Coastal 181 Photo)

FOUR
---
#590 - Brad Edwards does neat things. For work, he produces top-notch Indy 500 DVDs. (For a few of them look HERE) Weekends are a melding of work and play. Here he is at a vintage meet at Auto Club Speedway put on by the Historic Champ/Indy Car Association and our friends at Vintage Oval magazine. Brad is wheeling a Lola T90 powered by a supercharged Offy. It's the car Rodger Ward drove in his last race at Indy, finishing 15th in the 1966 500. (John Darlington Photo, Courtesy First Turn Productions)
four
---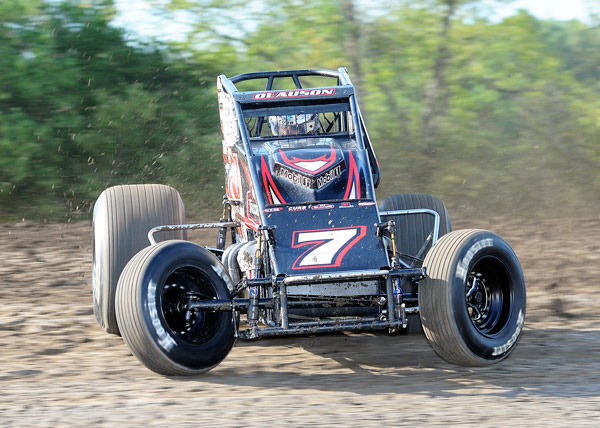 #589 - One of the most prolific drivers in the country, Bryan Clauson is spectacular whether at Indy or Daytona. But, as John DaDalt shows us, Clauson is just plain over the top when he comes home for Indiana Speed Week. Last Friday night he meandered into Gas City for the opener, and he won. (John DaDalt Photography)
four
---
#588 - A grand moment for a grand man. That's Boston Louie Seymour activating his Donahue Chevrolet #29 on October 2, 1976. Billy Casella was about to pilot the jet-black rocket to the USAC National Silver Crown Championship. On September 29, 2012, the Seekonk 200 featuring the Boston Louie Memorial Classic will be held at Seekonk (MA) Speedway. It will star open-wheeled ISMA supers and NEMA midgets competing for the Coastal 181 Cup. (Dick Berggren Photo)
four
---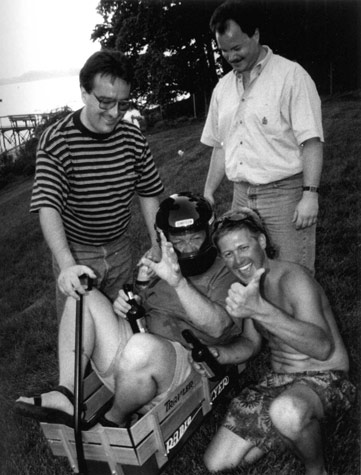 #587 - Those dudes Bill Simpson and Bones Bourcier are at it again! Here's a photo and a caption from their new book Through the Fire, a sequel to Racing Safely, Living Dangerously: "Crash-test dummy! This was supposed to be just a posed shot during a party at my home on Lake Norman in North Carolina. Seconds later, my pals Sparky Lyon (kneeling) and Bones Bourcier (striped shirt) launched me down the hill, toward the lake at a seriously high speed. I hit the sea wall and stopped violently, but at least I didn't get wet!"
four
---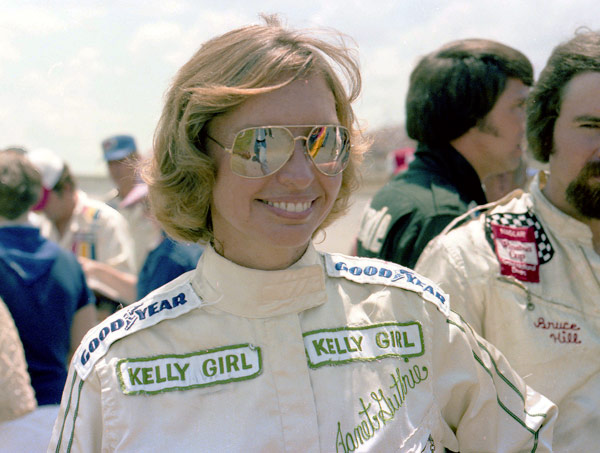 #586 - Gene Marderness just sent us this photo he took of Janet Guthrie back in 1977. We thought immediately of the very touching column our friend Dave Argabright penned about her in the June issue of Ralph Sheheen's new Speed Sport Magazine. Here's some of what Dave had to say: "… at a book signing in Indianapolis I discovered her to be an impeccably gracious and humble person, articulate and intelligent. Yet it was easy to see, right below the surface, the fiery competitiveness that led her to sports immortality. Women involved in motorsports should pause for a moment to reflect upon that historic May all those years ago [Indy 1977] when Janet Guthrie opened the door that first grudging inch. But everyone – regardless of gender – owes something to that shy, gracious lady because she helped us understand what dreams are made of and why everyone has a right to pursue them." (Gene Marderness Photo)
four
---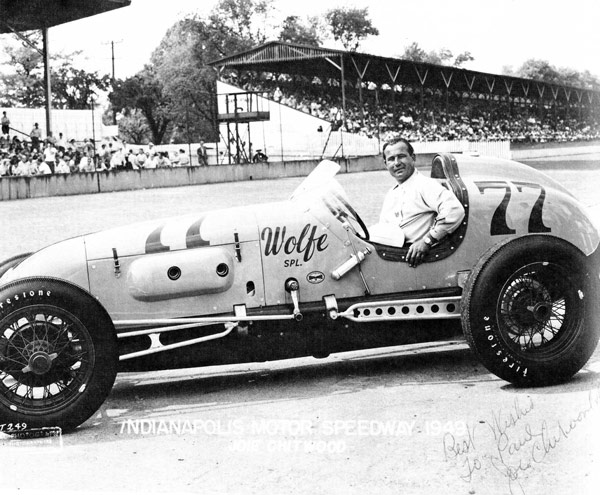 #585 - An American Indian from Texas, Joie Chitwood was the first competitor to use a seat belt at Indy. But it wasn't for safety. In fact, Chitwood was warned sternly by Lou Meyer and Wilbur Shaw of the dangers of such a device, which could cause him to be trapped in the cockpit. Chitwood had devised the belt to hold him into the thunderously bouncy "Blue Crown Spark Plug Special" in 1941. After the War, however, Chitwood's innovation was better received. Certainly the aerial deaths of heroes such as Duke Dinsmore and Ted Horn were factors. But the tipping point seemed to come when legendary Rex Mays was killed after being ejected and run over at Del Mar, CA, in 1949. In Jack Albinson's words, "Seat belts were mounted for the vast majority overnight," but not officially required until 1955. From THE OILY GRAIL: A Story of the Indy 500, by Jack Albinson.
four
---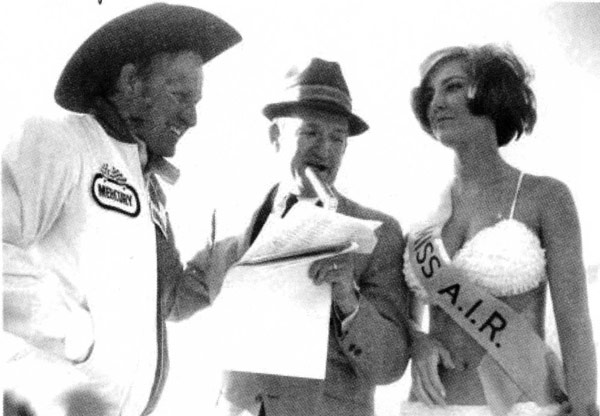 #584 - Smilin' Jimmy Mosteller died last Wednesday. He was known as the world's greatest cigar salesman, who sold enough stogies that end to end they would reach the moon and return several times over. He was also known as the "Mouth of the South" whose 60 years behind the mike led many to consider him the greatest announcer ever. He's shown here with a victorious Cale Yarborough and Miss Atlanta International Raceway after the Atlanta 500 in 1967. Sam Colvin remarked, "Mosteller has always been a super announcer, but he has been known to get a little reckless with the truth sometimes. He used to say, 'if you can't convince them, confuse them.'" Quote and photo from THE LAST LAP: JIMMY MOSTELLER – 60 Years of Precious Memories, by Gerald Hodges.

four
---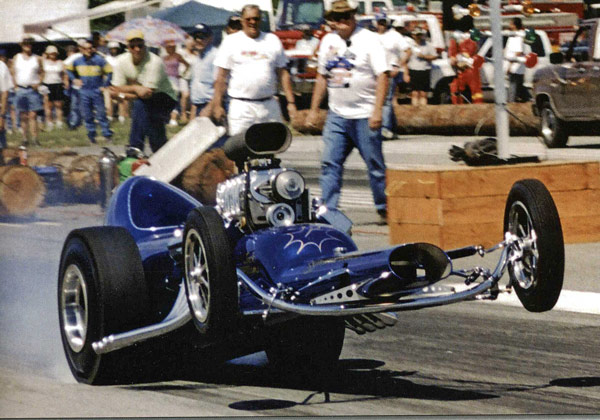 #583 - Jack Williams and his Canadian team, the "Syndicate Scuderia," showed up at the 1963 Winternationals in Pomona with this pretty Top Fuel Hemi. He ran the car until 1969 and then hung it, engine and all, from the rafters of his Vancouver shop. Then, for some reason, he took 'er down and showed up at the Nostalgia Nationals at Fremont, CA in 1986. It was a beautiful run until the chute didn't open. The car was wrapped around a tree, and Jack was wrapped up in the crash house. All wounds were eventually healed, however, and in this shot the wheels are aloft again. Jack showed up at the Sechelt Airport strip in 2001 on his 70th birthday. From LOST HOT RODS Remarkable Stories of How They Were Found, by Pat Ganahl.
(Jack Williams Collection)
four
---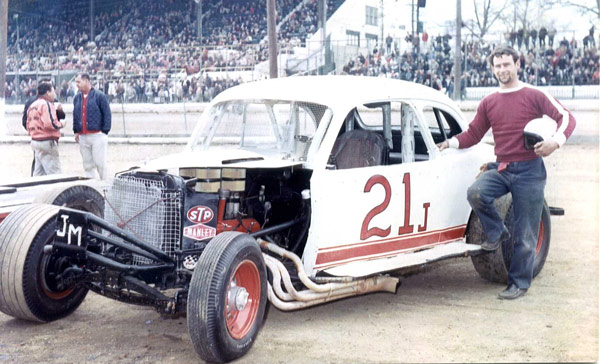 #582 # It looks so long ago – and it was. Jerry Morgan stood proudly before another humongous crowd at the Reading (PA) Fairgrounds with his injected coupe way back in 1967. Some things never change, though, and one of them is Jerry. Today he is in his shop down in St. Augustine, FL, where he does racing setups and all manner of motorsports restorations. He's getting pretty fidgety, though, waiting for his new heads so he can get back on the track with his UMP modified.
(Jerry Morgan Collection)
FOUR
---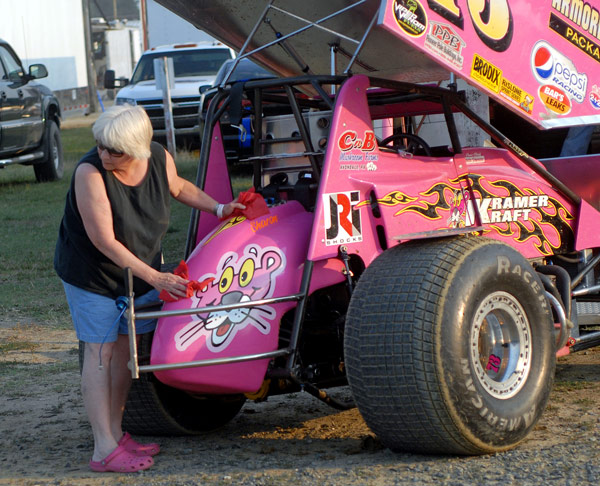 #581 - You'd have to go a lot of laps to find a more meaningful sprint car image than this one from Frank Simek. That's Sharon Williamson, coordinated down to the color of her clogs and wiping cloths, polishing the Panther. Once again this season, as with decades of summers past, her husband Kramer is right up there against the cushions of the East Coast. (Photo by "the Guy with the Hat")
FOUR
---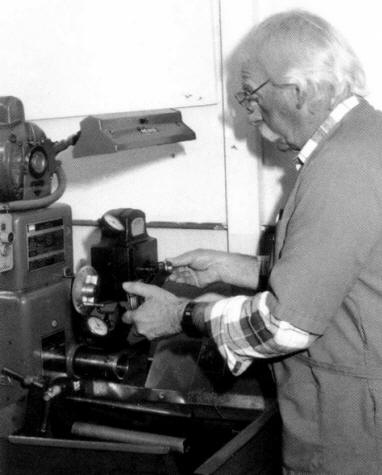 #580 - Think what this guy has done in oval track and road racing. And that's just the recent part. In Ed "the Old Master" Pink's words, "I am a product of postwar dry lakes racing….the guys introduced me to Vic Edelbrock Sr., and that's when my education began in earnest….By the late '60s to early '70s, my business was a combination of completed engines and custom machine work. The car magazines were making a big deal out of the Keith Black and Ed Pink (top fuel rivalry) deal…Then, another change seriously affected the business. The crew chiefs on various teams, with the new all-aluminum blocks and replacement sleeves, began rebuilding their engines between rounds. They didn't need me….In 1980 when Ed "the Ace" McCulloch won the NHRA Nationals in a Super Shops Funny Car, that was the swan song in drag racing….I made the transition from drag racing to track racing." Quote and Photo from FUEL AND GUTS – The Birth of Top Fuel Drag Racing, by Tom Madigan.
(Tom Madigan Photo)
FOUR
---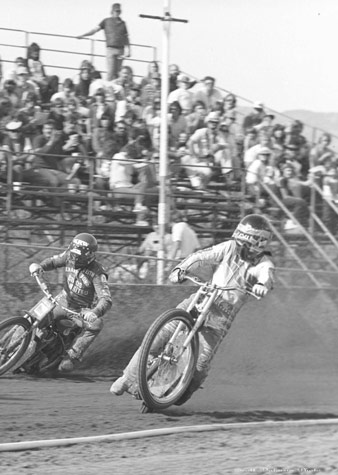 #579 - Scott Daloisio, the announcer of rigorous sprint car action at California's Perris Speedway, sent in this cool shot of speedway bikes and writes "To this day, 'The Miracle Worker', Shawn Moran, is the only American to have ever won the World Long Track championship. Amazingly, the diminutive Southern California racer won the prestigious title while riding with a broken leg in Czechoslovakia in 1983! A couple years earlier, he became on the second American to win the World Under 21 Speedway championship in a race that was also staged in Czechoslovakia. In this 1982 shot from San Bernardino's Inland Motorcycle Speedway, Moran is doing a wheelie while going sideways as he passes Keith 'Snakeman' Larsen." You can find more of Scott's photos on speedwaymotorcyclephotos.com. He should do a book!
(Photo by Scott Daloisio)
FOUR
---

#578 - You have to wonder how many Richie Evans replicas and restorations there are out there in vintage events around the country. Or, really, the continent. Our esteemed webmaster, Norm Marx, was way up at Autodrome Chaudière in Quebec, Canada, last weekend and caught this shot of a "Richie mod racing a shiny black '66 Chevelle, an authentically worn Chevelle, and a '65 Corvair. They were the Vintage Sportsman, a support group for the PASS Super Late Models. There were about 17 competitors, and they were racing HARD too." (Norm Marx Photo)
FOUR
---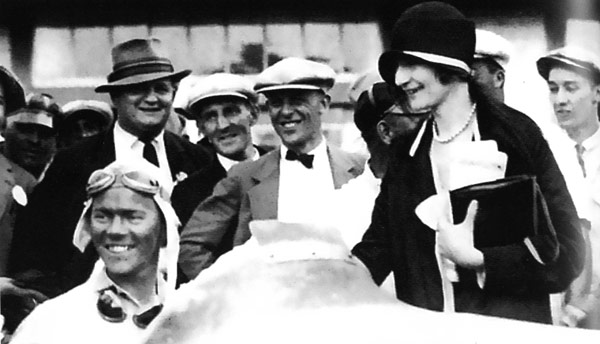 #577 - The way they were. That's Frank and Ella Lockhart after Frank's win at Indy in 1926. he was driving a Miller built for Peter Kreis, who took ill with pneumonia. Lockhart took over and was leading by two laps when the rain came at the 400th mile. Two years later the dashing driver would die on the sands of Daytona when a tire blew in a land-speed record attempt. From Frank Lockhart: American Speed King, by Sarah Morgan-Wu and James O'Keefe. (Abilene Reporter Photo)
FOUR
---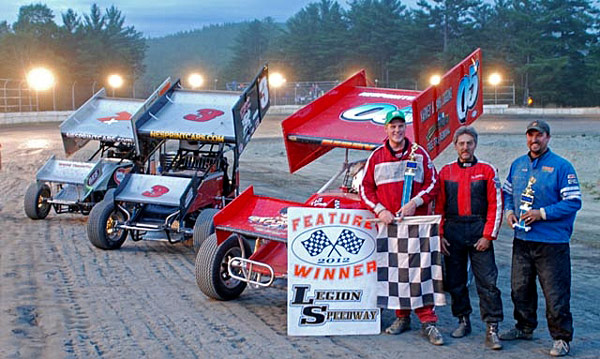 #576 - It's a pretty much a secret – and has been so for decades. As if to make it even less visible, the quarter-mile dirt oval in central New Hampshire has had a bunch of names: "The Pines Speedway," "Norway Pines," "Rumney," and, most recently "Legion Speedway." For years and years beyond their natural lifetimes, the track ran old coupes and coaches, often castoffs from more prominent facilities. Recently Legion fell onto particularly hard times, but the struggle may be over. As has been happening so often lately (see 4-18-12 TEAROFF HERE), a racing lifer, Si "Farmer" Allen from Vermont, has purchased it and injected a silo full of energy. This shot is from last Sunday night, when the flashy Sprint Cars of New England (SCoNE) came into town. Left to right are winner Shawn Berry and podium partners Jim Lowry and Danny Douville. The crowd was the biggest in memory, and the fans love all the new action. Go for it, Si! (Wally Morton Photo)
four
---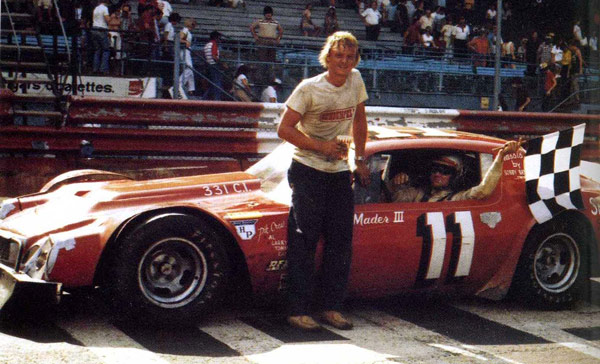 #575 - It was a Sunday afternoon in 1978 at Birmingham International Raceway. That's local racer David Mader III who just won the feature, joined by his mechanic, a young Larry McReynolds. McReynolds had been working on race cars for four years, and it was Mader who brought him his first victory. McReynolds has many achievements behind him these days and a decidedly more tony look behind the TV cameras. From LARRY MCREYNOLDS; The Big Picture, by Larry McReynolds with Bob Zeller.
(Larry McReynolds Collection)
FOUR
---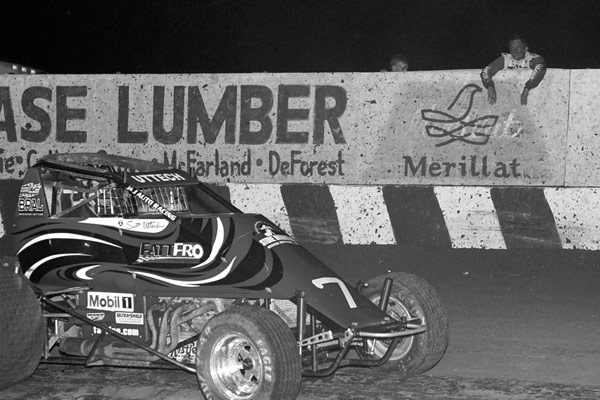 #574 - Beware the wrath of "Do it" Hewitt! "During a USAC sprint race at Angell Park Speedway in Sun Prairie, Wisconsin, on July 7, 2002, Jack Hewitt flipped and flew over the billboard and out into the pit area. After a few breathless moments, he reappeared at the top of the sign to yell at the 'dumb ass' who sent him flying". From WIN IT OR WEAR IT – All Time Great Sprint Car Tales, by Joyce Standridge.
(Kevin Horcher Photo)
four
---

#573 It's amazing how quickly word can spread through the racing community when someone comes up with the hot set-up. And that's nothing new. Back in 1948, California was in the forefront of early track racing, and Andy Granatelli was paying attention. When he decided to go on the roadster circuit around Chicago, he made a deal for a car with Don Blair of Blair's Speed Shop in Pasadena. In this image Don stands next to the tow vehicle, about to hop aboard for the long trip East.
From HOT RODS IN THE FORTIES: A Blast from the Past, by Don Montgomery.
(Tim Timmerman Collection)
four
---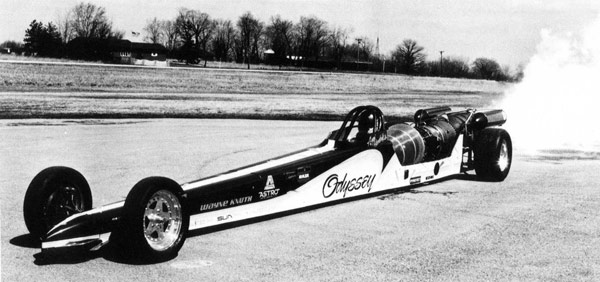 #572 - Her car was called "Odyssey" – and how appropriate was that! Aggi Hendriks was running a plant store in British Columbia when she heard the call of the strip. She toured North America for nearly 20 years as the first woman to acquire a jet car license. "Odyssey" was a 27 ft.-long, 1275-pound dragster powered by a 4500 HP General Electric J85 engine. She was in the 300 MPH range in five seconds. In 2002, Aggi retired to Oregon, just as abruptly as she had arrived on the scene. "Racing was a large detour in my life. My life was on hold for many years…but I enjoyed it." Photo and quote from DRAG RACING: The World's Fastest Sport, by Timothy Miller.
FOUR
---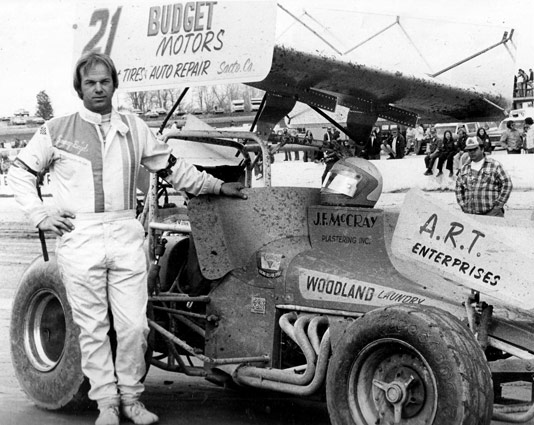 #571 - 2 Woodland, California's Jimmy Boyd had a seriously strong 25-year career in open wheelers. Married to Jay Opperman's widow, Jimmy became a multi-time NARC champion. He also raced nationwide, even spending four seasons in Pennsylvania. Probably his most noteworthy win, though, came the day of this photo, March 18, 1978. It was at Devil's Bowl in Mesquite, TX, the inaugural event of the World of Outlaws. Jimmy smoked 'em, taking home $2000 for what would turn out to be his sole Outlaw triumph. Seven years later he hung it up, saying things had changed, and "I felt worse when I didn't win than happy when I did." From WIN IT OR WEAR IT: All time Great Sprint Car Tales, by Joyce Standridge. (Photo, Brian Eaves Collection)
four
---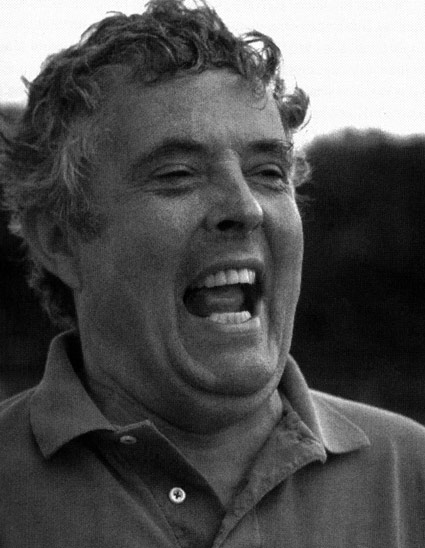 #570 - "Stories abound of Brian Redman's seemingly prescient ability to avoid trouble in circumstances that had others crashing left and right. …at the infamously fast Spa, for instance, he once came up to a blind turn and – for some reason – backed off early, It was just early enough to avoid the wreckage from another driver's accident. The clue? He hadn't seen any yellow flags, he told journalist Denis Jenkinson. But he had noticed, subliminally, something different about the spectators. On every previous lap, their faces were turned to him. This time he was seeing the backs of heads." From FAST LINES – Memorable Moments in Motorsports, by Pete Lyons. (Pete Lyons Photo)
FOUR
---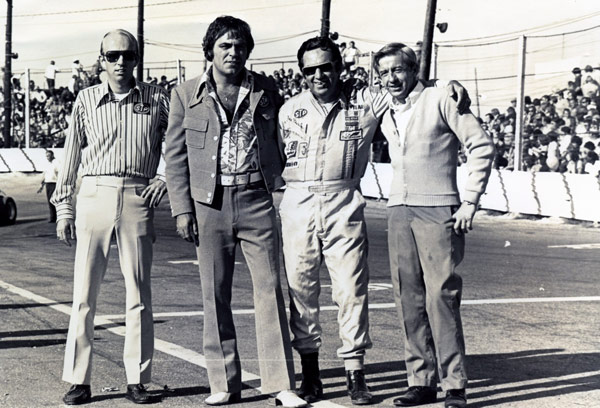 #569 - We have done some research on this photo, and it was actually a race and not a fashion show. It was taken back in 1974 at Islip (NY) Speedway, a kind of reunion of the three original "Eastern Bandits": Denny Zimmerman (L), Dick Corbeil (their sometime "business development guy"), Rene Charland, and Eddie Flemke. The intervening years brought mixed fates to the traveling trio. Eddie, "Modified Racing's Fastest Professor," passed away ten years later. Slowly moving out of the cockpit, Rene was seen at race tracks far and wide before being knocked back with various physical issues. He now resides quietly at the Wilkerson Residential Health Center in Amsterdam, NY. That day at Islip Denny drove an ex-Art Barry car that had been wrecked and rebuilt by Eddie Flemke Jr., and he had not raced again until recently. Comfortably in his seventies, Denny runs a USAC midget at Bear Ridge Speedway in Vermont. And here's what Denny says about Eddie Jr.: "So 35 years later, Ed Flemke Jr is still building race cars and 35 years later he is an experienced, smart, and successful race car driver, but, even more important, I would rate him as one of the all-time best craftsmen and fabricator of race cars. He is in the same league as Watson, Gurney, Brabham, Kurtis, and the other greats." Pretty cool.
(Coastal 181 Collection)
FOUR
---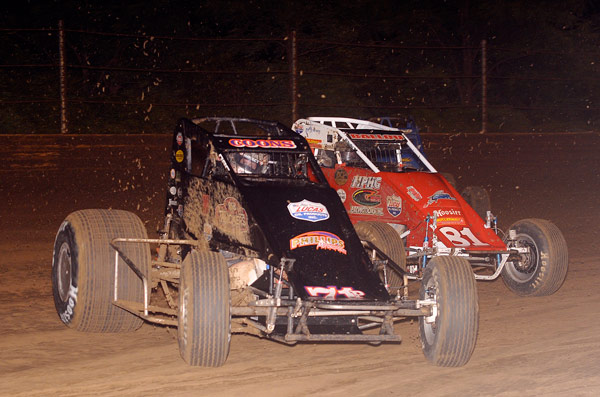 #568 - USAC's Eastern Storm Sprint Car Series sure brought some breezy moments this month to Grandview, Big Diamond, and Port Royal Speedways in Pennsylvania. The wingless road warriors also ventured over to New Egypt, New Jersey. John Dadalt, who caught this cool shot there, says, "Robert Ballou is sliding between Jerry Coons and Dave Darland. Coon's car is a little soft in this pic, but I think it says a lot about USAC. Dirt flying and sideways. You can barely see Darland lurking in the back. At New Egypt and Port Royal the breaks went against him, but otherwise he easily could have won both. He's still the People's Champ."
(John Dadalt Photograph)
four
---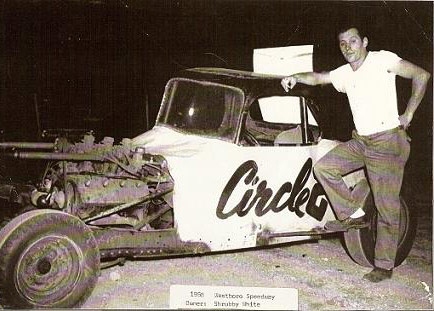 #567 - Sometimes the Photo of the Day just plain breeds feedback and stories. Case in point – that #564 photo of the Circle Two cutdown. Tommy Garganigo, himself an uncommonly colorful New England racer, points out that back in 1958 there were two Circle Twos. "I was about 15 back then and I worked on them for "Shrubby" White, the owner. Fats Caruso was driving the old one (photo above) at Westboro and Norwood here in Massachusetts and Leo Cleary jumped in the new one when it was done. Leo beat Fats in the heat, and Fats was perturbed. He demanded the old car back. He got it – and won the feature. The next week Fats was in the oldie again and went nowhere in the heat. He came in fuming again, demanding major changes. Shrubby just said, 'Fats, go have a couple of beers and we'll take care of it.' It was like that back then. Off went Fats and Shrubby asked me to clean the windshield and check the lugs while he checked the oil. When Fats came back, Shrubby said everything was fixed, and Fats went out and won the feature. Fats was pumped afterwards and asked Shrubby what he had done to the car. Shrubby said, 'Ask Tommy.' Gosh, I was just a kid. I was out of there! This was a mind game. If I'd told Fats we had done nothing, he would have chased me all over New England!" (Caruso Family Collection)
four
---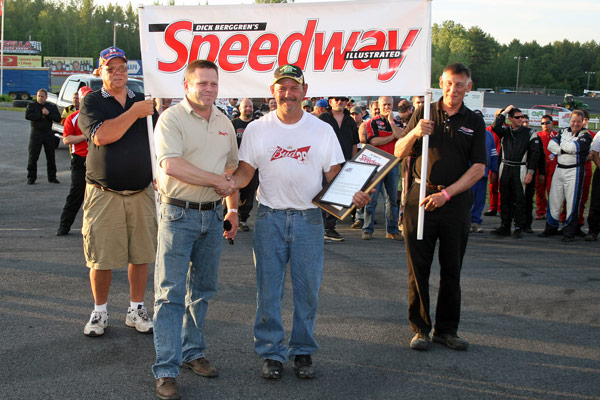 #566 - Kenny Schrader doesn't even have to be there to cause commotion. Last Saturday night Speedway Illustrated's Karl Fredrickson was up at Airborne Park Speedway in Plattsburgh, NY, right near the Canadian border. Karl was there to present the Schrader/Speedway Illustrated "Real Racer of the Year" award to a surprise recipient, Bucko Branham. Problem is the presentation came just after Bucko's feature, and he had gotten spun out of the lead with two to go. Bucko's nemesis, Jamy Befor, won the show and was still in victory lane when Bucko came out of the pits to receive his laurels. The place was rockin', the fans hollering and waving fingers. In the end everything calmed down – and all the track's 106 drivers came out to shake Bucko's hand. So did Karl Fredrickson, as shown here.
(Speedway Illustrated Photo)
four
---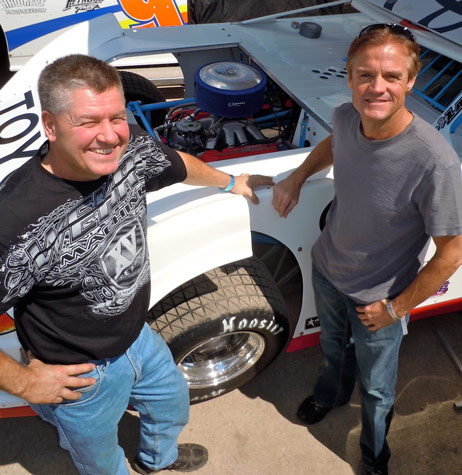 #565 - If Kenny Wallace (right) has his way, you'll soon have the opportunity to run a Toyota-branded engine in local-level and regional touring series dirt track racing. Wallace, who will compete in more than 50 dirt track races this year, tried the engine in a Rocket chassis owned by Chub Frank (left) at the 2012 Prelude to the Dream last Wednesday. It was the first time a Toyota power plant was in a dirt late model. The race was crash-filled and Wallace stayed out of trouble, finishing 12th. Although the engine has many features identical to those in NASCAR Sprint Cup racing, this one was opened up to 410 CID where the limit in Cup is 358 CID. Cup engines are all dry sump and this one is wet sump. Wallace praised Frank's fitting of the engine to the chassis. "He's not just a great driver, he's an excellent fabricator," Wallace said of Frank. The one-of-a-kind headers were made by Schoenfeld, which has intimate knowledge of the chassis so there was no need to bring the car to the manufacturer to build the exhaust. Wallace says the Toyota is only available in steel block format, while Chevys and Fords are available for dirt late models in aluminum. The difference is 75 pounds over the front wheels. Wallace anticipates running the Toyota engine in all of his remaining 2012 dirt modified races. When we took this photo, he had run 23 times on the dirt in 2012 and won seven, a fabulous record of around 1/3 of his starts resulting in wins. (Photo and Caption by Dick Berggren)
FOUR
---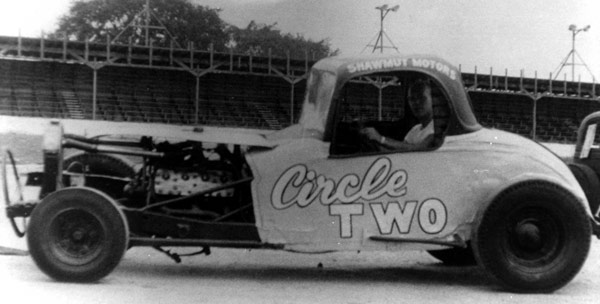 #564 - It was the end of an era. In the very late 1950s, just as the "cutdowns" were about to go the way of overhead engines and rail chassis, there was a series of Canadian-American Challenge races. This shot shows Red Sequin up at Toronto's Pinecrest Speedway. Sequin was wheeling one of the last of the cutdowns, the famous and colorful #Circle Two out of Worcester, MA, also driven by Fats Caruso. Sequin was red hot and on a winning streak when he met his Maker at Oswego, NY, in August of 1961. He was after a $500 extra bounty for anyone who could beat Nolan Swift, but he was caught up in a wreck and died several hours later.
(R.A. Silvia Collection)
four
---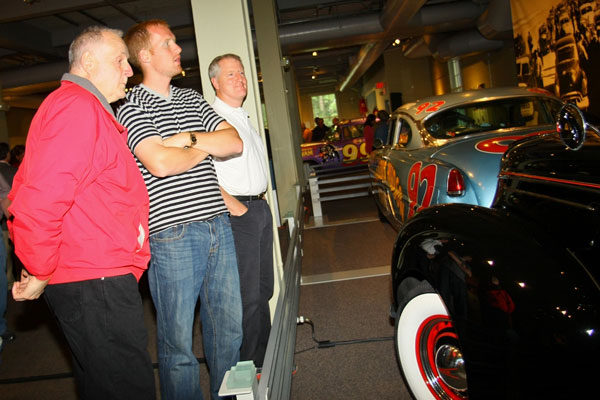 #563 - Like much of last weekend's activities in New York, the races at Lebanon Valley rained out. So, the Tremont Family of racing, one of the Northeast's all-time most successful teams, cruised over to the Saratoga Auto Museum to check out the very compelling 'Moonshine to Millionaires' exhibit. That's the family patriarch on the left, Ken Tremont Sr., affectionately known as "Abe." He's been building and fielding rocket race cars since the fifties. Next to him is grandson Kale and then Kenny Jr., the "Sand Lake Slingshot," likely the most successful of all the great drivers to suit up for the Tremont car. Dave Dalesandro, who took the photograph wonders, "Do you think Abe built any of those moonshine motors?" (Dave Dalesandro Photo)
four
---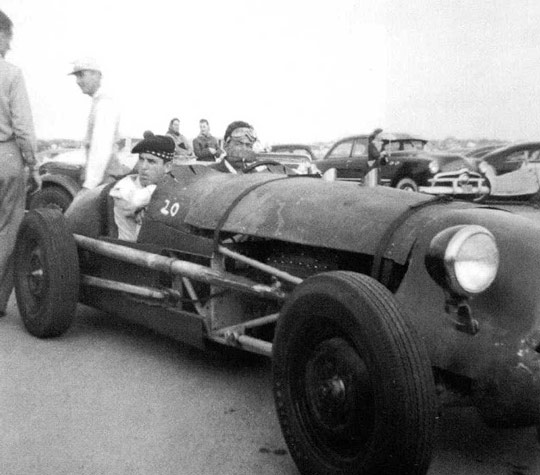 #562 - It is remarkable to contemplate the accomplishments of American racer Carroll Shelby, who passed away at 89 last month. Take a peek at this piece he raced in 1952. The tube- framed, flathead-powered SCCA car, named "the Monster," won him his very first race out at Grand Prairie, Texas. Think how it compared with his fleet of Cobras just years later. From Carroll Shelby: The Authorized Biography, by
Rinsey Mills
FOUR
---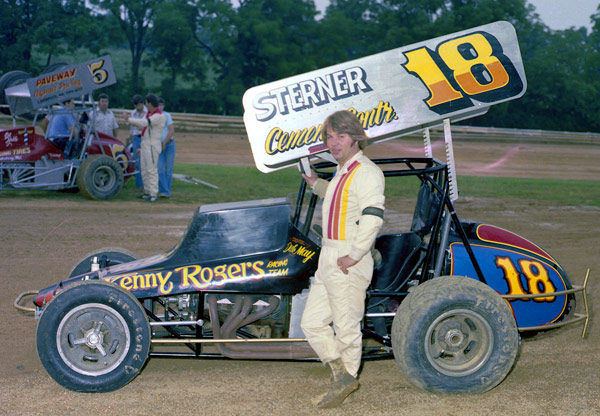 #561 - Right about the time the World of Outlaws got started, entertainment promoter CK Spurlock, who worked with superstars such as Loretta Lynn and Kenny Rogers, started the Gambler sprint car company. Danny Smith called it the "Wal-Mart of car racing." This pretty sight is Dub May at Lincoln (PA) Speedway back in 1979. It is said that this was the very first Gambler. (Gene Marderness Photo)
FOUR
---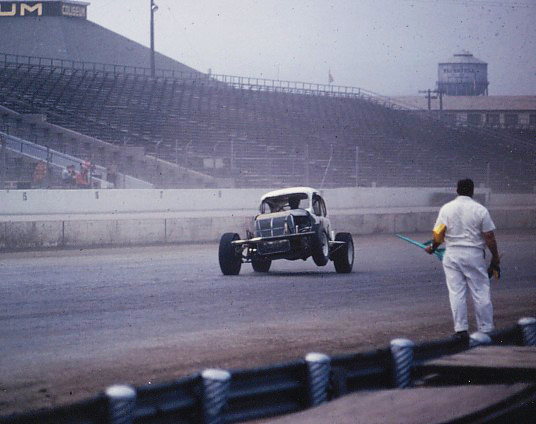 #560 - This is Miles "Mouse" Melius, perhaps the greatest driver of that wonderful '60s era of Milwaukee modifieds. Mouse is archin' by starter Duane Sweeney, who would later throw the flags at Indy. John Surges, who sent us the image, says, "This was taken in 1962 at the 1/4 mile dirt track that was located inside the Milwaukee Mile until 1966, when it was eliminated. That was the car that almost ended the Mouse's career. The throttle jammed during qualifying as he was traveling at an estimated speed of 85mph. He hit the wall head on and flipped so high in the air that he cleared a road grader that was sitting outside the track. He climbed out of the car with a broken wrist, fractured cheekbone and several loosened teeth. Came back later that night to sign autographs! He was sidelined for most of that summer but returned late in the year." (Tom Trettin Photo)
four
---
559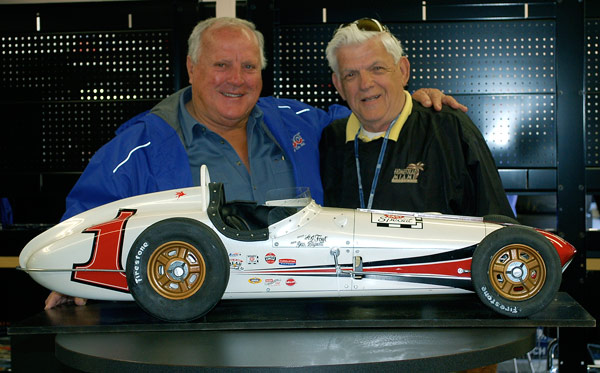 #559 - Connecticut's Al Novotnik (R) is one talented guy. A couple years back he built a dazzling model of Foyt's 1964 Indy ride and took it to Indy as a gift to roadster owner Bud Taylor. Trouble is, AJ got a glimpse of it. "That sure would look good behind my desk," he mused. "But I made it for Bud Taylor," responded Novotnik. AJ barked, "But you are in MY garage…." "Okay, okay," said Al. "I'll make you one." Here's Al the following year presenting Super-sized Tex with a meticulously crafted quarter-sized model of his 1961 entry. (Photo by Anne Fornoro)
FOUR
---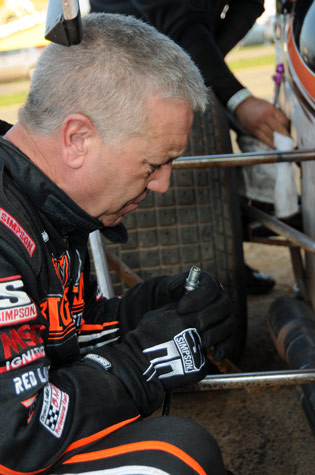 #558 - On Friday night, May 25, 2012, 56-year-old Sammy Swindell was doing something he'd been doing for the past 40 years: working on his sprint car in an effort to win another feature event on a dirt track. His lengthy record is quite amazing (276 career World of Outlaw wins, three World of Outlaw championships, and victory in virtually every major sprint car race that matters). As amazing is that on the night this photo was taken, Sammy was leading WoO points. And, that he was unsure of whether his sponsorship would continue long enough to continue to run every race on the schedule. Swindell's style hasn't changed since he first burst onto the sprint car scene as a teenager: He brings immaculate equipment to every event, runs hard, and is a thrill to watch. (Photo and caption by Dick Berggren)
FOUR
---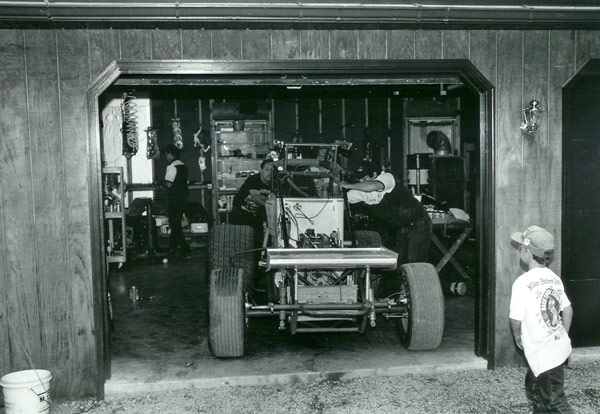 #557 - It was in the wind, in the stars. It had to be. That's four-year-old Danny Dietrich peeking into his dad's (Dan Dietrich's) sprint car garage 18 years ago. On Thursday night, May 10th, Danny blazed to a popular victory at Lincoln (PA) Speedway, whipping the invading World of Outlaws regulars. Dad Dan had been a two-time track champ at the 60-year-old, 3/8th mile Abbottstown oval. (Photo by Karl Fredrickson, Speedway Illustrated).
foue
---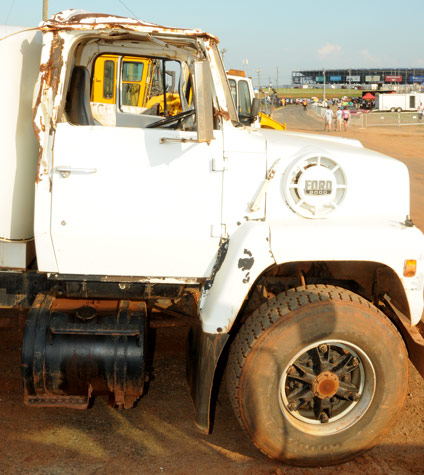 #556 - Little other than this water truck with a bent-up roof remains from Roger Slack's tenure as the general manager of the dirt track at Charlotte Motor Speedway. While he was running the place, one afternoon as he was spreading water, Slack lost control of the truck and turned it over. Slack, who was uninjured, soon thereafter left the track and traveled America's short tracks taking notes on what worked and learning as much as he could about how to better manage a short track. It was an unusual direction to take since he was already widely acknowledged as one of the smartest and most effective track operators in the country. But for Slack, there was a goal of landing a job running one of the best short tracks in the country. He got the job of his dreams and today is at the controls of Tony Stewart's Eldora Speedway in Ohio. Few if any other promoters are as dedicated as Slack, and fewer still can claim to have rolled their speedway's water truck. (Photo and Caption by Dick Berggren)
four
---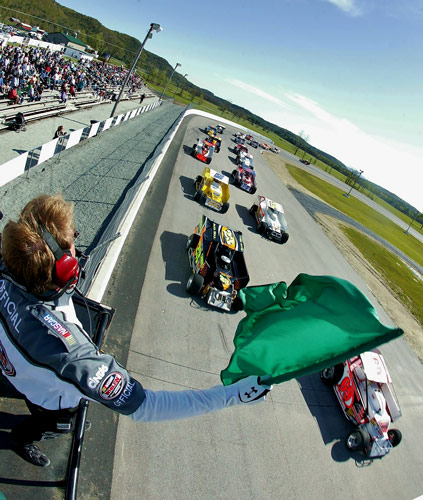 #555 - Good guy photographer Dave Dalesandro was right up there with starter Bob Bigelow and his green a few weeks back for the start of the rebirth season of Devil's Bowl Speedway, Vermont's picturesque half-miler. The track, struggling in recent years, was acquired by racer Mike Bruno over the winter months. When springtime came, so did the mojo, along with the modifieds and the crate guys. It seems so appropriate that the hot driver so far has been crowd-pleasing Vinnie Quinneville. Son of the late legendary Vince Quinneville, Vinnie returned with that potent #78 that has more than contributed to the family's impressive trophy collection. (Dave Dalesandro Photo)
FOUR
---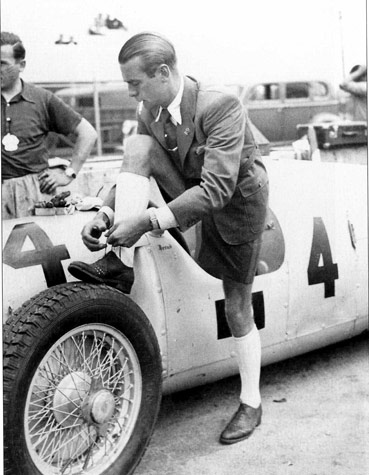 #554 - This dapper dude was German Bernd Rosemeyer, tying a shoe before a test run at the Vanderbilt Cup at Roosevelt Raceway in 1936. He was high-profile, having recently married the famous long-distance and acrobatic aviatrix, Elly Beinhorn. Uncommonly talented and fearless, Rosemeyer was faster than anyone in the super-powerful rear-engine Auto Union cars. He died in one seven months later on the Autobahn, doing over 250mph. From VANDERBILT CUP RACE – 1936 and 1937 Photo Archive, by Brock Yates. (Crawford Robertson Collection)
FOUR
---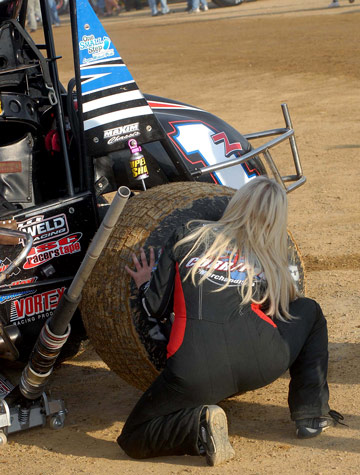 #553 - Do you think it is possible to be into racing and not be a Jessica Zemken fan? The dedicated sprint car sensation has had meteoric success in racing since she began in a center-steer sportsman car at age 14 in upstate New York. Her exploits have taken her all over the United States and Canada – and even to Australia. And, as you can see from this shot of her at the Jack Gunn Memorial at Selinsgrove (PA) Speedway on May 12, it has certainly not all come on a silver platter. (Frank Simek Photo)
FFFFF
---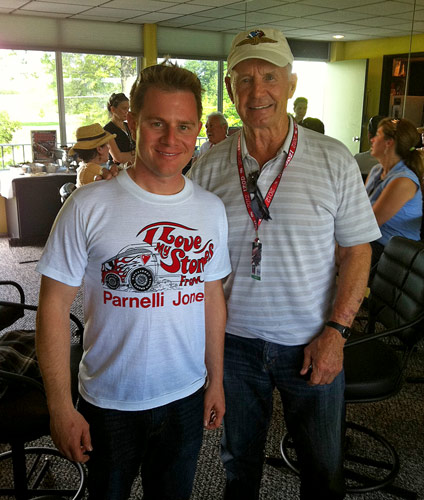 #552 - When Kyle Bush team driver Jason Leffler ran into Parnelli Jones at Indy last weekend, he was very pleased to show off his vintage T shirt that read "I love my Stones from Parnelli Jones." It was an original from way back when Parnelli had 47 Firestone tire stores and was part of the company's Western racing group. Parnelli got quite a kick out of seeing it, but he outdid Jason that same day. When he took the "Ole Calhoun" roadster out for a couple of glorious laps commemorating going 150 mph 50 years ago, Parnelli was wearing a firesuit made for him by Hinchman from measurements they took in 1962. Both those boys look to be fit as a fiddle. (We'll have to check if we can we say the same for Bones Bourcier who took the picture and is working on Parnelli's memoirs, which Coastal 181 will publish this fall).
FOUR
---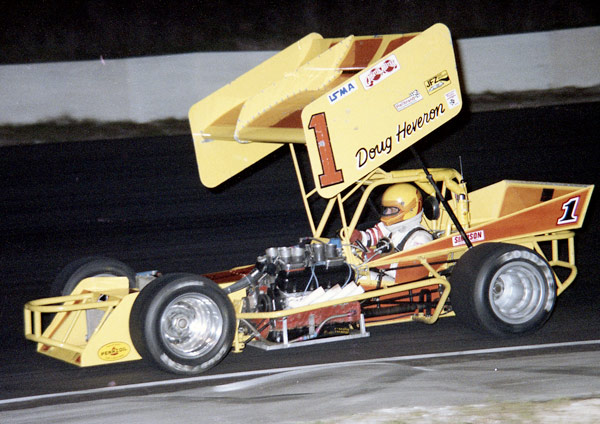 #551 - It's "The Young One
,
" Doug Heveron, at
Florida
's Sunshine Speedway back in February 1983. The 23
-
year
-
old, by then a multi-time Supermodified champ, was soon to shatter an ankle preparing to qualify for the Indy 500. A couple of years later, he was part of that amazing Winston 500 at
Talladega
for which the entire field qualified at over 200 mph.
(
Gene Marderness Photo
)
four
---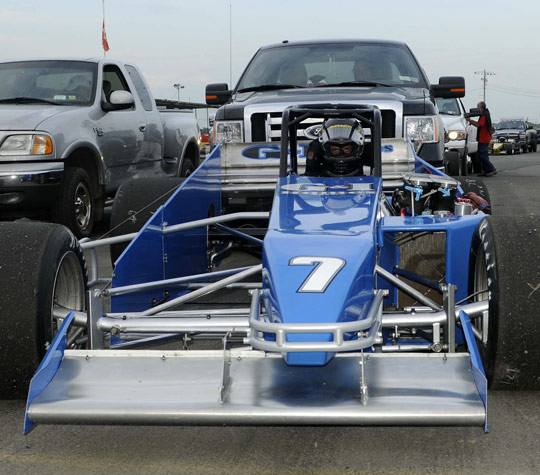 #550 - It's Otto by Otto! The hot setup supermodified driver in upstate New York, Otto Sitterly, is captured by the area's hot setup photographer, Otto Graham. There is a major revitalization going on at Oswego Speedway, and the thrill of wingless supers is back big time on Saturday nights. (Otto Graham Photo)
FOUR
---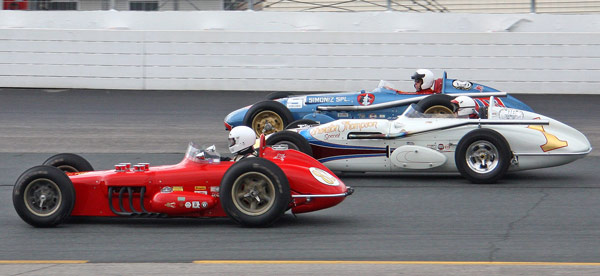 #549 - The 22nd annual Vintage Celebration at New Hampshire Motor Speedway was a bit more subdued than normal, likely because of the soggy economy and weather. Nonetheless a gaggle of Indy roadsters appeared, towing in from far and wide. All were incomparably beautiful with that timeless, streamlined shape, but otherwise as different as can be. Upstairs in the sonorous sounding, Offy-powered Simoniz Special is Larry Pfitzenmaier out of Arizona. In the middle is the Alfa Romeo-propelled replica of the Foyt/ Sheraton-Thompson rocket ship owned by Missouri's Bud Taylor, while downstairs is Dave Schleppi from Ohio in the red former Mike Magill car, the first Chevy V-8 to qualify at the Brickyard. (Ken Paulsen Photo)
four
---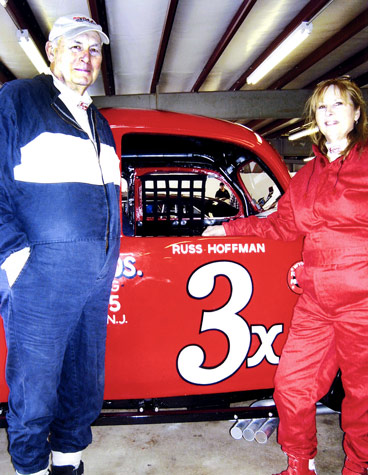 #548 - Frank and Alice Drogan are one of the most respected couples in racing along all the East Coast. They share the driving duties of their beautifully built #3x Ford coupe, a replica of the car Frank drove at the turn of the '60s at New Jersey's Wall Stadium and Old Bridge Raceway. There is quite a bit of discussion about which of them is faster, but, beyond question, both were of enormous help to us at Coastal 181 when we were producing the book PAVED TRACK DIRT TRACK – Racing at Old Bridge Stadium and Nazareth Raceway. (Photo by Ed Duncan, principal researcher for the book)
FOUR
---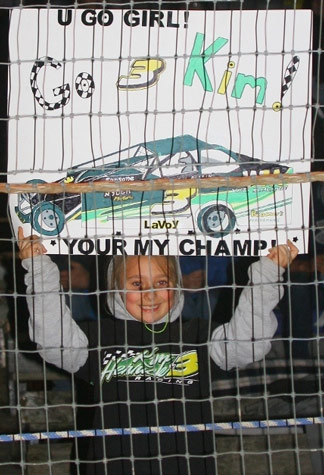 #547 - Kids are kool. But anyone who has been watching racing for a while shares concerns about the graying of race fans around the country – and wonders how the sport can attract new ones. It was in the 30s on Saturday night, May 5th, at Lebanon Valley (NY) Speedway, but this young lady sure warmed up those grandstands. It worked for her heroine, too. When first-place finisher Ryan Darcy was disqualified for being a tad light, 26-year-old Kim LaVoy parked her #3 center-steer sportsman right in Victory Lane. (David Dalesandro Photo)
FOUR
---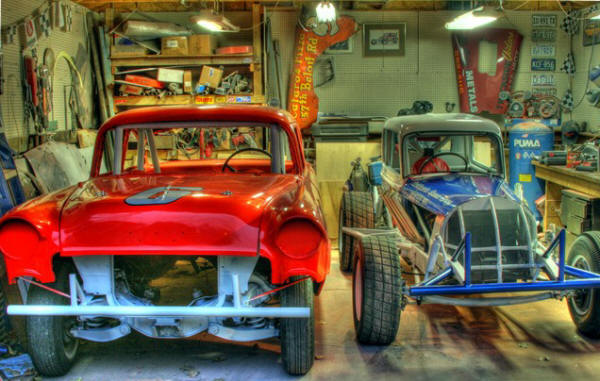 #546 - John Surges out in Milwaukee is one devoted racing historian. Known as the Vintage Modman, he is a gushing fountain of information about the old-time cutdowns that once lit up the night at tracks like Beaver Dam, Hales Corner, and Slinger. Here is John's place, housing a 1960s-era modified and a Chevy sportsman. "There's never been a street car in there," he claims. Would that every garage in the country looked like that! (John Surges Collection)
FOUR
---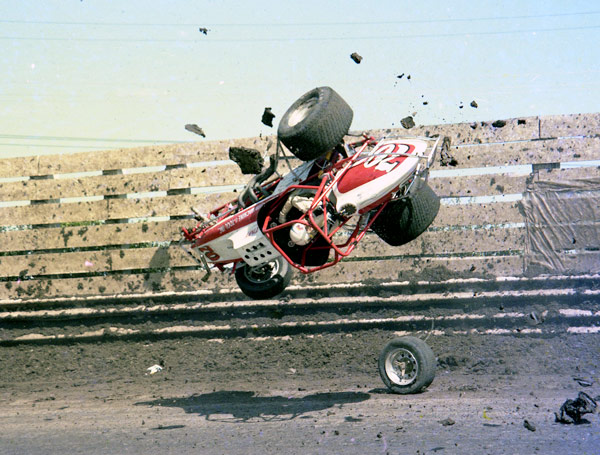 #546 - That the Knoxville Nationals were run on a Sunday afternoon in 1980 was a little different. That was because of the rain the night before. What wasn't unusual was that a Saldana was flying on that unique Iowan surface. It was Joe, the great sprint and champ car shoe, who had won the show ten years earlier. Today it's Joey Saldana who is rocketing around the place. Joey is at the top of the Outlaw heap, but three seconds are as close as he has come to his dad's winning time. (Gene Marderness Photo)
four
---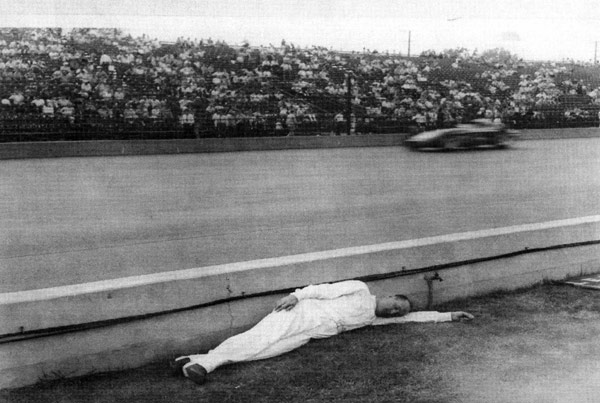 #545 - That Eddie Sachs really was a case. In 1955 he came out from the Midwest to Reading, PA, to race a sprinter on Tommy Hinnershitz Day. He stayed with Sam Traylor. In the middle of the night he was pretty caffeinated. He woke up Traylor, muttering, "I've got to tell you something! Tomorrow is Tommy's Day. You know they are going to give him a new car and a lot of money and presents. But that bastard isn't going to win the race. You know I'm going to pass that damn Hinnershitz. I don't care where I qualify. I'm going to catch him on the front stretch so that all those Dutchman fans can see it." And so he did. And it must have been later at Indianapolis that he caught up on his sleep. Quote and Photo from EDDIE SACHS: The Clown Prince of Racing, by Denny Miller, IMS Photo Collection.

FOUR
---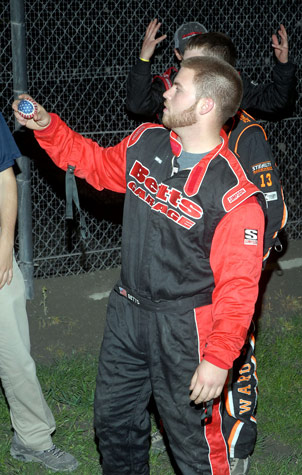 #544 - Last year's URC Rookie of the Year, Troy Betts, hung around the draw for the feature at the Spring Sprint Nationals at Dean Hoag's Black Rock Speedway in Dundee, NY, last Friday night. His was the second-to-last ball, and it rolled him right onto pole. But, apparently, the lead was not the place to be. George Spurick flew by Troy on the start, and Troy spun later. George was out front, high, wide, and handsome until he encountered a lapped car up in his groove and flipped. Bobby Breen ended up victorious in the 40-car field. (Frank Simek Photo)
FOUR
---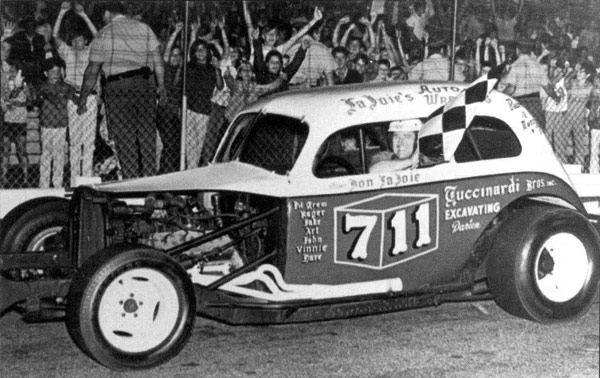 #543 - Don Lajoie was a rocket ship in this very neat '37 coach in the 1960s at Danbury (CT) Racearena. The car had a torsion front and a trailer-bar rear. Don's son Randy was quick to learn the trade. He was NASCAR's Busch champ in 1996 and 1997, and he now concentrates on keeping racers safe and secure with his Joie of Seating product line. Randy's son, Concord-based Corey, is a hot shot on the NASCAR K&N Pro Series East circuit, but he sure showed the Northeastern modified fans his stuff with a fabulous recent performance at the Spring Sizzler at Stafford (CT) Speedway. From

SYNRA – The Life and Times of the Southern New York Racing Association

, chapter by Steve Barrick.
FOUR
---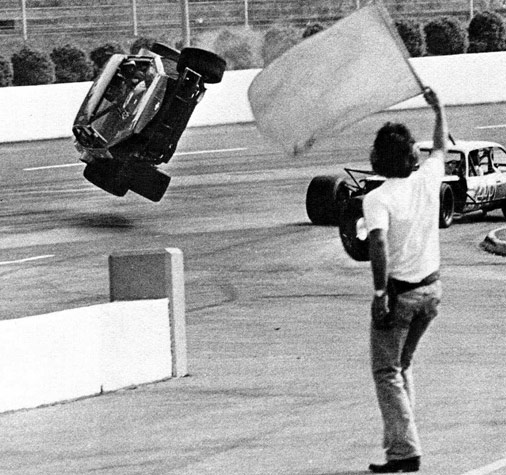 #542 - Yup. Good moment to throw the flag. And quite a moment it was back at Martinsville in 1976. On lap 63 of the Dogwood modified show, Floyd Goins threw a left rear wheel. Fearing trouble, the field slowed, and when it did, Roger Hill (above) ran over another car and began a series of barrel rolls. It looked pretty nasty, but he emerged from the steaming, overturned wreck with just some cut fingers. Meanwhile, three-wheeling Goins continued his way around to the pits where his crew shoed him up again. And off he went. From SUPERSPEEDWAY: The Story of Grand National Racing, by Richard Benyo. (Neil Britt Photo)
four
---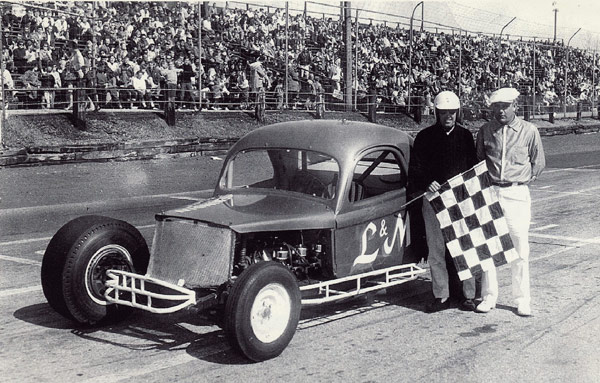 #541 -
Everyone in the Northeast grieves for Hall of Fame modified driver, Billy Harman. Billy and wife Donna have been one of racing's most popular couples for years before her death two weeks back. In happier times Billy was a terror at the New London, CT, Waterford Speedbowl aboard this unique coupe that he describes as "the most incredible modified ever." With amazing regularity he would whup the Chevy V-8s with that piped-up six-cylinder. Today the car sits in the must-see Pronyne Motorsports Museum in Pawtucket, RI. 401-447-4202. (Photo: Dave Dykes Collection)
FOUR
---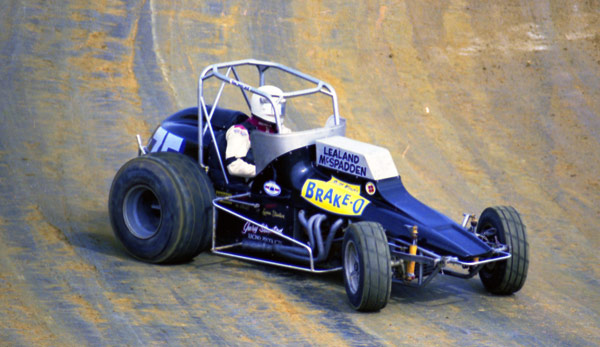 #540 - "Tempe, Arizona's Lealand McSpadden [pictured above at East Bay in 1978], one of the best to ever come out of the Southwest, and Jack Hewitt, a legendary Ohio star who lived near Eldora and has probably accumulated more racing stories – happy and horrific – from that track than anybody, were battling for the lead on the high banks and crashed. Both flipped hard and after the race, according to an observer, Hewitt went down to McSpadden's car to apologize for a slide job that did not work. And, then, a little while later, Hewitt [his bell seriously rung] walked down to McSpadden's car to apologize – because he didn't remember he had just been there." Quote from WIN IT OR WEAR IT- All-Time Great Sprint Car Tales, by Joyce Standridge, (Gene Marderness Photo)
four
---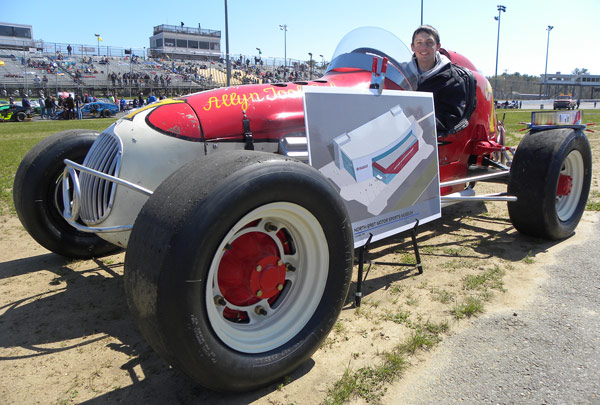 #539 - Like hundreds of other people at last weekend's Spring Sizzler at Stafford (CT) Speedway, 19-year-old Michael Hann was impressed by this 1948 Hillegass sprinter. Michael is the son of Mark Hann, who so energetically promotes the forthcoming North East Motor Sports Museum (www.nemsmuseum.com) at events around all around New England. Michael was particularly interested in the concept of flipping before roll bars. He asked about how drivers used to "go down under" by grabbing the wheel and pulling themselves low in the cockpit when about to go over. Fact is that Michael, a regular in Monday night kart racing at the track, was full of questions. He's majoring in Mechanical Engineering at Wentworth Institute of Technology and he is bound and determined to become a crew chief some day. His fondest wish is to be invited to Hendrick Motorsports for his coop experience. Hope they're reading this caption! (Karl Fredrickson / Speedway Illustrated Photo)
four
---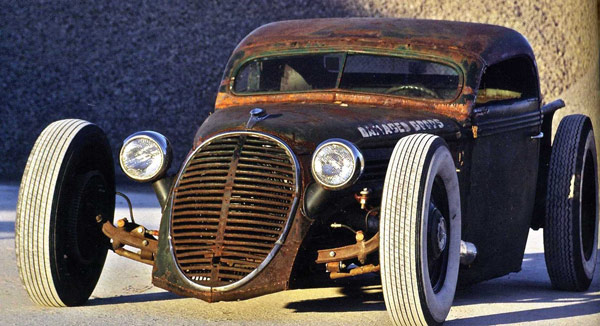 #538 - There seems to be no end in sight for the recent wave of enthusiasm for pre-1980 race cars – modifieds, supers, sprinters from back before all racing went cookie-cutter, with common design and store-bought parts. Interestingly, that retro trend coincides completely with a very cool chapter in hot rodding these days referred to as rat rods. "Rat rod" seems to be a loose-fit description, but in general it involves something built with massive creativity rather than massive money, largely utilizing used materials that happen to be on hand rather than going chrome, and certainly ensuring that the finished product looks both unfinished and bad ass. Sure sounds like old time racing to me. From RAT RODS – Rodding's Imperfect Stepchildren, by Scotty Gosson (Photo by Silas Warren)
four
---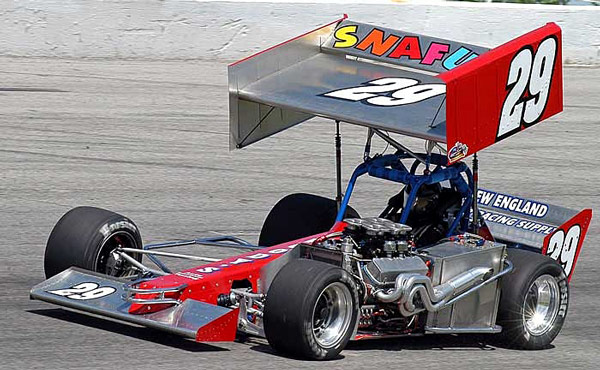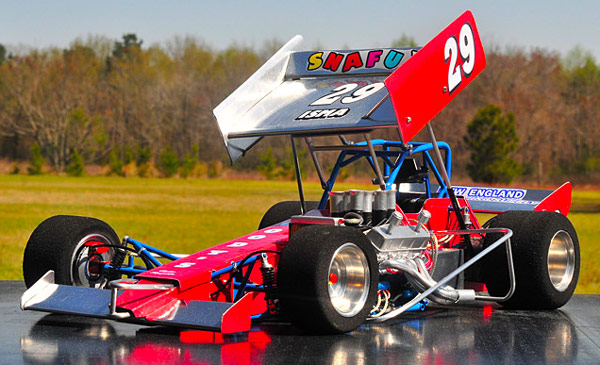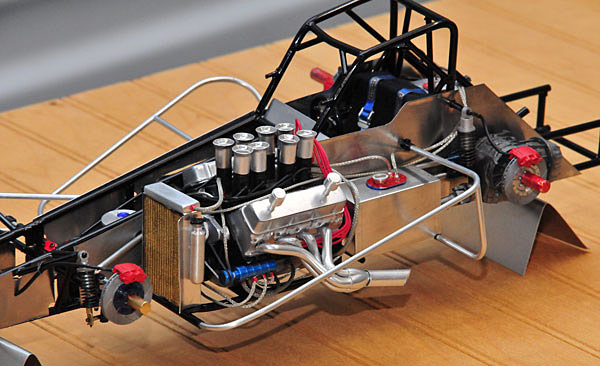 #537 - That great shot of Russ Wood in the SNAFU picture on top was taken by Jim Feeney. The next two photos, however, are actually of a model of that car built by Craig Whyte in North Carolina. Craig's detail is amazing. Here's what he says: "It's 14 inches long and 8 inches wide, 1/12th scale. I built it mostly from photo reference and memory. The frame is soldered brass tubing. Tanks and rims are machined aluminum. The headers are aluminum tubes. The engine is the only part that came from a plastic kit. However the injection is tooled brass and aluminum. Six-month build!"
(Top photo by Jim Feeney, two model photos by Craig Whyte)
four
---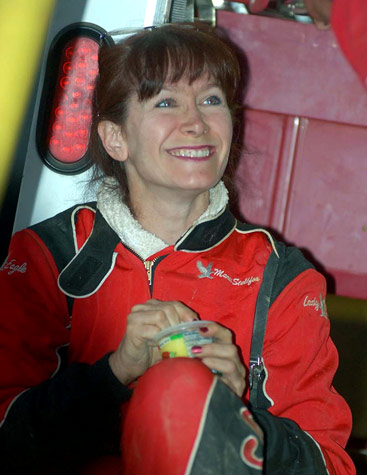 #536 - Mary Susan "Mares" Stellfox was the first woman to win a URC sprint feature. It was at US 13 back in 1993. Despite a series of difficult family issues that limited her appearances, the popular Pennsylvanian distinguished herself with the World of Outlaws and even the California Racing Association. One of her most spectacular runs came in August 2006 at Penn Can (PA) Speedway. She qualified through the B-Main and motored up from 19th starting spot to the win, earning a $3000 bonus from Bar's Leaks, the Series sponsor. (Frank Simek Photo)
four
---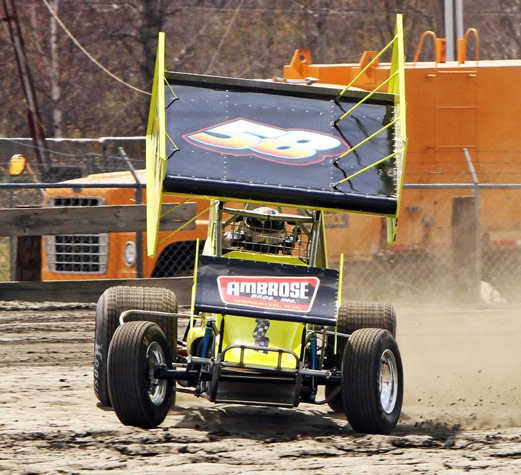 #535 - That's New Hampshire runner Clay Down struggling to find bite on the stone-dry surface of Canaan (NH) Speedway during a recent warm-up session. Likely Clay's time – and everyone else's – will go down about three seconds after the joyfully soaking Nor'easter rains last weekend. And the rail birds will be keeping an eye on Dow in the Sprint Cars of New England (SCoNE) circuit this spring. Last year he was hampered by motor problems but still won the Triple Crown three-race series on Labor Day weekend. The SCoNE winner at Canaan on the Tuesday night special on July 3 will receive the Coastal 181 Cup. (Mark McKeon Photo)
four
---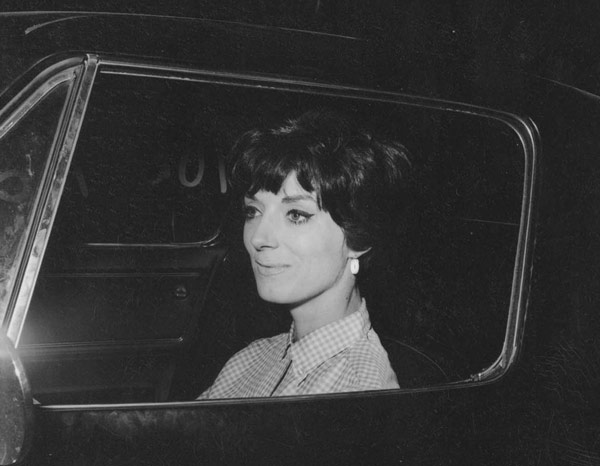 #534 - Cha Cha, 1964 (Frank Simek Photo)
four
---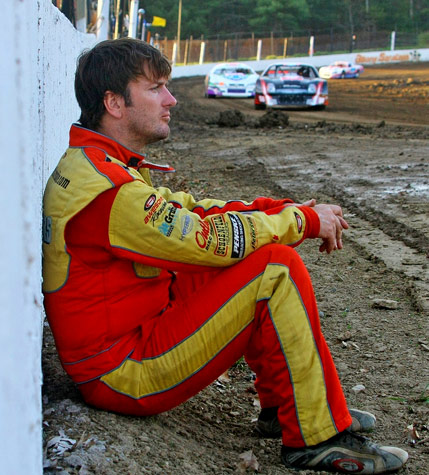 #533 - Banzai Buddha. Ultra-popular late model and modified shoe Tim McCreadie contemplates the pro stocks with seeming serenity as they roll in the clay on the resuscitated Albany-Saratoga Speedway in upstate New York. By the feature, though, the nighttime air was thick with intensity. An animated standing-room-only crowd stood and hollered as TMAC outgunned Brett Hearne, Kenny Tremont, and Mike Busta in a wild shootout. (David Dalesandro/MSI Photo)
four
---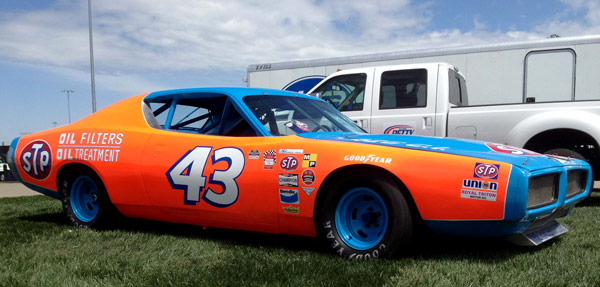 #532 - In 1972, Richard Petty and STP came together to race this Dodge. Today, together for 40 years, STP and Petty are the longest running motorsport sponsorship partnership, maybe the longest running in all of sport. To celebrate, at the STP 400 April 22 at Kansas Speedway STP donated $43,000 to the Petty family's Victory Junction Camp, which provides recreational and social activities for kids with serious health issues. Today's big-league racers, including Tony Stewart, Kurt Busch, Jimmie Johnson and others, have donated millions to enlarge and build the Victory Junction Camp. The Petty #43 run in the Kansas race was painted in the retro scheme of yesterday, and driver Aric Almirola wore a suit identical to the ones worn by Richard (except with the addition of today's safety technology). Petty said the blue color goes back years before STP and came from mixing some white and blue paint to do a car—they didn't have enough of any one color—and the color became known as "Petty Blue." The Dodge is one of several that Petty saved from his racing days.
(Caption and Photo courtesy of Dr. Dick Berggren)
four
---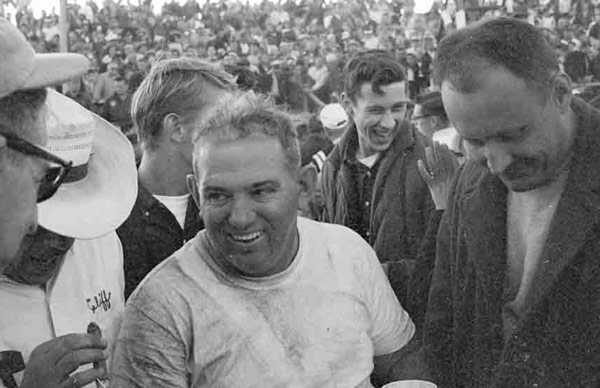 #531 - The day before this photo was taken in October 1964, Kenny Shoemaker had pried the A to Z Automotive #24 onto the pole for the Langhorne 100-Mile Open Championship. The following day there was no question that "The Shoe" reveled in the glory of whupping the 200-car field with his time of 36.642 in a small block Sportsman. The photo shows Shoemaker just after the race with the clear look of a winner. Surely, it was his proudest moment ever, but it was oh, so fleeting. The Shoe was just about to learn that Freddy Adam in the Bullock #76, who most thought to be a lap down, had actually won. It was a disappointment that the Shoe took with him to the grave 37 years later. (Frank Simek Photo)
four
---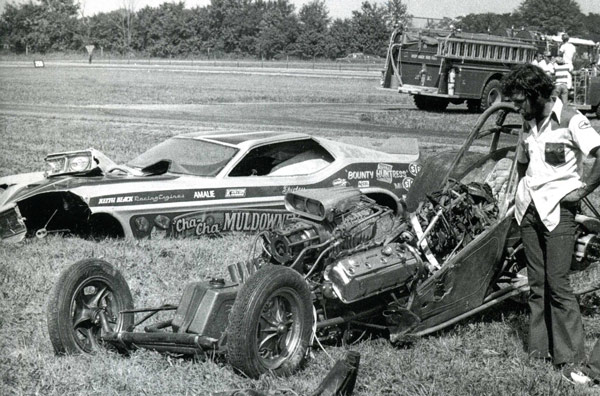 #530 - Top Fuel standout Shirley Muldowney was red-hot in the Buttera Funny Mustang in September 1972 at West Salem, Ohio. At the 900 foot market in round one the car grenaded in a ball of flames. "Cha Cha" guided it down to the shutdown grass area and managed to quell the flames, but she suffered burns around the eyes, hands, and arms. From FUNNY CAR FEVER, by Steve Reyes. (Photo by Steve Reyes )

FOUR
---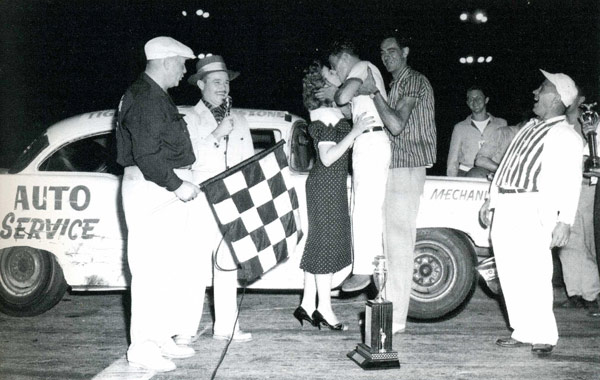 #529 - It's been said for years that the mechanic makes the driver. But consider the very special effort made by Charlie Jackson on behalf of his driver, Tiger Tom Pistone. Tom had certainly measured up during the feature, winning the mid-season championship in 1957 at Chicago's Blue Island Raceway Park. The diminutive Pistone (five feet, two inches) did have a little trouble measuring up in Victory Lane, however, and his main man Jackson lent a welcome lift. From BLUE ISLAND RACEWAY PARK, by Stan Kalwasinski and Samuel Beck. (Stan Kalwasinski Photo)
four
---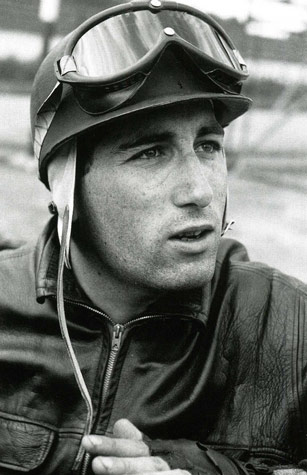 #528 - "Born the 17th Marquis of Portago, Alfonso, or 'Fon', was not just a true member of the Spanish aristocracy – he was also a first class jock....Of all the well-to-do and titled drivers, Portago was the most for-real class act, and just what you'd expect from European aristocracy... He also looked the part, seemingly always to be 'casually chic' in a dark Lacoste shirt with a cigarette literally hanging out of his mouth – like a James Dean without the brooding…. I recall Portago going with a beautiful world class model in 1954. And then in 1957, there was actress Linda Christian to give him what the press later labeled 'the kiss of death' in Bologna on the Mille Miglia. He and his passenger, American Eddie Nelson, were lying a credible third at the time, but died along with 12 spectators when they crashed some seventy-five miles from the finish." Photo (Klemantaski Collection) and caption from PHIL HILL: A Driving Life, by Phil Hill
FOUR
---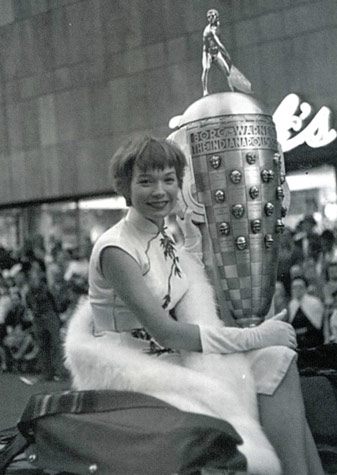 #527 - Jimmy Bryan was riding high in the late fifties. When he won Indy in 1958, he enjoyed the profound privilege of winners from 1947-1959: He got to kiss the movie star. And that year Queen of the Festival Parade was none other than 24-year-old Shirley Maclaine, Warren Beatty's older sister. In 1960 Bryan's luck ran out in a fatal crash in Puke Hollow at Langhorne (PA) Speedway. Maclaine, however, has just kept on motoring. She has written several autobiographies – often fairly racy – related to her acting career, her personal life, activism, and spirituality. From THE INDY 500 – 1956-1965 by Ben Lawrence, WC Madden, and Christopher Baas.
(Ben Lawrence Photo)
four
---
526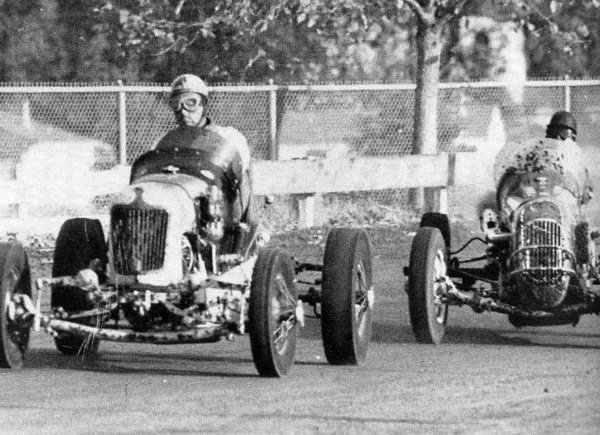 #526 - Both authors Don Radbruch (Dirt Track Auto Racing 1919-1941) and Joyce Standridge (Win It or Wear It: All-time Great Sprint Car Tales) have told the sad saga of a racer whose name may have been Dewy Gatson. Gatson, shown here (on left) at Calistoga, CA, in 1949 driving his own Miller, was popular and respected in the racing community on the West Coast under the nickname "Rajo Jack." When he went to race in the more conservative Midwest, however, he had to duck under the cowl for photographs – and he was advertised as "Raja Ramascus, the great Portuguese dirt track champion." Rajo Jack, an African American, died in 1956 at age 51. Fifty-one years later, he was inducted into the National Sprint Car Hall of Fame. From Dirt Track Auto Racing 1919-1941, by Don Radbruch. (Russ Reed Photo, Don Radbruch Collection)
four
---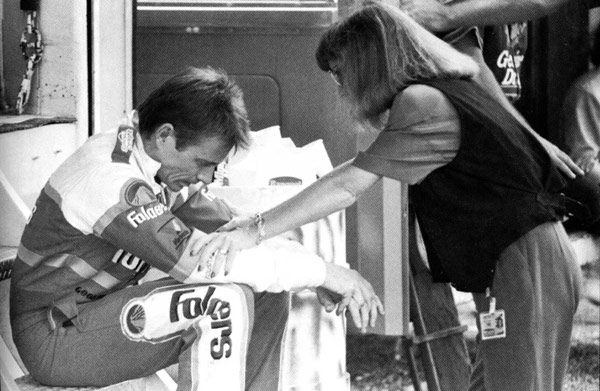 #525 - He thought he had it in the bag. Mark Martin led the 1990 Winston Cup Championship chase from June through October, but along came the Intimidator. Dale Earnhardt won Phoenix and got a third at Atlanta, the last two shows, and sneaked by with 26 points. Arlene Martin was there to console her husband. From NASCAR: The Complete History, by Greg Fielden and the Auto Editors of Consumer Guide.
FOUR
---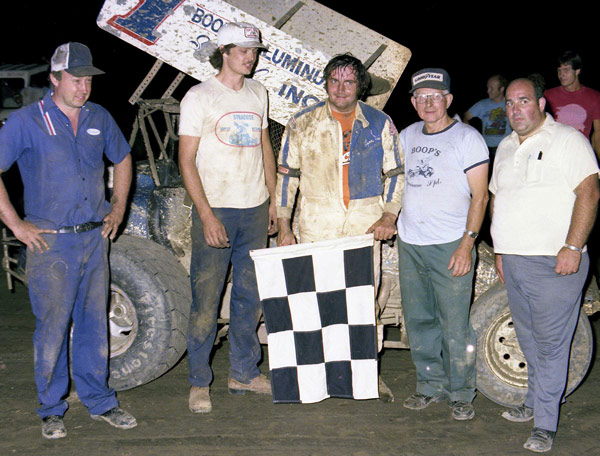 #524 - It was 1979 and the Outlaws were running at Five Mile Point (NY) Speedway. Lynn Paxton was red hot at the time and he really wanted to give the quarter-miler a try. "That's the car owner, Maynard Boop, to my left," he says, "and Davey Brown Jr., the mechanic, to my right. Good thing we won, because they weren't too excited about going up there. If we'd gotten wrecked, I would have had to walk home."
(Gene Marderness Photo)
FOUR
---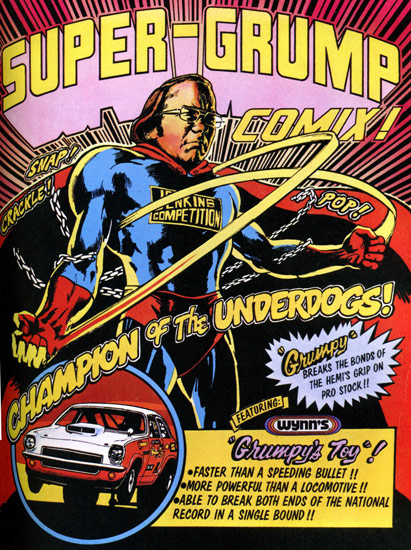 #523 - It was so sad to hear of Bill "Grumpy" Jenkins' passing a week ago. We were amazed with his enduring popularity when Bill came to sign the book Grumpy's Toys at our booth at the Area Auto Racing News' Motorsports Show in January. He was still a tad on the stern side, but we did get some smiles out of him! Predictably, the Grump wasn't sure at all how to react when artist John Jodauga came up with this Superman-themed press kit cover for him back in 1970. However, the feedback from the media was very positive, and "the Champion of Underdogs" went on to "break the bonds of the Hemi's grip on Pro Stocks." Quote and image from The Art of Drag Racing, by John Jodauga with Melissa Pasillas.
four
---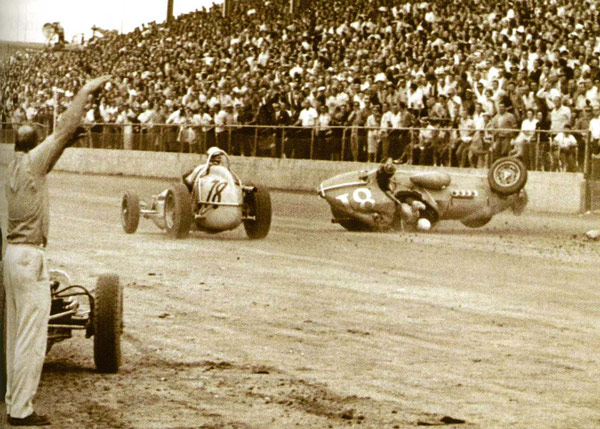 #522 - A master open-wheel crew chief, Andy Dunlop tells many amazing stories of the glory days in his book DAMN FEW DIED IN BED, edited by Tom Saal. One of the most memorable, though, took place at the Hoosier Hundred in 1962. Dunlop's driver Allen Crowe started down back and was motoring up through the pack until he tossed the left rear wheel coming off turn four. He flipped and his foot likely was jammed on the go pedal. The car spun round and round upside down and on its side until it finally stopped right near the pit area, on fire. Everyone assumed the worse, and Crowe was removed unconscious. Turned out he was okay, but not quite ready for Trenton the next week. The car wasn't ready either. From DAMN FEW DIED IN BED: Memories of a Life in American Automobile Racing 1930-1975, by Andy Dunlop and Thomas Saal. (Frank Fisse Photo)
four
---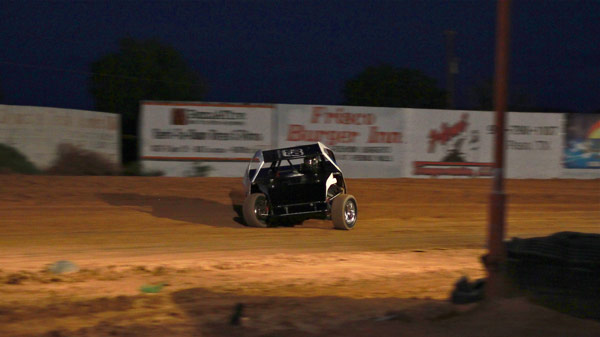 #521 - How about that 18-year-old from New Mexico, Mercedes Harris, waltzin' it into the turn at El Paso Speedway Park? Asked what she was thinking at the moment, she said, "Not much! I try not to think unless the car gets really upset. It sure wasn't here. It was working beautifully and all I had to do was react and take in all those great dirt track feelings!"
four
---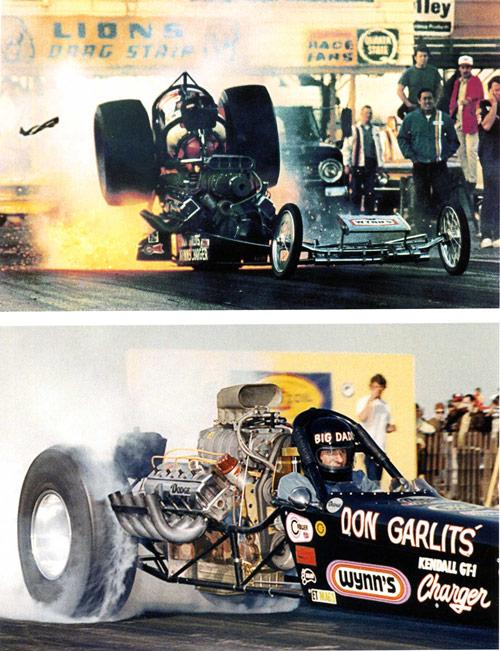 #520 - It was an awful moment in 1970 when the transmission in Don Garlits' Swamp Rat 13 blew, broke the chassis and dispatched a big part of Big Daddy's right foot. It was also a transformative moment in drag-racing safety. As Garlits was recuperating in the hospital, he drew up a new design. When Swamp Rat 14 showed up, it was rear-engined. And when it started winning, the whole drag racing community followed suit. (Images courtesy of Don Garlits Museum, in DRAG RACING: The World's Fastest Sport, by Timothy Miller.) The story is also told in Don Garlits: Rear Engline Dragster
four
---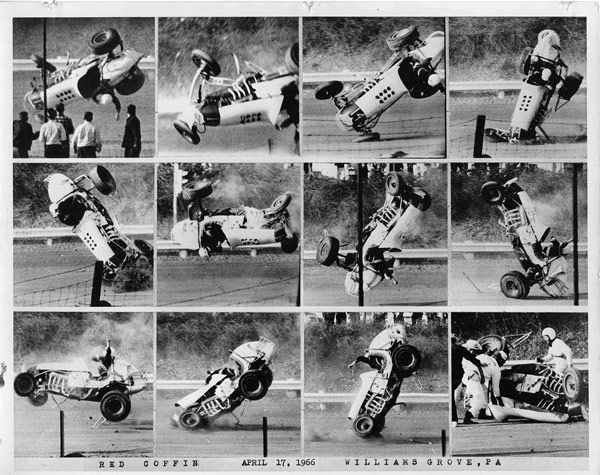 #519 - Russell "Red" Coffin, the 1965 Grandview (PA) track champion, is widely known for his glorious, terror-inspiring broadslides around Reading Fairgrounds in injected big-block modifieds. He had seven RSCA wins. Just recently, recovering from a bout with illness, Red reflected that "my whole life was built around those Friday nights." But one April weekend in 1966 he headed a little further west. He had always wanted to try a sprinter, and Earl Steffen's car was available for a URC show at Williams Grove. Things didn't go too well. In fact, all that Red remembers is stopping for gas on the way. Looking at the photo series from his collection, he figures, "I was okay until that homemade Sam Brown belt broke. Then I got hurt. Really hurt."
(Photos from Red Coffin Collection, also appearing in Paul Wiesel's book THE FREDDY ADAM STORY: The Life and Times of the Kutztown Komet.)
four
---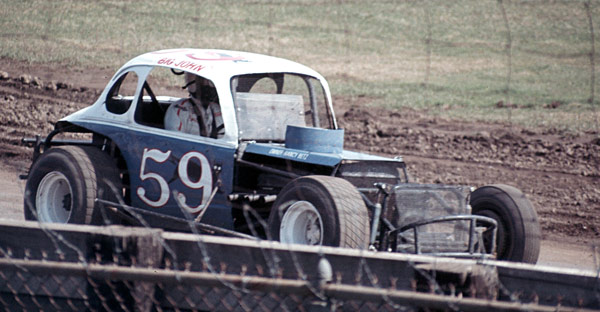 #518 - A well-regarded member of the Eastern modified community during the glory years of the 1960s and '70s is Russ Betz. A Connecticut native, he was active as a driver of his familiar blue and white #59 coupes and coaches, over the seasons also wheeled by gassers such as Rene Charland, Don Wayman, and Maynard Forrette. Russ was out of racing's view for a while, but he has reemerged and he sure has some new and uptown words in his vocabulary. He is now proprietor of a vineyard in Stamford, NY, southwest of Albany. It's not just wedge and stagger anymore. You should hear him talk about the delicacies of the blueberry wines he produces. Russ is pretty busy, though, and trying to clean his slate a bit. He is selling his last car, pictured above with everyone's favorite "Big John" Kershaw at the helm at Fonda. It is an original, original "Toby's Tubes" car, with trailer bars beneath and a big block up front. It is complete, and ready for a respectful new owner. Russ is at www.blueskyfarmwinery.com. (Howie Hodge Photo)
FOUR
---

#517 - Beuford Shanebrook was a physician and early midget driver and builder of
great renown, especially in the East and throughout the Midwest. Here "Doc" gives
the Port Elto one serious ride around Dorney Park Speedway in Allentown, PA. Built
in 1884, Dorney Park is the oldest operating amusement park in the country. The
flat, tight 1/5-mile oval on the grounds was run from 1939 to 1986. (Bob Bergeron
Photo, Mike Ringo Collection, courtesy of Bradley Poulsen)
FOUR
---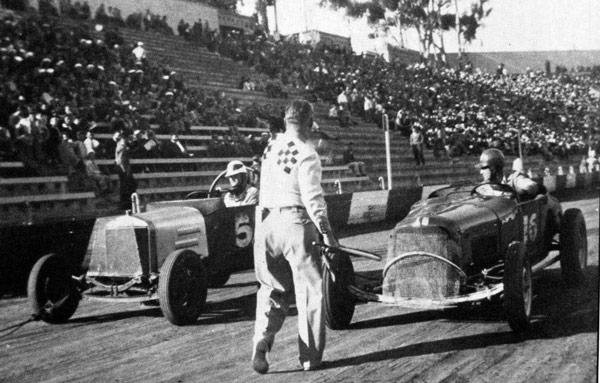 #516 - Don Montgomery's very cool hot rod books detail the wave of post-war automotive enthusiasm in Southern California. Along with drag racing, jalopies, and streamliners on the dry lakes, track roadsters were a big part of the scene. Formed in 1946, the California Roadster Association hosted shows at facilities such as San Diego's Balboa Stadium (above). That's Jack McGrath on the pole and Fred Ryness in the '27 T alongside. McGrath, "King of the Roadsters," won the championship that year and went on to a short but stellar open-wheel career. Known also as the "Splendid Splinter," he was dynamite in the midgets and soon went champ car racing. He is especially remembered for a torrid duel with Bill Vukovich at Indy in 1955, before dropping out with a busted magneto. Unfortunately, Vukie would die later in that race, and McGrath would follow in an accident at Manzanita on November 6 that year. From HOT RODS AS THEY WERE, by Don Montgomery. (Tim Timmerman Photo)
four
---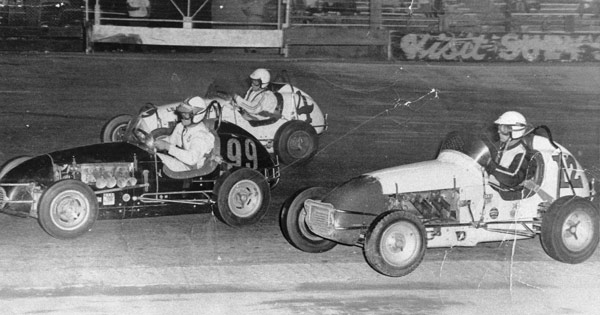 #
515 - It's July 25, 1963, and the mighty USAC midgets were at Seekonk Speedway, the Cement Palace, right near Providence, RI. The field was star-studded. Here, fresh from his win at Indianapolis, was Parnelli Jones (#99), dicing with Don Branson in the #4, and UARA midgeteer extraordinaire Russ Sweedler (#12). Note how calm – even placid – they each look behind the wheel. But those were not comforting times for open-wheelers. Both Don Branson and Chuck Rodee, the winner that night at the 'Konk, died in crashes over the next three years.
(RA Silvia/Pete Zanardi, John DaDalt Collection)
four
---
#514 - Last Sunday at I-35 Speedway in Winston, Missouri, Corey Dripps (#31) and Mark "Fluffy" Dotson got into some dueling aerial calisthenics. Corey's Big Cock Chassis car was a little rearranged, but he builds 'em strong. He's been repairing it at the Gessel Garages in Wichita and will be racing again tonight. (Chad Ebel photo – www.racedayprints.com)
four
---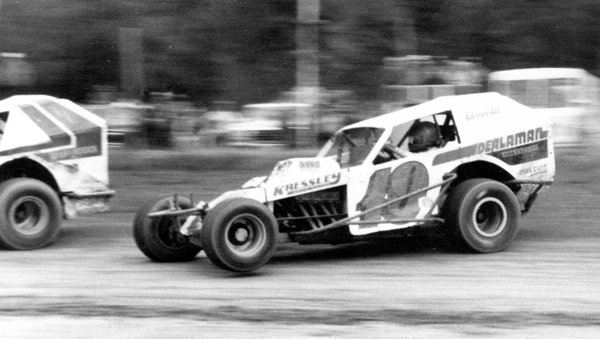 #513 - Can there be any doubt that it's Kenny Brightbill? His driving style and his #19 chariots have been equally distinctive since the Sinking Springs, PA, native began racing in 1969. He's won over 400 features to date, and is shown here at Delaware International Speedway, where at age 62 he won the 2010 driving title. Check out all of Delaware's short-track history in our friend Chad Culver's new book, DELAWARE AUTO RACING. (D&L Photos)
FOUR
---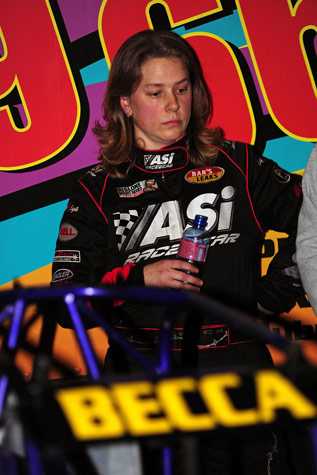 #512 - How can anyone not be a Becca Anderson fan? The Houston, DE, resident is one racy open-wheeler, with success in WoO, ESS and URC. She is shown here a couple years back taking a shot at the indoor TQs in the Boardwalk Hall in Atlantic City. She is also a busy restaurant manager and is reportedly working out schedules so she can be back on the Rislone Series with gusto this summer.
(Howie Hodge Photo)
FOUR
---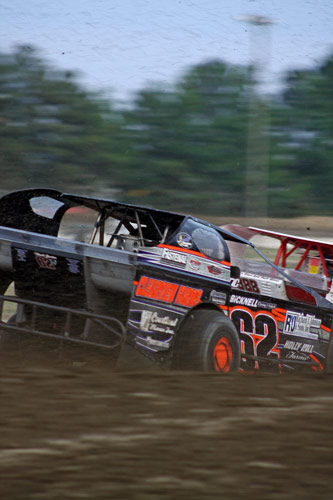 #511 - Have you checked out Speedway Illustrated recently? That's the magazine dedicated to short track racers. The photography and copy are way cool. How about this JA Ackley shot of Matt Jester testing the cushion at Delaware International Speedway? And that great quote in a recent issue from Carl Edwards. "Finding the absolute edge is a lot safer in a tight car than a loose car. Mark Martin says that if the car is pushing, he can go right up to as fast as the car will go. But with a loose car, he can go as fast as he can go." (JA Ackley/Speedway Illustrated Photo)
four
---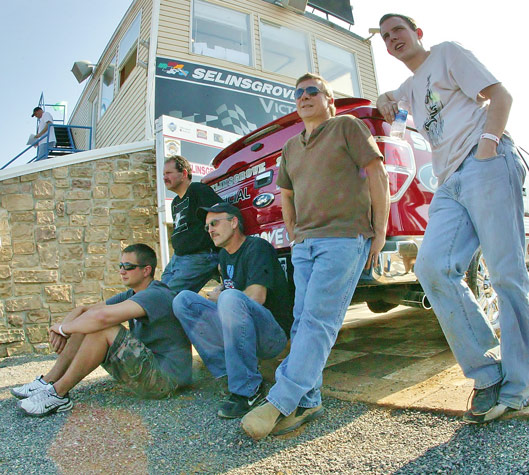 #510 - It's the boys of Spring, but they seem to be hiding from the sun! L to R last Saturday at Selinsgrove (PA) Speedway are Jimmy Horton, Matt Sheppard, Tim Fuller, Billy Pauch the Elder and Billy Pauch the Younger. It was 75 degrees that afternoon when the green flew for the big-block modifieds, and the senior Pauch showed them the way around. (Dave Dalesandro Photo)
four
---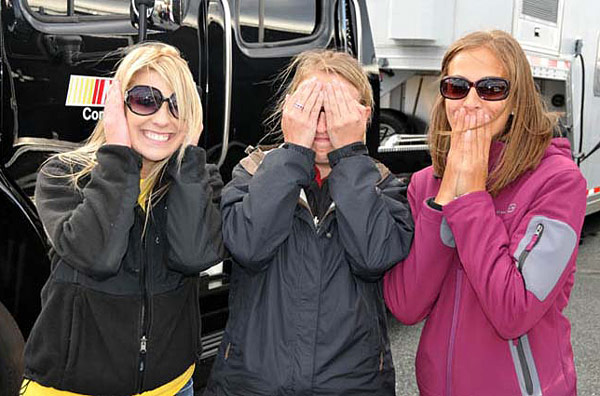 #509 - We're all so lucky to have Howie and Mary Hodge out there recording things, just as they have done since the world was young. Howie is a commanding figure, but there's always that twinkle in the eye. I asked him what in the world was going on in this 2010 image. His response: "That's Kristie, Bobby Santos' girl friend (Hear No Evil), Heather, Tommy Baldwin's PR person (See No Evil), and Melanie, crew person on Bob Garbarino's modified (Speak No Evil). As for the question about what I had just said to them, it is top secret and can never be revealed." (Howie Hodge Photo, www.thechromehorn.com)
four
---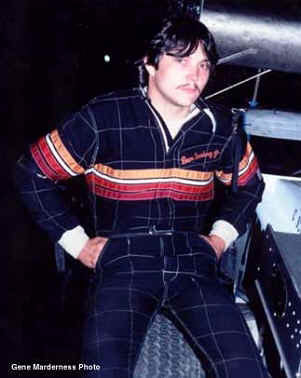 #508 - Californian Dave "Junior" Bradway was a popular and gutsy sprint car driver in the 1980s. He was successful from Ascot to Knoxville, exhibiting a fearless approach fashioned after his heroes Jimmy Gordon and Gary "Preacher" Patterson, both of whom died in sprinters. Unhappily, Junior's fate ended up the same when he crashed mightily at Skagit (WA) Speedway on the Summer Solstice in 1987. Ironically, he was laid to rest in the same cemetery in Sacramento with Gordon and Patterson. (Gene Marderness Photo)
four
---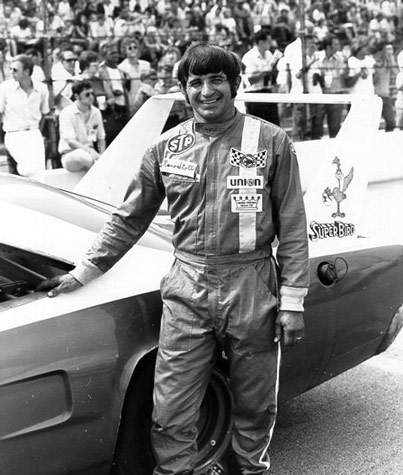 #507 - For the decades of the 1960s and 1970s, there can be little argument that the late model racers from Iowa were cream of the crop. And beyond doubt, their capital was Keokuk, that old-time town along the banks of the Big Muddy. The Keokuk Komets raced far and wide, Don White, Ramo Scott (pictured above), Dick Hutcherson, Len Blankenship, and Ernie Derr among them. Their achievements were extraordinary. That group in itself earned 18 IMCA Championships and three ARCA titles. (Midwest Racing Archives Photo, courtesy of Kyle Ealy and Lee Ackerman)
FOUR
---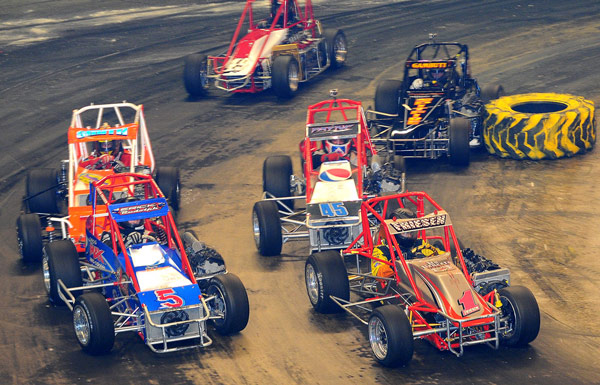 #506 - That's Stewart Friesen (#1) going at it with Erik Rudolph at Lenny Sammons' indoor races in Providence RI last weekend. Stewart was supposed to join us to sign autographs at the Gater Motorsports show in Syracuse, but he slipped away to go racing. We agreed, reluctantly, but told him he had better well win. Win he did, convincingly, both Saturday night and Sunday afternoon. Erik was runner-up in both times. (Norm Marx Photo)
four
---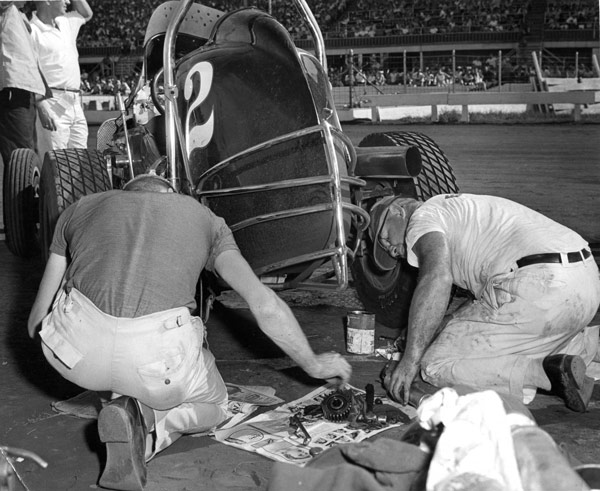 #505 - Does it ever occur to you that the pit area can seem almost too kitted-out these days? Maybe all the bells and whistles folks tow around aren't absolutely necessary. Check out this gear change. It was no backyard deal. It was nationally notorious Pete Folse who called for a gear change right before feature at the Iowa State Fair on August 31, 1959. A 9/16th, a ball-peen hammer, and a couple of pieces of newspaper worked just fine. Folse and his Offy were fast, but Wichita's Harold Leep won the show. (Cal Lane Collection)
four
---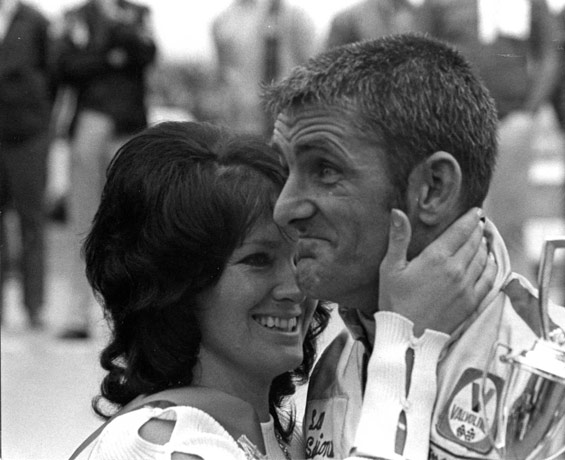 #504 - When Gary Bettenhausen could not do the full USAC Sprint Car circuit in 1972 due to Champ Car racing, he all but bequeathed the Sprint title to Sammy Sessions. Sammy seemed to like the idea. He swept the 40-lap season opener at Tri-County Speedway. Do you think there was anything about that day he didn't like? (Gene Crucean Photo, Cal Lane Collection)
four
---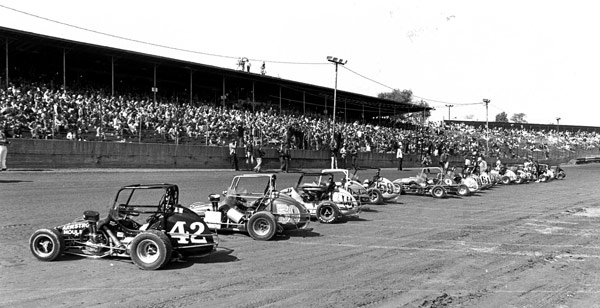 #503 - That's the lineup for the midget segment of the 4 Crown National event at Eldora in 1981. The irrepressible Kenny Schrader was beyond busy that day. He won the midget main, he ran the Rose Brothers Champ dirt car and got a sixth, he drove his own Mustang to 10th in the stock car feature, and he qualified Steve Kinser's sprinter. Steve was late getting there, but he belted up as soon as he arrived and drove right to Victory Lane. (Cal Lane Collection, John Mahoney Photo)
FOUR
---

#502 - Talk about giving someone the wheel! In this seriously action-packed Midwestern early midget image, Bert McNeese is wrestling to keep the infamous #1 Koch Offy straight. He's just thrown his right rear, and it's bouncing off the shoulder of Walt "The Count" von Tillius just in front. (Open Wheel Magazine, May 1984, Leroy Byers Photo)
four
---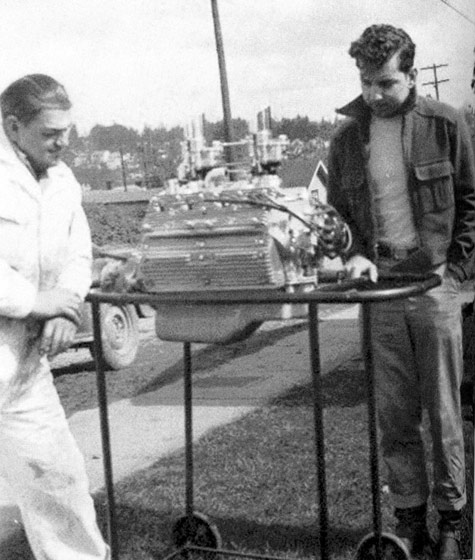 #501 - It was back in the forties; Ford V-8 60s were the hot setup, but often too hot. To deal with that, innovative midget car owner Sarge Robinson built up and demonstrated his newest flathead to Playland Stadium Speedway (Seattle) official Gordon Fish. It featured extra aluminum water jackets, redirected the exhaust, and added new water tanks to the sides of the block. It became known as the "waterhouser." Though the workmanship was apparently quite spiffy, it didn't work, and soon the Offenhauser reigned supreme. From SMOKE, SAND, and RUBBER, by Mel Anthony. (Golden Wheels Collection Photo)
four
---
FOUR

Previous Photos of the Day - PAGE
3

Previous Photos of the Day - PAGE 2

Previous Photos of the Day - PAGE 1