.



Email us at info@coastal181.com
.
---

Previous Photos of the Day - PAGE 5

Previous Photos of the Day - PAGE 4

Previous Photos of the Day - PAGE 3

Previous Photos of the Day - PAGE 2

Previous Photos of the Day - PAGE 1
---
A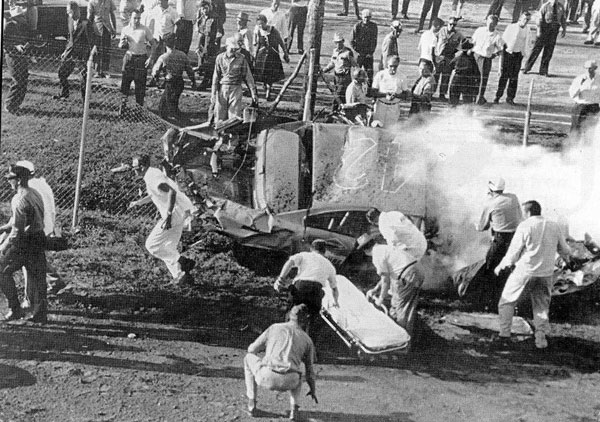 #1250 - This Bruce Craig shot shows what confronted track attendants when they chased Lee Petty down to his landing spot over the wall in the second qualifier for the 1961 Daytona 500. Petty had dueled with Johnny Beauchamp (with whom by coincidence he had had a photo finish at the track a couple of years earlier), and the two tangled, penetrating the guard rail in tandem. Petty sustained life-threatening injuries and was hospitalized for four months. Beauchamp received wounds to the head, less serious than Petty's, but it was the end of his driving career. The day's events were full of skirmishes. The eventual winner of the second qualifier, Fireball Roberts, commented, "I was scared to death out there." From FLORIDA MOTORSPORTS RETROSPECTIVE PICTORIAL, Vol. 2, by Eddie Roche
A
---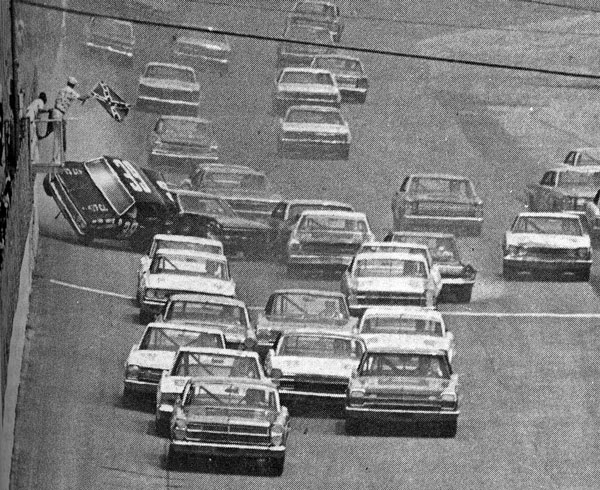 #1249 - They hadn't even reached that Confederate starting flag at the 1967 Darlington 400 when the crashing started, but, as so often is the case in racing, no one was about to accept responsibility. Friday Hassler, in the #39 Chevrolet, commented after very nearly making it into the grandstands, "When we got up to about 100mph, everyone in front of me started stopping. I slowed down, but apparently the guy behind me didn't do such a good job of slowing down." 'The guy,' who was Buck Baker, saw it otherwise. "That #39 stopped right in front of me. I could do nothing but run all over him. I don't understand the folks that run racing. It seems they go out and get some of these drivers from the cotton fields." From FORTY YEARS OF STOCK CAR RACING: Big Bucks and Boycotts, 1965-1971, by Greg Fielden.
a
---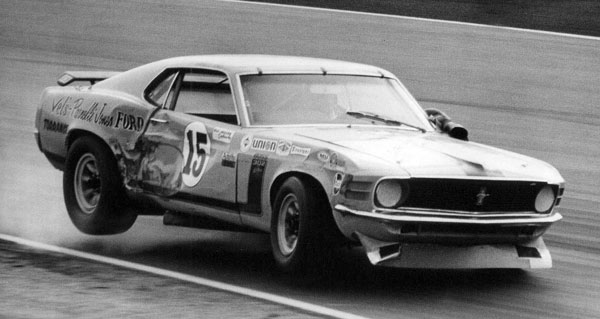 #1248 - "The redoubtable Rufus "Parnelli" Jones, former Indy 500 winner and future Baja 1000 winner, spent the summer of '70 beating the Trans-Am championship into submission, winning 5 of 11 rounds." Photo and Caption are from a very cool new book, RIVERSIDE INTERNATIONAL RACEWAY: A Photographic Tour of the Historic Track, its Legendary Races, and Unforgettable Drivers, by Pete Lyons. (Bill Motta Photo)
m
---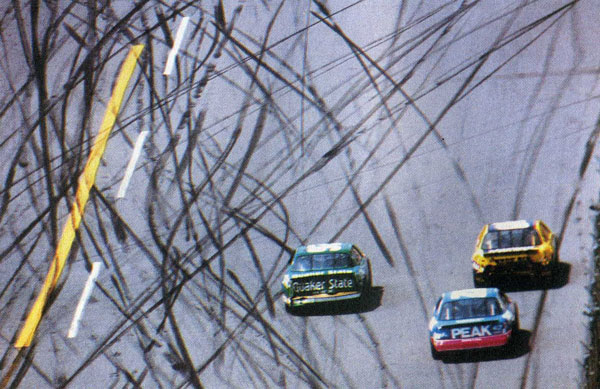 #1247 - The photo was labeled "the tapestry of terror." This is what the surface of the Daytona tri-oval looked like after the start of the Pepsi 400 on July 7, 1990. On lap one a horrendous 24-car collision was sparked by contact between Richard Petty, Derrike Cope, and Greg Sacks. It was the largest NASCAR wreck since the 1960 Sportsman-Modified race that rearranged 37 of the entries. When the Pepsi 400 finally restarted 36 minutes later, Dale Earnhardt scooted off to a dominant win. From FORTY YEARS OF STOCK CAR RACING: Forty Plus Four, 1990-1993, by Greg Fielden. (Brian Czobat Photo)
m
---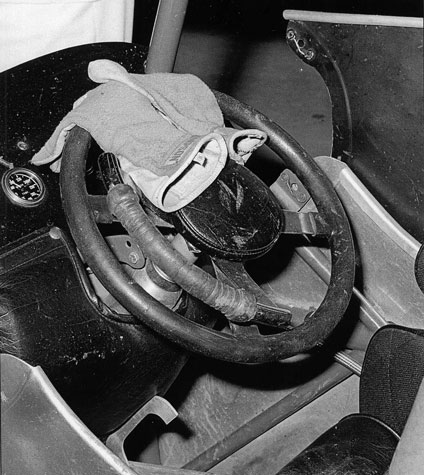 #1246 - The legendary Californian Sprint Car chauffeur Dean Thompson won the California Racing Association title in 1980-1983 and racked up a total of 103 CRA feature wins. He was born with a left arm shorter than his right, and his left hand missed a thumb. This is the steering wheel that Bruce Bromme Sr., made up for him so he could man-handle the fiery red Bromme Sprinters. Thompson, Bruce Bromme Sr. and Jr., and their engine builder, Ron Shaver, all ended up in the Knoxville National Sprint Car Hall of Fame. From OLD SCHOOL, Vol. 3 – 1980, by Mike Arthur
A
---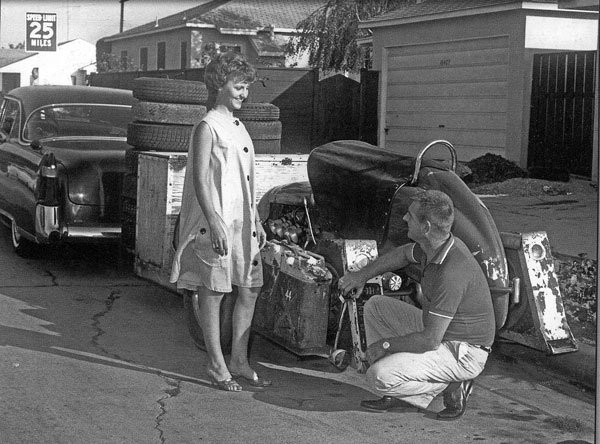 #1245 - "Jimmy Davies, winner of 50 AAA and USAC midget features, was one of racing's best. Here Davies secures a ramp on his trailer as he visits with his wife, Judy, prior to another road trip in 1962. Many of his wins came in this sweet-handling, Bob Pankratz-built midget. Interestingly, the car was stolen not long after it was built. Davies, however, was able to recover the car a year later after spotting it news photos of a 1954 accident in which driver Ray Smith was killed at Sacramento." From FEARLESS: Dangerous Days in American Open Wheel Racing, by Gene Crucean.
(Walt Mahony Photo)
A
---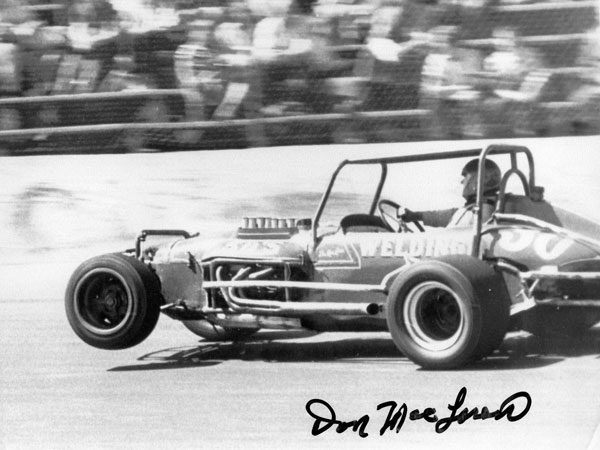 #1244 - "Big Daddy" Don MacLaren was a Supermodified racer who took his specialty right to the edge. Here he is at Star (NH) Speedway: his head confidently back, a straight-arm reach to a spoke of the steering wheel, the chassis on the roadster working like an old-time Sprint Car. Everybody move back! (Coastal 181 Collection)
a
---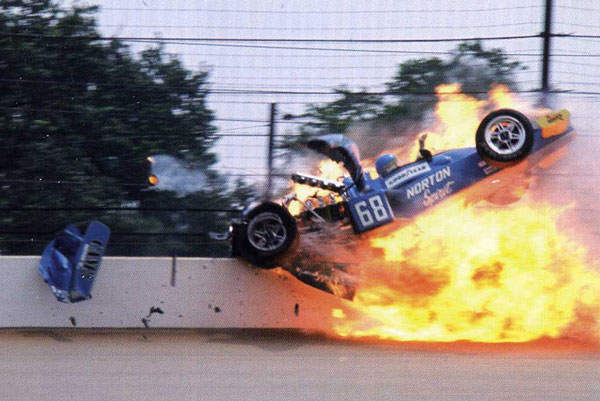 #1243 - In 1975 Tom Sneva replaced Gary Bettenhausen in Roger Penske's Indy Car team. He qualified on the inside of row two in the Norton Spirit wrenched by Jim McGee. But around half way there was trouble. USAC came over the radio and said to McGee, "You've had a big crash in turn two." McGee replied, "Where's the car?" USAC's answer "What part of it are you looking for?" Sneva was back in action the following week. From JIM McGEE: Crew Chief of Champions, by Gordon Kirby. (Jim Alvis Photo)
MM
---
#1242 - Once again on January 23-24 promoter Toby Kruse held his Battle of the Barn at the Iowa State Fairgrounds in Des Moines. Over 300 entries piled in – karts, four wheelers, outlaw three wheelers, motorcycles, and lawn mowers. On Saturday night the stands were so full that the Fire Marshal labeled it a sellout. The racing was thick and spectacular, though everyone walked away under their own power. That indoor air was kinda thick, too, but, as Speedway Illustrated honcho Karl Fredrickson mentioned, "No problemo. That beer cleans a guy's throat in no time." (Speedway Illustrated Photo) .
M
---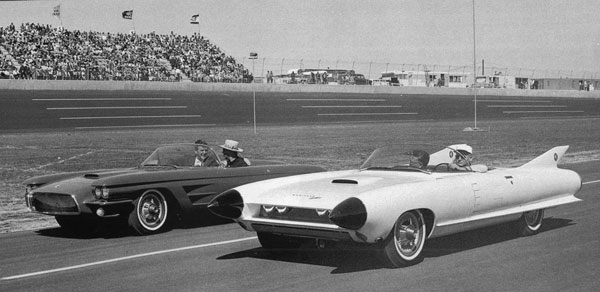 #1241 - Everything must have seemed so fresh at the inaugural Daytona 500 in February of 1959. The tri-oval was brand new, packed with fans. The pits were loaded with cars – and cars and their drivers who had little idea how all of this would work out. The car companies were certainly beginning to watch the sport, too. The Cadillac folks showed up with their 1959 dream car, the Cyclone. Beside it was Harley Earl's '59 Olds F-88. It would be 32 more years before Joey Logano was born. From MOTORAMA: GM's Legendary Show and Concept Cars, by David W. Temple. (Photo GM Media Archive)
n
---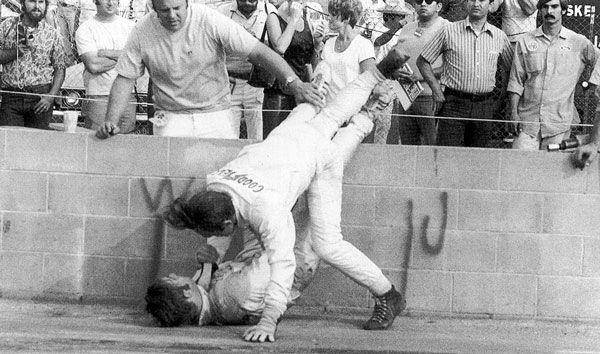 #1240 - The normally civilized Sam Posey got into quite a dust-up at Riverside Raceway in Trans-Am's Mission Bell 200 on October 4, 1970. Posey's Dodge Challenger's brakes had locked and he drilled Peter Revson's Javelin. Revson was unimpressed, grabbed Posey by the throat when back in the pits, and the two toppled over the pit wall. Posey remarked, "I was trying to apologize, but his grip on my windpipe made things difficult." From RIVERSIDE RACEWAY: Palace of Speed, by Dick Wallen. (Pete Bird Photo)
a
---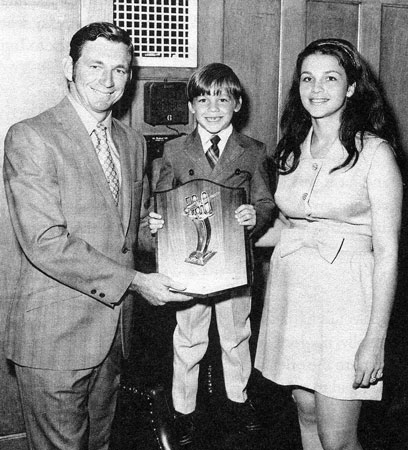 #1239 - This is Donnie Allison with his son Kenny and his wife, Pat, posing with the 1970 Indy 500 Rookie of the Year plaque. He had run a Gurney Eagle owned by crusty A.J. Foyt. The race must have been a relief for Allison, who had had a rough go of it during the month of May. He spun during the rookie test, but passed. Later in practice he pounded the wall on the backstretch, and his owner was not pleased. Donnie recalls, "I came out of the infield care center, and he asked me if I was all right. I told him yeah, but I had bitten my tongue. 'How'd you bite your tongue?' I looked at him straight in the eye and said, 'Because just before I hit the wall, I said, 'Oh shit!' and I bit it." (From DONNIE ALLISON, As I Recall, by Donnie Allison. (Donnie and Pat Allison Collection)
a
---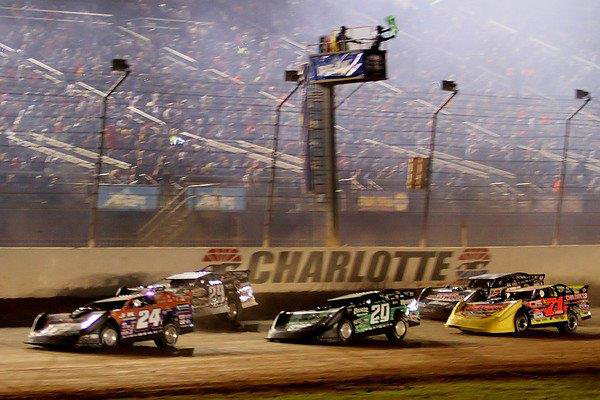 #1238 - Are you feeling racy? Dave Dalesandro memorializes the start of the 2012 WOO Late Model race at Charlotte.
A
---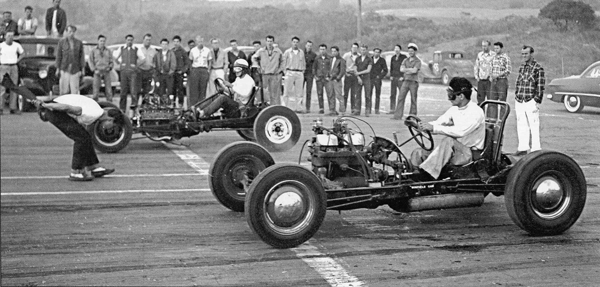 #1237 - It's the unfurling green at the Saugus, CA, drags on January 11, 1953. The track wasn't NHRA-sanctioned, and the whole scene is pretty rudimentary. The floor boards in the car in the far lane look about as useful as the roll bar (and the helmet) in the near lane. And a dollop of Speedi-Dri would be worthwhile…. From HOT ROD GALLERY: A Nostalgic Look at Hot Rodding's Golden Years, 1930-1960, by Pat Ganahl.
a
---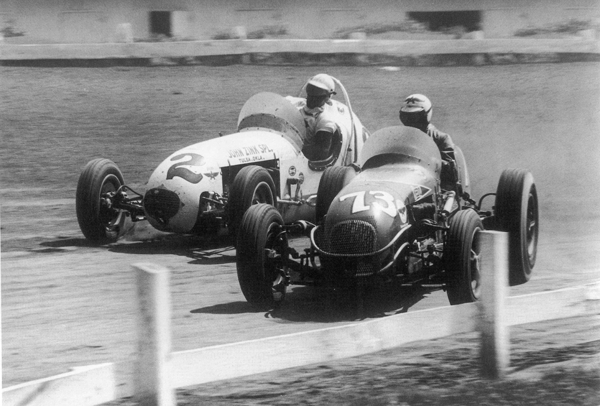 #1236 - Wrestlin' with Indy Cars on a half-mile dirt. That's Jud Larson in the John Zink #2 and Andy Linden on the inside at Williams Grove in 1957. Linden's nickname was "Arms" but he may have met his match with Larsen's biceps. In any case, those boys look like they spent a lot of time at Curves – or should we say Gold's Gym? From INDY CARS ON SHORT TRACKS, by Buzz Rose and Joe Heisler. (Walt Imlay Photo)
A
---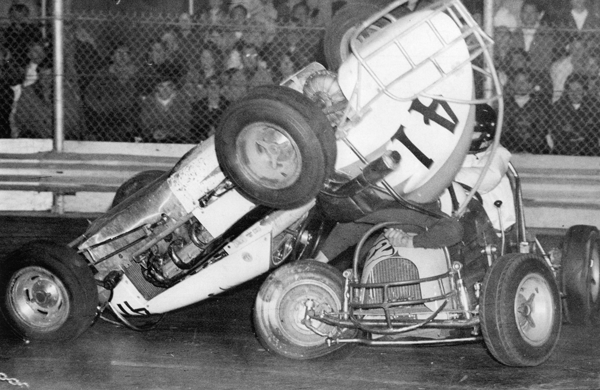 #1235 - This was the Northern California indoor Midget series at Santa Rosa on January 3, 1970. Ken Gandy (#41) and Jack Walker sure were spectacular. It was not surprising that cages were mandated the next year. From INDOORS, Volume 3, Tracks of the West, by Tom Motter (Larry Wood Photo/Ken Urton Collection)
aa
---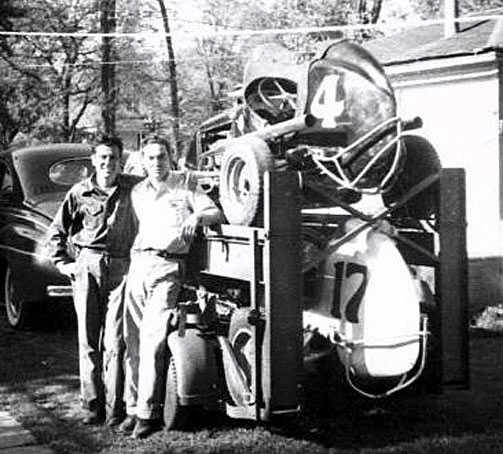 #1234 - Tim Peters sends in this cool image of his father, Kelly, and Landy Scott. They ran quite the operation out of Lake Forest in the late 1940s – top notch and efficient. Tim says they were likely headed to Raceway Park or Soldier Field in Chicago. The tow car would later be run in some of the early stock car races on the Milwaukee Mile. (Peters Family Collection)
A
---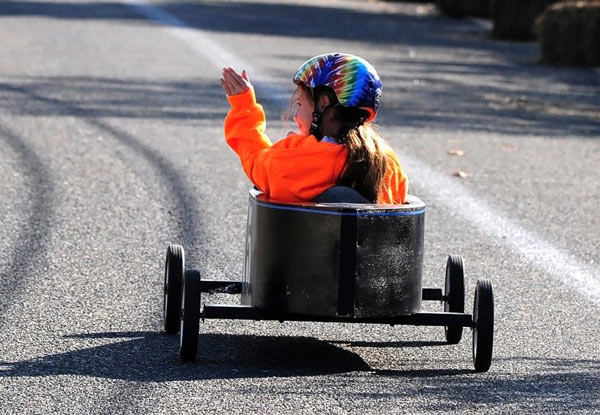 #1233 - Some fleeting warmth in winter. Jim Smith captured this pleasing image at the Wall (NJ) Township's police-sponsored Coaster Derby.
a
---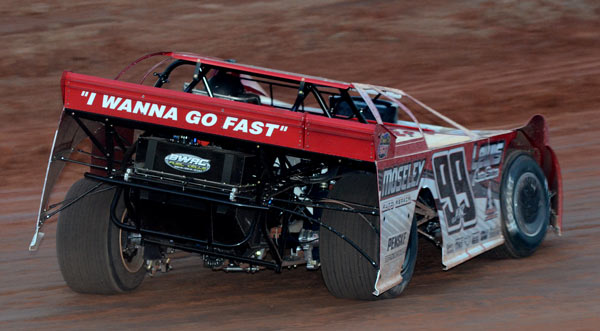 #1232 - Maybe Spring really will come. Here's JR Moseley out of Columbus, GA, qualifying last Saturday for the Southern Thunder Late Model Series as part of the Super Bowl of Racing at Golden Isles Speedway. (Photo and caption thanks to Troy Bregy)
a
---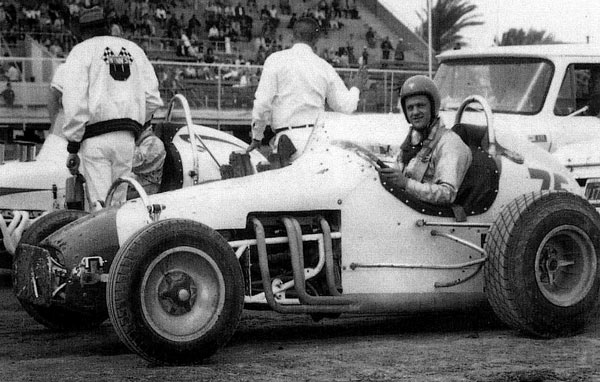 #1231 - October 25, 1970 was one of motorsports' blackest days. It was to be the final day of the 50-year-old one-mile Sacramento (CA) Fairgrounds oval. J.C. Agajanian brought in a special show – a 100-miler open-competition Supermodified and Sprint Car show. Things went terribly wrong right from the start. In the first heat popular Ernie Purcell of Nevada City crashed violently. Sacramento's own Walter Reiff, a talented car builder and driver pictured above, was watching from the infield. He jumped onto the track to warn oncoming racers, only to be mowed down by the pack. Then, on lap 35 of the feature, Jimmie Gordon, also of Sacramento, flipped, was hit by other cars, and exploded in flames. All three drivers were dead on arrival at the hospital. Aggie cancelled the balance of the program, and Illinois' Jerry Blundy was declared winner. From RACERS AT REST: The Checkered Flag 1905-2008, by Buzz Rose, Joe Heisler, Fred Chaparro, and Jeff Sharpe.
a
---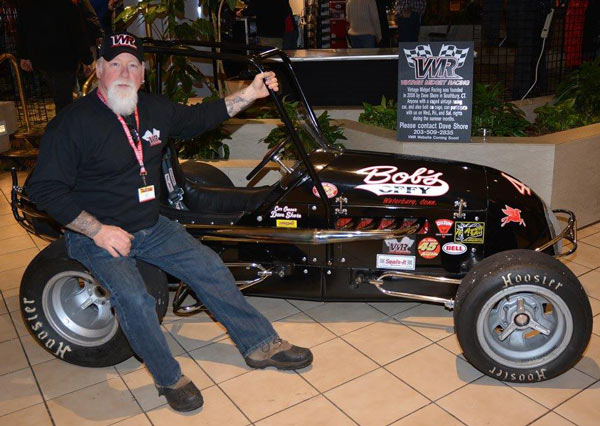 #1230 - Here's a shot of good guy Dave Shore from Southbury, CT, profiling at Bobby Seymour's RACER'S EXPO last weekend between the Northeastern snow storms. Dave runs the Vintage Midget Racing series for caged midgets on Wednesday and Saturday nights during the summer months. Racers come from New York, Long Island, and all over New England. Dave can be reached at 203-509-2835. (Norm Marx Photo)
A
---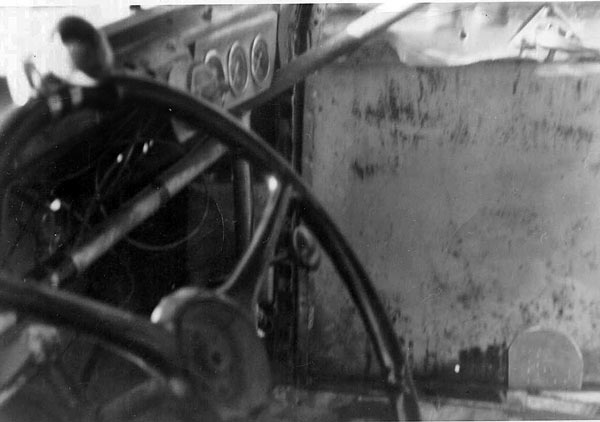 #1229 - Just before the 1964 season at Westboro (MA) Speedway, star driver Fred Borden accepted an out of state job for the summer and had to give up the seat of the Falconi Bros. #10 modified for the season. John Falconi, the family patriarch, told his kids "to call the Finn immediately". Reino Tulonen, the infamous "Flyin' Finn", accepted the ride in a minute, but told crew chief Ricky Falconi that he had broken his hand and would need a "girlie knob". As seen here, Ricky found one from a hot rod at Carl Carpenter's nearby speed shop. It worked just fine, and they won the first night out. But, being plastic, the knob was no long term match for Reino's furious wheel-twisting. Fats Caruso noticed all that and managed to source another one – made of steel and ball bearings from his employer, Wyman Gordon. That one went the distance, and Reino steered the #10 car to the championship. (Rick Falconi Collection)
A
---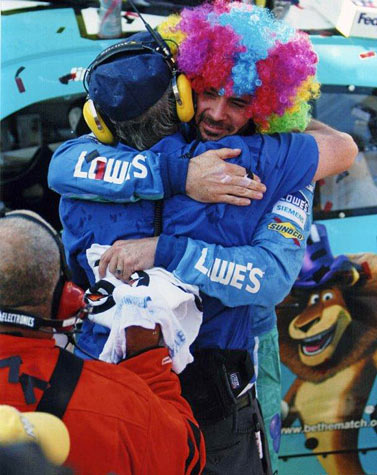 #1228 - Buddies. Back in June of 2012, the red hot Jimmie Johnson swept the Cup show at Dover, Delaware. He jumped out of his car and gave Dr. Dick Berggren a big ole hug. It was Bergie's final Fox broadcast. (Paul J. Morales Photo, North East Motor Sports Museum Collection)
a
---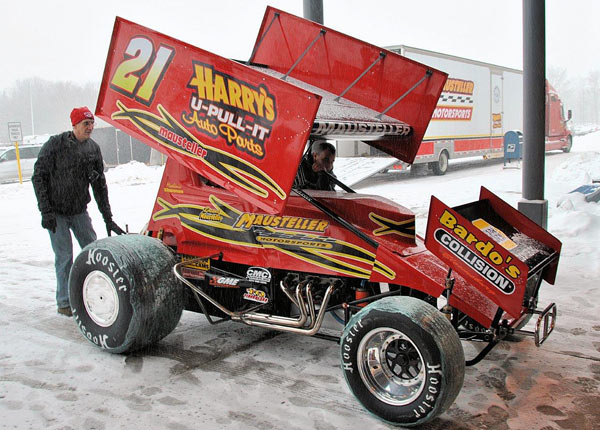 #1227 - Winter's cushion is beginning to look an awful lot like last year's. This wintry image is from the first annual NEPA Race Car Show held at the Laurel Mall in Hazelton, PA, last February. Event promoter Dino Oberto was helping Duane Mausteller to push his #21 Sprinter through a driving snowstorm into the mall. About 50 other cars would soon follow. The 2nd Annual NEPA Race Car Show takes place February 9-15 at the Laurel Mall. A Racer's Night Out will be held at nearby Lobitz Catering Hall on Friday, Feb. 13, hosted by racing good guy Stan Lobitz. (Kevin Green Photo, Dino Oberto Collection)
A
---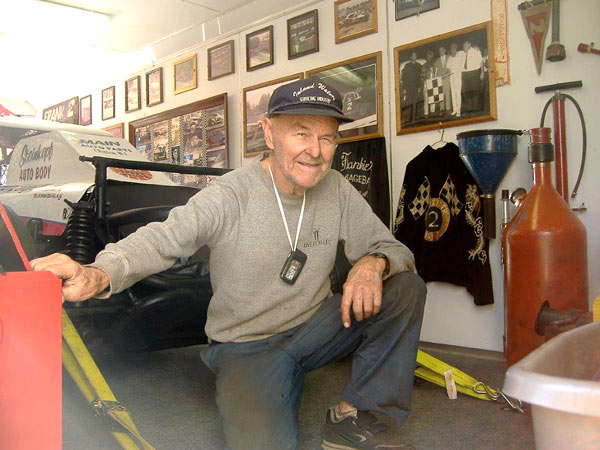 #1226 - Back when Area Auto Racing's Motorsports show was held in Atlantic City, Frankie Schneider came by our booth to sign some books. When he came in, he said, "I know you." I reminded him of the time back in the 1840s that our team went down to Nazareth, started next to Frankie, and I promptly spun out. He looked over out of his car and shook his head at me. I asked him how he thought I felt when the national hero showed me such disapproval. He said, "Where did you say you're from?" I responded " Massachusetts," and he snapped back, "Never heard of it." This year he signed some more books for us, this time at Motorsports in Oaks, PA. I reminded Frankie of what had happened the last time we met. He said "Goddammit, I still never heard of Massachusetts." (Photo by www.midstateantiquestockcarclub.com)
aa
---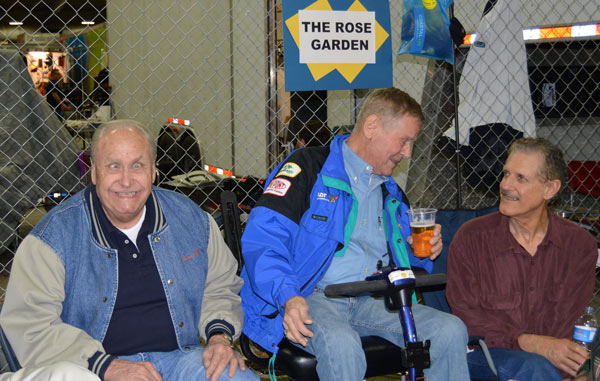 #1225 - A section of our booth at the Chili Bowl is called the "Rose Garden," honoring our buddy Buzz Rose whose racing-book inventory we bought a couple of years back. Buzz brings his buddies along each year, and it is quite the show. Here, right to left, are Jimmy Oskie (behaving after a night of dancing out on the town in Tulsa), Bobby Unser (clearly having a good time), and Buzz Rose (what can you say?!?). (Coastal 181 Photo)
AA
---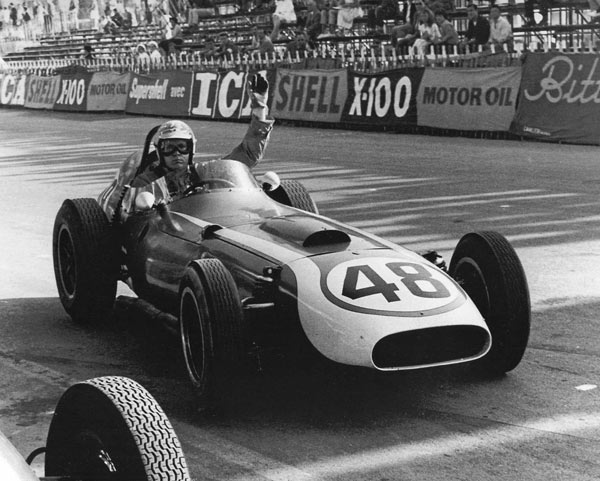 #1224 - Lance Reventlow really wanted to go racing. He had the youthful energy and the money. The son of Woolworth heiress Barbara Hutton, he launched the first real American post-war Grand Prix effort. Insisting on utilizing American componentry only, his team came up with a steel space-framed, four-coiled Scarab with Offy power. When he arrived in Monaco in 1960 with Chuck Daigh, they realized almost immediately that they were out-handled by the new European mid-engine designs and down 50 horsepower to the Ferrari and BRM team. They lasted just a few races. (From THE AMERICAN LEGACY IN FORMULA 1, by Phillip van Osten. (Photo: the Cahier Archive)
a
---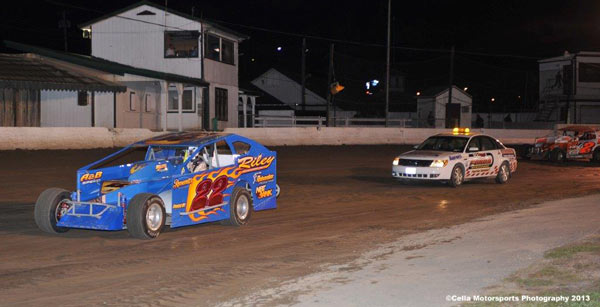 #1223 - In his six-decade career at Fonda Speedway, Dave Lape led the field to the checker in 99 feature events. On this occasion in August 2013, he led before the first lap, even ahead of the pace car. As was so very much deserved, he was being honored on "Dave Lape night," his final racing performance. (Harry Cella Photo)
a
---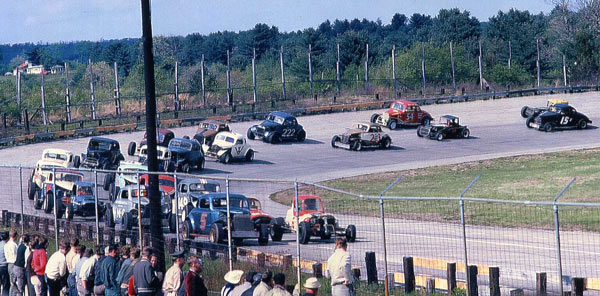 #1222 - It was 55 years ago on a spring day in Thompson, CT. The fence and the cars were patched up, and everyone was ready to go. At the start of the open competition main, Don Casey brought them down for the green in a minimalist cut down. Alongside in the flyweight #$ full coupe was Modified racing's professor, Steady Eddie Flemke. (Coastal 181 Collection)
a
---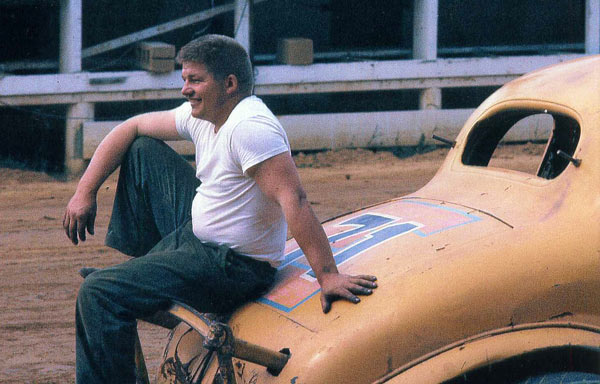 #1221 - Front end/rear end. That's Carl Van Horn in the Paleolithic era with one of his familiar #71e coupes. He is perched on what might be one of the coolest rear bumpers in history. (Coastal 181 Collection)
aa
---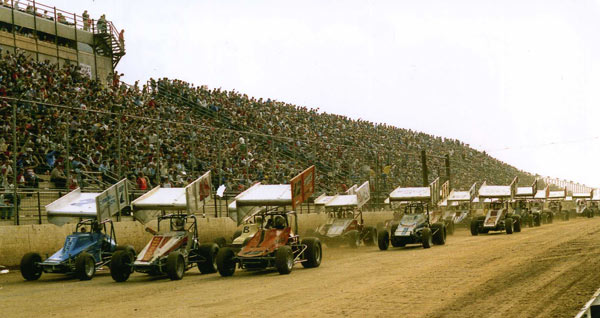 #1220 - It was a beautiful thing when the Sprinters tore down the frontstretch for the three-abreast start on the sprawling 1 1/8th-mile Nazareth National Speedway in 1983. The lead row was Kevin Collins (pole), Gary Gollub, and Paul Lotier. In no time, however, it turned to huge and horrendous mayhem when the second row got crossed up. Frankie Kerr, who started inside that second row, somehow escaped the carnage and won it. (Bob Snyder Photo and data)
aa
---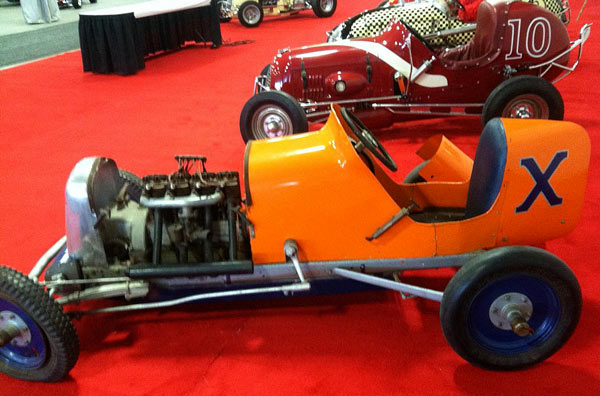 #1219 - Another cool Area Auto Racing News Motorsports show finished up yesterday, just before what is likely to be the storm of '15. There were lots of compelling characters and shining cars. The chrome was especially noticeable in the booths with the latest Modified tech. Surely Modifieds have become a game for economic one-percenters only. Right at the entrance of the show, however, was a car many considered the neatest in the place: a 1933 designed and built in the backyard and now owned by everyone's favorite, Stan Lobitz. It features a remarkable front end – with front-wheel drive, semi-elliptical springs, and a fabulous exhaust manifold on motorcycle power. Raced all over Pennsylvania, Ohio and Indiana long before the interstate highway system, it was not for the faint of heart. The roll bar speaks for itself, the braking system would have been useful in the pit area only, and there wasn't even really a seat… (Coastal 181 Photo)
aa
---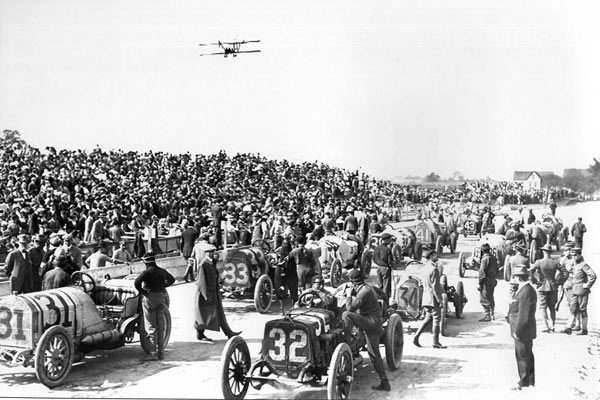 #1218 - The fourth Automobile Club of America GRAND PRIZE race was run on the Wauwatosa course near Milwaukee 103 years ago, on October 5, 1912. Just before the start, 16-year-old pilot Farnum Fish flew a Wright Brothers airplane over the gathering. That was pretty exciting for the time. And flying with Fish was lensman Hugo Wagner of Chicago's News Enterprise. It is said that it became the first race to be photographed from a plane. From THE 1912 MILWAUKEE RACES: Vanderbilt Cup and Grand Prize, by Joel E. Finn.
A
---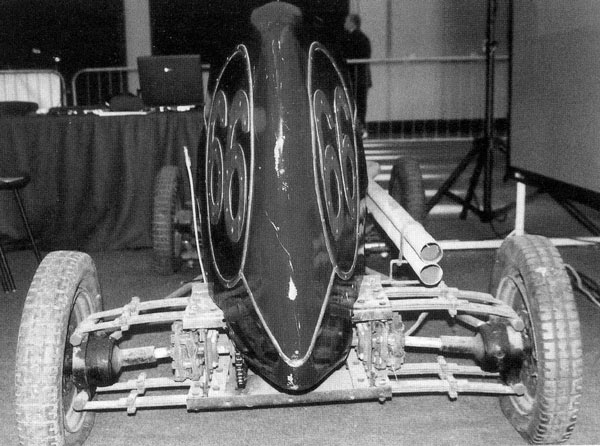 #1217 - Here's the mind-numbing rear end of one of the Skirrow Specials. The cars were built in the late 1930s by Harry Skirrow in London. He produced popular, hot setup chassis for early British Midgeteers. Eventually his designs developed into the configuration above – way ahead of its time with all-around independent suspension and four-wheel drive. From MIDGET CAR SPEEDWAY: Following the Stories of Stoke Potters, by Derek Bridgett
AA
---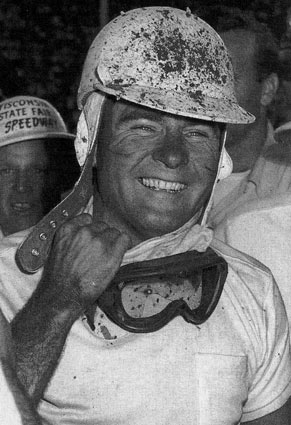 #1216 - We had a little space by our booth at the Chili Bowl called the Rose Garden, honoring former Sprint Car driver and publisher Buzz Rose. So many interesting folks stopped by for a chat. One was Chuck Stevenson Jr., who had cool stories about his dad (above), a seriously tough Montana-born open-wheel racer who was AAA National Champ in 1952 and a many-time competitor at the Brickyard. Chuck says he once asked his father what kind of race car he liked the best. He said Midgets were the most fun, but he had flipped every kind of race car there is – and all of them were heavy. Photo from FABULOUS FIFTIES: American Championship Racing, by Dick Wallen. (David Gulick Photo)
A
---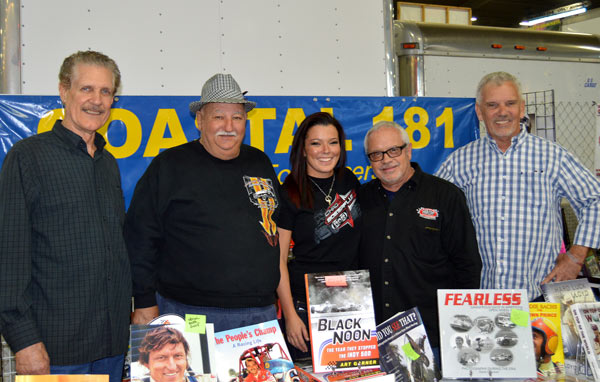 #1215 - The Coastal 181 Open Wheel Team lined up at the Chili Bowl for a picture that should appear on every post office wall in the country. That's (L to R) Jimmy Oskie, Duke Cook, Jessica Van Dyke, Shane Carson, and Jimmy Sills. (Joyce Standridge Photo)
A
---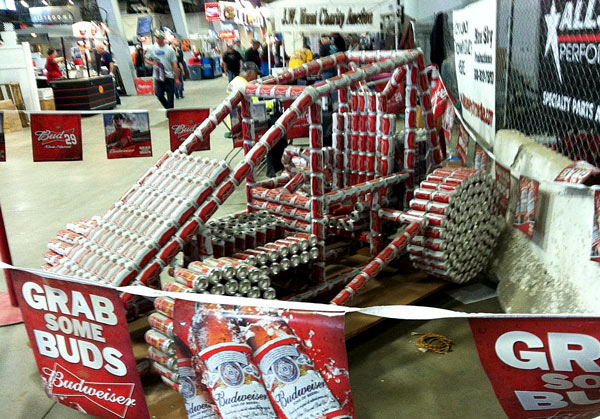 #1214 - Chili Bowl 2015. There were the Abreu, Larson, Swindell, and Swindell shows. And then there were the fans…. (Coastal 181 Photo)
A
---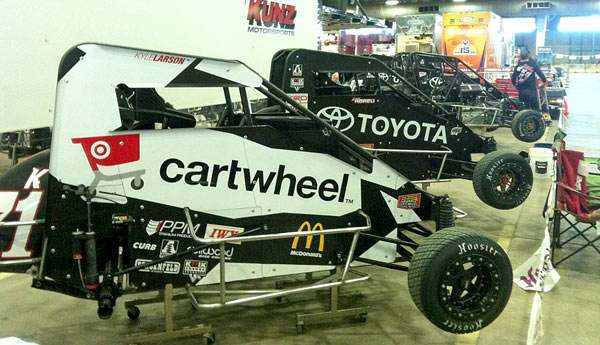 #1213 - The calm before the storm. That's Keith Kunz's pit area at the Chili Bowl on Friday morning, and that's Kyle Larson's ride and his buddy Rico Abreu's Midget behind it. (Coastal 181 photo)
A
---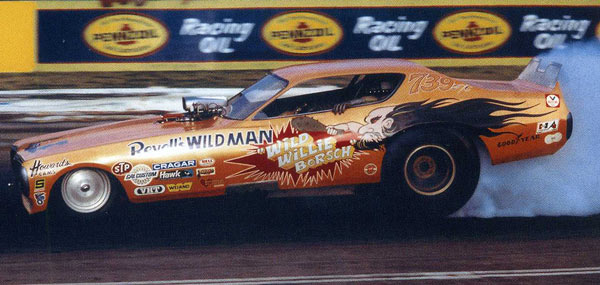 #1212 - Wild Willie Borsch, who passed away in 1991, was one of drag racing's most popular and pleasingly out-of-control characters ever. He was especially known for his scary rides in his predictably ornery AA/Fuel Altered, the "Winged Express." Along the way he switched over to Funny Cars with the Revell "Wild Man" Dodge Charger. His trademark one-handed driving came right with him, sort of. Note the Nomex-clad arm resting on the outside body. It was from a dummy. From DRAG RACING FUNNY CARDS: Factory Flyers to Flip-Top Fuelers, by Lou Hart. (Howard Koby Photo)
a
---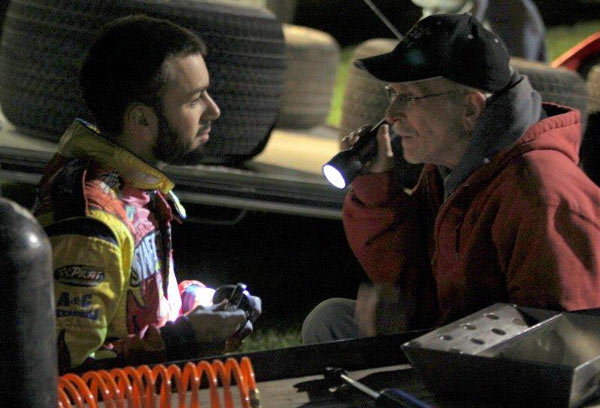 #1211 - This poignant image drew lots of attention at the recent Eastern Motorsports Press Association meeting near Philadelphia. Dave Dalesandro captured a moment deep in the mix of racing passion and family bonding. That's Barefoot Bob McCreadie (R), surely one of the most popular and talented center-steer Modified wheelmen ever, and his son Jordan, talking setups for the main event at Weedsport, New York. (Dave Dalesandro Photo)
a
---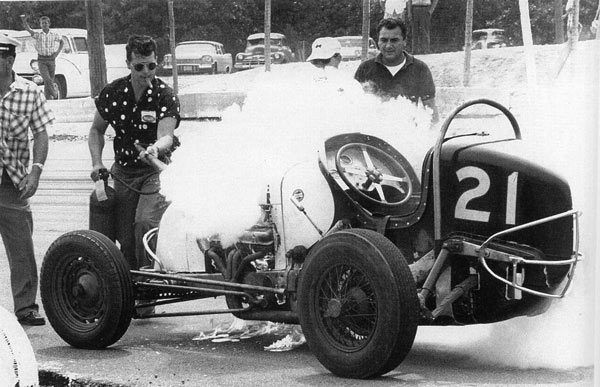 #1210 - July 31, 1960 had to be one of the hottest days for Carl Becker's old-time Sprinter. The car was originally build in the mid '30s for Briggs Cunningham. Over time it was wheeled to victory by Joie Chitwood and Tommy Hinnershitz as the Peters Offy. By the '60s it was outfitted with a small-block for URC as shown here with the teched-out, cigar-smoking fire crew at the old half-mile Atlantic City Speedway in Pleasantville, NJ. From TOW MONEY: The History of the United Racing Club – Volume One, by Buzz Rose and Jim Chini. (Walt Imlay Photo)
a
---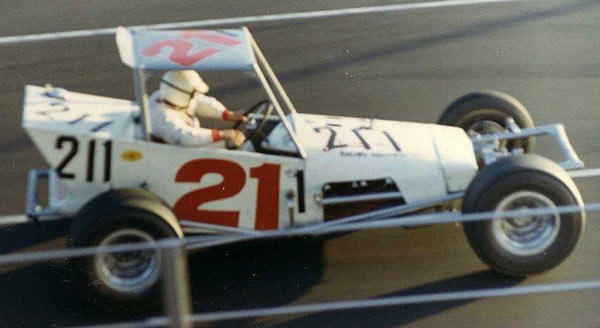 #1209 - In 1966 Michigan's Johnny Benson Sr. decided to take a run out to the Oswego (NY) Speedway Classic. He recalls, "The chassis itself was basic. We welded and welded – all square joints because we had no tubing bender. The motor was a 327 stroked to about 383, and we put some big valves in it. I had a 35-gallon tank out back and one 15-gallon on each side of the drive shaft. When it was ready to go, we had spent $3500, but, to be honest, I think the magneto was used. It was tough back then. Lots of guys were buying Indy roadsters for about $30,000 to run there – beautiful stuff. I felt pretty self-conscious with this little dog we'd welded and ground on. There were 81 cars there, and we weren't used to 200-lappers. We didn't even have power steering. But it worked out. We got the pole with a new track record and we won it. I was totally wiped out." From a conversation with Johnny in 2010. For more, see the 10/29/10 Tearoff HERE. (John Halloran Photo)
A
---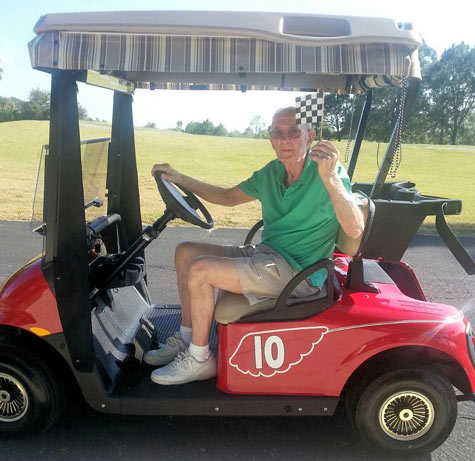 #1208 - Freddy Borden, a great cutdown and Modified driver from the 1950s and '60s, is still rejoicing about his induction last fall into the New England Auto Racing Hall of Fame. Freddy, now down in Ft. Myers, updated his golf car to the raciest configuration, painted it red, and lettered it up like one of the Falconi Brothers coupes he used to drive. From the looks of his windscreen, he is planning to run some dirt this time around. (Pete Falconi Collection)
A
---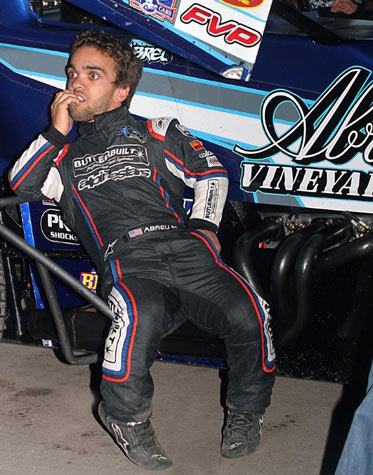 #1207 - Rico Abreu is clearly thinking about that huge entry list for next week's Chili Bowl. We're thinking about it, too, and about to be on our way. (Dick Ayers Photo)
a
---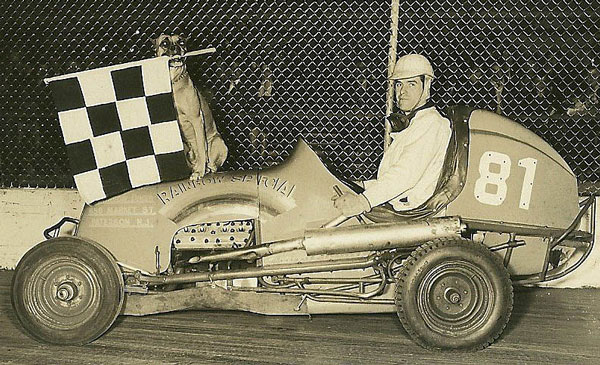 #1206 - New Jersey native Art Cross got the Midget itch in 1938, only to be interrupted by the War. Back home in '46 with a Purple Heart from the Battle of the Bulge, he frequently rode one of Pappy Hough's "Little Iron Pigs." He went to Indy and was Rookie of the Year in 1952, runner-up the next. He retired after completing the entire – and entirely steamy – 500 in 1955. Here he's shown winning one in Pappy's Rainbow Special at Knightsbridge Amory Speedrome in the Bronx in the late forties. Sure looks like a scowl on that starter's face. His bum must have been getting hot. From THE MIGHTY MIDGETS, by Jack C. Fox. (Frank Smith Photo)
a
---
#1205 - During a special unveiling held Saturday evening, December 14, at his Dimension Design shop in Brodheadsville, PA, Gary Mondschein took the wraps off an immaculate 1966 Ford Gerhardt Indy car. The car was the original Ken Brenn-owned No. 57 that was driven by Bob Harkey and several others, including Denny Zimmerman and Bruce Walkup. Brenn, his wife Dorothy, Harkey, Zimmerman and Walkup were all in attendance during the ceremony. Lothar Motschenbacher, Gene Bergin, Bruce Jacobi, Jim McGuire, Jerry Karl and Juan Carlos Salatino also had seat time with it. It first raced at Phoenix International Raceway on April 10,1967. There is a total of 28 recorded races. The restoration was an absolute masterpiece of craftsmanship, every detail meticulously done. (L-R Gary Mondschein, Denny Zimmerman, Bruce Walkup, Bob Harkey, Ken Brenn, Dorothy Brenn). Photo and caption by Dino Oberto.
a
---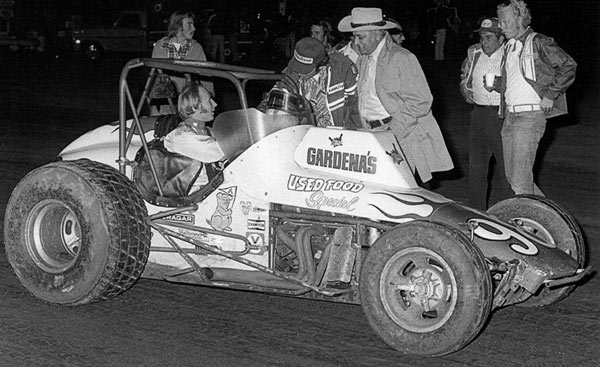 #1204 - In 1977 the South Dakota Wolf roamed out to Ascot for a ride in JC Agajanian's house car. Here Aggie introduces two of the hungriest – Gary Bettenhausen and Doug Wolfgang. From OLD SCHOOL – Vol. 1, 1971-1977, by Mike Arthur.
A
---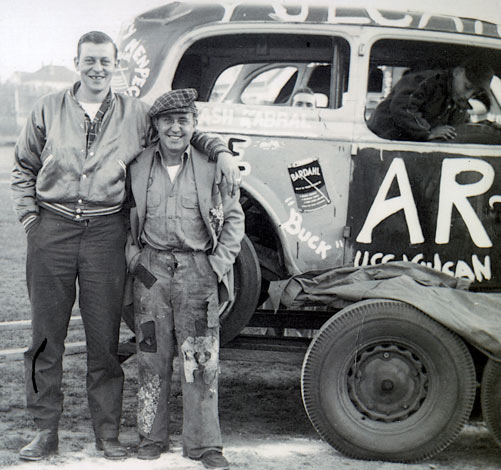 #1203 - Happy New Year – and a big smile – from Coastal 181. This image is from the brand new A HISTORY OF AUTO RACING IN NEW ENGLAND, Vol. 1. "It was taken on Ponta Delgada Stadium's (North Tiverton, RI) last day of racing (1953). The stock cars were the attraction, and, as you can see, there wasn't much of a dress code." Photo and caption from A HISTORY OF AUTO RACING IN NEW ENGLAND. (Photo Fred Astle Sr. Collection)
A
---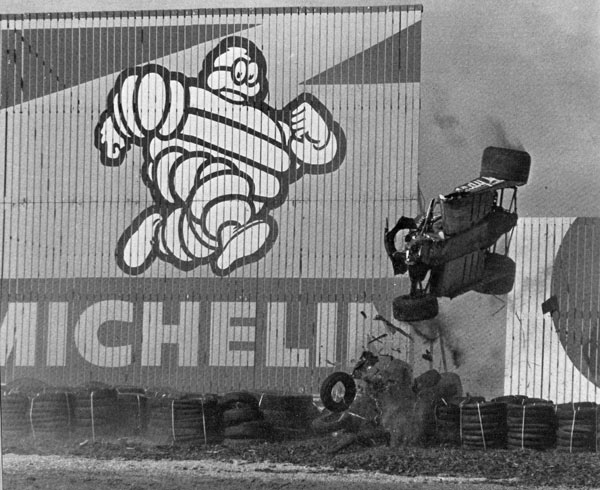 #1202 - That Michelin guy running on the billboard looks pretty concerned about high-flying Derek Daly. On lap 60 of the 1980 Dutch Grand Prix, Daly was hard on the brakes at the end of the straight approaching the Tarzan corner. The left front disc broke, one caliper ending up going clean through the rim and blowing the tire, while the other took out the lower wishbone. Daly, an Irishman, raced professionally for 17 years, participating in 64 Formula 1 events. The best luck of the Irish was with him this day, as he emerged with just a bruised left shin. Today he lives in Indianapolis and runs a public speaking agency called MotorVation. From AUTOCOURSE 1980-1981
A
---

#1201 - How brave are you? Everyone's paying attention as the Midgets do their parade lap before the three-deep start of the 100-lap USAC Midget show on the mile at Trenton, NJ, September 16, 1962. The front row was Bob Wente (pole), Don Branson, and Bobby Marshman. Marshman took the lead on the 59th circuit and went on to win. Marshman was killed at Phoenix two years later, Branson at Ascot in Gardena, CA, two years after that. Wente, however, enjoyed a long career. After racing he opened and ran a restaurant, Wente's O&W (for open wheel), in Chesterfield, MO, until his death in 2000. From MIDGET AUTO RACING HISTORY – Volume 3 1952-1968, by Crocky Wright. (Walt Imlay Photo)
A
---
#1200 - Ilmor Engineering and Team Penske made quite the energetic – though stealthy – endeavor to prepare the Mercedes 500I (now known as "the Beast") for the 1994 Indy 500. An indication: They plowed Pennsylvania's Nazareth National Speedway in the middle of winter to test, hoping that neighbor Mario Andretti would not notice. Here test team manager, Guy Oder (L), engine builder Mark McArdle, and Penske engineer Grant Newbury scale the banks to observe. From BEAST: The Top Secret Ilmore-Penske Engine That Shocked the Racing World at the Indy 500, by Jade Gurss. (Nigel Beresford Photo)
a
---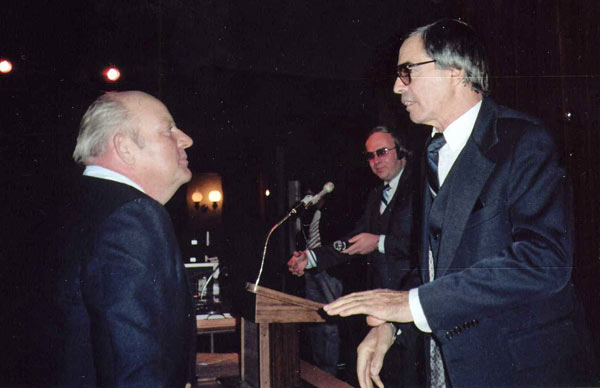 #1199 - Two of the greatest old-time Eastern super drivers were Don "Flyin' Scotsman" MacLaren (L) and Ollie "Quick" Silva (R). They were world-class rivals, and sometimes their on-track shenanigans got somewhat bellicose. This image was taken at a celebration for Ollie, and one wonders if they were wishing each other a Merry Christmas…… (NESMRA Collection).
a
---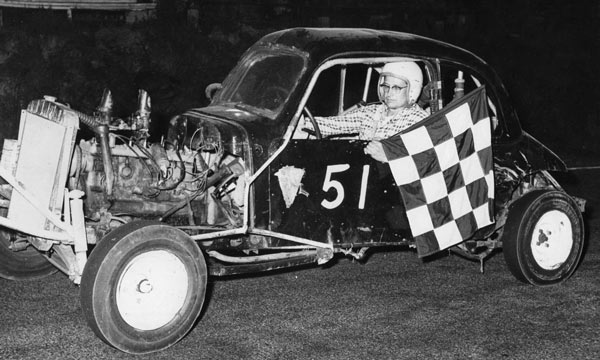 #1198 - Veteran race chaser Bob Nelson sent us this shot of Chappy Chapman winning one at West Peabody (MA) Speedway in August of 1960. Chapman ran this Studebaker-based non-Ford bomber with the Atlantic Auto Racing Association. Back then to us kids up in the stands, the minimalist car looked seriously innovative. We were told the relatively tiny rims and tires were borrowed from a Midget. Today it looks like something you would not like to flip in. Bob tells us that in fact that happened at Westboro Speedway. Chappy was chuggging off the fourth-turn pit road down those old high banks, and the left rear wheel broke. The car lurched and slowly – and embarrassingly – rolled side by side down to the infield. Fortunately for Chappy, it was in all likelihood the gentlest rollover in Westboro history. (Bill Balser Photo, Bob Nelson Collection)
a
---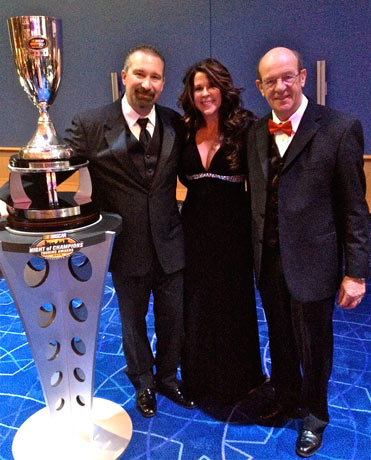 #1197 - Greg Pursley, 46, did something no other driver in history has done. He won the NASCAR Whelen All-American Series championship (in 2004) and he won two championships in NASCAR's regional touring series, 2014 and 2011. His All-American championship was remarkable in that he won 13 of his 18 starts at the ultra-competitive Irwindale (CA) Speedway. After winning the 2014 NASCAR K&N Pro Series West championship, Pursley's team owner Gene Price decided he'd had enough. Price had fielded cars in the series just six years, but he won three championships, two with Pursley and one with Dylan Kwasniewski, so he decided it was time to challenge himself with other things. That left Pursley without a ride. Pursley had moved with his wife, Heidi, from his California home to Arizona to help with the race cars. He has decided to stay there now that his race car driving career has ended. He'll work on hot rods and race cars others will drive. Few drivers leave the steering wheel at the peak of their career but that's exactly what Pursley has done. He has gone out a champion after a final year in which he won twice, finished all but four of the season's 1804 laps and took home 11 top-fives in 14 starts. The picture shows Pursley, Heidi, and Dick Berggren, who was co-host of the series awards banquet in December 2014, and who is a huge Pursley fan. (Coastal 181 Collection)
a
---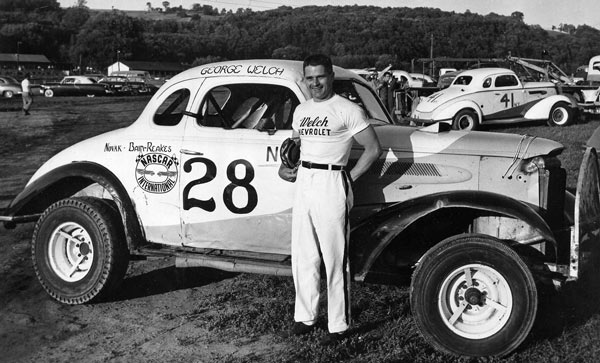 #1196 - A dashingly handsome George Welch was an up and comer at Fonda, NY, and other Capital District tracks in the late 1950s in his pink and white Sportsman. He moonlighted as a starter on Wednesday nights at Empire Speedway in Menands, and it was the death of him. He was struck flagging on July 89, 1959 and succumbed two days later. (Jo Towns Collection)
A
---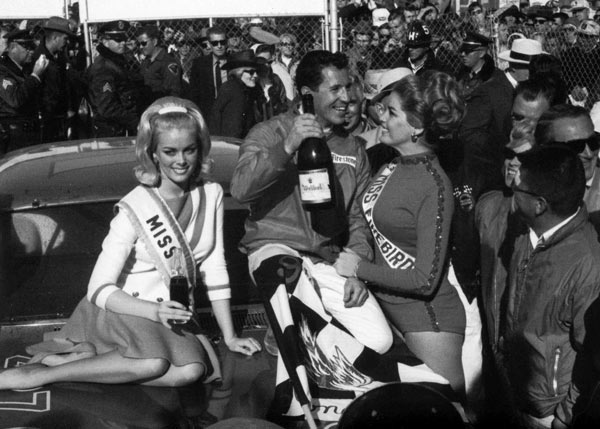 #1195 - Daytona 500, 1967. Mario Andretti had a very good day, but it didn't look like that the whole time. "There's no way Andretti should have won. He had never driven a stock car before then, the car handled badly, and he had virtually no practice time. He couldn't even find his pit and he ran out of gas three times." Quote and Photo from HOLMAN MOODY: The Legendary Race Team, by Tom Cotter and Al Pearce, (Jerry Overman/Smyle Media Photo)
A
---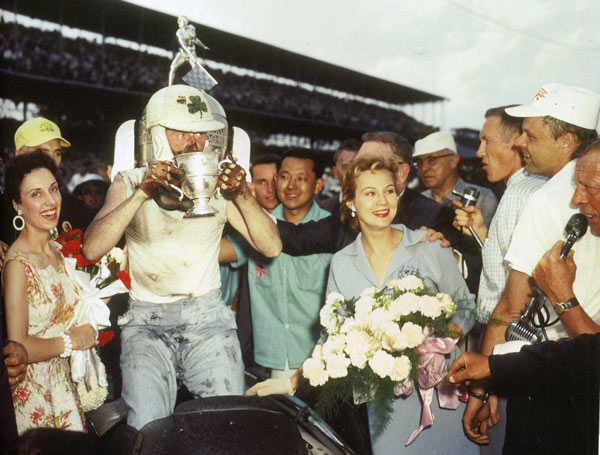 #1194 - That's Victory Lane of the 1956 Indy 500. Barkeep Pat Flaherty celebrates with his wife Marilyn and Virginia Mayo on the right. He sure got all dressed up for the event, and, as it turned out, he was the last to drink the milk without a firesuit. Flaherty, delighting on-lookers with his broadsliding-like style, lifting his left front in the turns, led from lap 76. His biggest problem came after the checker when he had to give up the precautionary extra cool down lap or two. His throttle linkage broke. He commented calmly, "Hey, we only build 'em to run 200 laps." From AUTOCOURSE – OFFICIAL HISTORY OF THE INDIANAPOLIS 500 – Second Edition, by Donald Davidson and Rick Shaffer.
A
---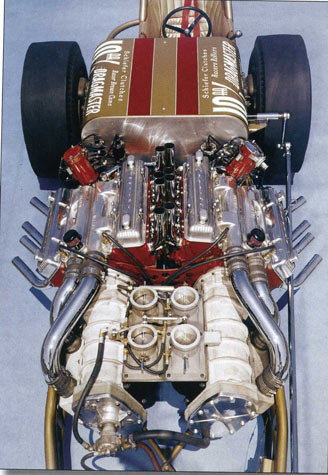 #1193 - "When the NHRA banned nitro fuel in the late 1950s, it didn't take long for dragsters to figure out that two supercharged gas engines ran faster than one. It helps even more when the blowers are mounted out front, with dual Hilborn injectors between them. This is the Dragmaster "Two Thing" in 1961." Photo and excerpt of quote from HOT ROD GALLERY: A Nostalgic Look at Hot Rodding's Golden Years,1930-1960, by Pat Ganahl.
a
---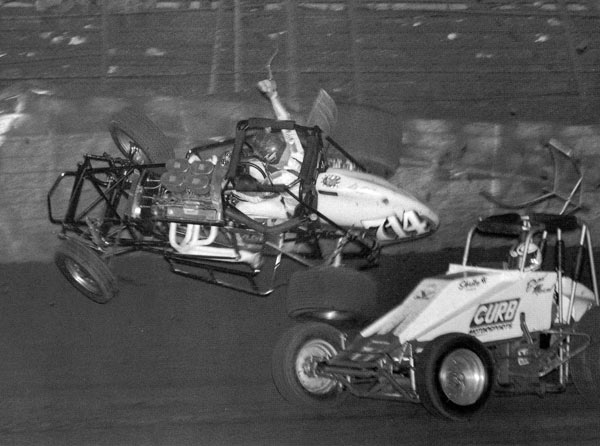 #1192 - That's Jimmy "Ozone" Oskie, a five-time California Racing Association champion and certifiable character, flipping aside Brad Marvel at Ascot in April of 1985. It is probable that on this occasion Jimmy's arm was not raised in defiance. From THE WINGLESS WARRIORS:CRA Sprint Cars 1970-1994, by Buzz Rose. (Jim Chini Collection Photo)
a
---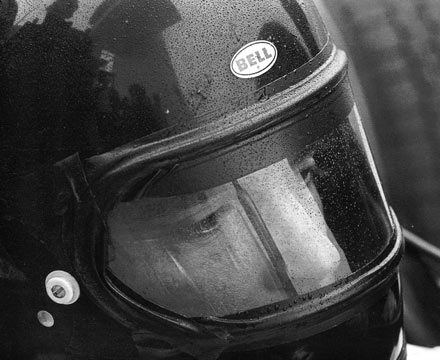 #1191 - As so horrifyingly – but beautifully – filmed in the new Formula 1 documentary called "1: The Movie", the 1960s were incredibly dangerous years in championship road racing. Cars sprouted wings and bolted in engines doubly sized, became just plain lethal, and the drivers soon began to push back. In 1968, for example, Dan Gurney became the first Formula 1 driver to don Bell's innovative full-face helmet. From THE AMERICA LEGACY IN FORMULA 1, by Phillip Van Osten.
a
---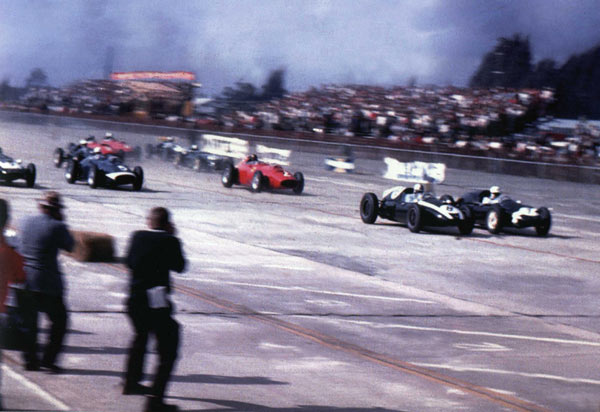 #1190 - A cool image of the start of the very first United States Grand Prix. It was on 5.2-mile course on the old military base in Sebring, Florida, in early December 1959. Jack Brabham and Stirling Moss formed the front row in the Cooper-Climax cars in a field dominated by Europeans. Eight Americans did race, including Rodger Ward, who had a hard time on the long straights with his Kurtis/Offy Midget. Twenty-two-year-old Bruce McLaren won the show. From THE AMERICA LEGACY IN FORMULA 1, by Phillip van Osten.
a
---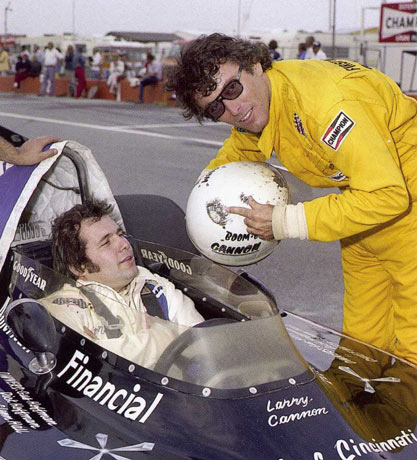 #1189 - Larry Cannon was a great Sprint Car wheelman in the 1970s who went on to run in the CART Championship Series into the early '80s. From Danville, IL, a barber by trade, he was one tough customer. Here he puts up with Johnny Parsons who wonders if Larry had the nickname "Boom Boom" because of the tire marks on his helmet. Larry passed away in 1995 from an embolism. From SEVENTIES CHAMPIONSHIP REVOLUTION: American Racing Championships, by Dick Wallen. (Wallen/Torres Photo)
a
---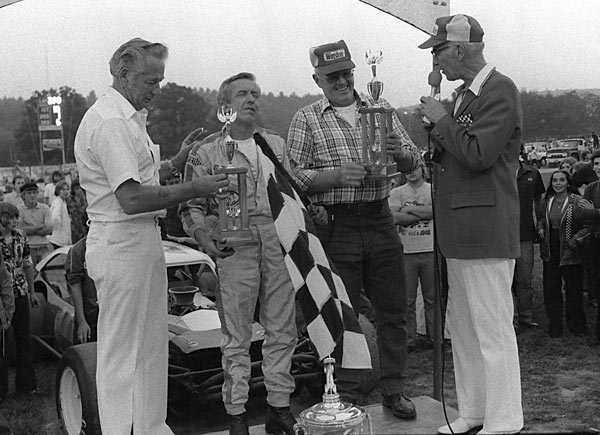 #1188 - There's a mortgage with every gift. It was way late in his glorious career that Modified wizard Eddie Flemke outran them all at the 1977 Stafford (CT) 200. It was tougher duty than it appeared that day as Eddie cruised by Richie Evans and Geoff Bodine for the win. Notice the grimace on his face. His back was screaming, recalling horrendous recent crashes there at Stafford and at Star Speedway in New Hampshire. From STEADY EDDIE: Memories of Ed Flemke, Modified Racing's Fastest Professor, by Bones Bourcier. (Mike Adaskaveg Photo)
a
---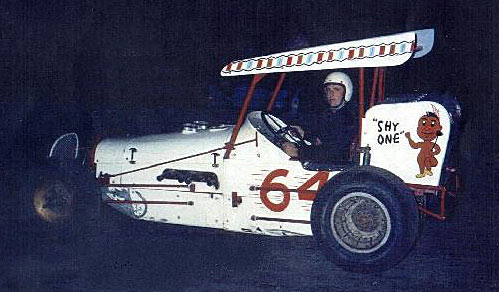 #1187 - Old time Super and Sprinter driver Dick Carter, from Breckenridge, MI, might have been called the "Shy One," but he sure was on the loud pedal. Thought to be one of the best ever out of Michigan, his fully engaged style brought him a couple hundred feature wins. But it was all over on the night of August 14, 1965, at Berlin Raceway. Carter had hotrodded to wins in the time trials, the dash, and his heat. He was leading the feature when he caught a wheel, flipped, flew from the car, and was killed. Everyone was stunned, no one more so than Dick's close friend and regular competitor, Jimmy Nelson. Jimmy towed into the Grand Rapids Speedrome the next weekend, vowing to give all the money he earned to the Carter family. Unthinkably, Jimmy went out and began flipping himself, right out of the park and into the parking lot, and was killed. (Photo with permission from www.retrorockets.org, Jerry Vogel Collection)
a
---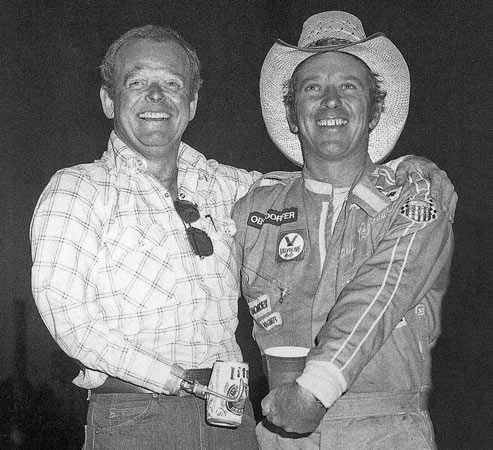 #1186 - This photo and caption are by Gene Crucean from his remarkable new book, FEARLESS: Dangerous Days in Open Wheel Racing. "The Brothers Bettenhausen, Merle on the left, and Gary, seemed to be stalked by misfortune. In addition to losing their father Tony to the cruel sport and kid brother Tony Jr. in an airplane crash, Merle, the younger of the two, suffered the loss of his right arm during a grinding encounter with the fence during an Indy car race at Michigan International Speedway in 1972. But with typical Bettenhausen family determination, Merle, incredibly, had his USAC midget back in victory lane only 13 months later. Gary, the should-have-been winner for Roger Penske at Indy in 1972, rode his dirt championship car out of the Syracuse, New York, mile in 1974, rendering his left arm useless. But the prolific USAC winner and multi-time titlist persevered and returned to finish his career. Here the bothers show off their bum arms during a celebratory moment following Gary's 1980 win at Terre Haute."
a
---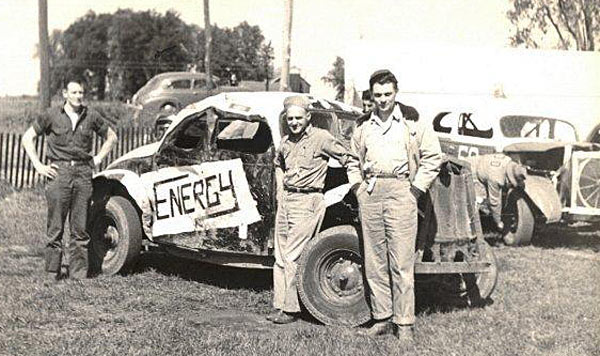 #1185 - Steve Casper of Eden Prairie, MN, tells us about his granddad, Chuck Egelhof, who was an undertaker and a wheelman at Dubuque (Iowa) Sportsbowl back in the 1950s. "The track was pristinely located on an island on the Mississippi River, close to the town dump. The year my grandmother was pregnant, Chuck (far right) told her he wouldn't race that season, though he would still be down in the pits helping to officiate. My grandmother was an avid fan and continued to go every week, wearing her purple satin racing jacket. That summer a new driver named Digger O'Dell was out there on the dirt quarter-mile. It was actually Chuck running under a phony name he borrowed from the undertaker on the popular radio show, "The Life of Reilly." The way the family story goes, my grandpa got away with the ruse all summer and survived to see his third baby girl born in October. Chuck told me he won three features over the years at the Sportsbowl as well as getting upside down three times."
a
---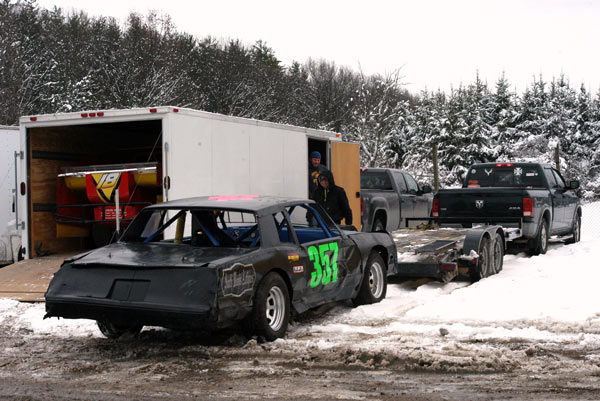 #1184 - "Promoter Gary Palmer gave it the Herculean try, but Mother Nature is just not a racer, and Hoosier does not make snow tires. When teams pulled into New York's Accord Speedway on Thanksgiving weekend for the second annual "Gobbler," they were met with six inches of snow and sub-freezing temperatures that ultimately forced postponement of the event." (Photo and caption from Speedway Illustrated, Bruce Bennett Photo)
a
---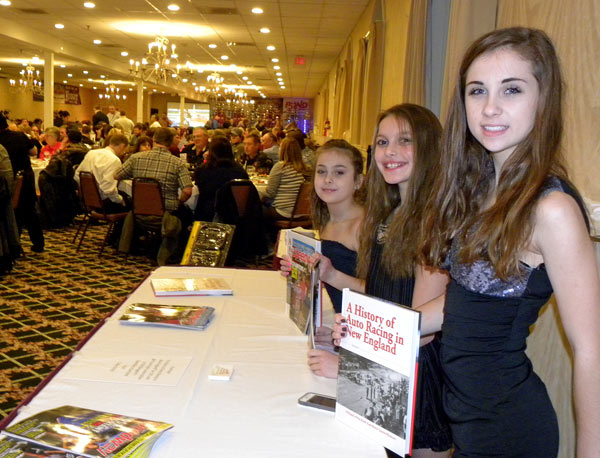 #1183 - 2014 had to be one of the very best of Bear Ridge Speedway's (Bradford, Vermont) 46 seasons. Full fields of Modifieds, coupe and coach Modifieds, and DMA/USAC Midgets crammed the enlarged pit area of the 1/4-mile dirt oval. Last weekend was their banquet, and Coastal 181 asked Speedway Illustrated magazine's comely sales team to take along some copies of our book, A HISTORY OF AUTO RACING IN NEW ENGLAND, along with selling their subscriptions. (L-R), Laura Fredrickson, Alice Ferbin, and Karin Fredrickson sold 'em out in no time. (Speedway Illustrated Photo)
a
---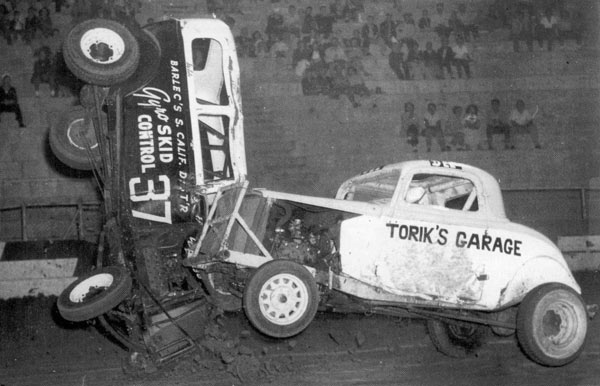 #1182 - It was 1952 and Steady Eddie Gray really wanted to do some racing. One night he flat-towed his coach all the 120 miles from Torrance, CA, to the fabled Balboa Stadium. Things didn't work out so well. From MEMORIES OF THE CALIFORNIA JALOPY ASSOCIATION, by Tom Luce. (Lura Gray Wallace Collection)
a
---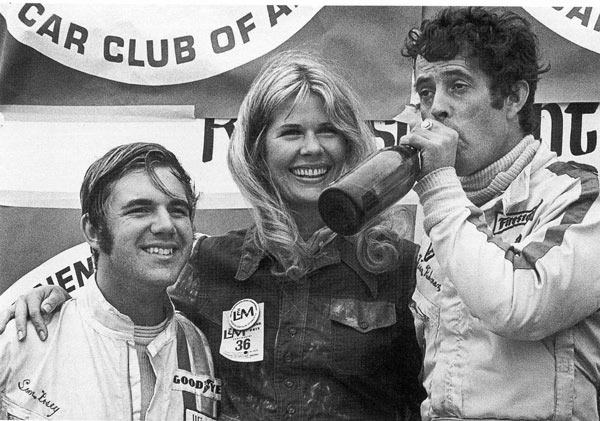 #1181 - L-R, it's Sam Posey, Loretta Swit (AKA "Hot Lips"), and Brian Redman in victory circle for the September 1974 F 5000 event at Riverside, California. Second-place Posey looked pleased, while winner Redman looks like he's been working that bottle for a while. There was some stuff going on in the background. Posey had just protested Redman for passing him under the yellow. Redman pled ignorance, was fined just $100, and walked away with $17,800. From RIVERSIDE RACEWAY: Palace of Speed, by Dick Wallen. (Frank Mormillo Photo)
A
---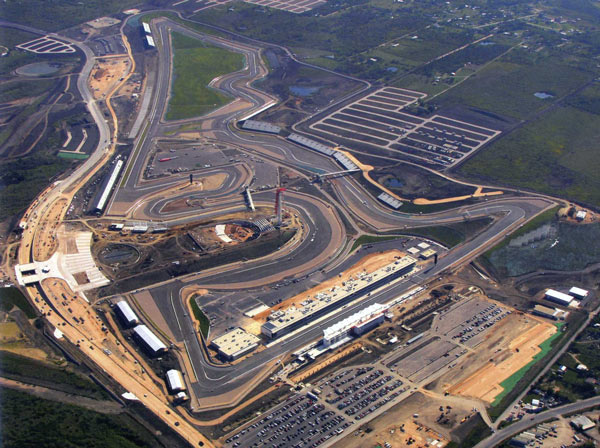 #1180 - Here's an aerial view of the brand new Circuit of the Americas, a 3.4-mile, 20-turn course on 375 acres in Austin, Texas. It certainly holds a driver's interest. From THE AMERICAN LEGACY IN FORMULA 1, by Phillip van Osten, featuring photos from the Cahier Archive.
a
---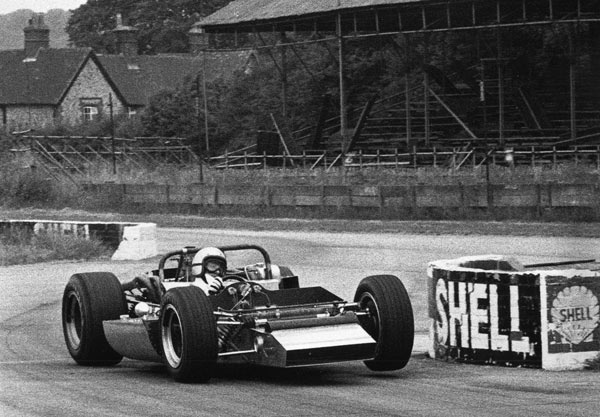 #1179 - "Bruce (McLaren) always liked to first test a new car without the bodywork in order to get a sense of how it performed without any aerodynamic effects. One result seen here is the M6A's front tire lifting off the surface at Goodwood (England)." From McLAREN FROM THE INSIDE: Photographs by Tyler Alexander
a
---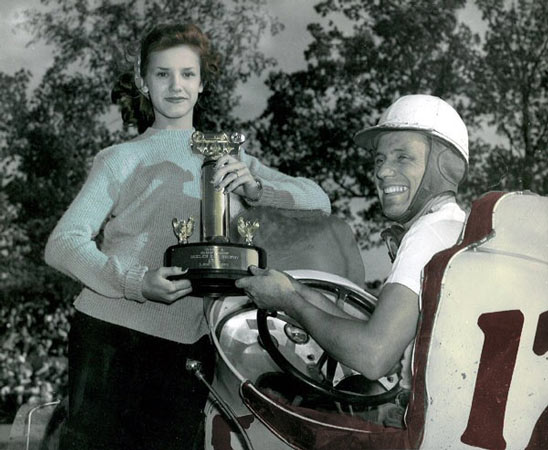 #1178 - Is this a classic racing photo or what! That's the ultra-successful Landy Scott, 1947 Badger Midget Auto Racing Champion. Landy's son Dan tells us with a smile that the trophy presenter is not his Mom. However, his Mom had picked her out of the crowd as the prettiest girl there who was also wearing a wedding ring. Landy went on to be president of the Badger group from 1951-1959. Sadly, he passed away on November 3. His Midget is still intact, sitting in the Studebaker Museum in South Bend, IN, because of its unusual power plant. (Dan Scott Collection)
A
---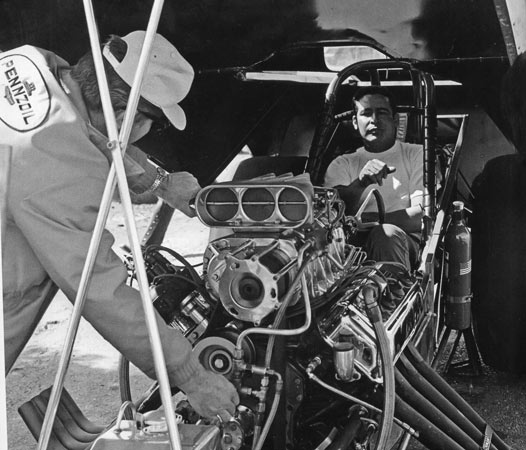 #1177 - The Vel's/Parnelli Jones Racing Team was most noted for the Johnny Lightning Specials at Indy in the early 1970s, but it seemed there was no part of racing that didn't interest them. They did Silver Crown on the dirt, Formula 5000, Formula One, off-road racing, and this was their NHRA machine. That's Dennis Fujii, the team's drag-racing chief mechanic on the left and Danny "On the Gas" Ongais in the seat prior to making a pass in the Ford Mustang Funny Car. From THE CARS OF VEL MILETICH and PARNELLI JONES, by Jimmy Dilamarter and Ren Wicks Jr. (Dean Kirkland Photo)
a
---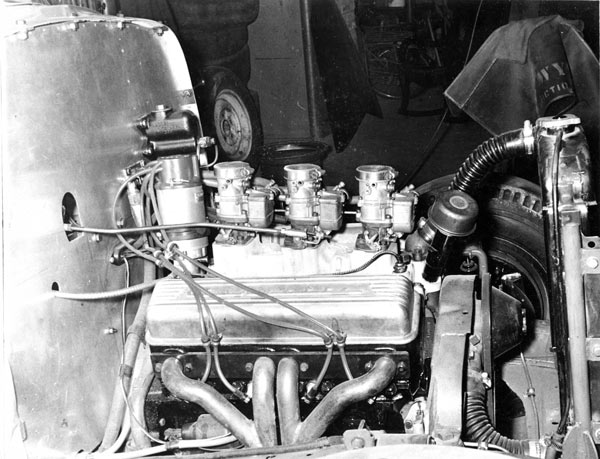 #1176 - Three carbs, three speeds. It was the motivation department of Jim Jorgensen's Flying Zero Modified in 1959. Buddy Krebs book-ended the season at the old Riverside Park in Agawam, MA, in the car with a win on opening day and the trophy in the 100-lapper the final night. From SWAMP YANKEE: the Racing Life of Jim Jorgensen, by Walt Scadden. (Jim Jorgensen Collection)
A
---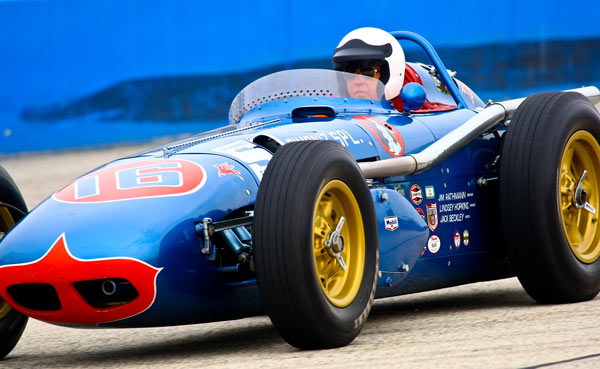 #1175 - Good guy Larry Pfitzenmaier emailed yesterday to tell of the passing of his friend Jim VanNatta. Jim, a major racing proponent, was Bill Vukovich's partner in Bill's gas station in Fresno. On a brighter note, Larry sent along this image of his beautiful #16 at this year's Miller Meet at the Milwaukee Mile. (Larry Pfitzenmaier Collection)
a
---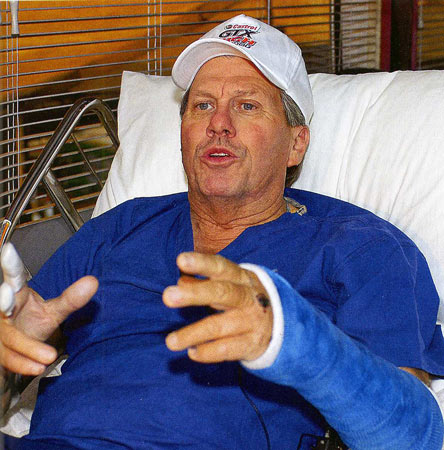 #1174 - When John Force's car literally busted in half at Texas Motorplex in 2007, he ended up with mangled hands and feet, ankle, knee, wrist, and other injuries. He was flown out by helicopter and later admitted "In all the hero stuff, yelling and screaming that I would be back the next week, I really kinda thought (my career) was over. It kinda scared me." A year later the 59-year-old was back there racing. It was "John Force Day." From JOHN FORCE: The Straight Story of Drag Racing's 300mph Superstar, by Erik Arneson. (Jon Asher Photo)
a
---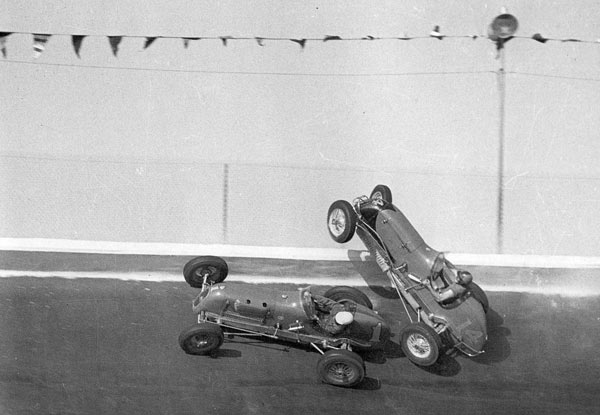 #1173 - The speedy, ultra-high banked Oakland (CA) Stadium ran from 1946 to 1955. Roadsters, Big Cars, Midgets, and hard tops each took a shot at going out of the park. Some were successful at taking generous bites out of that concrete wall, but no one went over it. Ed Barnett looked like he had it made when he tangled with Bill Sheffler in the #1, but both stayed contained. From A HISTORY OF THE OAKLAND STADIUM 1946-1955, by Tom Motter. (Ernie Lovingood Photo/Jim Chini Collection)
a
---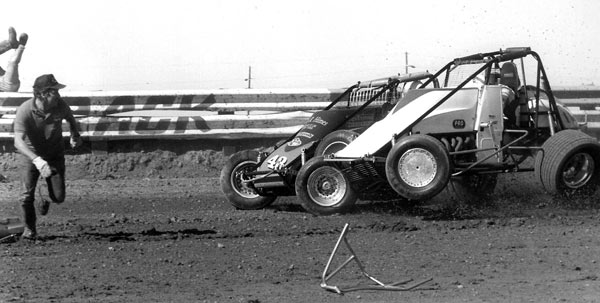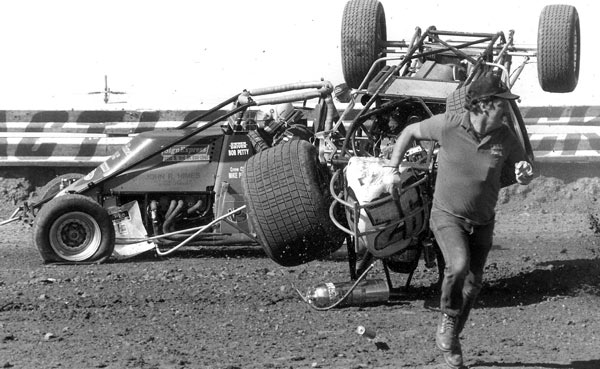 #1172 - "Rob Perry had spun and made contact – there's a nerf bar clearly on the track. The rescue people came on the track prematurely. Look very carefully on the left side of the first photo and you'll see a set of legs just clearing the guard rail. The yellow was out but thanks to dust on the track, Chris Beaver (light-colored car) did not see it and came into the turn. He told observers later than his choice was to turn left and hit the worker or turn right and pile into Petty. Figuring Petty had a helmet and roll cage, he went into the race car." Photo and caption from WIN IT OR WEAR IT: All-Time Great Sprint Car Tales, by Joyce Standridge. (Kevin Horcher Photos)
a
---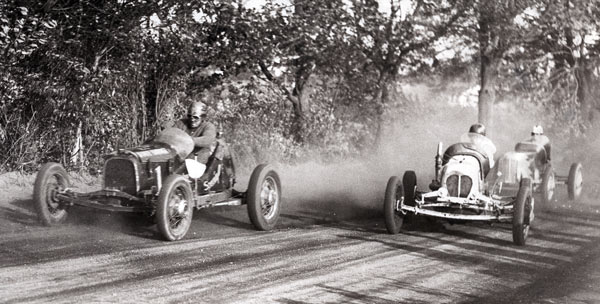 #1171 - Do you think the prewar big car guys were a little crazy? Here they are on September 6, 1937, out for a little afternoon ride at the Weymouth Fairgrounds half-miler in Massachusetts. Left to right it was Louis Guiliano, Bumpy Bumpus, and Bob King. From A HISTORY OF AUTO RACING IN NEW ENGLAND, a project of the North East Motor Sports Museum. (Joe Freeman's Racemaker Press Photo)
A
---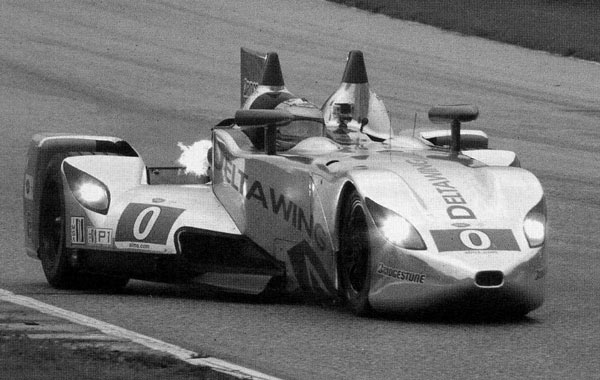 #1170 - It was in the American Le Mans Series at Elkhart Lake's Road America in 2013 that the unique DeltaWing car led for the first time. Katherine Legge and Andy Meyrick of the Georgia-based team each led eight laps, and they ended up third in class and fifth overall. From ROAD AMERICA, by Steve Zautke. (John Kolacki Photo)
M
---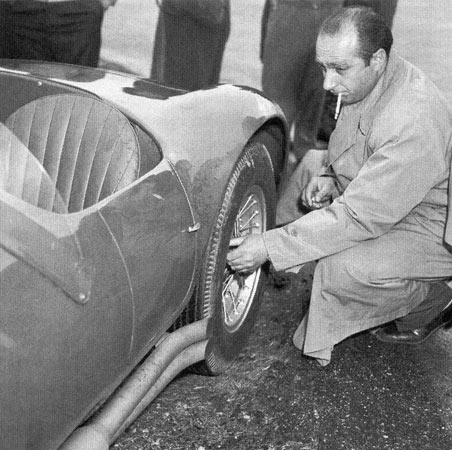 #1169 - Juan Manuel Fangio, "El Maestro," whom many consider the greatest F1 driver ever, adjusts his air pressures for some maiden laps around the road course at Thompson, CT, adjoining the famous oval. That was 60 years ago. Long dormant, the road course was reincarnated with flair this past summer, opening in June 2014 with close to 250 vintage sports cars. From FAST LINES: Memorable Moments in Motorsports, by Pete Lyons. (Ozzie Lyons Photo)
a
---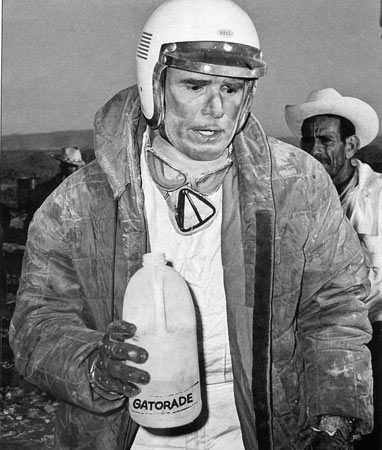 #1168 - Even aside from roaring around on the tube in the Rockford Files and starring in the movie Grand Prix, James Garner was quite a racer. He was especially active in off-road events like Baja. Parnelli Jones once commented that the Baja 1000 is a 24-hour plane crash that never really ends. This shot of Garner sure looked to be case in point. From JAMES GARNER'S MOTORING LIFE, by Matt Stone. (Willie Stroppe Collection)
a
---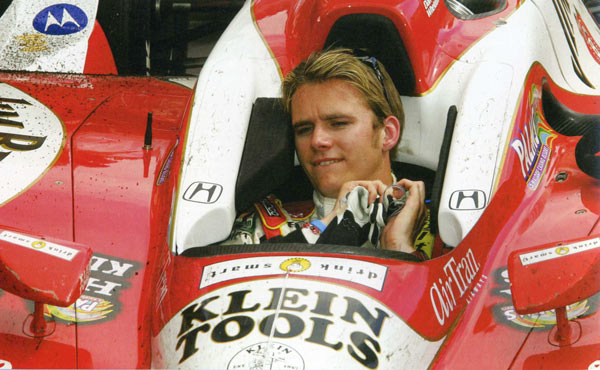 #1167 - In 2005, Dan Wheldon became the first Englishman to drink the milk at the Brickyard since Graham Hill 39 years earlier. He beat out Vitor Meira, Bryan Herta, and Danica Patrick. Patrick had driven an outstanding race and had led four of the last ten laps before having to lift to save fuel. From AUTOCOURSE: The Official History of the Indianapolis 500, by Donald Davidson and Rick Shaffer. (IMS Photo)
a
---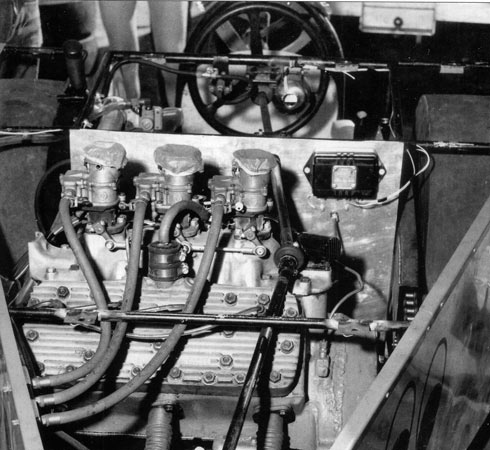 #1166 - Pretty innovative stuff. This was "Creighton Hunter's (one of the founders of the Santa Ana Drags) Slice of Pie, a flathead-powered, transverse engine Dragster built around 1955. The Slice of Pie featured an elevator chain-driven live rear axle and center steering…. It was fairly competitive, hitting 159 MPH. Unfortunately, the car would crash in August 1955, banging Hunter up badly in the process. Incidentally, Hunter's double zeros (which were on all his cars) inspired Dean Moon to create the famous "Mooneyes" logo. Photo and caption from DIGGERS, FUNNIES, GASERS, AND ALTEREDS: Drag Racing's Golden Age, by Bob McClurg (Creighton Hunter Collection)
A
---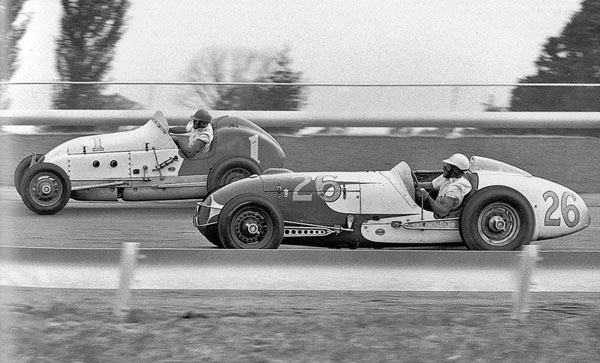 #1165 - Gene Crucean's brand-new book is full of rare and well-presented open-wheel photography, some demonstrating the beauty of the sport, some the tragic darkness. One of the best in the former category is this amazing image from a 100-lapper at DuQuoin on Labor Day, 1948. That's Ted Horn working the upstairs intensely on his way to a third-place finish, while Englishman Hal Robson wheels the Ross Page Special, the first of Frank Kurtis's Champ cars, on the bottom to sixth. There was a second AAA race there in Illinois five weeks later. It did not go so well. Robson dropped out, ending up 14th, and the incomparable Horn was fatally injured. Armin Krueger Photo from FEARLESS: Dangerous Days in American Open Wheel Racing, by Gene Crucean
A
---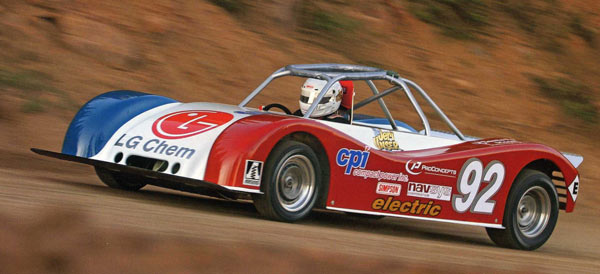 #1164 - Bobby Unser's daughter, Jeri, is the only woman in the Unser family to race. She started at Pikes Peak in 1998. She's shown here on her way up the hill in 2003 in an electric car. She broke the race record by over 45 seconds. From THE UNSER LEGACY: Four Generations of Speed, by Gordon Kirby.
aa
---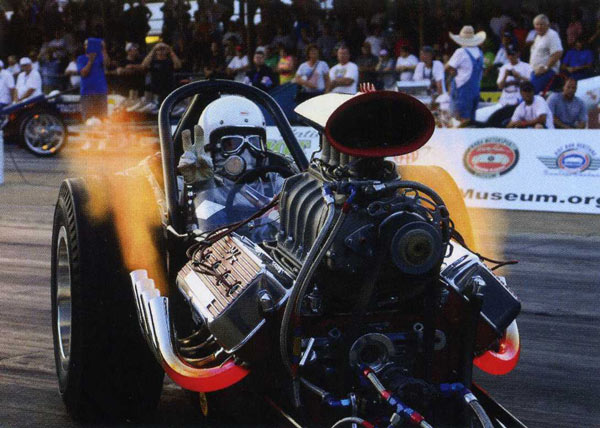 #1163 - Like so many of the legendary old-time, front-engine dragsters it seems, Bobby Langley's SCORPION V is back on the strip. Langley, a Texan known as king of the fire burnouts, ran the car nationally from 1964 (AHRA World Champion that season) through 1966. It then disappeared until the early 2000s when it showed up in shabby pieces at a swap meet. Bill Crosby recognized it, restored it, and runs it today. Here he is at Bowling Green in 2013. A defective shutoff valve accounts for the artsy, cherry-red headers. From DRAG RACING'S QUARTER MILE WARRIORS: Then and Now, by Doug Boyce. (Tera and Max Cackle)
A
---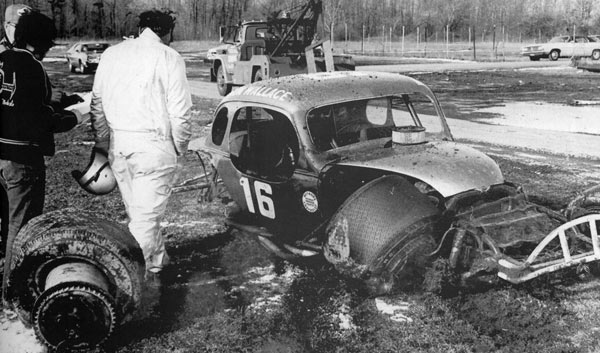 #1162 - Snow was still on the ground when Lancaster (NY) Speedway opened for the season on April 4, 1972. The cold did not bother Richie Evans who romped off with the win. For Ronnie Wallace, however, the feel was decidedly more chilly. From LANCASTER HEROES: A Look Back at the Golden Age of Racing in Western New York, by John Bisci. (Gordon Reinig Photo)
A
---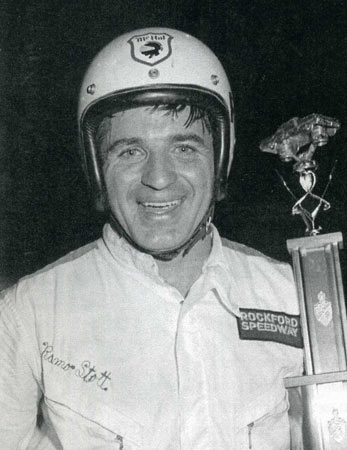 #1161 - When Ramo Stott headed across the Mississippi from Keokuk, Iowa, on his way to Bristol, Tennessee in November 1970, he was apprehensive. "I knew everybody came out of Bristol with wrecks, but I figured that if I was going to run ARCA, I would have to go." Right near the track before the ARCA Tennessee 500, the team stopped for a meal, and the restaurant owner asked who they thought would win. One of Ramo's guys yelled "Ramo!," but the owner thought Benny Parsons. "But," he said, " if you do win, come right on back here for dinner." So they did and they all ate steaks. Despite running out of gas twice, Stott won it by ten laps over second-place Andy Hampton, the largest margin in Bristol history. From TALES OF BRISTOL MOTOR SPEEDWAY, by David McGee. (ARCA/Tom Davidson Photo)
A
---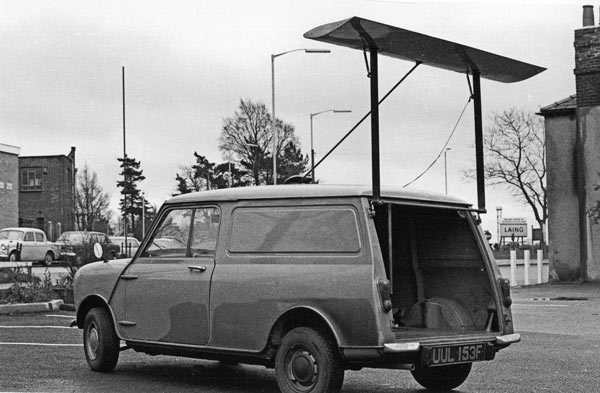 #1160 - Early aero analytics: "This BMC Mini van was my chief means of transportation in the late 1960s. In this shot it's been fitted with the rear wing for the 1969 M8B Can-Am car. The idea was to use the van to test several different wing shapes by driving at 60 mph down the road toward the town of Stains and then back again to Colnbrook (location of the Bruce McLaren Factory in England). We actually used a bathroom scale in the back of the van to measure the downforce generated by the wing." Caption and Photo from McLAREN FROM THE INSIDE by Tyler Alexander.
A
---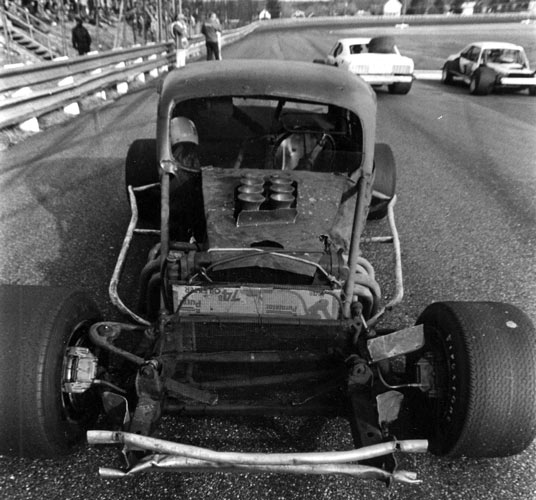 #1159 - It's Lenny Boehler's Ole Blue back at Stafford Springs CT Speedway. Injected big block, steam roller tires. "Reflecting on it today, Bugs Stevens will simply shake his head. 'You'd just strap your balls to the roll bar and go.'" Quote and photo from
A HISTORY OF AUTO RACING IN NEW ENGLAND – A Project of the North East Motor Sports Museum (Dick Berggren Photo)
A
---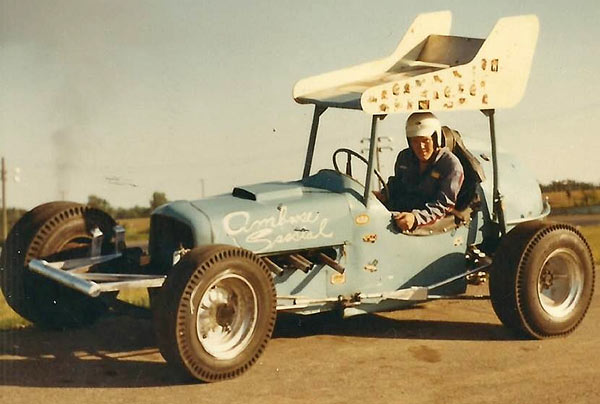 #1158 - How about those Sweet Bloomquist Racecars? They've been looking good at places like the Winner's Circle of the World 100 at Eldora. That's where Randy and Scott met up for trophies. Here's the Amber Special, one of Randy's first cars back in the '60s. (Sweet Manufacturing Collection)
a
---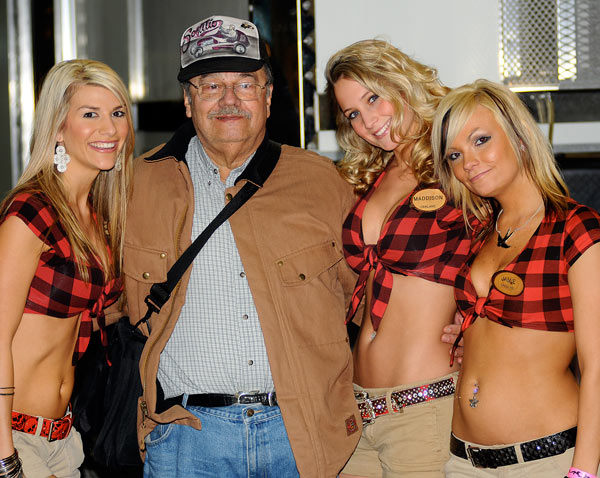 #1157 - RA Silvia is cool. He's been New England's acknowledged and favorite racing historian since at least the 1800s. He has provided information and photos to untold numbers of folks and is being fully acknowledged for his endeavors with his induction into the New England Auto Racing Hall of Fame on November 16. Not that RA hasn't gotten attention before. Look what happened about ten minutes after he arrived at the Chili Bowl a couple of Januarys back. (John DaDalt Photo)
a
---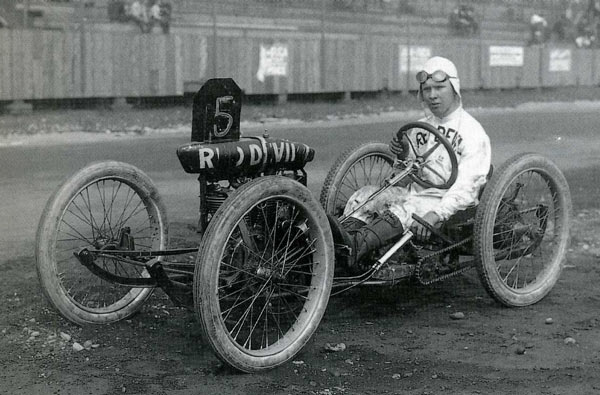 #1156 - A century ago on Labor Day there was to be Midget race in Tacoma, Washington. Walter Grossman was ready with his "Red Devil" cycle car. It was pretty lonely, though. Only ten other cars came to town and less than 300 spectators. Promoter Frank Allyn, anticipating a monumental loss, pulled the plug on the show due to "dangerous track conditions." It sure didn't take promoters too long to get frisky!
From DISTANT THUNDER: When Midgets were Mighty, by Dick Wallen. (Jim Chini Collection)
a
---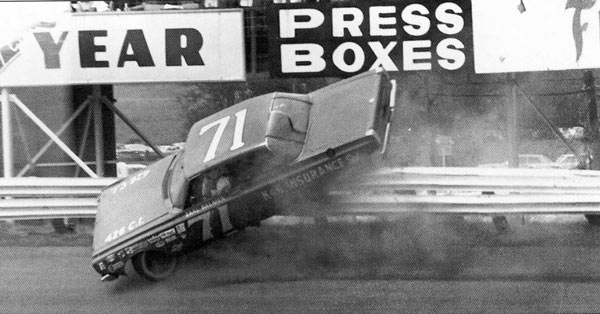 #1155 - The reporting about this anxious moment could have been very unfortunate. Around lap 200 of the Southern 500 at Darlington in 1966 Earl Balmer got out of the groove, his Dodge hit the guard rail, and went aloft right towards the press box. Fortunately, just before impact, the left front wheel (shown here badly misaligned) snagged the top of the fence and flung the car back to the pavement. The media guys were sprayed with gasoline and debris, but were okay. As Tom Higgins of the Charlotte Observer put it, "We were all diving for cover like soldiers seeking the sanctuary of a fox hole." From NASCAR: The Complete History, by Greg Fielden
a
---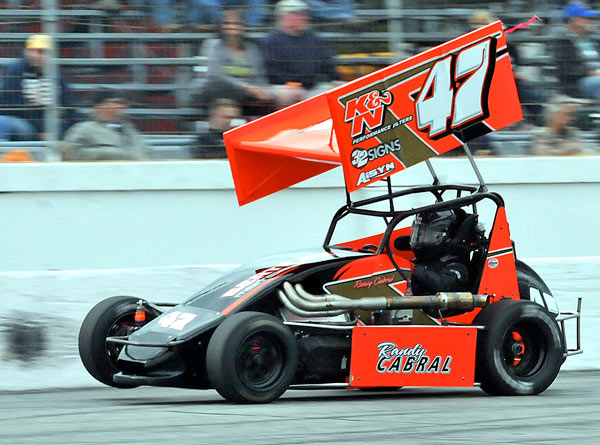 #1154 - Here's Randy Cabral on his way to winning the NEMA feature at the World Series at Thompson CT Speedway last Sunday. He was amazingly fast, looking like a 410 sprinter on the dirt at Williams Grove or Lebanon Valley with that right front lifted. His teammate Cole Carter (son of Pancho) was second. (John DaDalt Photo)
AA
---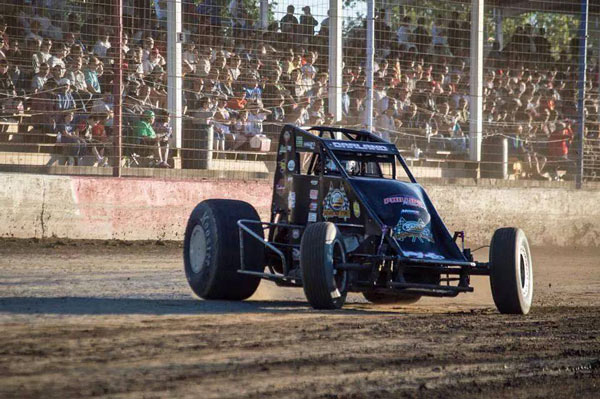 #1153 - "We didn't have the best year at Terre Haute in 2014, though we did win one. This is a great picture, but it was not a good finish. As you can see, it was pretty slick and I was looking all over the place for some grip." Dave Darland. (Dave Darland Collection) THE PEOPLE'S CHAMP: A Racing Life, by Dave Darland with Bones Bourcier.
a
---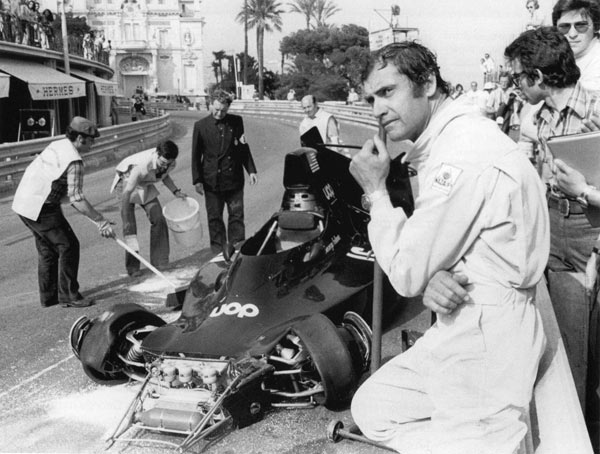 #1152 - The Grand Prix of Monaco in 1973 was not George Follmer's cheeriest experience. It was his only time there, and he never even got to race. In the last practice session, Arturo Merzario in a Ferrari was released from the pit area just as Follmer motored by, spinning him into the guardrail, finishing off the car, as shown above. Back in an earlier practice session, he says, "I'm running as hard as I can when my rear wing breaks off and goes flying into the box seat of Prince Rainier and Princess Grace. Luckily, they were not there at the time, but when I pulled into the pits, the gendarmes and soldiers surrounded the car with guns drawn. They figured it was an assassination attempt. Breaking off a wing at 120 MPH and sailing it into a box seat while controlling an out-of-control race car seemed reasonable to their way of thinking. Go figure!" From FOLLMER: American Wheel Man, by Tom Madigan. (Follmer Collection)
a
---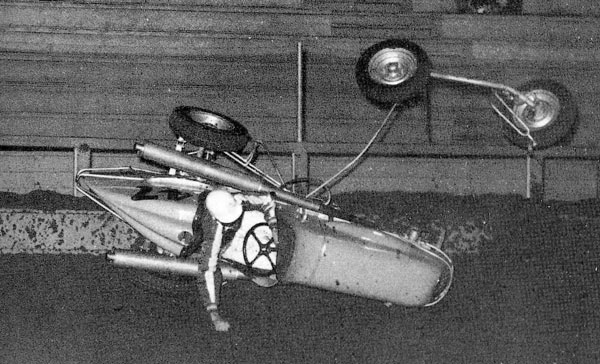 #1151 - The Australian-American driver swap has been going on for a very long time. Back in the summer (our summer) in 1948, Aussie hot shoe Ray Revelle came to California to run Midgets for George Annis. In September he got to flipping at Gilmore, seriously testing his right arm – and the steering arm. He was unhurt, but George had some work to do. From DISTANT THUNDER: When Midgets Were Mighty, by Dick Wallen. (Dick Wallen Collection)
a
---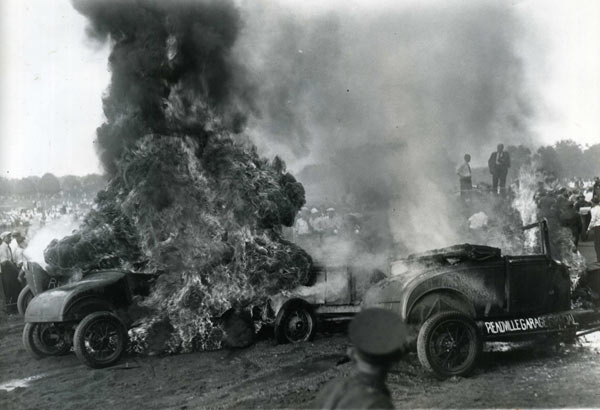 #1150 - Perhaps because of the violence of the Big Cars, Readville Speedway (near Boston) management did shows with different types of vehicles in 1932. That didn't go so well. On July 4, a motorcycle race was interrupted when a spectator threw a huge firecracker onto the track, killing rider Frank Ricci. Then on Labor Day a special 50-lapper for "light stock cars" brought forth a seven-car pileup, sending four drivers to the hospital and burning Pennsylvanian Al Frazier to death. From A HISTORY OF AUTO RACING IN NEW ENGLAND. (R.A. Silvia Collection)

Note: This photo and caption are from A HISTORY OF AUTO RACING IN NEW ENGLAND that we are finishing up for Christmas to benefit the North East Motor Sports Museum. We are thrilled about it. You can take it to the bank there has never been a racing book like this one. It will be released in early December -- watch our website for more news.
A
---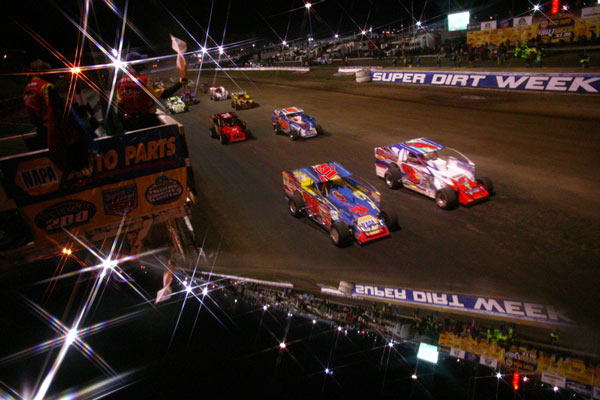 #1149 - Last week was Super Dirt Week XLIII (as in 43) for the center-steer DIRT Modifieds at Syracuse. Dave Dalesandro sought to send us something "artsy" and he did just that with this shot of the start of the first of the triple big-block qualifiers. Matt Sheppard won this one, but it was Stewart Friesen on Sunday afternoon for the big one – the 200-lapper. (Dave Dalesandro Photo)
A
---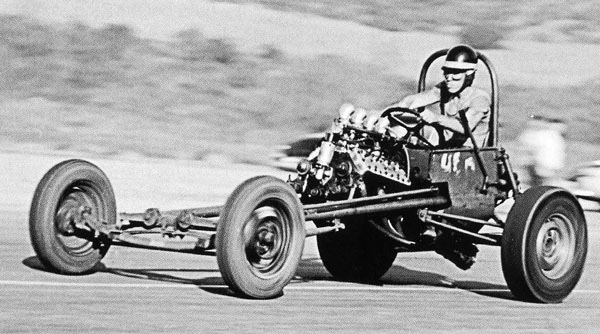 #1148 - This is Bob Rounthwaite back in January of 1953 at the Six-S Airport in Saugus, California. His car was innovative for the time. Given that the seat is over the rear end, it certainly predicted the importance of weight transfer in future drag cars. And some say it was the first to be built with a round-tube frame. Rounthwaite quite appropriately nicknamed it "Thingie." From HOT ROD GALLERY: A Nostalgic Look at Hot Rodding's Golden Years: 1930-1960, by Pat Ganahl. (Pat Ganahl Collection)
aa
---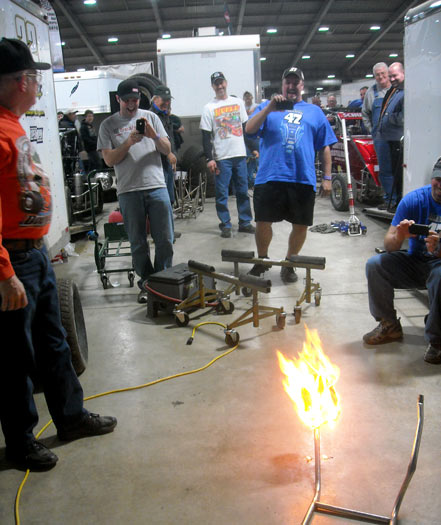 #1147 - It seems to get more and more intense at the Chili Bowl each year, folks trying just about anything to seek advantage. Here a team burns a competitor's hat in effigy, hoping the stunt would slow him down. It didn't work. (Coastal 181 Photo)
A
---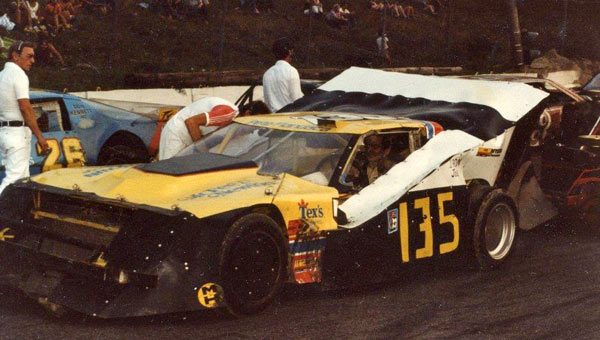 #1146 - It was 1983 at Hudson (NH) Speedway –- one of those "run what ya brung" shows we are less likely to see these days. New England's "Travelin' Man" and Hall of Famer Pete Fiandaca has his familiar #135 pretty aero-ed up for the day. (Thibodeau Brothers Photo)
a
---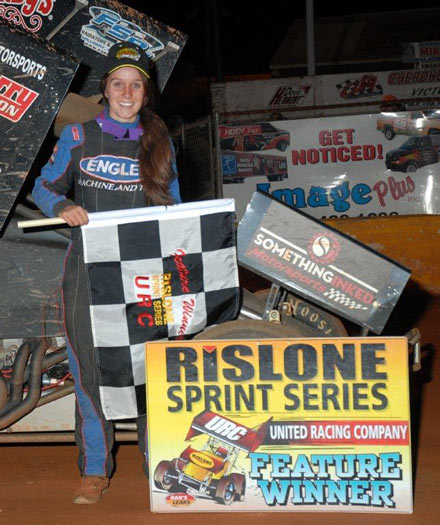 #1145 - When sprint car veteran Terry Gray broke his foot a couple seasons back, it was Morgan Turpen's break, too. He offered her the seat in his car for the night. They've never looked back. Last weekend in USCS/URC Shootout at Cherokee Speedway in Gafney, SC, the 21 year University of Memphis student from Cordova, Tennessee, wrestled the lead from Robbie Stillwagon on circuit 17 and motored on to victory. Stillwagon was second, Davie "No Panic" Franek third. (Photo by Frank Simek)
a
---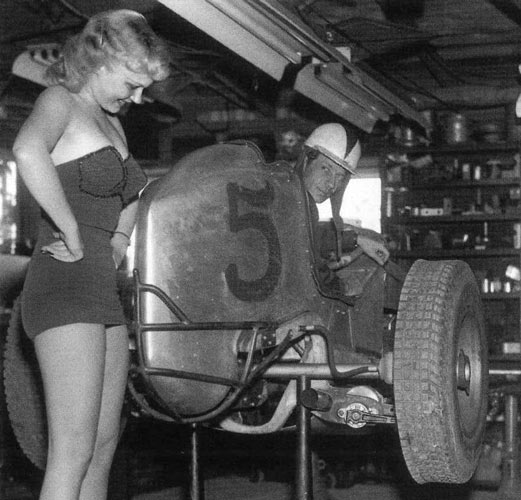 #1144 - If I were this guy, I definitely would've jumped out of that car! It was Walt Faulkner in Vince Conze' Sprinter. They tore up the dirt tracks in California in the late 1940s. "The Little Dynamo's" time in the seat turned out to be limited, though. He died in a stock car at Vallejo, CA, in the spring of 1956. From KINGS OF THE HILLS: AAA-USAC Midwest and Pacific Coast Sprint Car Championships 1945-1960, by Buzz Rose
a
---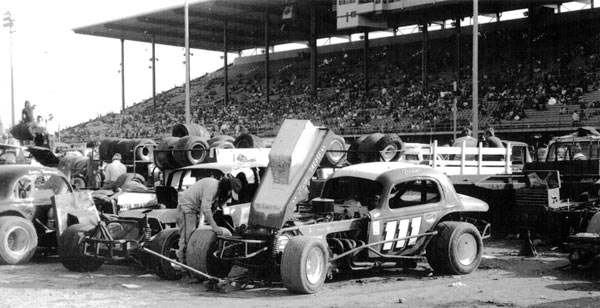 #1143 - The midnight fires are burning at garages all over the Northeast as the 43rd Super Dirt Week fast approaches. Just about every dirt slinger – whether winner or also-ran – has given it a try. This haunting photo by Paul Irving goes back to the mid-'70s. That's Tony "Goober" Scheidel giving his #111's right front some attention. Goober was a family man, a school-bus mechanic, former president of his high school class, and – smiling through his full beard, a racing gypsy who went without money and without help anywhere the clay lay. He was quite likely the most popular New England driver ever to run the 'Cuse. Leukemia took him down in 1993. (Paul Irving Photo from the very cool site www.3widespicturevault.com)
a
---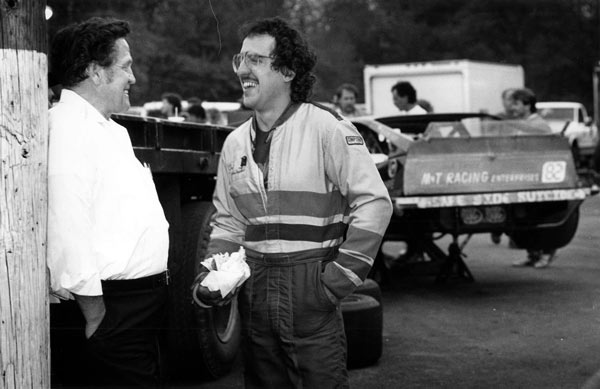 #1142 - A cool shot from a few years back at Waterford (CT) Speedbowl. How about those grins on Bill Slater (L) and Ted Christopher? It's possible they're talking about that race car, but more likely the woman who just walked by. (Mike Adaskaveg Photo, North East Motor Sports Museum Collection)
aa
---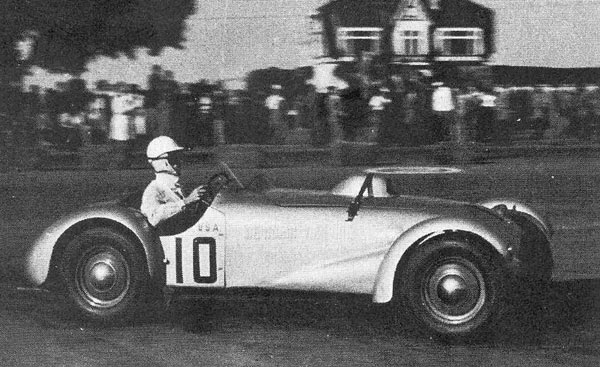 #1141 - John Cooper Fitch, the famed American road racer, must have never lifted for his entire 95 years. One of the first Americans to join WWII, his P-51 was blown out of the sky over Germany and he was held as a prisoner of war. Finally released, he was anxious to get back to racing. He borrowed a seriously wrecked Allard, chained it to a tree, and kept backing up until it was somewhat straight. Then it was off to Argentina, just in time for a race through Buenos Aires on a 2.2 mile course. He won in front of a huge throng of spectators and was kissed by the Trophy Queen. She was also Queen of Argentina, Evita Peron. From The Amazing Life of John Cooper Fitch, by Art Evans.
A
---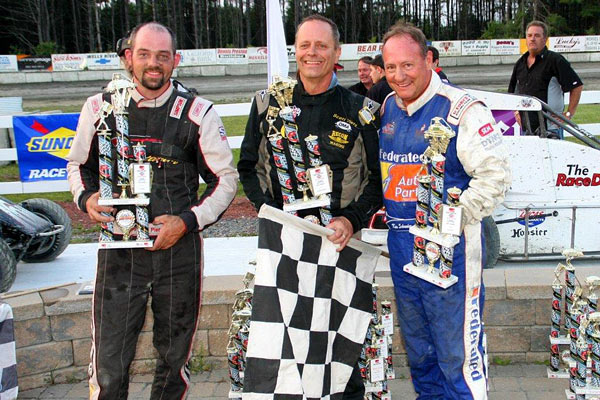 #1140 - In July, Ken Schrader (R) – part of his annual, pan-national tour – dropped into the Green Mountains of Vermont and Bear Ridge Speedway. There was a titanic shoot-out for the top three positions, Kenny ending up third, New England's phenomenal Adam Pierson second, and Scott Viets winner. Scott took a terrible tumble there at the Ridge a couple of seasons back, described in our TEAROFF of June 17, 1012. Then 55, he quickly recaptured his hard-driving and winning ways. But on Saturday, September 20, Scott took another horrendous hit in Ray Miller's DMA/USAC midget. He broke his back, spent several nights in the hospital, and will be in a back brace for weeks before doctors can fully evaluate the damage and determine a course of treatment. He faces a difficult winter, and the racing community is rallying around him. At the drivers' meeting this last weekend, the Ridge promoter, C.V. Elms, even blocked the point race for the remainder of the reason so the popular Viets could retain his standing. Not a soul objected. (Mark Hann Collection)
A
---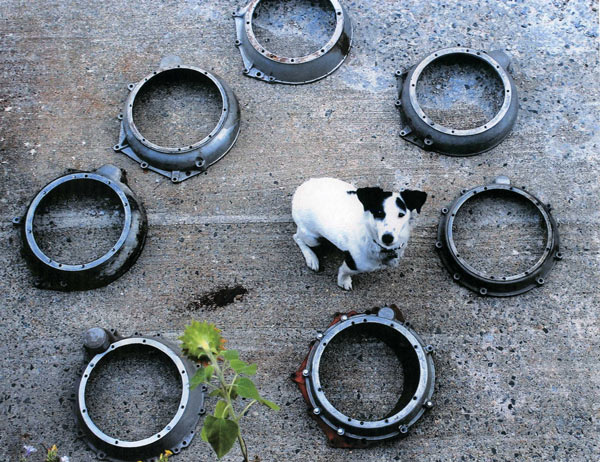 #1139 - Mike Sargent in Rye, New Hampshire, has the tough duty of maintaining the Coastal 181 race cars. (Before Mike they were not known for their mechanical integrity). Mike and his significant other, Jan Hartwell, sell all kinds of vintage parts. Here's their pooch, Herbert, engaged in what Jan calls "adaptive therapy." (Coastal 181 Collection)
a
---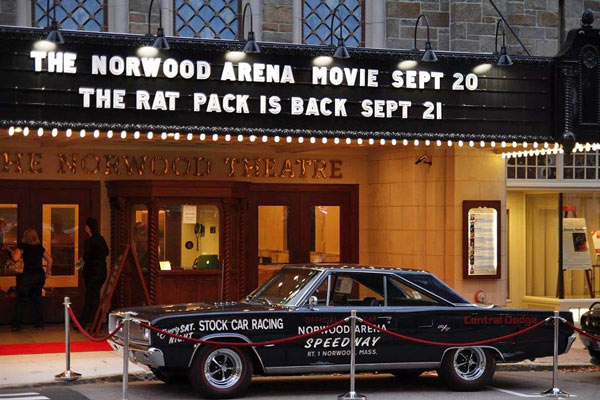 #1138 - On Saturday, September 20, the old Norwood Arena burst back to life right there in Norwood, Massachusetts. Jerry Kelleher and Brandon King did a masterful job producing "Norwood Arena – the Movie," a two-hour documentary on racing at the famous quarter-mile oval, shuttered in 1972. The track is remembered for its Cutdown era in the 1950s and the edgy NASCAR Sportsman-Modified decade that followed. The movie played to a raucous, sell-out crowd comprised mostly of competitors from back in the day, who screamed and yelled with particular approval at footage of Norwood veteran Pete Hamilton winning the Daytona 500. A DVD version is now being produced and will be available on www.coastal181.com this fall. (Kelleher/ King Collection)
aa
---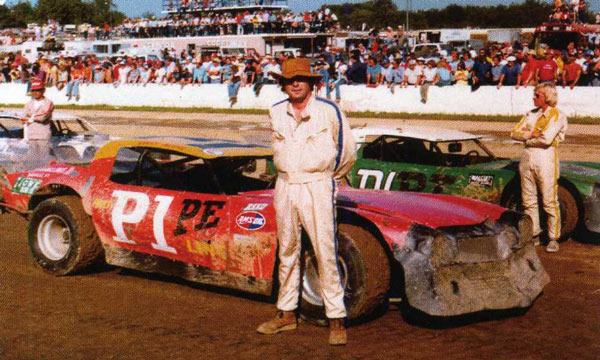 #1137 - Here's the grand dirt tracker Larry Moore looking quite unconcerned on the starting grid at Eldora in 1979. Guess he just had it figured out. He went on to win his first World 100 that day. From On Top of the World – The Life and Times of Larry Moore, by Dave Argabright. (Chuck Honea Photo)
a
---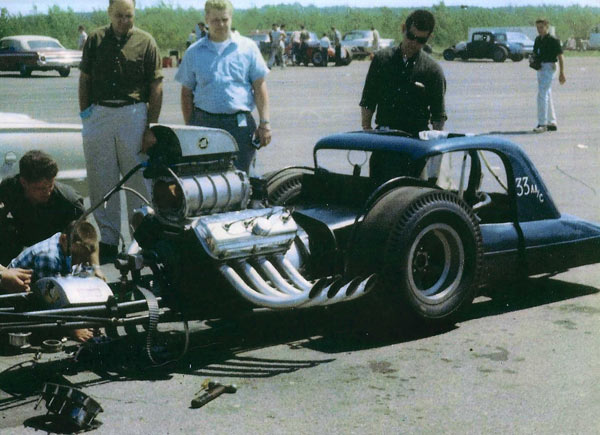 #1136 - It looks like Jack Doyle and his buddies from the Hi-Winders Hot Rod Club had some blower problems with this outrageous little number at the old Sanford (ME) Dragway at the turn of the 1960s. The minimalist body was born that way: It was from a Vespa automobile. It was easily detachable so the Jack could also run the car as a dragster. (Jack Doyle Collection)
a
---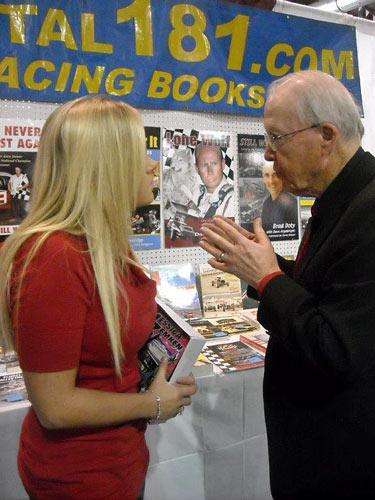 #1135 - A meeting of the generations. Bill Wimble, a huge winner and two time NASCAR National Sportsman Champ, offers counsel to sprint car sensation Jessica Zemken. Bill's final win came in August of 1968, while Jessica's came a week ago, when she whipped 67 others at the Canadian Nationals Championship at Oshweken Speedway. (Coastal 181 Photo)
a
---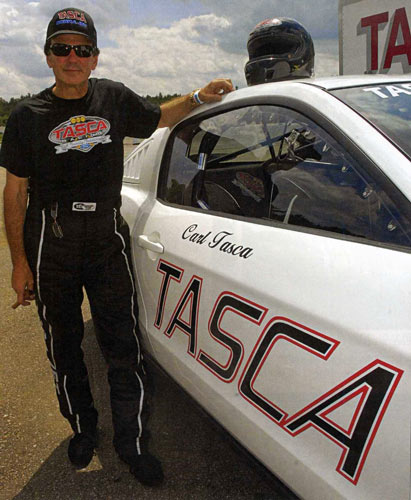 #1134 - Carl Tasca currently runs the booming Tasca Automotive Group in Rhode Island with his brothers. It was founded by legendary Bob Tasca Sr. One night back in the sixties, Carl decided to try his hand at some racing – on the street. He ended up behind bars in Barrington. His dad was furious. Marching right into the jailhouse at 1:00 in the morning, he demanded of Carl, "Well, did you win?" "Yes." "Okay, you can come home." Carl's still racing weekly today at the New England Dragway in Epping, NH. (Tasca Family Collection)
A
---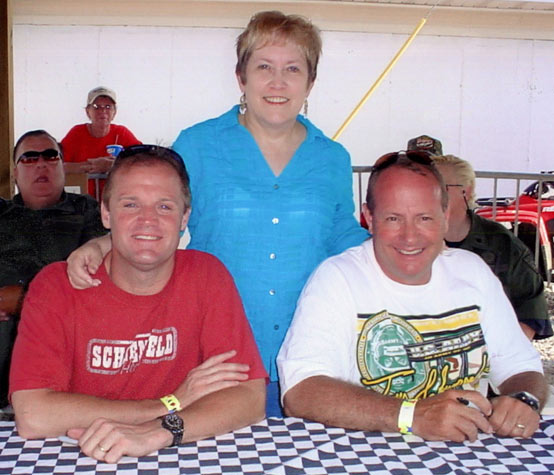 #1133 - That's author Joyce Standridge in her lion-taming role – her Kennys, Wallace on the left and Schrader on the right at I-55 Speedway. She wrote books for Coastal 181 on each of them, both among our best sellers. Joyce knows how to keep a closer eye on them than the cop who was resting in the background. (Coastal 181 Collection)
a
---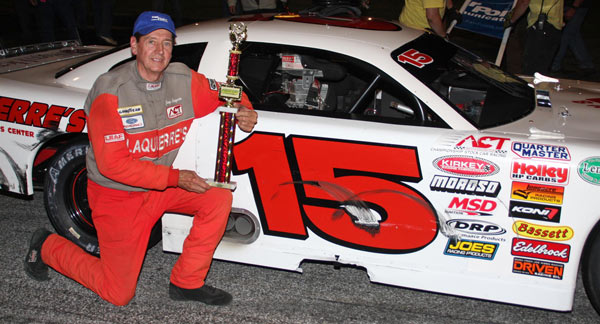 #1132 - Tom Curley and Darla Haart, choreographers of the American Canadian Tour, definitely have a mixed field lined up for this Saturday afternoon's 50-miler at New Hampshire Motor Speedway. Eyes will surely be on Joey Laquerre, shown here after a win at Vermont's Thunder Road this past June. The 71-year-old looks just as comfortable as he did when he won the prestigious Milk Bowl at TR in 1969. He'll have some competition this weekend, though, on the mile. There's Emily Packard, age 18, who has shown great promise on a very full ACT schedule this year; Taylor Martin, 17, who has been showing folks the way around Loudon's inside track in her Legend car; and Brandon Atkins, a speedy 17-year-old rookie from over the mountains in New York. Never mind 39 others. (Alan Ward Photo, ACT Collection)
A
---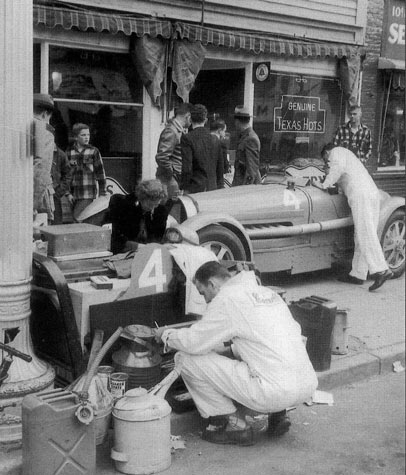 #1131 - A scene we would never see today. Back in 1950, the races at Watkins Glen, New York, were totally part of the community. The old circuit ran straight through the center of the village, and the pits were right on the sidewalks. It all changed with a spectator fatality in 1952. This car was a Bugatti driven by highly respected Bill Millikin, an aeronautical and automotive engineer. A couple years before, in the Glen's initial event, he flipped an earlier 35A Bugatti so robustly that the scene was renamed "Millikin's Corner." (From WATKINS GLEN INTERNATIONAL, by Michael Argetsinger and Bill Green. (Bill Green Collection)
A
---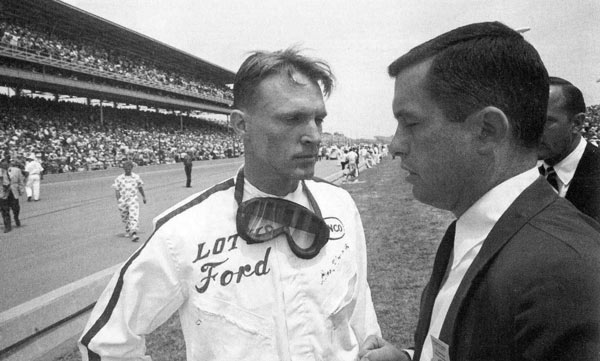 #1130 - It was one of the most somber moments in American racing history. Dan Gurney and Roger Penske confer while the cars are realigning behind them. The Indy 500 had just been stopped for the first time for an accident, and Eddie Sachs and Dave MacDonald had perished in the fiery melee. From BLACK NOON:

The Year They Stopped the Indy 500

by Art Garner. (Flip Schulke Archives)
A
---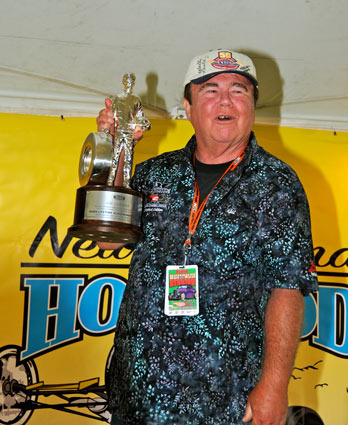 #1129 - Along with Bob Frey, "Jungle Pam" Hardy, Al Hanna, John Healey, and George Weiler, everybody's friend, Gil Coraine, was honored last Saturday at the Hot Rod Reunion at the New England Dragway. Hot rodder for more than 60 years, founding Board member of the Dragway, and sponsorship guru with a perpetual twinkle in the eye, he was a shoe-in for the award. Apparently he agreed. Half way through his acceptance speech, he paused and said, "I know there are some very important people out there about to be honored and wishing I'd shut up. Screw 'em," and kept right on going. He brought the house down. (New England Motor Sports Museum Collection, Dick Berggren photo)
aa
---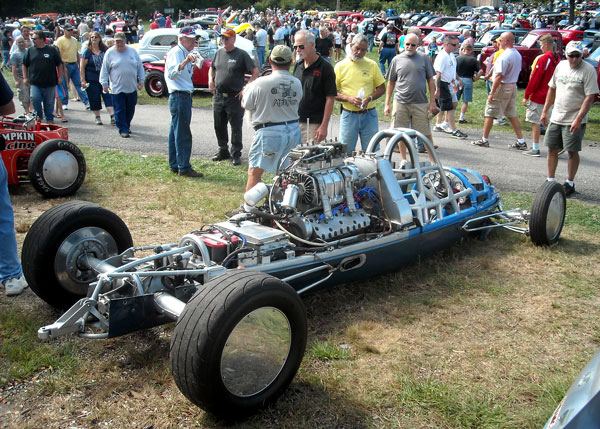 #1128 - The Ty-Rods, "the Oldest Hot Rod Club in the East," held their wonderful annual Old Timers' Reunion (#42) last Sunday at the Lancaster/Bolton Fairgrounds in Massachusetts. Attracting many eyeballs was the San Giovanni family's land speed car out of Wallington, CT. Constructed in 2010 by Ron Sr. and Jr., "the Mistress," which is 2500 lbs. with Ron Sr. aboard, has turned 181.815 mph and is a record-holder with the East Coast Timing Association and the Loring (ME) Timing Association. The family calls it the "fastest flathead in the East." (Coastal 181 Photo)
A
---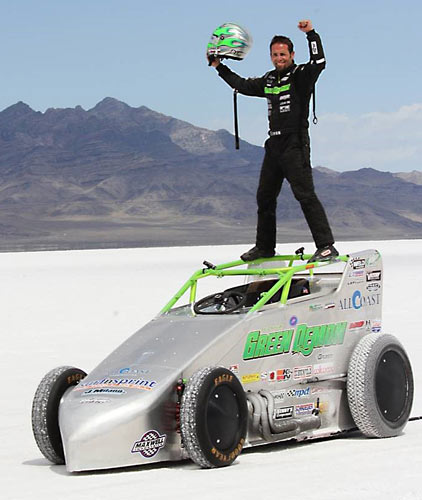 #1127 - He's been working on it for two years and now he is REALLY truckin', chronicled all the way by Scott Daloisio of Perris Speedway. That's Damion Gardner and one way tricked out sprint car at Bonneville. He did an amazing 211.58844 mph last Wednesday morning. (Doug Allen Photo)
A
---

#1126 - A neat panorama of Bruce Roger's Grandview Speedway. Located in Bechtelsville, PA, the banked clay 1/3 miler has operated successfully for 51 seasons. Their 43rd edition of their big show, the Freedom 76'er, will run this Saturday featuring NASCAR center steer modifieds. (Dave Dalesandro Photo)
A
---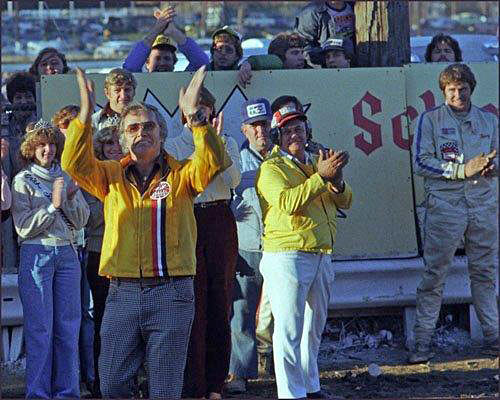 #1125 - It's hard to believe it's nigh on 40 years since Bob Yurko captured this magical moment. The much loved Al Tasnady acknowledged the appropriately thunderous applause from the crowd, the infield, and Kenny Brightbill at the Reading PA Fairgrounds. (Bob Yurko Photo)
a
---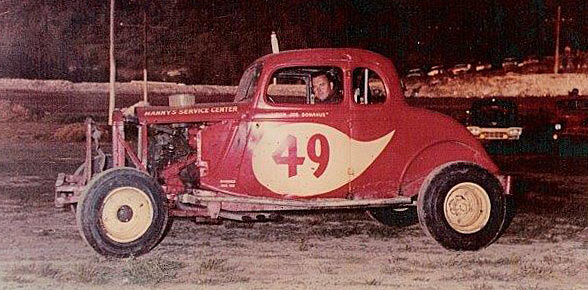 #1124 - Our friend Jeff Ackerman, a smiling vintage racing encyclopedia from upstate New York, sent us some images of early wheelmen making statements. This is testy Irish Joe Donahue at Five Mile Point Speedway back in square top days. He bolted a baby bottle atop the Teardrop 49 for all the crybabies in the pits. (Jeff Ackerman Collection)
a
---

#1123 - Holman-Moody's Bob Cumberford drew up this concept car for Fred Lorenzen to run at the Brickyard. He went there in November of 1964 to try things out in the Bryant Heating Special. According to Lorenzen, "I went out and tested at 154 mph. I think the record was 159 or something. I told George Bignotti, the crew chief, to move those damn armrests so I could steer. He said, 'I can't, because those are the gas tanks.' That was all I needed to hear." From HOLMAN MOODY: the Legendary Race Team, by Tom Cotter and Al Pearce. (Holman Family Collection)
A
---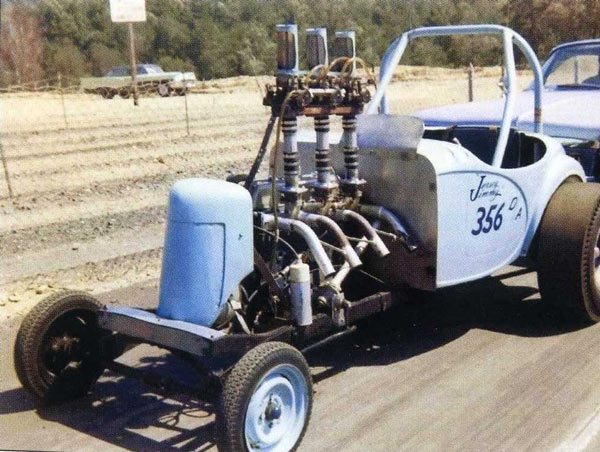 #1122 - New Jersey's Charlie Seabrook was a regular at NHRA Nationals in the 1960s. He loved to tinker with this cars and he sure got the most out of them. Check out the ram tube intakes on this Bantam. He claimed that adjusting the hose length was a great way to fine tune. He ran the car for 27 seasons, until 1989, utilizing six different brands of engines. From DRAG RACING'S QUARTER- MILE WARRIORS: THEN AND NOW, by Doug Boyce. (Charlie Seabrook Collection)
a
---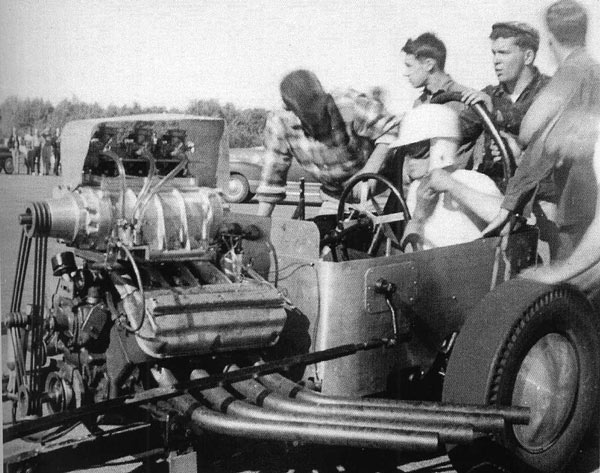 #1121 - The Flywheels Club from Braintree, Mass., showed up at the drags in Sanford, Maine, in September 1957 with quite the beasty hot rod for driver Bob Andresen. It was the first supercharged dragster in New England, and they instantly upped the A/OG record by a full 26 mph. After the run, officials of the New England Hot Rod Council insisted the crew stiffen up the wiggly frame. It had been formed of aluminum rails, likely cost-efficiently procured from the Quincy (Mass.) Shipyard. Some threaded rod and turnbuckles were a quick and permanent fix. From COOL CARS SQUARE ROLL BARS, by Bernie Shuman, (Shuman Brothers Photo)
a
---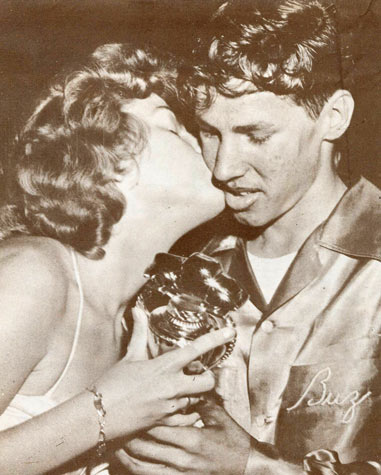 #1120 - Buzzie Reutimann, caught in the act 58 years ago, is STILL winning. The caption with the photo in Illustrated Speedway News in 1957 reported, "The father and son team of Emil and Buzzie Reutimann drove a hard-fought race to win the recent Southeastern Little 500 stock car event at Florida's Brevard County Speedway. Buzzie is being bussed by Susan Landry as she presents the trophy to the younger half of the Reutimann team." (C. Greco Photo)
a
---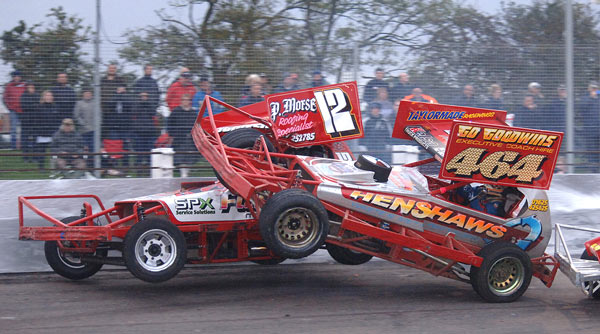 #1119 - Ever since the British Invasion at Indy we Americans have known we have no exclusive on speed. From the photos our friend Colin Casserley sends us from the UK these days, it looks like we are not alone on aggressive racing measures either. Those Brits sure make an investment in their front bumpers. (Colin Casserley Collection)
a
---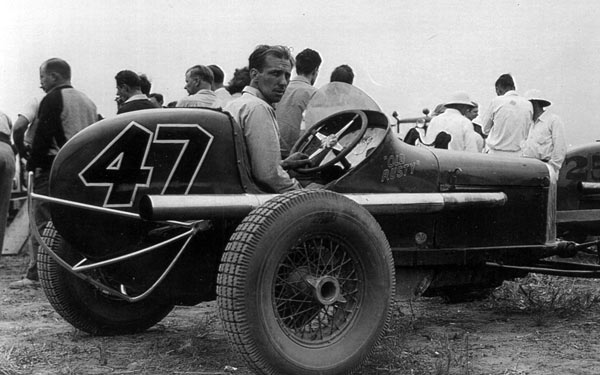 #1118 - A classic image of a terrorizing car and legendary driver. It was Joe Sostilio, one of the finest ever from New England, out on the fair circuit in Milwaukee in 1941 with "Old Rusty." Obviously, Sostilio was fearless. Forty-four years later he was the same way. At 70 years of age, he attended a vintage Midget race at Hudson, NH, and blasted around the place, far faster than anyone could imagine, before blowing up his Offy. Promoter Russ Conway sought him out and said, "Gosh, Joe, you haven't lost a tick." The response: "It's still just like riding a bicycle". Joe passed away in 2000. (Charlie Paulino Photo)
A
---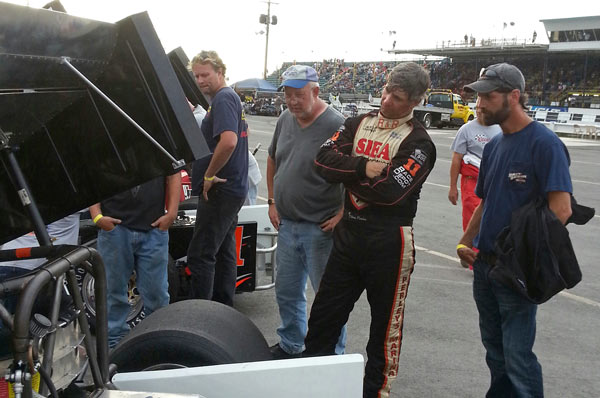 #1117 - Like so many, Coastal 181 reader Mick Fesko from Marietta, NY, is pretty psyched about this coming weekend's ISMA Supernationals and the 58th annual Oswego Classic. He says, "Here's the Dynamic Duo, car owner/builder Vic Miller and pilot Chris Perley, contemplating what's up with an uncooperative car, with an interested by-stander – none other than wingless warrior and multi-time Classic winner, Otto Sitterly. How many features must those three have between them?" (Photo and Caption by Mick Festo)
a
---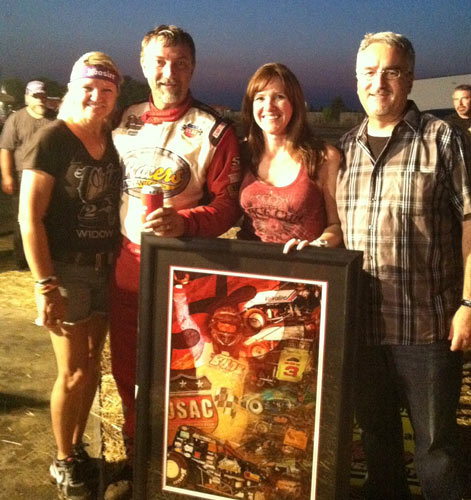 #1116 - Something special in the moon and the stars last weekend beamed down over Kokomo Speedway. The incomparable Dave Darland, (on left with his wife, Brenda), celebrated winning two nights of the track's "Sprint Car Smackdown" to become the all-time USAC feature winner. They also celebrated the happiness of Bones Bourcier and Dori Noble, who were married at a restaurant near the Speedway Friday night, then changed out of their fancy duds and went right to the track to watch Dave race. It doesn't get much neater than that in our world! (Trenton Darland Photo)
THE PEOPLE'S CHAMP: A Racing Life, by Dave Darland with Bones Bourcier.
A
---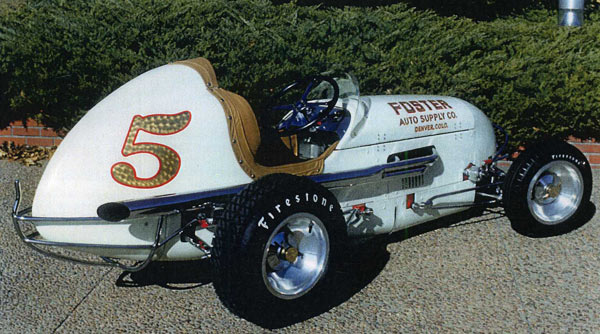 #1115 - What car could possibly match the seasons of the "Mile Hi Flyer"? Also known as "Old Betsy, the Midget was built in 1945 by Frank Kurtis, Chassis #03 and was delivered to Lloyd Axel in Denver. In May of the next year, Axel debuted her at Lakeside Speedway and won the feature handsomely. Continuing along with her old-time spring front and Offy power, Old Betsy just kept on winning, all over the country. Amazingly, Leo Tucker showed up with her at Lakeside for the Lloyd Axel Memorial race, also the Season Championship Feature, in September of 1974, 28½ years later. It was the car's final outing, and she won that, too. (Photo Leroy Byers Collection)
A
---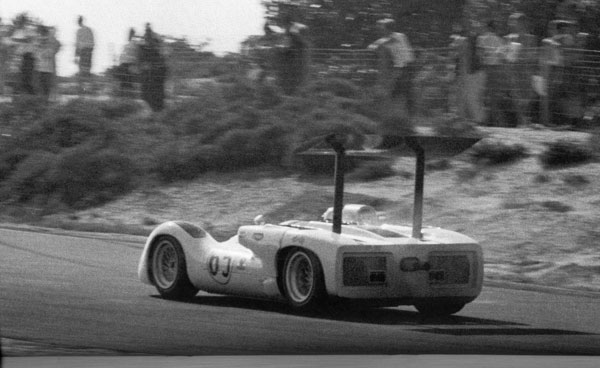 #1114 - Phil Hill was certainly accomplished, having raced to three wins at both Le Mans and Sebring. He was also our country's first F1 champ. In this image he was debuting the "Winged White Wonder" Chaparral at Bridgehampton in 1966. The rather imposing rear wing pushed down directly on the rear hubs through the turns, while on the straights the driver would push a pedal that flattened its angle, thereby reducing drag. From Velocity – Auto Racing Calendar 2015, just released by photographer Peter Lyons.
a
---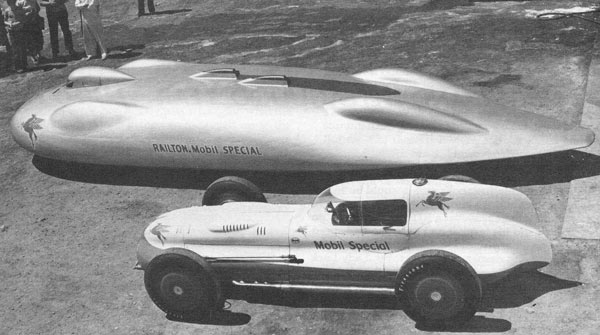 #1113 - It was Bonneville, 1947. Marv Jenkins wheeled the "canopied" Mobil Special Novi to a Class D land record of 179.434 mph. But John Cobb's aero-speedster, powered by twin 1200-HP aviation engines, roared along at over 400 mph. From
NOVI: The Legendary Indianapolis Race Car, Vol. 1 – The Welch Years (1941-1960), by George Peters and Henri Greuter. (Radio Gardner Collection)
a
---

#1112 - The No-Mads, a remarkable old-time hot rod club that was formed in the Newton, MA, police station in 1953, did some pretty innovative stuff early on in drag racing. In 1957, they decided to take a couple of cars out to the Northeast Regional Championship Drags at Fulton, NY. Their dragster (left) was powered by a '53 331-cu. in. Chrysler, and their sedan had a 286- cu. in. '41 Merc flathead, which won the A Competition Coupe class with a top speed of 91.83 mph. Most noteworthy, however, was their coming and going. They had to have had one of racing's very first transporters – a huge moving van. The operation was not, however, totally topped and tailed. They loaded and unloaded the cars by lifting them in and out. From DRAG RACING PICTORIAL (Trend Book 151, 1957), by the Editors of Hot Rod magazine.
a
---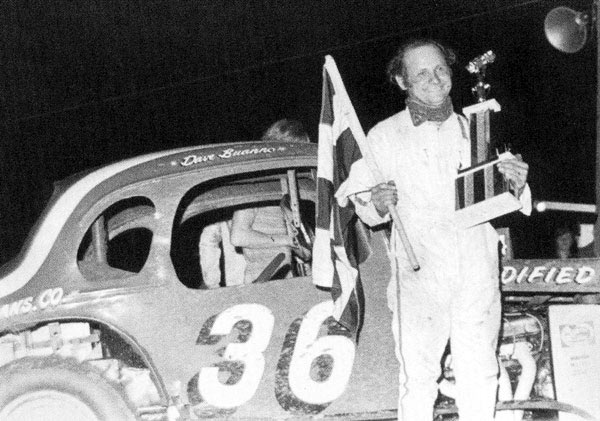 #1111 - It has been a year now since old-time Hall of Fame racer Dave Buanno went to see some friends race at Fonda (NY) Speedway. Totally out of the blue, as he was standing in the pit area, a tire flew off a car, over all the haulers, and hit him full force. The injuries were devastating. Dave was flown out by helicopter to Albany Medical Center with a full spinal break and was soon transferred to the VA Hospital near Boston. He was there until this past spring, when he was released and told that his paralysis was so severe that it would be unlikely that he would even have use of his fingers to operate an electric cart. We visited Dave at home this weekend, and his greeting was amazing. He raised both his arms and waved with his fingers, all in front of a huge smile. He's one tough guy, fighting the good fight. He does sometimes have some sensation in his legs, and he prays daily that someday he just might be able to walk again. How about sending him your thoughts – and maybe a card to:
1008 Sacandaga Road, Fort Johnson, NY 12070
a
---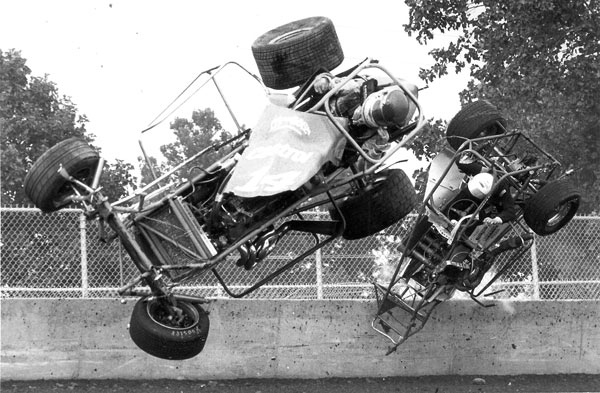 #1110 - Speeds on the big old (Springfield, IL) mile mean there are no Tommy Tipover crashes. They are big and nasty, and the Mark Gerke-Dan Drinan 1992 crash ranks as one of the all-time most frightening...both suffered considerable injury and did sheet time, but, happily, both came back to race again." Photo and caption from "Macho Miles" chapter of DID YOU

SEE

THAT? – Unforgettable Moments in Midwest Open-Wheel Racing, by Joyce Standridge. (Horcher Brothers Photo)
A
---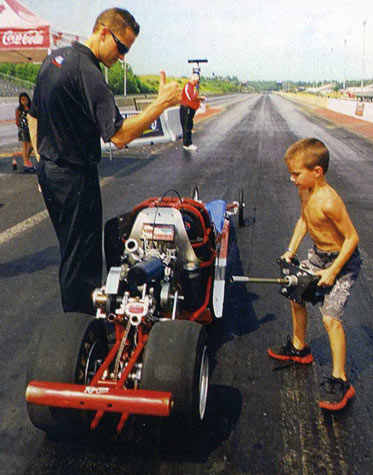 #1109 - Rhode Island's Tasca family is nationally known for their generation-after-generation of contribution to drag racing in America. The Tasca Automotive Group is known in the Northeast for its hugely successful car dealerships, led by their relationship with Ford. This is Bob Tasca III's son, Austin, dutifully attending the Roy Hill Drag Racing School in Charlotte, North Carolina. Mercifully, some things never change. From THE TASCA FORD LEGACY: Win on Sunday, Sell on Monday, by Bob McClurg. (Tasca Family Collection)
A
---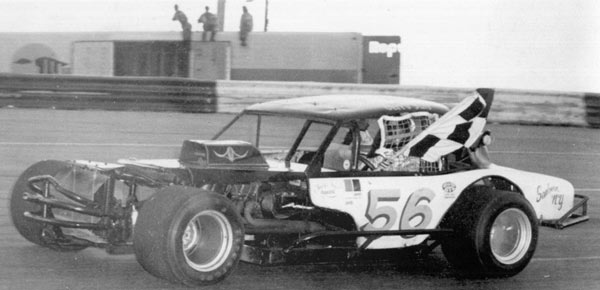 #1108 - Elegant Builders Raceway Park – known more commonly as Lancaster (NY) Speedway – was opened for stock cars back in 1959. It became a popular speedway, offering especially competitive Modified racing in the 1970s, matching the likes of the Treichlers, Bryan Osgood, Maynard Troyer, Richie Evans, and Bill Rafter on a regular basis. Here, dirt and asphalt standout Gary Iulg took the checkers as some truckers took in the show from atop their trailers parked on the shoulder of the neighboring New York State Thruway. Promoter Ralph Galluzzi has just announced the cancellation of all further stock car racing, though drag racing will continue. From LANCASTER HEROES, by John Bisci. (Gordon Reinig Photo)
a
---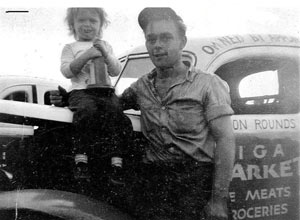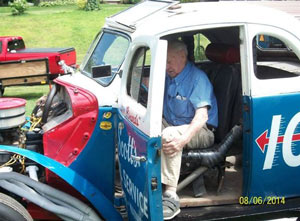 #1107 - On the left is Rhode Island's Don Rounds, a New England Hall of Famer, celebrating his first feature win with his daughter, Cathy, at the old North Kingston Fairgrounds in 1949. Last week the Rounds family took Don out to Mel Ogden's museum in Franklin, NY, to see the last Rounds #101 coupe (photo on right). Don, now 87, last ran that car at Lakeville, MA, in 1972. (Don Rounds Jr. Collection)
a
---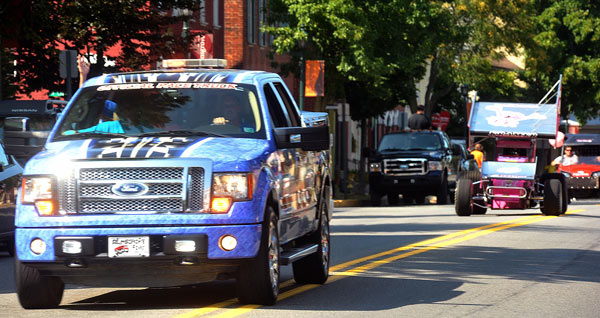 #1106 - It has been a year since Kramer Williamson died in a Sprint Car at Lincoln (PA) Speedway. Last Saturday a memorial parade was held in Selinsgrove, PA, and it ran from the bridge at the north end of town down to the half-mile oval to the south. There were no marching bands. Instead, the pace was about 35 mph, the idle speed of a Sprint Car. About a dozen of them participated, led by the Selinsgove Speedway pace truck and the famous "Pink Panther" Sprinter, driven by Kurt Williamson honoring his dad. (Photo and caption by Frank "The Guy with the Hat" Simek.)
a
---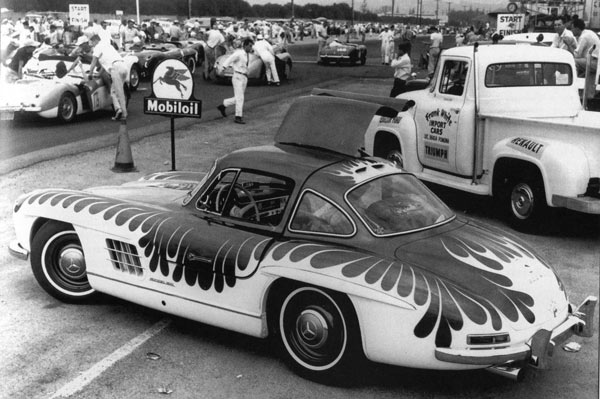 #1105 - Of all the cars the legendary characters and artist who called himself "Von Dutch" decorated, " this is unquestionably the most famous, best and most outrageous paint job. 'Desecrating a shrine' was the term often used." In commercial terms, that would seem to be the case. Gullwings sell these days at prices approaching $1,500,000. Photo and quote from Von Dutch: The Art, The Myth, The Legend, by Pat Ganahl. (Jim Potter Photo via The Rodder's Journal)
A
---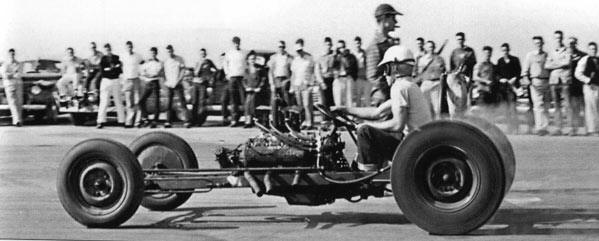 #1104 - "This photo was taken at Santa Ana (Dragway, California) on February 1, 1953, and it's amazing that safety regs were still so lax; no body, no firewall, no apparent roll bar, no fear. This kid was most likely running a good dose of nitro, too." (Photo and caption from HOT ROD GALLERY: A Nostalgic Look at Hot Rodding's Golden Years: 1930-1960, by Pat Ganahl. (Pat Ganahl Collection)
a
---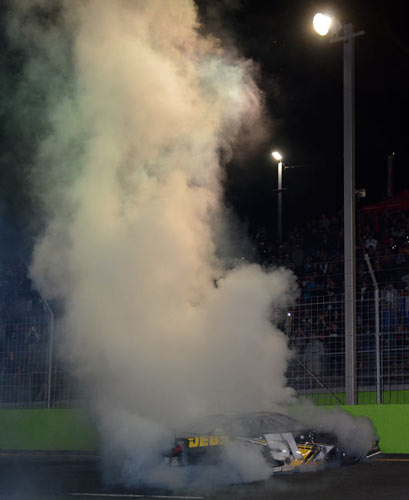 #1103 - Kyle Busch did it yet again on Tuesday night, cruising to the win in The BUDWEISER PASS 150 at Autodrome Chaudière in Quebec. He led quite effortlessly for the last 100 laps, and that's when the show started. Placing his front bumper against the main stretch wall, he did the smoke thing, likely setting a new vertical record. When it was cleared, he was magically on the roof of the car, right on top where he usually ends up. (Norm Marx Photo)
AA
---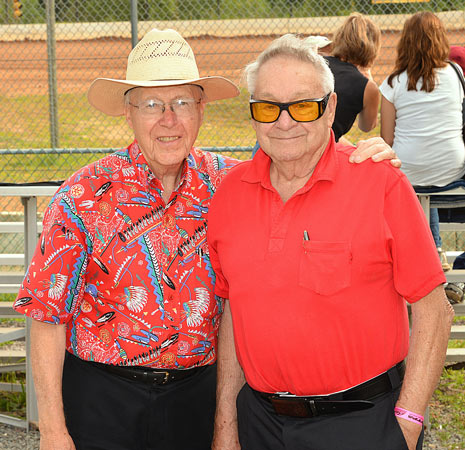 #1102 - Look who stopped by for the show last weekend at Hamlin (PA) Speedway. It was Bill "The Flying Dairy Farmer" Wimble formerly of Lisbon, NY, and his long-time buddy Dick "Dickie Poo" Waterman. Before joining up as Chief Steward at Utica-Rome Speedway in the late 1960s, Bill was two-time NASCAR National Sportsman Champ. They ran the Speedway grandly – with big fields, with big crowds, but, less happily, with lots of rainouts. (Photo by Steve Pados)
a
---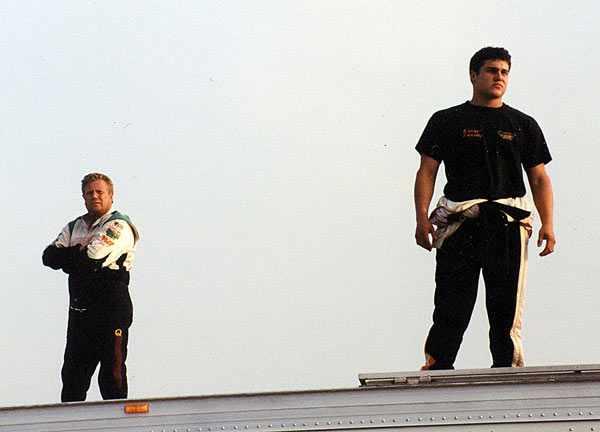 #1101 - Steve and Kraig Kinser look like two gunslingers from an old western movie as they watch the racing action at Eldora in 2002. Not sure about you but I drop my holster around either of 'em. (John DaDalt Photo and Caption)
a
---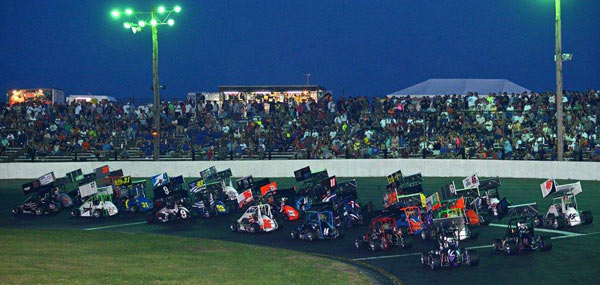 #1100 - Last Wednesday, July 23rd, was one grand night of racing at Seekonk MA Speedway. Tommy Barrett, Jr romped to a $10,000 modified win over Jon McKennedy, Randy Cabral won a thrilling NEMA "Boston Louie Classic", and New Hampshire's PJ Stergious outdueled North Carolinian Chris Lamb in the NEMA Lites - all before a packed house. (Norm Marx Photo)
a
---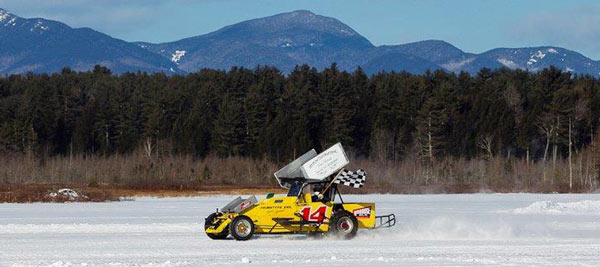 #1099 - Take in the warmth of that summer sun while it shines. It was just five months ago that Jack Cook celebrated a Lakes Region Ice Racing Association modified win on Berry Pond, Moultonboro, New Hampshire. It gets pretty nippy up there in the White Mountains. (David Suitor Photo)
a
---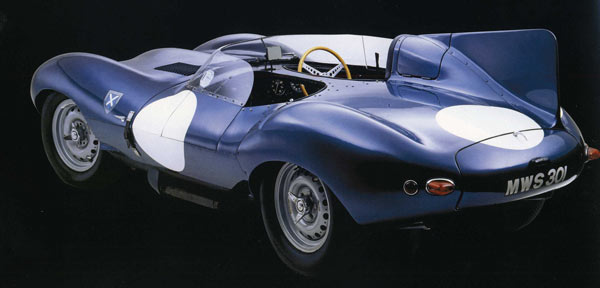 #1098 - Jaguar developed its D-Type in time for Le Mans in 1954. It was highly advanced, a combination of monocoque and space frame, all subjected to scientific aero testing. The factory entered four cars that first year, five per year from 1955-1959. They managed 7 podium finishes, but racked up 17 DNFs. From ART OF THE LE MANS RACE CAR, by Stuart Codling. (James Mann Photo)
a
---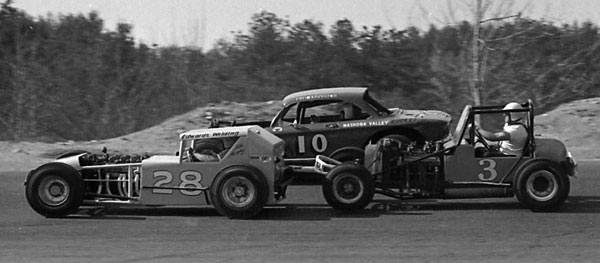 #1097 - It was a beautiful thing. The mid-'60s on the banked quarter-mile in Hudson, NH, and there was no rule book. Mike Murphy was in the Edwards Welding #28 with Don MacLaren closing in on his rear bumper. On the outside is Bobby Karvonen aboard Rick Falconi's early Corvair-bodied small block Modified. (Dick Berggren Photo)
aa
---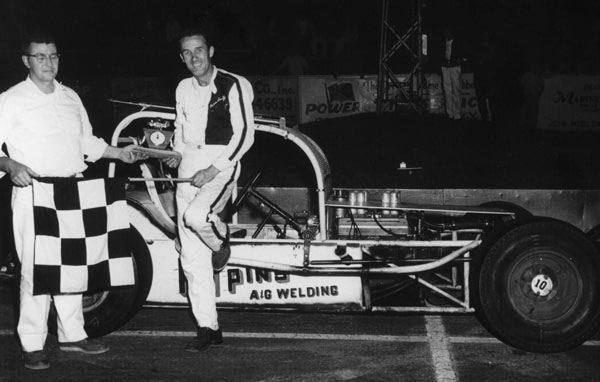 #1096 - Nolan Swift in his #10 pins. He won the Oswego International Classic in 1963. (Bobby Turner Collection)
AA
---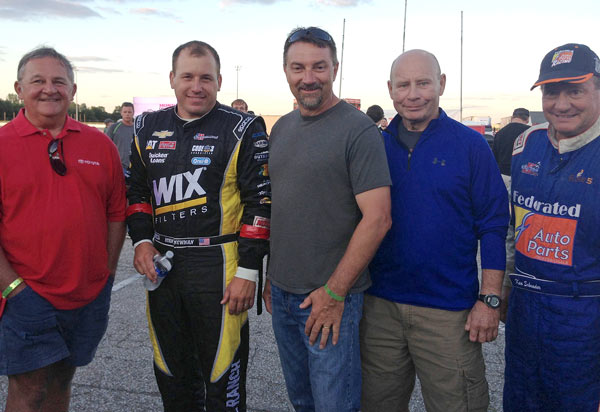 #1095 - David Byrne put on quite a show in the Silver Crown race at Indianapolis Raceway Park last Thursday night, and in so doing becoming the 100th winner in that series. He had some seasoned eyes following him: L to R, Jack Hewitt, Ryan Newman, Dave Darland, Doug Wolfgang, and Kenny Schrader. As you can gather, Newman and Schrader watched from behind helmet shields, They ran 5th and 10th respectively. (Photo by Brenda Darland)
AA
---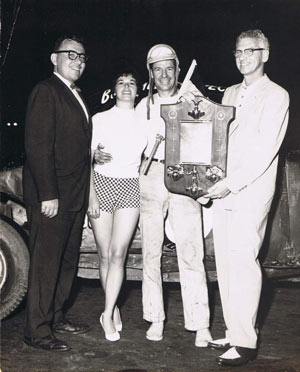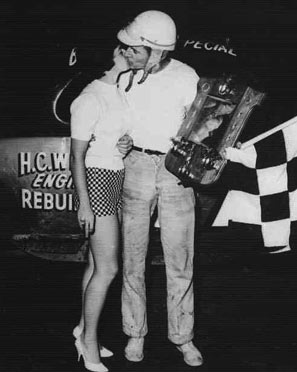 #1094 - One of our favorite customers is Duane Brown in Tampa, Florida. He sent along these photos, noting that this is one of the reasons he always wanted to be a race car driver. We get the picture. That's his dad, Norman Brown (AKA Johnny Roscoe), winning big in the Bill Wilcox Special flathead down at Hialeah in the 1960s. He used the alias to avoid getting in trouble when he raced at non-NASCAR-sanctioned tracks. (Brown Family Collection)
AA
---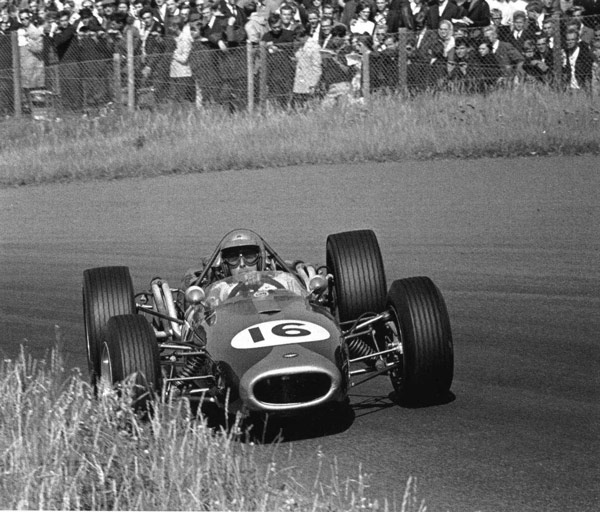 #1093 - Jack Brabham teases the Tarzan Corner at the Dutch Grand Prix on July 24, 1966 in his Brabham-Repco V8. He cleaned house. From THE GOLDEN AGE: Images from the Klemantaski Collection. (Nigel Snowden Photo)
a
---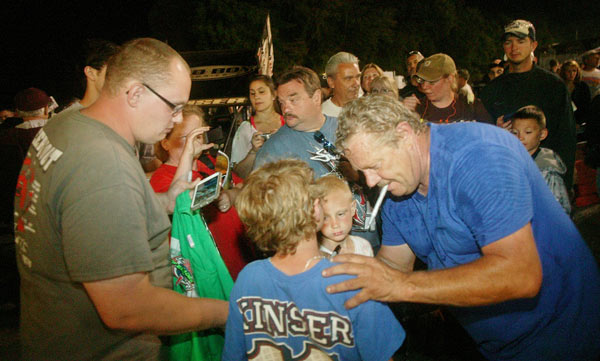 #1092 - Fresh out of the car after the A Feature, the King of the Outlaws held court at Williams Grove, PA, last Friday night, surrounded by hundreds of fans, signing autographs and posing for photos. Could there ever possibly be another Steve Kinser? (Dave Dalesandro/RACE PRO WEEKLY Photo)
a
---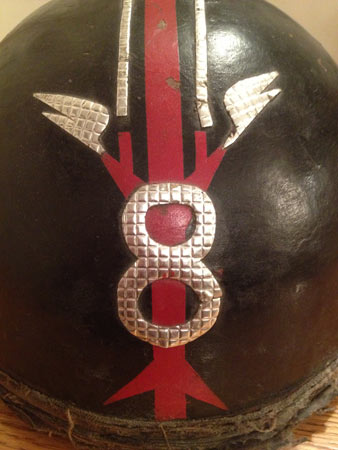 #1091 - On August 18, 1965, Bruce Tessier, a popular young driver from Grafton, MA, died flipping a Bomber at the old Westboro Speedway. On Memorial Day, 40 years later, one of Tessier's nieces went to the gravestone with flowers, as she often did, and was shocked to find Bruce's helmet sitting there. She left a note, hoping to find out just who the donor may have been. There has not been even a whisper. (Tessier Family Photo)
AA
---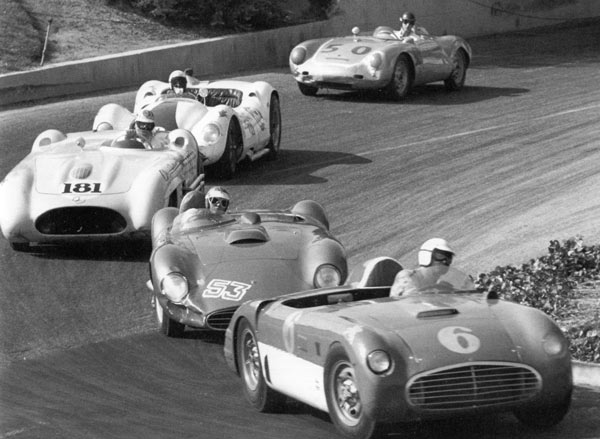 #1090 - A picture of the 1950s: The Examiner Grand Prix at Pomona, CA, March 8, 1959. Chuck Daigh leads Bill Krause who's in a Maserati, George Amick in Chuck Porter's (not Coastal 181's!) Mercedes, Wayne Weiler in a Lister Corvette, and Ken Miles in a Spyder. Daigh, especially, had his hands full with that 500x built by Frank Kurtis. The fuel injection was vapor-locking, so on the straights he was pinching the fuel line with pliers to keep the mixture richer, the engine cooler. Meanwhile, his feet were being so fried from hot exhaust pipes next to the floor pan that he couldn't wear shoes for the next week. He soldiered home in eighth. From RACING SPORTS CARS: Memories from the Fifties, by Art Evans. (Bob Trolonone Photo)
aa
---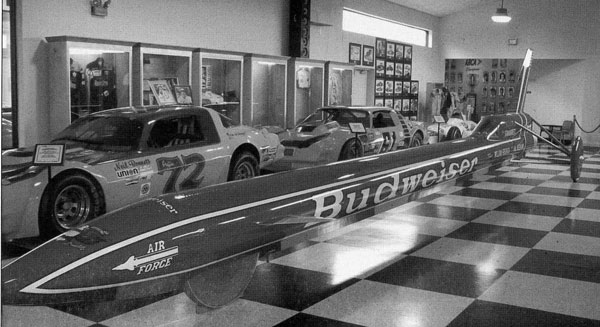 #1089 - This is the controversial Budweiser Rocket Car in the International Motorsports Hall of Fame at Talladega. The 39-foot long hydrogen peroxide-powered land speed missile is said to have reached 731.9 mph in December of 1979 at Edwards AFB, NASCAR driver Stan Barrett doing the steering. However, the run was not measured by independent authority, so it was not awarded the record for being the first to break the sound barrier. From TALLADEGA SUPERSPEEDWAY, by Kent Whitaker. (Kent Whitaker Photo)
AA
---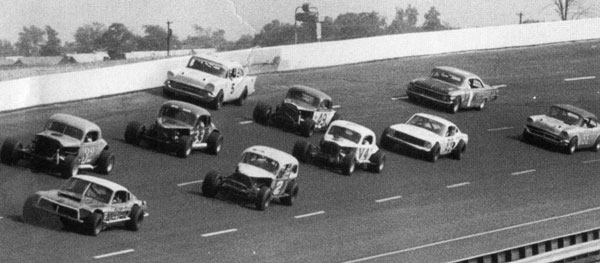 #1088 - If ever a mixed bag of race cars showed up for a race, it was the All Star Racing League event at Dover International in 1969. The injected big block asphalt Mods – such as Bugs Stevens in the Boehler #3 (here #33) and Dick Watson in the Garbarino #v4 – must have been a handful on the lethally fast, high-banked mile. But how about Frankie Schneider in his ol' #2 dirt coach! From DOVER INTERNATIONAL SPEEDWAY: The Monster Mile, by Chad Culver. (Walter Chernokal Photo)
A
---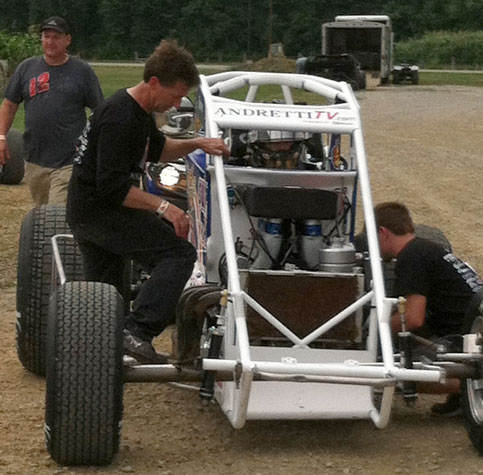 #1087 - It's the look of any racing dad and his boy, doin' their thing, workin' on their sprinter at Lawrenceburg (IN) Speedway. Only the name is unusual. That's John Andretti and his son, Jarett. (Dori Noble Photo)
a
---
#1086 - Despite a slightly thin field that drew an abundance of late-race cautions, the Whelen Modified Tour race at New Hampshire Motor Speedway last weekend delivered all that the division's faithful claim the race to be: excitement, drama, controversy, and a severely crossed-up Ted Christopher (#13) who admittedly tried to protect the bottom a bit too much on the last lap. Fans roared louder than the cars as five drivers swapped the lead 35 times in the 100-lap race, but there was none louder than when Christopher slid sideways off turn four trying to hold-off eventual winner Bobby Santos III and runner-up Doug Coby. Christopher regained enough momentum to keep third for himself over Sprint Cup star Ryan Newman. Christopher is on the cover of Speedway Illustrated's August issue to explain his side of being a Victorious Villain. (Photo and caption by Karl Fredrickson)
aa
---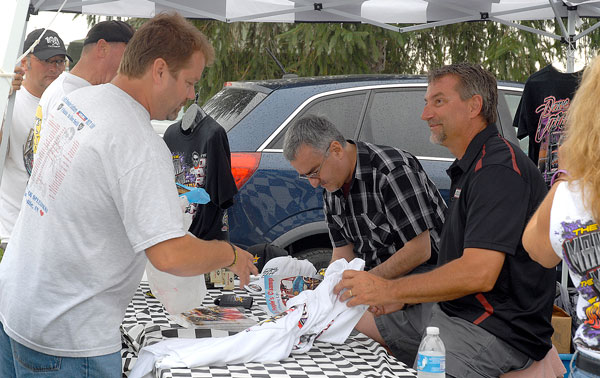 #1085 - Coastal 181 released our new Dave Darland book last Saturday night at Kokomo, IN, the second night of USAC Indiana Sprint Week, under the super moon. That's Dave and Bones Bourcier signing their brand new book, THE PEOPLE'S CHAMP: A Racing Life, as they did most of the afternoon. Dave stayed just a little busy. In qualifying he cut an all-time track record lap of 12.405 and won the feature after a dramatic battle with Justin Grant. That's what we call a launch! (John DaDalt Photo)
A
---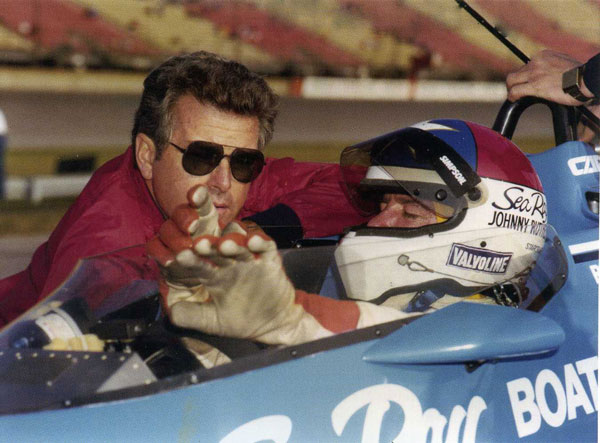 #1084 - Famed driver Johnny Rutherford and famed crew chief Jim McGee (outside car) are good friends, even though they hooked up under less than ideal circumstances. Rutherford says, "I was looking forward to joining Patrick Racing with Jim at the helm. It was one of the sport's top teams and he was one of the best in the business....But, unfortunately, the car wasn't very good. My best description of the car at the Indianapolis Motor Speedway was you drove the car to the start/finish line and then it drove you into the first turn….In the end (the Team) had to buy Marches, like a bunch of other teams." From JIM McGEE: Crew Chief of Champions, by Gordon Kirby. (RMA/Torres Photo)
---

#1083 - W.A. Rommel (left) was one busy guy in 1964. Operating out of Houston, he ran IMCA events all over the country, this one at Oklahoma City. Dick Ritchie (right) drove the Sprinter, while Sonny McDaniels wheeled the Midget on the back. But W.A. had some things going for him back then, 50 years ago. He had one pickup and a trailer to maintain, rather than a motorhome and a couple of semis. And a gallon of gas cost a quarter. From Big Car Thunder, Volume 2, by Bob Mays.
a
---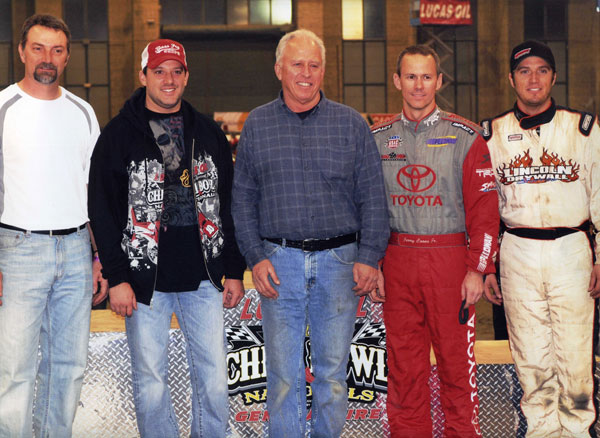 #1082 - "Fast company! (Left to right) Dave Darland, Tony Stewart, Pancho Carter, Jerry Coons, and J.J. Yeley, the only men to have won USAC Silver Crown, Sprint Car, and Midget titles." (Caption and photo from Coastal 181's brand new book, THE PEOPLE'S CHAMP: A Racing Life, by Dave Darland with Bones Bourcier. Rex Staton Photo)
AA
---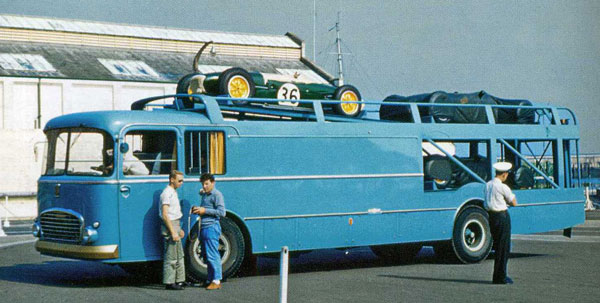 #1081 - "By 1961 the Lotus Team had really arrived, having procured the loan of a the former Scarab Team transporter, which could comfortably house three cars, copious tools and spares. It is pictured on its way to another fateful race, the 1961 Italian Grand Prix, where Jim Clark (#36) would have a collision with Wolfgang von Trips that would lead to the German's death and many years of legal complications for both Clark and the Team." (Quote and Photo from TALES FROM THE TOOLBOX: A Collection of Behind-the-scenes Tales from Grand Prix Mechanics, by Michael Oliver, Dick Scammel Photo)
AA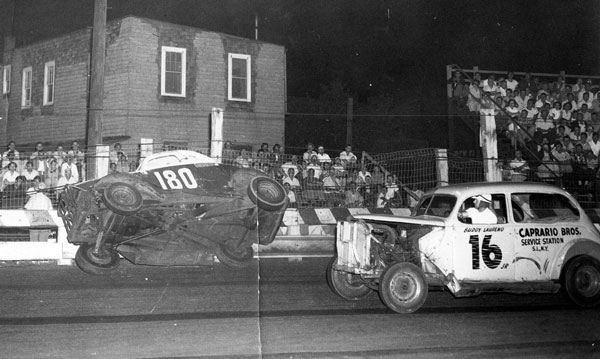 #1080 - It's hard to believe today, but from 1953 until 1972, stock car racing was held weekly right there on ultra-congested Staten Island, one of the five boroughs of New York City. The tightly-packed 1/5 mile Weissglass Stadium is said to have been one frisky place, the folks in the bleachers no less aggressive than the guys on the track. Activity in the photo above was certainly destined to get a lot worse before it got better. (That's Buddy Laureno in the #16 flatback. His nephew Roger Laureno became an all-star Tri-State-area modified driver). (Charlie Zulla Photo, Ken Edsell Collection)
aa
---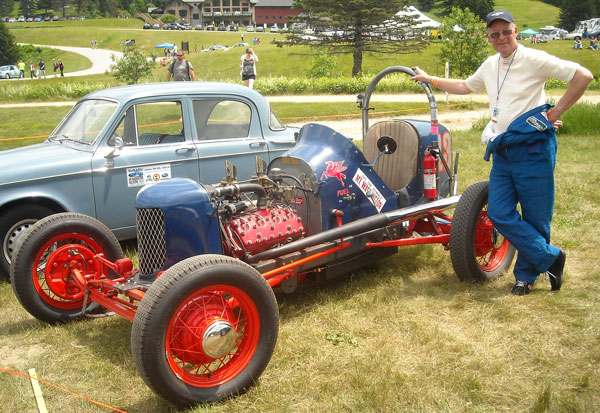 #1080 - What a job Paul Giblin and his organizing committee of 34 do with the "Climb to the Clouds," the race on the frighteningly dramatic road up New Hampshire's Mount Washington, first run in 1904. This year spectators' sections were sold out, and a record of 80 entries came from far and wide. One of the coolest was this 1940 Sprint Car, raced to championships at Whiskey Ridge in Michigan. It was owned by Lloyd Rockey and driven by his brother, Glen, who was seemingly Indy-bound before dying in a Super in 1958. The car sat on 55-gallon drums for years of upper Midwest winters before being taken to Florida and restored for vintage racing by Lloyd's son, David. Eventually Jon Lee of Coastal Classic & Sports Car in Brunswick, Maine, bought it and has been running it for the last couple of seasons. At Mt. Washington, Jon was fastest of the pre-war entries and second fastest in the vintage group. Not bad for a flathead! Jon says, "I certainly had it sideways on the dirt sections – and once or two on the asphalt when I didn't mean to. That car's a happy puppy that likes his tail." (Coastal 181 Photo)
AA
---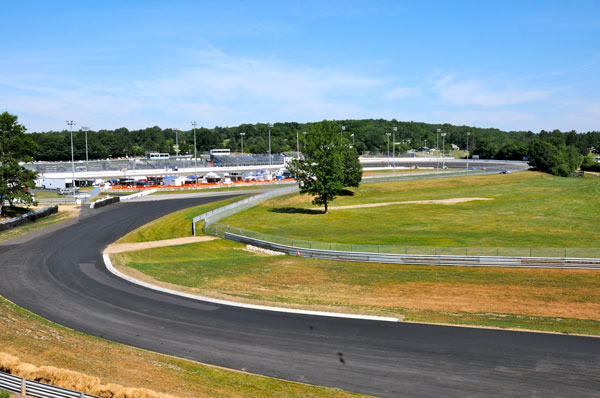 #1079 - Call it a huge success. Last weekend Thompson (CT) Speedway hosted the first annual Vintage Motorsports Festival on its brand-new road course. Fully 240 cars came to town. The track, built at a cost of over $4.5 million, is a thing of beauty. Thirty-seven-year old Jonathan Hoenig was in charge of construction and did a terrific job. Drivers termed the track "challenging," and that's just what racers want.
The new road course uses some of the same footprint as the old one, but it goes through much of what had been oval-track parking. The oval-track concrete walls leading to turn one and coming off turn two have been removed and will be replaced by movable crash barriers. The area between turn three and four has seen the addition of a flat track just below the existing banked track and is used by the road racers who don't ordinarily compete on banked surfaces. A new garage (with bathrooms and a 'pro' shop) is in the old oval track area pit and there's a new sign-in building just off the street. A bridge allows access to the garage area with race cars roaring underneath. The Festival was itself festive, with families enjoying picnics under the shade of trees deliberately left in place surrounded by manicured lawns. (Photo and caption by Dick Berggren)
aa
---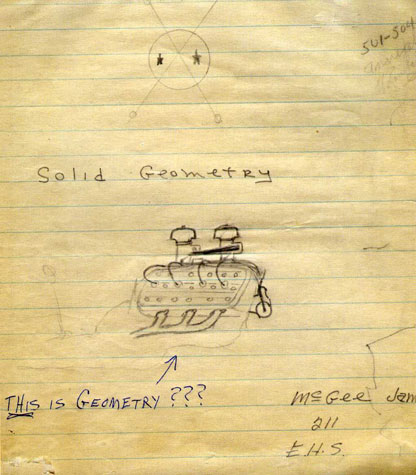 #1078 - And this is how it all started. In his wonderful new book Jim McGee: Crew Chief to Champions, Gordon Kirby describes how racing snagged the future Indy Car mechanical guru. Jim was attending Boston Latin High School in Massachusetts when his brother took him to the stock car races at Norwood Arena. The hook was sharp and it went deep. Here's a drawing of a flathead Jim subsequently doodled out on a geometry paper. His step-mother, whose note is on the bottom left corner, was none-too-pleased. From Jim McGee: Crew Chief to Champions, by Gordon Kirby.
(Jim McGee Collection)
aa
---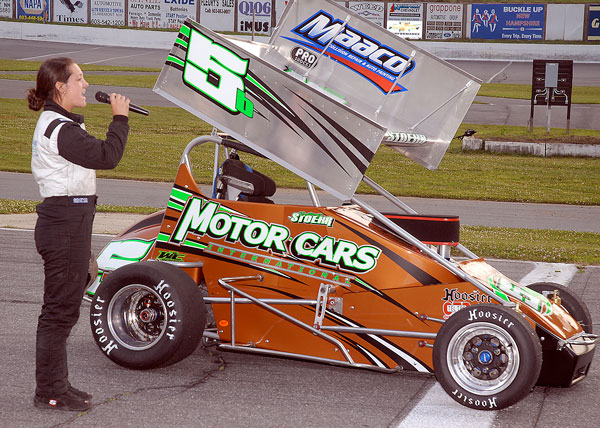 #1077 - "She's a rounder I can tell you that, she can sing 'em all night long," croons Emily Lou Harris in one of her most popular songs, "Even Cowgirls Get the Blues." Can there be any question she was really thinking about Bethany Stoehr? Here's Bethany delivering the National Anthem at Twin State Speedway in New Hampshire last Saturday night before jumping in her NEMA midget. (John DaDalt Photo)
aa
---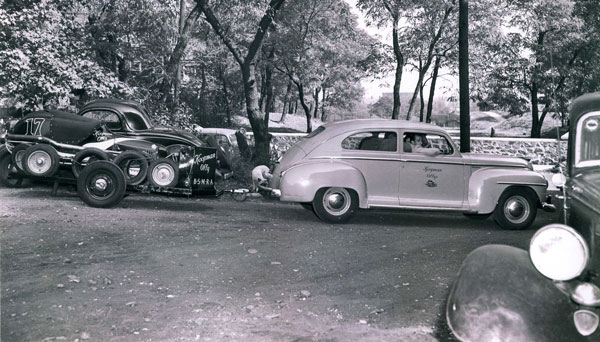 #1076 - Which car in this photo would you like to own the most?!? What an era the late 1940s must have been – such an aura of newness, adventure, and romance. That's Mr. and Mrs. Joe Sostilio about to set out on a racing trip to California, with the Bay State Midget Racing Association's Koopman Offy in tow. Riding along with them was Eddie Casterline. (Charlie Paulino Photo)
AA
---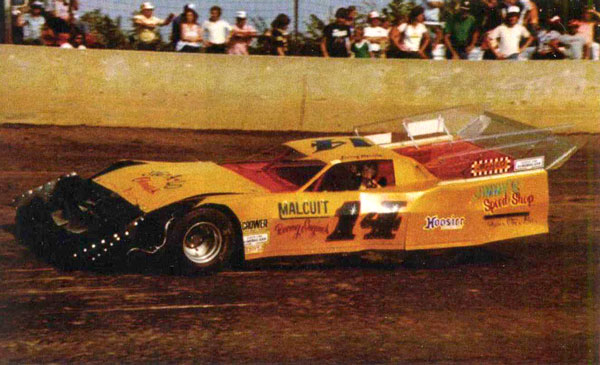 #1075 - In the early 1980s the Thomas Brothers of Phenix City, AL offered Larry Moore the seat in their Malcuit-powered Jig-A-Lo tubular-framed wedge car. Larry recalls, "That became our world in 1982-1983. The cars were going crazy…but I have to say the racing wasn't all that good. Very quickly reality set in. With all that downforce, it all came down to who had the best motor program. The cars were totally stuck to the track so you could run wide open almost everywhere. This ate up a lot of good engines, but, if you could build yours strong enough, cranking out the most horsepower, you could win." From ON TOP OF THE WORLD – The Life and Times of a Racing Pioneer, by Larry Moore with Dave Argabright. (Dean Malone Photo)
AA
---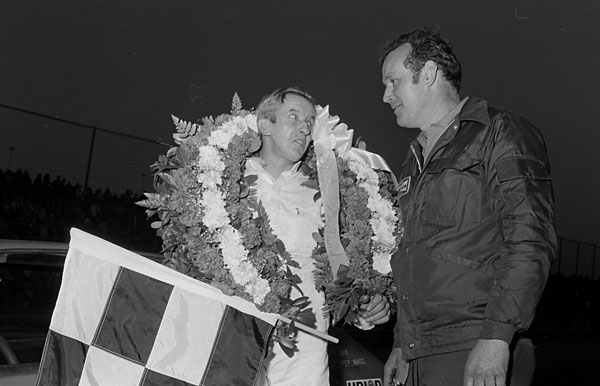 #1074 - Back in the day, Jerry Wheeler, a racer from Maine, told fellow ex-Mainer and car-owner Bob Judkins to take a look at this guy Eddie Flemke who was whuppin' 'em at Plainville (CT) Speedway. That viewing resulted in the formation of the Judkins/Flemke team, and, boy, did they ever win some races. Here they are following one in 1973. Judkins remembers it this way: "You know, if you looked at Eddie you'd notice that his eyes were slightly misaligned; they didn't both look straight ahead. I saw that when I first met him, and I said to Jerry, "Maybe that's why he's so good. He can see things in every direction". From STEADY EDDIE – Memories of Ed Flemke, Modified Racing's Fastest Professor, by Bones Bourcier. (Mike Adaskaveg Photo)
aa
---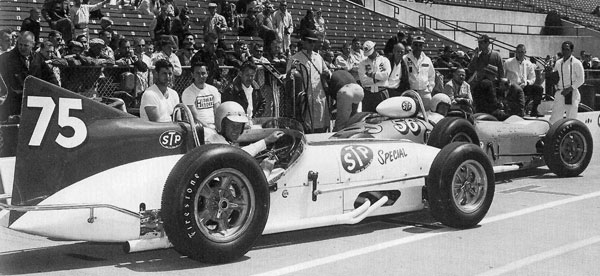 #1073 - What would you give to be able to take a couple laps in one of them? It was 1963 at the Brickyard, and that's Jim Hurtubise in the #56 Novi he put in the middle of the front row at 150.257 mph. In the #75, an older Novi out of Granatelli's stable (actually a 1956 chassis), was Indy rookie Art Malone who hustled it into the show with a remarkable 148.343 From NOVI V-8 INDY CARS 1941-1965, Ludvigsen Library Collection.
AA
---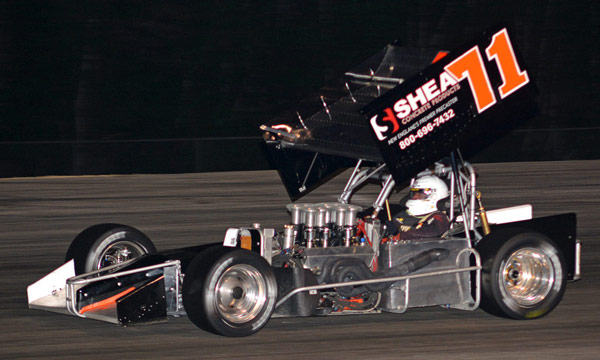 #1072 - Last Friday night (June 20) ISMA and Oxford Plains Speedway in Maine honored Bentley Warren with a "Bentley Warren Classic" Supermodified show. At the last minute, the ever-surprising, never-aging Mr. Warren announced he could not be the Grand Marshal, nor could he sign any of his WICKED FAST books until the race was over. That's because the 73-year-old wanted to win it! Put in perspective, 58 years ago on this night he was racing a '37 Ford at West Peabody (MA) Speedway. Bentley looked way quick in warm-ups, but missed the setup in the feature. Still he looked smooth as silk, bringing Vic Miller's machine home in tenth. (Norm Marx Photo)
AA
---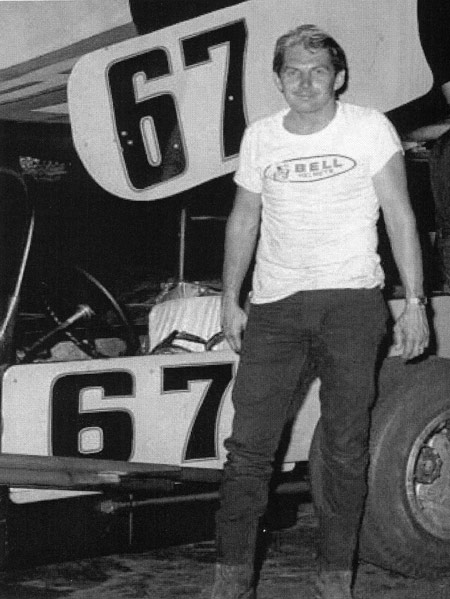 #1071 - Legendary Rat Lane really was something in a Supermodified back in the day, especially when aboard one of Bill Hite's rocket ships. He ran everywhere – through Tennessee, Texas, Mississippi, Alabama, Florida, Ohio, New York, and Michigan, before backing down to drive NASCAR transporters. "I can't tell you what it was about being able to go all over and race. I loved them all, They were like some women I've known; they just needed taming." Photo and Quote from EARLY SUPERMODIFIEDS, Volume III, by Gerald Hodges.
aa
---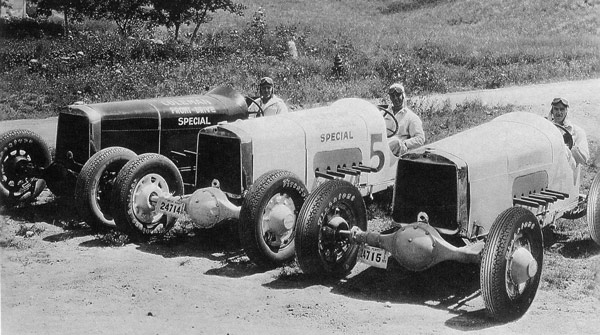 #1070 - By 1929, the Unser Brothers (Jerry, left, Louis, middle, and Joe, right) were very fast at Pike's Peak. The mountain in their backyard had begun hosting regular climbs in 1920, and Joe had four seconds in the event. They decided they would expand their horizons and put together three Coleman Front Drive machines to take to Indy. However, it was not to be. Joe was killed on a highway in Colorado testing his, and Coleman subsequently withdrew their entire sponsorship. So it was back to the mountainside, where they dominated until the event went dormant for the War years. From THE UNSER LEGACY: Four Generations of Speed, by Gordon Kirby. (Unser Family Collection)
AA
---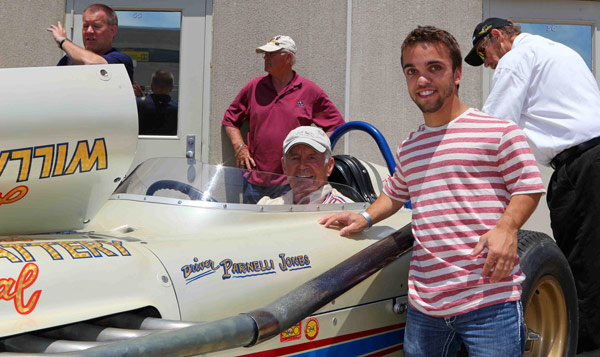 #1069 - Earlier this month the Sportscar Vintage Racing Association landed on Indianapolis for a vintage meet at the Brickyard. Some interesting cars and personalities showed up. Hmmm. What do you think Parnelli Jones and Rico Abreu
were talking about? (Albert Wong Photo, Jimmy Dilamarter Collection)
aa
---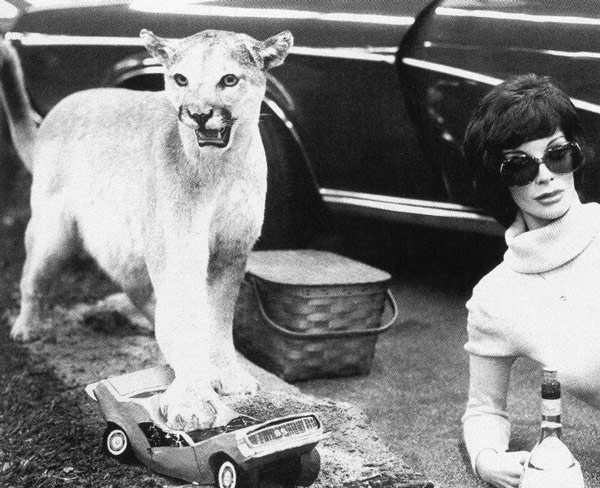 #1068 - In 1967 the folks at Mercury were really anxious to highlight their new Cougar as the ultimate in performance and luxury. When Bud Moore was contracted to build up a gaggle of them for Trans-Am racing, the PR people came up with this very 1960s, very sporty car publicity photo. As it turned out, the Cougars did put a stomping on the Camaros out on the race track, but in the sales show room it was another story. From THE CARS OF TRANS-AM RACING 1966-1972, by David Tom. (Franz Hernandez Collection)
aa
---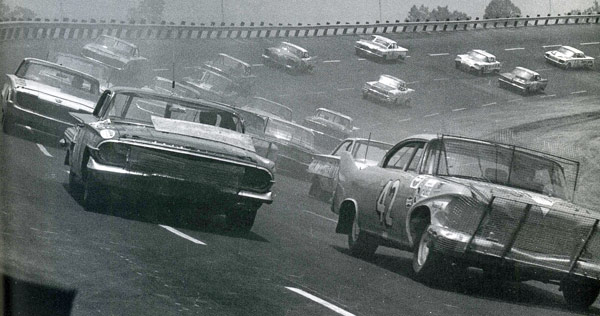 #1067 - The start of the place was late – and it was pretty rocky. When racer Curtis Turner and businessman Bruton Smith decided to build a 1.5-mile speedway in Charlotte that would open in the 1960 season, they projected costs of $1 million. However, they found huge boulders on the site that had to be moved, and beneath lay an ornery layer of granite. When spring came around, they were $500,000 in debt, and bad weather forced them to delay the opener for a couple of weeks to get the pavement down. Finally, by June 19, Turner had raised enough money to cover the $160,000 purse, and the first World 600 was run. The asphalt must still have been warm. It was so fresh that the weighty Grand National cars peeled up chunks of it, and crews had to revert to defensive techniques learned on the dirt. In the end Joe Lee Johnson was the winner. From STOCK CAR RACING – the High Speed History of America's Premier Motorsport, by Don Hunter and Al Pearce. (Don Hunter Photo)
AA
---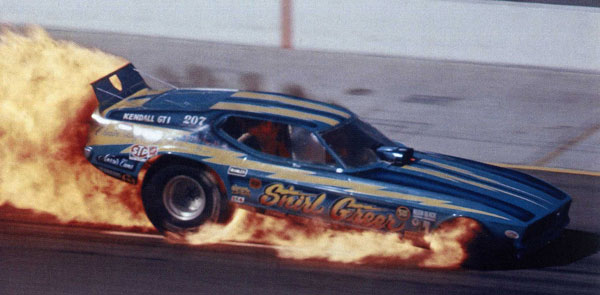 #1066 - This is Shirl Greer in his perfectly named "Chained Lightning" Mustang in the Saturday qualifying round of the World Finals at Ontario. Greer received multiple burns in the incident, but the weekend was not yet over. Friends and foes alike got together and thrashed all night on the well-crisped car, and when the car rolled up to the line for round one the next day, Shirl was back in the cockpit. By the end of the afternoon he was World Funny Car Champion. From DRAG RACING FUNNY CARS: Factory Flyers to Flip-Top Fuelers, by Lou Hart, Foreword by "Jungle" Pam Hardy. (Howard V. Koby Photo)
AA
---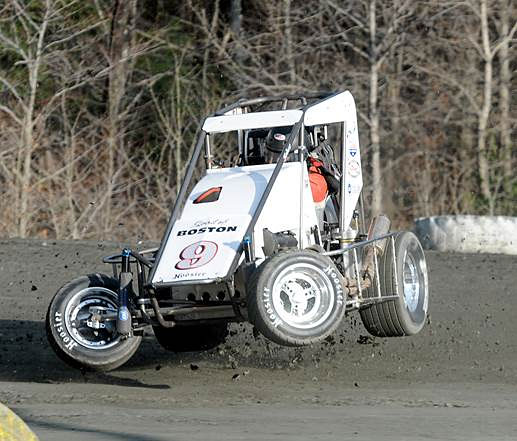 #1065 - A beautiful tradition began some 60 seasons ago. "Boston Louie" Seymour out of Marlboro, MA, "the man who towed a million miles," began delivering his well-tooled open-wheelers to top chauffeurs anywhere in the country that USAC might have been running. It continues today with his sons Bobby and Mike. In the past, both have driven to many a Midget win and they are now focused on keeping a whole new generation of racing aspirants safe and speedy. One of them, Anthony Nocella, is shown here in the last couple of weeks in the Spirit of Boston DMA car at Bear Ridge Speedway, in Bradford, VT. It looks to be a good comfortable fit. Nocella seems to need but one wheel on the track. (John DaDalt Photo)
aa
---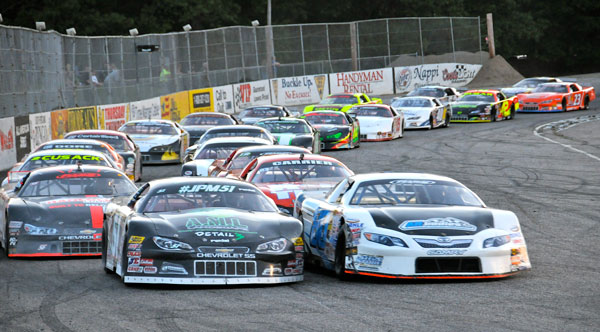 #1064 - Looking for a summer vacation on the coast with a terrific race track to visit on Saturday night? Consider Maine and Beech Ridge Speedway. The Maine coast is some of the most stunning in America, with lighthouses, lobster boats, islands and a magnificent rocky shoreline. Old Orchard Beach is less than 10 miles from the Speedway and offers a funky pier with restaurants, gift shops, a midway with a grand merry-go-round and more – it's a throwback to the oceanfront amusement parks of years gone by. Beech Ridge Speedway runs Thursday and Saturday nights with the Saturday night events as good as you'll see anywhere and tickets at old-time prices. Promoter Andy Cusack is the second generation to own and operate Beech Ridge, and the multi-time RPM Regional Promoter of the Year does it right. (Dick Berggren Photo)
aa
---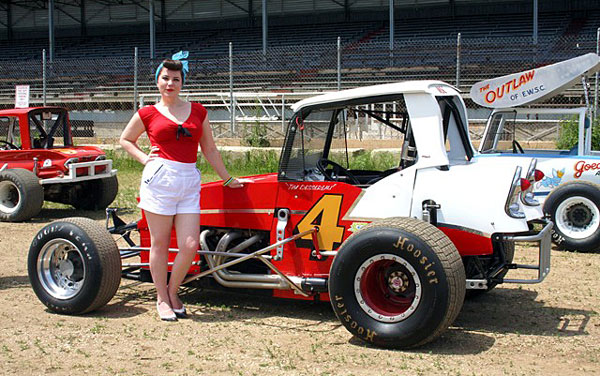 #1063 - How about this shot from the Cedarsburg, Wisconsin, Fairgrounds Reunion last weekend? Those Milwaukee sixties-era Modifieds were among the coolest in the country, and John Surges and his Vintage Modified Stock Car Group are going gangbusters getting them restored and back in public view. Next to this car, owned by Tim Dessereau of Mayville, WI, is singer/model Carmen Lee. Is she appropriately attired or what! (John Surges Photo. For the full history see THE MILWAUKEE MODIFIED ERA 1959-1978, by everyone's favorite Fr. Dale Grubba.)
AA
---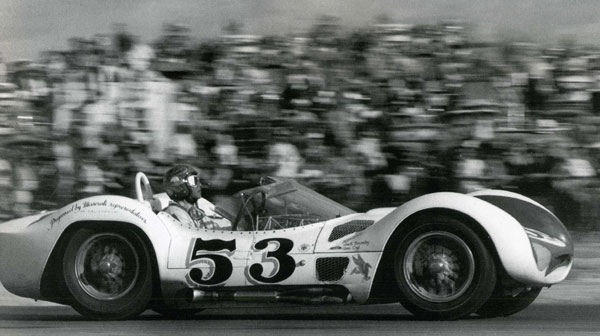 #1062 - Bill Kraus was looking good on the backstretch of California's Riverside Raceway during the Times Grand Prix, October 1960, in a Maserati "Birdcage." They were built in 1959 "with an infinite number of tubes of near infinite thickness," according to historian Karl Ludvigsen. Even with its modest four-cylinder engine, Kraus called it "the best of the front-engine sports racing cars because it was lightweight and balanced." Photo and quotes from RACING SPORTS CARS: Memories of the Early Fifties, by Art Evans. (Bob Trolonone Photo)
aa
---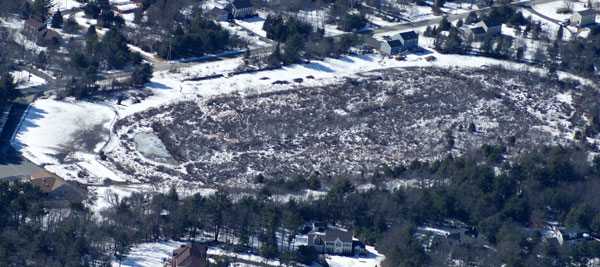 #1061 - This photo was taken by pilot Stan Bielusiak last winter from his plane over the old Lakeville (MA) Speedway. Check out that house that popped up just off the groove in the fourth turn. It wasn't there seven years ago when the oval was completely cleared of trees by Charlie Lima of Senior Tour Auto Racers for a Speedway reunion. And it most certainly wasn't there when Stan was partnered with our #181 in a horrendous crash right at that spot in 1972. (Stan Bielusiak Photo)
aa
---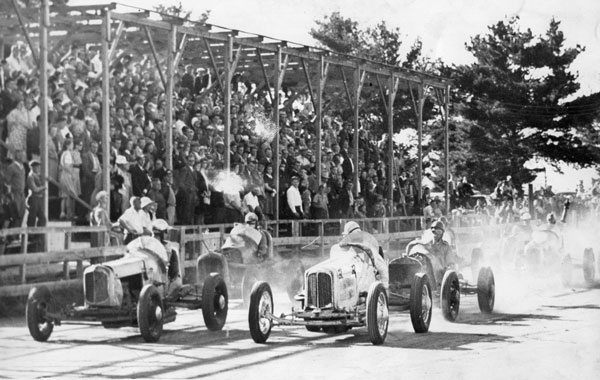 #1060 - Every lap was intense with the post-war open-wheelers up at the old Cheshire Fairgrounds in Keene, NH. Those wire-wheeled Big Cars on the dusty surface bordered by a toothpick wooden fence and thousands of spectators were notoriously thrilling – and lethal. What possibly could have been going on here as the field was taking off? Both Reino Tulonen (pole) and the guy on the outside are looking backwards rather than forward. And what in the world is that up in the air next to the third row inside? (North East Motor Sports Museum/Anna Tulonen Collection)
AA
---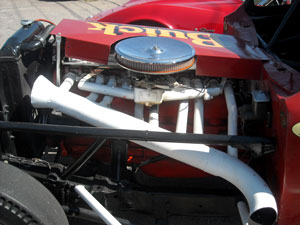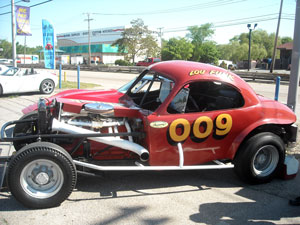 #1059 - Here is the propulsion department of a neat coupe from the Danbury (CT) Racearena, restored by Jim Torok. The car was originally built by racer Lou Funk, who wagered that he could beat the Ford flatheads at Danbury using some other kind of engine. He came up with this monster, a 1000-pound straight-eight Buick. Funk figured he'd have to get pretty fancy. Among other things, he designed this exhaust system, somewhat before the time of tuned headers. His intention was to improve the breathing of the engine, and he kept the left-hand side of the exhaust manifold open to try to create a Venturi effect. So, the bell on the end was thought to be more purposeful than just looking musically horn-like. The project was successful, and on July 4, 1970, Funk powered into Victory Lane. Later on, he decided to attempt to whup the overheads that came on in 1973, but that didn't work out so well. (Coastal 181 Photo)
aa
---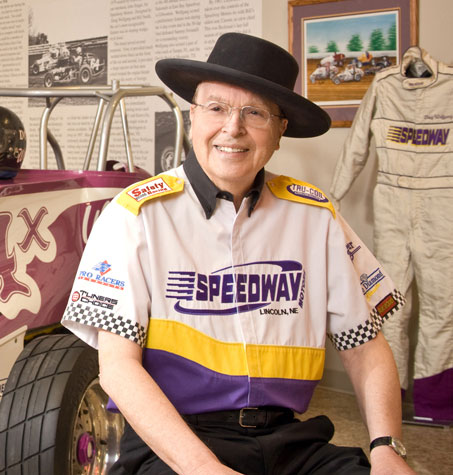 #1058 - One of America's true racing giants, "Speedy" Bill Smith, died on May 30, 2014, weeks before his 85th birthday. Smith opened Speedway Motors in 1952 with the help of a loan of $300 from his wife, Joyce. They worked side by side at the company until Joyce's recent passing. They had four sons who also work at the company. Speedway Motors is recognized as America's oldest speed shop. It manufactures everything from racing components to parts for hot rods and retails racing equipment, pedal cars, and high performance speed parts. Smith competed in drag and oval-track racing. He owned the sprint cars that Doug Wolfgang drove to a Knoxville Nationals win and Jan Opperman used to win the Hulman Classic. Through Speedway Motors, Smith sponsored many race cars and supported racing events that made a positive contribution to the sport. Despite his humble beginnings, Smith amassed the largest collection of racing engines and pedal cars in the world, both of which are on display in his magnificent museum on the grounds of Speedway Motors. His car collection in the same museum is world class. It is said that his real estate acumen was so sharp that at the time of his passing, Smith owned half of downtown Lincoln, Nebraska. Thousands of people in the industry considered Smith a friend as they have admired and looked up to him. (Caption and Photo by Dick Berggren)
aa
---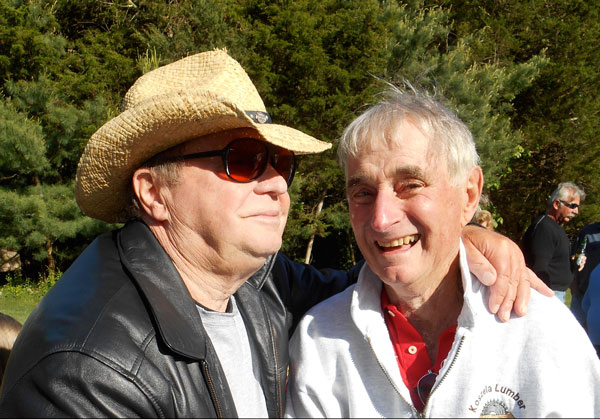 #1057 - The Berghman family, one and all, assembled last Saturday in high clandestine fashion. Their goal was to surprise their guy and ours, Carl "Bugsy Stevens" Berghman, with a huge 80th birthday celebration. The Bug was actually speechless, but in no more than a lap, he was back in gear. Here he is with his finest straw hat and his longtime buddy and car owner, Sonny Koszela. (Dick Berggren Photo)
aa
---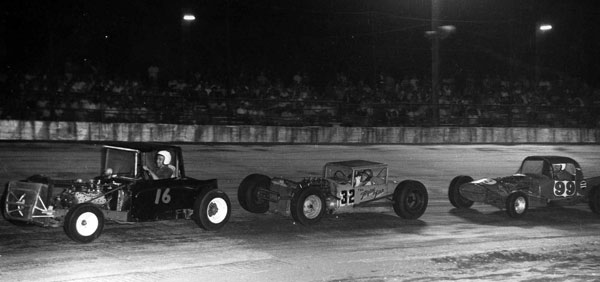 #1056 - A prophetic moment right at the turn of the 1960s at Seekonk (MA) Speedway. Fred Luchesi in Nemo Alexander's flathead cutdown would soon be gone when Reino "the Flying Finn" Tulonen and Fred Borden blew by in their overhead early supers. The same thing would happen to all these cool cars by 1961 in southern New England. It would be full coupes for the rest of the decade. (North East Motor Sports Museum Photo, Reino Tulonen Family Collection)
aa
---

#1055 - It was 1970, high time for Trans-American Championship Road Racing Series (Trans-Am). Parnelli Jones in a Bud Moore/Shelby Mustang, decked out in its signature "Grabber Orange," leads Mark Donohue aboard a Penske Javelin and the Plymouth 'Cuda of Swede Savage. The Series was awash with some of the country's greatest wheelmen aboard factory teams engaged in a ferocious battle of manufacturers. But, but alas, by the fall of 1972, after seven short seasons, "pony car wars" were over, and the subsequent organization, the International Motor Sports Association (IMSA) came into being. From THE CARS OF TRANS-AM RACING, 1966-1972, by David Tom. (Photo Courtesy Autosportsltd.com)
aa
---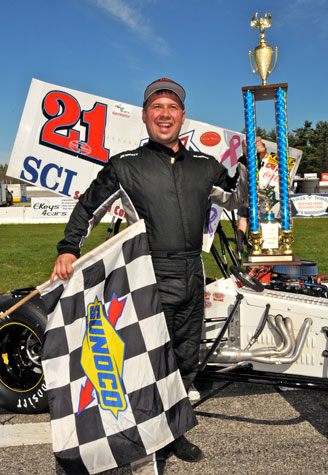 #1054 - Well, Tommy Tombarello should look pleased. He has just won the supermodified opener at Lee (NH) Speedway, reaffirming his status as top dog in that small block division. He sure has the ride part covered. He drives for Eddie and Bobby Witkum, two Massachusetts brothers who have constructed and won in top New England Super Modified Association and ISMA cars since the mid-sixties. Sponsored by Scherbon Consolidated, the local generator company, they built the cars for Lee the old fashioned way – a piece of chalk on the garage floor, a pile of tubing, and a welder. The workmanship is beautiful. (Dick Berggren Photo)
aa
---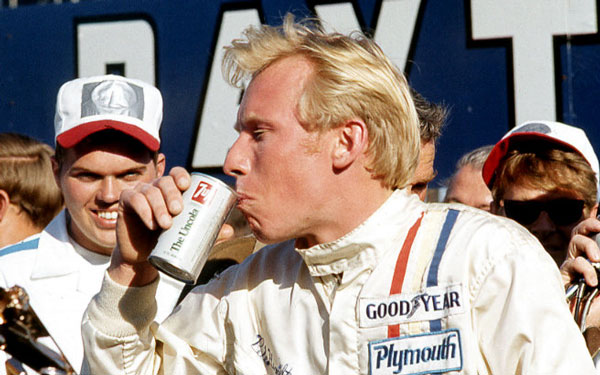 #1053 - This just might be one of the first examples of a driver earning what folks in NASCAR today call "chug points," or drinking an endorsed beverage in victory lane or during an interview. As you likely know, Petty Enterprises signed 7Up to sponsor Pete Hamilton's Superbird shortly before the 1970 Daytona 500 ... which turned into a pretty fair day for Pete. (Caption by Bones Bourcier, Photo bench-racing.blogspot.com)
aa
---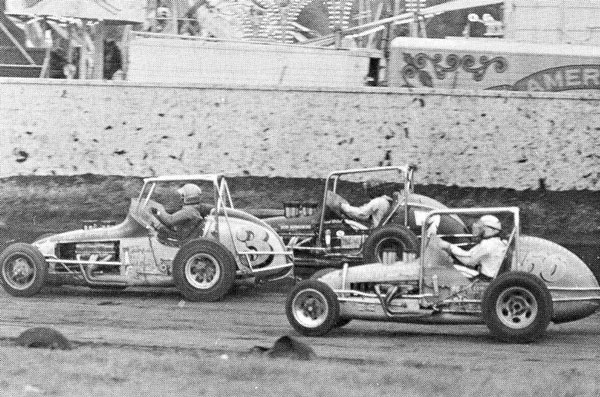 #1052 - Something sure has been lost from that era of racing on the old fairgrounds open-wheel circuit. The juxtaposition of roller coasters, Ferris wheels, carney barkers, and dirt tracks was so live with the thrills, color, noise, and smells of heartland entertainment. Here Eddie Leavitt (#3) and Bill Utz attempt to contain Jan Opperman on the outside at Topeka's Mid America Fair in 1971. From IMCA YEARBOOK 1971.
(Ken Simon Photo)
aa
---
#1051 - Curtis Turner was the only driver to win a national NASCAR event because he was the only one left running. (Asheville-Weaverville, NC, 9/30/56). It is said that the same was true at some of his legion parties before he crashed his Aero-Commander on the way to Roanoke Airport in 1970. From FAST AS WHITE LIGHTNING, by Kim Chapin.
aa
---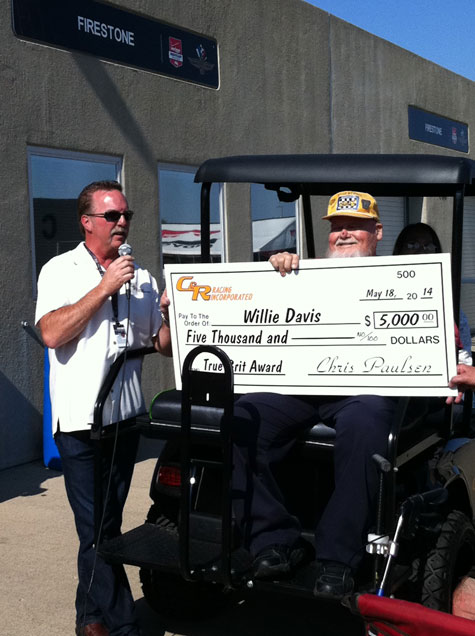 #1050 - Every May, good guy Chris Paulsen, the ex-Indy Car chief mechanic who for years has operated C&R Racing in Indianapolis, presents his company's True Grit award to a deserving (but often unsung) member of the open-wheel racing community. This year's popular and very surprised winner was Willie Davis, mechanic extraordinaire and the owner/wrench behind the late Gary Bettenhausen's 1969 and '71 USAC Sprint Car championships. Fittingly, the award was presented at an informal Gasoline Alley celebration of Gary B's life, organized by Paulsen, after the last round of qualifying for this year's Indianapolis 500. On hand were all manner of Indy Car folks, from team generals like Roger Penske to foot-soldier mechanics like Paulsen and Davis once were, as well as an assortment of Bettenhausens. The beer was cold, the stories golden, and the tears and laughter genuine. (Bones Bourcier Caption and Photo)
AA
---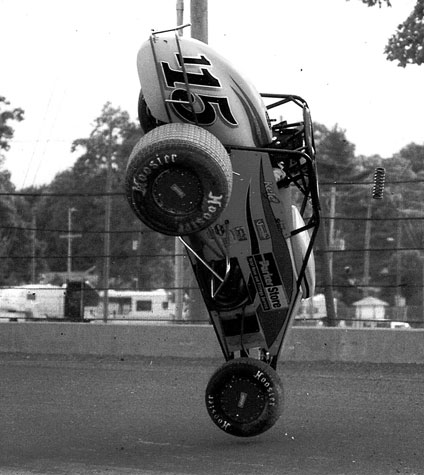 #1049 - Over the last two decades Donnie Schatz has turned so many open-wheel races into diamonds. The clinically talented North Dakotan has well over 100 wins in World of Outlaw sprinters alone. But some days are stones right from first light. Here he is at the Indiana Fairgrounds, 2003: first ride in a Silver Crown car, first segment of hot laps, third turn of first lap. From DID YOU SEE THAT: Unforgettable Moments in Midwest Open-Wheel Racing, by Joyce Standridge. (Kevin Horcher Photo)
aa
---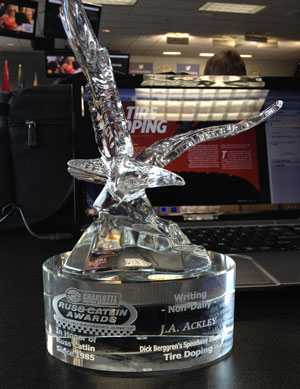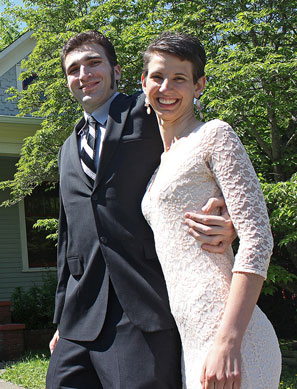 #1048 - So what else could that JA Ackley, Managing Editor of Speedway Illustrated, possibly have up his sleeve this month? To everyone's surprise and delight, he tied the knot with Jess Irwin and bought a house. Then he won the Russ Caitlin Award for journalistic excellence for a piece he wrote for the magazine on tire doping. Do you think he might be planning a last-minute qualifying run at Indy?
(Speedway Illustrated photos).
aa
---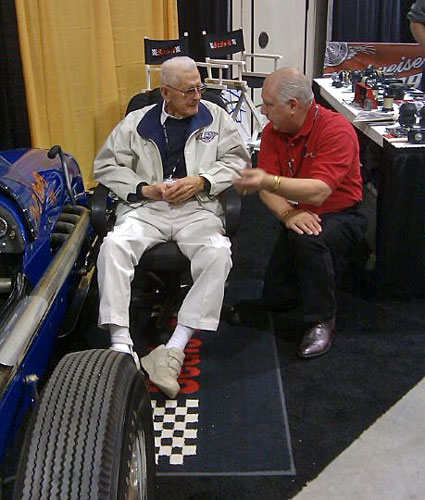 #1047 - That's high-profile New England racing magnet Skip Matczak on the right, talking with his guest A.J. Watson in the Seals-It booth at the first IMIS Show in Indianapolis. A.J., who passed away on May 12, had brought along his re-creation of the Pat Clancy six-wheeler for display. It wasn't long before noted old-time car owner Bob Higman rolled in on his chair. Bob looked the car over and then glanced in the engine compartment. His eyebrows hit the roof. It looked like an Offy, but it sure wasn't the normal size and height. Higman turned to Watson and asked, "A.J., what in the world did you use for rods?" A.J.'s answer: "I cut 'em and welded 'em. Won the Indy 500 that way two times." (Skip Matczak Quotes and Photo Collection)
AAAA
---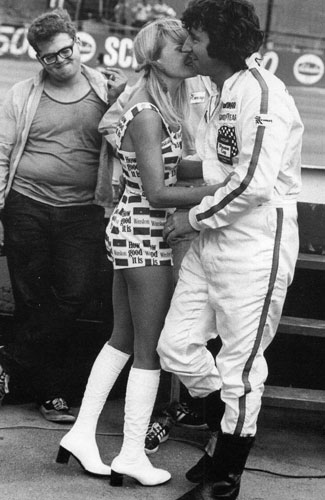 #1046 - Go get 'em, Richard! One lucky day at Dover back when Richard Childress was still a wheelman, he got a pre-race hug from Miss Winston Cup, the decidedly comely Bebop Hobel. Looks like that fan in back sure would have liked to be in Richard's boots. From DOVER INTERNATIONAL RACEWAY – The Monster Mile by Coastal 181's good friend, Chad Culver (Dorsey C. Patrick Photo)
aa
---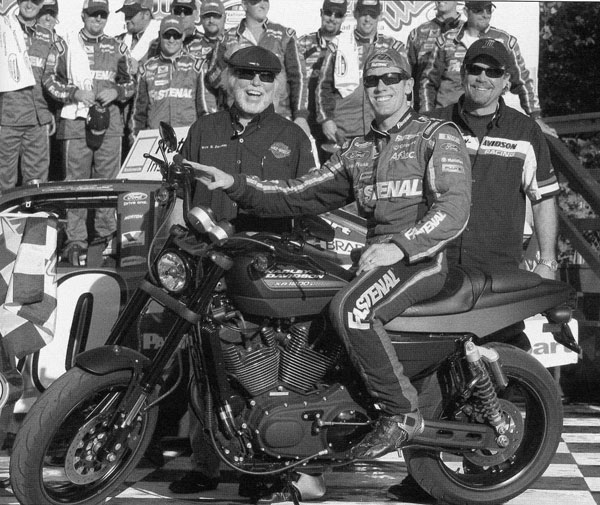 #1045 - When NASCAR ventured to Road America in 2010 for their first Nationwide event, Carl Edwards was ready in his #60 Roush Fenway Mustang. He led 35 of the 50 laps of the Bucyrus 200 to win it. Here he is collecting a very cool two-wheel trophy from Willie G. (left) and Bill Davidson of Harley-Davidson. He donated the bike to charity. From ROAD AMERICA by Steve Zautke. (John Wiedemann Photo, courtesy RacingNation.com)
ss
---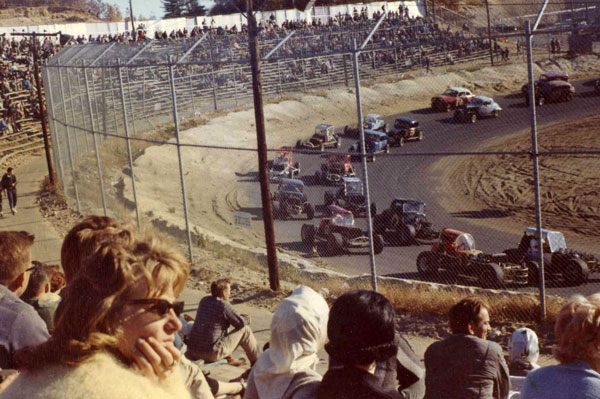 #1044 - No question it was wide-open competition at Oscar Ridlon's Columbus Day show at the old Pines Speedway in Groveland, MA. It was right before a driver strike led to the eventual formation of the New England Super Modified Association and the ultimate demise of the track. Ollie Silva in the #0 and the other URDC cutdown hotshots made up all the front rows. But look who's way deep in the pack in his full sized red and white #707 B car – that would be a peach fuzz Bentley Warren. (John Halloran Photo)
aa
---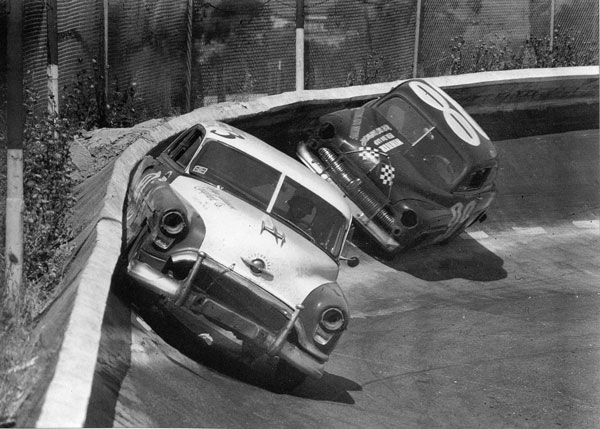 #1043 - It was back in 1950 that Harold Brassington built Darlington Raceway and ran the first Southern 500, adorning "Darlington Stripes" along the sides of many of the 80 entering cars. However, out in Oakland, CA, Charlie Curryer was stripin' cars ever earlier. Curryer brought stock cars into his seriously banked 5/8-miler in 1947. Here the great Hershel McGriff leads Johnny Soares in July 1952. Soares won the 300-lapper. From A HISTORY OF THE OAKLAND STADIUM 1946-1955, by Tom Motter. (Russ Reed Photo/Chini Collection)
aa
---

#1042 - Open-competition racing has been around for a long time. There's always been something sweet about a gathering of race cars of contrasting form and function. To the point, how about this front row line-up at the Vanderbilt Cup, revived in 1936 at Long Island's Roosevelt Raceway for a crowd of 70,000? On the left is Wilbur Shaw who came East with a two-seater that was purpose-built for the Bricks at Indianapolis. In the middle is hardball American wheelman Billy Winn, who terrorized the field in a rugged, short-wheelbase dirt car owned by his wife Helene, widow of racer Joe Russo. And on the pole is Count Brivio's Alfa Romeo Grand Prix car, designed for the European road circuits, Monaco to Pescara. Tazio Nuvolari won the 300-mile event in an Alfa 4-liter, supercharged V12 12C-36. From VANDERBILT CUP RACE 1936 & 1937, by Brock Yates. (Smith Hempstone Oliver Photo)
aa
---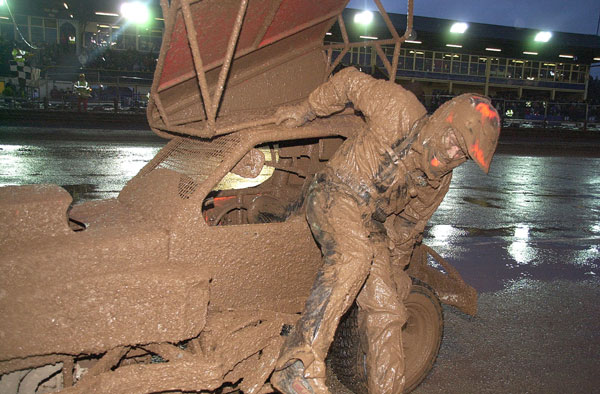 #1041 - After this winter's polar vortex, all we needed was to hear from the White House about the expected wild and rainy climate-change weather this summer. But, if there is comfort in company, it is happening everywhere. Sure got a little soggy during the feature at Coventry International Speedway, Warwickshire, England for driver Dave Willis. (Colin Casserly Photo)
AA
---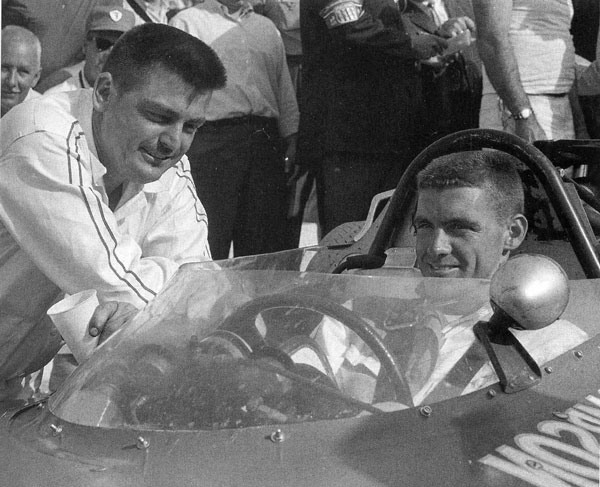 #1040 - Mickey Thompson confers with his driver, sports car ace Dave MacDonald, before the start of the tragic 1964 Indy 500. MacDonald was flying during the first two laps of the race until his front end lifted coming out of four, he did a 180, and triggered the horrific fiery carnage that took his life and that of Eddie Sachs. MacDonald was buried on June 3 in Whittier, CA. At the service, a devastated Mickey approached Sherry MacDonald with her late husband's wedding ring, and she asked that it be put in the casket. "I want the angels to know he's married," she said. Photo and Quote from BLACK NOON: The Year They Stopped the Indy 500, by Art Garner. (IMS Photo)
aaa
---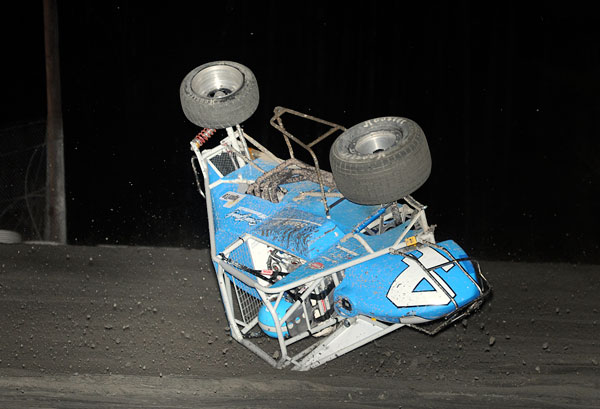 #1039 - How about that Denny Zimmerman? The popular 74-year-old wheelman has thrilled railbirds for a long, long time. In the mid-sixties he was a founding member of the Eastern Bandits, a mini-caravan of talented guys who terrorized modified tracks up and down the Atlantic Coast. In the seventies he was running USAC, after winning Rookie of the Year honors at Indy in 1971. And last Saturday night he was aboard one of Skip Matczak's Dirt Modified Association midgets at Vermont's Bear Ridge Speedway. Denny ended up in a curious place. He was unfazed. "Know what?" he grins. "When you flip at night and the car lands wheels up, it's really dark in there!"
(John DaDalt photo)
AA
---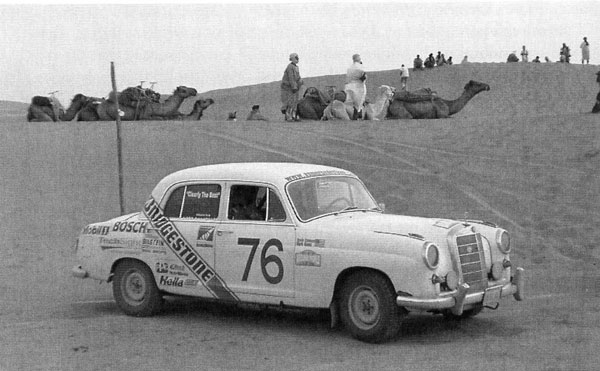 #1038 - The world's longest race just may have been one of its coolest. From May to July 2000 a bunch of adventurous – and masochistic – gearheads organized the Around the World in 80 Days Motor Challenge, open only to entries with pre-1960 automobiles. Journalist Kevin Clemens entered a 1959 Mercedes 220s (shown above in Morocco) and talked Mark Rinkel, an unsuspecting dentist, into joining him. To say the competition was eventful would be a monstrous understatement. A 1968 Hillman Hunter chugged home in first, and it is all fully detailed in A LAP OF THE GLOBE: Behind the Wheel of a Vintage Mercedes in the World's Longest Auto Race, by Kevin Clemens.
aa
---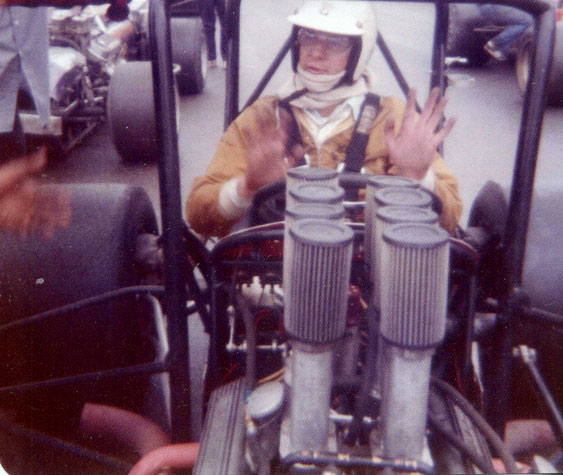 #1037 - It is unimaginable how many pictures Dick Berggren must have taken of race car drivers over his 500-lap journalist career. However, when it came to taking a picture of Bergie, R.A. Silvia had to move fairly quickly – and then hide. (R.A. Silvia Photo)
aaa
---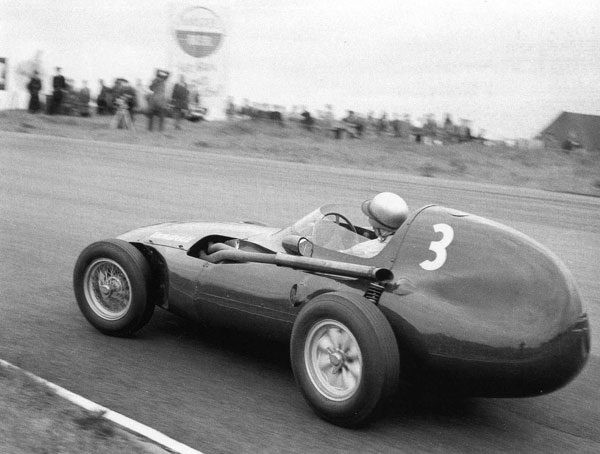 #1036 - That's Stuart Lewis-Evans way out front in the Dutch Grand Prix, Zandvoort, May 25, 1958. He was driving a Vanwall. They were underpowered but helped along by novel disc brakes and by the pleasingly slippery aerodynamic design of Mike Costin. Lewis-Evans' engine blew up, while one of his teammates, Tony Brooks, also broke and the other, Stirling Moss, won. At the final event of the season in Morocco, Mike Hawthorne cinched the season championship by one point over Moss; Brooks was third. Late in that race Lewis-Evans lost another engine, hit the wall, and burned, dying six days later as a result of his injuries. Team owner Tony Vandervell was devastated by the accident and withdrew from motorsports, despite winning the 1958 International Cup for F1 Manufacturers. From THE GOLDEN AGE: Images from the Klemantaski Collection. (Edward Eves Photo)
aa
---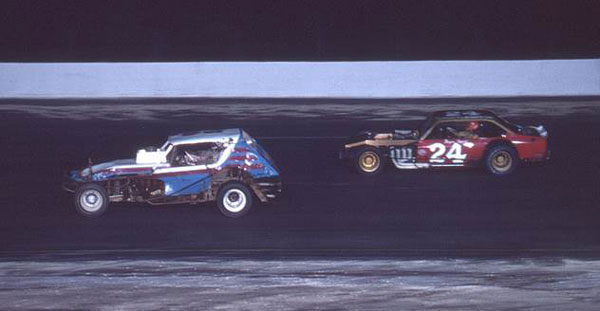 #1035 - The non-stoppable Ward Crozier used to work for Jerry Fried at Nazareth Raceway. He did so much he had little time to for his own race car. So, in the winter of 1978 he decided to take his Gremlin dirt car down to New Smyrna for Speedweeks and just see how fast he could get it going on the paved high banks. The whole deal was just a tad rag-tag. Buzzie Reutimann suggested ways to stiffen the car up. Ward bought four asphalt tires for the week, $50 total from Johnny Harroll. He cracked a head on his 454 getting ready, so, as it worked out, the right side head was aluminum, the left side iron. (He told folks that was for left side weight). And it was off to the Southlands in a clapped out box van and an open trailer. He's shown above dicing with Wayne Miller, also a Pennsylvanian (but with a more appropriate ride). Needless to say, running with asphalt aces like Richie Evans and Geoff Bodine was quite the challenge. Ward's car was so high that Richie told him "let me know if it gets to raining up there so I can get to my trailer quickly." But the memories are fond. Ward says, "I went down with $1300 and came back with $1300. While my family was over at Disney, I managed to finish eighth in points by being steady. We heard that Firestone was offering a set of tires every night the next year to any team that returned. But then track management asked me not to come back because I had embarrassed some of the asphalt cars that finished behind me. That comment ensured that I went back, but those pavement guys really whupped us the second year!" (Jack Kromer Photo)
aa
---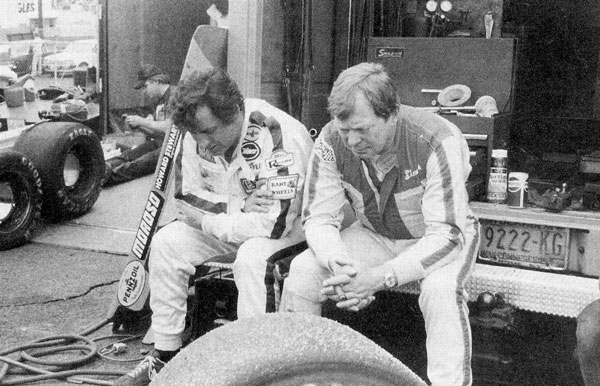 #1034 - October 24, 1985, Martinsville, Virginia. "Bugs Stevens (right) says, 'We were sitting there, shooting the shit. He told me he had been trying to find me the night before, looking to raise a little hell… We joked that it was probably just as well, because we were a handful when you got us together. And he said 'Come on, Bugs. Let's go out and practice.'" Two minutes later Richie Evans was dead. Bugsy's quote from Richie! The Richie Evans Story, by Bones Bourcier. (Speedway Scene Collection)
zzz
---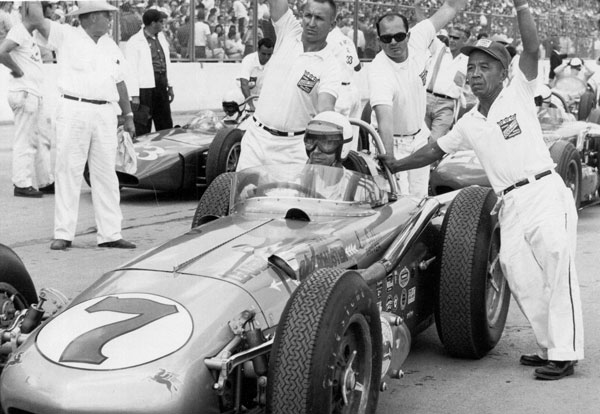 #1034 - In 1962 Len Sutton was looking really fast in a Bob Wilke/AJ Watson Leader Card car. Here he is being pushed off for the 100 miler at Milwaukee. He was running second to Foyt with 16 laps to go when he blew a brake cylinder in the #7 and backed it into the wall big time. "When they rolled me down the hall to the emergency room, a doctor asked 'Where do you hurt?' I pointed to my right lung. He pulled out his scalpel and placed it about one inch from my nipple. Next he said 'This won't hurt', and he pierced my chest. To this day I can still hear the air rushing out of that hole! Next he asked 'Doesn't that feel better?', and I answered an emphatic yes." From MY ROAD TO INDY – A Narrative by Len Sutton (Sutton Collection)
aaa
---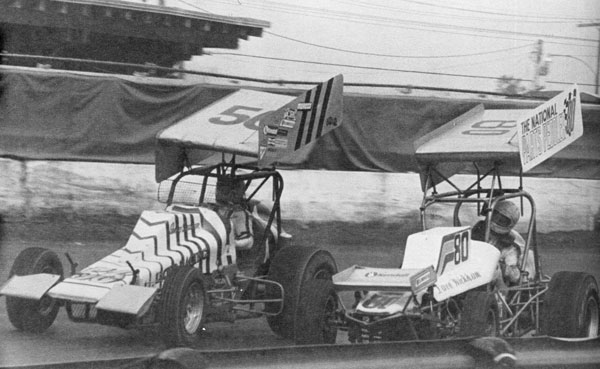 #1033 - Larry "Smokey" Snellbaker ran high, wide and handsome on his way to the win in the 1979 Syracuse Super Nationals over the World of Outlaws regulars and all other comers in Mike and Pappy Lloyd's candy-striped "Pocket Rocket" #56. "The Silver Fox," as Smokey was known, had that flowing mane of white hair tucked under his helmet as he worked his way around Dave Wickham. From Area Auto Racing News' SEVENTIES SCRAPBOOK 1975-1979, Part II. (Rick Nelson Photo)
AA
---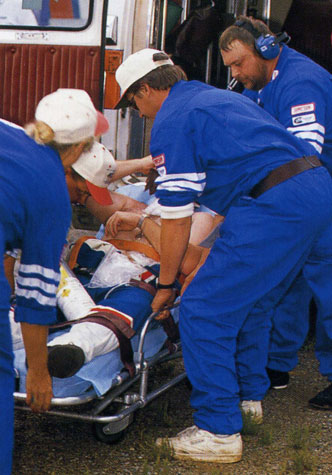 #1032 - Randy LaJoie had quite the afternoon in his Busch car at Talladega in 1996. He ended up third, but on the gurney at the end of the race. It certainly wasn't that he had a bad seat. A piece of wood ballast on the car had caught fire, causing him to breathe carbon monoxide for most of the event. He toughed it out to the checker before collapsing. From SECOND TO NONE: The History of the NASCAR Busch Series,
by Rick Houston. (Chad Fletcher Photo)
AA
---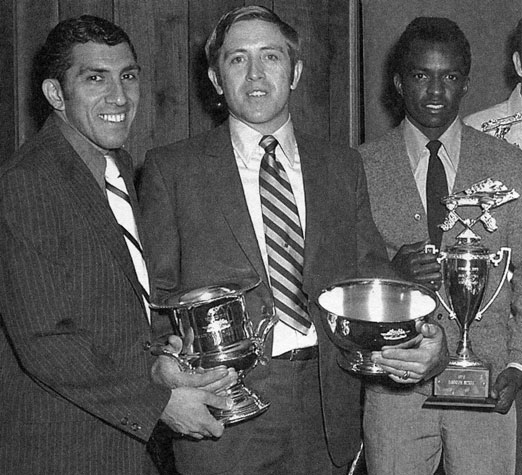 #1031 - It was suit and tie time back in 1970 when promoter Dan Naman (L) offered up trophies to both L.D. Ottinger and Randy Bethea. Ottinger had won the Tennessee State Championship and the Smoky Mountain Raceway title, while Bethea did the same in the hobby stock division. Bethea was hot and had a couple more good years – including one Cup start at Charlotte – before going off road racing, getting hurt, and moving away from the racing scene. Then, 30 years later, he saw himself featured in television on a NASCAR commercial about diversity. He said "I was surprised. I had no idea. I absolutely was not a pioneer. Racing was the only thing on my mind." Photo and quote from A HISTORY OF EAST TENNESSEE AUTO RACING: The Thrill of the Mountains, by David McGee. (Ray Taylor Photo)
aa
---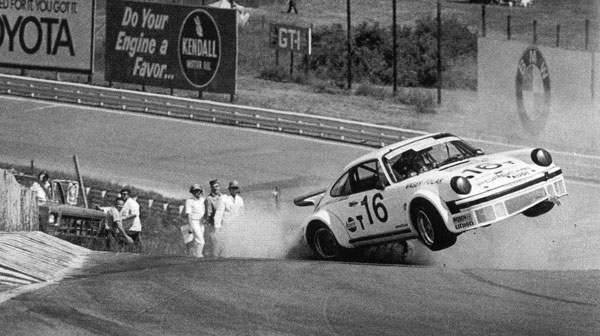 #1030 - Although George Follmer started racing relatively late when a date offered him her Mercedes SL coupe to run around Riverside Raceway, he quickly developed an aggressive approach. And he kept it. Here he was some 20 years later, still on the hammer and "in launch mode" at Watkins Glen in a Porsche factory-supported Vasek Polak Trans Am car. Not to worry about the miscue. He won anyway. From FOLLMER: American Wheel Man, by Tom Madigan. (Follmer Collection)
aaa
---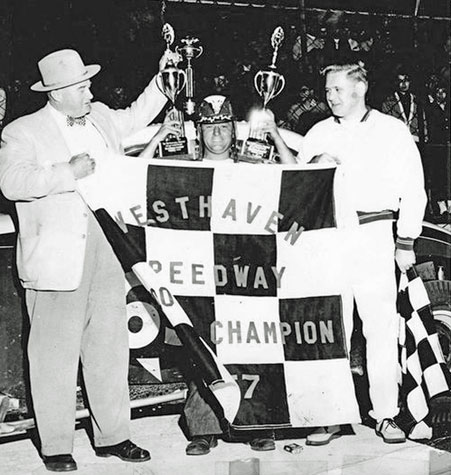 #1029 - Here's a classic old time racing photo and its caption submitted by Connecticut race historian Dave Dykes. "The New England modified racing community lost another of its heroes when Danny Gaudiosi left us at age 88 on April 8th of this year. Short in stature but long on talent, "Lil' Dan," as he was nicknamed, enjoyed an extraordinary career spanning three decades. Though he drove for a variety of teams, perhaps his greatest triumphs came at the controls of the famed pink & white #44 creations crafted by his brother, the late Fred "Sharkey" Gaudiosi, a 2006 New England Auto Racing Hall of Fame Inductee. When the Tattersall family's United Stock Car Racing Club was absolutely THE premier sanctioning body of New England, Danny notched track titles at Connecticut's former West Haven Speedway in 1957, '60 and '64, historically acknowledged as UNITED'S most-competitive era. Great success was also had at several other modified haunts in the region, including Massachusetts' former Riverside Park Speedway and Joe Tinty's late Plainville Stadium in Connecticut. Racing was truly a family affair for the Gaudiosis, as son Danny Jr. became a noted competitor in later years. The accompanying image captures Dan celebrating his 1957 West Haven championship. (Dave Dykes Collection, Shany Lorenzet Photo)
AAA
---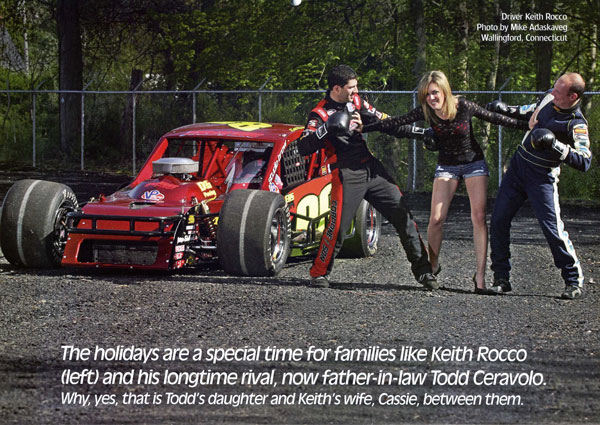 #1028 - From Speedway Illustrated magazine's 2014 Calendar. (Mike Adaskaveg Photo)
aa
---
#1027 - Norm Marx, our webmaster, really is cool. There seems to be no aspect of motorsports with which he has not been involved as a competitor or an official. By now a collection of Marx photography should certainly be priceless. Look at what he captured when Bronco Geoff Bodine rode his fiery truck steed down the Tri-oval at Daytona in 2000. Bodine had gotten into the wall after running three-deep outside rookie Kurt Busch. The truck – including the fuel cell – was literally ripped apart. 'Geoffrey' was pretty broken, too, but was back behind the wheel of a Cup car by mid-season. (For the full series of photos, including an incredible fire sequence) see Norm's site, www.normmarx.com)
aaa
---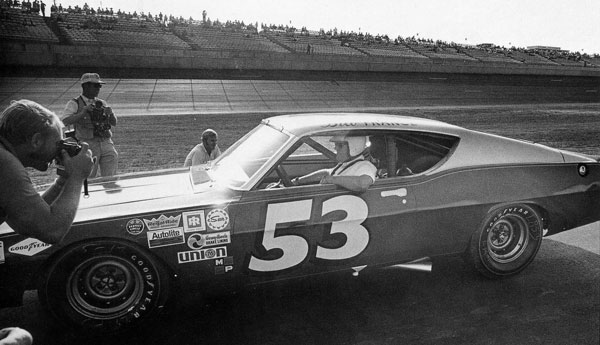 #1026 - It almost seemed like the way a very gutsy Ronald Reagan stood up to and stared down the striking air traffic controllers back in the eighties. That's when Bill France Sr., President of NASCAR, buckled into a race car and barreled – very fast – around the sprawling new and untested superspeedway at Talladega back in 1969. His drivers did not think tires would hold up to the speeds and distance of the "Alabama 500," and they took notice of France's laps. Some of the top competitors did end up leaving anyway, but the show went on, with a bunch of Grand American cars filling out the field. There were no serious incidents, and the future of the track was salvaged – and respect for France surely remained intact. From STOCK CAR RACING: The High-Speed History of America's Premier Motorsport, by Don Hunter and Al Pearce. (Don Hunter Photo)
aaa
---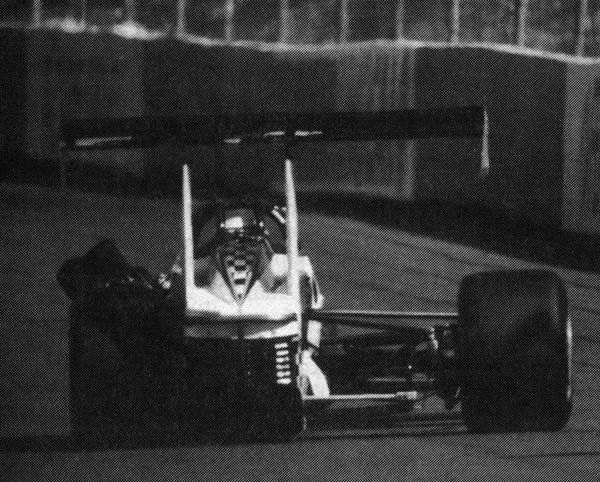 #1025 - Toy Regier, Supermodified superstar from Dinuba, CA, brought some serious machinery with him over the mountain to the Copper Classic in Phoenix back in the nineties. Not sure how he would be with the Tea Party with all that left-side orientation. From NATIONAL SPRINT CAR ANNUAL (11th annual). (Bill Taylor Photo)
aaa
---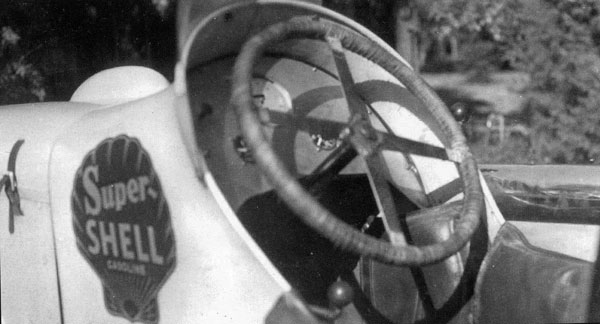 #1024 - This is the office of Urb Stair's "Super Shell Special", driven at California's Southern Ascot Speedway in 1937 by Tex Petersen. The custom fabrication involved with these cars was amazing. The frame was a modified Essex; the front axle a Chrysler, located by two "T" wishbones; hand-formed aluminum body, tail, cowl, hood, belly pan. That steering wheel looks like might have come mail order from Speedway Motors in later years, but actually it was crafted from a circular saw blade, covered with garden hose and wrapped with adhesive tape and shellacked. From AUTO RACE MEMORIES – Stories and Pictures of Racing in the 1930s and 1940s by Urb Stair, Urb Stair Collection.
aaa
---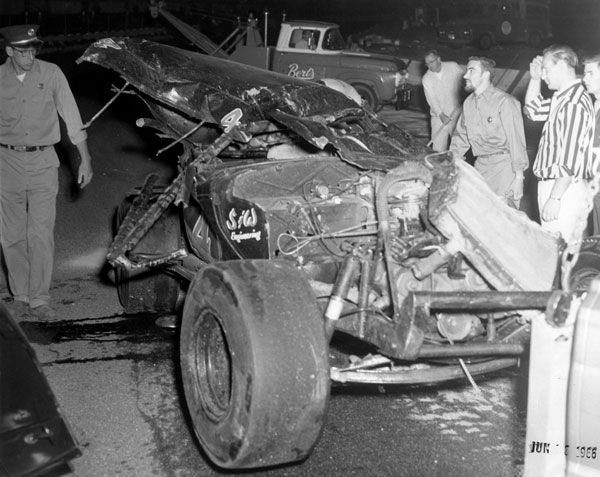 #1023 - Good guy Don Moon could smell a win that night. There were just a few laps to go at the predictably dramatic Danbury (CT) Racearena back in 1966, and Don was right up front with the John Spada #4. But he jumped a wheel, and the carnage began. Don grabbed the shifter of his early Ford Tranny and rode it out, while another car went right through his windshield and took the roof off. These days Don readily admits that the car had a conduit cage. He also says he replaced all the bars with water pipe the next week, arc welded it back together, and returned to the track. This time the tech guys were ready with the drills to check the thickness. "But I passed," says Don, "and I passed everyone else, too – in the heat, semi, and feature." (Don Moon Collection)
aaa
---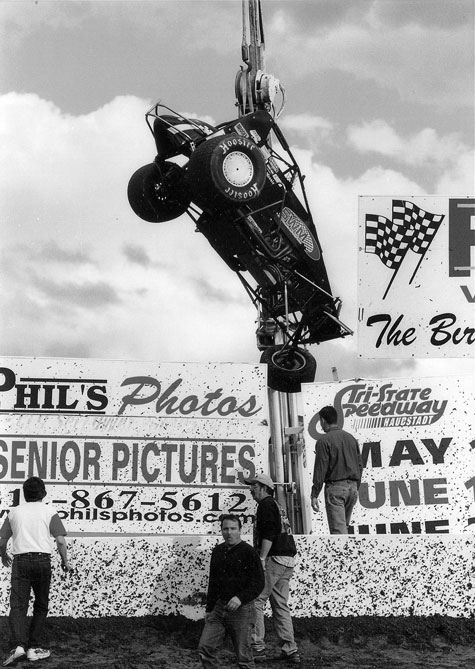 #1023 - When Sean Walden got to flipping his Sprinter at Haubstadt, Indiana, he got seriously aerial. And on the way down, he got hung up on top of the billboards surrounding the quarter-mile dirt. No problem for the Helfrich Family, promoters of
Tri-State Speedway. They're also into well-digging – and returned Walden gently
back to terra firma. From DID YOU SEE THAT? – Unforgettable Moments in Midwest Open-Wheel Racing, by Joyce Standridge. (Kevin Horcher Photo)
AAAA
---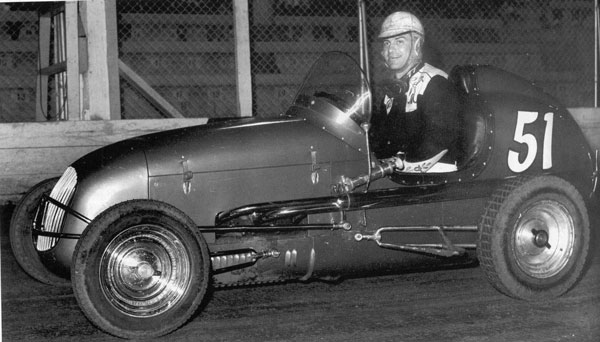 #1022 - In 1947 "Bronco Bill" Schindler of Middletown, NY, was hot as a pepper sprout. The open-wheel sensation wheeled to 53 Midget wins in 1947 alone. But sometimes "Baby, the rain must fall" – and it can pour far from home. Schindler was the first to drive the new Bud Murphy Offy , shown here at San Diego's Balboa Stadium on November 11 of that year. He put it in the fence on the very first lap of the first heat. The car ended up being rebuilt, and Rodger Ward drove it for a full decade. From KURTIS-KRAFT MIDGET GENEAOLOGY, Companion Edition, by Bill Montgomery.
(Paul Madigan Photo)
AAA
---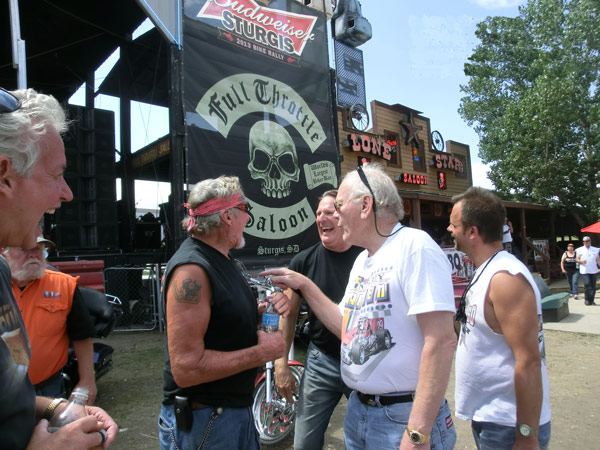 #1021 - How could even Sturgis 2013 recover from this foursome? L to R Bentley Warren, Scott Bloomquist, Randy Sweet, and Tim Steele. This Sunday, April 13, Bentley will be hosting a signing of his Coastal 181 book, Wicked Fast, at Bentley's Saloon in Arundel, Maine from 2-4 p.m. Word has it that Sweet and Steele are already on their way to the event. Bloomquist will likely be somewhere slinging dirt with his Late Model, and that just may be a good thing. From WICKED FAST – Racing Through Life with Bentley Warren, by Bones Bourcier. (Lisa Zatalava Photo)
AAA
---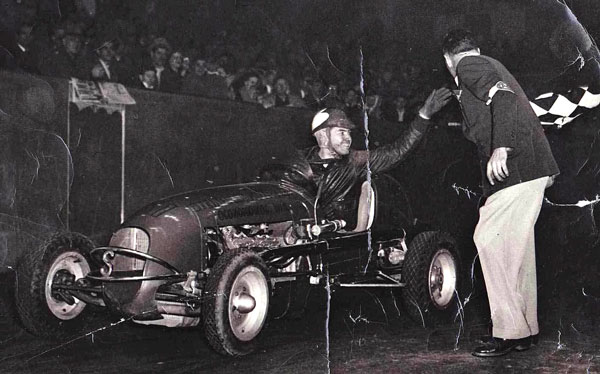 #1020 - Kelly Peters, a flight engineer on World War II bombers, was a seriously busy guy when he got home. All summer long he would run Midgets in the upper Midwest circuits, and then in Texas and the southern coastal states by winter. He may have been just a bit self-serving when he installed the lights at Angell Park in 1949. He swept the opening-night show in 1949, setting a track record, winning his heat and the feature. (Tim Peters Collection)
aaaa
---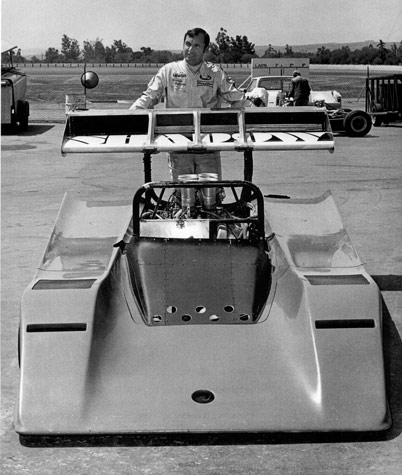 #1019 - That's George Follmer in 1971 next to Trevor Harris' MK1 Shadow "Knee High" Can-Am car. This radical machine seemed essentially a go-kart with an injected small block. It was amazingly fast until destroyed right in its trailer by a drunk driver on the highway. Follmer said, "It was the thrill of a lifetime simply because you were so close to the ground and the driver position was so tight that it seemed like you were wearing the car instead of driving it." From FOLLMER: American Wheel Man, by Tom Madigan. (Photo – Harvey Oster/Follmer Collection)
AAA
---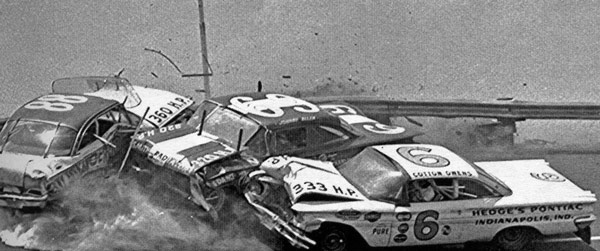 #1018 - Never say die. Things weren't looking so good for nice guy Johnny Allen six laps into the 1960 World 600 at Charlotte. He was running in the top five when Johnny Wolford in a lapped car (#88) spun, rocketed up the track, making Johnny the meat in a sandwich with Cotton Owen's #6. But before long Johnny Beauchamp wore out on the track, full of holes and loose asphalt. Allen relieved him and ran a couple hundred miles, finishing up in second for the day. From DECLARATIONS OF STOCK CAR INDEPENDENTS: Interviews with Twelve Racers of the 1950s, 1960s, and 1970s,
by Perry Allen Wood. (Don Smyle Photo)
aaa
---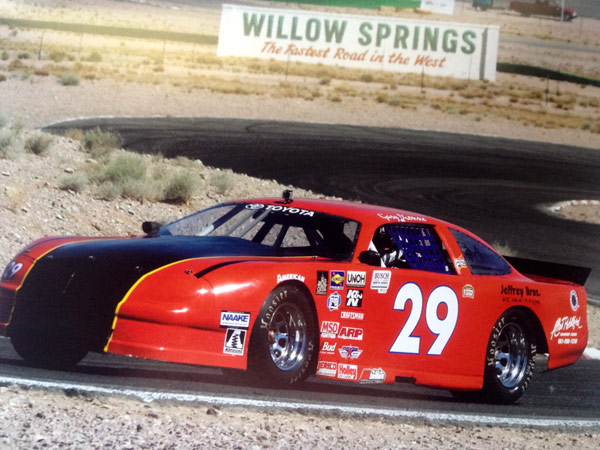 #1017 - A 56-year-old Californian knows the meaning of "rest not, rust not." Gary Dionne builds and drives stunt and camera cars for the movie industry and films like "Indiana Jones," "Superman," and "The Lone Ranger." He also runs a Superlate on the rolling road course of Willow Springs International Raceway. If that car has a familiar look, it's because it is a replica of Dave Dion's Late Model and Cup cars from the seventies and eighties back in the Northeast. Gary grew up in the East and crewed for the legendary Dion Brothers. "A lot of the fabrication skills I learned back there we've used building safe stunt cars." (Gary Dionne Photo)
aaaa
---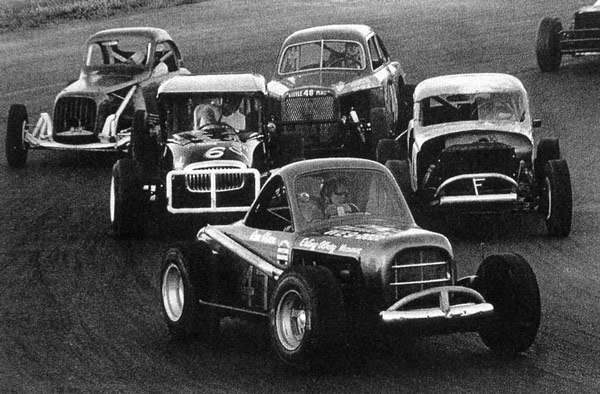 #1016 Ron Olson leads a pack of Supermodifieds (a couple look pushy) at the old Raceway Park, the first pavement track in the Twin Cities area of Minnesota. Olson won four titles in these artful, sixties-era creations and four more in Late Models, before concluding his 33-year career on road courses. (Minnesota Racing Connection Photo)
aaa
---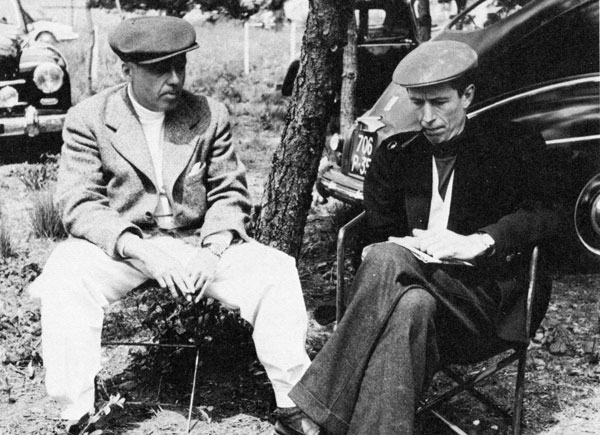 #1015 - Who knew what tragedy lurked just hours ahead? Here veteran French racer Pierre Levegh and his teammate, academic-looking American John Fitch (R), relax at Levegh's hotel before the start of the 1955 Le Mans 24 hours. It was Levegh who, trying to avoid the slowing Mike Hawthorn and Lance Macklin, was launched over an embankment and into the crowd at 150mph, killing himself and some 80 others. From AMERICANS AT LE MANS, by Albert R. Bochroch.
AAA
---

#1014 - Sixty years ago Steve Danish's team, with its way-fast Chevy six-powered coupes, was THE hot setup on the Eastern Seaboard. Left to Right are Pete Staysail, Sam Danish, driver Steve Danish, Al Danish, and teammate Holly Bunn, first winner of the Langhorne National Open in 1951. The towing rig was pretty uptown, too, as shown here at Stateline Speedway in Bennington, VT. That trailer was said to be the first ever used for a stock car in that state. (Pleasant Valley Garage Collection)
AAAA
---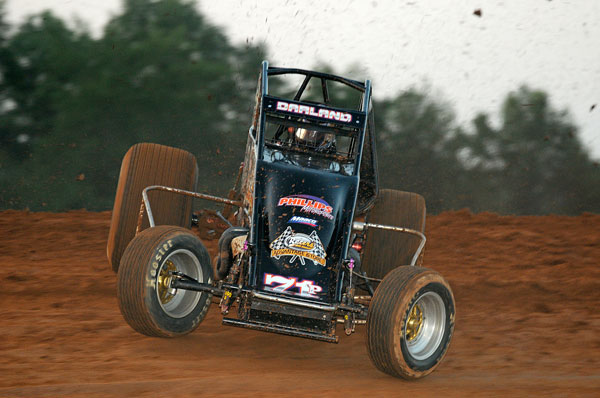 #1013 - Dave Darland is fun to watch in all types of situations, and in a long race he can play the brainy strategist as well as any open-wheel driver in the country. But if you want to see Darland at his raw best, turn him loose in a Sprint Car on a good ol' Indiana bullring with a nice, grippy surface. Here's Dave running hard at Bloomington Speedway last summer, aboard the Phillips Racing #71P that carried him to several major wins and oh-so-close to another USAC Sprint Car title. We are so psyched to be releasing Bones Bourcier's book on "the People's Champion" early this summer.
(John DaDalt Photo)
aaa
---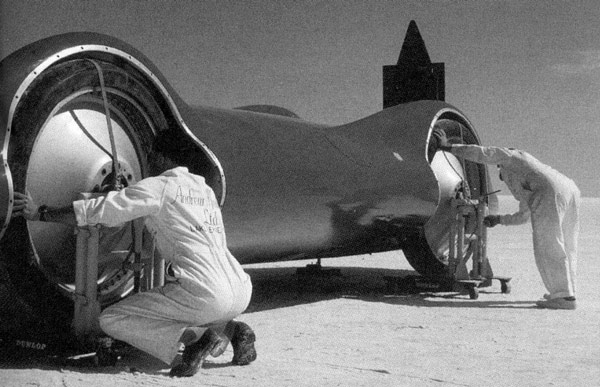 #1012 - 1964, Donald Campbell went to the remote salt span of Lake Eyre in Australia's Outback to attempt a Land Speed Record of 400 mph in his Bluebird. It was quite an effort. Here is his team rebalancing the wheels as they had to do after each run. The weather became a problem, but eventually the surface dried out, and the Bluebird did its thing, squeaking out a 403.10. Campbell died in 1969 trying for a Water Speed Record. From BLUEBIRD AND THE DEAD LAKE, by John Pearson.
aaa
---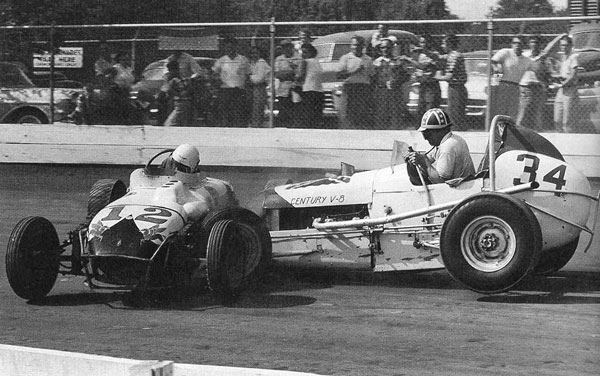 #1011 - September 1, 1958, and the URC sprinters were performing on the dirt at 'The Square,' Flemington, NJ, Speedway. No question Charlie Edwards was hard on that brake handle in the #34 car, but still, Don Wilson was soon to feel the mid-ship presence of a left-front wheel. Edwards was likely to feel the hit, too. No roll bars, no shoulder harnesses. From TOW MONEY: The History of the United Racing Club, Vol. One, 1947-1977, by Buzz Ross and Jim Chini. (Walt Imlay Photo)
aaa
---

#1010 - On June 19, 1960, a seriously fateful day, Don Branson (#7), Jimmy Bryan, Jim Hurtubise, and Jack Rounds led the parade lap of the USAC Champ Car 100-miler out of Puke Hollow at Langhorne, PA. Here's a quote from L. Spencer Riggs' LANGHORNE: NO MAN'S LAND. "After the 18-car field was wheeled out, Bryan (who was returning from semi-retirement from dirt tracks) did a strange thing. He started at the back of the field and went from car to car, stopping to say a few words to the drivers and crew members. Then he got to the Dean Van Lines Special and Clint Brawner. 'Bryan had that cigar in his mouth. I thought he looked – I don't know – lost,' said Brawner. 'Hey, you be careful, Jim. You've been gone for a long time.'" Just one more time around Puke Hollow and Jimmy Bryan was dead. (Photo Courtesy of Joe Blinebury, Jr.)
aaaa
---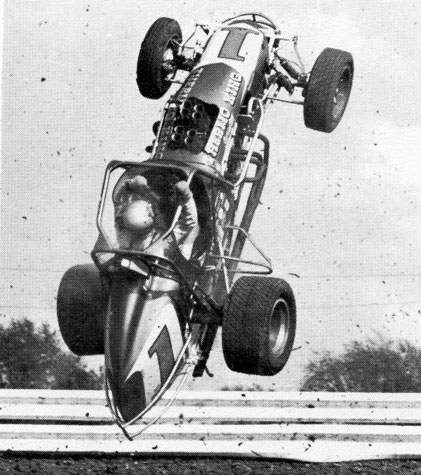 #1009 - The late Gary Bettenhausen would seem to have been shaking his fists at Terre Haute's April 30, 1972 USAC 40-lapper. The definition of an American racer, he really grooved on the sprinters. A year or so before, he had shown up at Reading (PA) Speedway with the Willie Davis "City of Syracuse" DOHC Ford. When he went down the backstretch time-trialing, he somehow forgot to back off going into turn three. He got to bicycling and carrying on, but was able to bring the rubberside back down. When he chugged back into the pits, Willie Davis was all over him: "Gary, what the hell was that all about?!?" The response, "Willie, it just sounded so good I couldn't lift." From USAC SPRINT HISTORY: 1956-1980, by Carl Hungness. (Lloyd Masing Photo)
aaa
---
#1008 - The two childhood buddies from California who have suddenly become about the hottest properties in American motorsports, "Speed" Rico Abreu on the dirt and Kyle Larson on pavement of the superspeedways. (Rico Abreu Collection)
aaaa
---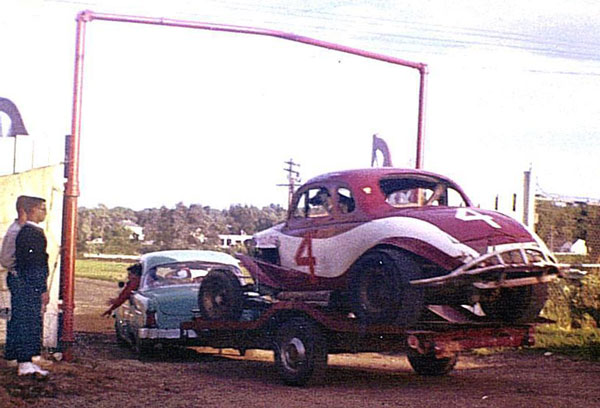 #1007 - An image for the ages. That's Lou Lazzaro entering the infield gate to Fonda back in the day, as the legendary campaigner did so, so many times over the decades. And on this particular occasion, it sure seems Blackie the dog, already inside the cockpit, was planning to do some pinch-hitting. On Saturday, May 24th, Fonda, reviving with the energy of its new driver/promoter Matty DeLorenzo, will present a huge Lou Lazzaro Memorial event, and the winner will receive $4444.44 – and the Coastal 181 Cup. (Lazzaro Family Collection - Photo by Bill Ladabouche)
aa
---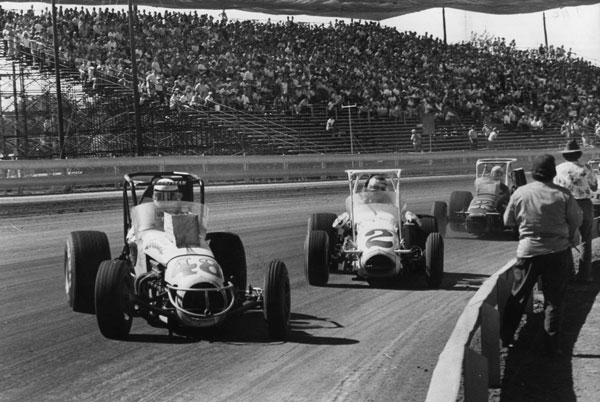 #1006 - Du Quoin, Illinois, August 29, 1976. Here come Pancho Carter, Tom Bigelow, Joe Saldana, and Bubby Jones, all four USAC Champ Car winners. Not sure I would want my knee quite so close to the guard rail…. (Morrison Racing Photo, Cal Lane Collection)
AAAAAA
---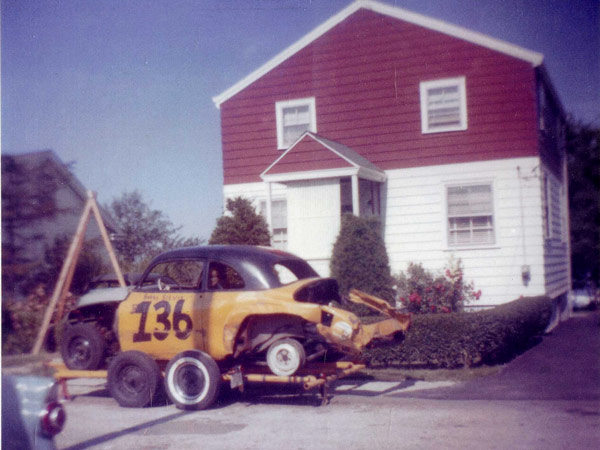 #1005 - It was quite a scene back in 1963. He struggled and struggled to pull the motor from this Chevy after a wreck at Seekonk (MA) Speedway. It finally came out with a pop, snapping the chassis to a six- inch twist. That's when Warwick, Rhode Island's RA Silvia decided to hang up the helmet. Good thing he did. For years and years he has been the much-respected lead historian of racing in New England, with an incredible collection that now includes what must be close to 80,000 photographs. (ProNyne Museum Collection)
aaaa
---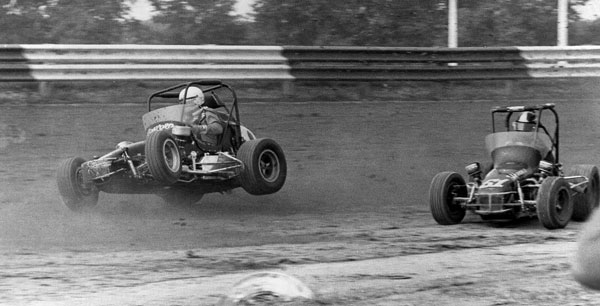 #1004 -

What do you suppose just happened here? Two serious midget gassers on the glorious dirt of the Hut Hundred, Chuck Gurney and Kevin Olson (#51)? (John Mahoney Photo, Cal Lane Collection)
AAA
---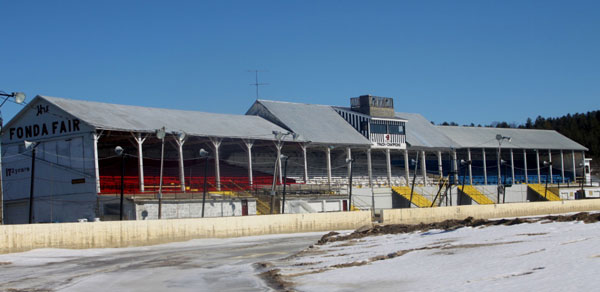 #1003 - That weatherman is carrying on about Mother Nature's intentions for yet another storm this week. It looks like spring will just have to be manmade this year. And, if that's the case, surely Matt DeLorenzo, dirt racer extraordinaire and new promoter of Fonda Speedway, is in the lead. He has spent much of the winter sprucing up the time-honored fairgrounds in upstate New York. One of his most spring-like renovations has been repainting the grandstand seating area into the lively sectional colors they sported years ago. (Dave Dalesandro Photo)
AAA
---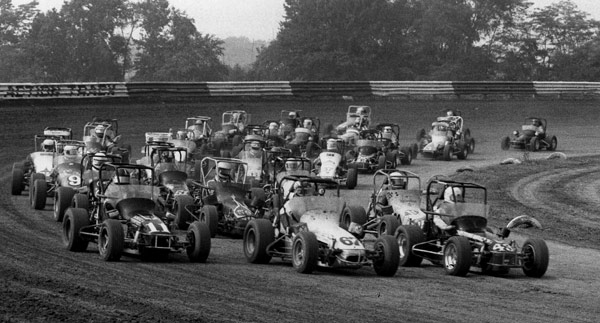 #1002 - Can you imagine the next lap? That's Mel Kenyon (#43), Johnny Parsons (#67) and Steve Lotshaw (#11) delivering a field of 33 midgets to the green for the 1978 Hut Hundred on one racy-lookin' surface at Terre Haute. (Joseph DeLong Photo, Cal Lane Collection)
aaaaa
---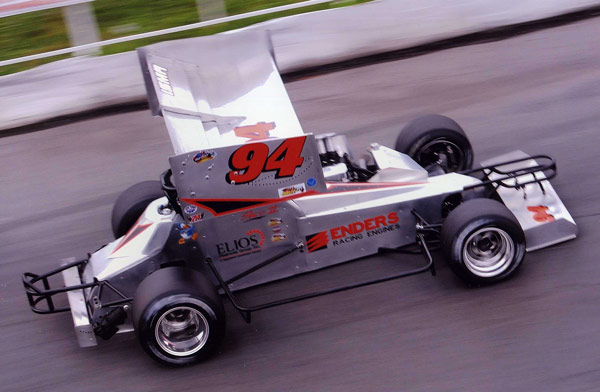 #1001 - VERY fast. This shot is from time-trialing for the ISMA Saturday race at the 2013 Oswego Classic weekend. Dave Shullick Jr. was on rails in the Jim Bodnar #94 and became the first ever to circle the concrete palace in under 15 seconds. It was an astounding 14.97 seconds, 152 miles an hour. (Photo by Chris Burgess Motor Racing Photography)
four
---

Previous Photos of the Day - PAGE 5

Previous Photos of the Day - PAGE 4

Previous Photos of the Day - PAGE 3

Previous Photos of the Day - PAGE 2

Previous Photos of the Day - PAGE 1