.



Email us at info@coastal181.com
.
---

Previous Photos of the Day
---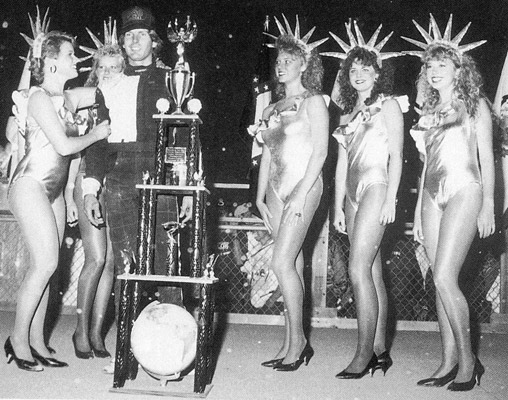 Scott Bloomquist is on a real tear this spring with his dirt late model. So, what else is new? Here he is in 1988, winning the World 100 at Eldora on his first try. He won it again in 1990 for good measure, paying no heed to a broken wrist.
From ELDORA SPEEDWAY, The Most Famous Short Track in America, by Bill Holder with Earl Baltes. (Larry Reese Photo)
FOUR
---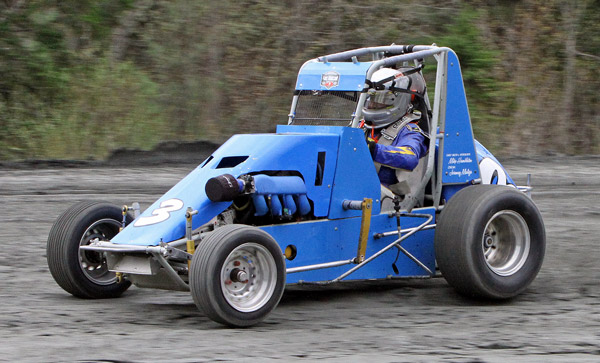 Karl Fredrickson is one busy dude these days. He's running the restarted and refreshed Speedway Illustrated magazine. It is a literary gift to the racing community that evolved over the decades through Stock Car Racing and Open Wheel magazines under the passionate leadership of Karl's mentor, Dick Berggren. When not burning up his word processor, Karl has his other offices. There's his asphalt modified. And here he is in Skip Matczak's midget at Bear Ridge Speedway in Vermont a week ago. He participated in a demonstration race for a new club, the Dirt Midget Association. Check them out at www.dmaracing.org and www.speedwayillustrated.com. (Photo by racing guru Mark McKeon.)
fjour
---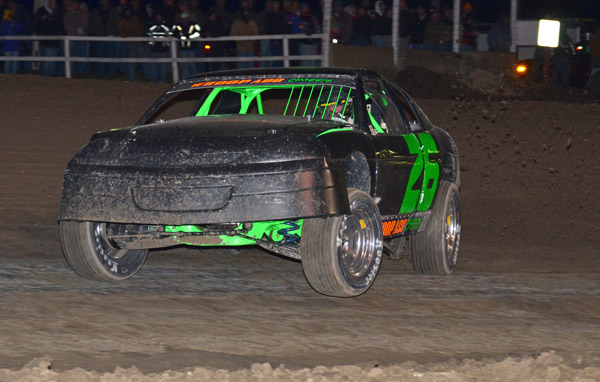 It's finally Spring!!! That's Brian Irvine earning $1000 for outgunning all comers at the opening night IMCA Stock Car Shootout at Chateau Raceway, Lansing, Michigan.
Buck Monson took the classic shot. Check out www.buckmonsonphoto.com for great dirt images from the upper Midwest.
four
---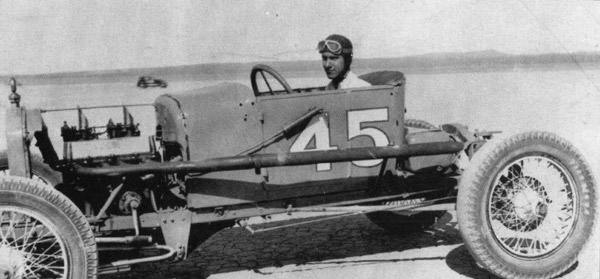 A 100mph Model T! Very daringly and impressively, Weston "Weddy" Kreck hustled this dual Winfield carbureted T-bucket to 102.39mph on the Muroc Dry Bed Lake in the Mohave Desert in 1933. From AUTO RACING MEMORIES – Stories and Pictures of Racing in the 1930s and 1940s, by Urb Stair (Urb Stair Photograph)
four
---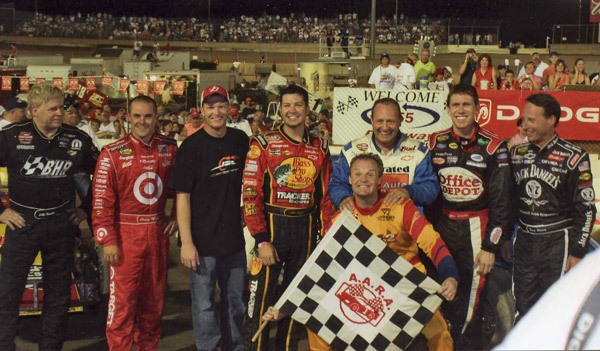 This is Kenny Schrader's I-55 Speedway out there in Missouri where the corn grows. How many of those "dirt trackers" do you recognize from a show a few years back? (Ken Schrader Collection)
four
---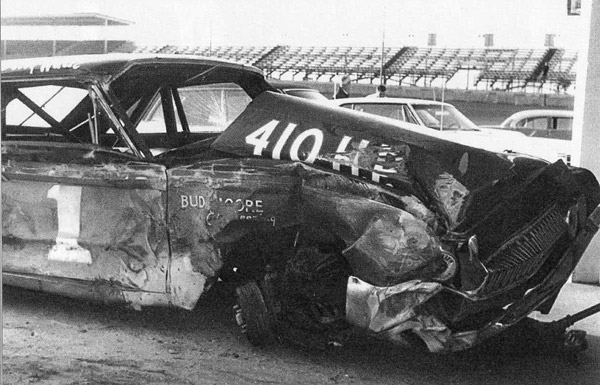 This is the Mercury Billy Wade died in while testing at Daytona in 1964. Upon impact, Wade, who was strapped in securely, slid down and forward, causing his belts to crush him just below the rib cage. Car owner Bud Moore was devastated and sought a solution. That was the beginning of the "jockey strap," often now termed the submarine belt. From BUD MOORE – Man and Machine, by Dr. John A. Craft (Motorsports Images and Archives Photo)
four
---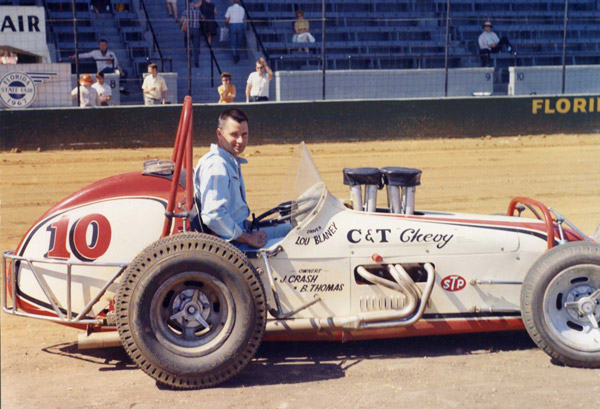 Pennsylvanian Lou Blaney catches a little February sun in Tampa in the 1960s, facing the wrong way. He had no cage, no fire suit, and probably no sun tan oil, but none of that got in the way of a fabulous career behind the wheel. (Bradley Poulsen Collection, Doug Haack Photo)
FOUR
---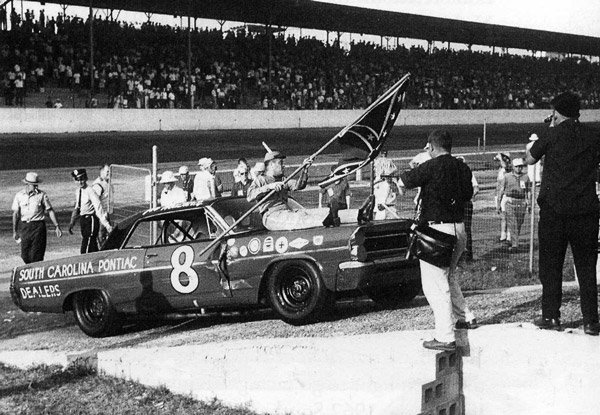 With Johnny Reb and his Confederate battle flag draped atop Joe Weatherly's car, Victory Lane in Darlington's 1963 Rebel 300 had a definite touch of the "Old South." From BUD MOORE – Man and Machine, by Dr. John A. Craft (Motorsports Images and Archives Photo)
FOUR
---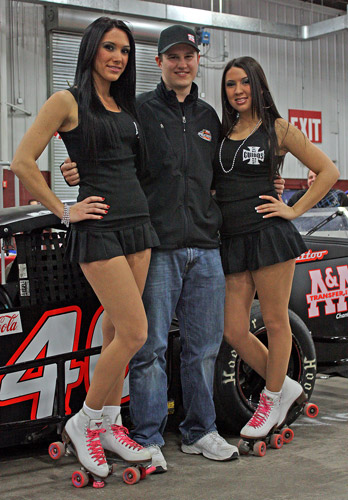 Last December when young Ryan Preece left "Ole Blue," the legendary Boehler #3 Whelen Tour modified, there wasn't a whole lot of chit chat about where he would end up in 2011. There was no question where he was on May Day, however, for the 40th Annual Spring Sizzler at Stafford (CT) Speedway. He absolutely smoked them in the SKs on his way to winning that 40-lap feature. He started the 200-lap mod race in the back in a beautiful #11 Chassis Dynamics car and likely passed as many cars as anyone else in the show, before a few problems slowed him down. Once they are solved, it'll take more than roller skates to catch him. (Speedway Illustrated photo by J.A. Ackley)
four
---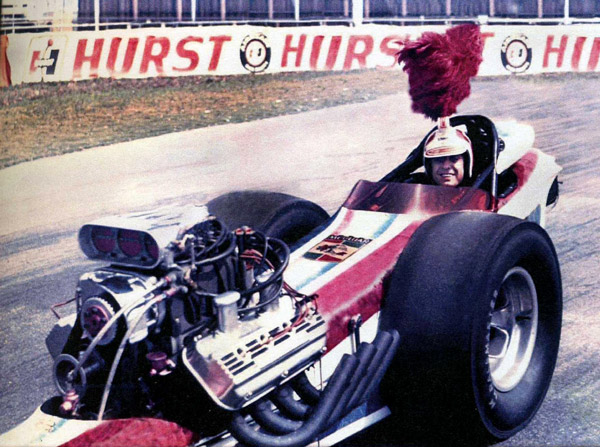 "Ladies and Gentlemen, from the green fields of Tarzana comes the fire and thunder of the unmistakable "Stone Age Man!" Thus would the drag racing barkers carry on about colorful George "Stone Age Man" Hutcheson, racer extraordinaire. Check out his red-plumed helmet. From CHRONICLES OF THE STONE AGE MAN, by Todd Hutcheson.
H
---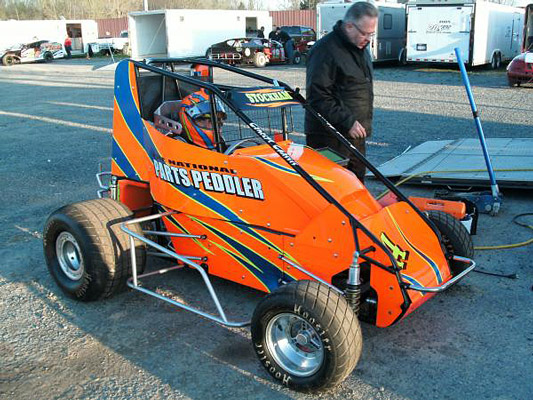 Corky Stockham, standing, has worked tirelessly for decades on his upstate New York National Parts Peddler racing equipment business, headlined by its huge annual autumn show in Syracuse. Corky's son Chris has racing fever, too, but he expresses his intensity in the driver's seat. "I'd rather get a job than run the bottom," he says.
FOUR
---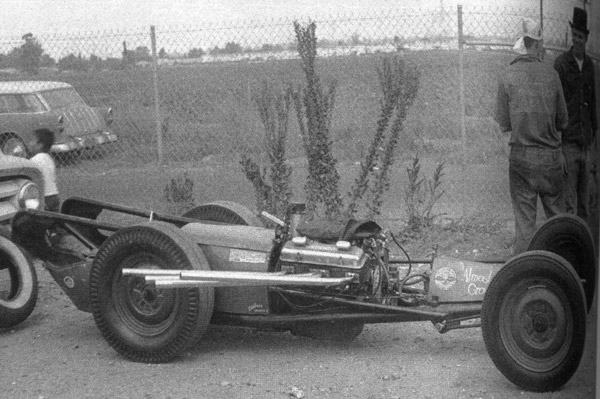 A popular West Coast drag chassis standard was developed by Scotty Fenn. The so-called Fenn Measurement theorized that the distance between the front and rear axles should be the same as one revolution of the rear tire, as seen in this 89-inch 1959 lay-down cockpit car. From THREE WEEKS IN MARCH, by Mickey Bryant. (Photo by Doug Peterson)
four
---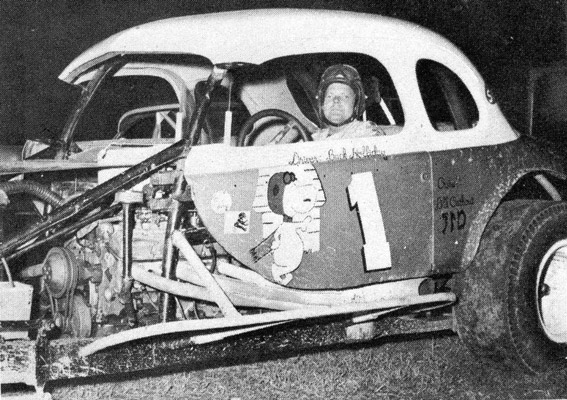 Up on the St. Lawrence Seaway and along the Canadian border, Buck Holliday was dominant year after year in the modifieds on dirt and asphalt. By the end of the sixties, he was in aggressive stuff. Coupe bodies were on the way out and custom frames were on the way in, as this chop job attests. Check out the rails and the near mid-engine placement in this Buck beast. From 1969 GATER RACING NEWS OVAL RACING YEARBOOK.
four
---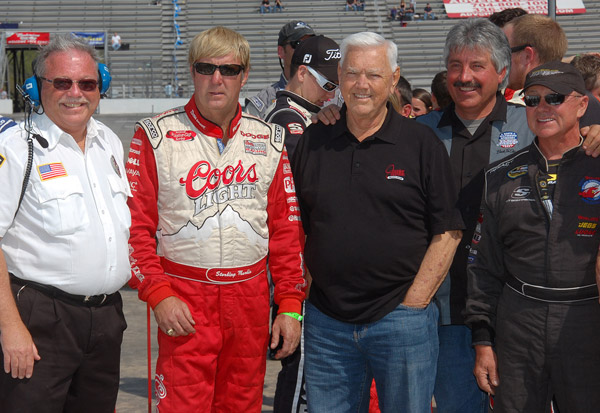 It's the "Junior Johnson Highway" that runs aside the newly revamped and reopened North Wilkesboro Speedway. And "the Last American Hero" himself cruised down his road for driver intros at the $75,000-to-win PASS race there on April 10. Joining him – in Nomex – were Sterling Marlin and Geoff Bodine. Chris Eggleston, a honor student at Colorado State University, fended off 76 other competitors for the historic victory. (Norm Marx Photo)
four
---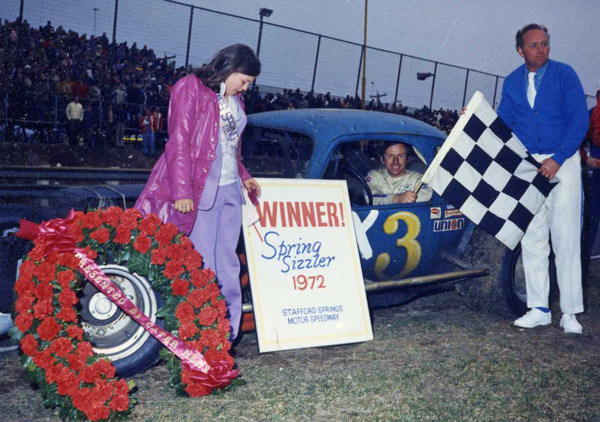 Like yesterday's photo, this is an image of Fred DeSarro in the legendary Boehler "Ole Blue" coupe. He had just won that first Spring Sizzler in 1972 and would go on to be Stafford's track champion. It was a happy day, but sadness would follow. Fred was killed in a horrible crash at Thompson (CT) Speedway six years later. The trophy girl, teenaged race fan Annie Flanders, was terminally ill at the time of the race and she, too, passed away several years later. Only the starter, Earl Grant, is alive today. And he sure is. He's just as irreverent as ever, still a part of the racing community. (Boyd Collection)
four
---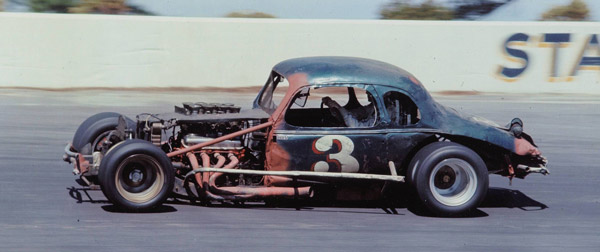 Dick Berggren captured this amazing image of Lenny Boehler's "ole blue" with Fred DeSarro at the helm. The photo was used in the publicity for the first Spring Sizzler at Stafford Springs (CT) Speedway in 1972. This year's version of the modified classic will be run this weekend. Dr. Berggren, Bruce Cohen, and I promoted the event as a way to raise some money for our modifieds. Thank goodness the weather was okay, and we got the show in successfully. Had it rained, we would still be washing dishes.
(Dick Berggren Photo)
four
---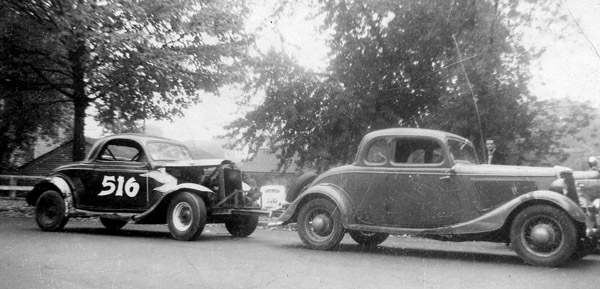 It was just a normal Saturday afternoon in Beverly, MA., in 1951. Trigger Watson was ready to go racing. Can you imagine what those two cars would be worth today?
(Watson Family Collection)
four
---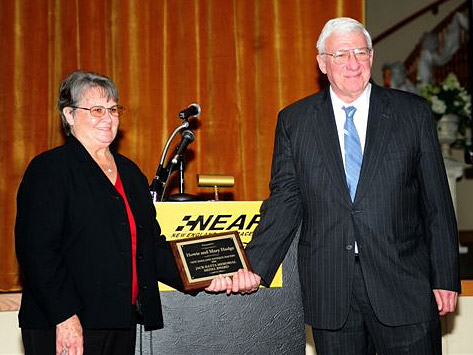 Finally a photo of the photogs – Howie and Mary Hodge receiving an award from the Northeast Auto Racing Hall of Fame. They have been an infrastructural part of racing on the East Coast for decades, their photos capturing the magic of racing with dedication and style. Sometime, just stop by www.racerhub.com/photos and click on their collection. You won't be able to leave. (Fran Lawlor Photo)
four
---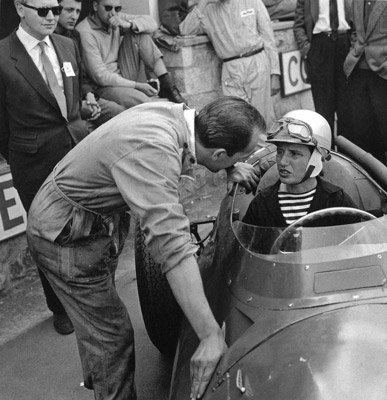 In 1958, at age 31, Maria Teresa de Filippis made history at the Belgian Grand Prix by becoming the first woman to compete in a Formula 1 world championship event. It may have helped that she was one of Luigi Musso's mistresses. But it didn't all go so well. She timed 30 seconds slower than pole sitter Mike Hawthorne's time, and Luigi died later in the year at Le Mans. From REAL RACERS – FORMULA ONE RACING IN THE 1950s AND 1960s by Stuart Codling. (Photo by Louis Klemantaski )
FOUR
---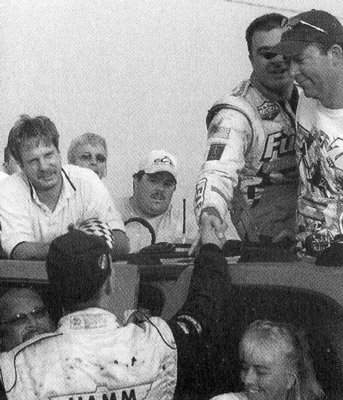 Six years ago the finish of the Oswego Speedway International Classic had to be the most dramatic in history. Greg Furlong was leading off the fourth turn on the final lap, but he briefly bobbled with a fuel problem. Sensing an opportunity, second-place runner, then-teen-aged Bobby Santos III, dove to the inside. Somehow he lost it and ricocheted off Furlong, sending them both solidly into the first turn wall. The finish stuck, though, and Furlong won it, Santos second. Santos' apology in Victory Lane, above, was readily accepted. From 50 YEARS: OSWEGO SPEEDWAY INTERNATIONAL CLASSIC, by George Caruso, Jr. with Carol D. Haynes.
four
---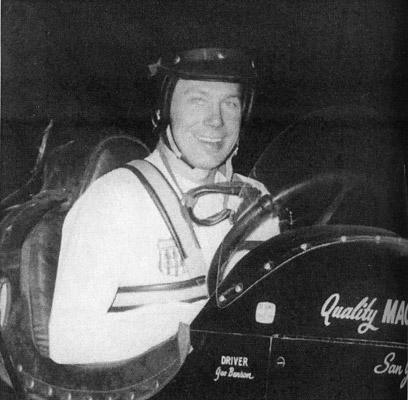 George Benson writes about his "Sam Brown" shoulder harness in 1961: "This device, used in the Pacific Northwest, was designed to fit the rib cage just below the right armpit and fasten to the frame on the left side of the seat, with a strap over the right shoulder to keep the whole thing in place. Its purpose was to give the driver something to lean against in the turns, taking the strain off his hands and arms instead of holding on the steering wheel to hold himself upright….We didn't talk about it much when around our competitors. It was good for almost a half a second." From GEORGE BENSON – THE RACING YEARS – A Memoir of the Life and Times of a Racer 1952-1987, by George Benson
FOUR
---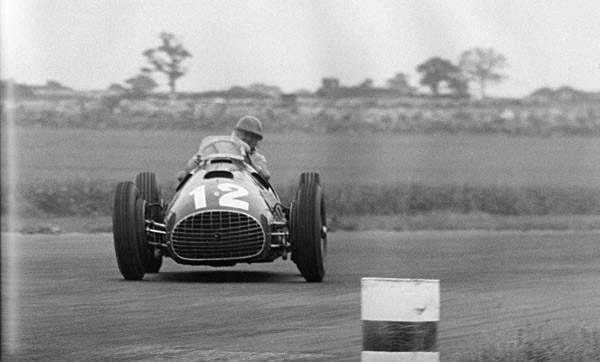 That's Jose Frolian Gonzalez pitching his Ferrari into Silverstone's Abby corner back in 1951, reportedly at a speed north of 140 mph. It certainly appears he would have had the stuff to be competitive with the World of Outlaws. From REAL RACERS – FORMULA ONE RACING IN THE 1950s AND 1960s by Stuart Codling.
(Photo by Louis Klemantaski)
FOUR
---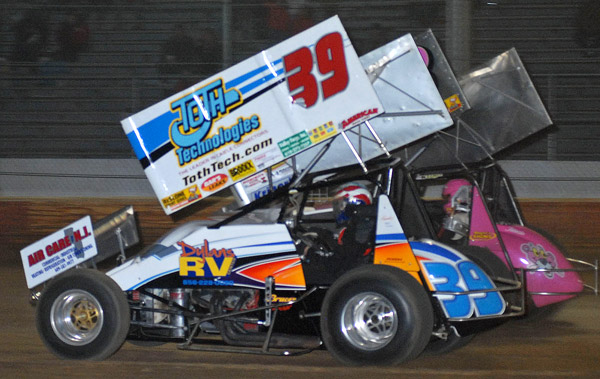 Cool shot of Tim Hogue at the URC opener at the racy Bridgeport (NJ) Speedway back on Saturday April 9. But check out what's just upstairs. It's the Pink Panther. How about that Kramer Williamson! 44 years in sprinters. (Frank Simek Photo)
four
---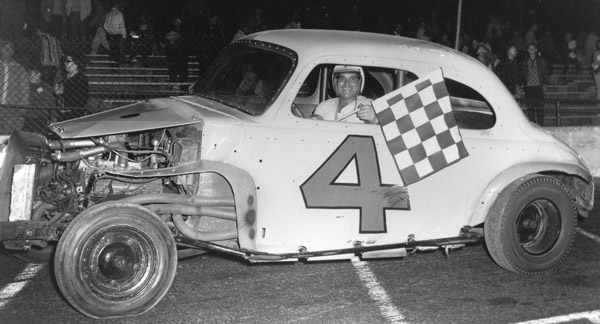 A great friend of vintage stock car racing, John Monaghan, sent in this photo of old-time Seekonk (MA) Speedway racer Tex Barry winning one in the sixties. Here's what John told us, having just read the TEAROFF from 7/31/09 called "Dying in the Pits." Years ago, retired Seekonk driver Tex Barry was cheering his son on to winning a Pro Stock feature at Seekonk. Just as his son was passing the checkered flag for the win, Tex collapsed of a fatal heart attack. "I remember his son standing next to the car with the trophy girl ready for the photographers, looking up and wondering where his father was. I felt so bad for him. He found out moments later. Talk about the thrill – and agony – of victory." (John Monaghan Collection)
four
---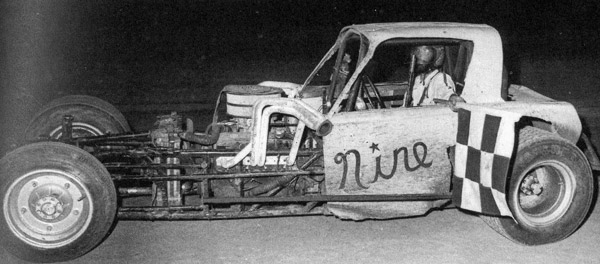 This minimalist modified was built by Bob McCreadie, racer extraordinaire and Dad to Timmie (T-Mac). It was so light and so narrow that when Bob started driving and winning with it in 1975, he had to take his boots off to work the pedals. That's, they say, when he earned his nickname "Barefoot." From BAREFOOT – The Autobiography of Bob McCreadie, as told to Andy Fusco. (Wayne Storey Photo)
four
---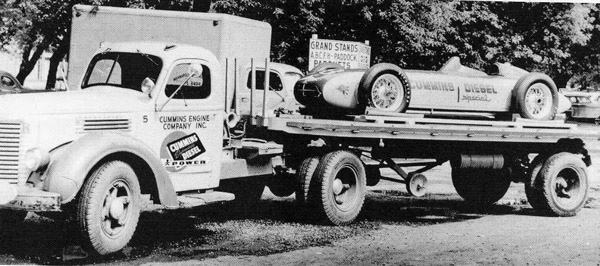 It was May of 1952 when Fred Agabashian's crew towed into Indianapolis with a glistening low-slung early Frank Kurtis roadster. Quite remarkably it was diesel-powered. From INDIANAPOLIS MOTOR SPEEDWAY – 100 Years Of Racing, by Ralph Kramer. (IMS photo)
FOUR
---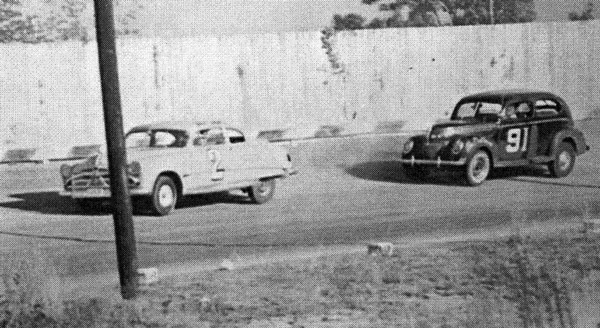 When it was "run what ya brung" time in the early fifties, it was time to beware of Hornets. This was an open comp show on the Richmond, VA, Fairgrounds dirt, and it was won handily by Leon Sales in Aubrey Ferrell's Hudson. World-class racer Runt Harris could do little but watch from his apparently street legal 1940 Ford sedan. From EARLY DIRT RACERS: Virginia/Carolina Auto Racing 1952-1956, Vol. 2, by Bill Mangum.
four
---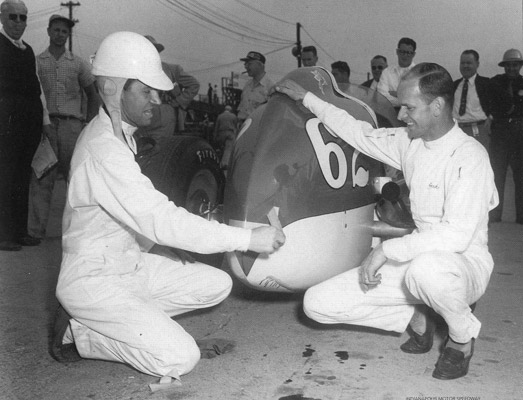 In April of 1956, a young Len Sutton motored East from Clackamas, Oregon, to give the Indy 500 a try. "I had worked out all winter." he recalled. "I had a set of arms and shoulders I was proud of." He and his buddy Jack Turner, also from the Northwest, were three of the 17 to take the rookie test. Both passed and are shown here removing the "rookie stripe" from the tail of Len's roadster. From MY ROAD TO INDY, by Len Sutton. (IMS Photo)
FOUR
---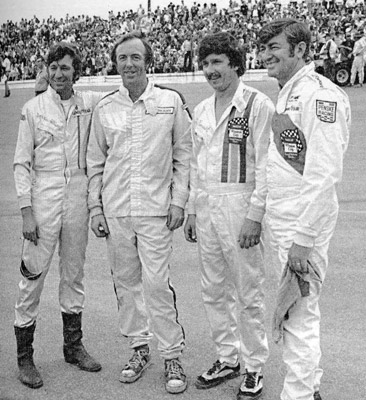 Here are the big boys – the original Alabama Gang. Donnie Allison, Red Farmer, Neil Bonnett, and Bobby Allison pose before a Snowball Derby at Five Flags Speedway in Pensacola, FL. In 1975, Donnie gave the Gang its only win in the annual event, considered by many to be the most prestigious race of its kind in the country. Eighteen-year-old Johanna Long was the winner in 2010. Tammy Jo Kirk was the first female victor, with an impressive run in 2004. From FLORIDA MOTORSPORTS RETROSPECTIVE PICTORIAL, Vol. 2, by Eddie Roche.
four
---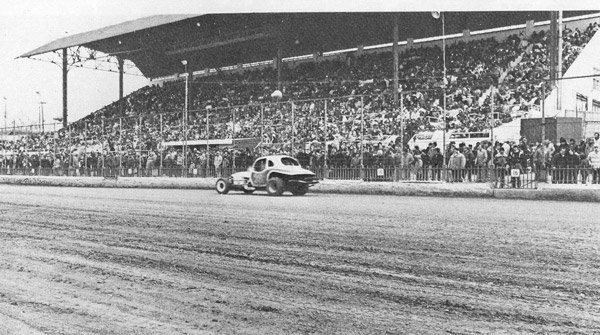 Tracks all over the country will be opening this weekend. Maybe a few will be able to capture the magic of the 1973 inaugural at Reading, PA. That's Joe Lingle cruising past a teeming grandstand on a perfectly racy surface. From READING FAIRGROUNDS – Modified Memories, edited by Vince Vicari.
FOUR
---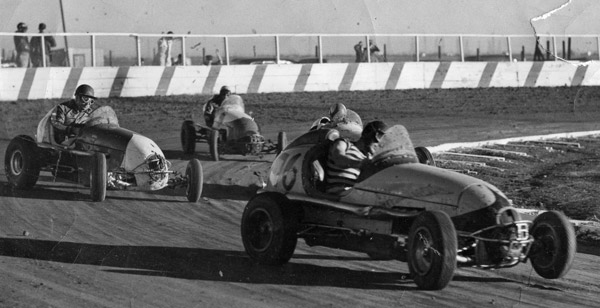 As basic as dirt and as fine a racing shot as has ever been taken. That's "Smilin' Buddy" Rackley leading Doc Cossey and two other midgeteers down in Texas in the forties. Buddy is applying full body English to the O.F. Bright "Cherry Coke Offy" out of Houston. (Dick Berggren Collection)
four
---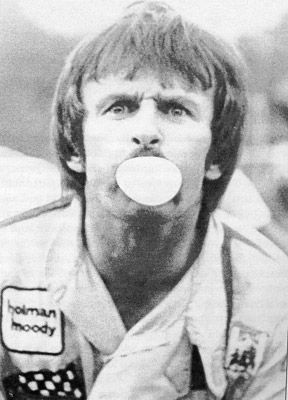 After this guy was formed, the mold was pronounced illegal. Dave Dion, one serious character now living in Florida, racked up a stellar career in asphalt late models. Not long ago Dave Moody, NASCAR radio commentator, penned a fabulous book on Dion for Coastal 181 called LIFE WIDE OPEN – Dave Dion: No Holds Barred. The book sold out immediately. We are very pleased to announce it has been reprinted and is available again. From LIFE WIDE OPEN, by Dave Moody. (Dave Dion Collection)
four
---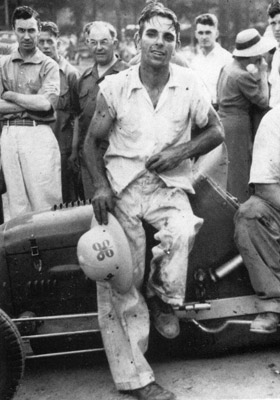 They say he was small in stature, shy in temperament, but always spectacular behind the wheel. "Little George" Robson won this sprint car show at Indiana's Jungle Park in 1941. When Indy reopened after the War on Memorial Day, 1946, Robson took it. But three months later, on Labor Day, racing took Robson. It was a spectacular wreck involving eight of the 11 starters at Lakewood Park in Atlanta. George Barringer also perished in the dust-shrouded tragedy. From SPEEDWAY PHOTOS – EARLY AUTO RACING IN CHICAGO AND THE MID-WEST, by Bob Sheldon. (Bob Sheldon Photo)
FOUR
---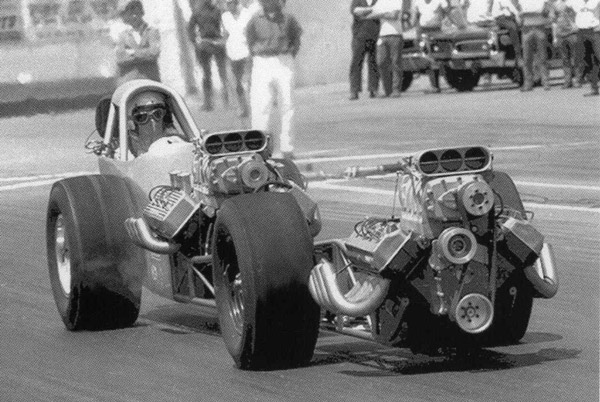 Seems there was experimentation going on in every corner back in the sixties. It wasn't just the sprint car guys who were replacing their Offies with Chevy V-8s – or just those long-haired kids who were rolling something up out behind the garage. How about this Top Fuel concoction Noel Black brought to Fremont, CA, in 1967? Twin-engine, four-wheel drive! From FUEL AND GUTS – THE BIRTH OF TOP FUEL DRAG RACING, by Tom Madigan. (Steve Reyes Photo)
FJOUR
---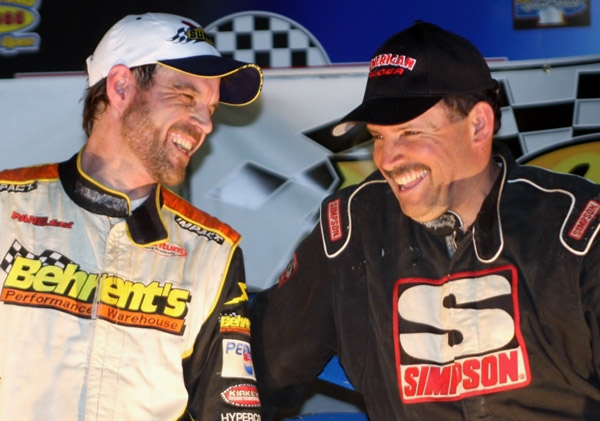 "Everybody's happy," wrote Dave Dalesandro sending in this neat shot of Jeff Strunk (L) and Jimmy Horton at the ROC opener at Selinsgrove, PA, last month. "But will they be that way come August?" (Dave Dalesandro Photo)
FOUR
---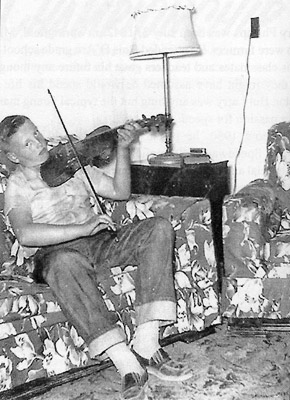 It just wasn't this kid's tune. And it showed when Larry Phillips tried to please his Mom by practicing on the violin back in Casper, Wyoming. Just a few years later, in 1960, Larry began making his own kind of music, in dirt cars all over the Midwest. In 1989, he switched to asphalt and rapidly became the winner of five NASCAR Weekly Series National Championships, an enduring record. He passed away of lung cancer in 2004. From LARRY PHILLIPS – MASTER OF THE SHORT TRACK, by Kendall Bell and David Zeszutek.
FOUR
---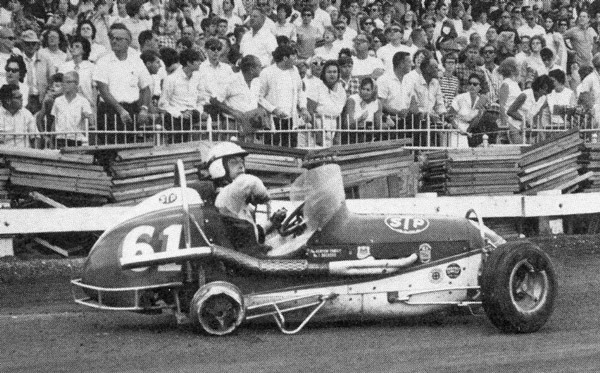 Mel Kenyon and his brother Don won both driving and owner championships in the sixties with a pretty little midget by the name of "Herbie." Despite all the Kenyon wizardry and discipline behind him, though, sometimes Herbie misbehaved. This is Columbus, Ohio, in 1966. From A HAND FOR THE WHEEL – THE MEL KENYON STORY, by Jack Albinson. (Don Piatt Photo)
FOUR
---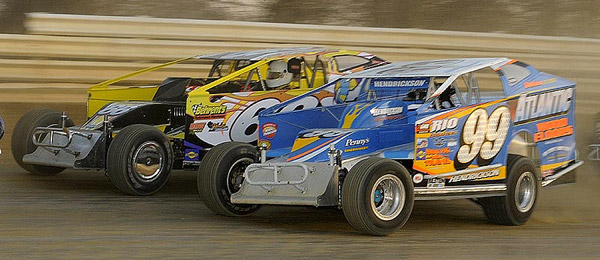 Tops in their regions. Two outstanding, seasoned dirt trackers, upstate New York's Danny "the Doctor" Johnson and New Jersey's Wade "the Flying Farmer" Hendrickson, duel at the Selinsgrove (PA) Speedway a week back. It doesn't seem all that long ago that Danny's dad, Milt, was building honker big blocks for guys like Richie Evans and Lenny Boehler, while Wade's dad, Lee, was flinging his infamously green Z-1 coupes and coaches around the Northeastern exhaust circuit. (Otto Graham Photo – see Otto's work at www.whartonvalley.com)
FOUR
---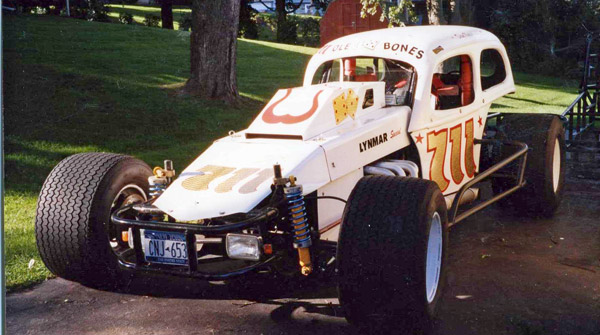 For over thirty years Dave Kneisel was one of the brightest stars in the dirt modified galaxy. He drove his innovative #711s with particular intensity to many championships before perishing behind the wheel at Middletown (NY) Speedway on Labor Day 1982. One of his cars is still very much in view. Note the headlights and license plate. The now street-legal machine has been owned for twenty years by motorsports illustrator James Robert Walker of Camillus, NY. James has put an incredible amount of miles on the car and has been stopped an equally incredible amount of times by the police. (James Robert Walker Collection)
four
---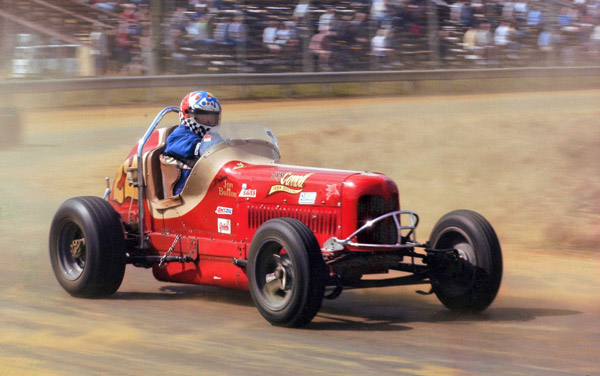 Jon Button, "The Chittenango (NY) Cheetah," has been behind the wheel for decades, accumulating many wins especially in early drag cars. More recently he has concentrated on his impressive vintage sprinter at places like Orlando and Zephyrhills. It's an original 1934 Hillegass with which John Carroll won the 1949 Canadian Nationals Championship. Jon's boys, Gordy and Mike, have had great upstate New York careers as well. (Jon Button Collection)
four
---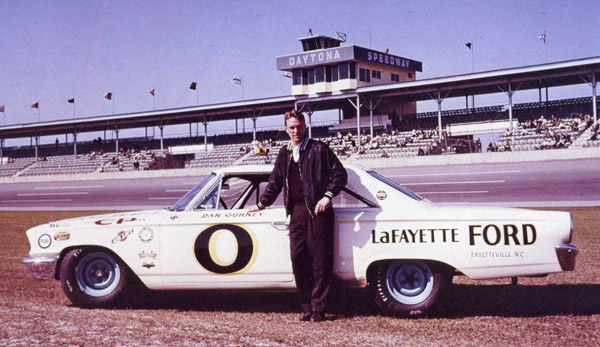 Daniel Sexton Gurney, son of Metropolitan Opera star John Gurney, has to have had one of the most impressive driving careers ever. When he hung up his goggles in 1970, he had run 321 events in 20 different countries, compiling 51 wins and 47 podium finishes. He was the first to win in all four of the major racing categories of the time – Indy cars, Grand Prix, NASCAR, and sports cars. Here he is looking very comfortable indeed at Daytona, but surely not in the moonshine image. (Cal Lane Collection)
F
---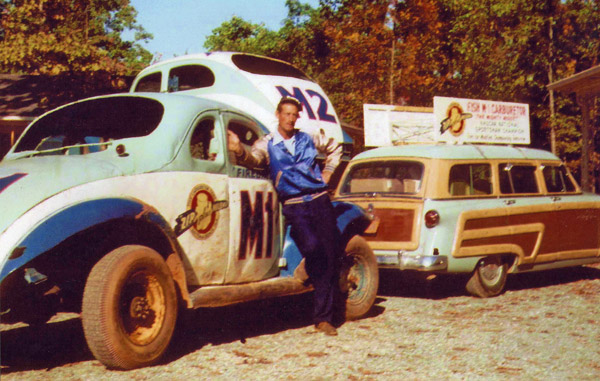 Soon after moving South, mechanical wizard Ray Fox took a job with Robert Fish at Fish Carburetor in Daytona. He built and wrenched the infamous M-Fleet modifieds, exercised by jockeys like Speedy Spiers, Larry Flint, and Fireball Roberts. They owned the Southeastern full coupe circuit in the early fifties. (John Grady Collection)
FOUR
---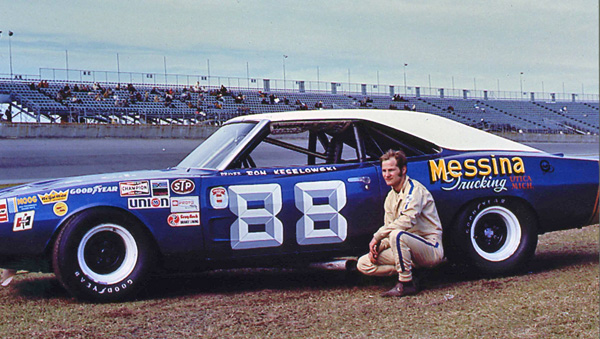 Rail birds were at the edge of their seats when aggressive Sprint Cup newbie Brad Keselowski literally pushed his brother Brian into a qualifying spot for this year's Daytona 500. It was a spectacular effort, but the family involvement was far deeper than many folks realize. The Brothers Keselowski's grandfather, John Keselowski, launched what would be the Michigan-based K Automotive motorsports operation decades ago. Both John's sons, Ron and Bob (Brian and Brad's dad), have been very active racers. Here's a shot of Ron at Daytona in 1971. (Cal Lane Collection)
four
---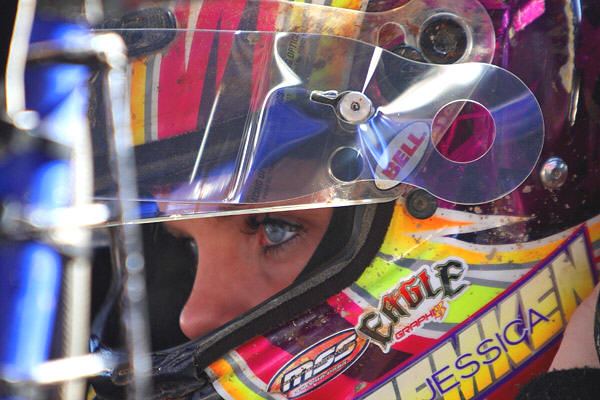 Check out those eyes! It's the remarkable Jessica Zemken, sprint car sensation now affiliated with Tony Stewart's team. Talented lensman Dave Dalesandro captured the moment. (Dalesandro Photo)
four
---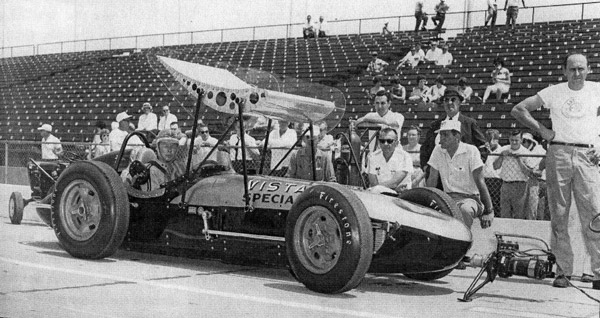 Jim "Baldy" Rathman was ready for practice in 1962, aboard the first winged car to show up at Indy. Wouldn't you know, it was a Smokey Yunick creation, called "Ol' Paint." It didn't work too well, and wings were banned shortly thereafter. From BEST DAMN GARAGE IN TOWN – My Life and Adventures, by Smokey Yunick. (IMSA Photo)
FOUR
---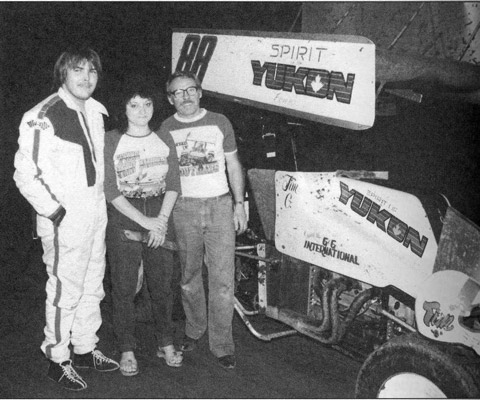 Do you think Tim Gee has been into racin'? That's Tim on the left with his wife, Ruth, and dad, Gordie. They had just arrived at Lanny Edwards' Devil's Bowl in Mesquite, Texas, for a show in 1982. It was a project getting there. They lived in Whitehorse, Yukon, Alaska. From THE SPEEDIEST LAND TRAVELER – A History of Alberta Auto Racing, by Richard McDonnell (Gee Collection)
four
---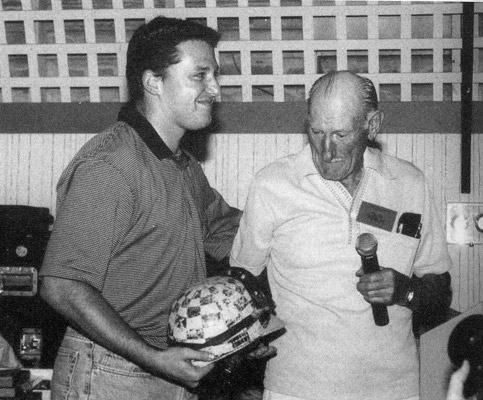 Ernest "Crocky Wright" Schlausky was a Midget competitor for decade upon decade, "America's Oldest Stuntman," and "the only man fired for driving too fast at Indianapolis." Behind the scenes, Tony Stewart was a huge benefactor to Crocky late in life. In 2001, Crocky returned the favor, presenting Smoke with his famous checkered "Tiger" Cromwell helmet, thought to be the last one ever used in competition. Sadly, Crocky passed away in 2009 at age 91. From FATE GUIDES MY DESTINY, by Crocky Wright. (Bob Cruse Photo)
four
---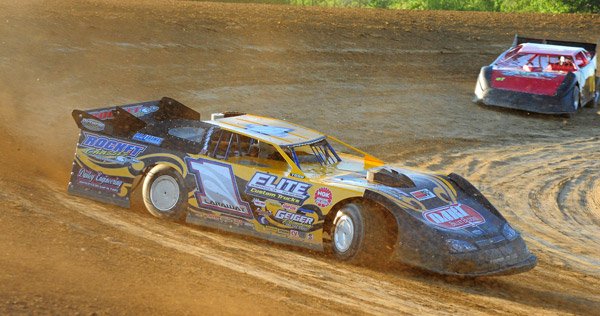 Want to get involved with dirt late model racing? It shouldn't be too hard to find a team needing help. Take good guys Brian and Dane Laraway Motorsports out of Irwin, PA. Twenty-year-old Dane is pictured above, on the hammer big time at Western Pennsylvania's Marion Center Speedway. The biology major at Washington and Jefferson College is way serious about his racing and he's winning already. But it can't be any cake walk. He and Brian have put out a marketing package for 2011 that details what they are up against: Basic "ownership expenses" of the Rocket chassis and its Domhoff 416cid engine are $87,690, while the projected operating costs will be $34,410. And they only plan on running two nights a week. Their marketing materials can be obtained through www.larawaymotorsports.com. (Photo Laraway Motorsports Collection)
four
---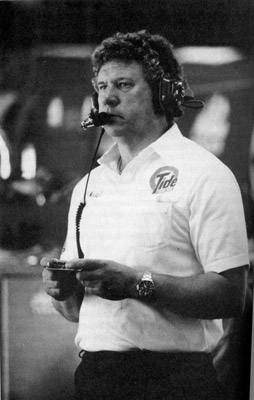 Waddell Wilson, master NASCAR engine builder for season after season, was quite deservedly honored at the Living Legends of Auto Racing banquet at Daytona this year. Waddell has seen it all, and it seems his indoctrination was rapid. Right after he went to work for Holman and Moody in 1963, he was working on a car, getting it ready for Daytona. "I was underneath, getting a set of tail pipes built for it. Ralph Moody was there, and John Holman came in, and then I saw one set of legs running after the other set of legs and then one of them sailing out the door, and it was John Holman going after Ralph Moody. I thought, 'This is a heck of a deal.' They had a lot of respect for each other, but they didn't get along very well, not at all." From AMERICAN ZOOM – Stock Car Racing From the Dirt Tracks to Daytona, by Peter Golenbock.
h
---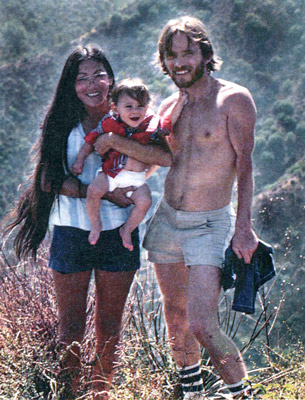 When researching their book on Don Garlits, Mickey Bryant and Todd Hutcheson chased down and located Tim Ditt. Tim was just 17 when he sat in the stands at Lion's Drag Strip in Wilmington, CA, on March 8, 1970. During a run, the transmission on Big Daddy's Swamp Rat 13 exploded and the drum rocketed through the air and struck Ditt in the chest and arm. He was horribly injured and went through years of painful physical – and financial – recovery. This is a shot of Tim and his family in 1981. His left arm still showed graphic evidence of the impact. From Don Garlits R.E.D. Part 1, by Mickey Bryant and Todd Hutcheson. (Ditt Family Photo)
FOUR
---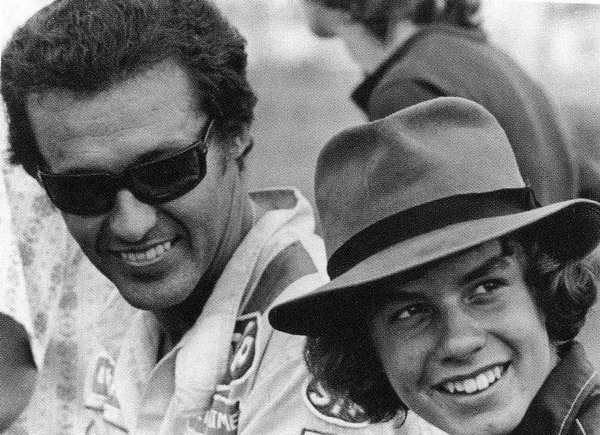 There has always been that Richard part of Richard Petty, but Kyle has always been his own guy, too. Here they were in 1975. From NASCAR FAMILY ALBUM – Stories and Mementos from America's Most Famous Racing Families, by H.A. Branham. (Photo Courtesy Motorsports Images and Archives)
four
---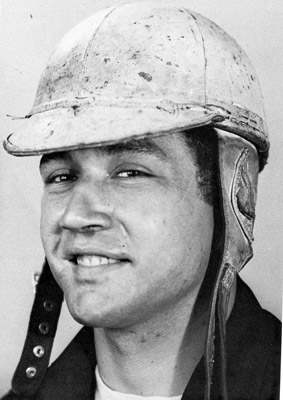 Here is And Granatelli in his brief career behind the wheel at Indy. He rather immodestly remarked, "I was the first driver to take the drivers' test – on May 8 – and passed it sensationally." From THEY CALL ME MISTER 500, by Andy Granatelli.
(IMS Photo)
four
---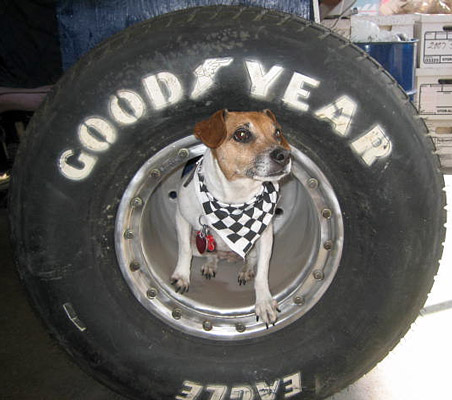 That's Sidney Sargent from Rye, New Hampshire. Sidney really grooves on the tires at the Coastal 181 garage. (Jan Hartwell Photo)
four
---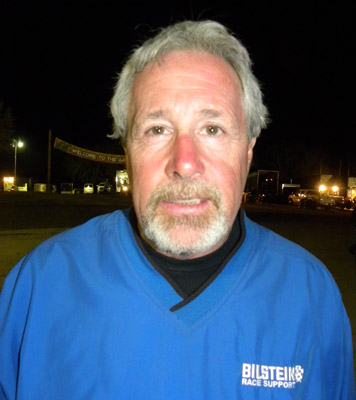 Beware this face! It's Rex Merritt, that ultra-clever IMCA racer and Bilstein shock guru. Rex, seen here at Daytona last month, is everywhere, constantly probing the edge of the rule book and the boundaries of normal behavior. He's now a contributor to the new Speedway Illustrated. Can you imagine? A few years ago in that same magazine the late and wonderful Mike Clark of DirtWorks was quoted as saying, "One time we were on the road, and Rex broke a tooth in half. Too busy and too cheap for a dentist, he superglued the tooth back in place every time it came loose. He started feeling really sick. Eventually we read the label on the glue and there was cyanide in there." (Karl
Fredrickson/Speedway Illustrated Photo)
DOUR
---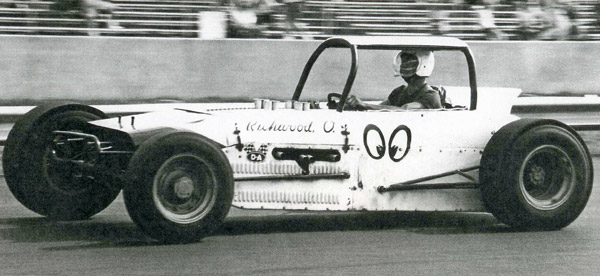 Here's Richwood, Ohio's Todd Gibson aboard one of his infamous "Flintstone Flyers" at the West Virginia Supermodified Invitational in 1964. He was a terror in those cars, especially at Oswego where he so completely dominated all comers in 1968. Todd had four racing sons; tragically, one, Terry, died in a super at Toledo in 2008. From
ECHOES OF THUNDER IN THE HILLS – Photographic Memories of 1960s auto racing in Southeastern Ohio and Adjoining West Virginia, by Tony Martin. (Martin Photo)
four
---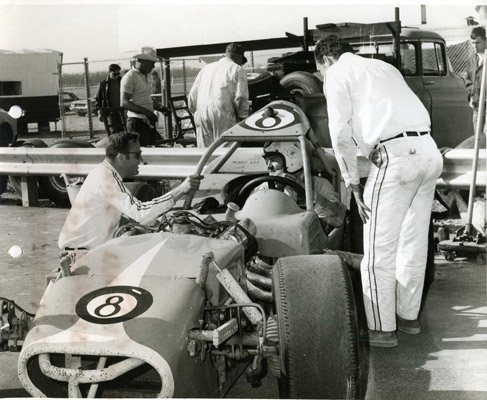 The guy could build and drive anything – and he did for years. That's Jim Shampine at Pocono on May 4, 1969. He won. (Dick Berggren Collection)
four
---
Remember yesterday's Photo of the Day of Mario Andretti debuting in a sprinter at Lebanon Valley in 1961? This shot was taken just three years later. That's Mario in the Langhorne 100 in 1964, his first USAC Championship dirt race. No question he had become a very different driver. Note how relaxed he seems at work, comfortably seated, head perfectly tilted back to deflect dirt above his goggles, arms in gentle, feeling contact with the steering wheel. Mario still had some work to do on his checkbook, though. His total income for the year was $12,000. Five years later, he made half a million. From WHAT'S IT LIKE OUT THERE?, by Mario Andretti with Bob Collins. (Michael Ringo Photo.)
FOUR
---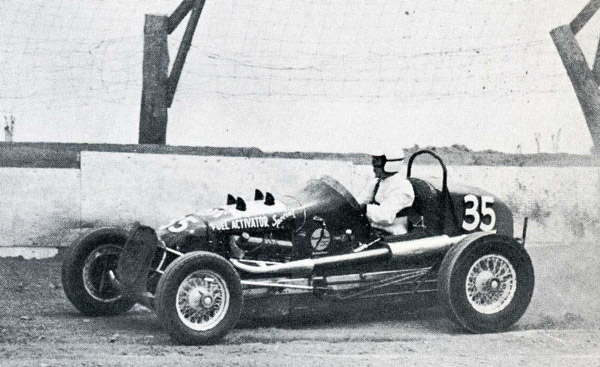 It was May of 1961 and that's Mario Andretti in his very first URC sprint car ride. It was at Lebanon Valley Speedway in Eastern New York. In his book WHAT'S IT LIKE OUT THERE?, Mario spoke disparagingly of the car. "Maybe a guy has a machine that would be more serviceable towing trash, but he believes it is a championship car." A look at the picture would imply, though, that the owner was taking a bit of a chance with an unproven Mario. Note how tense he looks, sitting so tautly upright, arms flexed. He did manage an eighth place finish, though, his best of the year. From WHAT'S IT LIKE OUT THERE?, by Mario Andretti with Bob Collins. (C & R Photo.)
four
---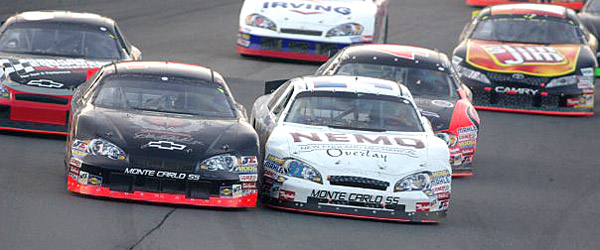 Trevor Bayne is a breath of fresh air in Cup racing, but he didn't exactly fly in from out of the blue. For a 20- year-old, he has been around for a while and has had some pretty darn good rides. Here he is at New Hampshire Motor Speedway in a Camping World East Show in June of 2008 in a DEI Chevy. He was not yet completely at the top of his game, and he's being passed for the win on the inside by a young New Englander, Eddie MacDonald. (See the TEAROFF dated July 7, 2008 for details.) Happily, Coastal 181 buddy Mark Jarret Chavous was down there in the first turn and caught the action with his Pentax!
FOUR
---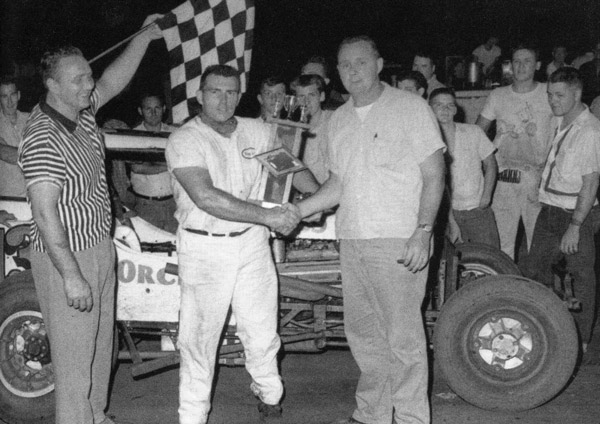 Big arms, big foot. Ray Lee Goodwin after a modified win at Kansas City. There was also that big wit. Ray Lee commented at Kenny Weld's funeral that "all Kenny's cars will be going to heaven, too, 'cause he raced the hell out of them." From UP ON THE WHEEL – Kansas City Auto Racing. by Bud Hunnicutt. (Sarah Morgan Burke Collection)
FOUR
---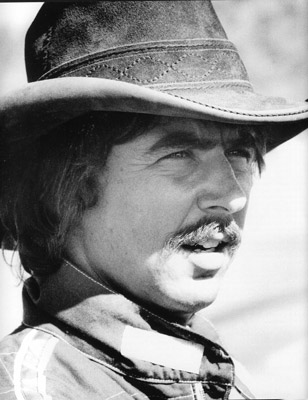 Rick Mears sure had a different wrapper in the mid-seventies. But Bill Simpson saw the talent lurking inside and was responsible for taking the off-road racer to Indy. From RICK MEARS: THANKS, by Gordon Kirby. (Bob Trovolone Photo)
FOUR
---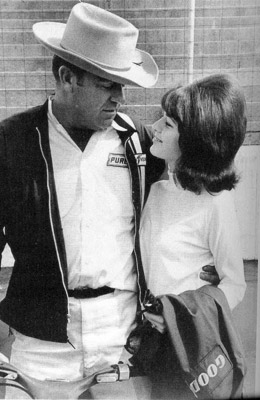 In his 1998 book THE LAST LAP, Peter Golenbock writes, " Curtis and Bunny Turner first met when she was just 19. She was a trainee at a bank in Charlotte. He walked up and asked her to cash a check for $27,000. 'I didn't blink an eye. I opened the drawer and cashed the check'." From THE LAST LAP, by Peter Golenbock (Bunny Hall Turner collection)
FOIR
---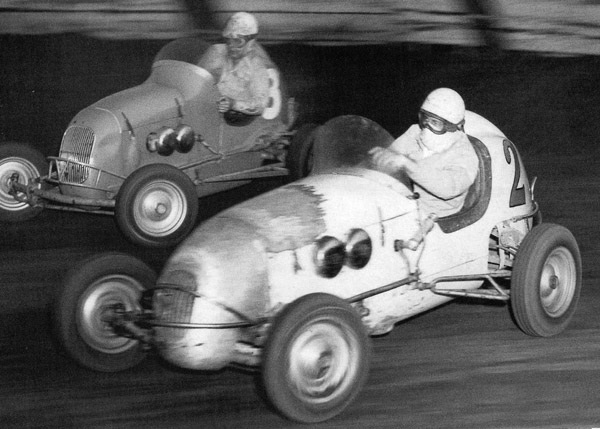 In the late 1940s, midget wanderers like Tex West (#8) and Rabbit Musick would tow up to Kansas City to race Olympic Stadium on Sunday nights. And race they did. From
UP ON THE WHEEL– Kansas City Auto Racing, by Bud Hunnicutt. (Jimmy Sams Photo)
FOUR
---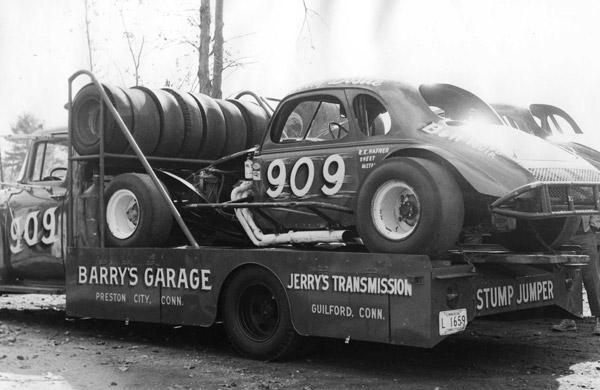 It was the "Stump Jumper," the eye-catching state of the art in East Coast pavement modifieds in the late sixties. Jerry Dostie was the shoe. The builder was Art Barry, very much still active today with his pristine and rapid SPAFCO machines.
(Dick Berggren Photo)
FOUR
---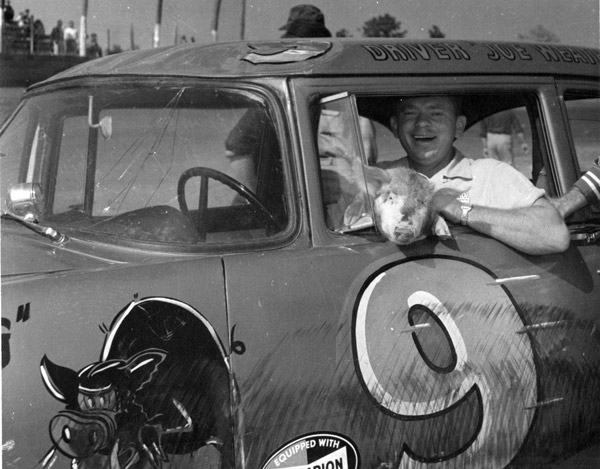 Two great drivers have been proclaimed the "Clown Prince of Racing." In the open world arena, it has been Pennsylvania's Eddie Sachs. In the world of fenders, it was "Little Joe'" Weatherly, who, as is obvious above, had his funky side. The princely crown was a weighty one, however. Both drivers perished in 1964, Sachs in a fiery crash at Indy and Weatherly in a NASCAR Grand National car at Riverside, CA.
(Dick Berggren Collection)
four
---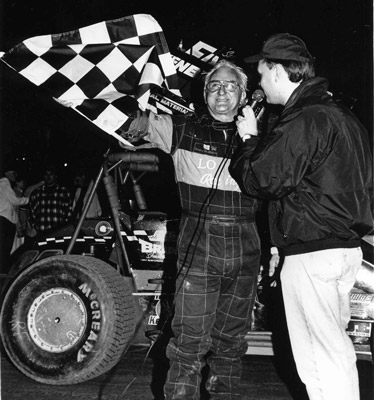 Just the name, Larry "Smokey" Snellbaker brings a smile to most every dirt fan in the East. The Sprint Car Hall of Famer first pushed off in 1965 and has been riding the cushion right up into his seventies. His most memorable day may have been trouncing all comers on the mile at the Syracuse Nationals in 1979. He was aboard Pop Lloyd's artful but ultra-low-budget sprinter. (Karl Fredrickson Photo)
four
---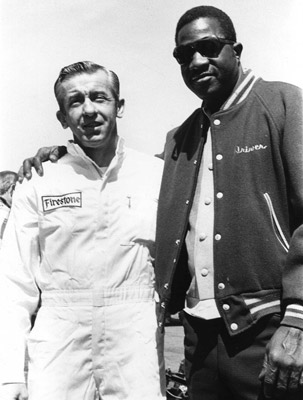 Booker T. Jones, shown with Eddie Flemke (L), was one of the all-time most popular of New England's mod squad. He had a great sense of humor. One Sunday morning he signed into the pit gate at Thompson (CT) Speedway and someone congratulated him for a second-place finish the night before at Islip Speedway on Long Island. Booker responded, "What did you expect when I had 22 white men chasing me!?!"
four
---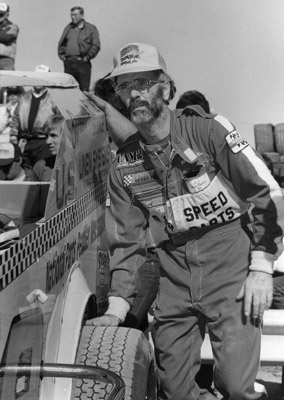 That Timmie McCreadie is such a likeable guy – his dynamic and sensational dirt track career is bringing joy to thousands of people. The one who probably appreciates it most is his dad, pictured here. "Barefoot Bob" McCreadie was beyond huge in his gritty, down home way in the center steer, big block dirt modifieds. He was horribly injured when brought down on his motorcycle by a car in a parking lot. His racing
career was instantly over. (Dick Berggren Photo)
four
---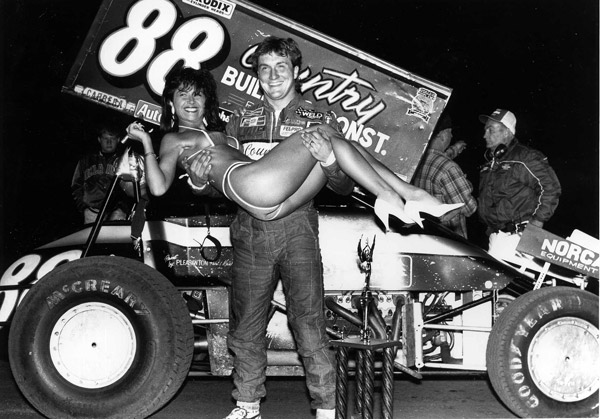 Iowan Terry McCarl has over 250 sprint car wins in 17 states and Australia. Chances are, though, that he would still remember the spoils of victory this night at San Jose (CA) Speedway 20 years ago! (Dennis Mattish Photo)
FOUR
---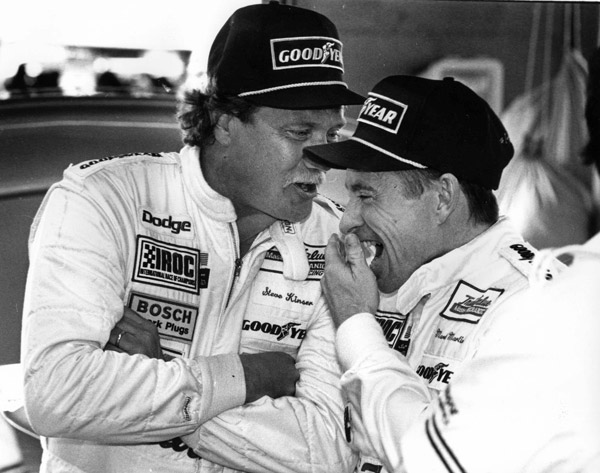 Dirt man Steve Kinser has run a million laps, but not many against Mark Martin. There was a time in the mid-nineties that Steve did some superspeedway racing, including some IROC shows, as above. He did the sprint car world proud by trouncing Mark and all other IROC comers at Talladega in 1991. (Dick Berggren Collection)
four
---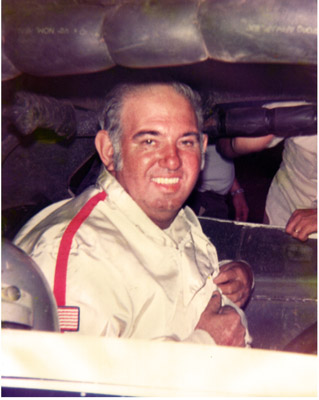 A great friend of Coastal 181, Fred Hendricks of Sprakers, NY, sent along this captivating shot of Kenny Shoemaker. The Shoe was in the office of Joe Leto's big block Pinto modified, ready to attack the feature field. Note all that pipe insulation padding on the roll cage. The Shoe's body was well padded, too. Good thing, because his way was to win or to flip. This night at Fonda he won. The Shoe was the subject of our first book, one we certainly hope to republish some day. (Fred Hendricks Photo)
four
---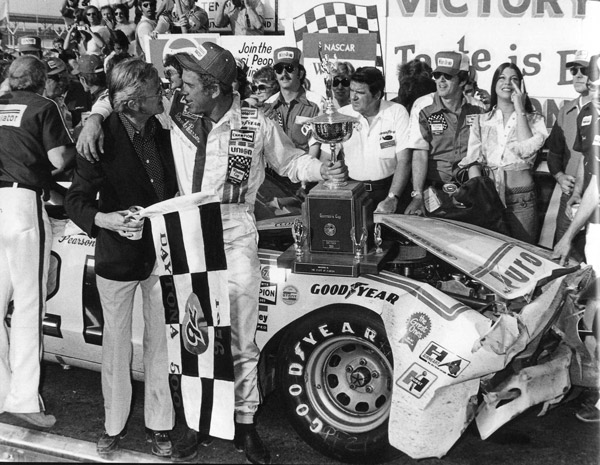 The 1976 Daytona 500 came down to the last turn, last lap. David Pearson, that "Silver Fox," outgunned Richard Petty to the finish line. As you can see from his front bumper, Pearson fired hard. (From NASCAR: the Thunder of America, Daytona Racing Archives Photo)
four
---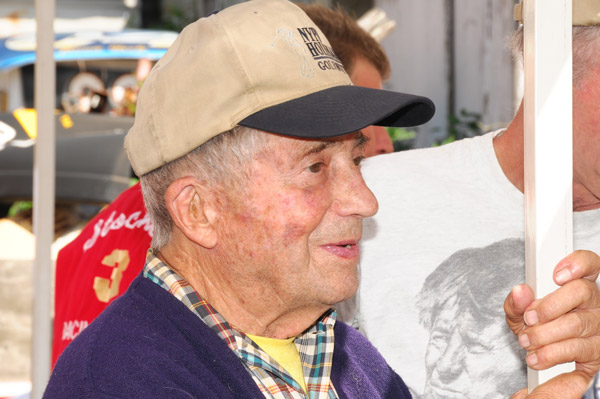 John Roth captured this haunting image of Bruno Bracchi (aka Bruno Brackey) at the annual reunion at Marty Himes' racing museum in Bay Shore, NY, on August 30, 2009. Bruno, says John, "was quite the character." He died last week at age 90, the winningest driver in Long Island racing history. Bruno was crackerjacks in the stock cars at Freeport, hot in the TQs, very adventuresome at Langhorne, and he did it all in his "Merry Milkman" way. Scribe and friend Gary London wrote, "He'd win with tires badly worn. When they tore down his sedan at Freeport, he would be given money for new gaskets each time. He carefully reused the old ones. The joke was he made more gasket money than others did racing." (John Roth Photo)
four
---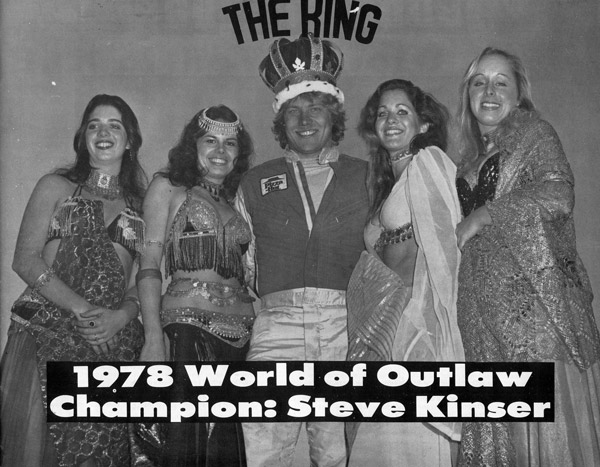 King Kinser and his court in 1978. He's been in power longer than Mubarak! (From 1978 Office World of Outlaws Annual).
four
---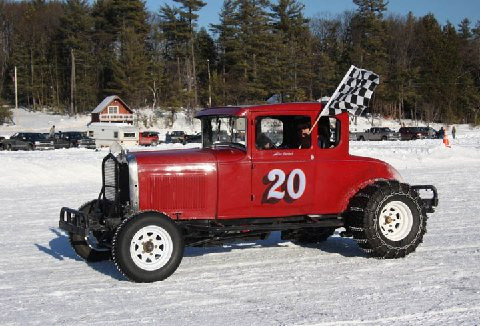 Ken Paulsen, author of the beautifully researched book RACING THE HEARTLAND – A History of the Mississippi Valley Auto Racing Association, sure loves his racing. When it gets as cold as it can be up in New Hampshire, he ventures over to Lake Contoocook to photograph the ice races. He just sent us this image of Alan Darrah, who copped the modified main on January 16. It seems unbelievable, but Alan has campaigned that very same Model A for 46 years, winning every significant ice event there is in these parts, multiple times. Can anyone in the country beat that? (Ken Paulsen Photo)
FOUR
---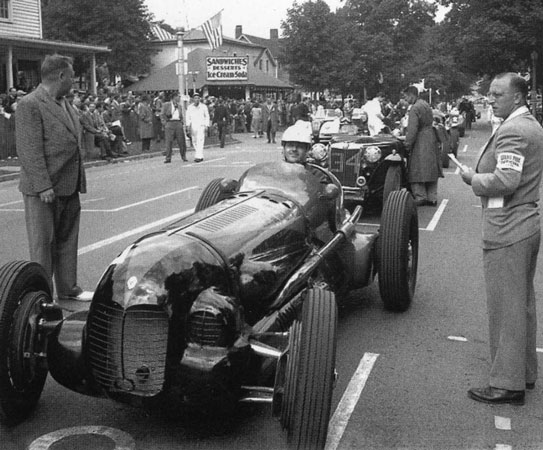 For years and years, George B. Weaver wheeled what had to be one of the coolest race cars in the Northeast. Here he is on the starting line of the 1950 Seneca Cup at Watkins Glen. He won the show the following year in his beautiful red Maserati that was already two decades old. From WATKINS GLEN RACING, by Kirk W. House and Charles R. Mitchell.
FOUR
---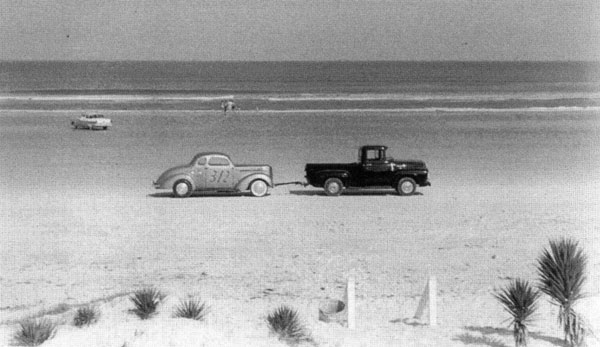 Kentuckian "Bullet Bob" Reuther set the lasting record on the "Measured Mile" on Daytona Beach in 1957. He was in this tricked-out 1938 Plymouth, fires by a supercharged 1957 Chrysler V-8. It ran a remarkable 150.25 MPH. The car was seriously aerodynamic for its time: moon disks, full windows, all body seams carefully taped over. From BOWLING GREEN STOCK CAR RACING, by Larry Upton and Jonathan Jeffrey. (Russ Thompson Collection)
FOUR
---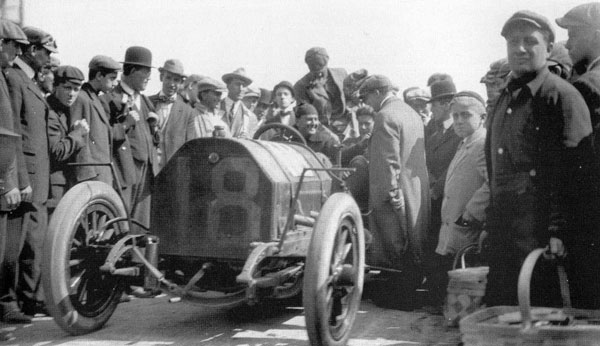 Harry Grant won the 1910 Vanderbilt Cup Race in this #18 Alco, completing the 278 miles in four hours, 15 minutes. In hot pursuit was Joe "the Indiana Whirlwind" Dawson. He was 25 seconds behind because he stopped briefly after hitting – and killing – a spectator. From VANDERBILT CUP RACES OF LONG ISLAND, by Howard Kroplick. (George Eastman House Collection)
FOUR
---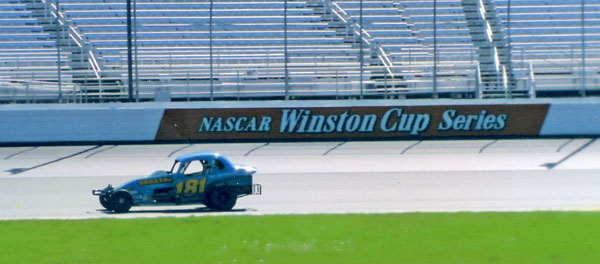 "We'll show 'em!" (Coastal Collection)
four
---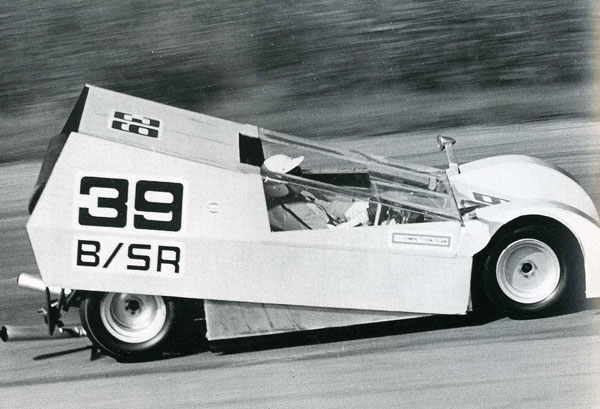 Ike Eichelberger sure did some thinking outside of this box! The bright yellow SCCA machine was built up on an Elva chassis, powered by a Porsche 904 engine. The body was dynamic. It could be raised and lowered hydraulically to impact downforce. The first time Eichelberger showed up with it in July 1969, he lapped Virginia International Raceway at just one second off the track record. Later in the year he swept two SCCA regional events. From VIRGINIA INTERNATIONAL RACEWAY, by Chris Holaday.
(Ed Cabaniss Photo)
four
---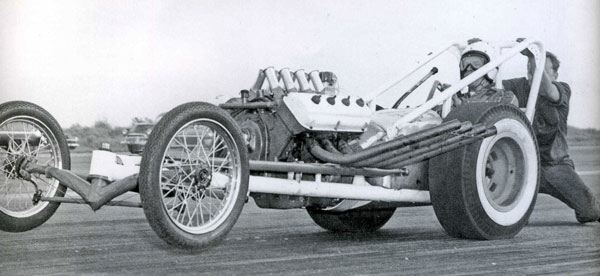 What guys would do for a thrill! Some members of the Strokers hot rod club showed up at Cranston, RI, in 1959 to try out their new rail car. The driver, Carl Debien, was desperately seeking the thrill of a wheel stand, but he needed a little manual assist. That worked, but the front axle broke when it came back down on the pavement. From HOT ROD ROOTS – A Tribute to the Pioneers, edited by Dain Gingerelli. (Carl Debien Collection)
four
---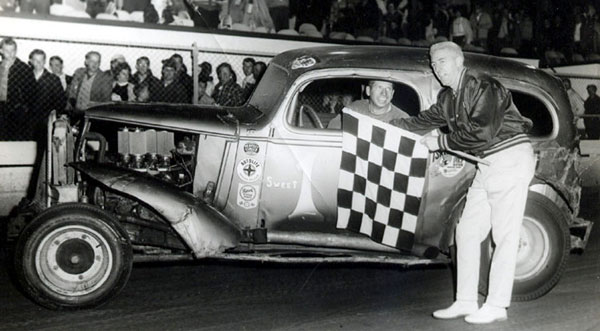 Herby Tillman was based in Miami, but he often sallied off to the North in the sixties, just when Northerners were thinking of going South. He was a terror wherever he went, dirt or asphalt. He is shown with his infamous Sweet 16 coach being congratulated by starter Ray Sullivan following a win at Flemington. Some rail birds contend that Bobby Allison built that car. (Daye Dykes collection)
FOUR
---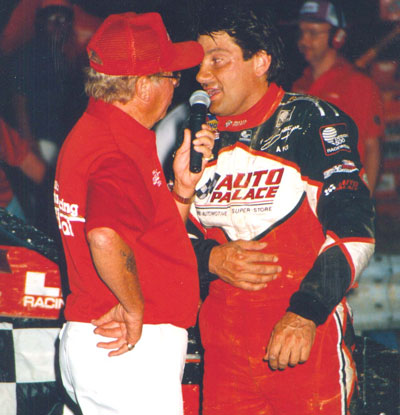 We received the following email from Frank Simek, the seasoned Pennsylvania photographer known fondly as "the guy with the hat." Writes Frank, "Another reason the off-season is depressing: Warren Ruffner – the voice of Reading Fairgrounds, Penn National, and others – has left us. This should interest you because this man was responsible for probably a major portion of the nickname list you're accumulating on www.coastal181.com. Warren is shown here interviewing Brett "The Jet" Hearn after a win at Penn National in June 1994." (Frank Simek Photo)
FOUR
---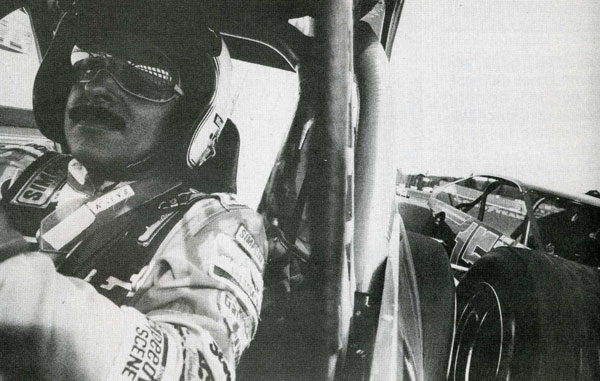 Celebrated Connecticut lensman Howie Hodge has been doing cool stuff for years. Way back in the early '90s, he was leading the pack in putting cameras inside modifieds. Here his equipment captures Reggie Ruggiero at work at Stafford. As you can see, Mike Stefanik is in very hot pursuit. Those mod boys sure ran close. From Mike Calinoff's Racing Times. (Howie Hodge Photo)
four
---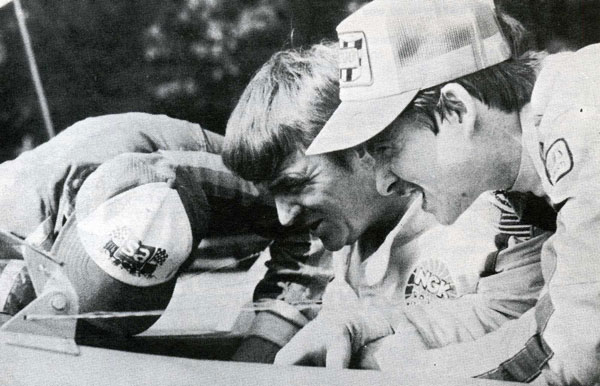 Sponsored by SuperAmerica, Wisconsin's Tom Reffner had an incredible win record. Here he delves into a problem with his late model, and it sure seems that Marv Marzofka and Mark Martin have opinions on the subject. From Dream Chasing in Central Wisconsin, by Fr. Dale Grubba
four
---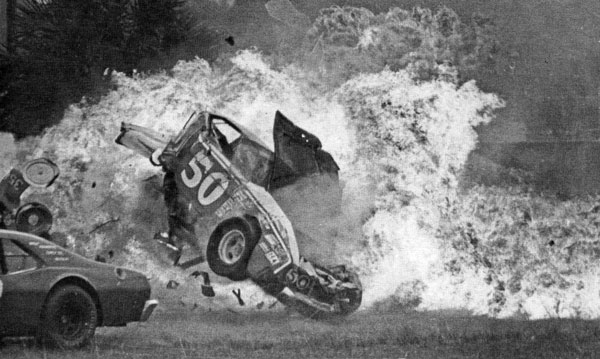 Independent NASCAR shoe Joe Frasson was running upfront at Daytona in February 1979 until he got in a jingle, stopped on the backstretch, and got slammed by Delma Cowart. Fortunately, he wasn't hurt too badly because he had just put on a new fire suit and NOMEX underwear. The heat was so intense, though, that Joe's goggles melted to his face. From DECLARATIONS OF STOCK CAR INDEPENDENTS, by Perry Allen Wood. (Frasson Collection)
four
---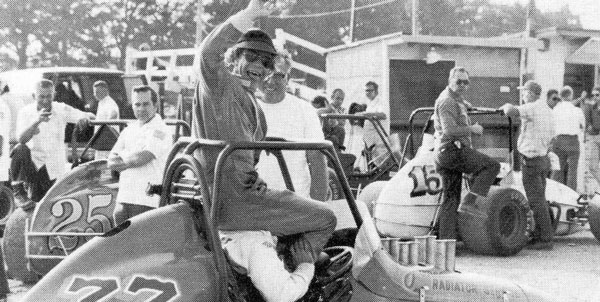 On June 7, 1975 the USAC Sprints ran Schererville, Indiana. The always playful Jimmy Caruthers hammed it up, right on the top of Johnny Parsons. It is so sad to remember that Caruthers would die of cancer before the year was out. From USAC SPRINT HISTORY – 1956-1980, Cal Hungness, Publisher. (Yzenbaard Photo)
four
---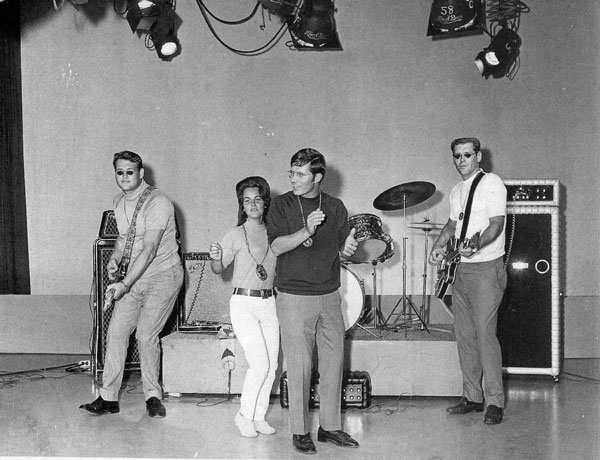 Caught in the act! How about this for a crew!? L to R, that's Tiny Lund, wife Wanda, Paul "Little Bud" Moore, and Buddy Baker. From THE LAST LAP – The Life and Times of NASCAR'S Legendary Heroes, by Peter Golenbock. (Courtesy Wanda Lund Early)
four
---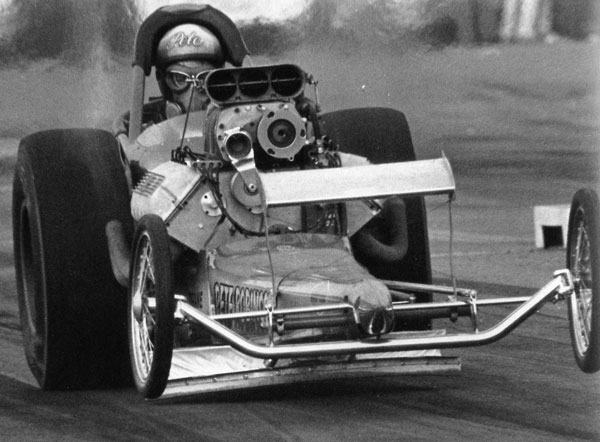 During the 11th Annual NHRA Winter Nationals, "Sneaky Pete" Robinson cleared the lights at 6.77/195mph. Would that the run had finished right there. Witnesses say a ground-effect panel then separated, and the car came apart, pounding the guardrail. Robinson did not survive. From KINGS OF THE QUARTER MILE – Rail-jobs, Slingshots, and Mid-engine Dragsters, by Lou Hart. (Tom West Photo)
four
---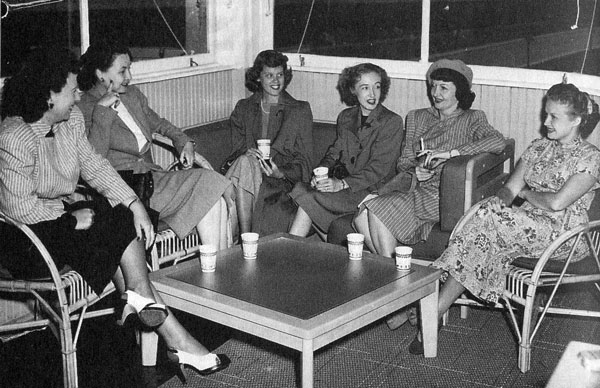 Sewing circle at the world's most famous speedway? The wives gather in Indy's pagoda in the '50s. That's, L to R, Valerie Bettenhausen, Boots Shaw, Alice Hanks, Toots Hansen, Cheri Nolan, and Marie Chitwood. From SAFE AT ANY SPEED – the Great Double Career of Joie Chitwood, by Jim Russell and Ed Watson. (Chitwood Collection)
four
---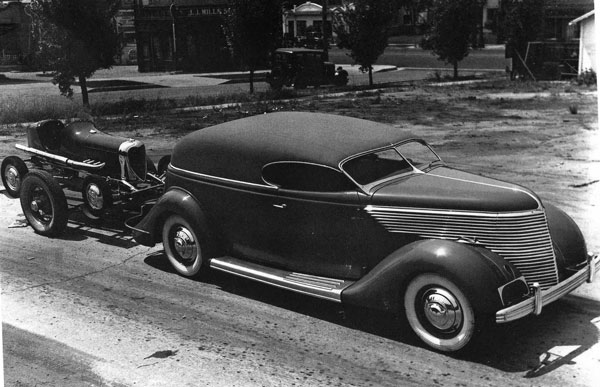 Frank Kurtis did it all. How about the '36 Ford he presented to the Southern California Plating Company to tow their race car to Ascot? The chopped and padded roof – and slanted windshield – were predictors of the early West Coast custom style.
From KURTIS-KRAFT – Masterworks of Speed and Style, by Gordon Eliot White.
(Bruce Craig Photo)
four
---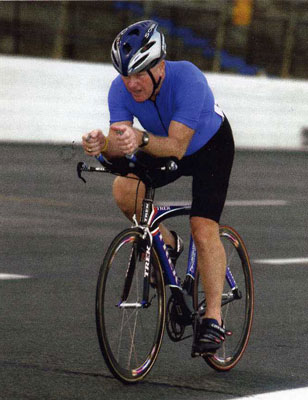 Humpy – always hustling. From GROWING UP NASCAR – Racing's Most Outrageous Promoter, by Humpy Wheeler and Peter Golenbock.
FOUR
---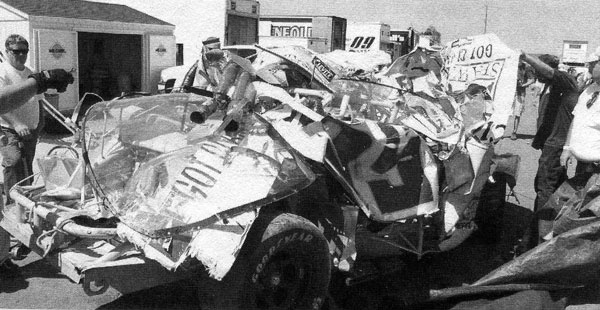 On the very first lap of the 2002 Little Trees Busch North 150 at Watkins Glen a wreck rang up over $1,000,000 in damage, eliminating 13 starters. In his cool new book, BUSCH NORTH SCENE - A Ten Year Retrospective, George Campbell says it was the worse wreck he ever saw in his long-time coverage of the Series. Likely Martin Truex Jr. would agree. That's his car above. (George Campbell Photo)
fjour
---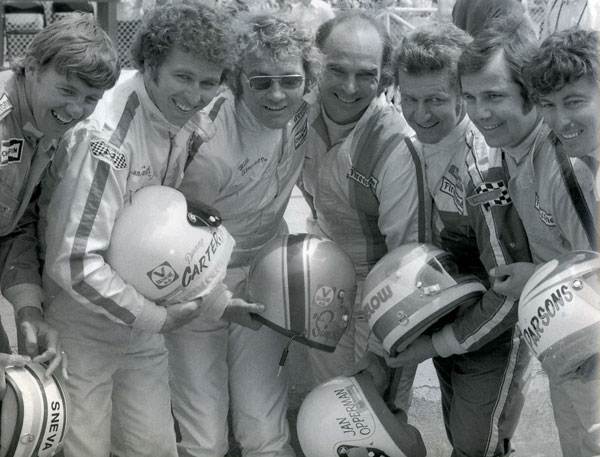 Not sure where this gang should be shown. Maybe on the post office wall. They were the rookies at the Indy 500 in 1974. Left to right, Tom Sneva, Pancho Carter, Bill Simpson, Jan Opperman, Tom Bigelow, Larry "Boom Boom" Cannon, and Johnny Parsons. From INDIANAPOLIS 500, A Century of Excitement, by Ralph Kramer. (Indianapolis Motor Speedway Archives)
four
---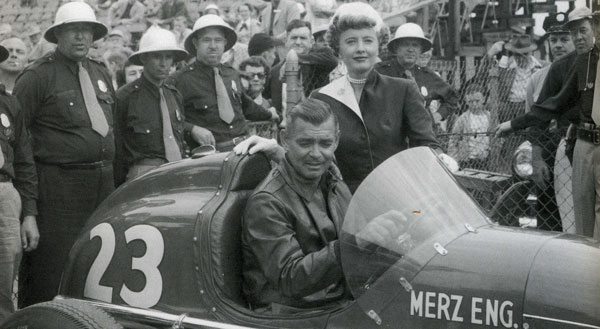 Clark Gable and Barbara Stanwyck were at the Brickyard in 1950. They were filming "To Please a Lady". The production sure had legs. Today, 60 years later, it is one of Coastal 181 top selling DVDs. From INDIANAPOLIS 500, A Century of Excitement, by Ralph Kramer. (Indianapolis Motor Speedway Archives)
FOUR
---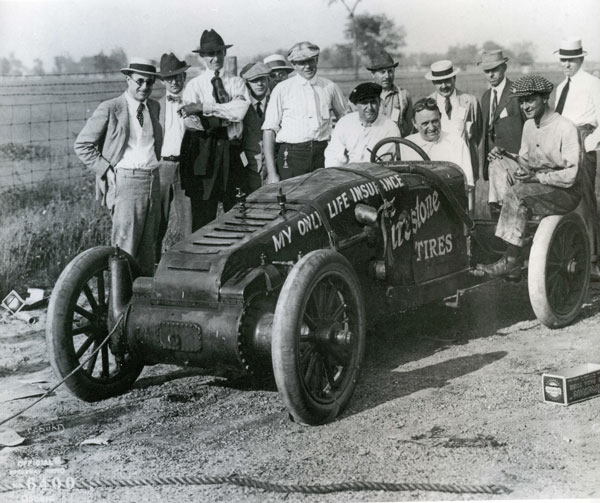 Barney was brave. The stogie-chomping Oldfield was the first to turn in a lap at over 100mph at Indy. He was in this front-wheel drive Christie, and his Firestones looked pretty bald if they were his only insurance policies. From INDIANAPOLIS 500,
A Century of Excitement, by Ralph Kramer. (Indianapolis Motor Speedway Archives)
fjour
---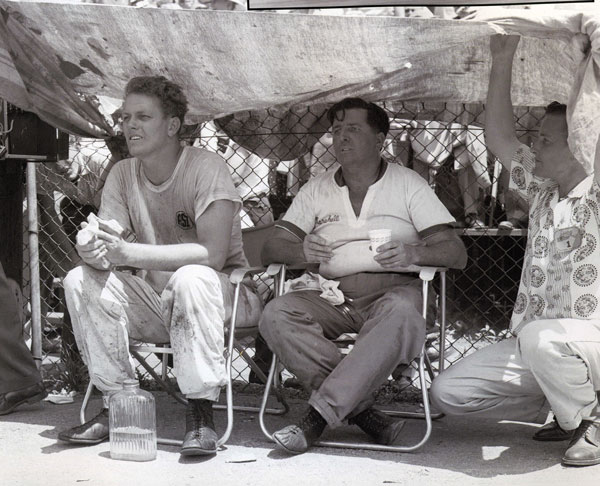 The Indy 500 was star-crossed in 1955. An enormous crowd watched Bob Sweikert blast to victory following the death of his buddy Bill Vukovich on lap 55. The race was also sun-drenched. Here Troy Ruttman (L) and Marshall Teague rehydrate under a protective blanket while watching their relief drivers carry on. From INDIANAPOLIS 500, A Century of Excitement, by Ralph Kramer. (Indianapolis Motor Speedway Archives)
FOUR
---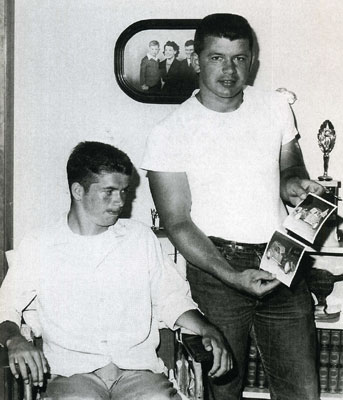 On Monday night, July 4, 1960, Roger "Nub" Cuckler got into the wall at Atomic Speedway (now K-C) in Alma, Ohio. He flipped down the straight and his belt broke. Shoulder harnesses were not yet in vogue. It was said he was "rag dolled out the side." He was instantly a quadriplegic. This image was taken shortly after the incident while Nub's brother, Dan, shared some memories. That was soon all there was. Dan died in grinding crash on August 8, 1964. From ECHOES OF THUNDER IN THE HILLS, Photographic Memories of 1960s Auto Racing in Southeastern Ohio and Adjoining West Virginia, by Tony Martin.
four
---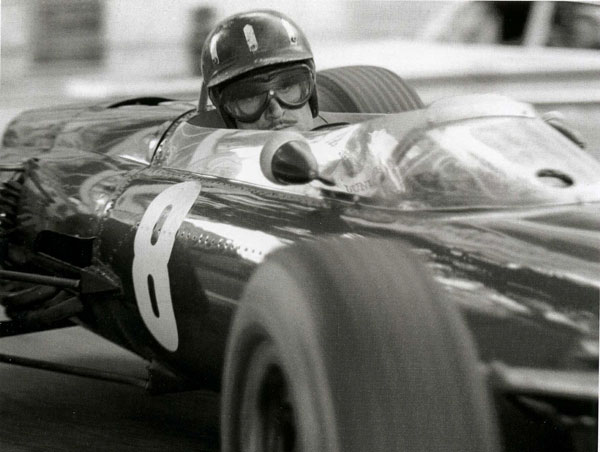 His name was Graham Hill, but he shows the cool calmness of a high mountain. He was on his way to victory in the Monaco Grand Prix in Monte Carlo on May 10, 1964. Two Mays later the two-time Formula One Champion won Indy. Eleven years later he would perish landing his plane in heavy fog just North of London. From THE GOLDEN AGE, Images from the Klemantaksi Collection (Colin Waldeck Photo)
four
---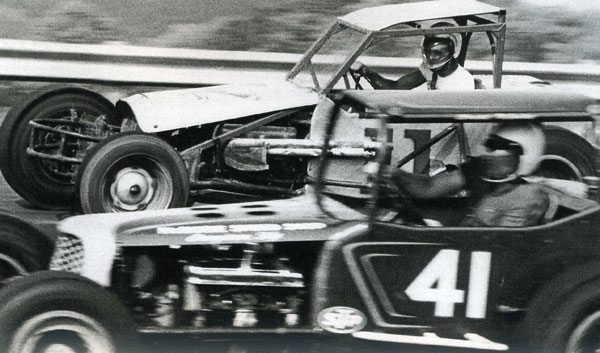 Grayson, Kentucky's Wayne McGuire had 'em covered in his #41 early super in the sixties. Here he steams past Curt Kraft on his way to victory at the inaugural event at Ona, West Virginia, in 1963. From ECHOES OF THUNDER IN THE HILLS, Photographic Memories of 1960s Auto Racing in Southeastern Ohio and Adjoining West Virginia, by Tony Martin.
four
---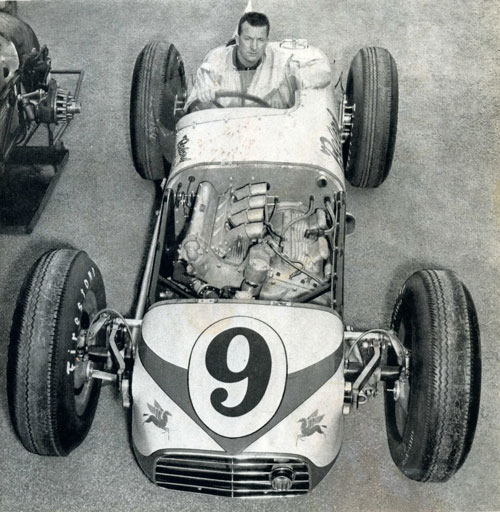 George Salih hand-built the Belond Exhaust Special in the garage of his California home and popped in one of those wonderful four cylinder, 450 HP Offies, tilted at 18 degrees. He tried to sell the car, but couldn't so he brought it to Indy for the 1957 500. He offered the ride to Sam Hanks, who went home $103,000 the richer, after outdueling Paul Russo in one of the thundering Novis. Hanks subsequently retired, and Salih gave the keys to Jimmy Bryan for 1958. Bryan won, too. (Good thing, because he had just been replaced in the Dean Van Lines team by a rookie from Texas named Foyt). From RACING CARS, by Richard Hough (Peterson Publishing Photo)
four
---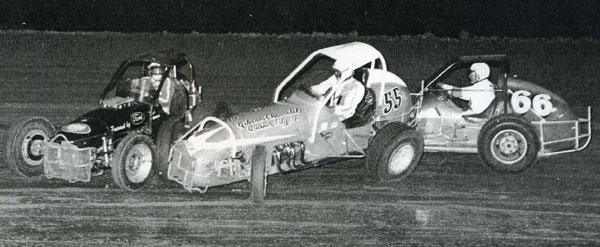 It was one terrific trio up front in the 1964 Ohio Valley Speedway Supermodified Invitational. That's Gus Linder in the #69, Marietta's Larry Dickson rough-housing in the Long Brothers' #55, and Ralph Quarterson being protective of the Crash Brothers #66. Quite remarkably, given the proclivity of his front axle, Dickson recovered and won the show.
From ECHOES OF THUNDER IN THE HILLS, Photographic Memories of 1960s Auto Racing in Southeastern Ohio and Adjoining West Virginia, by Tony Martin
four
---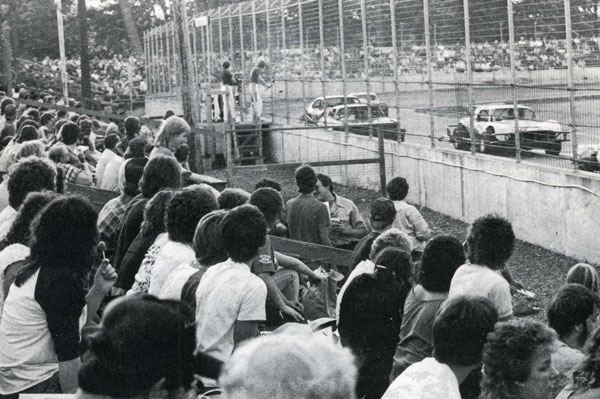 In the 1930 s a midget track was built at the Dorney (amusement) Park in Allentown, PA. After the war it moved over to jalopies and stock cars, and the tradition stayed with Saturday night racing for decades. Suddenly, the Park was sold and the track dismantled to make way for the expanding Wildwater Kingdom. The surprise decision was a bummer for promoter Jerry Fried, who was also losing nearby Nazareth Speedway. From AUTO RAC'R, March/April 1987 (Tom Boyd Photo)
four
---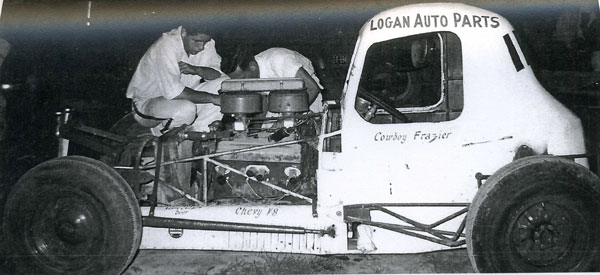 Cowboy Frazier, in the fire suit, watches as Kenny Childers fiddles with his modified, one of the fastest along the Ohio River in the sixties. The unique machine had no roll cage. It utilized monocoque construction. Kenny was unique, too. He owned the Black Diamond Coal Mine. From ECHOES OF THUNDER IN THE HILLS, Photographic Memories of 1960s Auto Racing in Southeastern Ohio and Adjoining West Virginia, by Tony Martin
FOUR
---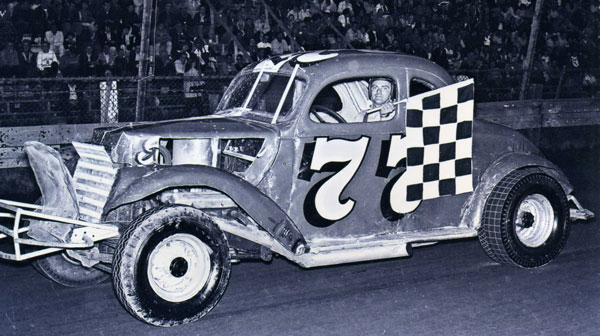 Dick Welch's '37 Ford with a Chevy small block and lots of bumpers was a classic in the Empire District of New York State in the sixties. So was the driver, Irv Taylor. Irv was the local utility shoe, ready to perform in whatever you had. He sure had his moments. Irv recalls, "How about the night in Henry Caputo's car at Middletown? I tangled that Sportsman with a couple of modifieds and started flipping. I closed my eyes and we ended up upside down in a gully. I opened my eyes and couldn't see anything, but I didn't hurt. I thought, 'Death ain't that bad.' Eventually I saw a track light and knew I had more life to deal with. They had been burning garbage and the soot down there was unbelievable. We jacked out the roof and qualified through the consi. Henry wasn't too happy, but that was okay. I had other stuff to drive." (John Grady Collection)
FOUR
---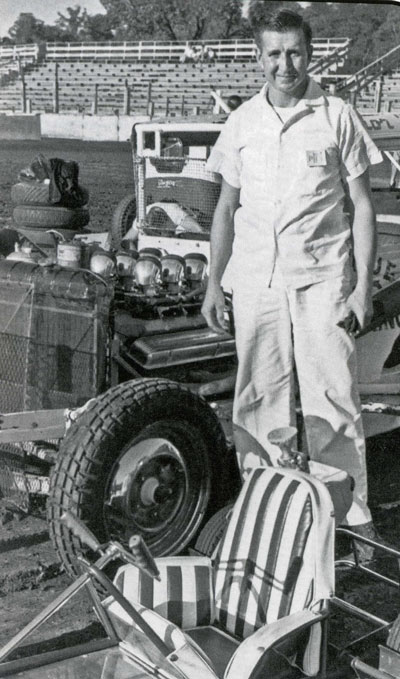 One of the greatest ever out of the Midwest was Junior Hower. He loved the flatheads, but he was a terror in this #24 modified as well. He did not have that Chevy on a low carb diet. From UP ON THE WHEEL: Kansas City Auto Racing, by Bud Hunnicutt
(Sarah Morgan Burke Collection)
FOUR
---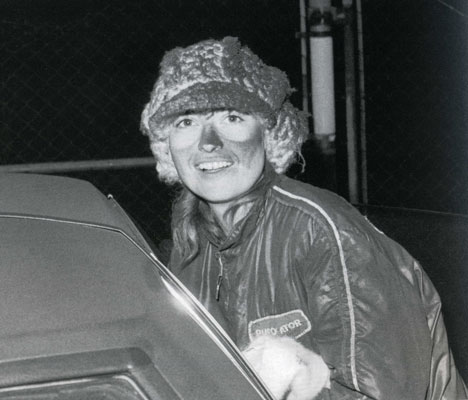 She is Mary Etta Weld, Kenny's widow, shown here after scoring a race that was definitely not on asphalt. Mary and Kenny met at 12 years old on their school bus. She never wavered through the ups and downs of his life, and they had two daughters, Debbe and Tara. From UP ON THE WHEEL: Kansas City Auto Racing, by Bud Hunnicutt (Mary Etta Weld Collection)
four
---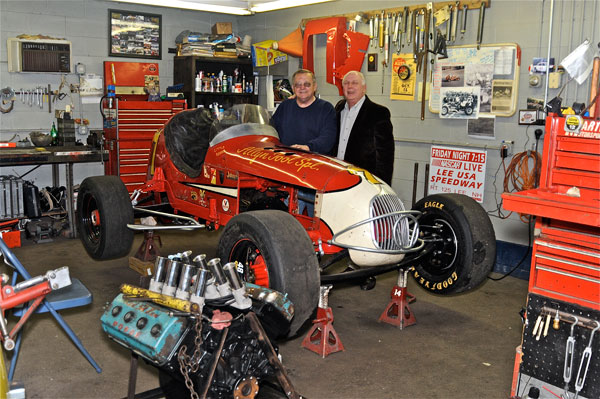 Gentleman" Jim Martel (left) and Skip Matczak were once teamed as driver/owner. Martel, who achieved enormous success as a stock car, cut-down, supermodified and sprint car driver, has largely retired from his garage repair business, which is now handled by his son, former supermodified star Scott Martel. Matczak has for years fielded sprint cars and supermodifieds, winning races and championships. A few years ago, Matczak tracked down his old Hilegass sprint car and recently brought it to Martel to restore. The Dodge Hemi fuel injected engine for the car was delivered on November 14, 2010 and sits in the foreground. The car will not be entirely restored, as the body panels will remain as they were when the car came off the track. It was driven to wins by Buddy Krebs and Gene Bergin. The car variously had a roll cage, a roll bar, and nothing at all to protect the driver in a roll-over. As you can see from the photo, Martel and Matczak are good friends. (Text and photo by Dick Berggren)
four
---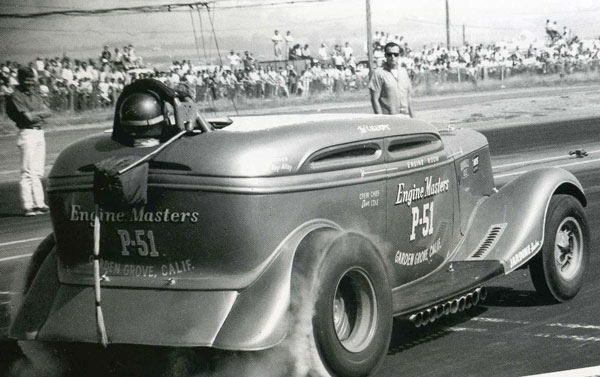 Ray "the All American Boy" Alley was all over the California dragways in 1965. He campaigned this '34 Ford powered by a Mustang (aircraft) P-51 engine. It made much noise but little speed. At any rate, Ray had the bird's eye view. From FUNNY CAR FEVER: The Birth of Drag Racing's Wildest Class, by Steve Reyes.
four
---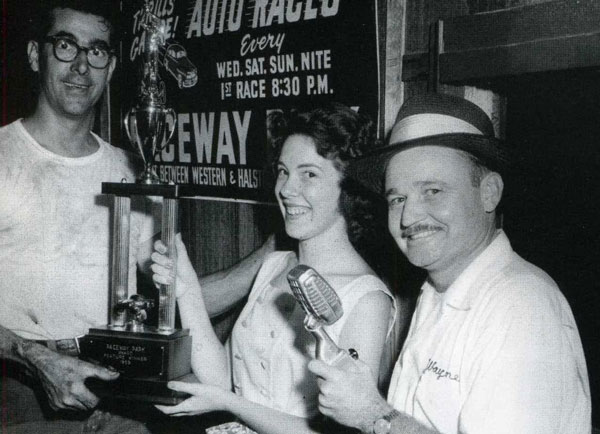 Bob Pronger wins one at Blue Island's (Chicago) Raceway Park in 1959, talked up by announcer Wayne Adams. Pronger went on to be the second biggest winner there with 148 features. Arch rival Bud Koehler had the most, with 490 stock car wins over 40 years. Pronger's career, however, was stopped short. According to the Raceway Park history, "It was common knowledge that Pronger was involved in car stealing and chopping activities, and his 1971 disappearance was believed to be a mob hit." From BLUE ISLAND'S RACEWAY PARK by Stan Kalwasinksi and Samuel Beck. (Stan Kalwaskinksi Collection)
four
---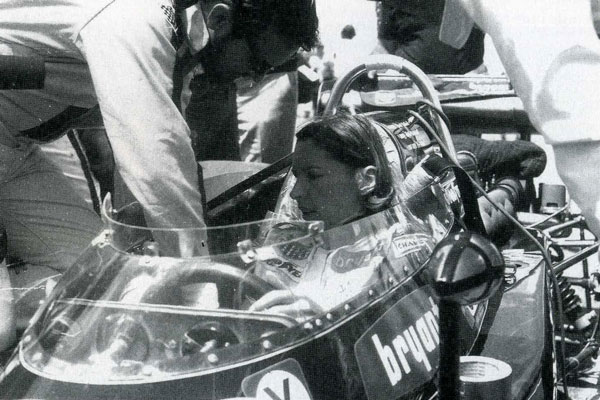 It's now almost 35 years ago that Janet Guthrie became the first female to run an Indy car 500-mile race. Her achievement helped draw a record crowd to Pocono for the 1976 Schaefer 500. From POCONO RACEWAY, by Gene A. Card (Gene A. Card Photo)
FOUR
---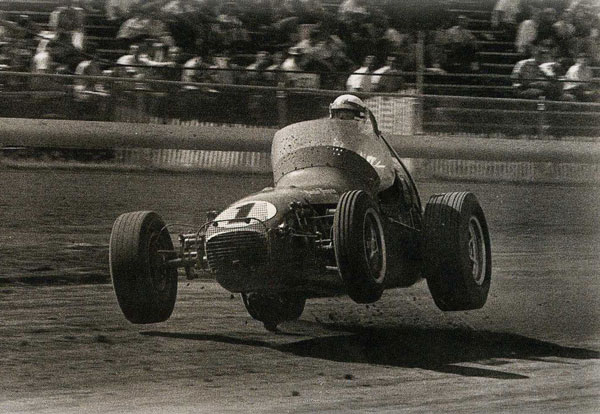 It had to be – and it was. AJ Foyt on the dirt in 1968. From THE WINNERS BOOK: A Comprehensive Listing of Motor Racing Events from 1985-2009, by James O'Keefe. (RMA/Torres Photo)
four
---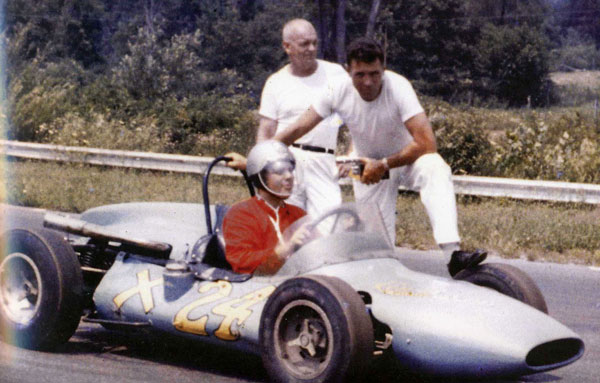 Good guy Ken Brenn, leaning on the roll bar, gave Mark Donohue a shot in his Offy-powered Cooper midget at Lime Rock, CT, in July of 1963. Donohue won it big time, his first professional race. That's crewman John Cunningham next to Ken. From MARK DONOHUE: His Life in Photographs, by Michael Argetsinger. (Bill Wiswedel Photo)
four
---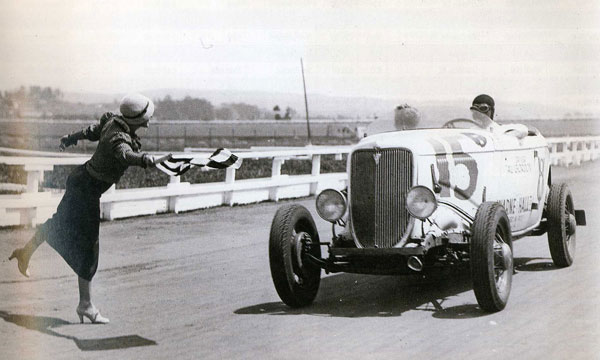 A wife engaged! Helen Gordon greets her husband with the checkers at Oakland, CA, in 1934. From THE WINNERS BOOK: A Comprehensive Listing of Motor Racing Events from 1985-2009, by James O'Keefe. (RMA Photo)
four
---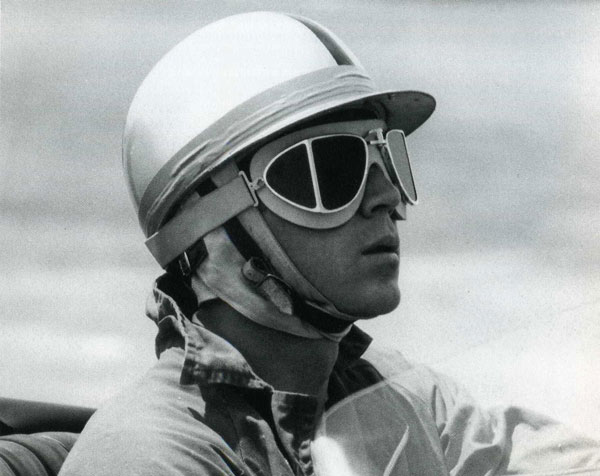 Steve McQueen once told biographer William Nolan, "I'm not sure whether I am a racer who acts or an actor who races." He raced on the dirt of Ascot to the road course at Sebring. From MCQUEEN'S MACHINES: The Cars and Bikes of a Hollywood Icon, by Matt Stone. (Chad McQueen Collection)
four
---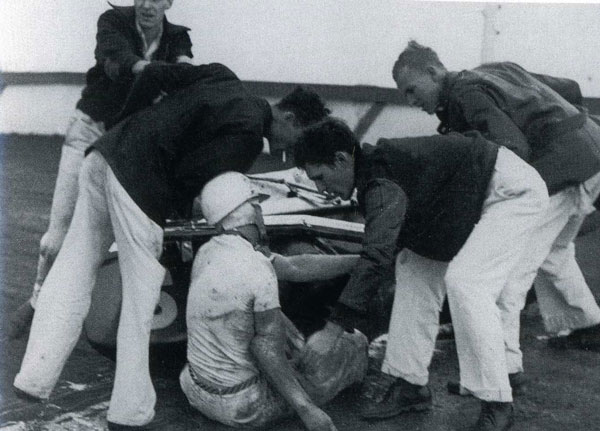 Ouch. Track workers comforted George Witzman at Detroit in 1939. The midget sure looks broken; so does George's arm. From THE RIM RIDERS, The World's Fastest Racing Circuit, by Buzz Rose. (Bert Emick Collection)
4
---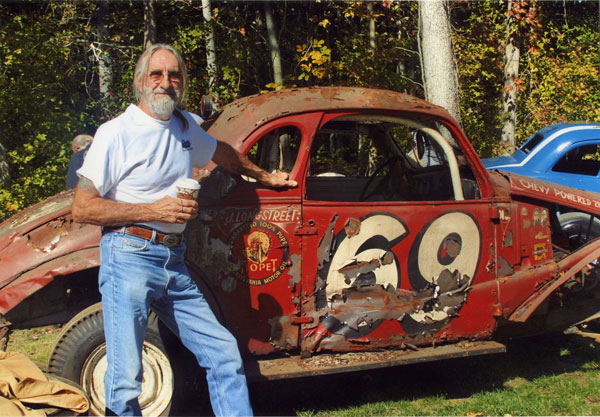 Our buddy Charlie Lindmar out of Tavernier, Fl., came up North to the Old Bridge Speedway Reunion in October. What a surprise awaited him. He was reunited with the #69 Chevy he ran in the sixties before joining the Marines. Today Charlie is one of the finest Modified artists in the country. Check out his work on our site HERE.
(Ed Duncan Photo)
4
---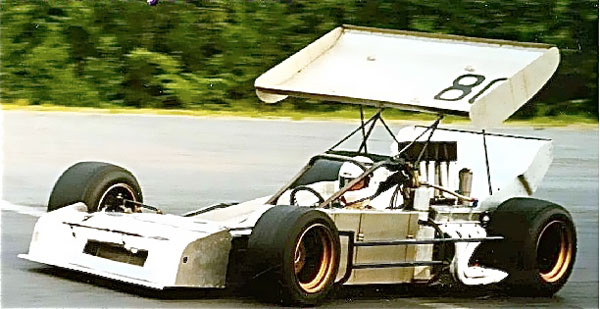 Back when the world was young, the folks at Coastal 181 and Dick Berggren had team race cars. Bergie had quite the career behind the wheel before going national with his camera, his word processor, and his TV microphone. He was particularly successful in a Don Edmunds' four bar sprinter, but the Supermodified, shown here at Star Speedway in New Hampshire, was his most intriguing car. Built by Doug Gore, it used a lot of Bill Hite's innovative design. (Roger Slack Collection)
four
---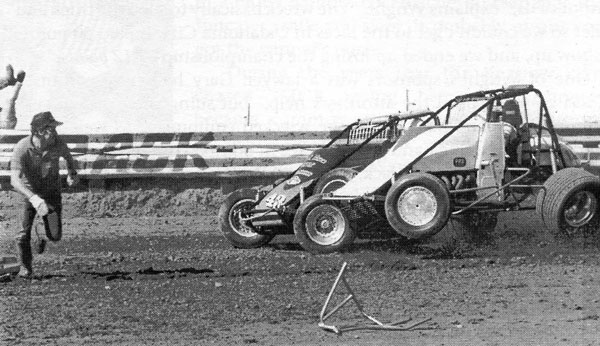 Figure this one out! This image has not been Photoshopped. From Win It or Wear It – All-time Great Sprint Car Tales, by Joyce Standridge. (Kevin Horcher Photo)
four
---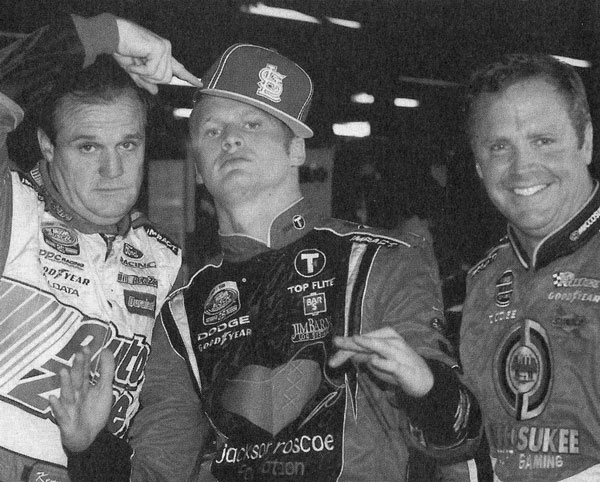 Sure Mike Wallace (R) was grinning, but he was being a lot more serious than his little brother Kenny (L) or his nephew Steve. From Inside Herman's World, by Kenny Wallace with Joyce Standridge. (Kenny Wallace Collection)
FOUR
---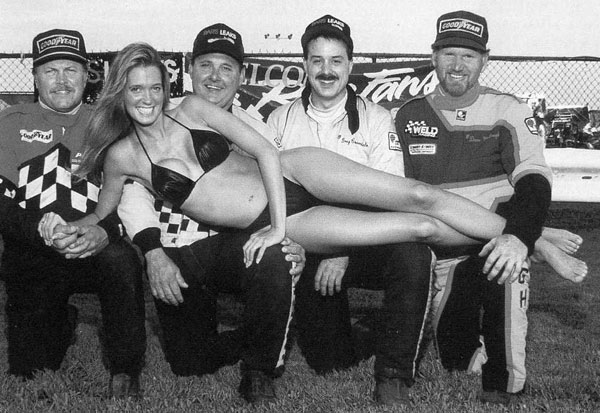 It's 1994 and that's Jennifer Weaver at a URC show. (Oh yeah, and L-R: Glenn Fitzcharles, Kramer Williamson, Greg Coverdale, and Dave McGough.) From Tow Money Vol. II, 1978-2006 by Buzz Rose. (History of the URC).
four
---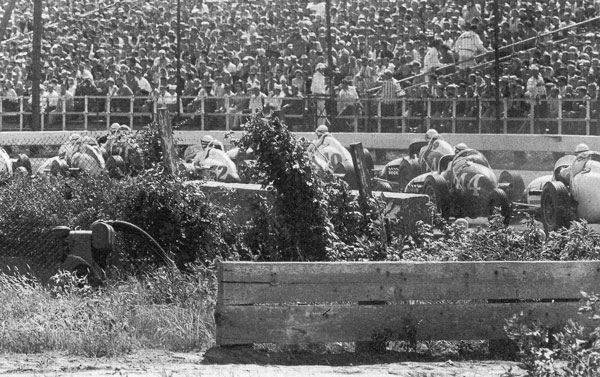 The parade lap of the champ cars at Langhorne in 1959. Van Johnson won it in
the Vargo Offy, far right of this image. From Langhorne! No Man's Land, by L. Spencer
Riggs. (Dave Knox Photo, Courtesy Racemaker Archives)
four
---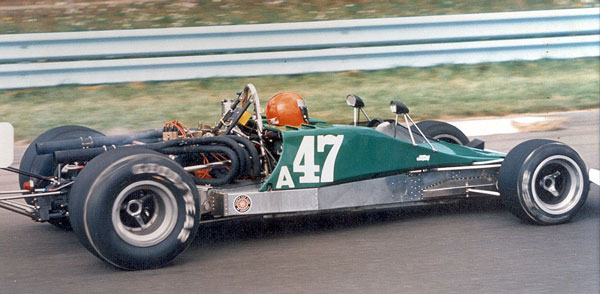 We really are all gear heads here at Coastal 181. This is an image of our "Web Chief," Norm Marx at Watkins Glen. He raced a Lola T300 with a 5 liter Chevy in the SCCA Formula A/Formula 5000 class from 1974 to 1976 and a variety of Formula Fords from 1970 to 1993. Today he is the top racing webmaster in New England.
four
---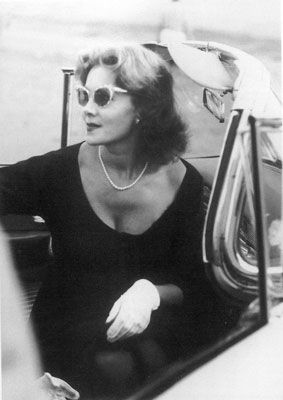 10,000 people crammed into Dayton Speedway in 1956 to watch Ed Elisian outrun Pat O'Connor in the 50-lapper for USAC Champ cars. And every one of them watched red-headed film star Rhonda Fleming as she toured in the pace car. From Indy Cars on Short Tracks, by Buzz Rose. (Bob Mount Collection)
four
---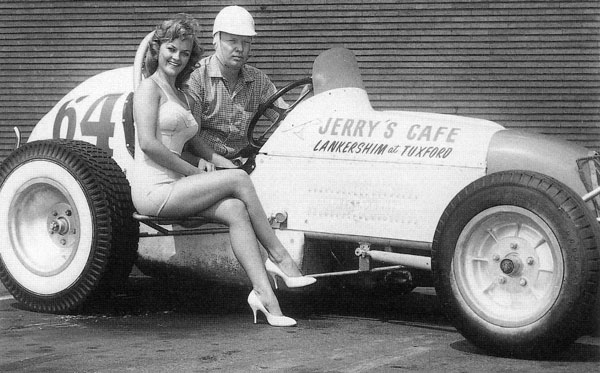 White walls and white heels. On June 1, 1957, Rip Erickson won the first sprint car race at Los Angeles Speedway. There were many changes at the facility that finally closed in 1990, but "Ascot" always had fast cars and lovely women. From Indy Cars on Short Tracks, by Buzz Rose. (Buzz Rose Collection)
four
---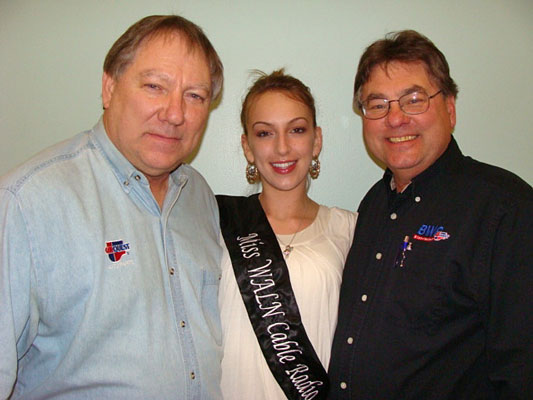 Last night we were honored to be on the CARQUEST Gasoline Alley TV/Radio/Internet show. Hosted by Steve (L) and Ed Pados, the popular Monday night program was celebrating its 500th edition! It is an absolute must for racing heads anywhere in the country. The show is from 6-8pm EST weekly, audio at www.walncalberadio.com and it's :livestream.com/walncableradio.com for the video program. That's Steve and Ed, flanked by Vicky Kidd, Miss WALN Cable Radio. (Pados Collection)
four
---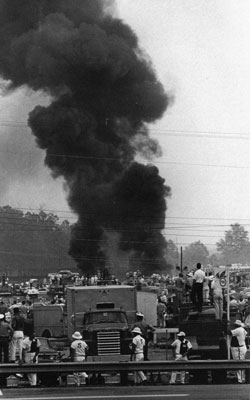 Fireball Roberts. Charlotte Motor Speedway May 24, 1964. From MANMADE THUNDER, by Godwin Kelly. (Don Hunter Collection/Smyle Media)
four
---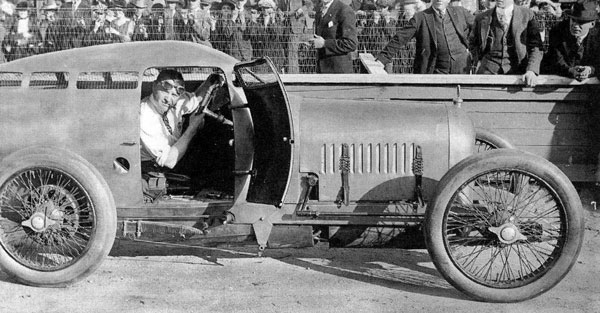 Harry's hardtop. Harry Miller built this one-time only "Golden Submarine" in 1917 for the princely sum of $15,000. That's Barney Oldfield at the helm. From Wooden Rails and Rooster Tails, by Earl Fabritz and Allan Krause. (Al Krause Collection)
four
---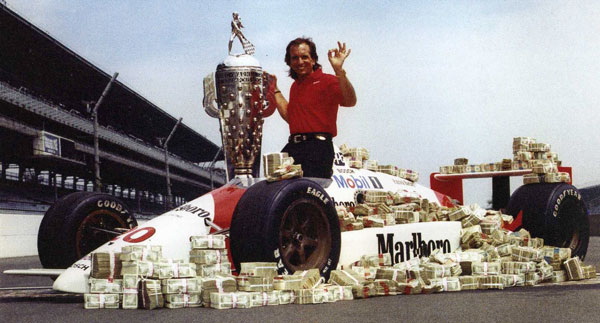 When Emerson Fittipaldi won the Indy 500 in 1989, he was the first to haul in over $1,000,000. Marketer Bill Donaldson thought this called for a photograph. But it required a trip to the vault first. From Indianapolis Motor Speedway – 100 Years of Racing, by Ralph Kramer. (Courtesy IMS archives)
four
---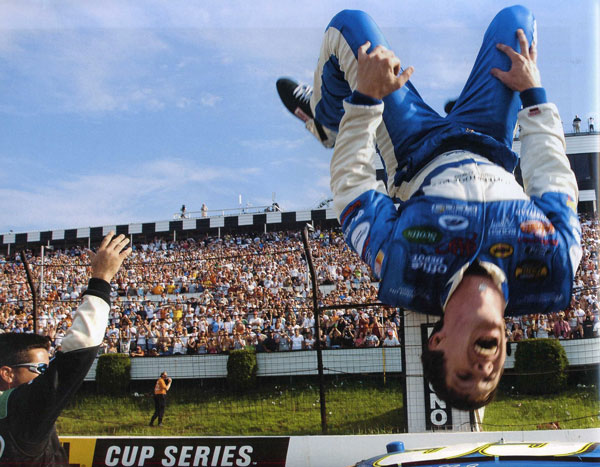 Cousin Carl (Pocono 500, 2005). From MANMADE THUNDER, by Godwin Kelly,
(Sam Sharpe/www.TheSharpeImage.com)
four
---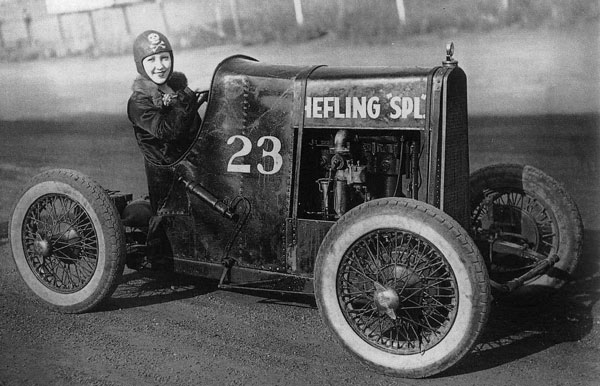 Elfreida Macs, known as "World's Champion Woman Driver," was ridin' high in the summer of 1934. Just married, she was a big-time attraction. It all ended at the Alabama State Fair on September 26. She died ramming a car through a board wall of flames. From Racers at Rest, by Buzz Rose. (Photo from Show Biz Auto Racing)
FOUR
---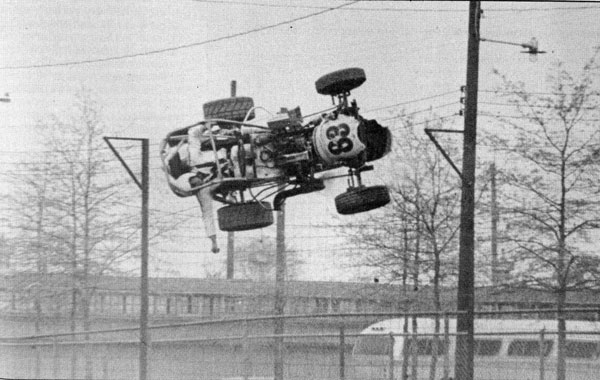 Senior citizen midgeteer Len Duncan tests Ed Darrell's car at Flemington, N.J., in 1972. "That was my worst accident," he said later. "But, not only that, someone stole my wallet out of my uniform between the track and the hospital. It had my social security card in it—and, at my age, I needed it." Racin' Times, June 1991.
four
---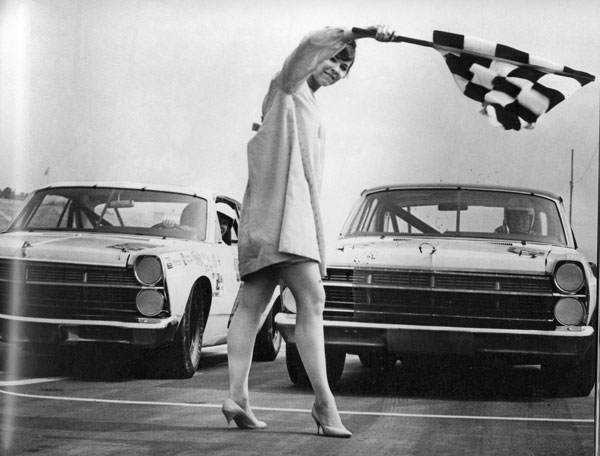 It's the front row at the 1967 Charlotte World 600. That's Darel Dieringer on the left, Cale Yarborough on the right, and one very pretty flag person in between. From MANMADE THUNDER, by Godwin Kelly. (Don Hunter Collection/Smyle Media)
FOUR
---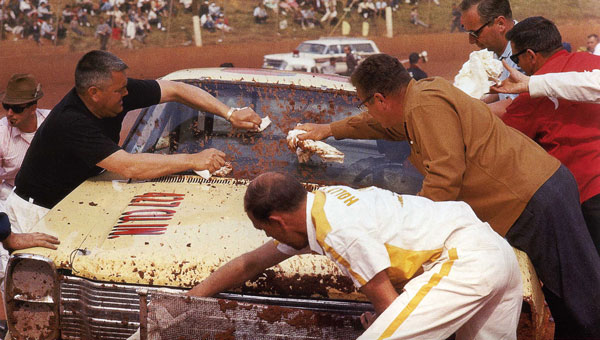 How about Junior Johnson (L) and Banjo Matthews (R) working Bobby Isaac's windshield on the dirt of Hickory (NC) Speedway in April 1966? Imagine life without Tearoffs! (From NASCAR LEGENDS, by Don Hunter and Ben White (Don Hunter Photo)
four
---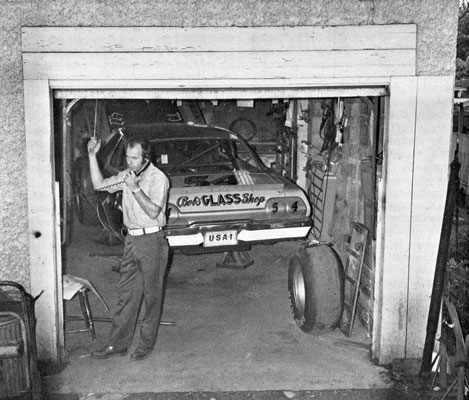 He had no room on the sides, let alone a second bay or a lift. But Lennie Ponds had all he needed to be Grand National Rookie of the Year in 1973. From Superspeedway – The History of Grand National Racing, by Rich Benyo. (Rich Benyo Photo)
four
---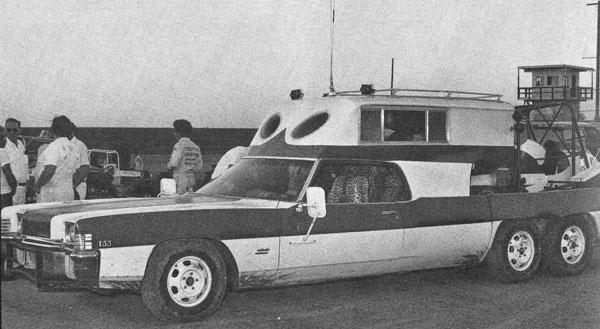 Do you think Gene Nix of Santa Fe, NM, was all set for 1978, the initial year of the World of Outlaws? There's a sleeper on top, a sprinter on the back, and seating for five inside on some very swank upholstery Official World of Outlaws Annual (1980), Carl Hungness Publisher (Leroy Byers Photo)
FOURR
---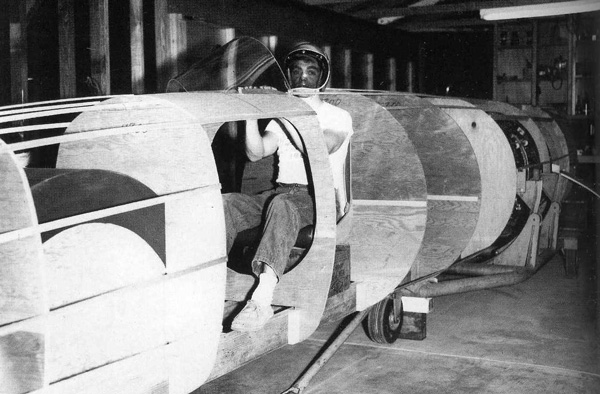 Craig Breedlove perches on a crate in the wooden mockup of the "Spirit of America". When completed, the jet-powered three-wheeler was taken from Craig's father's garage to Bonneville, where it broke the World Land Speed Record in 1963. From Speed Duel – The Inside Story of the Land Speed Record in the Sixties, by Samuel Hawley.
(William A. Moore Photo)
four
---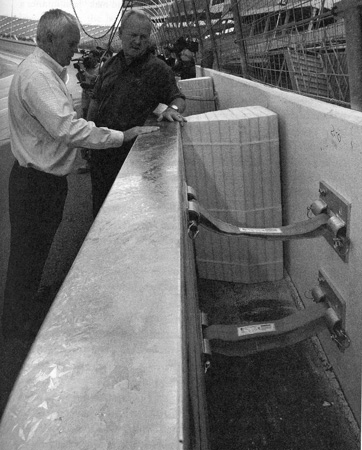 NASCAR's Gary Nelson, left, and Humpy Wheeler, then president of Lowe's Motor Speedway, check the soft walls being installed at Charlotte on April 21, 2004. They are made from rolled steel and foam, hence Steel and Foam Energy Reduction (S.A.F.E.R.) barriers. From The Blount Report, by Terry Blount. (Chuck Burton Photo)
four
---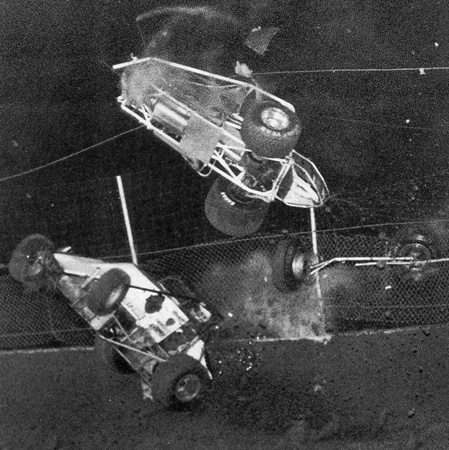 The Dance. Two seriously good open-wheelers tried the two-step together at a CRA show at Eldora in 1991. That's Leland McSpadden on high and Jack Hewitt closer to the floor. From Eldora Speedway – The Most Famous Short Track in America, by Bill Holder. (Bob Fairman Photo) [FYI, we don't have this book – very old]
four
---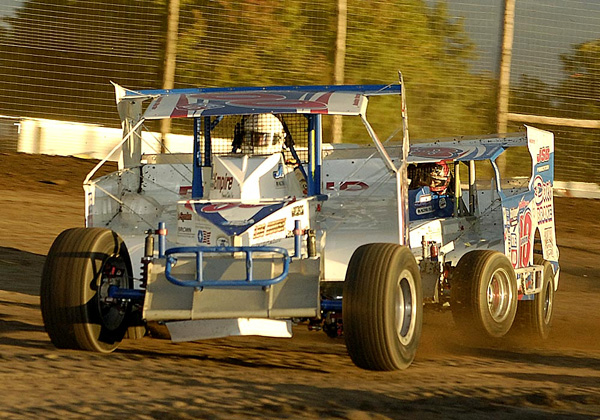 The great lensman and former modified shoe Otto Graham captured this image of the Varin Family at the New Yorker at Utica-Rome this summer. That's dad Bobby trying quite energetically to show son Danny the way around. Do those #00 cars look familiar? They should. Dave Cruickshank of Dover Brake in New Jersey sponsors them, just as he has supported Buzzie Reutimann continuously since the turn of the 1970s. And that's how the number 00 ended up on the superspeedways with David Reutimann. (Otto Graham Photography)
FOUR
---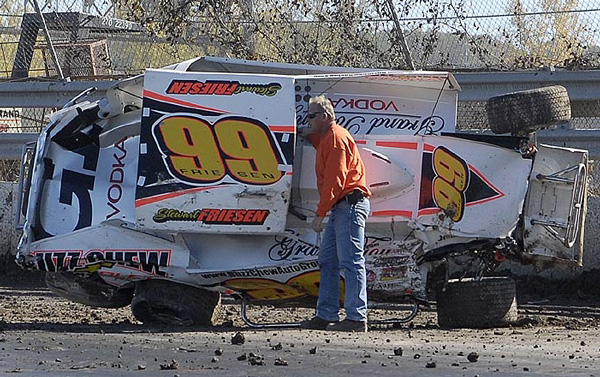 Canada's Stewart Friesen sure put on a show during the Syracuse Super Dirt week. The popular 27-year-old won the prestigious and purse-laden 200-lapper for big blocks, pitting early, and easing into victory lane with the best fuel mileage in race history. In the 358 modified race, he was way fast 'til he caught a wheel. But he did that, too, with serious artistry. He balanced the car perfectly on its right side nerf bar after the high-speed mishap. (Otto Graham Photography)
four
---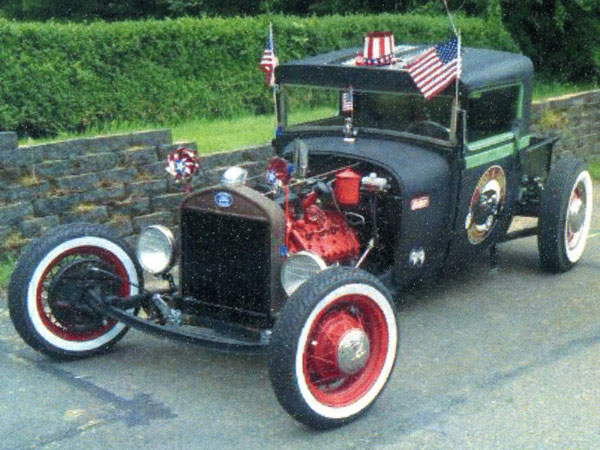 Penske Racing's Don Miller helped build the careers of people like Rusty Wallace and Ryan Newman. He also builds neat cars, like this rat rod crafted for his grandson and decked out for the 4th of July. Don will be a guest on Dave Despain's Wind Tunnel on SPEED TV, Sunday, October 24th, 9:00 PM. He'll talk about his amazing career and his new memoir Miller's Time - A Lifetime at Speed, penned with journalist Jim Donnelly
and published by Coastal 181.
FOUR
---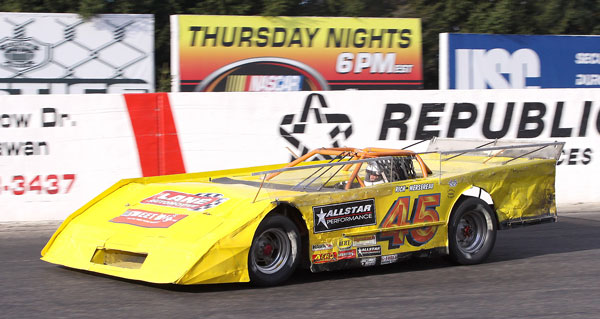 Here's Rocket Rich Mersereau at Kalamazoo Speedway on October 3rd, 2010. Rich is a case. Speedway Illustrated's Karl Fredrickson describes him as "a constantly-on-the-phone, multi-hat- wearing, and laugh-out-loud funny, dirt and pavement expert from Sweet Manufacturing who is as much a student and fan of the sport as he is a championship-winning driver." And he sure fields some wild looking hot rods. This one is owned by Jeff Caron; Rich's "brew chief" is Jeff Vochaska. (Mersereau Collection)
FOUR
---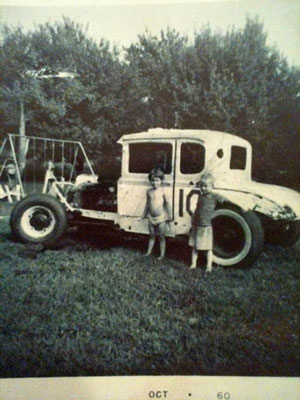 "I'm tellin' ya–it was a junk heap even in 1960, but my father-in-law, Dick Standridge, never had really good equipment in his career. They used to pit these cars up on the hill and then open the gate to the track. Everybody (and I mean everybody) would then race through the pits to the gate like cattle and how you got through there and around the track to the start-finish line was how you started the race. No pill draw, no qualifying. As you can imagine, sometimes they stuffed too many race cars into the gate and had bigger crashes than on the track! Ahhhh. The good (?) ole days. And how I miss my father-in-law still!" Joyce Standridge (Standridge Family Photo)
FOUR
---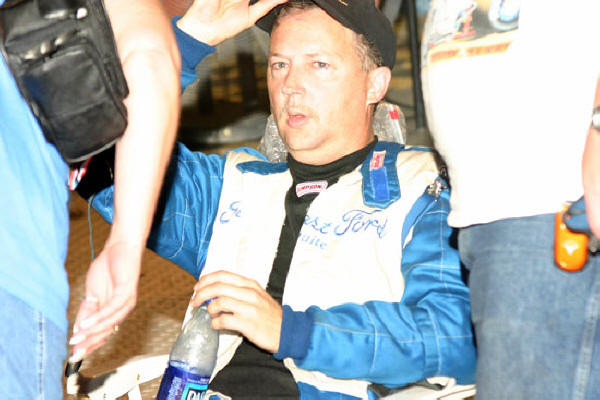 The look of a bell rung big time. Larry Long has just flipped his sprinter out of the ball park off the second turn at Devils Bowl in Mesquite, TX. He was okay, but probably not too happy the next day. (Lew Boyd Photo)
four
---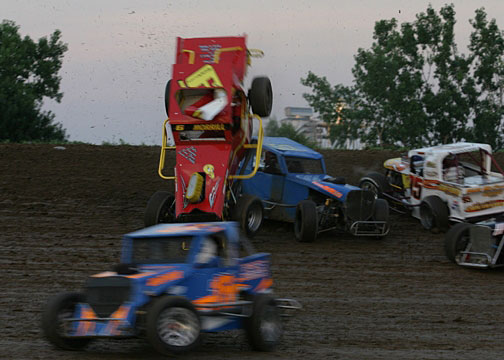 Somehow "Dwarf" doesn't do the cars justice. Get them on the dirt like at Marshalltown, Iowa, and things can get big awful fast. (Kruse Collection)
four
---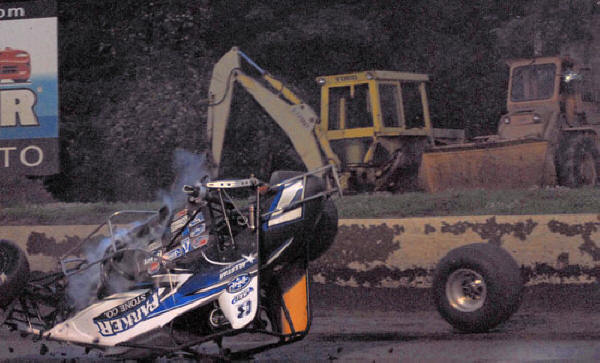 Caleb Armstrong disintegrated during a heat race at Grandview (PA) Speedway in June's USAC Eastern Tour. Those wingless sprinters can get your attention.
(Frank Simek Photo)
four
---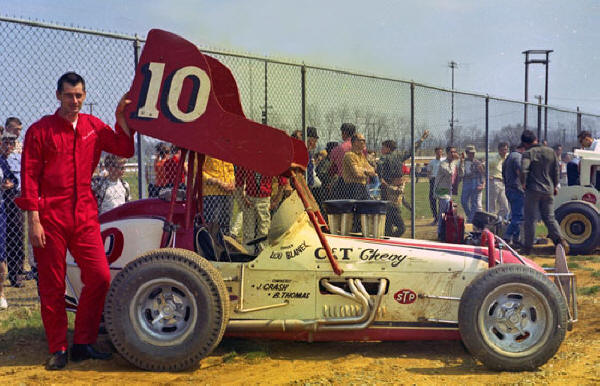 Lou Blaney towed to Williams Grove on April 2, 1967, in search of one of his 600-plus total career wins. He hung up his sprint car helmet in 1981 and moved with enormous success to dirt modifieds. He was Dave and Dale's Dad. He died in January of last year. (Dale Snyder Collection)
four
---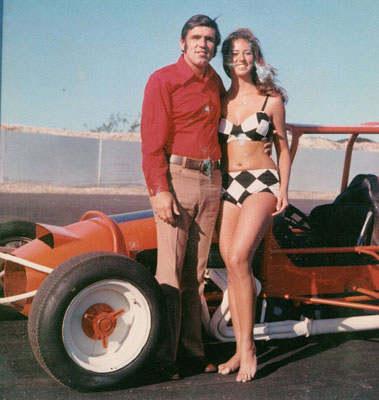 It's Bob Cloutier, Ollie Silva's teammate, at the old Sunshine Speedway in Pinellas Park, Florida, in the late sixties. Nice knock-off on that left front, Bob! (Cloutier Collection)
four
---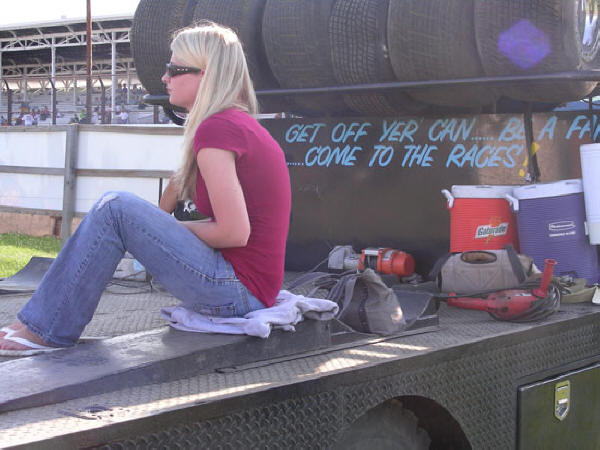 Guess she did. (Coastal 181 Collection)
four
---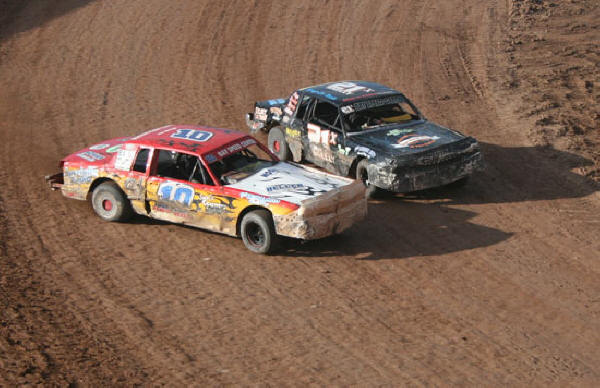 "Respect your father," suggests photographer Bradley Poulsen after capturing this shot at 141 Speedway in Francis Creek, Wisconsin. IMCA Stock Car standout "Hot Rod" Snellenberger in the familiar #10 was being challenged big time by his son Devin in the 21x. They swapped the lead several times, but in the end, father knew that nice-looking surface best. (Bradley Poulsen Photo)
four
---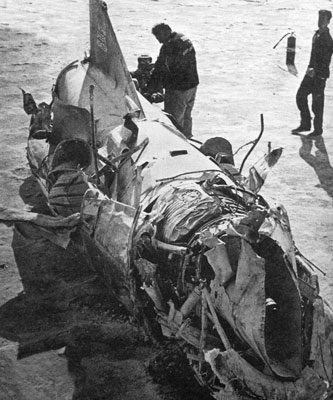 Art Arfons crashed the Green Monster at Bonneville on November 17, 1966. The land speed car was pretty beaten up. Quite understandably, given that it was going over 600 mph. From SPEED DUEL, THE INSIDE STORY OF THE LAND SPEED RECORDS IN THE SIXTIES, by Samuel Hawley (Tom Joswick Photo)
FOUR
---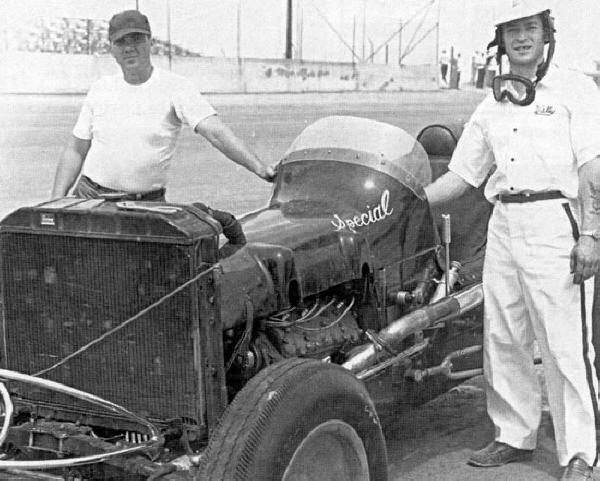 Wally "Crazy Wheels" Campbell was on the fast track to greatness before his death at Salem in 1954. He ran the NASCAR Speedway Division in 1952, ending up second in points. He is shown here with a Ford flathead. He subsequently switched to Nash. Do you think he was having heating problems? From

FLORIDA MOTORSPORTS RETROSPECTIVE, Vol. 2

, by Eddie Roche

(Fletcher Williams Collection)
four
---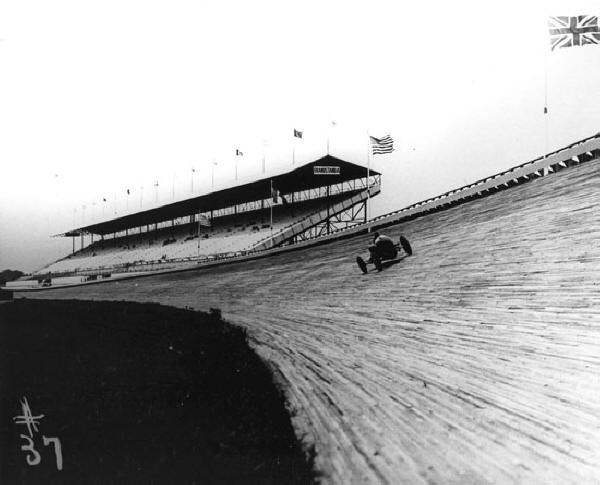 Can you imagine? This was the board track, Kansas City Speedway. The opener in 1922 was won by Tommy Milton at an average of 107 mph. On lap 110, Rosco Sarles crashed fatally. The facility was closed three years later. (Dale Snyder Collection)
FOUR
---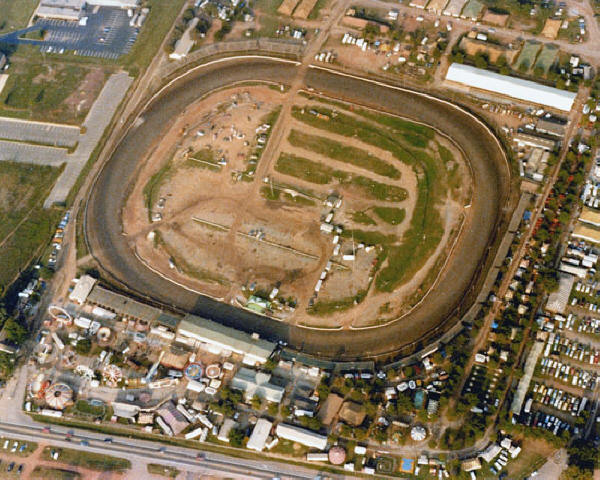 Flemington (NJ) Speedway. It really was square. (Dale Snyder Collection)
FOUR
---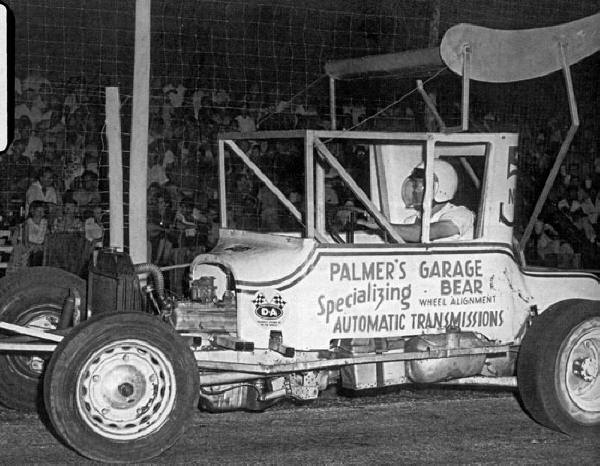 American Indian Dave McInnes had one cool T-bucket in Florida modified racing in 1960. He was big on square tubing. From
FLORIDA MOTORSPORTS RETROSPECTIVE, Vol. 2
, by Eddie Roche (Dick Joslin Family Collection)
FOUR
---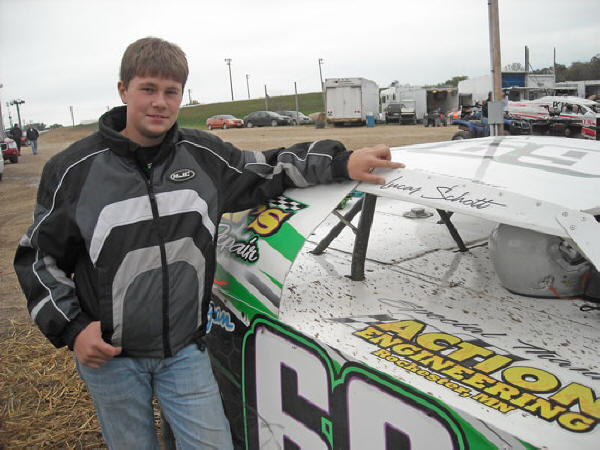 Over 100 modifieds crammed into the flood-soaked pit area at Deer Creek Speedway in Spring Valley, Minnesota, on September 23rd for this year's USMTS Fall Jamboree. All the top dudes – Gustin, Shyrock, Donlinger, Noble, Tesch – were loaded for bear. But in the Friday night show a somewhat unfamiliar green and white #69 Hughes car ran away with a heat race. It was captivating – way down low, highly efficient, perfectly executed driving. Behind the wheel was Lucas "Cool Hand Luke" Schott of nearby Rochester in his rookie year. He is 14. (Boyd Photo)
FOUR
---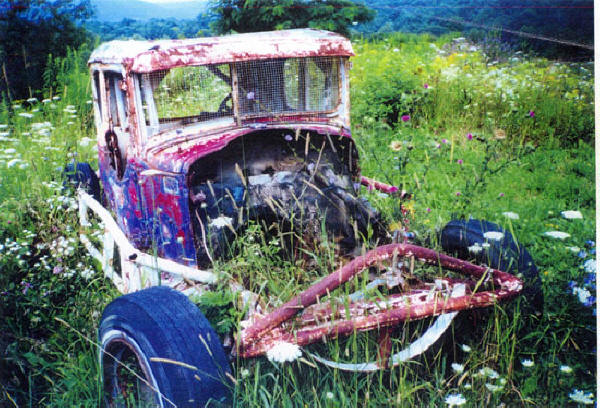 "The way we were." (Coastal Collection – Photographer unknown)
FOUR
---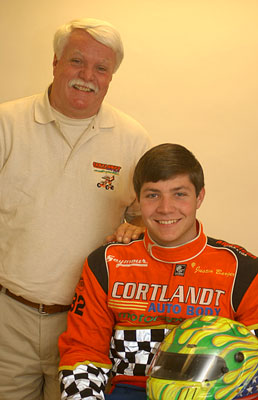 Montrose, NY's Justin Barger has become one finely tuned sprint car driver. He won his first race in a sprinter at 16 and now he seems to be able to win just about everywhere he goes. Must be a chip off the old block. His dad Chris was a real gasser in the big block modifieds. (Dick Berggren Photo)
FOUR
---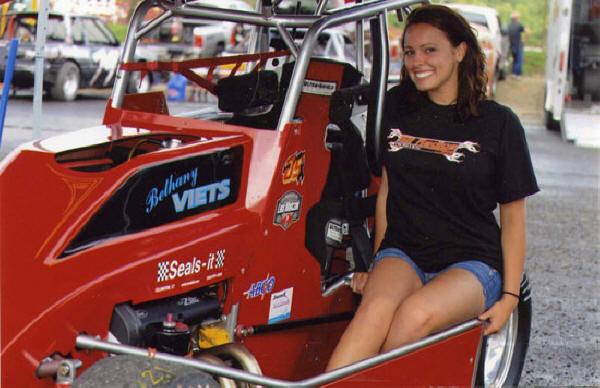 Nineteen-year old Bethany Viets of East Granby, CT, is pretty as a picture. She's also a rocket ship. She was a serious winner on the dirt before switching over to NEMA Lites this summer. She promptly knocked off a feature win at Seekonk Speedway, becoming the first female victor in the series' history. It's a scary thought that one of her heroes in racing is that irrepressible Johnny "Hot Rod" Heydenreich! (Viets Collection)
Photos by John DaDalt and Norm Marx -

www.NEMAracing.com


Previous Photos of the Day