Email Lew at lewboyd@coastal181.com

One of the neatest aspects of Coastal 181 is that we can work not only with racing's greatest writers, but the best photographers, too.

Here are some favorite images from books on our website, some from titles we published ourselves and some from other publishers we think have done an outstanding job with their offerings. We'll keep them coming.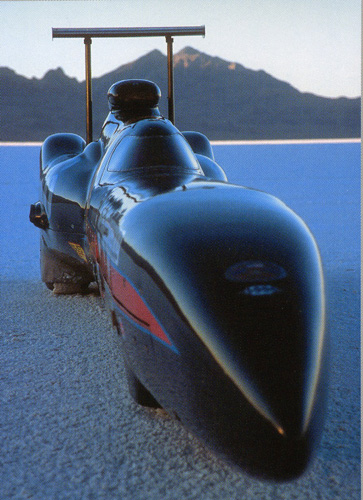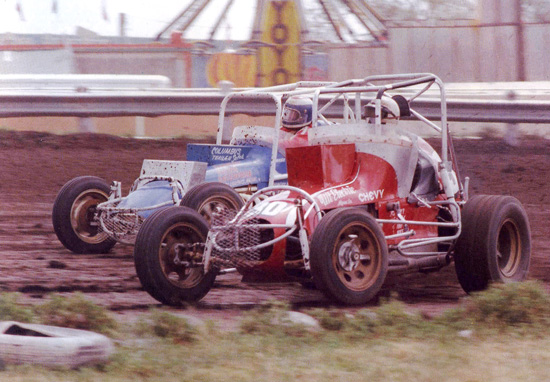 It's a warm summer day at the Nebraska State Fair in 1975. The track is heavy, and Dean Ward (upstairs) and Moon Dickerson are on the hammer. It's hard to not get feeling racy!

From
BIG CAR THUNDER: More Sprint Cars on America's Fair Circuit Vol. II

by Bob Mays. (Joe Orth Photo)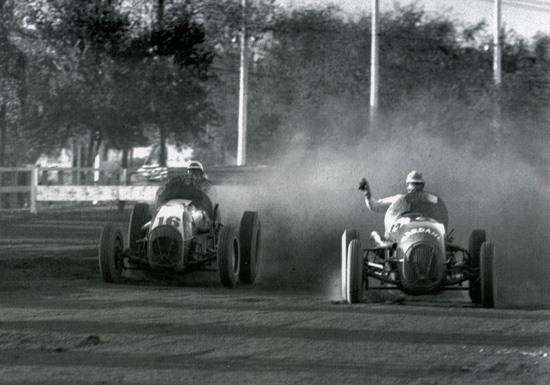 Tom Motter's brand new book,
SACRAMENTO, DIRT CAPITAL OF THE WEST
, is full of truly fabulous photography. How about this image by Russ Reed from October of 1953 on the mile. That's the Cowboy, Jimmy Bryan upstairs in the #16 Bessie Paoli and Sam Hanks in Ed Walsh's Bardahl Special below. Bryan won it; Hanks was third.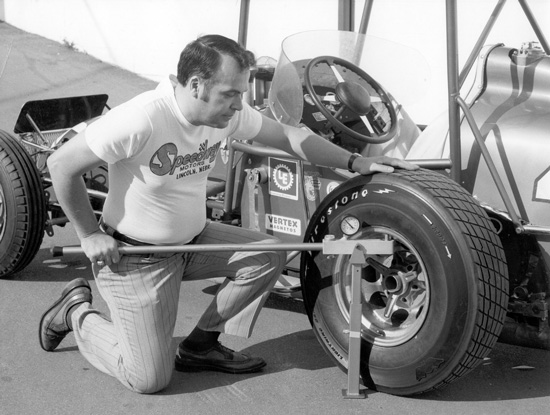 Bill Smith, whose autobiography has just now come out, has built an amazing speed parts empire from his home in Lincoln, Nebraska. Speedy Bill has always been hands-on, a real technical innovator. Here he is back in the day trying out the latest tool in chassis analytics. He was pretty fashionable, too, don't you think? Check out those pants! (Photo - Smith Collection)

From FAST COMPANY – Six Decades of Racers, Rascals, and Hot Rods
By Bill Smith with Dave Argabright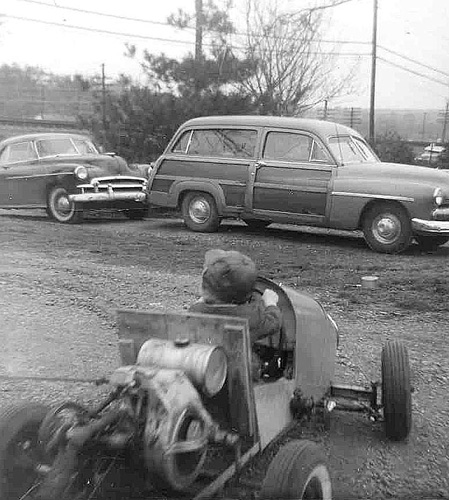 Containing Kenny – Kenny Schrader's parents had him figured out. When he was three, they put in a go-kart with no steering, tethered to a pole in the yard. He'd be contented going round and round for hours until the gas ran out. Then one day the tether broke. That was the end of the bird bath.

From GOTTA RACE!, by Ken Schrader with Joyce Standridge.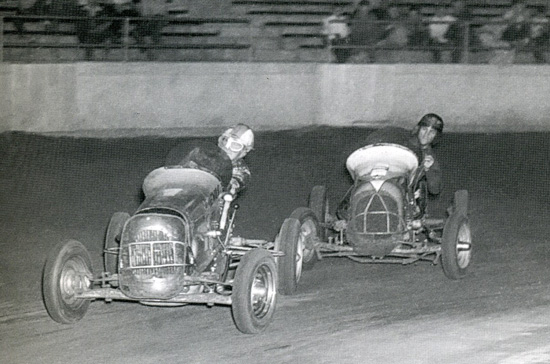 It's 1941 at the Rubber Bowl, a 30,000 seat football stadium built next to the Airport in Akron, Ohio. In 1941 a cinder track was put in around the turf, and fans seated near the action were offered mini-windshields to protect their faces from flying grit. In this shot the great Wes Saegesser in the Trevis #3 Offy leads Al Bonnell in another Offy, the Jackson #9. Both are clearly flyin', but Bonnell is hard on that handle brake right next to the cockpit. Saegesser, meanwhile, seems to be taking it into the turn without brakes. Maybe that's 'cause he had no left arm.

From SMALL CARS BRAVE HEARTS by Ron Pollock. Photo from the
Jack Lemmo Collection.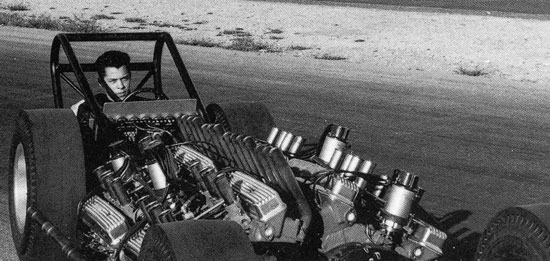 Count those magnetos! Don Prudhomme in a four-engine Kent Fuller dragster at San Fernando. The car was owned by TV Tommy Ivo.

From SNAKE vs. MONGOOSE, by Tom Madigan. Photo from the
Harry Hibler Collection.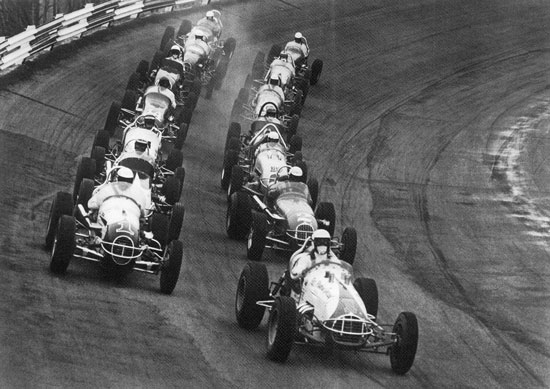 Big Ones – A C.V. Haschel shot of the USAC sprints at Salem, April 30,
1961. Parnelli Jones, A.J. Foyt, Don Branson, and Roger McCluskey pack the front rows.

From Racers at Rest, by Buzz Rose, Joe Heisler, Fred Chaparro, and Jeff Sharpe.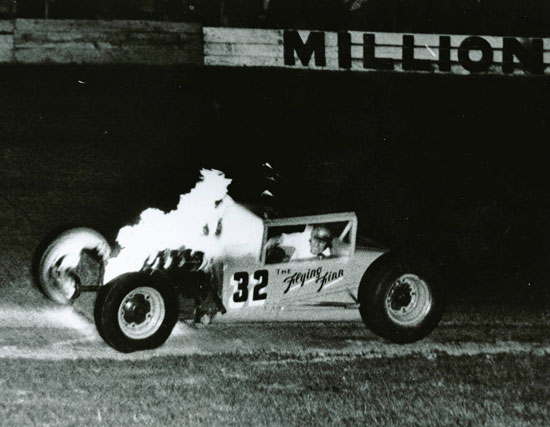 On this night, Reino Tulonen, the Flying Finn, became the Fiery Finn. The Northeastern early supermodified star was red hot in his radical cutdown in 1960. Going through the third and fourth turn at Westboro Speedway there was a fuel line rupture. Reino had quite the contorted look on his face. Maybe that's because he was remembering that he installed the gas tank next to him in the cockpit, right alongside the driver's door. Fortunately, the flames remained contained.

Bill Balser photo, from Hot Cars, Cool Drivers by Lew Boyd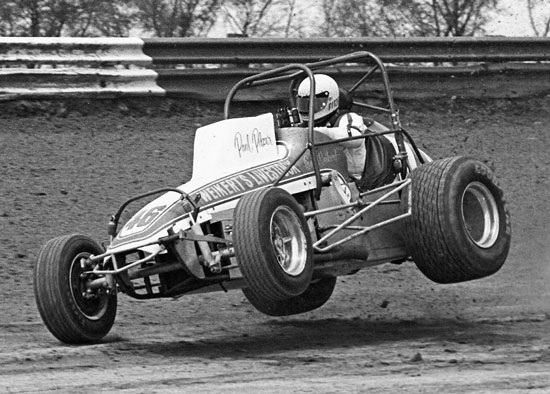 He was pretty much PA-centric, a rider in the Pennsylvania Posse. But wherever he went, Paul Pitzer was beyond brave. In this amazing Kevin Horcher shot, he hunts down the ragged edge at Terre Haute in 1979.

From Win it or Wear It – All-time Great Sprint Car Tales, by Joyce Standridge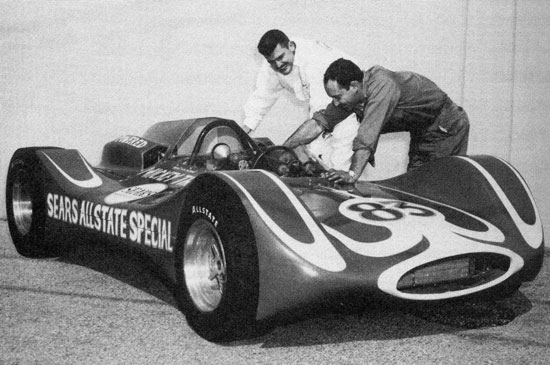 It was cool and smooth, but it had an abrupt and fiery ending. It was Mickey Thompson's Ford-powered 1964 Indy entry, showing all the aerodynamic sensitivity he had learned at Bonneville. Thompson hired a gutsy ex-drag racer and sports car driver from California, Dave MacDonald, to exercise it. MacDonald started 15th and went banzai right at the green. Coming off the fourth turn on the second lap he bounced off the outer wall. He was on fire already when racing's Clown Prince, Eddie Sachs, drilled him in the side. There was a huge inferno, after which Sachs' car was covered with a sheet, his burned remains still inside. MacDonald was thrown from the Sears Allstate Special and died two hours later from seared lungs.

From MICKEY THOMPSON- THE FAST LIFE AND TRAGIC DEATH OF A RACING LEGEND, by Eric Arneson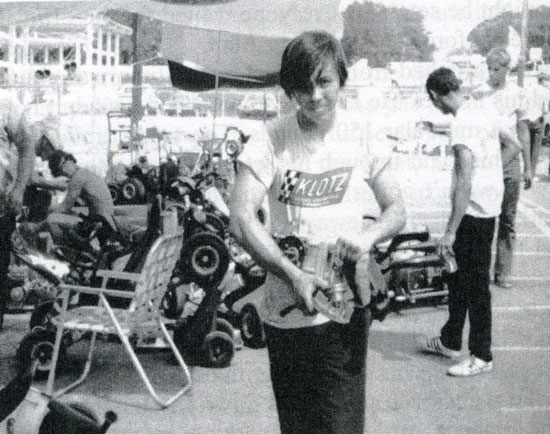 Alan Kulwicki started his racing career at age 13 in a go-kart given him by his dad. It didn't take him long to get the hang of it. By age 16 he had set Junior and Senior track records at Wisconsin Badger Raceway.

From Alan Kulwicki, NASCAR Champion Against All Odds, by Fr. Dale Grubba. Photo by Brooks Pavilion.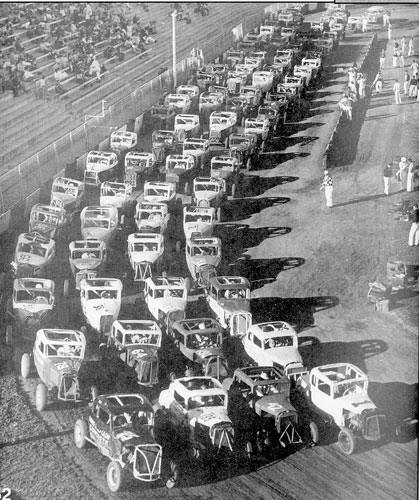 It is kinda surprising to realize that some of the very first auto racing featured on TV was not from Indianapolis or Daytona. Instead, it came from third- and quarter-mile dirt tracks out in the Golden State. The California Jalopy Association (CJA) put on truly dramatic shows at venues like Balboa Stadium, Gardena Stadium, Oildale Speedway, and Huntington Beach. Can you imagine what the first lap of this race at Balboa would have looked like? Tom Luce's history of the jalopies has hundreds and hundreds of images of the distinctive California coupe and coach square tops.

From MEMORIES OF THE CALIFORNIA JALOPY ASSOCIATION by Tom Luce. Photo from Chuck Gronbiga/Red Lion Racing Collection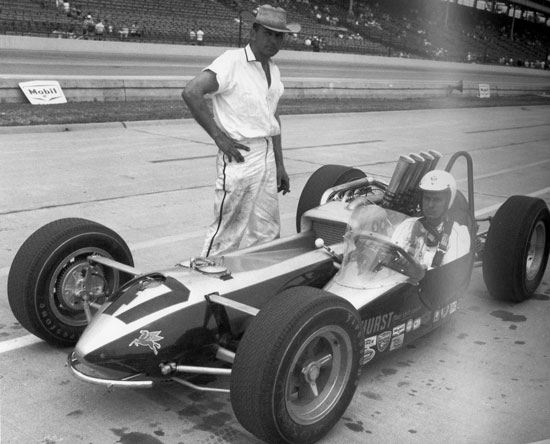 It's 1964 at Indianapolis. Who do you think was more outrageous: Smokey Yunick for designing and building something like "the Capsule Car" or Bobby Johns for trying to qualify it? The side car actually got up to 150 mph with old smoothie Duane Carter at the wheel, but Johns crashed it big time in a warm-up run prior to his time trial.

From the new Indianapolis Motor Speedway - 100 Years of Racing,
by Ralph Kramer.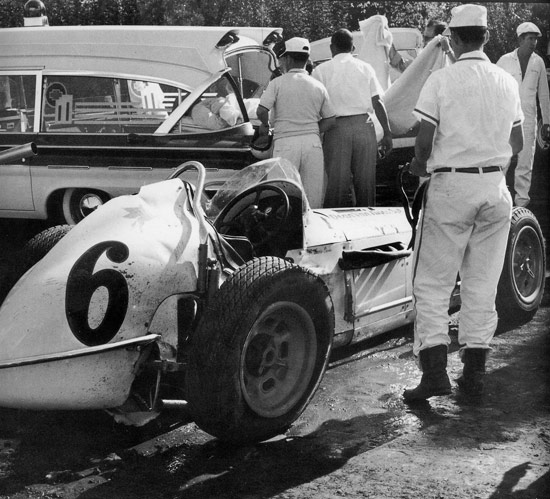 Anyone with even a passing interest in motorsports would have to appreciate the exploits of the guys who ran the big cars. Their defiance of fate was so outrageously taunting that litigation, insurance policies, and public safety laws will never allow that form of racing to happen again.

Joe Scalzo's captivating and photo-rich book, THE AMERICAN DIRT TRACK RACER, profiles racing on the dirt miles from 1951-1971. Take a close look at this image of the Dean Van Lines Special at Sacramento in 1960. Eddie Sachs definitely took it for a ride. Check out the new angles on the roll bar – and the windshield – and the exhaust header?

Chances are "the Clown Prince" wasn't feeling that well as they got him ready for his ride to the crash house. (Bob Tronolone photo)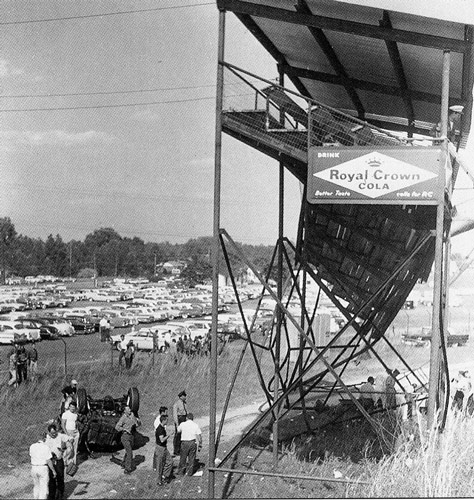 During the running of the Rebel 400 at Darlington in 1960, Johnny Allen popped a tire and flew right out of the park off the fourth turn. That's his car down in the lower left. On the right is the remains of the scoring stand that he clobbered on the way by. Allen was uninjured. Ladders had to be brought in to get the track officials back onto terra firma.

From NASCAR – The Complete History, by Greg Fielden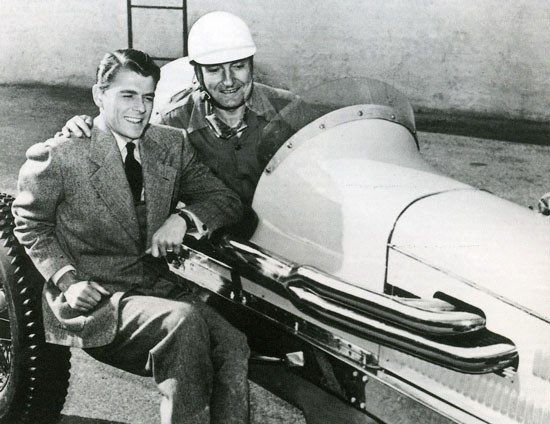 No question the most legendary dirt slinger from the thirties was IMCA ultra-hero Gus Schrader. The former motorcycle racer was killed at Shreveport, LA, after tangling his Offy with Jimmy Wilburn. Schrader is seen in the image in a happier setting, at the Iowa State Fair Speedway, with his pal, the announcer at the track and the future President of the United States, Ronald Reagan. (Photo: Buzz Rose Collection)
From RACERS AT REST by Buzz Rose, Joe Heisler, Fred Chaparro,
and Jeff Sharpe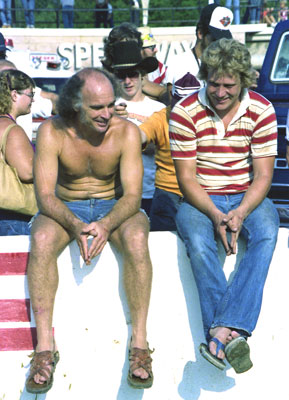 They look pretty normal, but they ain't. That's the late Jan Opperman on the left and Steve "King" Kinser on the right atop the pit wall at Eldora.
From: Win It or Wear It, by Joyce Standridge. (Gene Marderness photo)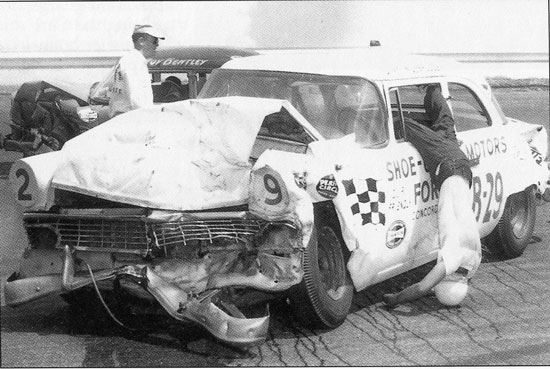 Dink Widenhouse was in the B-29 Ford for the 1956 Southern 500. Along the way he got tangled up in a big collision and cut his arm badly. He started to climb out of the car and got tangled up again, this time with his seat belt. Then he noticed his own bleeding and fainted. This is the way the safety crew found him; he was not seriously injured.
From: NASCAR – The Complete History, by Greg Fielden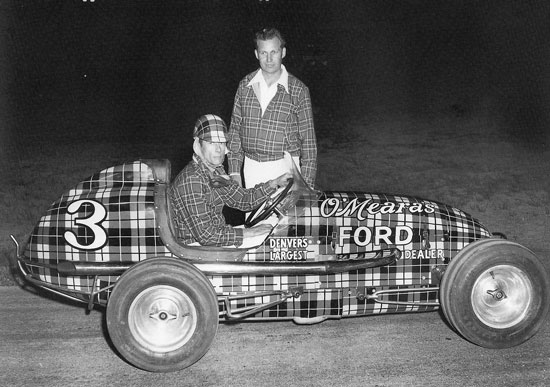 Pretty tony, don't you think? The plaid midget was fast, too. Roy Bowe wheeled the O'Meara's Ford-sponsored Offy to the Rocky Mountain Midget Racing Association crown in both 1948 and 1949.
From DECADES OF DARING, Midget Racing in the Rocky Mountains,
by Bill Hill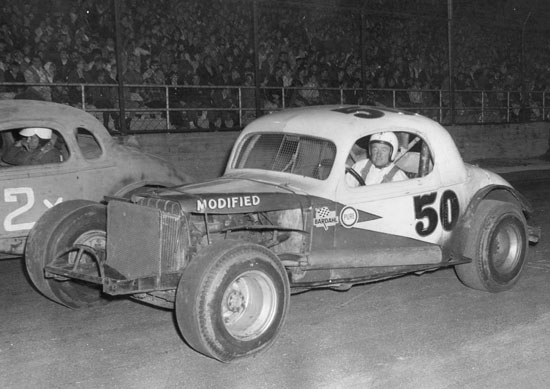 This is not an image from one of our books, but it's a beauty. That's the great Ernie Gahan during his road warrior years at Riverside Park (MA) Speedway. On the outside, aboard an early Judkins #2x and adorned with quite the stylish helmet, is Mario "Fats" Caruso, the Shrewsbury Flash. Ernie won the NASCAR National Modified Championship in 1966, following a gutsy point battle with Ray Hendrick, Freddy Fryar, and Bobby Allison. There will be a huge Riverside Park Reunion as part of this year's Speedway Expo in Springfield, MA on Feb 27- March 1. Check out www.speedwayexpo.com. (Sandy Clark collection)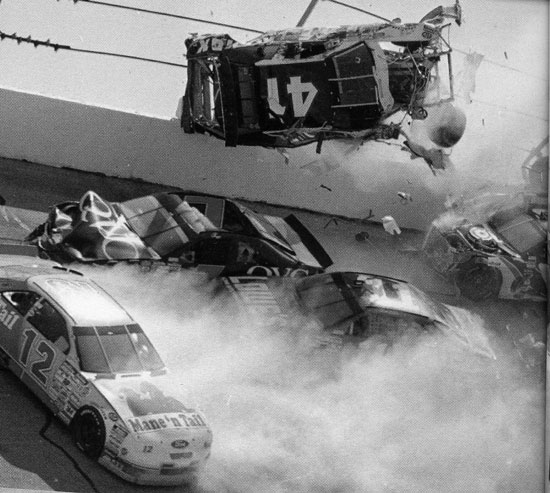 It was the 130th lap of the 1996 Winston Select at Talladega. There was that classic, knuckle-gnawing Talladega three-abreast formation, and something went bad. That's Newburgh, Maine native Ricky Craven going for a sky ride off the catch fence. Remarkably, he climbed out with only bruises.
From ESPN ULTIMATE NASCAR, by Ryan McGee. AP Photo/Ashley Fleming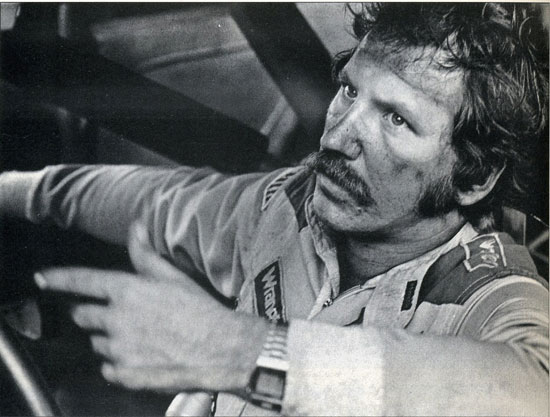 Mark Sluder captured this fabulous shot of Dale Earnhardt at age 30. It was Charlotte in 1981. The image is printed in Liz Clarke's new book, ONE HELLUVA RIDE: How NASCAR Swept the Nation.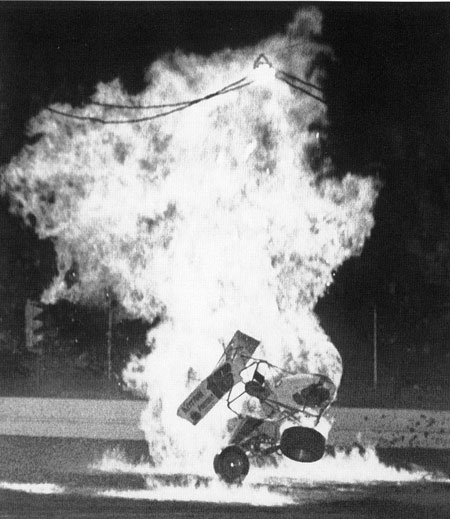 Jack Kromer Photo
Two time URC sprint car champion Gary Gollub is certainly a veteran of the exhaust circuit. He won his first URC feature in 1973 and his most recent in 2006, a 33-year split. He was hot most of the time in between as well, perhaps no more so than in June of 1983 when he lit this one up at Big Diamond, PA.

From Buzz Rose's Tow Money Volume II, The History of the United Racing Club 1978-2006.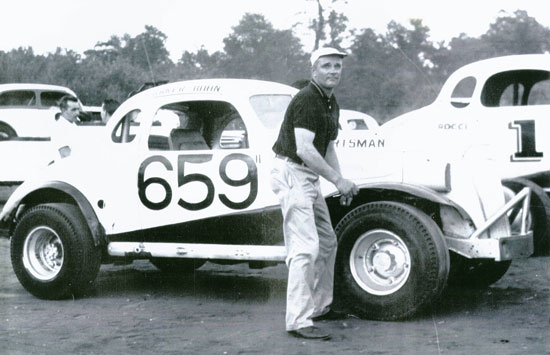 Parker Bohn died at age 90 on July 13, 2008. The very popular Garden Stater was a major force at tracks such as Wall Stadium, Old Bridge, and Trenton Speedway in the 1950s, '60s, and '70s. For 17 years he was behind the wheel of Tom Skinner's #659s. The most famous of them was this beautiful coupe, which housed a totally tricked-out GMC six. Skinner actually formed his own molds for the head and the fuel injection, and the result was a distinct winning whine on the straights that gave the V-8s of the day the fits.

Photo is compliments of Danny Rhein and it appears in PAVED TRACK DIRT TRACK, Racing at Old Bridge Stadium and Nazareth Raceway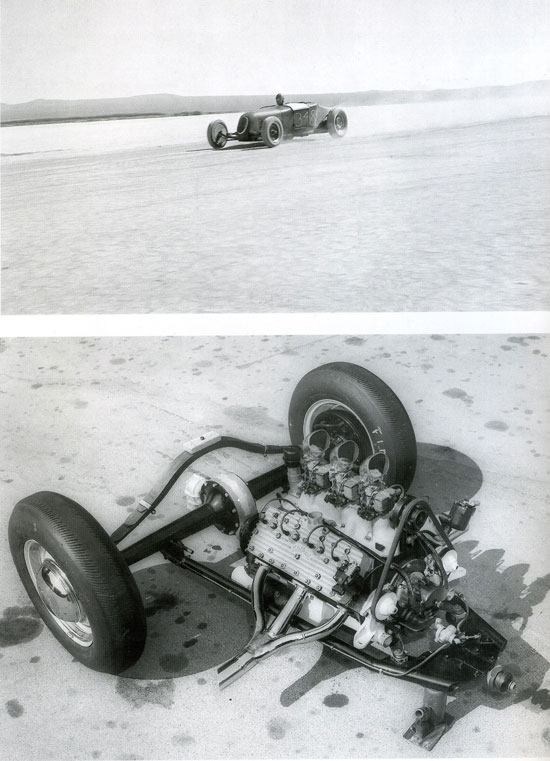 After World War II, there was an explosion of technological creativity in both oval track and drag racing. Don "the Dumb Kid" Waite was pretty inventive with his '27 T at Bonneville. He made a removable rear clip that housed his Flathead. He won the 1949 Class C Lakester record with a 151.909 mph average. These shots are from SO-CAL SPEED SHOP, by Mark Christensen, a history of early hot rodding on the West Coast. The book is full of great photos, many from the personal collection of the founder of the "So-Cal Speed Shop", Alex Xydias.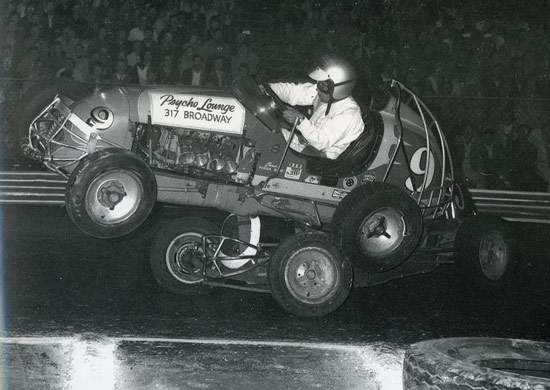 Dyna" Mike McGreevy in the Porter Goff "Easter Egg Offy" takes the high road, right over the top of Norm Rapp's Chevy II. Jack Fox captured the image at Oakland, CA, in 1964. It is carried in Tom Motter's wonderful midget book, Indoors!

From Indoors! A History of West Coast Indoor Midget Racing by Tom Motter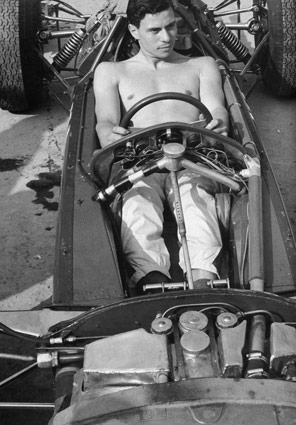 photo © The Klemantaski Collection
Jim Clark, the gentleman from a Scottish farming family, tries out a 1,000 pound Lotus. Clark won the World Championship in 1963 and 1965. In '65, he also won Indy. He died when his Lotus 48 veered off course and into trees in Germany on April 7, 1968. Chris Amon, a fellow driver, was heard saying "If it can happen to him, what chance do the rest of us have?"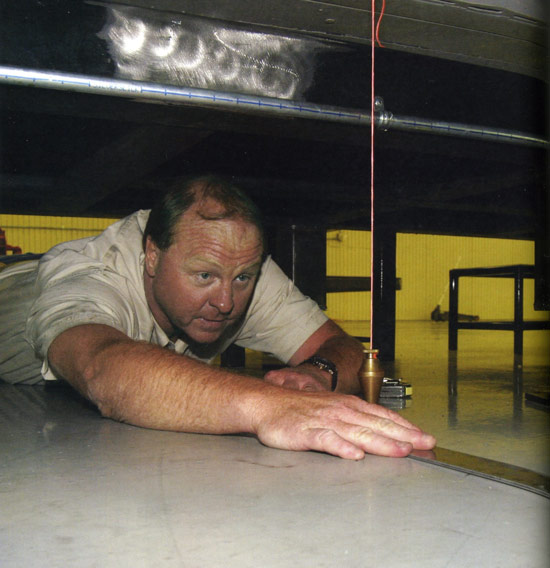 Larry McReynolds assumes the horizontal mode, illustrating how to "string" a car. The photo actually shows quite a bit of intensity in McReynold's face. It's clear that he really got into writing his book How To Become A Winning Crew Chief. He offers "information that I would have given anything to have had when I was working on short-track cars, and especially when I first got into Nextel Cup racing in the early 1980's."

From: How To Become A Winning Crew Chief, by Larry McReynolds with Jeff Huneycutt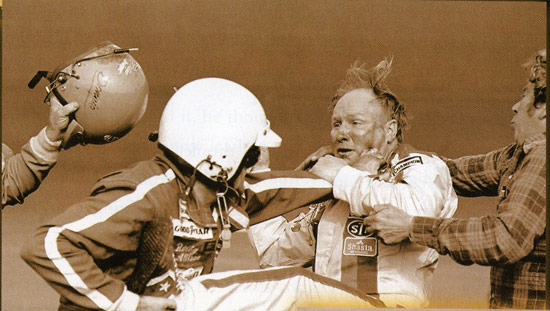 The ending of the 1979 Daytona 500 provided one of the most-watched fisticuff tussles of all times. The incident between the Allison Brothers and Cale Yarborough was repeated endlessly on television, and it seemed to symbolize the start of NASCAR's amazing television era. This particular still shot shows just how intently the guys were really involved in their discussion.

From: BOBBY ALLISON – A Racer's Racer, by Bobby Allison with Tim Packman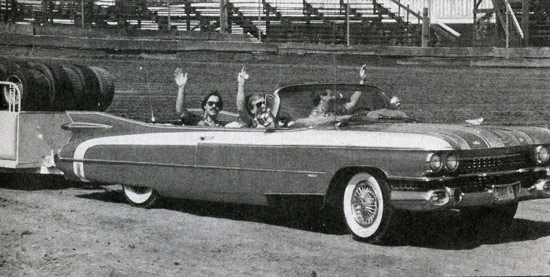 Ever since he climbed into a race car for the first time in 1971, there has been a colorful streak winding through Kenny Schrader's racing career. One of its most obvious moments had to come in 1983 when he towed into Belle-Clair Speedway towing with a pink Cadillac "pimpmobile". Kenny recalls: "We show up in our Hawaiian shirts…We're styling and we're not afraid to tell people we're prepared to win. Thank God we did."

From: GOTTA RACE!, by Ken Schrader and Joyce Standridge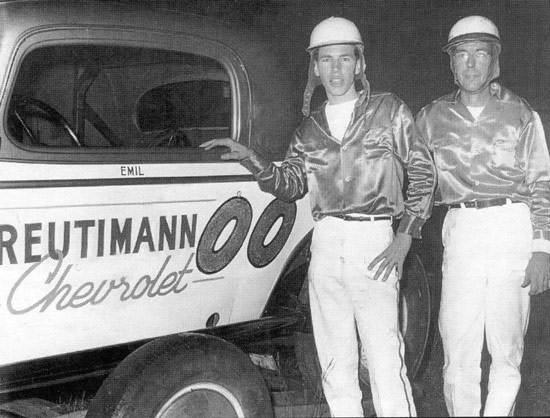 David Reutimann's dad Buzzie (on left) and his granddad Emil before the start of a 500-lap race at Eau Gallie (FL) Speedway in 1957. They ran 250 laps each.

From Florida Motorsports Retrospective by Eddie Roche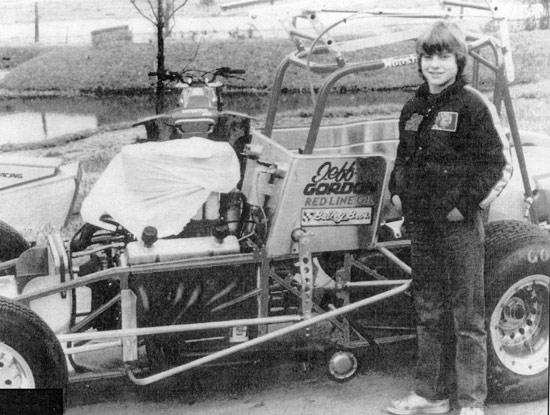 A 13-year old named Jeff Gordon had just come across the country to Florida with his father to race this sprint car. Jeff says he has never been more terrified in his life, but it took him only two nights to catch on.

From Florida Motorsports Retrospective by Eddie Roche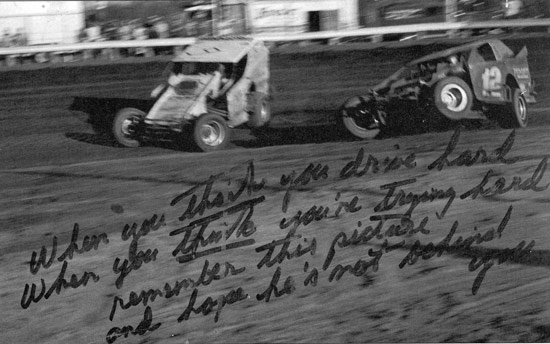 McCreadie Collection
This shot is neat, though pretty grainy. That's because it was hanging on the wall in Barefoot Bob McCreadie's garage. It's McCreadie leading Jack Johnson at Cowtown, during a Texas DIRT swing in 1989. Barefoot had written this on it: "When you think you drive hard, when you think you're trying hard, remember this picture and hope he is not behind you."

From BAREFOOT – The Autobiography of Bob McCreadie,
As Told to Andy Fusco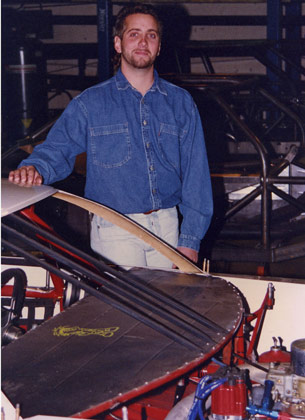 NASCAR News Archives
He was a 26-year-old from Portland, Oregon and he gave Larry Phillips a real tough run for his money in the race for the 1995 NASCAR Dodge Weekly Series national Championship. His name – Greg Biffle.

From WHERE STARS ARE BORN – Celebrating 25 Years of NASCAR Weekly Racing, by Paul Schaefer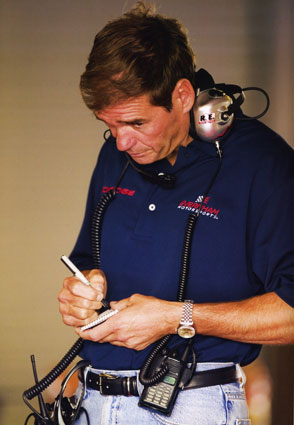 Scott Robinson Photo
There aren't too many characters in NASCAR quite like Ray Evernham. An impressive figure – tall and commanding, Evernham is also uncannily intelligent – and a life-long learner. He drove pavement and dirt-pounding modifieds in his native New Jersey before bounding onto the Winston Cup scene as alpha dog of the Rainbow Warriors, that hyper-successful young Dupont gang that launched Jeff Gordon. Evernham subsequently formed his own team with Dodge and has now taken on investor George Gillett as a substantial backer. Ray plans to back away from day-to-day operations and to recast his future. Look at those eyes. What do you think he is up to next?

From FACES OF NASCAR – a Pictorial Salute to America's Greatest Sport
by Scott Robinson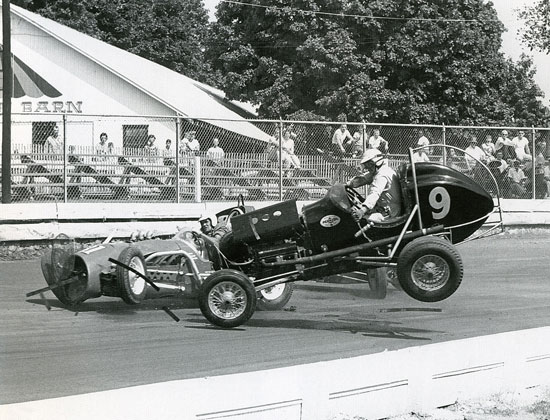 Walt Imlay Photo
Wyman "Cookie" Osterhout bull-rides his wire-rimmed URC sprinter at Flemington, NJ, on September 4, 1961. The Voorheesville, NY, hot shoe was URC's rookie of the year in 1958. Working busily aboard the #81 in the background is Jim McGuire, one of the greatest ever out of Massachusetts. McGuire was well on his way to national stardom when he severed his right arm at New Bremen, OH, in 1964.

From TOW MONEY- The History of the United Racing Club, by Buzz Rose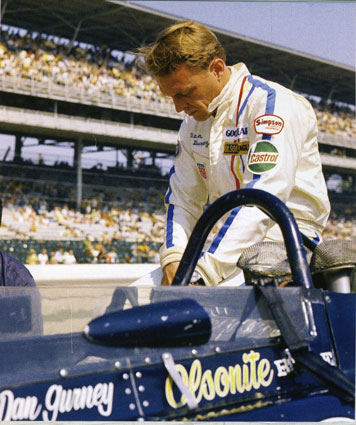 IMS Photo
Certainly one of the most intense challenges in sports must be a driver preparing mentally for the start of an Indy 500. Whether you are out of the dusty midget tracks in the Rockies or from tony European sports car circuits makes no difference. It comes down to man versus fate in the most dangerous, lasting competition in motorsports. The caption on this remarkable image reads "Dan Gurney, an introspective, incurable romantic and hero to millions, contemplates a qualifying run." Runner-up (with a stock-block engine) in 1968 and 1969, it was Dan who paired Colin Chapman with Ford Motor Company in 1962. Retiring as a driver after finishing third in the 1970 "500," he was the winning constructor in 1968, 1973, and 1975.

From AUTOCOURSE, the Official History of the Indianapolis 500
by Donald Davidson and Rick Shaffer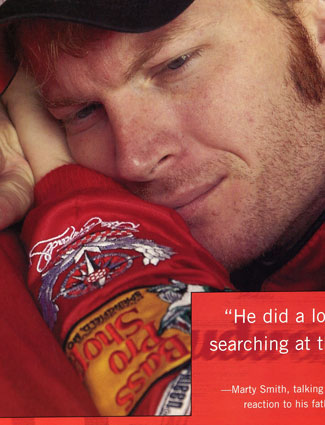 Nigel Kinrade Photo
Junior is just plain different. Always has been – always will be. He completely reordered Junior Nation by his switch to Hendrick Motorsports for 2008. And right out of the box he was lightning quick in the green and white #88, riding up there in his different groove – the one that Kenny Schrader described as "running where they ain't." No question the relentless fan and media attention on Junior must be beyond difficult. So, too, must be the memories of that awful day in Daytona in 2001 when he saw his father die.

From DALE EARNHARDT JR. – Inside the Rise of a NASCAR Superstar
by Ron Lemasters and Al Pearce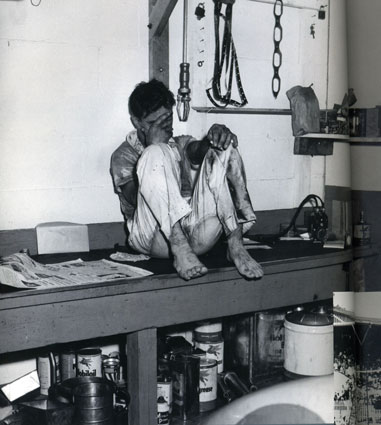 IMS Photo
What a moment. Bill Vukovich had just equaled the glories of Wilbur Shaw and Mauri Rose. He had won his second Indy in a row on Memorial Day, 1954, starting in 19th slot and whipping a 33-car starting field comprised entirely of gloriously thundering Offenhausers. It was no easy feat. Sweltering heat and humidity hung heavily over Indiana all afternoon, and Vukie shows poignantly the grueling toll of 500 miles at a new record pace of 130.840. The shy son of immigrant grape-pickers in California had exactly one year to contemplate his accomplishment. Seeking his third win in 1955, he tangled with Al Keller and Johnny Boyd and vaulted out of the Brickyard to his death.

From AUTOCOURSE, the Official History of the Indianapolis 500
by Donald Davidson and Rick Shaffer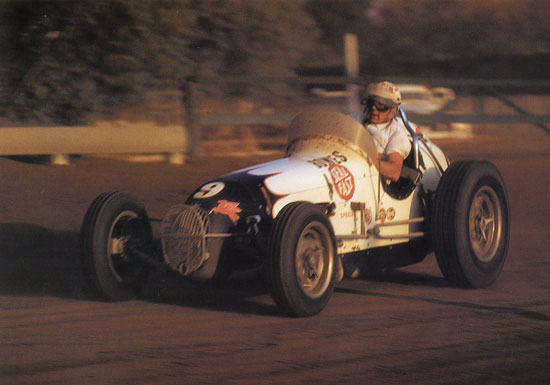 IMS Photo
Jud Larsen was one of America's all time gassers. In this amazing Tronolone image, strong-armed Larson runs low – unusual, given his normally sideways, balls-to-the-wall, rim-riding bravado. There was no pretense whatsoever about him. All grit, when he pulled into Reading, PA, in June of 1966 for a USAC sprint car race, he was loaded for bear. He was flat broke and needed the scratch. He was flat out on the dark side of the cushion when he tagged wheels with Red Riegel. The ghastly, spiraling double fatal that ensued is largely considered the reason cages were brought to sprint cars.

From THE AMERICAN DIRT TRACK RACER by Joe Scalzo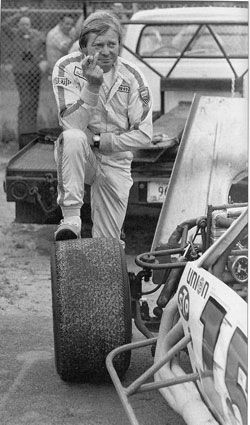 Mike Adaskaveg Photo
It's hard to know just what it is about modified racing that has always attracted the nut cases. But few would debate that fun-loving Bugsy Stevens stands high in the character championship. A three-time NASCAR national modified champion in the sixties, still today Buggo is unable to walk into a room without attracting a crowd – and without delivering at least one surprise "goose." But, jokester or not, when Bugsy speaks, better listen. In his book BUGSY!, co-authored with Bones Bourcier, Bugsy devotes a whole chapter to driving etiquette – what is acceptable and what just plain ain't. Here at Coastal 181 we have had requests from promoters literally from Maine to California to reprint the chapter so they could distribute it in their pit areas. Go for it, Buggo.

From BUGSY! — The Life and Times of Bugs Stevens, three-time NASCAR National Modified Champion