Email Lew at lewboyd@coastal181.com

---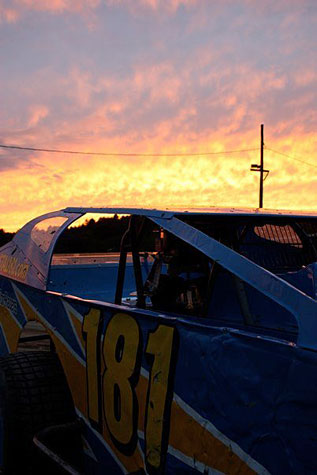 "Guess that's it for another season." (Photo by Ericka "Dzus Queen" Shepard)
---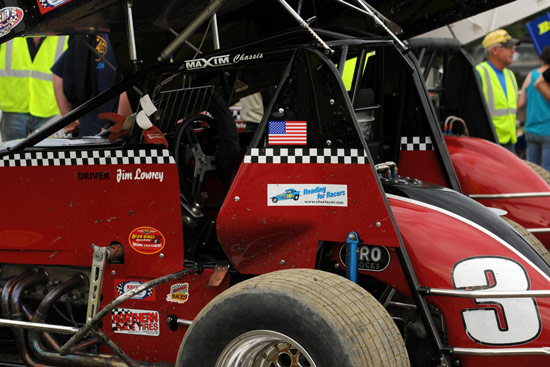 (Don MacIntosh Photo)
---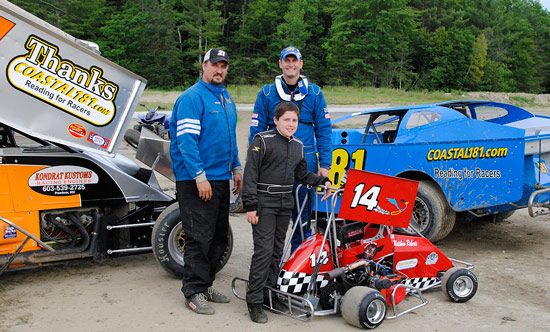 The Coastal 181 Crusaders showed up for the night before the Fourth special at Canaan (NH) Speedway a couple weeks back. That's Danny Douville (L) with his SCoNE sprinter and Blake Shepard with the 181 dirt mod. In the middle is Matthew Roberts and his kart. Matthew had blown 'em all off and won the show at Claremont (NH) a week before and he figured Danny and Blake might need a tip or two.
(Don MacIntosh Photo)
---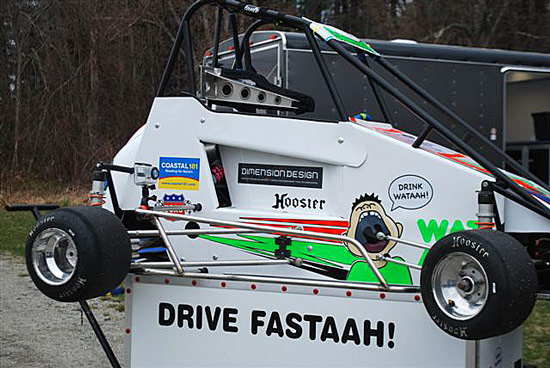 Here's a Coastal connection that runs in the genes. Young Cameron Roundy mixes it up at the Little T Speedway in Thompson, CT, in this pretty little unit. Cameron's dad Brent is a former supermodified shoe out here in the Northeast. Brent's father, Butch, had the local parts store in Rowley, MA, when we had an open comp late model modified in the '80s. Sometimes it felt like we could keep him in business all by ourselves! (Roundy Family Photo)
---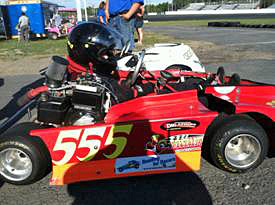 Nine year old speedster Neale Davis-Sicard out of Milton, VT, hustles his Coastal 181 hot rod around Plattsburgh, New York's Airborne Karting facility. Neale's got two podium finishes so far this season. He's from a great racing family. When not crew-chiefing the kart, his Granddad, Neal, is an accomplished racing model builder. (Photo: Neal Davis Collection)
---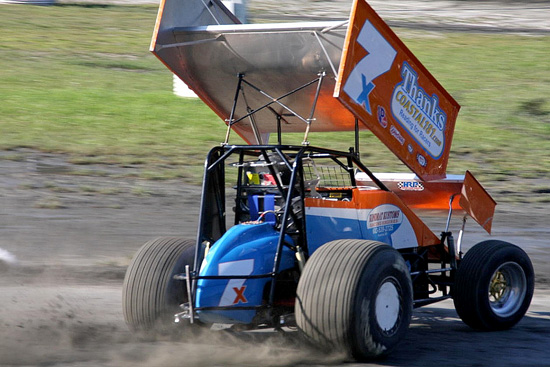 Danny Douville has been giving the Sargent Service/Coastal 181 sprinter some hair-raising rides this summer. Here he is in attack mode at Bear Ridge Speedway in Bradford, Vermont. (Alan Ward Photo)
---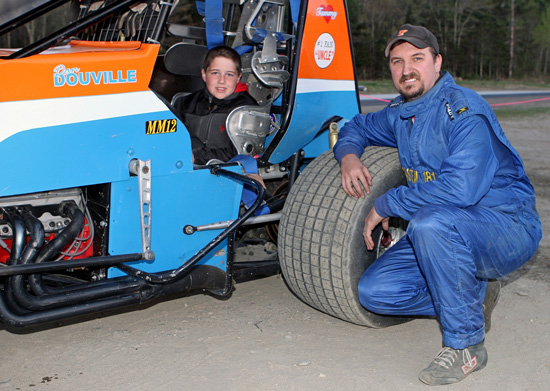 Now here are two Coastal characters: Matthew Roberts, who races the Coastal 181-branded mini-sprint, came to the Sprint Cars of New England opener at Canaan (NH) Speedway on Friday, May 13. It was a little easier to have him sit in the Sargent's Service Center/Coastal 181 sprinter than it would have been to fit Danny Douville (kneeling) in the mini-sprint. But Matthew apparently had some tips for Danny. Danny smoked the field big-time in the feature. (Mark McKeon Photo)
---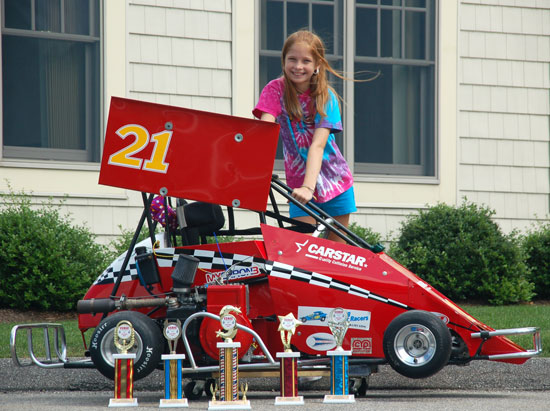 Eleven-year-old Caitlyn Szoka, the "Tessa Rossa Flash," has been racing for two years. In 2010, she ran the Ceric Wild Kart Series at Stafford (CT) Speedway on Monday nights. Hard to say whether she is faster or prettier! In 13 starts she had a win and three thirds and only a grinding crash could keep her from contention for the points. It must be that Coastal 181 decal! (Szoka Collection)
---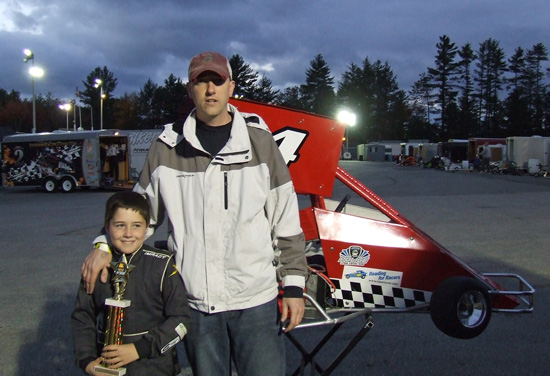 FOUR
That's our main man, 8-year-old Matt Roberts of White River Junction, VT, and his dad, Phil. Phil's going to be busy this winter building a case for the 20 trophies Matt has already won. They're shown here with their Coastal 181-labeled kart at Route 106 Racepark in New Hampshire. (Roberts Family Photo)
---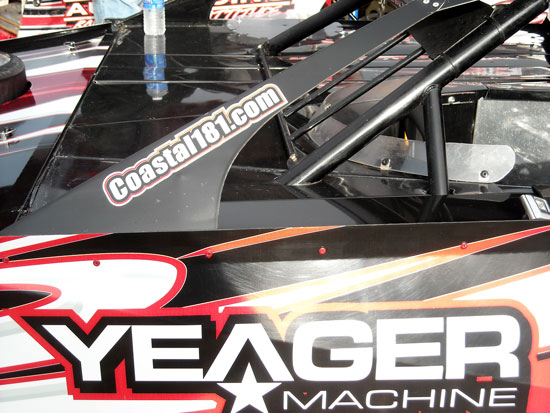 .
Coastal 181 has been helping keep the roof up on Mike Spaulding's #17s USMTS car this summer. After the misfortune we described in the TEAROFF dated 10/19/09, he has come back to racing and that Coastal 181 mention is giving him lots of extra zip! (Boyd Photo)
---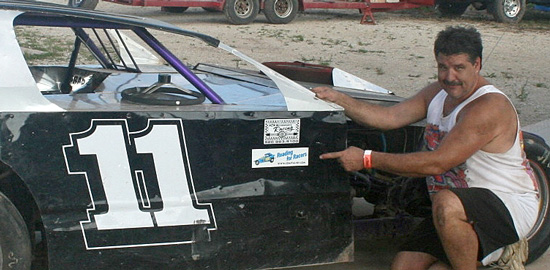 That's Mark Bergland with his IMCA mod at 141 Speedway up in Francis Creek, Wisconsin, a racy, newly unpaved third-mile oval. Things can get hard on the budget by August during a racing season. Mark sure was happy when Brad Poulsen, Coastal 181's Main Man in Wisconsin, bought him a round of tires. We were pleased, too, because part of the deal was to put a Coastal 181 decal on the #11. (Bradley Poulsen Motorsports Photo)
---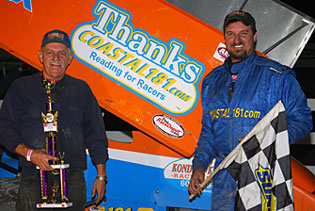 Danny Douville's done it again, this time Saturday, July 31 at Bear Ridge Speedway up in the Green Mountains of Vermont. He looks pretty spiffy in that new fire suit, don't you think? (DonMac Photography)
---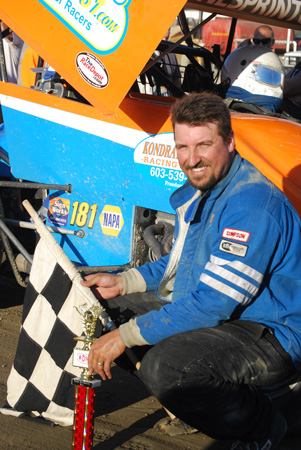 Danny Douville did it again in the Coastal 181/Sargent Service Sprinter on July 18, this time at the refurbished "Big Daddy's Speedway" in Rumney, New Hampshire. Danny got there by running upstairs – way upstairs. We loved it. (Sprint Cars of New England Photo)
---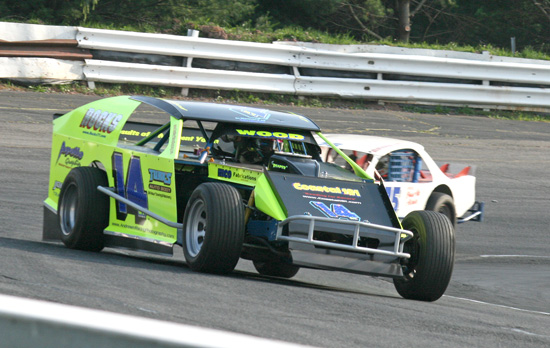 It's Danny Wood in the Coastal 181-branded modified. He was at Bethel, NY, on June 19, within hearing distance of the culture-changing Woodstock NY festival of 1969. Danny got fourth. (Wood Collection)
---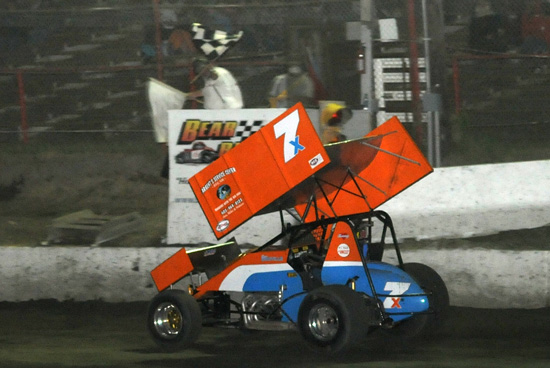 Danny Douville sweeps under the checkered for the win at Bear Ridge (VT) Speedway on May 29 in the Sargent Service/Coastal 181 Eagle. It was just his second time in a sprint car. (DonMac Photography)
---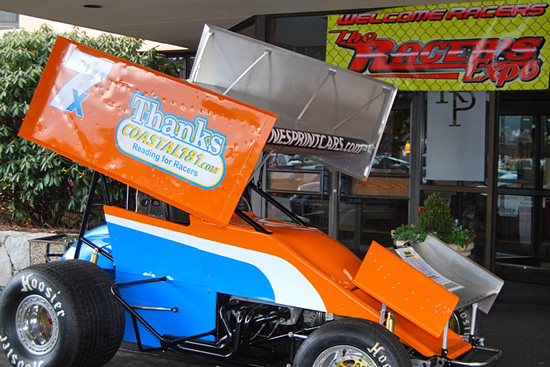 The last Coastal Cars image was a rendering of what the Douville-Kondrat Racing/Coastal 181 Sprinter would look like. Here it is, all topped and tailed, at the Seymour family's Racer's Expo the last weekend in February. Danny Douville will jump from his ultra-successful driving career in the modifieds into the open-wheel fray. We thought it might be good for him to get some pointers from Johnny "Hot Rod" Heydenreich. John is some kinda gasser and he got Danny all wound up. We're really worried about our wing now!!! (Photos by Don MacIntosh)
---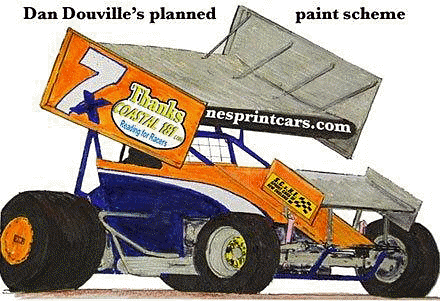 One of our favorite East Coast drivers, New Hampshire's Danny Douville, is going open wheel racing. He will drive for good guy Mike Kondrat who is a guiding light behind the increasingly active group, Sprint Cars of New England. Here's an artist's rendering of what they are up to. We'll post a photo when it's done. Here at Coastal 181, we're just hoping that the wing will stay in place for a while!
---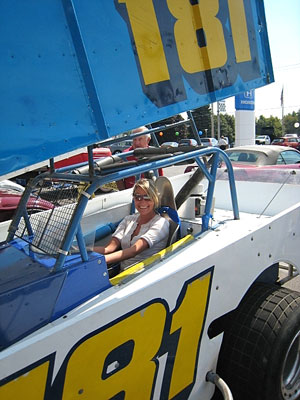 When Catherine Boksanski hopped in our Coastal 181 open competition car at NEAR day at Ron Bouchard's dealership, it never looked better. What a difference a change of driver can make! (Coastal 181 Photo)
---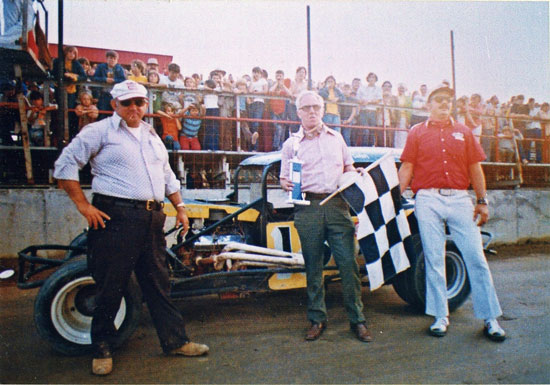 That's Hully Bunn in 1975 at the Cairo, NY, Speedway with driver/promoter Kenny Shoemaker to his right. Hully came out of retirement that day to wheel the Coastal 181 coach in an over-loaded, star-studded old-timers race. He smoked 'em. He was in that same driving form that won him the initial Langhorne National Sportsman Race of Champions in 1951.
---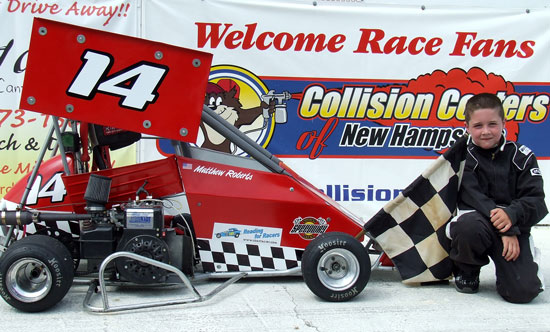 Lebanon, NH, police lieutenant Phil Roberts and his wife Catherine didn't know quite what they were getting into when they carved out a little dirt track in back of their house. The idea was to give their four year old son Matthew a place to scoot around with his yard cart. Well, Matthew sure did – with so much speed and passion, that everyone who watched was amazed. Matthew, now seven, has just jumped in a Tiger Sprint at the fifth-mile Sugar Speedway in Weare, NH. He has run three features so far. The first was tough and he got turned around a few times. The second day he won. The third day, shown here, he swept every lap of the heat and the feature. Maybe that's because he just put on his Coastal 181 decal. By the looks of things, especially given his color and number, when he gets a full sized sprint car, Office Depot and Old Spice should be on the side.
---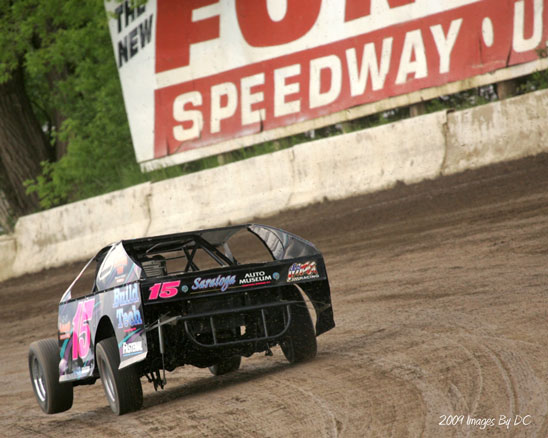 One of the most respected racing personalities in Eastern New York is IMCA driver Kenn Van Wert. Kenn has worked tirelessly in all manner of activities and organizations supporting the sport, such as NYSSCA and the Saratoga Auto Museum. The Coastal 181 logo is really flying around Fonda Speedway these days. We are right there on the side of Ken's hot rod, and he is RED HOT this year. Photo by Derak Covey (images by DC)
---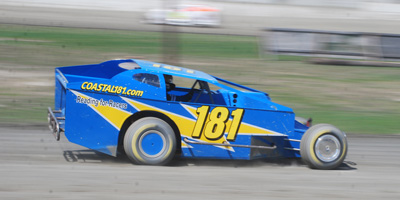 Here is our buddy Blake 'Sideways" Shepard with his #181 TEO dirt modified. Blake has it all gussied up for the 2009 season, don't you think?
(Photo by Don Mac)
---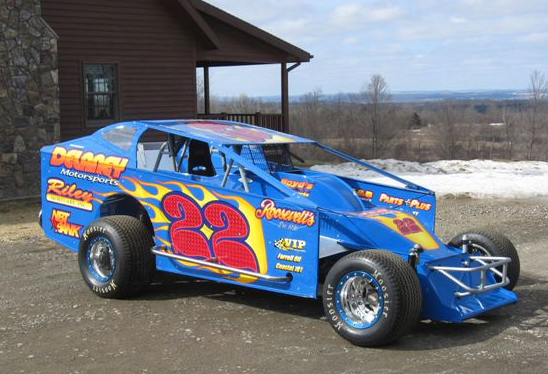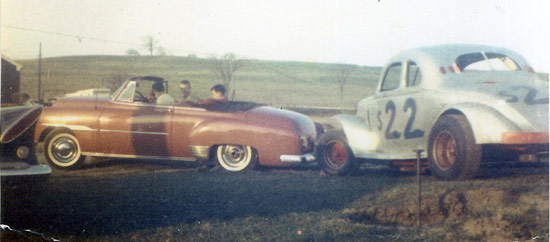 Just about everyone in the Northeast, including Coastal 181, is rooting for Dave Lape and doing everything possible to help him out. He is gunning this summer for his 100th win at Fonda (NY) Speedway. David is one of the most popular drivers in the history of the infamous track. The top photo is his current machine, ready to go with a new guerilla small block from Tim and Dustin Delaney's stable. The image below speaks to how long David has been doing this. He's in the back seat of that tow car, on his way to the races in the 1950s with driver Lee Millington and Lee's #s22.
---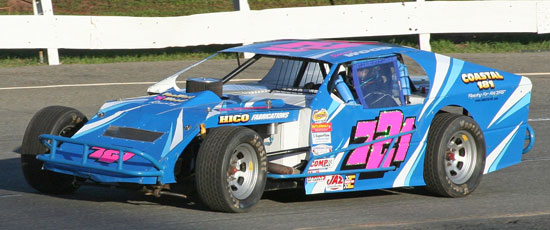 The track is Bethel Motor Speedway in New York, formerly White Lake Speedway. It has been resurrected by Dave and Joanne Rocket. The car is an IMCA-type modified, driven by Coastal 181 supporter Dan Wood, who's giving asphalt a fling. Danny's a great guy. He's also on the hammer, as his nickname "Front Clip" would imply.
(Photo: Dan Wood collection)
---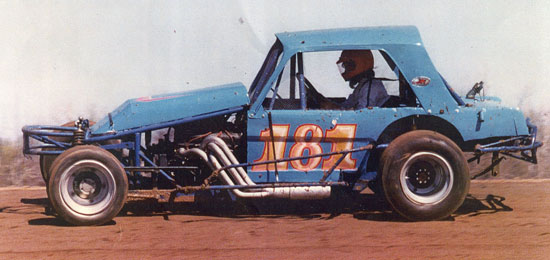 This is Rick Martel at the wheel of the #181 big block Mustang at Weedsport NY Speedway. We ran the car for four years all over New York and New England. Originally it had a neat little '37 Buick three window coupe body, but that was dispatched one night in a very major wreck at Fonda, NY. Rick bought the car in 1977 and raced widely in it, too, including at places like Reading, PA. Rick is still in racing, promoting major kart events in upstate New York.
---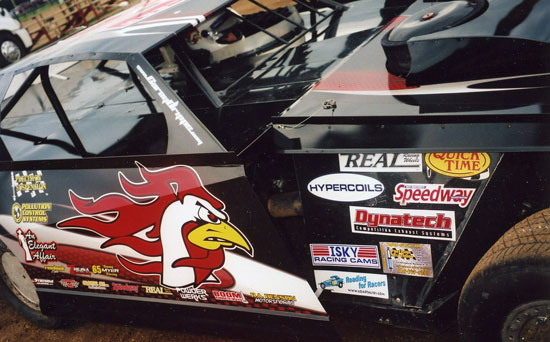 Here's Corey Dripps getting ready for warm-ups at Tri Oval Speedway in Fountain City, Wisconsin, also know as "the Circle of Death." Corey is a real gasser on the USMTS modified circuit, a real big supporter of Coastal 181, and a record setter with his "Big Cock" chassis. He tells this story about a night a few years back at Benton County Speedway in Vinton, Iowa. "I was coming off the turn at Vinton and I just plain got turned right and hit the fence big time. I bit my lip, lost my breath, and jacked myself all up with the submarine part of the seat belts. I was waving my hands when the medics got there, trying to tell them just to leave me alone, but I couldn't even talk for a while. The car was totally massacred. Later that night I was hobbling around the pits with my private parts still hurting, and an old guy came up to me and asked if I was the driver. When I told him I was, he said, "I've been coming to the races here since 1962 and I have never seen anyone go through that fence. But I've also never seen anyone try as hard as you did."
---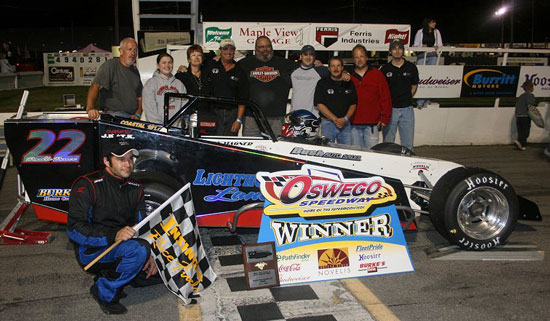 Bobby Magner, #22, is part of the Double Deuce Racing Team (with Pat Lavery in the #2). They are based in the Oswego area and race Supers at Oswego and on the road in the ISMA circuit. Bobby took the Oswego checker on July 5th, sporting the Coastal 181 logo on his car. The Team is also involved in an effort to promote reading among young race fans, selling Coastal 181 favorites like Martin and TJ's Race Car Repair, Racer Buddies, and Speed Racer books pitside at their hauler. Books are also available at the ISMA races in the ISMA Novelty Trailer.
---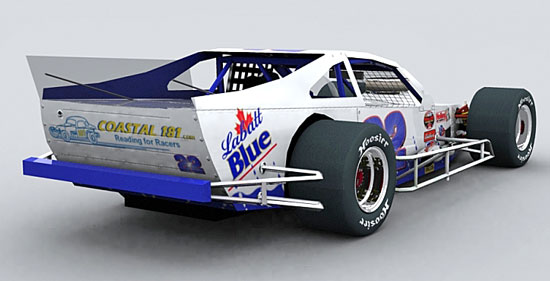 Eric Nordhoff is the driver of the Coastal 181 Troyer in the Whelen Mod series at www.robertsraceplace.com, a SIM racing community. At RRP they race 7 nights a week, with different points series available for drivers of all experience levels. This league is 100% free to participate in and uses the Papyrus NASCAR 2003 platform. Please drop by and join the fun -- and root for the Coastal 181 car!
---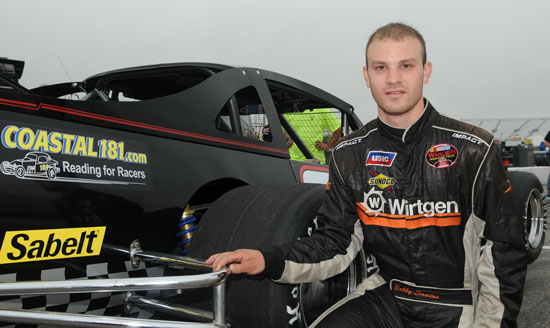 We took a ride with Bobby Santos in his modified at New Hampshire Motor Speedway on June 28. Good Lord, he sure is fast. He hustled the brand new car from down back to a solid sixth-place finish. But you should have seen him the night before on the high banks of Lee USA (NH) Speedway. Bobby was in the Santos family midget and he really took the NEMA field to soccer camp on his way to a commanding win. (Photo Dick Berggren)
---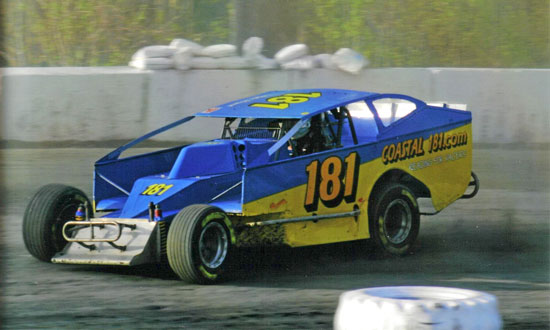 Here's that Blake "Sideways" Shepard again, on his way to a heat race win this spring. We know he is going to win a feature soon. That's pretty cool since he had never been in a race car before climbing into the #181 modified. He's gutsy, and we forgive him for masquerading during the week as a Vice President of Fidelity Investments!" (Alan Ward Photo)
---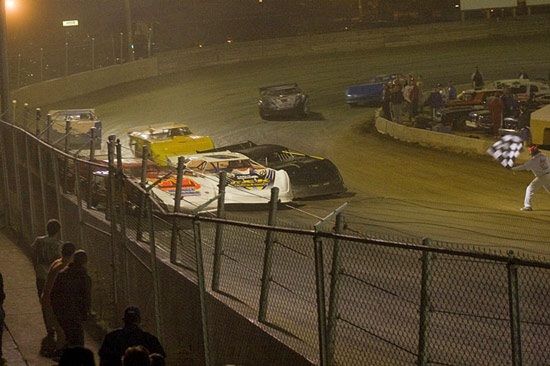 Rick Standridge goes for a spectacular win, way upstairs, last lap at Belle-Claire Speedway in Illinois on April 20. Rick is an extraordinarily talented driver with an open-wheel trailer but a hauler full of victories in both late models and sprinters. His wife Joyce is an Editor-at-Large and columnist with Speedway Illustrated. She is also a favorite author with Coastal 181. She is currently working on Coastal 181's WIN IT OR WEAR IT, a major book on the color and characters of sprint car racing - MORE INFO HERE. It will be available late this fall. (Todd Nieman photo)
---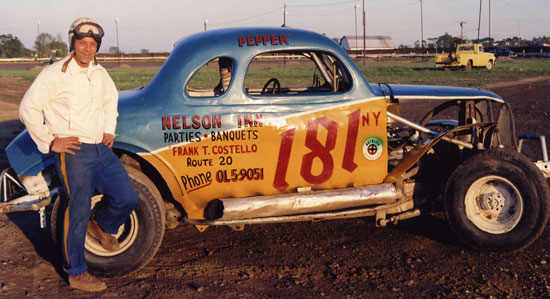 It would be inappropriate to call this a Coastal car. However, it was the inspiration for the tradition of blue and yellow #181s that has now continued for 50 years.
Walter "Pepper" Eastman was a dirt driver from Madison, New York. Though not a huge winner, he was unusually popular with his series of 181 Sportsman coupes. Typically huge blue flames would fire from his exhaust collector as he lifted for turns on the dusty Empire State half-miles. The high point in his career was in 1957 when he took the Monroe County championship. The victory had its macabre side, however. Actually, burly Don Hendenberg had emerged first in points, but, when he died in a highway accident, the title was awarded to Pepper, the runner-up.
In the sixties Pepper did some ride-hopping and drove Bob Zimmerman's #72. On August 14, 1965, Pepper was running the consi at Fonda and he brushed the graveyard turn wall. The flip that followed was fatal.
(John Grady photo)
---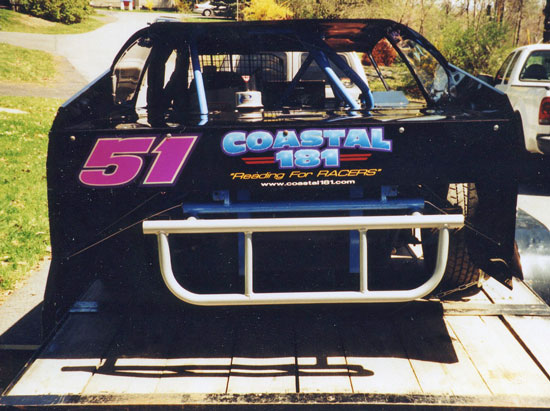 This is an IMCA modified that was driven by long-time New York racer Danny Wood. The car has had its ups and downs. Danny was fast in it, until one tumultuous night in 2006 at Fonda. Fonda has its way of finishing off race cars, but this one had something in reserve. Danny sold it at the Lebanon Valley flea market to Adam Pierson, the youngest of a great Vermont racing family. Adam wheeled it to the 2007 IMCA Championship at Bear Ridge Speedway.
---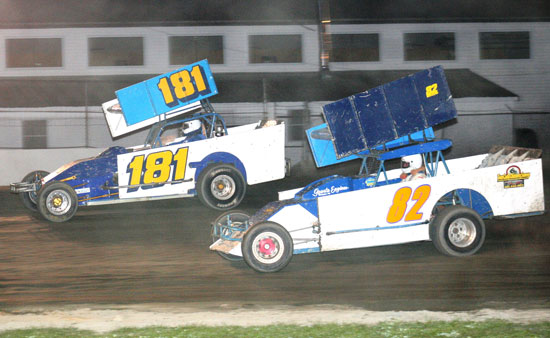 This is our Coastal 181 open competition modified. She is a good old girl – a lightened up, winged, 1991 Champ Car. We call her Jean.

We brought her out for Charlie Elliott's "Last Hurrah" race at Canaan (NH) Speedway last August. Danny Douville drove it for us and he started in the back row next to "Roarin'" Randy Howe in the #82. The two of them blasted through the field to the front and had quite the spirited battle.

In this photo, Danny was just taking the lead, and things were looking pretty good for the Coastal team. On the next lap, however, the fence jumped out right out in front of us.

Oh well.

(Coastal 181 Photo)
---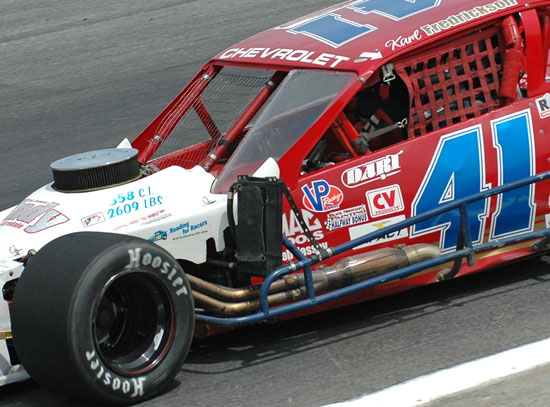 Karl Fredrickson, Editor of Speedway Illustrated magazine, has a great family, a great writing style, and a great sense of humor. He is also a winning short track driver. Most of his driving has been on asphalt and he has won in all manner of pavement pounders, including this modified. Just to keep him honest, a few seasons ago we at Coastal 181 loaned him a car to run on dirt for a year. He learned well. When he went to Boone to cover the Nationals for the magazine in 2005. He got himself a ride and won the Sport Mod feature.
---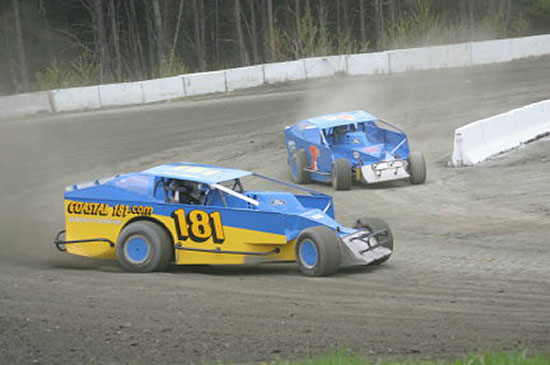 This #181 is a TEO modified racing at the infamous Bear Ridge Speedway in Vermont. The driver is Blake Shepard, who by day is a Vice President of Fidelity Investments in Boston. On the weekends another side of Blake's personality comes alive. We call him "Sideways" Shepard. You can see why. (Alan Ward Photo)
---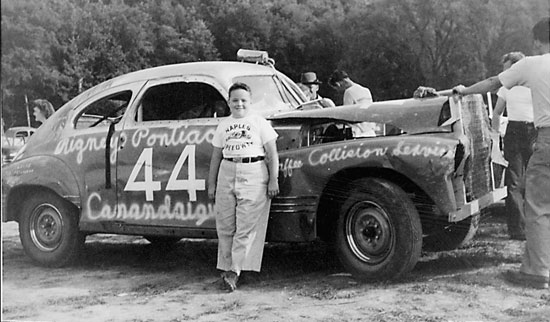 That's Jim Rigney in September of 1950, standing next to his family's Pontiac at the old Naples Speedway in upstate New York. Jim became a major open wheel enthusiast and had a stellar career in publishing in Boston. He has been a major player in Coastal 181 since its start. He co-authored the FONDA book and has done the design portion of most all of Coastal 181's titles.
---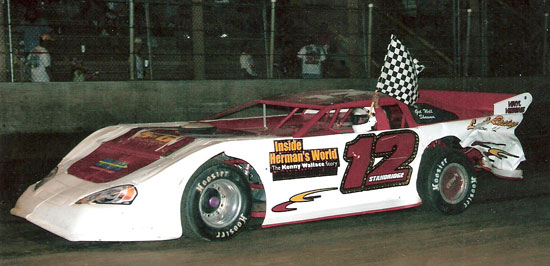 Rick Standridge, an outstanding veteran dirt late model racer, cops one this summer at Belle-Claire Speedway, an intense, high-banked fifth-mile dirt oval in Belleville, Illinois. Rick's wife Joyce is a nationally known racing journalist who wrote both GOTTA RACE! with Ken Schrader and INSIDE HERMAN'S WORLD with Kenny Wallace for Coastal 181. Further titles will be forthcoming. (Photo credit to Billy Haffer.)
---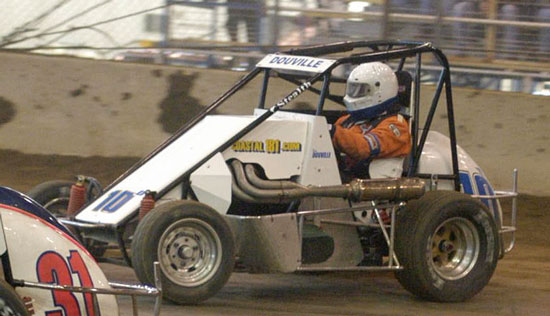 Danny Douville is a winning modified shoe from Tilton, NH. He has well over 100 feature wins, dirt and asphalt. In special recognition of a great season a year or two back, his buddies teamed up with Coastal 181 to send Danny to the Chili Bowl in Tulsa. Danny looked really good and, amazingly, almost made it into the show. One thing is for sure – the folks in New England are still talking about it. (Photo credit to Otto Graham.)
---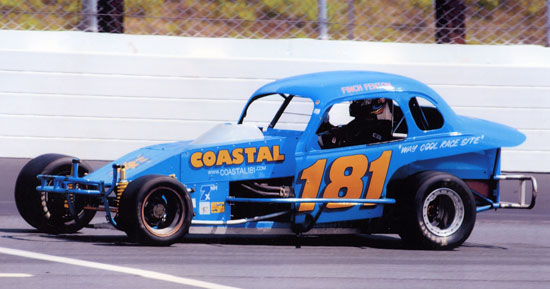 Here's one of Coastal 181's house cars at the Vintage Day at New Hampshire International Speedway. The car was built in 1980, one of the very first off Dave Lape's "Champ Car" assembly line. It ran dirt tracks all over the Northeast, piloted by Tim Clemons, John Bellinger, Karl Fredrickson, and Finch Fenton. (Photo credit to R. Roberts.)