jJOIN OUR
MAILING LIST


for advance notice




of special offers!




(emails are never




shared or sold)


-



Email us at info@coastal181.com

---

Previous Photos of the Day - PAGE 6

Previous Photos of the Day - PAGE 5

Previous Photos of the Day - PAGE 4

Previous Photos of the Day - PAGE 3

Previous Photos of the Day - PAGE 2

Previous Photos of the Day - PAGE 1
---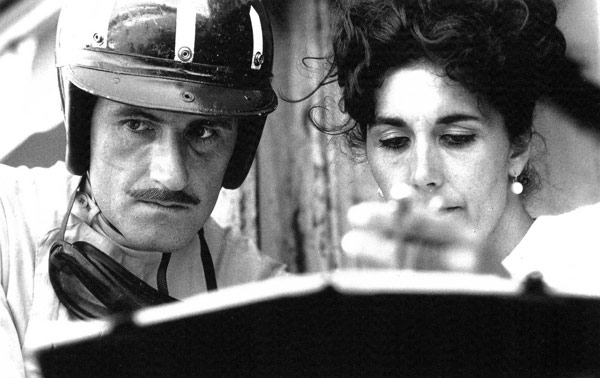 #1500 - A man and a woman: The mustachioed Londoner, Graham Hill, early king of Formula 1 racing – especially at Monaco, and his omnipresent wife, Bette. The couple saw the world before he climbed from the cockpit for the final time in 1975. From PORTRAITS OF THE 60s: FORMULA 1, by Hartmut Lehbrink. (Rainer W. Schlegelmilch Photo)

A
---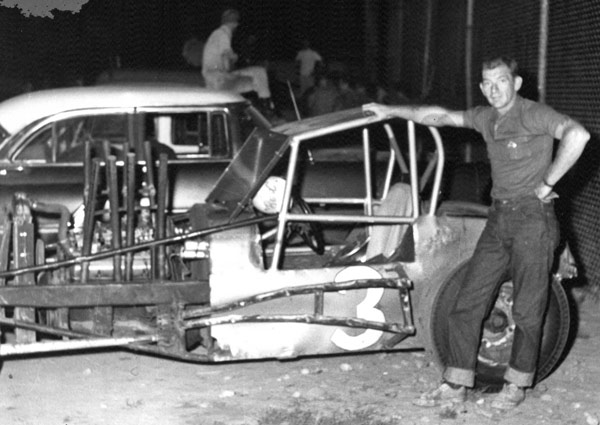 #1499 - The old Pines (MA) Speedway was not unlike speedways across the country in the early '60s. Cars were in transition – in this car from the "Cut-downs" of the URDC to the "Supermodifieds" of NESMRA. This one was legendary Forest Dames' entry, pictured here with his hired gun, local hot shoe Buddy Crotty. There was obvious originality in the car – and lots of welding rod, but also some copy-cat stuff. Seems it was the time for dramatically skyward headers. Other Pines guys like Eddie West and Frankie Conway did the same thing, all hoping there would be no downpours on the track. (Russ Conway Collection)

a
---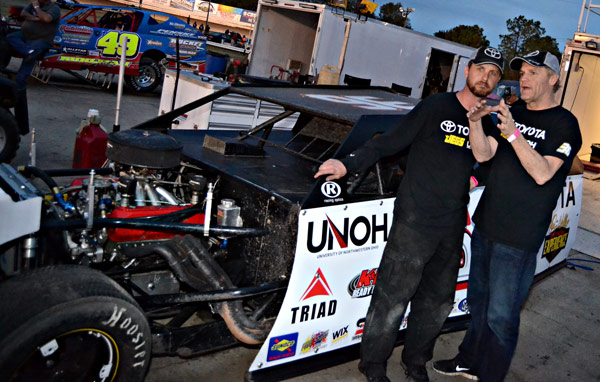 #1498 - Two buddies at work last week in Florida. That's Kenny Wallace (R) and his main man, Billy Smith. Billy is full-time working on Kenny's Dirt Modifieds, and they have been together since 2007. Bill knows his stuff. In his spare time he was Modified Champ at St. Francis County Raceway in Missouri last summer. He says, "Kenny's goal was to become a good dirt track racer and that sure worked out. Probably our best year was in 2012 when we started well at Volusia and went on to win the UMP Summer Nationals Championship. I do just about everything, from maintaining the cars to driving the hauler. We are friends first and boss/employee a far second. We're so close we talk about everything. You know he CAN really talk. But in that race car Herman sure can hunt, too. He just loves racing." (Peter MacDonald III Photo)
a
---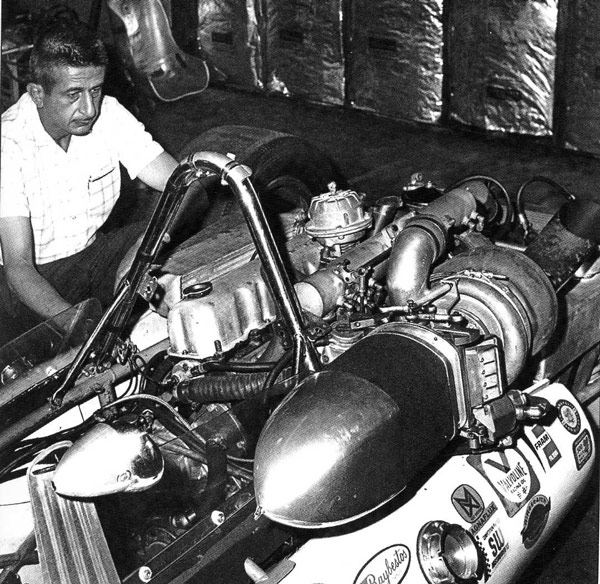 #1497 - Who would have guessed? In 1967 hot-rodding pioneer Barney Navarro prepared a stock-block, production 232-ci Rambler 6-cylinder turbocharged engine to race at the Indy 500. "Installed in a 1964 A.J. Watson chassis, driver Les Scott (an AMC engineer) failed to qualify at the 1967 race. After making some improvements to the turbocharger and waste gate part of the system, Navarro and Scott returned to the Brickyard the following year (1968) and were clocked at better than 150 mph, but were forced to withdraw with unspecified engine problems." Quote and Photo from THE HISTORY OF AMC MOTORSPORTS, by Bob McClurg
A
---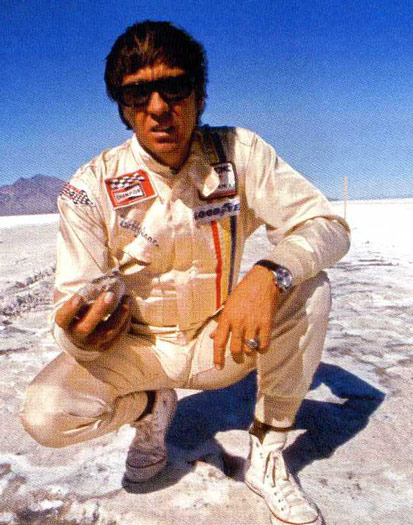 #1496 - In November of 1970, Bobby Isaac and Harry Hyde took the K&K #71 winged Charger to Talladega to attempt to beat Buddy Baker's record lap of 200.447 mph. They did – but barely – at 201.104. That was because the day turned out to be horridly cold and windy. Afterwards they wanted to see how fast they could really go, so it was off to Bonneville in September of the following year. The soft-spoken, publicity-shy Isaac is shown above examining the salt. It turned out to be quite the session. They broke 28 records, getting to 217 mph, and it was not all straight line. Huge ovals were set up and marked with flags, and the Isaac ran them like a dirt track. Bill Brodrick recalls, "We were all standing inside and here comes Isaac. ZOOM! He was on the ragged edge all the time because of all the horsepower he had, but of course Bobby was one of the greatest dirt track drivers there ever was. He ran that thing loose as a goose." Photo/quotation from DODGE DAYTONA AND PLYMOUTH SUPERBIRD, by Steve Lehto. (Photo courtesy Ken Noffsinger)
A
---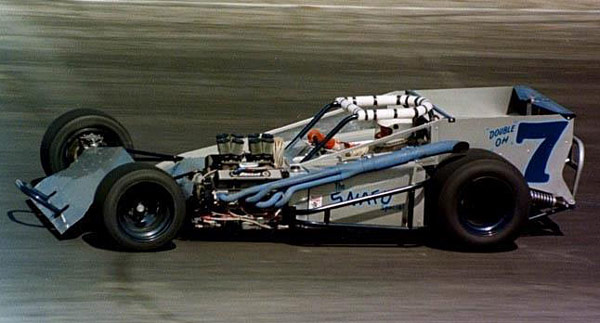 #1495 - 1986, Thompson, Connecticut. Richie Evans was testing his Modified one weekday, and a rocket ship appeared out of nowhere. It was the SNAFU Special, a cantilever-suspended Supermodified owned by Fast Jack Murphy, built and wrenched by Bill Barthell and a young Brian Allegresso. It was driven by a rocket man named Paul "Ricochet" Richardson. After watching it for a few laps on the high banks, Richie meandered over to Paul and suggested that a car had never gone around Thompson faster. Richie was prophetic. "Ricochet" swept both the Thompson World Series and the Star Classic. (Howie Hodge Photo, thechromehorn.com)
a
---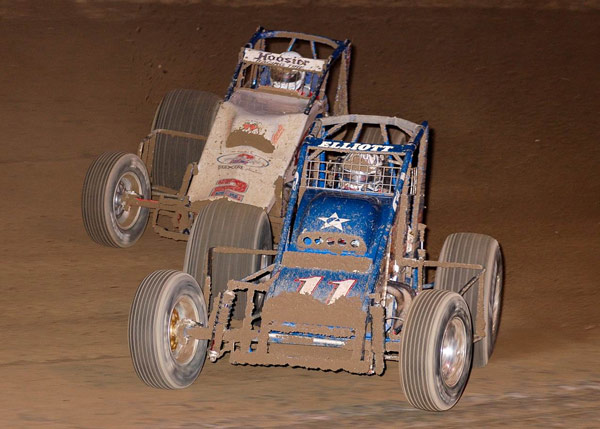 #1494 - THINK DIRT! That's the late Tony Elliott in Jeff Walker's #11 dueling with Levi Jones' Benic #2b, at the 2004 4-Crown Nationals at Eldora. The next year Levi hopped the cushion in qualifying to set fast time for the night and went on to win the main. (John DaDalt Photo)
a
---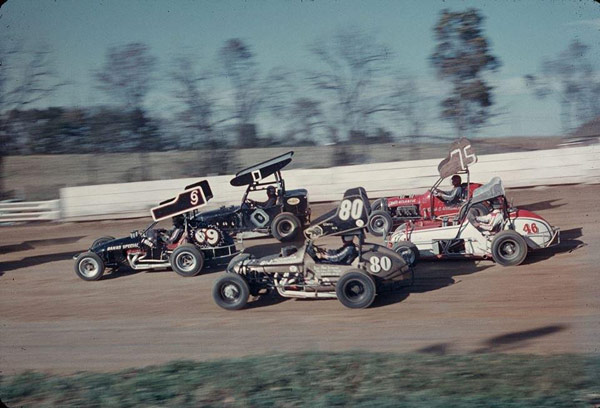 #1493 - Here's a little window into just how much racing Hall of Famer Bentley Warren did in the 1960s. "The Flying Fisherman" from Gloucester, way up on the coast of Massachusetts, ran mid-week dirt shows in PA with his pavement Super (#01). Here he was at Lincoln, in the thick of things with Gus Linder (#69), Ben Showers (#80), Steve Unger (#46), and Bill Wentz (#75). After the shows, they'd travel all night to Oswego, NY, in the 1963 Ford sedan tow vehicle. A quick sleep in the car, a trip to the quarter car wash, and it was an afternoon spent removing the plywood wing, changing springs and tires. That night Bentley would motor on with his glorious career at the Concrete Palace. (Coastal 181 Collection with assistance of racing researcher, Ed Duncan)

A
---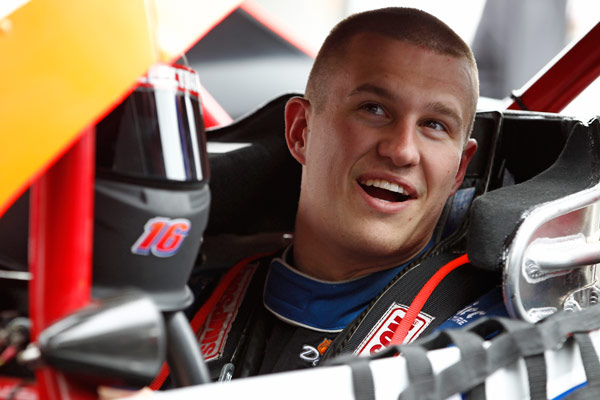 #1492 - In 2013 Ryan Preece became the youngest NASCAR Modified champ in history. This year he will wheel the JDM #01 Chevy in the Xfinity Series. If you have any question why, just see this video from New Smyrna in February 2015. https://www.youtube.com/watch?v=tdhADkLgJkc (Jason Smith Photo)
a
---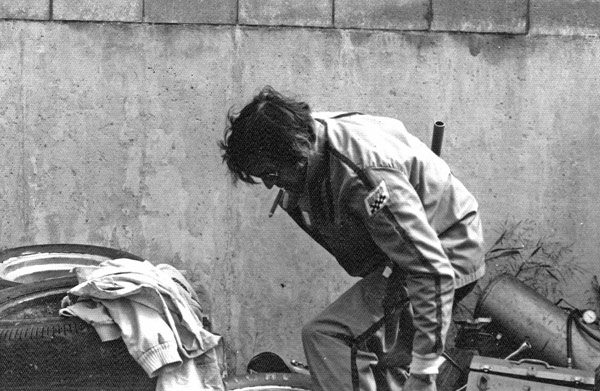 #1491 - The great Ollie Silva, shown here in the outdoor locker room at Seekonk (MA) Speedway, was certainly charismatic, but he was a tad less than polished. It was the same with his cars. His rudimentary Modifieds in particular had some of the railbirds shakin' their beaks, but they were very fast. The New London Waterford Speedbowl had a series of hugely successful Modified open shows back in the '70s, and Geoff Bodine, with his gleaming state-of-the-art kit, was the hot set-up. One night Ollie swept Bodine and all comers, lapping the field. Ollie recalled, "I glanced over at him going by, and his eyes were as big as saucers." (R.A. Silvia Photo)
a
---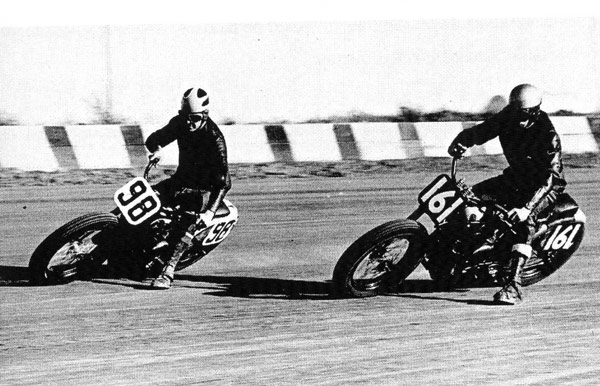 #1490 - It was the Friday bike races at Belmont Speedway, just near the San Francisco Bay. Joe Leonard, motorcyclist and future Indy racer, was on the #98, while George Benson, who turned into a fine, long-time West Coast Midgeteer, rode the #161. Benson said, "In retrospect, I think if I had stuck with motorcycle racing, and providing I survived, I may have progressed to champion status. But considering my skill compared to the talent of riders the likes of Joe Leonard, I just was not willing to risk the time, money, effort or body parts to attempt reaching that level." Quote and Photo from GEORGE BENSON: THE RACING YEARS - A Memoir of the Life and times of a Racer 1952 to 1987, by George Benson.
a
---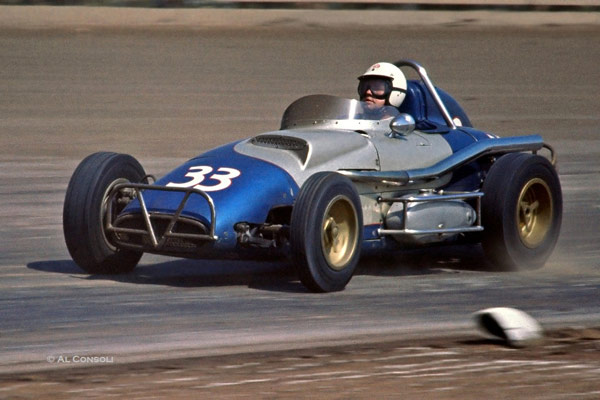 #1489 - How neat is this Kurtis Midget Roadster? It was bought by Tassi Vatis for the great Tony Bonadies. Subsequently John Heydenreich's dad, Freddy Charles, bought it and is shown here taking a spin – likely at Middletown, NY, in the 1970s. John's beginning restoration now. (Al Consoli Photo, John Heydenreich Collection)
a
---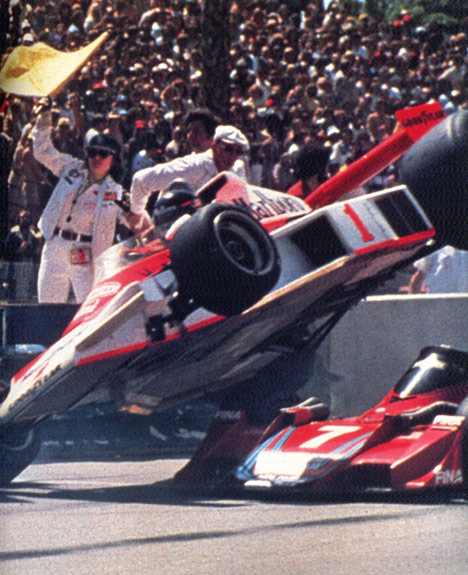 #1487 - "I narrowly avoided this crash at the start of the 1977 U.S. Grand Prix in Long Beach. I just made it underneath the accident. I ended up winning the race on the last lap." From ANDRETTI, by Mario Andretti (Dan Boyd Photo)
a
---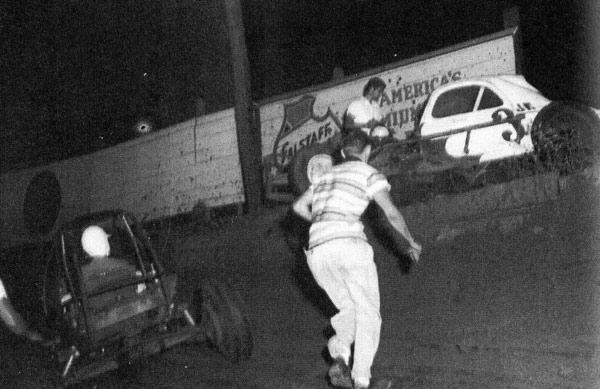 #1486 - We likely won't see anything quite like this in 2016: In her cool new book FAST MEMORIES: Springfield Speedway 1947-1984, Joyce Standridge focuses on the track's rather quirky promoter, Joe Shaheen. "Joe painted a bullseye on the wall. If anyone hit it with their race car, they would get $100. This is Gene Hanner, and he may have gotten closer than anyone else. 'Close' to Joe was not like horseshoes. You hit the bullseye or you didn't." (Joe Moe Collection)
A
---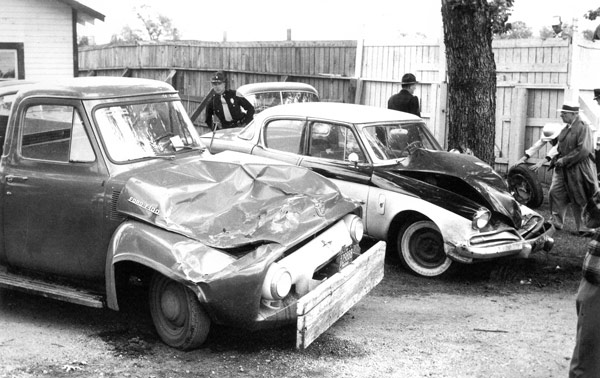 #1486 - Serbian-American racing superstar Bill Vukovich, gunning for his third consecutive win at Indy in 1955, grabbed the lead on lap 53. Just three rounds later he tangled with Johnny Boyd and went end-for-end, sailing over the outside retaining wall to his death. He struck two vehicles on the way back down. From RAY CRAWFORD - Speed Merchant: A California's Grocer's Love Affair with Risk, From P38 Lightnings to the Indianapolis 500, by Andrew Layton. (Dick Wallen Collection)
A
---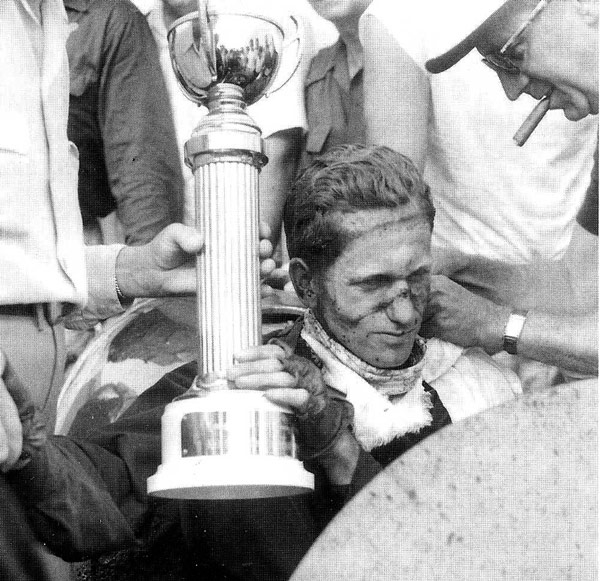 #1485 - June 25, 1950, Langhorne, PA. It was sunny, a sweltering 100 degrees, and the oiled dirt was said to shimmer before the start of the 100 miler for Champ Cars. Troy Ruttman said, "It was so hot you could hear yourself sweat. And those cars were like driving a furnace." The eventual winner, Jack McGrath, was so tuckered out he sat in the Doc Morris Special for minutes, not even being able to hold the trophy. From LANGHORNE!: No Man's Land, by Spencer Riggs. (Ed Slane Collection)
a
---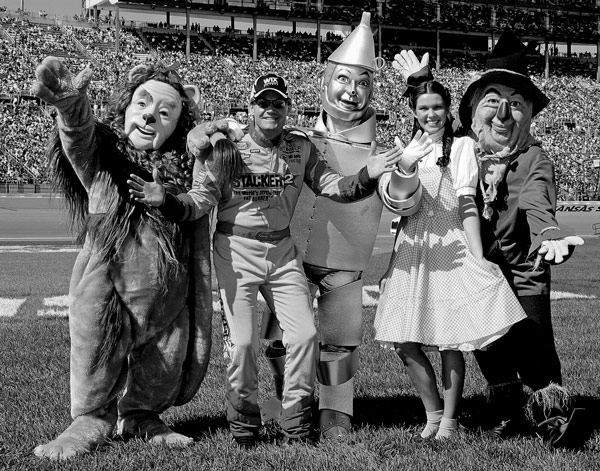 #1484 - Kenny Wallace: "Okay, sometimes I understand why I don't get taken seriously. Who else at the Kansas race would take time during driver introductions to pose in Oz?" From INSIDE HERMAN'S WORLD: The Kenny Wallace Story, by Kenny Wallace with Joyce Standridge (Photo Copyright Steven Rose, MMP Inc, Kenny Wallace Collection)
a
---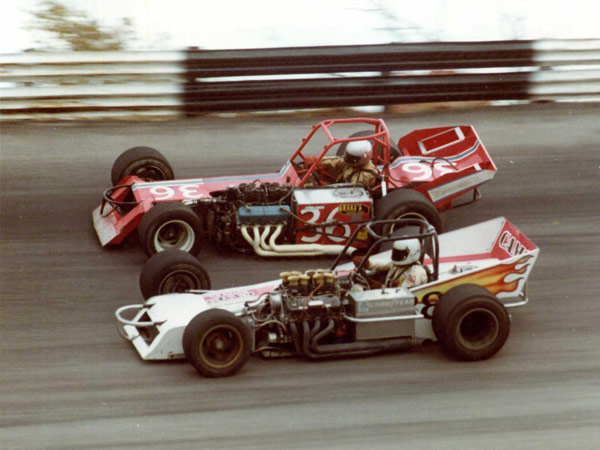 #1483 - It was 36 winters past, but those injected Big Block Supers were lightning fast. That's Chuck Ciprich (#36) and Bentley Warren in Fred Graves' #38 working their trade on the fearsome banks of Salem, Indiana. They ran one-two, Ciprich the winner, just as they had the week before on the more shallow heights of Thompson, CT. From WICKED FAST: Racing Through Time With Bentley Warren, by Bentley Warren with Bones Bourcier (Jim Cooling Photo)
a
---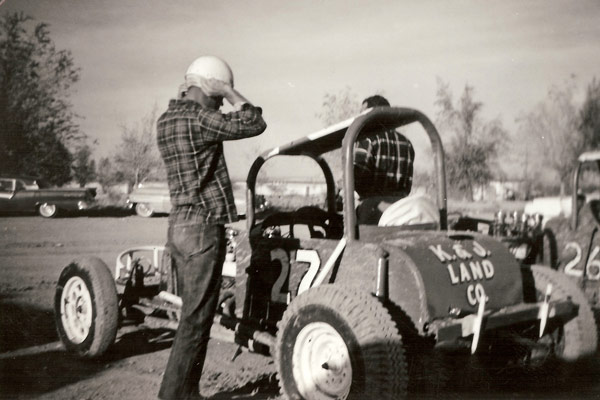 #1482 - Bet you'd never guess who this guy was – ready to go with his firesuit in his little knobby-shoed Modified down in Mexico in 1960. It was Don Miller, very early on his road to extraordinary success in business and to NASCAR stardom. He would join with Roger Penske to develop two NASCAR teams and to perfect all manner of racing equipment including tires, insulating materials, and roof flaps, mentoring the likes of Rusty Wallace and Ryan Newman along the way. From MILLER'S TIME: A Lifetime at Speed, by Don Miller with Jim Donnelly (Don Miller Collection)
a
---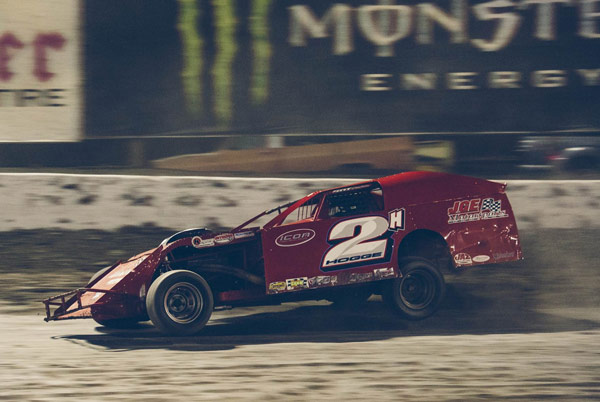 #1481 - That Bobby Hogge IV is really something. Here he is leading the 2014 Budweiser Nationals Modifieds at Bakersfield, CA high, wide, and handsome. The Salinas-based racer won all four Late Model and Modified events at that show. From GUIDE TO NORTHERN AND CENTRAL CALIFORNIA RACEWAYS, by Saroyan Humphrey. (Saroyan Humphrey Photo)
A
---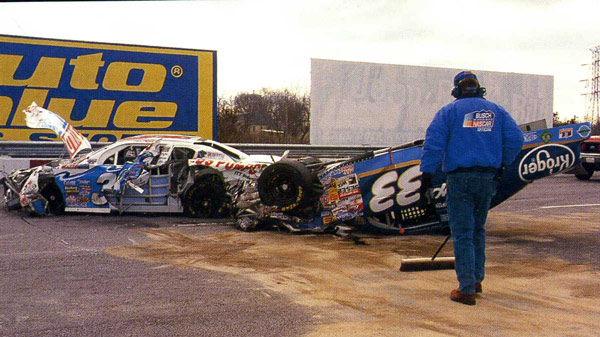 #1480 - Mike "Magic Shoes" McLaughlin, a starring dirt tracker from upstate New York, was in the more Southern climes in 1998. He was red hot in the Busch Grand National Series, leading the points in the early going before some misadventures. On March 14 he got mixed up in warm-ups at Nashville with Tim Fedewa, who ended up on his noggin. That's Mike's car to the left, equally destroyed. Mike ended up winning Charlotte in the fall and finishing runner-up to Junior for the championship. From SECOND TO NONE: The History of the NASCAR Busch Series, by Rick Houston (Chad Fletcher Photo)
A
---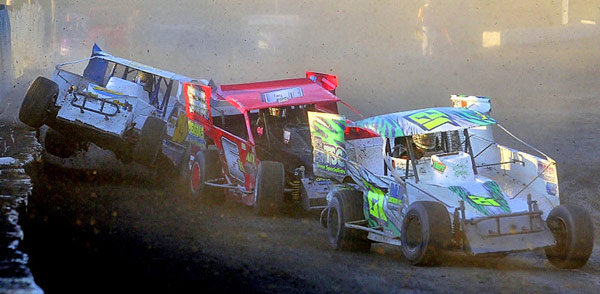 #1479 - Those center-steer Modifieds really get into it each week in upstate New York, an area so affected by current economic conditions. This was at I-88 Speedway last summer, Eric Rudolph in the lead followed by J.R. Hurlburt in the #6jr. Mike Clapperton, who was a tad too committed to the outside, managed to keep right on racing with minimal damage. (Photo by Our Man from Amsterdam, Dave Dalesandro)
a
---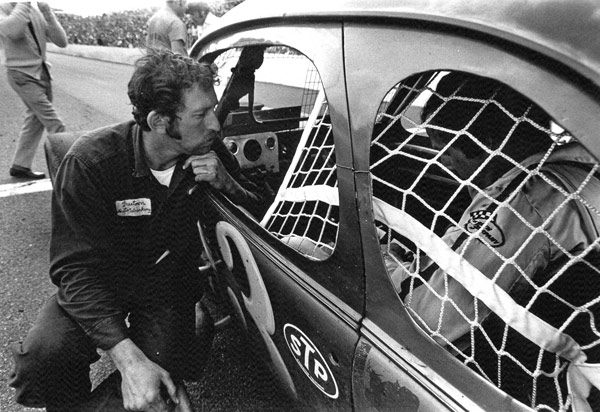 #1478 - Remembering Lenny Boehler. (North East Motor Sports Museum Collection, Dick Berggren Photo)
a
---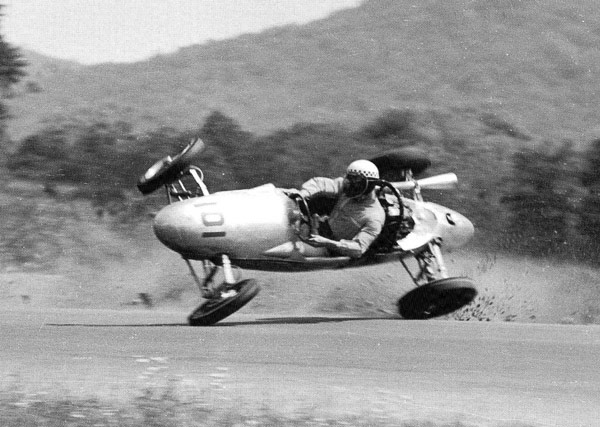 #1477 - The recently deceased Tyler Alexander, much respected mechanic, engineer, and team manager to world-class road racers for four decades, was also a skillful photographer. He caught his friend John Ffield in a rather compromised position at Connecticut's Lime Rock Park in his Cooper Formula 3. In fairness to Ffield, it was an unusual occurrence; he won 15 of 17 SCCA series races for Formula 3 cars in 1961. From TYLER ALEXANDER: A LIFE AND TIMES WITH McLAREN, by Tyler Alexander (Tyler Alexander Photo)
a
---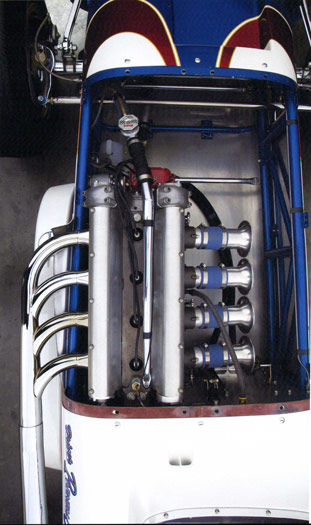 #1476 - Here's a peek at the magnificent simplicity of the motivation department of "Ol' Calhoun," built by A.J. Watson in 1960. One of his most successful cars, it featured torsion front and rear and an injected 255 Offy. Maybe its best day was at Indy in 1963 when Parnelli Jones sat on the pole, broke his own track record and won comfortably, despite some commotion about a leaky crack in the oil tank. Owner J.C. Agajanian donated the car to the Indy Museum following the 1964 event. From THE CARS OF VEL MILETICH and PARNELLI JONES, by Jimmy Dilamarter and Ren Wicks, Jr. (Dean Kirkland Photo)
a
---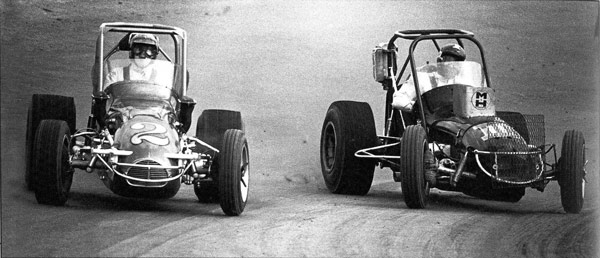 #1475 - It almost seemed like they couldn't leave each other alone. That's Gary Bettenhausen upstairs aboard Willie Davis' #2 and Larry Dickson, a bit crossed up, down low. They were on their way off turn two at Tri-County Speedway near Cincinnati in 1971. Their rivalry brought them an amazing 85 USAC feature wins combined. From FEARLESS: Dangerous Days in American Open Wheel Racing, by Gene Crucean. (Gene Crucean Photo)

A
---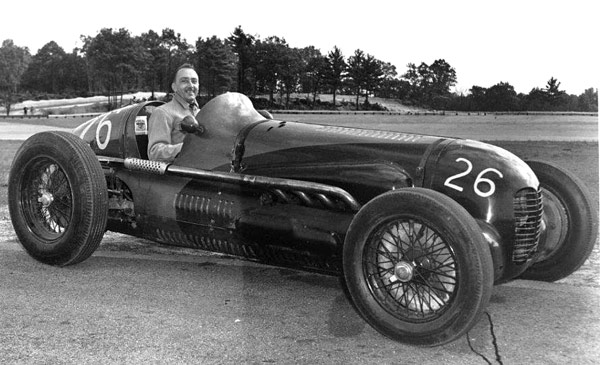 #1474 - George Weaver, bearer of the first SCCA license ever issued, was the builder of the first-ever permanent road racing course in the United States. It was at Thompson, CT, in 1952, and for a time the layout included a swing on the oval built there by John Hoenig in 1938. Weaver exercising his Grand Prix Maserati at Thompson sure was a sight to behold. (Coastal 181 Collection)
a
---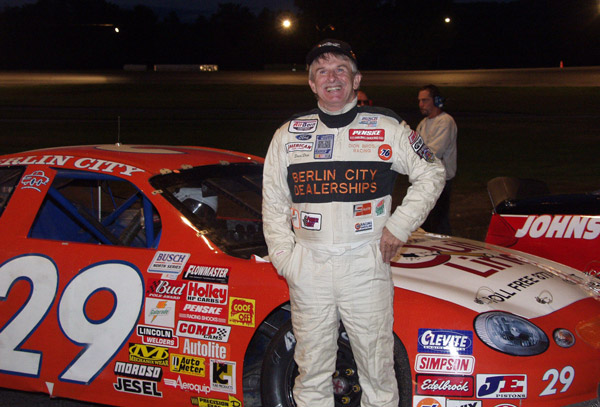 #1473 - Dion in Daytona! "Dynamite Dave" Dion, the Northeast's most popular Late Model driver and quite likely most outrageous character, has moved to Florida and is fitting right in. He's now an integral part of the Living Legends of Auto Racing in Daytona. He will be hosting a session fittingly called "Coffee with the Characters" starting a 9:00 am the morning of Thursday Feb. 17 at the LLOAR Museum at 2400 S. Richwood Ave., South Daytona. Racers from all over will be discussing their experiences and how they got started. A mini, trial version of the event was held last year, and it was a howling success. It will be open to all, and free coffee and donuts will be served compliments of Berlin City Ford, Dave's long-time sponsor.
(Coastal 181 Collection)
aa
---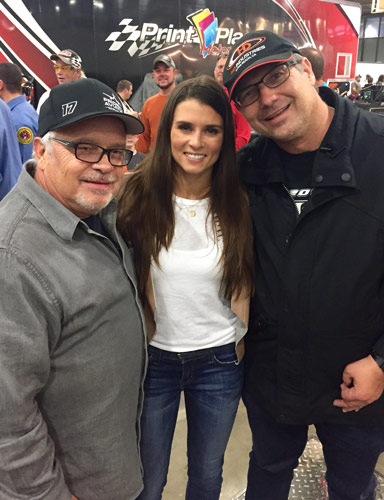 #1472 - You just never know who's going to show up at the Chili Bowl. Here are Coastal buddies Shane Carson (L) and Page Jones (R) surrounding the comely Ms. Patrick. (Richard Marshall Photo)
a
---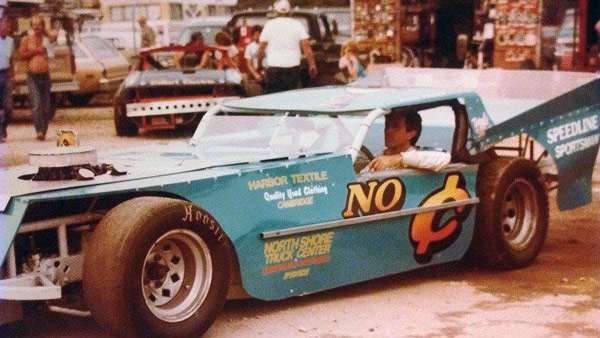 #1471 - Most all of the seasons our cars have been #181. However, on a few occasions they were so hideous looking that we took a step back from ourselves and numbered them noCents. (Coastal181 Collection)
a
---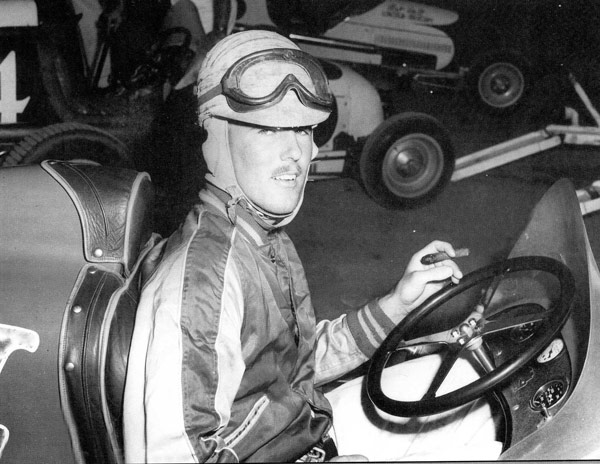 #1470 - Guess who! He's shown at a Midget race at Gilmore Stadium, Hollywood, CA, in 1948. He was 22 and four years later he would begin a whirlwind career with AAA and then USAC. (It's one young lookin' Jimmy Bryan from over in Phoenix, AZ.) From FEARLESS, by Gene Crucean (Bob Sheldon Collection)
a
---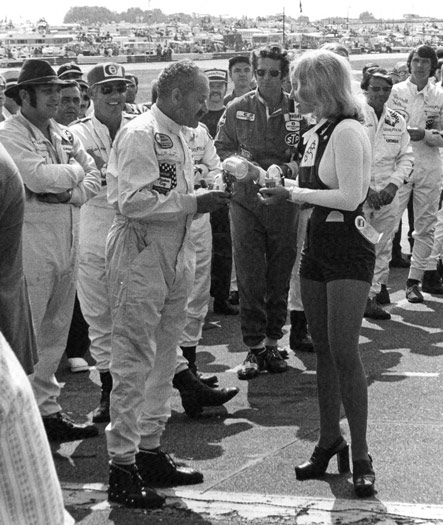 #1469 - The incredibly resilient Wendell Scott was honored on this day in 1973, returning to racing following a horrific 21-car crash at Talladega that injured him badly. It is fair to say that Scott, now nationally recognized and admired, received scant few gifts along the way in superspeedway racing. He passed away from spinal cancer in 1990. (Dick Berggren Collection)
A
---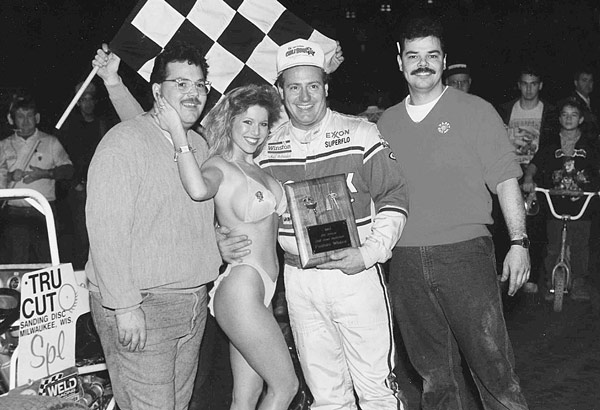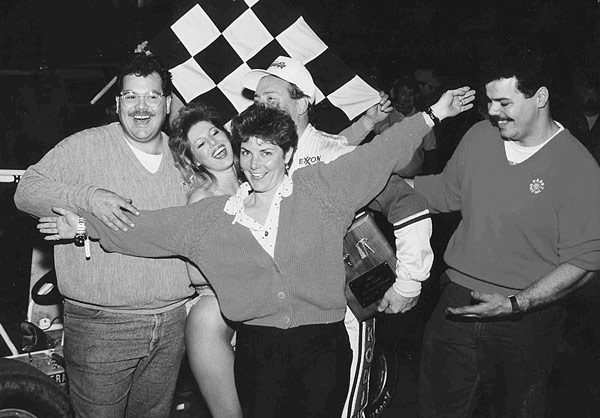 #1468 - Wherever Kenny Schrader goes, merriment seems to come along. Back in Midget days, he took in the Chili Bowl and, as usual, did quite well for himself. In Kenny's words, "We were getting our picture taken when Ann (Schrader) decided that she needed to save the world from that ugly ol' trophy girl." From GOTTA RACE, by Ken Schrader with Joyce Standridge (Ken Schrader Collection)
a
---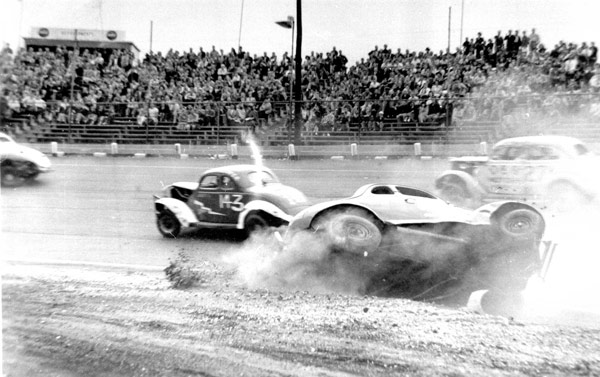 #1467 - That's what friends are for? The Lonsdale, RI, Sports Arena was one hoppin' place in the 1950s until, flooded by an inland hurricane in 1956, the grandstands were undermined, and the track ultimately failed. In this shot, a strong runner named Ralph Moody (later to become a principal of Holman Moody) got a little sideways and started to spin. That's when his friend Gavin Couper, a frisky New England journeyman racer in the #148 Liberty Lightning Special, came along and gave Ralph a good bump. The idea – supposedly – was to straighten Ralph out. That didn't quite work out. (John Monaghan Collection)
a
---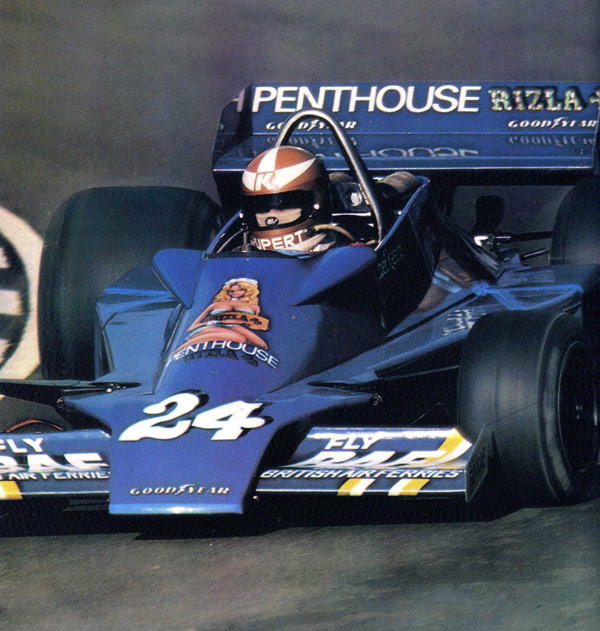 #1466 - For a few seasons in the mid-1970s, a rather irreverent Englishman, Lord Hesketh, formed a Formula 1 team. They were sponsored by Penthouse and certainly had a playboy style, showing up in Rolls Royces, drinking champagne. The fire suit on one of their drivers, the frisky James Hunt, read "sex – the breakfast of champions." Here's one of their cars in 1977 with promising Rupert Keegan at the wheel. From AUTOCOURSE 1977-78 (Phipps Photogenic)
a
---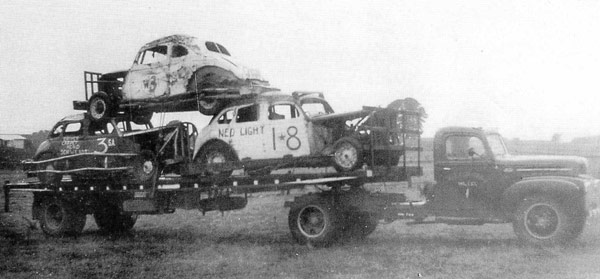 #1465 - The way they were. These three jalopies showed up at the pit gate at Borderline Speedway, Mount Gambier, Australia in the 1950s. Hope they didn't have to travel too far. They were certainly not flyweights, as lots of 6011 welding rod would have been needed to make them. But it looks a little scary up there. Not a lot of tie-down straps are in evidence. From 50 YEARS OF BORDERLINE IN PICTURES, by Andrew Cameron.


aa
---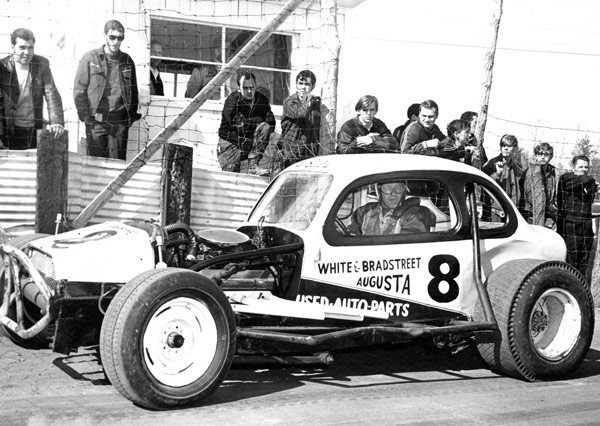 #1464 - There's always been that sense of a divide between racers from Maine and from the rest of New England. Even the construction of the huge Piscataqua Bridge in 1970 seemed to do little to decrease the separation. Given that, what a curious, 1960s-era photo this is of Augusta, Maine's multi-year, multi-track champion, Dave Darveau. Here he was at pit road at Star Speedway, Epping, NH. Certainly, the big dogs of the asphalt Supermodifieds such as Ollie Silva and Don MacLaren would have had little trouble with Darveau's #8, especially with those worn-out dirt tires. But just maybe the picture was taken at the very first race at Star, before owner Charlie Elliott had paved the place. Dave just does not remember. (Dick Berggren Photo, North East Motor Sports Museum)
A
---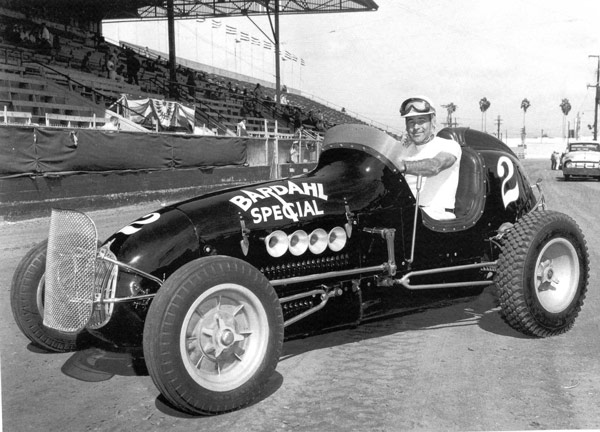 #1463 - When the up-and-coming Bobby Grim went USAC in 1959, Hector Honore decided to put Pete Folse in his Bardahl Offenhauser Special. Here they were at the opener in Tampa. Folse was up to the challenge and earned Honore his fifth IMCA title. That car – and others – would change a bit in profile by May 1 of that year. That's when roll bars were made mandatory, and the accompanying shoulder harnesses were soon to follow. From BIG CAR THUNDER: Sprint Cars on America's Fair Circuit, Vol.1, by Bob Mays. (Jim Penney Collection)
A
---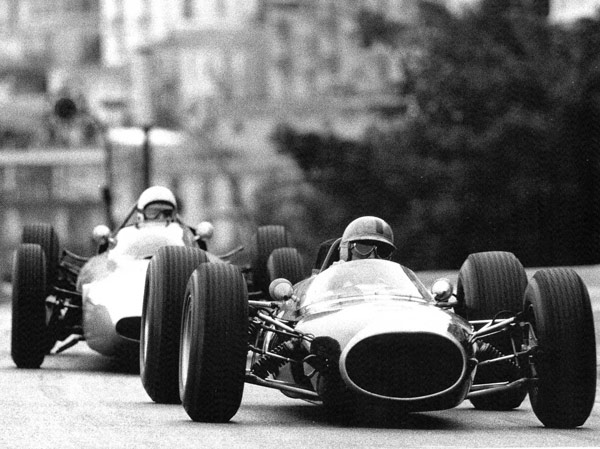 #1462 - Very fast. Jack Brabham in a Brabham BT11 Climax, GP Monaco, 1964. From PORTRAITS OF THE 60s, (Rainer W. Schlegelmilch Photo)
a
---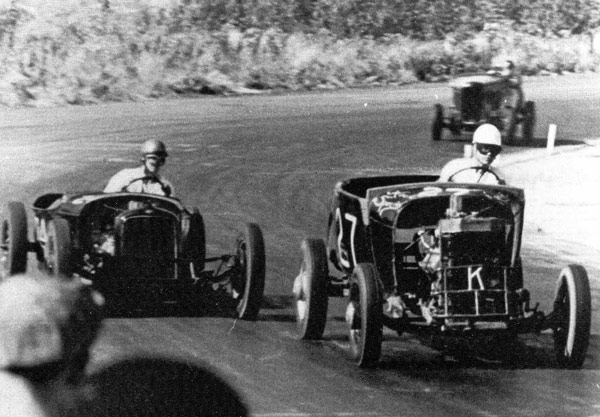 #1461 - That was the first track roadster race to take place at Portland (OR) Speedway, August 11, 1946. The lead car, #27, was driven by Frankie McGowan, who promptly wheeled it to the track championship. Curiously, the Lincoln V12 flathead-powered car was built by a precocious 14-year-old named George "Pop" Koch. "Pop" built another fast roadster for McGowan, but it was purchased by future Indy Car owner Rolla Vollstedt and a rookie named Len Sutton was put in the seat. Sutton also went on to a pleasing national career in Indy cars. From Portland International Raceway, by Jeff Zurschmeide (Photo Courtesy Koch Collection)

a
---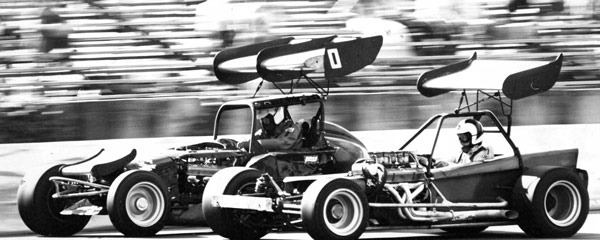 #1459 - Here's a busy shot of NESMRA Supers at Thompson, CT, in June of 1972. Ollie "Quick" Silva and Eddie "The Golden Bear" West (inside) battled lap after lap for the lead in a Gold Series Cup event. If Silva's attitude seems particularly intense, it might well have been that he was aware of what was going on atop. His wing – and its plywood side panels – was coming apart. He won anyway. (Ray Plouff Photo, R.A. Silvia Collection)
A
---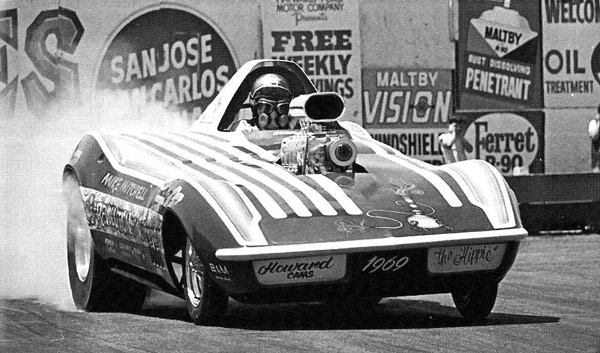 #1458 -

Mike Mitchell, aka "The World's Fastest Hippie," came straight out of San Francisco's flower-power scene. A roadie for Jefferson Airplane in his spare time, he was known for his long hair and multicolored, multiclass (BB/GS, AA/A) AHRA record-holding 1969 Corvette roadster. The car's performance made it a stand-out. The giant hookah (bong) painted on the hood and "Revolution" on the side made it stand out. In the early 1970s, Mike's anti-establishment stance carried over to his 'Cuda F/C, which stated "impeach Nixon" on the rear valance. Quote and Photo from 1001 DRAG RACING FACTS, by Doug Boyce. (Photo courtesy of James Handy)
a
---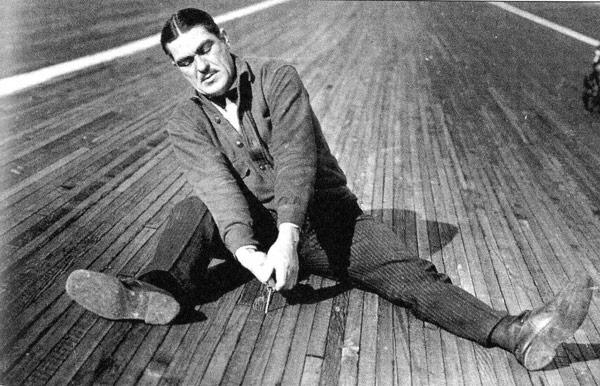 #1457 -

That was Leon Duray, standout Roaring Twenties-era racer, checking the condition of the boards at Charlotte Speedway, a 1.25-mile board track opened in Pineville, NC, in 1924. Charlotte was a big deal, attracting crowds of 50,000. With 40-degree banks, the speeds were frightening. The all-time record holder was Frank Lockhart who turned in a lap of 138.89mph, but the peril was constant. Earl Antersberg died during an exhibition run before the first race was even held. As one would have guessed, the handsome Duray was quite the character. He was known as the "Black Devil" for his black driving suit and daredevil tactics. However, he was not unwise to take a look at the surface of the Charlotte facility. By 1928 the pine boards were worn down by weather and use, and the owners decided not to rebuild. Photo from AUTO RACING IN CHARLOTTE AND THE CAROLINA PIEDMONT, by Marc P. Singer and Ryan L. Sumner.

A
---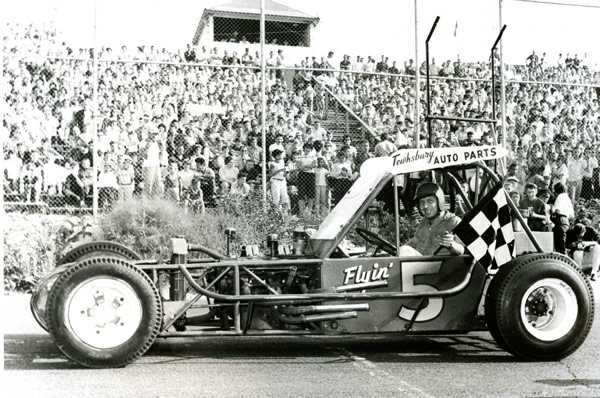 #1456 -
The early '60s in the Northeast will be remembered as a time of transition in short-track racing. The "cutdowns," normally on some form of car frames, were fast losing favor to the "rail jobs," built up from round or square tubing. One of the earliest was the 41jr, welded up by the clever Dick Mann of Stoughton, MA. Here is that car in 1963 at Hudson Speedway. Its new owner was Ed Bowley, and it's shown here after a win before a sun-soaked crowd, Smokey Boutwell at the controls. Bowley fielded a long string of "Flying 5s" over the years, amassing numerous wins. (Russ Conway Collection)
A
---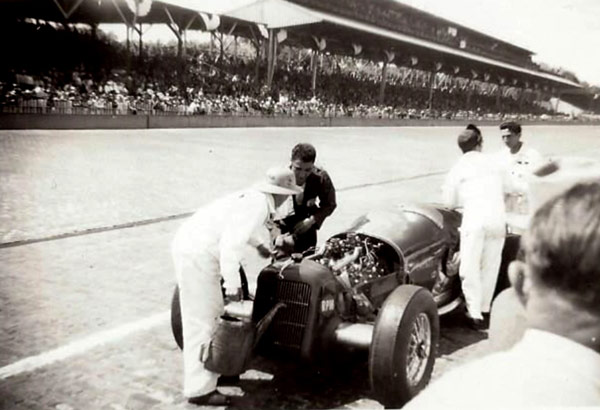 #1455 -

Customer and Coastal 181 friend Len Hoffman of Georgia sent us this neat photo, taken by his grandfather and namesake Len, that captures a memorable moment at Indy. In 1947 the late Andy Granatelli came to town with a seriously time-honored car for a little-known rookie, a Serbian-American immigrant named Pete Romcevich, who ran Midgets. Folks began to take pay attention, however, when Romcevich rocketed from the 17th starting position to 7th spot in some 20 laps. Soon afterwards, however, he was pit-side – no oil pressure. Ever the free-thinker, Granatelli filled the crankcase with water, knowing it was illegal to add oil. Amazingly, the motor banged on until lap 168 when it finally gave up the ghost. Attrition was high, though, and the team ended up with 12th-place money. Romcevich continued on with his Midget career, but died at the Michigan State Fair in 1952. Photo: Len Hoffman of Youngstown, Ohio.
A
---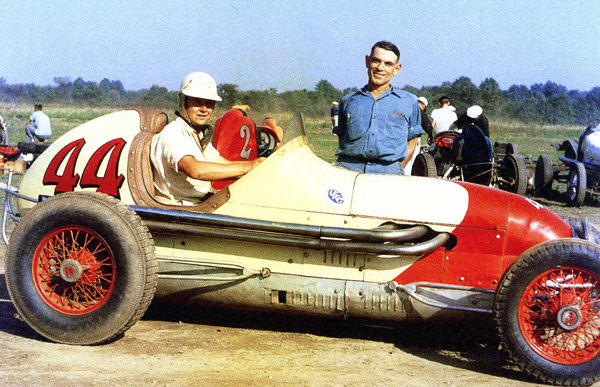 #1454 -

Bud Olsen of Paulsboro, NJ, was quite the racer. He won the NARA Sprint Car Championship in 1950 and continued with URC in the early '50s. He is shown here at East Stroudsburg, PA, on October 5, 1952 with Russ Scheid and his Riley sprinter. The two had won at Morristown, NJ, on June 22. Bud went on to the Modifieds with great success, emerging as NASCAR national champion in 1958 and champ at the rough and tough Reading (PA) Fairgrounds in 1964. What a thrill it was to see him pull into the pits for a major asphalt Modified event we promoted at Stafford, CT, in 1972, the Spring Sizzler. Bud retired from driving the following year, but kept right on building cars – 200 of them in the 1970s alone. He passed away in 1991. From TOW MONEY: The History of the United Racing Club, Vol. 1, by Buzz Rose and Jim Chini. (Jim Chini Collection)
a
---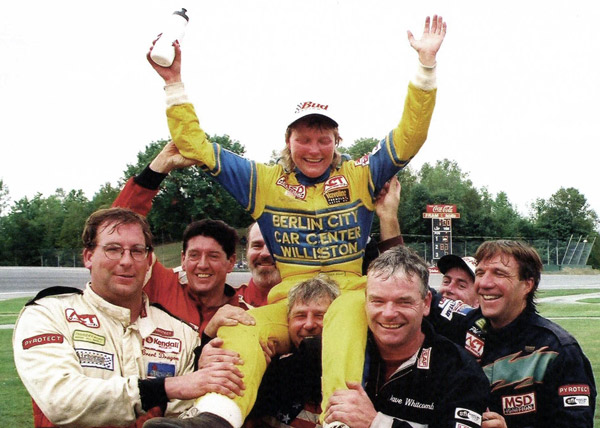 #1453 -

In the late 1990s New Hampshire's Tracie Bellerose began towing her race car across the mountains to Barre, VT, and Thunder Road Speedway. She snatched a support division race in 1998, the first woman to win at the legendary oval. In May of 2000 she officially became "Queen of the Road," winning an ACT Tour Late Model show. There was great commotion. Carrying on with her were (L-R) Brent Dragon, Joey Laquerre, Chuck Beede, Pete Fecteau, Dave Whitcomb, Jay Laquerre, and Phil Scott. From THUNDER ROAD: Fifty Years Of Excitement, John Casey, Publisher
a
---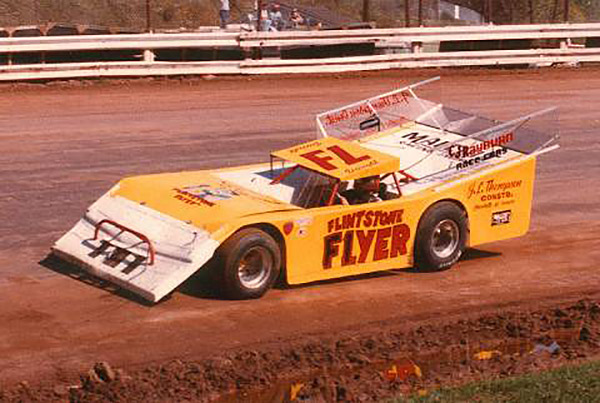 #1452 -

There have actually been times in the not-so-distant past when short track cars were not so painfully cookie-cutter. Certainly one of them was the early 1980s when dirt track Late Model guys could go all-out on aero. Some of it wasn't pretty, but the fields were awash with visual creativity. Here's an example: Gaffney, South Carolina's Mike Duvall, "The Flintstone Flyer," has won hundreds and hundreds of shows. Here he is flirtin' with the air in 1983. (Photo from www.flintstonef1yer.com)
A
---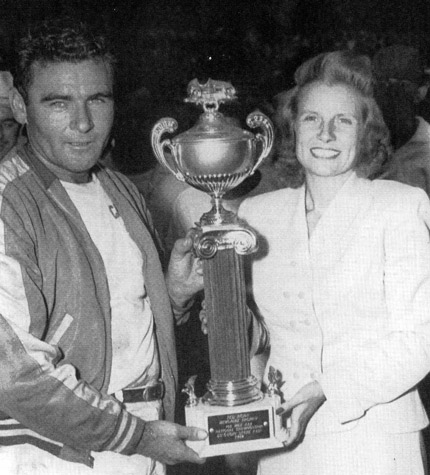 #1451 -

That's Chuck Stevenson and trophy, having driven the Springfield Welding Special into victory lane at the Ted Horn Memorial at Du Quoin, IL, September 1, 1952. Bessie Lee Paoli, alongside, was not the trophy girl. She entered and owned the winning car but was not allowed to enter the pit area. The only exception was for nurses tending to the wounded. The comely Ms. Paoli had better than a grandstand seat at the AAA awards banquet, however, as she and Chuck won the championship, beating out Troy Ruttman by 30 points. Photo from THAT MAGIC MILE: The National Championship at Du Quoin 1947-1970, by Thomas Nasti. (Phil Harms Collection)
A
---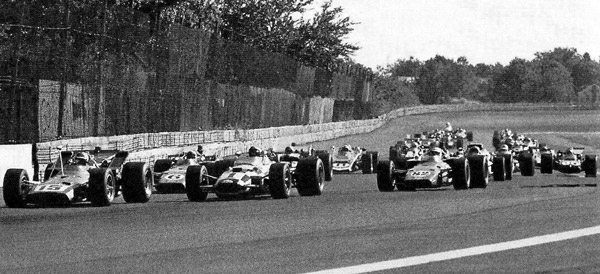 #1450 -

The Fairgrounds at Trenton, NJ, were constructed in 1888 and by 1900 cars were racing on the half-mile dirt track. Over the years it was enlarged to a mile and in 1957 was paved. The Champ Cars ran there at least once a year until 1979. They are shown here on the parade lap on the autumnal solstice, September 21, 1969. The track had just become one-and-a-half miles, with a distinct peanut shape. A.J. Foyt must have had a liking for the Garden State: he won there 12 times. From LOST RACE TRACKS: Treasures of Automobile Racing, by Gordon Eliot White. (EMMR Photo)
A
---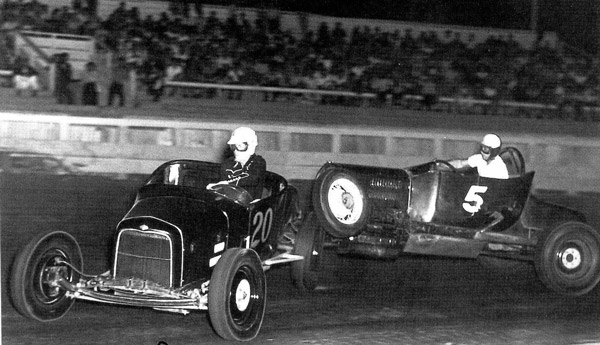 #1449 -

Those 1940s-era California roadsters were extremely competitive, and only huge names emerged from the pack. Here's Troy Ruttman at Bonelli Stadium, being hit – somewhat uncharacteristically – from behind. The aggressor was Andy Linden who also went on to capture national fame. Howard Gardner, another West Coast racer, recalls the first time he ever saw Linden. "He sure made an impression. He came down the street on a bicycle and went around a blind corner about as fast as a bicycle could go. But the amazing thing was that he was sitting on the handle bars and he was riding it backwards." Photo and quote from ROARING ROADSTERS: The Road To Indy, by Dick Wallen (Photo Greg Sharp Collection)
A
---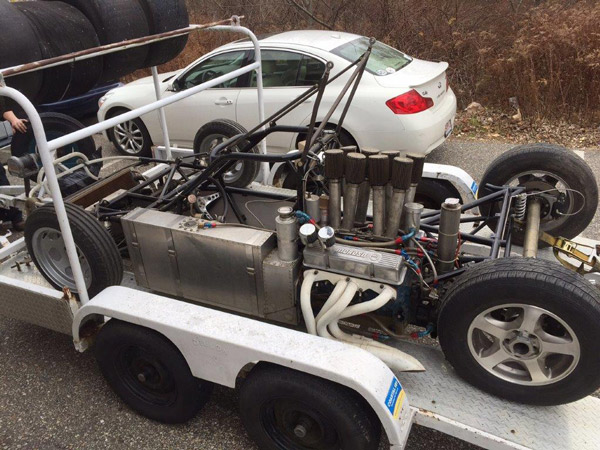 #1448 -

With the ground already broken for the forthcoming North East Motor Sports Museum at New Hampshire International Speedway (see Photo of the Day #1395), folks are taking a fresh look in the corners of some dusty old garages. Case in point is this experimental rear-engine Super, built by the late Doug Gore, Technical Editor of Open Wheel and Stock Car Racing magazines. Dick Berggren was able to exercise it just a few times at Star Speedway before open competition became less open and back-motor cars lost favor. (North East Motor Sports Museum Photo)
a
---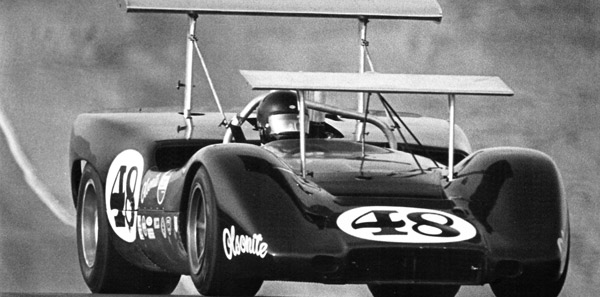 #1447 -

Those 1960s-era Can-Am cars were definitely for the big boys. This is Dan Gurney in his frisky-looking "McEagle," adorned with a high-posted rear wing at the end of the 1969 season. Gurney recalls, "We worked on that car for two years and managed never, ever, to get it to where it should have been. It was like the front wasn't attached to the back and visa versa. I tried to correct that, and only found out that I could succeed in making it worse, but I couldn't make it better. We changed the suspension geometry…we took some weight off, and I think we actually improved it from the aero aspect, but we never did get that fundamental, mechanical chassis part of it right. It was an unfinished symphony, and I'll take the blame." Quote and Photo from DAN GURNEY'S EAGLE RACING CARS, by John Zimmerman.
A
---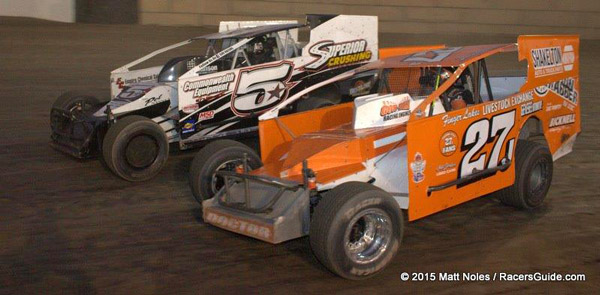 #1445 -

Our buddy Matt Noles tells us it was a most entertaining – but also surreal – scene at Accord Speedway last Saturday. The postponed Thanksgiving "Gobbler" race attracted an overflow pit of center-steer Modifieds and full grandstands to the resuscitated New York track. The skies were sunny, it was 53 degrees, and Christmas carols played through the PA. In the feature up-and-coming Western New York charger Tyler Siri (#5) grabbed the lead and hid, looking like a sure winner, running, Matt says, the race of his life. But, with ten to go, things tightened up and Tyler tried to come down on Danny "The Doctor" Johnson (#27). As would be expected, Danny wasn't having any, and, around went Tyler. Danny went on to win, while Tyler showed his displeasure and was presented with the black flag. (Photo by Matt Noles)
a
---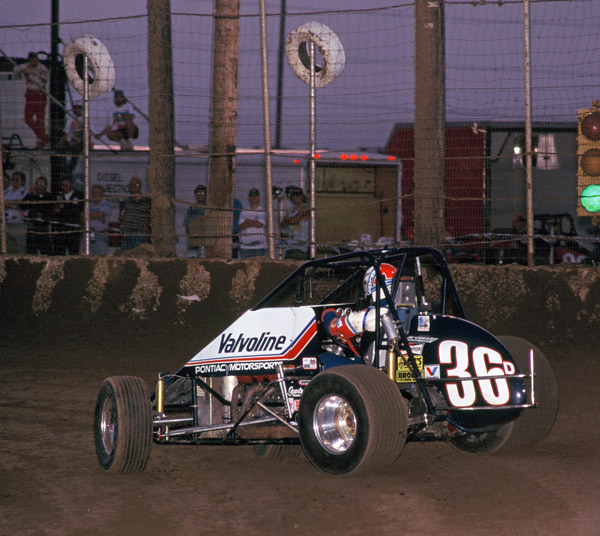 #1444 - Kokomo, IN, Speedway has been Dave Darland's Sunday-evening home for most all of his life. Dave really grooved on it back when it was a tricky, totally flat quarter-mile, as seen in this Randy Jones shot from 1995. Dave likes it still today in its fast, banked configuration. When we launched his book there in July of 2014 during Indiana Speed Week, he set a new track record and won the feature. From THE PEOPLE'S CHAMP: A Racing Life, by Bones Bourcier.
(Randy Jones Photo)
a
---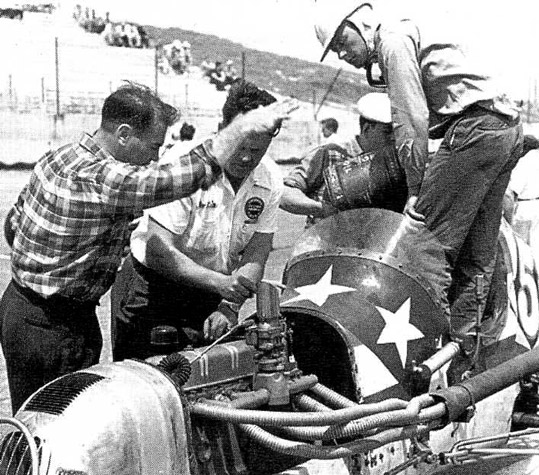 #1443 - That old NASCAR Speedway Division must have been cool. Too bad it never took off. Here's Floridian Jim Rathmann getting ready at Darlington in 1952. Gotta love the six-banger and accompanying flex pipes. From FLORIDA MOTORSPORTS RETROSPECTIVE PICTORIAL, Vol. 1, Second Edition, by Eddie Roche
(Fletcher Williams Photo)

a
---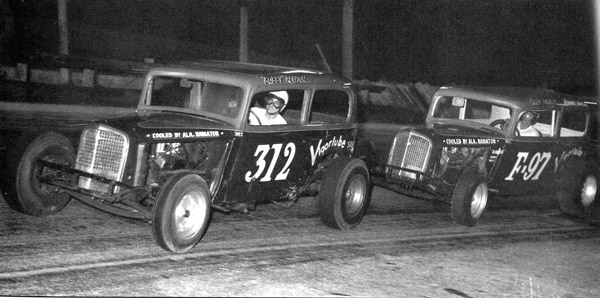 #1442 - Bobby Allison and Red Farmer on the road – and on the hammer – during their gypsy days in Alabama in the early '60s. Both coaches were built by Bobby, though Carl Wesson actually owned the #312. From FLORIDA MOTORSPORTS RETROSPECTIVE PICTORIAL, Vol 1, Second Edition (just republished) by Eddie Roche.
(Bobby 5x5 Day Photo)
A
---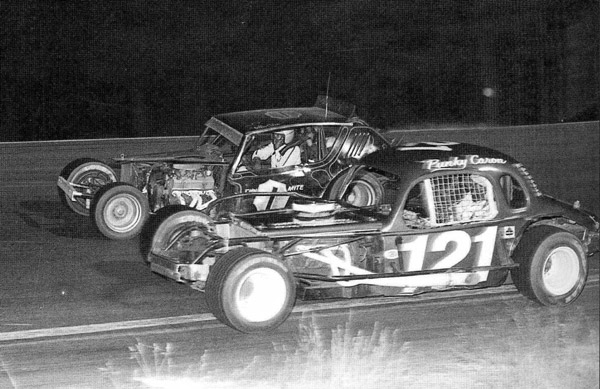 #1441 - "It's the summer of 1978 and Punky Caron is on a tear with his 121 Wirkkala Brothers coupe at the Monadnock Speedway. Driving one of the last competitive coupes, Caron obliterated the competition at places like the high banked Monadnock and Claremont (both in New Hampshire) in the 1970s. He's shown here passing Ollie Silva for the lead and win on a Friday night show in July 1978…. Silva was badly injured in this machine a couple weeks after this photo was taken." Photo and caption from MODIFIED STOCK CAR RACING OF THE '60s AND '70s, by Steve Kennedy.
A
---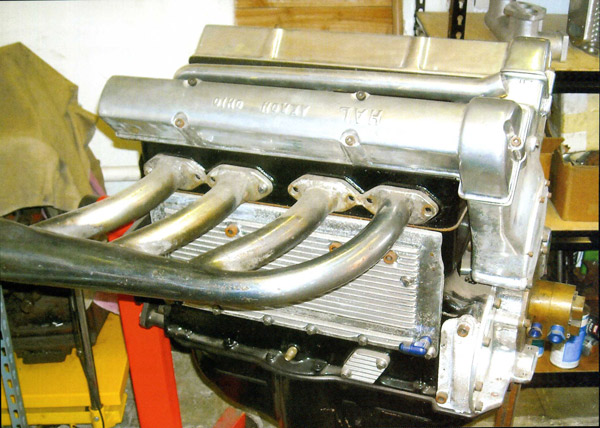 #1440 - Henry Ford built almost 5 million Model As. A roadster cost a little less than $400, and the motor with 201 cubic inches was way more perky the Model Ts. Lots of guys began to get sporty with them. Soon racers discovered the HAL DOHC conversion. It offered up overhead valves, four per cylinder, and dual camshafts – definitely the hot setup. From FORD TOTAL PERFORMANCE: Ford's Legendary High Performance Street and Race Cars, by Martyn L. Schorr (Photo by Claus Mueller, Iron Age Garage)
a
---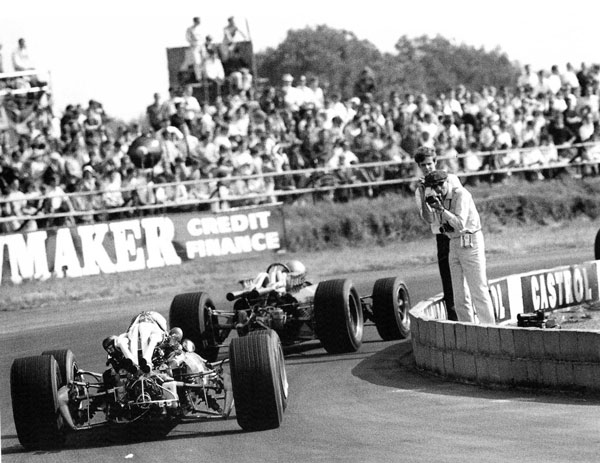 #1439 - Is there any aspect of F1 racing in the '60s that wasn't dangerous? This is the GP England, Silverstone, in 1967. With 12 cylinders, cars such as the Ferrari 312 were very fast. But do you think there was any cement between those bricks? From PORTRAITS OF THE 60s: Formula 1, by Hartmut Lehbrink. (Photo by Rainer W. Schlegelmilch)
A
---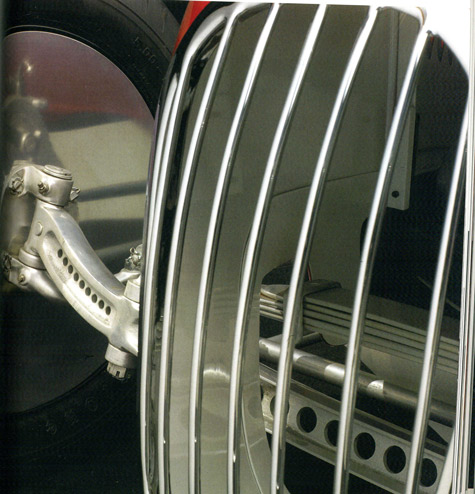 #1438 - The elegance of simplicity. That's the right front corner of Bruce Canepa's ex-So-Cal 1934 Ford Three Window. From Art of the Hot Rod, by Ken Gross.
(Peter Harholdt Photo )
a
---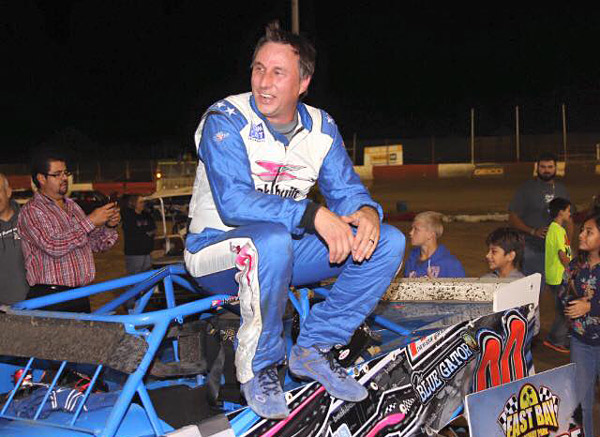 #1437 - Those racing Reutimanns down in Zephyrhills, FL just keep getting more honors and racking up more reasons to be honored. In an incredibly emotional moment, the ultra-veteran racer Buzzie Reutimann served as pace car driver for the final Super DIRT modified 200 on the Syracuse mile in October. The winner of the inaugural DIRT race there, Buzzie paced the field in a restored Reutimann #00 coupe now owned by his sponsor of decades, Dave Cruickshank of Dover Brake in New Jersey. Last weekend Buzzie and son David raced in the second annual Emil and Dale Reutimann Memorial at Florida's East Bay Raceway. Buzzie got in a jingle and didn't finish, so he relied on David (pictured above) to win it. (David Reutimann Collection)
a
---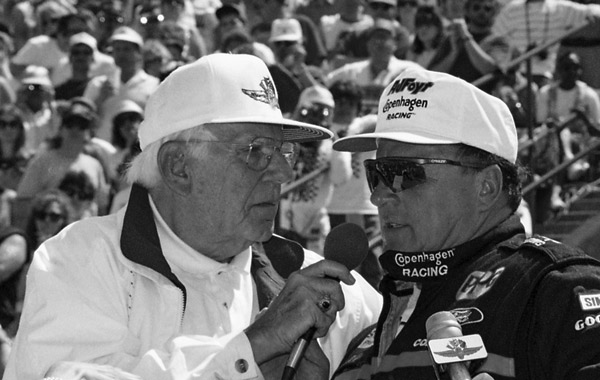 #1436 - "1993: A tearful Foyt tells announcer Tom Carnegie that he's made his last lap at Indianapolis." Caption from our brand new book, FOYT, ANDRETTI, PETTY: America's Racing Trinity, by Bones Bourcier (IMS Photo). The book will be available for shipping at the end of next week.
a
---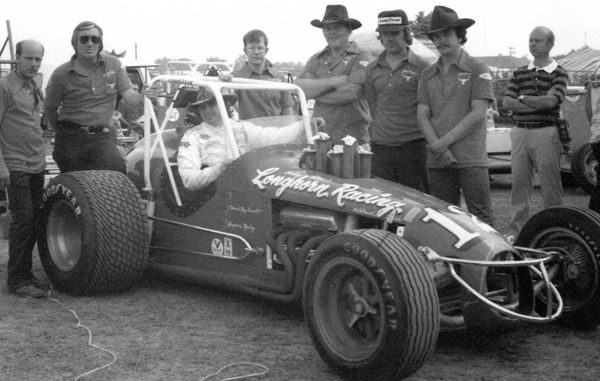 #1435 - "The one facet of the sport that Jan Opperman failed to dominate was the dirt cars. Even though he was the acknowledged king of dirt-track racing in the mid-1970s, Opp suffered with sub-par equipment until landing in Bobby Hillin's (second from left) Longhorn Racing Stapp, wrenched by Donnie Ray Everett (fourth from left). On this day it was looking like Opp was closing in on his first dirt champ win at the 1976 Hoosier Hundred until disaster struck. Opp's head injuries took away forever one of the great talents of our time." From COMPETITION PORTRAITS: The Dirt Champion Cars, by Bob Mays. (Armin Krueger Photo)
A
---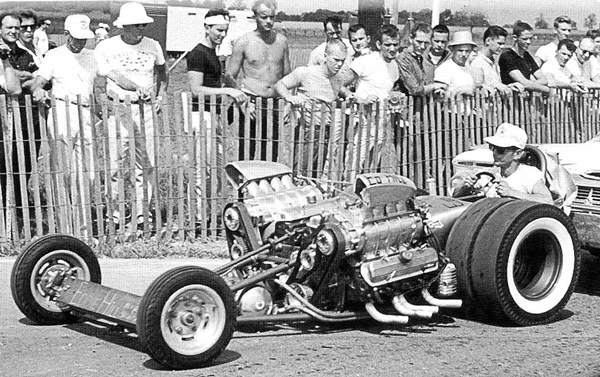 #1434 - The remarkable Texan Eddie Hill showed up for the 1962 season with a twin Pontiac short-wheelbase slingshot with four 8-inch slicks. He was the first to hit 200 mph on gas, turning 202.70 mph at Hobbs, New Mexico. By 1988 Hill, with a 288.55 run at the Texas Motorplex, became the fastest man on land – and on water where he floated to a 229 mph. From 1001 DRAG RACING FACTS: The Golden Age of Top Fuel, Funny Cars, Door Slammers and More, by Doug Boyce.
A
---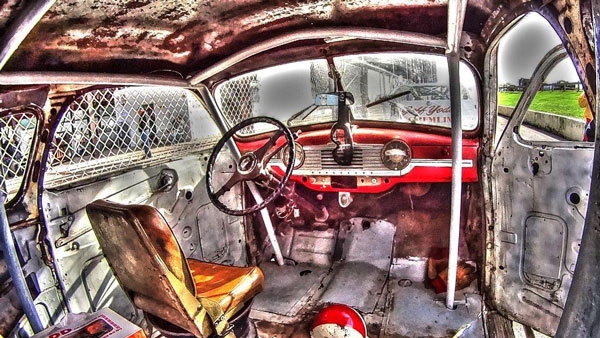 #1433 - This remarkable toned image was taken by Bob Yurko on the final weekend of racing at the famed Syracuse mile. While the flashy center-steer Modifieds and USAC Silver Crown cars dueled on the oval, a string of vintage cars was placed on view behind the stands. This rudimentary, unfortified coupe exemplified the days in the '50s when a 100 or more Sportsman cars would assemble for duty at the Fairgrounds, particularly on Labor Day. You had to be very brave.
A
---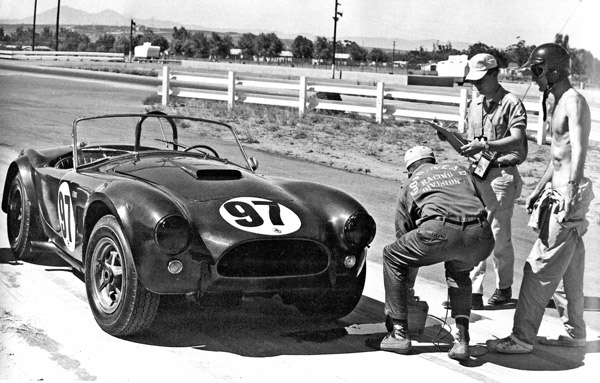 #1432 - He was known as "Teddy Teabag," but he sure could drive. A Brit who had moved to Los Angeles, Ken Miles was hired by Carroll Shelby to help develop the Cobra – and the GT40 and Mustang GT350. He won the 24 Hours of Daytona (with Lloyd Ruby), Sebring, and – almost – Le Mans in the same year, 1966. He is shown here at Riverside Raceway doing a bit of solar collecting between test sessions. He was certainly weight-efficient. From SHELBYCOBRA: The Snake That Conquered the World, by Colin Comer.
a
---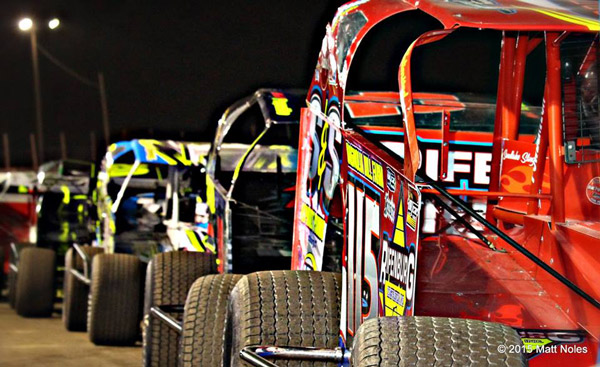 #1431 - That's Kenny Tremont lining up at Lebanon Valley, New York, in his mighty #115 Modified on May 2nd, just as the Tremont team has done each Saturday since the 1950s. This night Matt Pupello, Tyler Dipple and Brett Hearn start just behind him. (Photo by Matt Noles)
a
---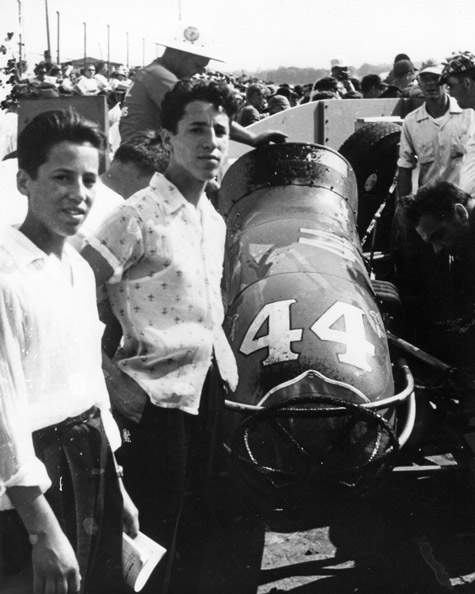 #1430 - "Teenaged twins Mario and Aldo Andretti, their heads full of dreams, check out Johnny Thomson's Indy Car at Langhorne." Caption and photo from FOYT, ANDRETTI, PETTY: America's Racing Trinity, by Bones Bourcier, to be released by Coastal 181 December 11.
a
---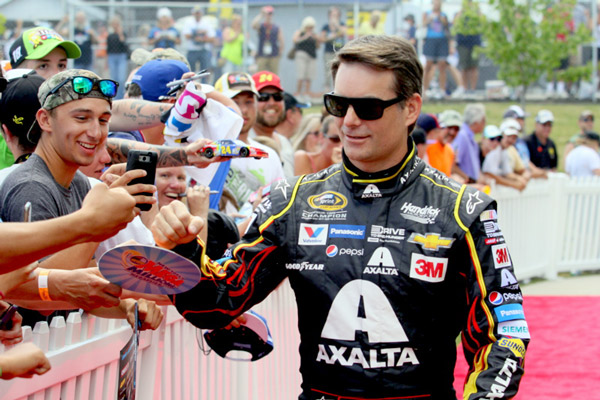 #1429 - Here's Jeff Gordon greeting some happy fans at Watkins Glen this summer. What a fabulous career-ending season he has put together. Way back in 2007 at Martinsville he and I talked about how he began racing and whether he had the goods from the start: "I would say that I am mediocre at most things; but that I am a pretty good driver. There is something about it that once I get going, I feel I have control over it; and it gets fun. It's been that way from the beginning. I've always wanted to try anything – that quarter midget; karts; sprinters; stock cars; but at first there is that big unknown. Gosh, I was asked to go to the Prelude at Eldora, but I had declined the year before because I hadn't done late models on dirt. Well, next time I went, got used to it after a couple of laps, and it was a blast. The worst, though, was that first sprint car. The most petrified I have ever been. I was thirteen, and we were lighting it off on this narrow gravel road. With that stagger and locked rear, when it fired, it seemed to jump five feet in the air. Then we towed it all the way across the country to race in Florida. All the way I was thinking about all that power. Could I handle it? The anticipation was incredible. We had a bad experience at Jacksonville, but then it rained out. Everything clicked at East Bay, though, and then we were good." (Dave Dalesandro Photo)
A
---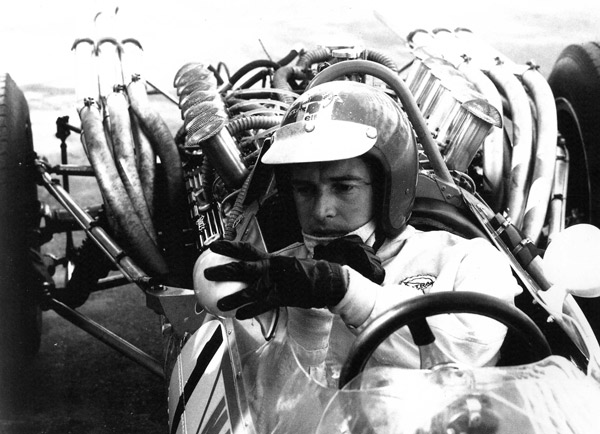 #1428 - Jean-Pierre Beltoise works his mirror to view through the rather beefy engine compartment of his 1968 Formula 1 ride. The photo's caption reads, "The mighty Matra 12-cylinder is not as powerful as the Ford Cosworth DFV, however loud the acoustic inferno which Beltoise conducts with his right foot." From PORTRAITS OF THE 60s: FORMULA 1, by Hartmut Lehbrink. (Rainer W. Schlegelmilch Photo)
A
---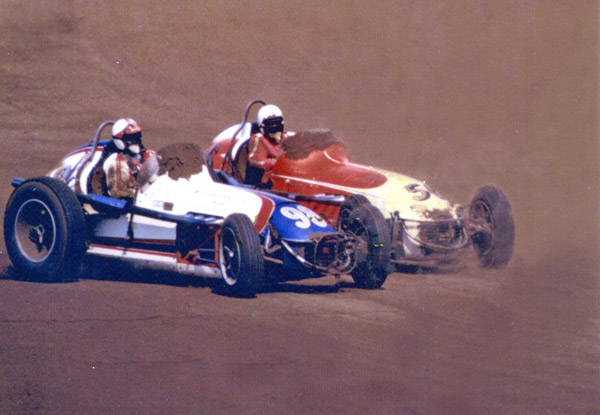 #1427 - As is apparent from this fabulous shot from Langhorne, Parnelli Jones and Jim Hurtubise raced hard. Very hard. But they were great buddies, usually traveling together in the early days. Parnelli recalls, "Hurtubise was quite a character. You never knew what he was going to do next. One day we stopped in this little town, and he bought a harmonica. He couldn't play worth a damn, which didn't keep him from trying. After an hour of that noise, I asked him if I could give it a try. He shrugged and handed me the harmonica, and I threw it right out the car window." Quote from As A Matter of Fact, I

AM

Parnelli Jones, by Parnelli Jones with Bones Bourcier. (Parnelli Jones Collection)
a
---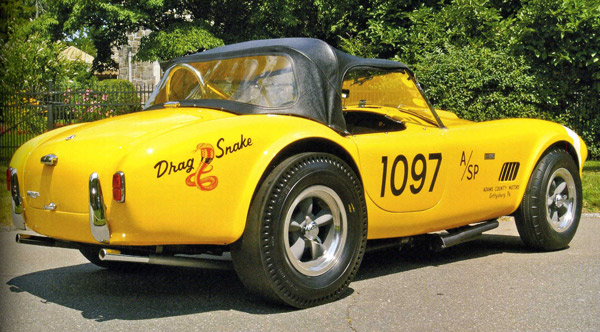 #1426 - "Like his road racing Cobras, Carroll Shelby's Dragonsnakes rewrote the record books…a quarter mile at a time. Building drag racing Cobras was never part of his grand plan. You might say that the Dragonsnake was the "accidental" Cobra, originating in 1963 with three young employees – Jere Kirkpatrick, Randy Shaw, and Tony Stoer….Almost overnight, it unseated the Corvette's domination of Sports class drag racing." Quote and photo from FORD TOTAL PERFORMANCE: Ford's Legendary High Performance Street and Race Cars, by Martyn L. Schorr. (Steve Juliano Photo)
A
---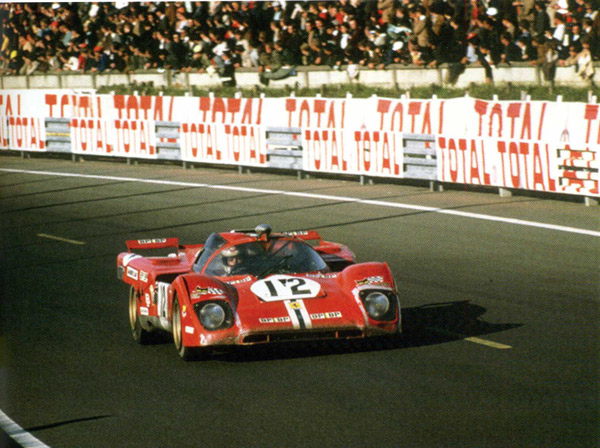 #1425 - Sam Posey, the admirable and articulate Connecticut resident, was barely 22 and had only raced for a couple of years when he became the youngest American ever to run the 24-hour endurance event at Le Mans. Here he is in 1971 in a Ferrari he co-drove with Tony Adamowicz. He held the track record for several hours, and the team finished third. He appeared at Le Mans on ten different occasions, racking up five top tens. Last Sunday (11/08/15) he was inducted into the New England Auto Racing Hall of Fame. He is battling Parkinson's disease but came up to the stage to accept the award and was applauded thunderously. From WHERE THE WRITER MEETS THE ROAD: A Collection of Articles, Broadcast Intros, and Profiles, by Sam Posey

A
---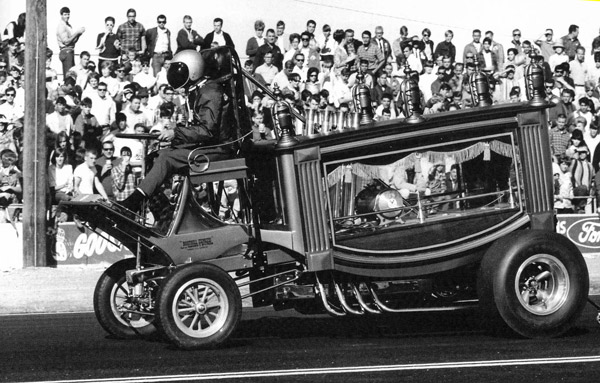 #1424 -

Whatever lifts your skirt….In the 1960s Ray Farhner and son Larry built this Boot Hill Express, a fiberglass copy of the hearse produced by Cunningham in New York in 1850. It had a hemi and was a smash hit on the show circuit, and a 1:24 scale model became a big seller. Here's Hal Hammer making a run with it at Beeline Dragway in Phoenix beneath what was called a "hastily installed roll bar." From AMERICA'S WILDEST SHOW RODS of The 1960s and 1970s, by Scotty Gosson. (Photo Courtesy J. R. Bloom)
a
---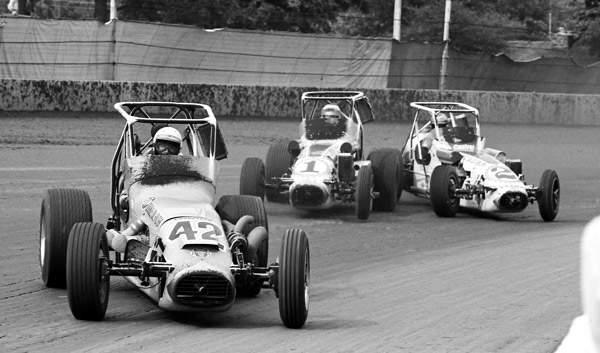 #1423 -

Never surrender! Andretti's #2 closes on teammate Al Unser as they chase winner Jackie Howerton in the 1974 Hoosier Hundred, Mario's last dirt race. (Caption and Photo from FOYT, ANDRETTI, PETTY: America's Racing Trinity, John Mahoney Photo)
A
---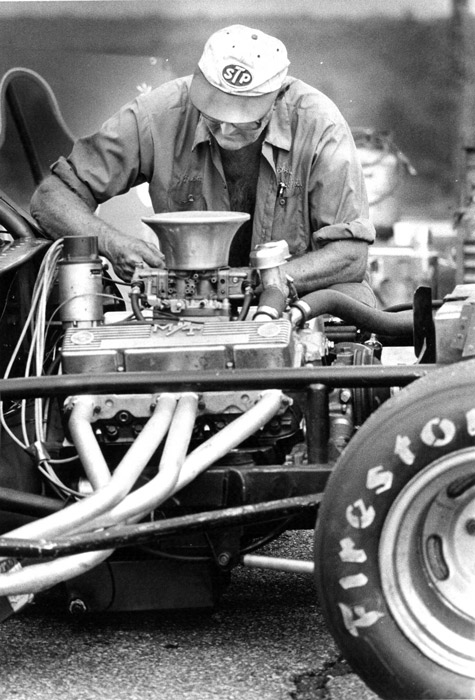 #1422 - The late Anthony "Beebe" Zalinski was a towering man who lorded over a series of mighty and legendary silver #M-6 Northeastern Modifieds back in the day. He had wanted to be a physician, but Pearl Harbor got in the way. "If I couldn't work on people, I was going to work on cars," he used to say. He had the big boy drivers in his car, including Buddy Krebs, Billy Greco, and Dick Dixon. His crowning achievement was likely the definitive capture of the Stafford Springs, CT, championship in 1967, Gene Bergin at the helm. The nadir however was certainly the death of Les Ley at Riverside Park aboard an M-6. It was a devastating event, and Beebe nearly threw in the towel. He persevered, however, and as late as age 78 was building motors for Chris Kopec, who waltzed a red M-6 to the Riverside championship in 1994. (Dick Berggren Photo)
a
---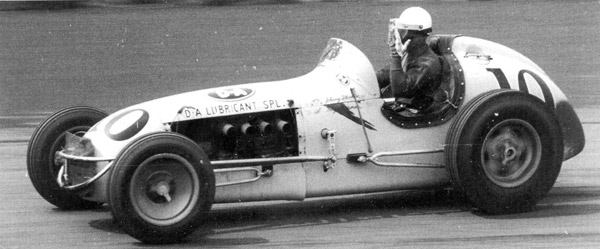 #1421 -

June 2, 1957 was a hot and humid day in Langhorne, PA. Not only that, but the 100-lap USAC Champ Car race went non-stop, the first to be run off in under a hour. The non-stop action on a heavy track took a tremendous toll on the drivers, but, still, Johnny Thomson won it at an astounding 100.174 average speed. "After receiving the plaudits of fans and rivals, having driven what was arguably the greatest performance in Langhorne history, Thomson headed off to the hospital. The constant strain and violent wheel twisting had ripped the skin from both of his hands. As the doctor swathed his swollen, bleeding mitts in bandages, he looked over the battered, dirty driver and asked 'Who won?' In his usual quiet voice, Thomson replied 'I did'." From the newly reprinted LANGHORNE! No Man's Land by L. Spencer Riggs. (Walt Imlay photo courtesy of Joe Blinebury, Jr.)
a
---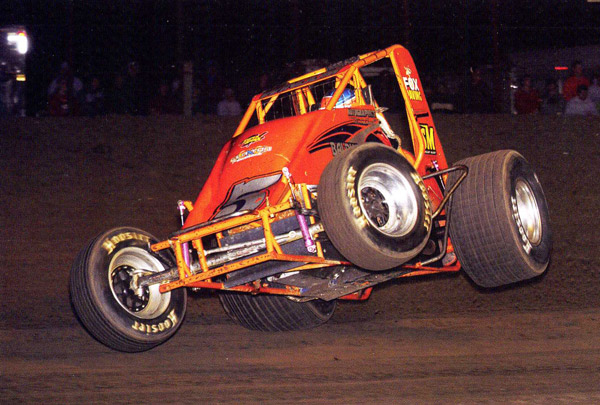 #1420 - You gotta love sprint cars. You can git 'er up on one wheel and still be fast – whatever it takes, as Chris Windom proved a couple of years ago at Gas City, Illinois. He ran second. From PAUL OXMAN SPRINT RACING CALENDAR 2012. (Tim Aylwin Photo)
a
---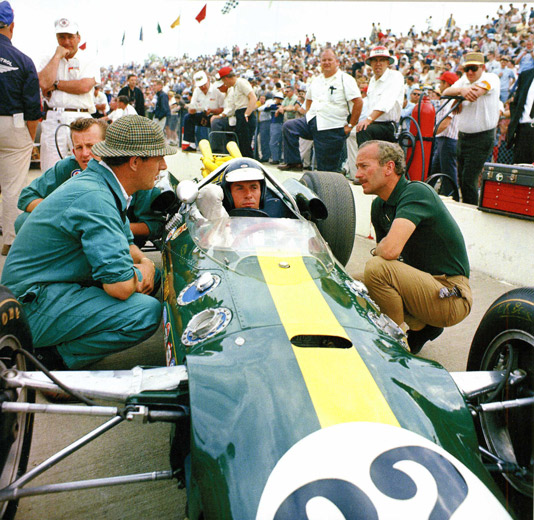 #1419 - Those Brits must have been lean and hungry when they came to Indiana with their rear-engine cars to take on the American roadsters in May of 1965. They took everyone's lunch. Jim Clark (shown in the office of the #82 conferring with Colin Chapman to his left) won the 500, and the other Ford rear-engine entries ran second, third, and fourth; eight of the 11 finishing cars were Ford-powered. From FORD TOTAL PERFORMANCE: Ford's Legendary High-Performance Street and Race Cars, by Martyn L. Schorr.
a
---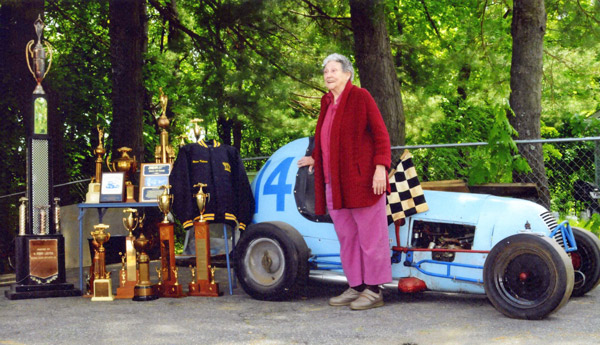 #1418 - The four Deery sisters of Fitchburg, MA, all got pretty excited back in the '40s when that dashing motorcyclist Reino Tulonen came around to call. Finally their mother had to calm things down and she asked Reino which he preferred. That was Anna Mae, and the couple was off to a 69-year marriage. Reino became a Hall of Fame racer – one of the very few New Englanders who ran AAA. He excelled in Supers and Midgets and racked up many a stock car championship. When he died two years ago, Anna donated his old Elto Midget, "the Whisperer," trophies, and memorabilia to the North East Motor Sports Museum being built in Loudon, NH. Just recently Anna called her daughters to her side. She told them not to fret, but at 87, it was her time. They would be fine, she said, but she wanted to go be with Reino. She slipped quietly away on October 23, 2015. (Photo, Dick Berggren, North East Motor Sports Museum)
A
---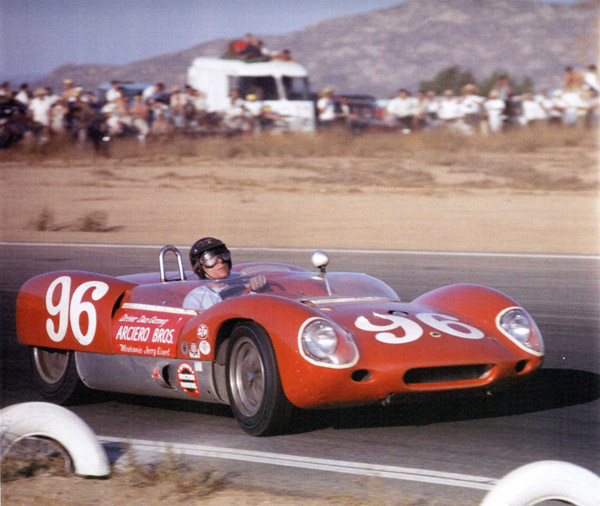 #1417 - Dan Gurney, born in New York the son of a Metropolitan Opera singer, moved to Riverside, CA, after graduation from high school in 1948. He had been drawn to the Midgets back East, and in California he dabbled in hot rods – even building a roadster for Bonneville. The real game changer, though, came with the opening of Riverside International Raceway in the fall of 1957. Gurney lucked into a ride in a Corvette and won his class competition impressively. By 1957, he was aboard this Frank Arciero Special, featuring Maserati power, Ferrari running gear, and a Sports Car Engineering Mistral body. In no time, he became the unofficial King of Riverside. By 1964, Car and Driver magazine was promoting the thought that Gurney should run for President of the United States. From RIVERSIDE INTERNATIONAL RACEWAY: A Photographic Tour of the Historic Track, its Legendary Racers, and Unforgettable Drivers, by Pete Lyons. (Pete Lyons Collection)
A
---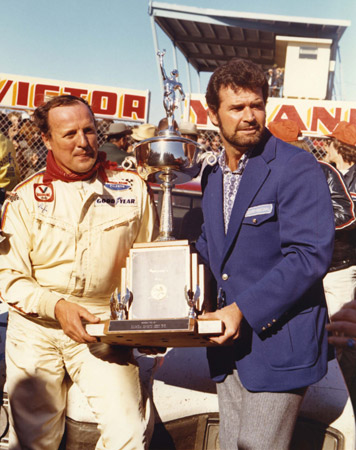 #1416 - When the notoriously edgy A.J. Foyt wheeled the Wood Brothers #21 into Victory Lane at the 1972 Daytona 500, everyone was delighted, including James Garner who handed him Foyt the trophy . As Bones Bourcier points out in his incredible, soon-to-be released book, FOYT, ANDRETTI, and PETTY: American's Racing Trinity. the Wood Brothers had been warned that A.J. could be a little tough to deal with. That did not turn out to be the Woods' experience. Says second-generation Len Wood, "The way I remember it was that he was always in a good mood, 'cause he ran well." Case in point was an earlier show in California, that he recounted to Bourcier:

A.J. told me about a practice session during one of those winning Ontario weekends when he complained that the #21 was so loose he could barely control it.

"But A.J.," said Leonard, "we're the fastest car out there."

Foyt pressed for a few changes anyway, resumed practice, and found himself steering just about the sweetest-handling stock car he'd ever had. He returned to the pits, happy as a driver could be, only to have Leonard tell him that his lap times hadn't matched those he'd set earlier.

Recalling the moment, Foyt grinned. "Leonard said, 'We'll leave it alone if it drives better, A.J.'

"I told him, 'Put it back the way it was. I'll hang onto it.' And that's the way I always felt."

We'll leave the last word on the matter to Leonard Wood, who said that whenever he had a man like Foyt in his car, "It was special just to paint the driver's name on the door."
A
---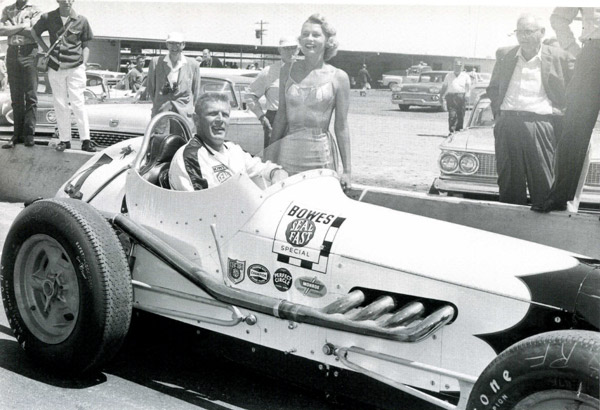 #1415 -

Jud Larson shows off his sleek new Lesovsky-Offy to the Daytona International Speedway Queen before going out and blasting around the 2.5-mile high-banked oval in a controlled four-wheel drift. Larson's arm-guard, courtesy of owner and chief mechanic George Bignotti, was the first attempt at streamlining a dirt mover. Caption and photo From COMPETITION PORTRAITS: The Dirt Champion Cars, by Bob Mays. (C.V. Haschel Photo)
a
---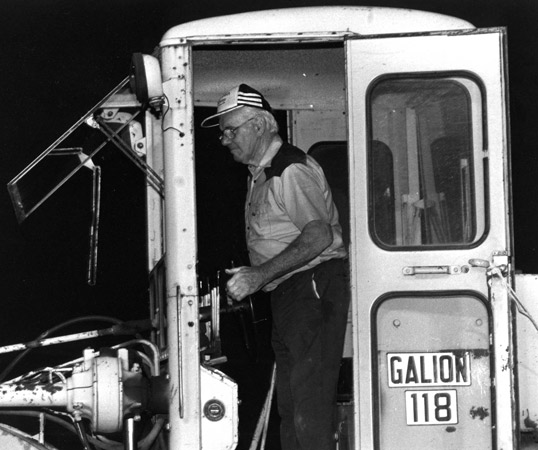 #1414 -

The late Charlie Elliott, here hard at work preparing the dirt at his last track, Canaan, NH, was a jewel. The enterprising World War II-era roadster driver-turned-promoter was popular and widely appreciated for his old-time, regulation-free attitude about racing. When he opened Canaan in the 1990s, we called him to see if our car would be legal. He asked no questions. He simply said, "Well, up here at Canaan we have two rules. First is that the driver has to be behind the engine. Second is that the driver can't be drunk. But keep in mind that this is Northern New Hampshire, so we have to be a little flexible on that second one sometimes. Come on up!" And we did. From A HISTORY OF AUTO RACING IN NEW ENGLAND. (Dick Berggren Photo)

A
---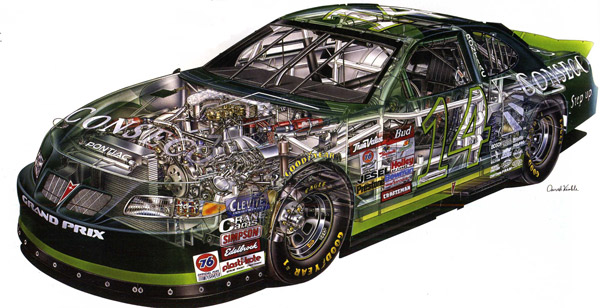 #1413 -

Artist par excellence David Kimble had been drawing cars for decades when in 2000 Conseco's advertising agency commissioned him to do this amazing cutaway of the A.J. Foyt #14 Pontiac. A.J. was returning to NASCAR wars after an absence of four years. The single-car team was managed by Waddell Wilson. Somewhat predictably, several drivers competed unsuccessfully for A.J.'s attention, so Kimble was instructed to put no name on the roof. This fall Kimble released a fascinating book about "how to illustrate the anatomy and physiology of machinery." From David Kimble's Cutaways: Techniques and Stories Behind the Art.
a
---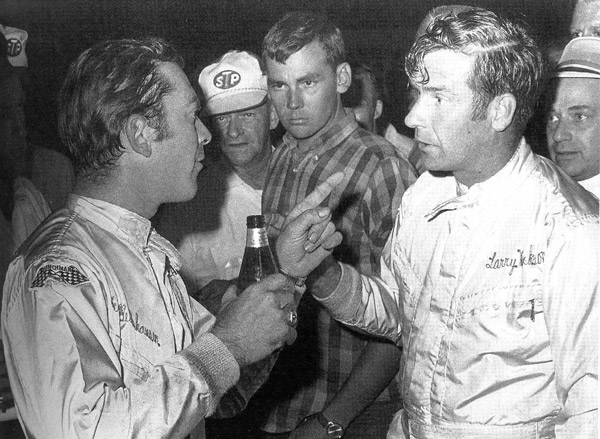 #1412 -

By 1970, the "Gary and Larry Show" certainly had some big-time viewership. Gary Bettenhausen (L) and Larry Dickson continued starring roles in their thrilling rivalry in USAC Sprint Car competition. It got pretty racy out on the tracks. Dickson won the most shows (10 to Bettenhausen's 5), but Gary nipped him for the point championship. Sometimes things got a little spirited in the pits, too, but not so much that a guy couldn't have a beer. From UNITED STATES AUTO CLUB: Fifty Years of Speed and Glory, by Dick Wallen. (Dick Wallen Collection)
A
---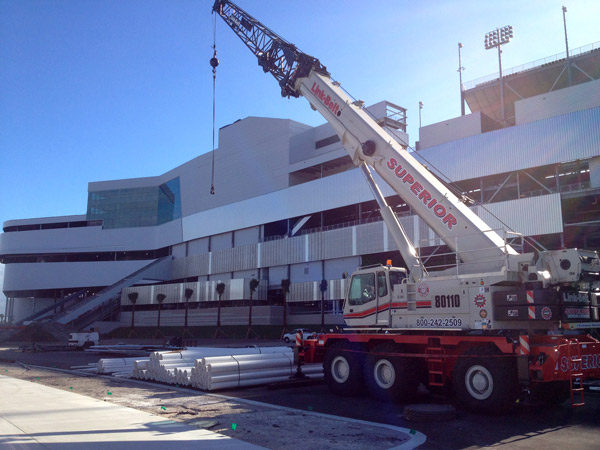 #1411 -

The New Daytona Speedway. The work to construct new grandstands at Daytona Speedway is the most expensive and extensive rehab project ever undertaken by the track's owner, International Speedway Corporation. Estimated to cost over $400 million, the entire backstretch grandstand is replaced by spectacular new frontstretch seats. Overall, 1/3 of Daytona's seating capacity is being eliminated. Fans coming to the track will see a facility that looks dramatically different from the past. Forty escalators and 16 elevators will take fans to sky-high seats. Suites, the control tower and press box are new. There are large areas under the grandstands at each level with 1500 TV monitors where fans can congregate. Bathrooms and concessions are new as are large tree-lined sidewalks on both sides of International Speedway Boulevard, where the track is located. The new seats have rest backs, arm rests, drink holders and are wider and much more comfortable than the flat aluminum planks of the past. Front row seats are 12' higher than before. There's a lot of work to do and as many as 1000 workmen and women have been on the job each day for more than a year getting it done. Upper-level club seating and premium lounge packages run to $570 per ticket for the four days of the Daytona 500 weekend. Given the empty seats seen at virtually every NASCAR Sprint Cup race this year, the success of this project will signal what fans want, should the Daytona 500 and the July race sell out. Bottom line: The new grandstand is absolutely spectacular. The photo was taken on October 19, 2015. Dick Berggren, Speedway Illustrated magazine
a
---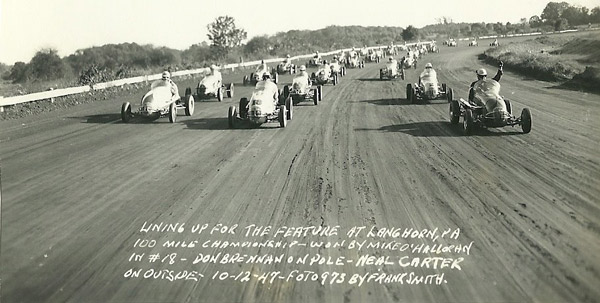 #1410 -
Can you imagine?!? (Frank Smith Photo, Jeffrey Hardifer Collection)
a
---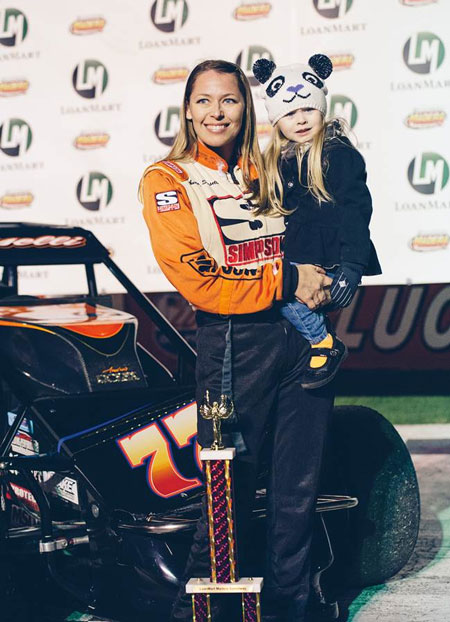 #1409 -

Northern California Sprint Car and Midget winner Audra Sasselli chronicles her daughter Gianna's growing up through pictures on the podium. Says Audra, "A lot of my competitors will never understand, but, once you have a baby, you feel there is nothing you could not do." Her husband, Chris Thornburg's, take: "You know, just to inspire Gianna with whatever she does, she can have proof of what her Mom was able to do." Photo from GUIDE TO NORTHERN AND CENTRAL CALIFORNIA RACEWAYS, by Saroyan Humphrey.
a
---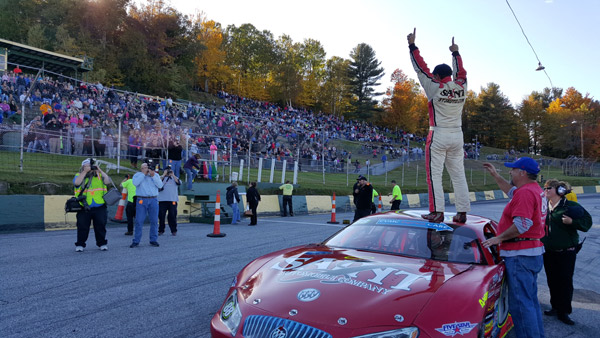 #1408 -
Long-time Coastal 181 friend Nick Sweet of Barre, Vermont, put a lickin' on the field at Thunder Road's 2015 Milk Bowl on October 11. In the words of Hall of Fame PR guru Justin St. Louis, "Nick cemented his place among the gods of Quarry Hill." Nick's charge through the pack at the end of the third segment was storybook, edging out Derrick O'Donnell. Nick's take on it: "Derrick is obviously a great competitor, and I know how he feels right now because I've lost three championships to him in the last three years." (Justin St. Louis Photo)
a
---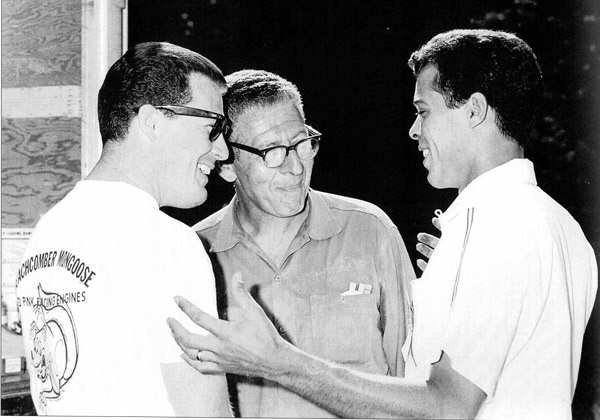 #1407 - Marvin! That's the late, great Marvin Rifchin of M&H Tire, listening a bit suspiciously as Tom "The Mongoose" McEwen (L) and Don "Snake" Prudhomme exaggerate how fast they were. How much racing did Marvin see and how many racers did he help? From SLINGSHOT DRAGSTERS of the 1960s PHOTO ARCHIVE, by Lou Hart. (Tom McEwen Collection)
a
---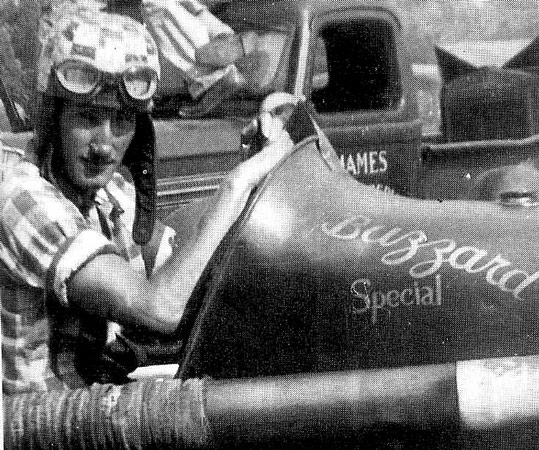 #1406 - Ernest "Crocky" Wright was a Pennsylvanian born in 1919. Within 20 years he was on his way down the adventure trail, racing motorcycles, big cars, and, after the war, Midgets. There was daredevil activity in there, too, with Captain Putt Mossman's troupe, and later a whole series of books on Midget racing history. Crocky became widely known and loved in the racing community in Indy where he finally settled down, helped in a major way by his friend Tony Stewart. He never lost his fundamental outrageousness and firm convictions about what is right and what is wrong. One of his oft-repeated convictions: "I hate wings so much I never eat chicken." From Fate Guides My Destiny: The Autobiography of Crocky Wright.
a
---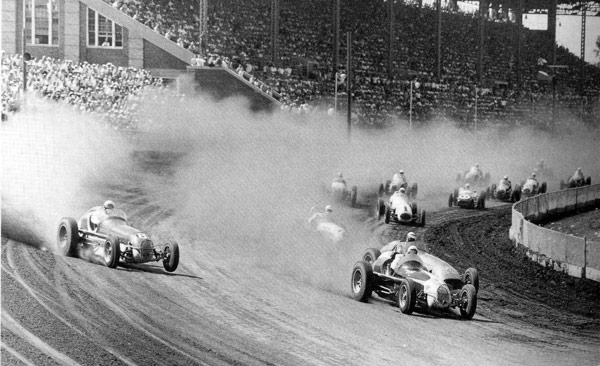 #1405 - This was the start of the Champ Car race on the Springfield mile on August 17, 1957. Dick Wallen describes the scene: "Rodger Ward, with a degree of gamesmanship earned in garage areas gin rummy games during rainy days at the Speedway, put a pre-race bug in Elmer George's (outside pole starter) ear. If George Amick (pole) was allowed to get the jump on the start, he would be off and winging, but, if Elmer boxed him down by the rail, they could stay in contact with him. Elmer George did just that to George Amick. At the same time, Rodger Ward moved to the outside just as the green flag dropped and swept around both of them and into the lead. Behind him, Amick was getting shuffled back to fourth, behind George and [Jud] Larson." Everyone saw Ward an hour and two minutes later, in victory lane. From FABULOUS FIFITES: American Championship Racing, by Dick Wallen (Dick Wallen Collection)
a
---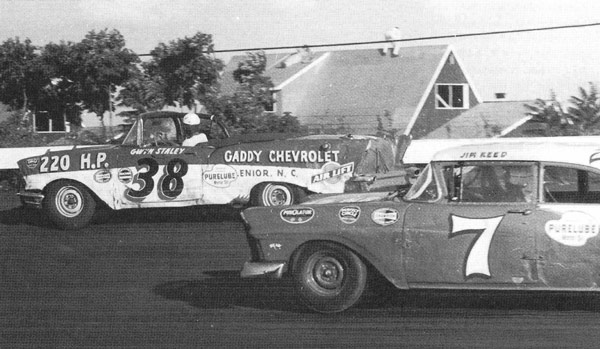 #1404 - Gwyn Staley was some tuckered-out and dirt-splattered after the 300-miler at Langhorne, PA, on September 15, 1957 at what turned out to be NASCAR's final Grand National race ever held on the Mile. It was no wonder. Seen above in the convertible passing Jim Reed, he started 25th in a field of 49 that was mixed evenly between rag tops and tin tops. After stirring duels with Fireball Roberts, Marvin Panch (who flipped), and Whitey Norman, Staley won it. From LANGHORNE! No Man's Land, by L. Spencer Riggs. (Photo by Joe Braig) (NOTE THIS POPULAR BOOK IS BEING REPRINTED FOR CHRISTMAS).
A
---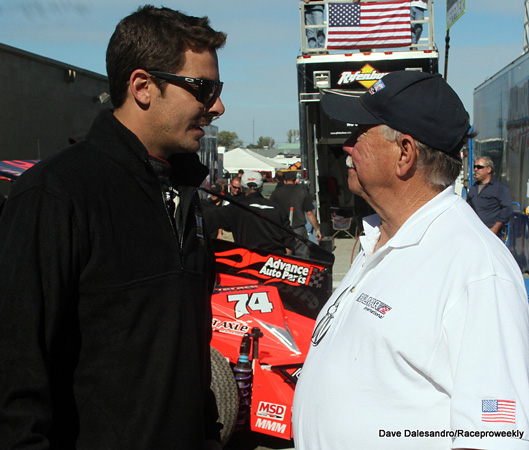 #1403 - The final Super Dirt Week at the Syracuse Fairgrounds last weekend had everything. There were race cars in every imaginable nook and cranny, a grandstand as packed as in days of old; there were 1000 parties, about 5000 too many golf carts, and, when the pit area dried out from soaking Friday rains, it was full of the greatest living Modified wheel-twisters. Wouldn't you have liked to hear this conversation between two guys who had certainly authored some of the most spectacular-ever runs on the Mile? When "our man from Amsterdam" caught this image, Gary Balough had four wins (including his assault with the Batmobile in 1980) and Stewart Friesen had three. By the end of the day, Stewart had evened up the score for perpetuity when he motored home first in the 200-lapper. (Dave Dalesandro Photo)
a
---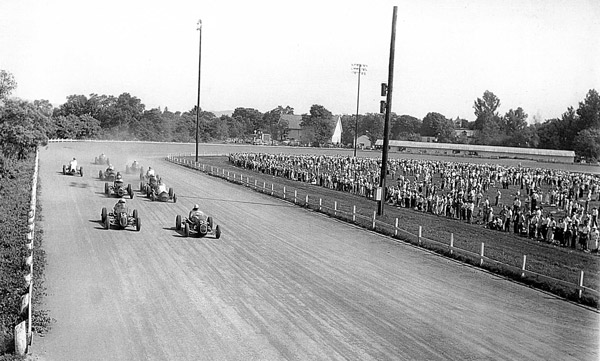 #1402 - When Williams Grove's promoter, Roy Richwine, held the first all Indy-car race on a half-mile on July 31, 1949, fans began arriving at 4:00 a.m. By race time, they were 38,156 strong, by far the most of any event at the Grove. Unfortunately, as it was a non-points race, only 12 teams towed in. The 50-lapper was a good one, though, won by Long Beach, California's Johnny Mantz, followed by Duane Carter. AAA's secretary, John Lamb, was said to be especially pleased that not even one bottle of iodine was opened by track physicians during the program. From INDY CARS ON SHORT TRACKS, by Buzz Rose and Joe Heisler. (Frank Smith Photo, Joe Heisler Collection)
a
---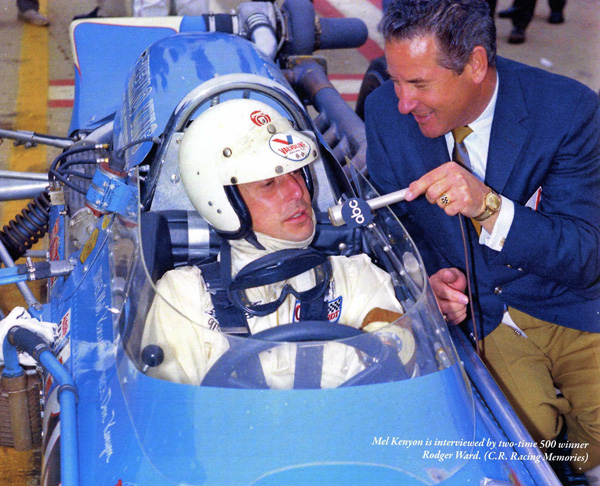 #1401 - "Some folks label [Mel] Kenyon the greatest Midget driver in history. Others call him 'Miraculous Mel.' Both descriptions work. A seven-time USAC champion, he won 111 Midget features with that organization, and 380 total in the United States, Australia, and New Zealand. Kenyon raced in eight straight Indianapolis 500s, 1966-1973, finishing third once, fourth once, and fifth twice. All his Indy starts, and most of his Midget victories, came after Mel suffered terrible burns in a 1965 crash; that's the 'Miraculous' part." Photo and Quote from THE STINGER: 273 Drivers Speeding Toward Hope, by Bones Bourcier and John Andretti (C.R. Racing Memories Photo)
a
---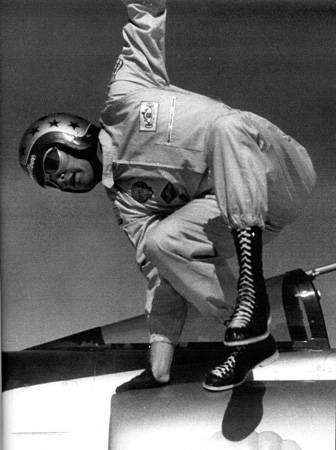 #1400 - Nothin' to it. Craig Breedlove hops easily out of his turbo-jet powered four-wheeler, Sonic 1, after achieving a record-setting run of 600.601 through the clocks at Bonneville. His wife, Lee, must have thought that was pretty cool, so she hopped in and went 308.506, making them the fastest couple alive. From RACERS' FACES – Photographs by Pete Biro.
A
---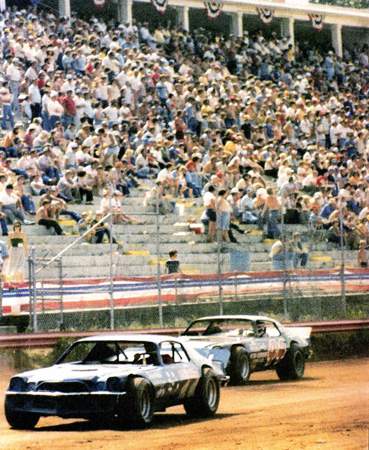 #1399 - The old Lakewood Speedway just south of Atlanta was once known as the "Indianapolis of the South." The one-mile horse track encircling a lake at the Lakewood Fairgrounds first brought in cars in 1917. AAA, NSCRA, NASCAR, and USAC were among the many sanctioning groups. This photo from the late '70s shows Georgia and National Dirt Late Model Hall of Famer Leon "Slick" Sells leading a dirt Late Model show. The curtain closed after a race on Labor Day weekend, 1979. From RED CLAY AND DUST: The Evolution of Southern Dirt Racing, by Gary L. Parker(Leon Sells Collection)
a
---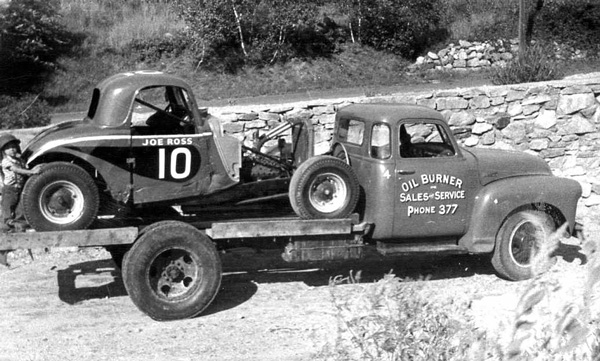 #1398 - Some things just never change. This shot was taken over 60 years ago outside the garage of the Falconi family in Southboro, Mass. That neat little cutdown was driven by a New England legend, former Midget driver Joe "Fat Boy" Ross. He was quite the runner, after which he took up the microphone for a brief and outrageous stint in the announcer's booth. The car owner, John Falconi, went on to pit all kinds of winning #10s, as well as owning and promoting nearby Westboro Speedway for years. Gordon Martin, Andy Anderson, Fats Caruso, Reino Tulonen and (especially) Fred Borden had great runs in his machines. The second generation of Falconis kept the games going, with both John Jr. and the late Ricky being feature winners. More recently the second and third generation have been campaigning a #10 late model. Their most recent appearance was at New Hampshire Motor Speedway, where they earned a fine 8th-place finish with driver Tom Carey Jr. Additionally, John III (John Jr.'s son), and Jamie (Ricky's son) have both certainly shown their spark behind the wheel. (Jamie Falconi Collection)
A
---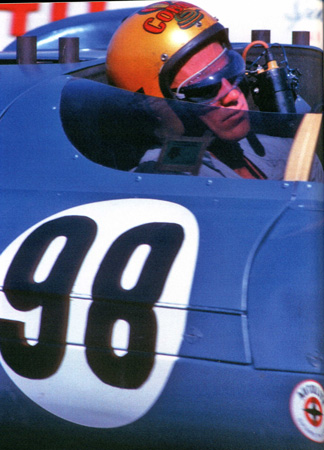 #1397 - That was a calm but focused Dave MacDonald wheeling a Carroll Shelby King Cobra at Riverside in the early 1960s. MacDonald had become an extremely popular figure in racing in California, and Shelby claimed "he had more talent – as far as sheer speed is concerned – in a young driver than anyone I ever hired." MacDonald was determined to make it to Indy and he did in 1964, dying with Eddie Sachs in the horrendous fire on lap two. The book BLACK NOON: The Year They Stopped The Indy 500, by Art Garner, portrays brilliantly what actually happened and is one of the best books we have ever carried. (Photo from RACERS' FACES – Photographs by Peter Biro)
A
---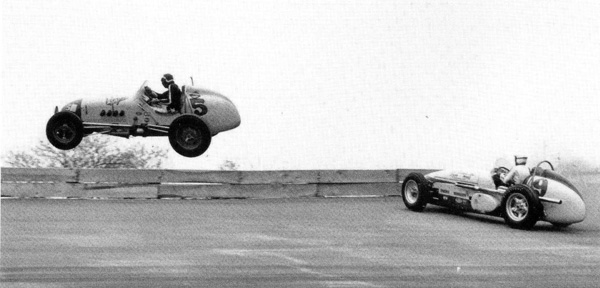 #1396 - USAC officials had to be concerned. It was just April 19, 1959, and two drivers, Marshall Teague and George Amick, had already been killed at Daytona – and now this happened at Trenton. On the 56th lap of the 100-miler, third-place runner Don Branson, who had broken the track record qualifying, spun in turn three in the Bob Estes #9. As shown above, Dick Linder caught one of his wheels, flew out of the park, flipped, and perished. Linder, 36, was no kid at the time, but he was moving up. After amassing over 100 feature wins in the Pennsylvania area, Linder had run some NASCAR on the Beach and was now trying USAC. He was driving the Jake Vargo KK4000 and hoped to make Indy the next month. From FABULOUS FIFTIES: American Championship Racing, by Dick Wallen. (Walt Imlay Photo)
a
---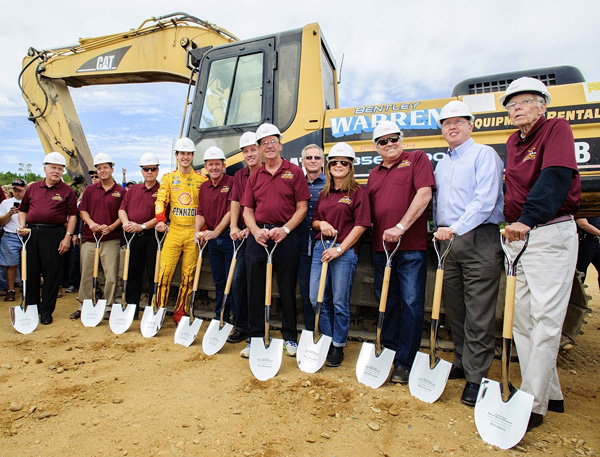 #1395 - It was as heartfelt a moment as there has ever been in the Northeast. Last Friday was the groundbreaking for the North East Motor Sports Museum in Loudon, NH. The project, led by ultimate can-do visionary Dick Berggren, outgunned a tough economy and all kinds of obstacles to take shape, and the doors will swing open next year. Lined up with shovels were the major donors. L to R: Skip Matczak, Bill Manafort, Frank Manafort, Joey Logano, David Frahm, Andy Cusack, Dick Berggren, Ed Flemke Jr., Paula Flemke Bouchard, Ron Bouchard, Ricky Craven, and Ken Smith. One missing was Bentley Warren. He had a reasonable excuse, though, as George H. and Barbara Bush were visiting Bentley's Saloon in Maine for lunch that day. Bentley sent over a great big earth-moving toy for the Museum to use in his stead. (North East Motor Sports Museum Collection)
A
---
#1394 - There will be two great racing reunions right here in the Bay State this weekend. The annual Pines Speedway Reunion will be held at the site of that old track in Groveland, MA, on Saturday. That celebration has been going on for years on the first Saturday of October, and it outdraws the crowd of most every active weekly track in New England. On Sunday, folks will be motoring to Route 9 in Westboro for a Westboro Speedway Reunion at Glick Nissan. Westboro was a paved quarter-miler with grand, high banks, built for the Midgets in 1947. It ran up until 1985, featuring mostly stock cars over the years. It was a lively place with big fields and lots of action. Here's an iconic Westboro image by long-time photographer Bill Balser. Larry Antonellis is shown free style in the Woodward Spring Shop non-Ford, his left rear headed for the heavens. From HOT CARS, COOL DRIVERS: Celebrating Fifty Years of Auto Racing in Massachusetts – Westboro, The Pines, Norwood, by Lew Boyd (Bill Balser Photo)
a
---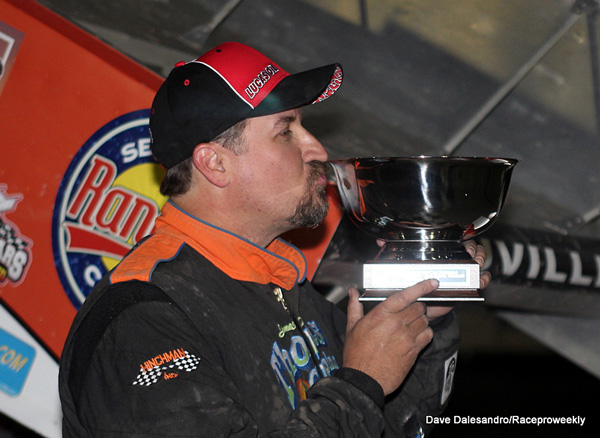 #1393 - Danny dun it! Last week (Photo of the Day #1388) we speculated about how neat it would be if Danny Douville could win the Coastal 181 Cup at the Green Mountain Sprint Car Nationals at the scenic Devil's Bowl Speedway in Vermont. Well, you can see what happened. It was a great night, and, especially given the robust field of ESS and SCoNE Sprinters, everyone was thrilled for the Douvilles and their $4000 haul. Danny's dad, Dennis, has helped keep our own 181 cars going for years – and Danny has even steered them a couple of times himself. (Photo by our guy in Amsterdam, Dave Dalesandro)
a
---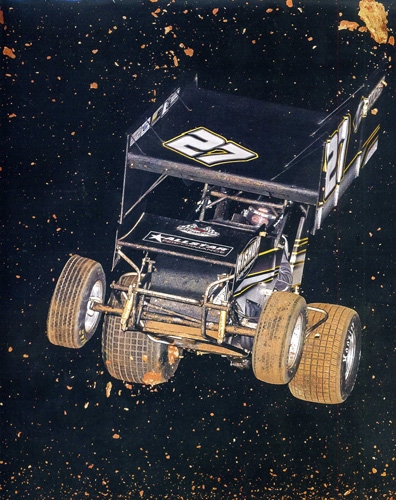 #1392 - We have been selling cool Sprint Car calendars during the Christmas season for years. The Paul Oxman 2016 offering has just come in. As the cover image conveys, Sprint Car racing sure is photogenic. (Paul Oxman Publishing Inc.)
a
---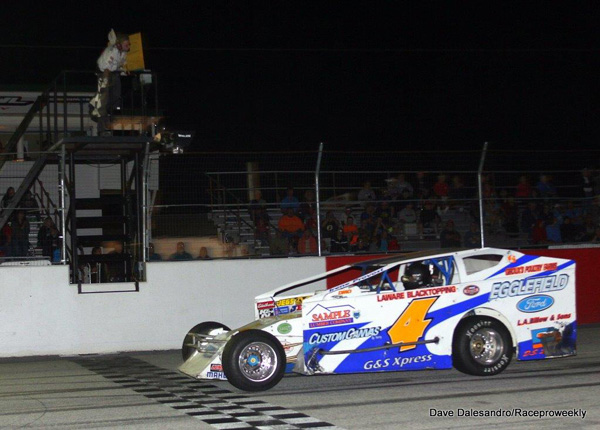 #1391 - Good guy Dick Therrien, Manager of Sponsorships/Sales at Devil's Bowl (Vermont) Speedway, has a sixth sense that comes from decades with our sport – and it's a very good thing. Last weekend, there was a tragic incident at the track when Leon Gonyo, the popular 63-year-old winner of the Modified feature shown above, suffered a fatal stroke on the ceremonial victory flag lap. Therrien was manning the ladder that allows fans to get over the fence to celebrate with the winner. There were lots of folks lined up to come across because it was the final division race of the year. Something inside Therrien's head whispered that in this case, he should hold everyone up until all the motors were off. Right then he heard Gonyo's motor rev, looked up and saw that Gonyo, coming out of the fourth turn, was slumped over in his seat. The car hit the fence and the ladder, and Therrien went flying. He was all bruised and did quite a number on one of his knees. On Wednesday he said, "I'm okay, limping around, but very sad." That was certainly understandable, but he sure did his job. (Dave Dalesandro Photo)
a
---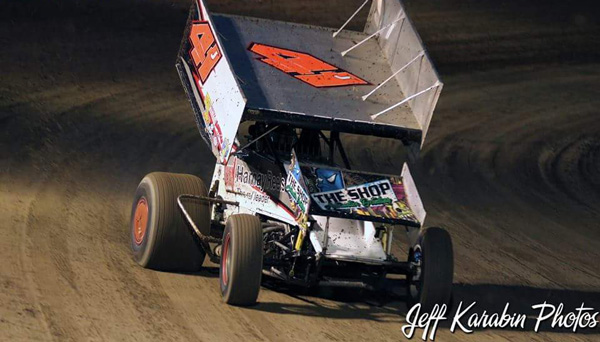 #1390 - How about that Josh Flint on the first day of autumn! The 30-something police officer from Cherry Valley, NY, reinvented himself over the last year or so. After toughing it out for over a decade in the rock 'em, sock 'em Sportsman and Modified cars at Fonda Speedway, he decided to go open-wheel racing. A largely one-man band, supported as much as earthly possible by companion Mimi Lazzaro and his dad, Russ, Josh got himself an Triple X Sprinter chassis and a Fiehl motor and landed sponsorship help from Hannay Reels and The Shop (detailing). His performance this year has been pretty darn impressive. His first win came at Albany-Saratoga on June 22, the first day of summer. Then, remarkably, a week ago he set a new lap record of 11.557 seconds at Glen Ridge's quarter-mile dirt. And that's truckin' with a 305! (Jeff Karabin Photo)
A
---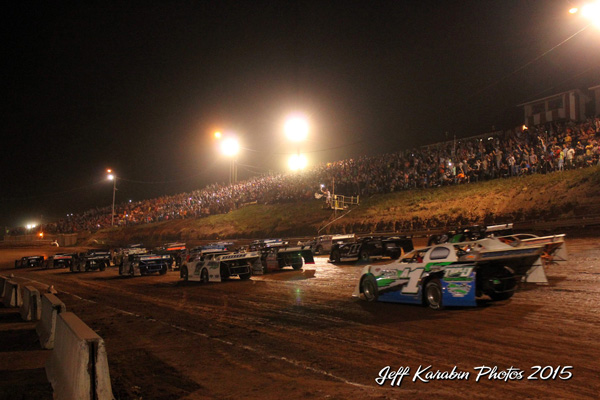 #1389 - A racing motor is the music of the night, and it was noisy on Labor Day weekend in Ripley, West Virginia. The Lucas Oil Dirt Late Model Series teams converged on I-77 Raceway for the Hillbilly 100. It is the oldest Super Late Model race, having started at Pennsboro in 1967. This year winner's purse of $25,000 went to the man they call "Black Sunshine," Scott Bloomquist. (Jeff Karabin Photo)
a
---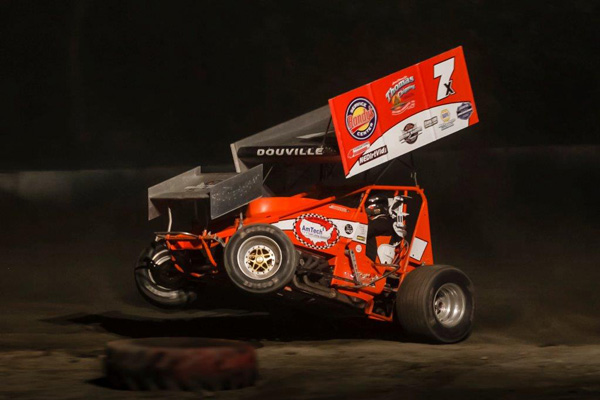 #1388 - A few years ago, it would all have seemed so unlikely. But there HAS been a major rebirth of dirt-track racing in New England, especially as ushered in by groups such as the Dirt Midget Association/USAC Midgets and the Sprint Cars of New England (SCoNE) series. SCoNE had another great season, and our buddy Danny Douville once again emerged as champion. As David Suitor captured in this photo, Danny (aka "The Show") was on the pedal. We've helped Danny and his dedicated racing family along the way. How cool would it be if they could motor back to New Hampshire next Saturday night with the Coastal 181 Cup for winning the first GREEN MOUNTAIN SPRINT CAR NATIONALS at Devil's Bowl in Fair Haven, Vermont? (David Suitor Photo, SCoNE Collection)
a
---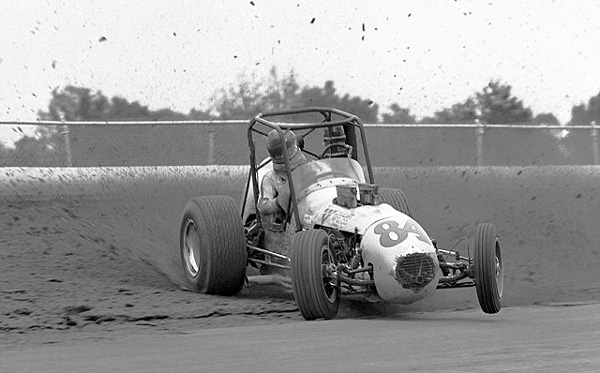 #1387 - Here's a very cool Jim Chini shot from DuQuoin in 1971. Californian Gary Ponzini bangs on that cushion.
a
---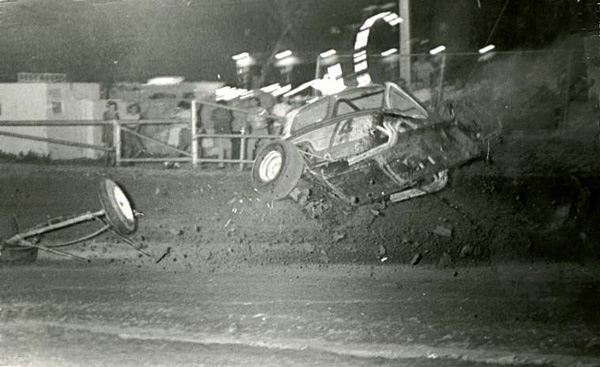 #1386 - Everyone by the pit gate looked rightfully inpressed as Wylan Cattrell negotiated the turn at Five State Free Fair in Liberal, Kansas, way back then. Trying to steer that square top was of little avail with the steering arm drooped down to the clay. And that must have been a suicide front end. It was outta there. (Kansas Racing Archives, Wylan Cattrell Collection)
a
---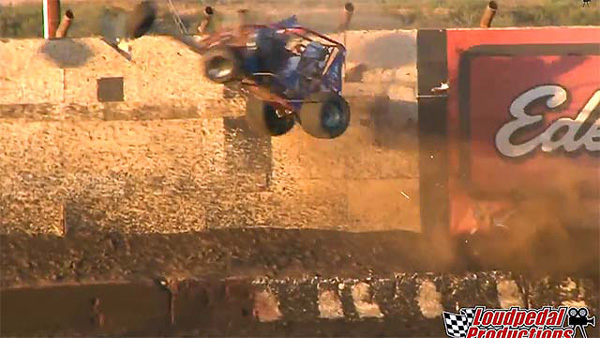 #1385 - It was just about a year ago today that Jimmy "Neutron" Crawford proved definitely during warmups at Perris (CA) Speedway that he can fly. Fortunately, he also could walk away. (Perris Speedway Collection, Loudpedal Productions Photo)
a
---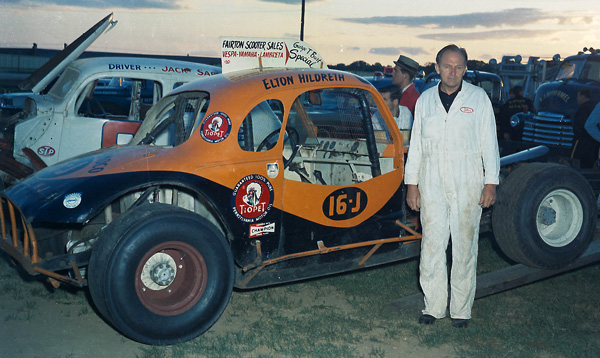 #1384 - Bridgeton, New Jersey's Elton "Wild Man" Hildreth was one of the best during the golden age of East Coast Modified racing. He was also a character through and through. He did what he had to do. One scorching day at Trenton he ran the 100-lapper in his underwear, socks and shoes. It wasn't much different off the track. He told me that one evening following a rainout at Nazareth, PA, he gathered up some female groupies, dressed them up like Salvation Army volunteers, and sent them to local taverns to raise money for the race car. (Dale Snyder Photo)
A
---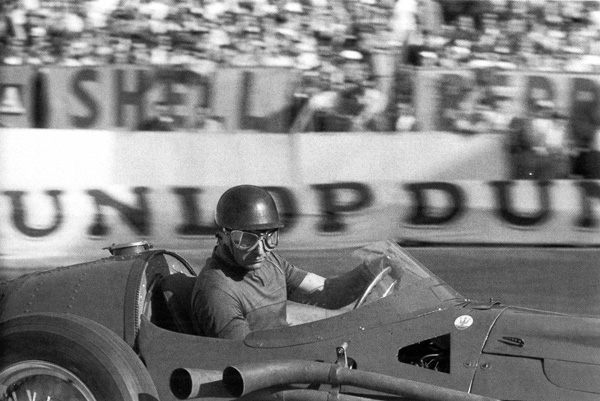 #1383 - The calm concentration of Juan Manuel Fangio. Gasworks turn, Monaco Grand Prix, Monte Carlo, May 18, 1957. From The Eye of Klemantaski. (Louis Klemantaski Photo)
a
---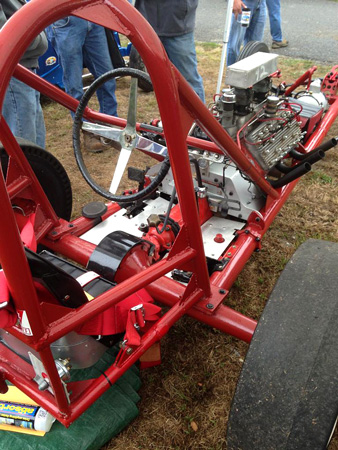 #1382 - Dreary weather just couldn't dampen the 43rd annual Ty-Rods Old-Timers' Reunion yesterday at the Lancaster Fairgrounds in Massachusetts. One of the most crowded displays was this open-air, flathead dragster. Tiger Tom Dunn was still a teenybopper when he welded up this bunch of axle housings into a frame, stuck on a suicide front end, and blew off everyone in New England. He went on to build all manner of dragsters and open-wheel Modifieds, all of which were serious winners. (Coastal 181 Photo)
a
---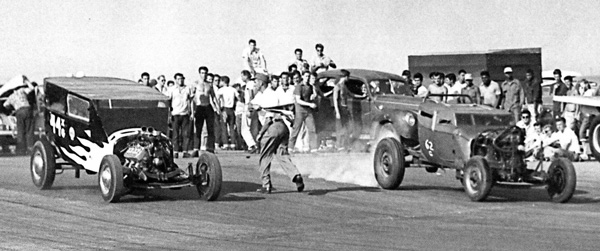 #1381 - When the dragway opened aside California's Santa Ana Airport in 1950 for weekly events, it was the first commercial strip. Everything was new, everything invented rather than copied or bought. Track officials created an incline down to the starting line to provide a rolling start, hoping to prevent parts from breaking. And, as you can see, car builders tended to be a bit creative. How about that '23 roadster on the right that has become a coupe with the help of cardboard and masking tape? From HOT ROD GALLERY – A Nostalgic Look at Hot Rodding's Golden Years: 1930-1960, by Pat Ganahl. (Ganahl Collection)
a
---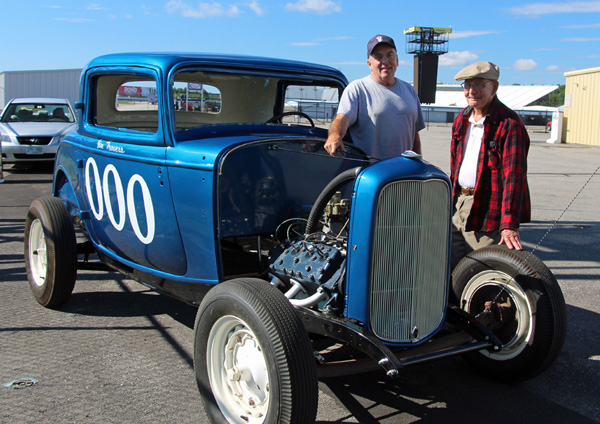 #1380 - That's New England Hall of Famer old-time car builder Marty Harty (right) along with the masterful Howard Townes at the recent Vintage Celebration at New Hampshire Motor Speedway. Howard has spent much of the last several years restoring this square top that Marty originally put together nearly 60 years ago. Ken Paulsen provides all the details in this PDF. The Speedway will be seeing lots more neat cars like Marty's. On Friday, September 25, during the Cup weekend, the track will be hosting a groundbreaking for the North East Motor Sports Museum, which will be built along Rt. 106 right near the southern entrance to the track. (Ken Paulsen Photo and linked story)
a
---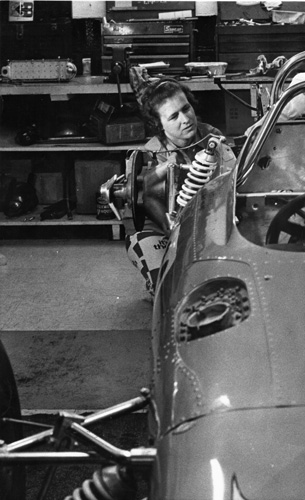 #1379 - "The 1972 Indy 500 entry form listed the team members, including one W. Knepper. Since Arnold 'Arnie" Knepper had raced the 500 for several years, along with numerous other USAC events, the sanctioning body's officials knew that his brother Walter was a racer and sometime crew member, too. So, after the rest of the team had signed in for credentials, the guy at the desk, not surprisingly, asked about Walter.
'He's not here,' answered Arnie. 'But the list says, W, Knepper.' 'Oh, that's Wanda,' Arnie said, pushing her forward. And Indianapolis was never the same.'" Wanda Knepper thus became the first licensed female mechanic in the garage area of the Indianapolis Motor Speedway. These days she is the smiling greeter (but authoritative crew chief) of the Coastal 181 book booth each January at the Chili Bowl.
Caption and Photo from AUTO RACING - I Gave You the Best Years of My Life,
by Joyce Standridge. (Standridge Family Collection)
A
---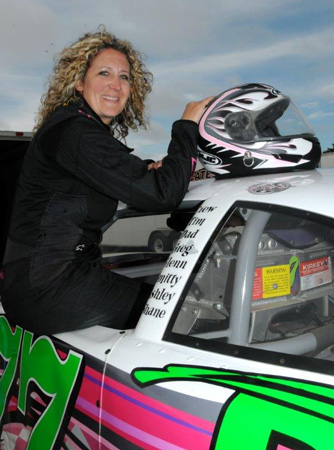 #1378 - Back in the late '60s, Dick Berggren and I went up to Beech Ridge Speedway in Maine with our wives. We got to the pit gate, and the women were not allowed in. They had to go over to the other side of the track and sit in the stands. That was tough on Bergie and me because Kathy and Cary were much better mechanics than we were. But it got worse. Bergie and I were really in a mess when management wouldn't let them into the beer parlor! A month or so ago, Bergie and I were back up there, and promoter Andy Cusack has the place humming. One of the first people we ran into was Sally Gherardi. She is way cool – a 12th-grade physics teacher with two masters degrees and one of the track's popular chauffeurs. She sure gets around that third-mile pavement. She was track champ in 2008 by a margin of over 50 points. "It was a great year, my best. To be honest, I kinda ran away with it. It felt so good." Man, have things ever changed! (Dick Berggren Photo)
a
---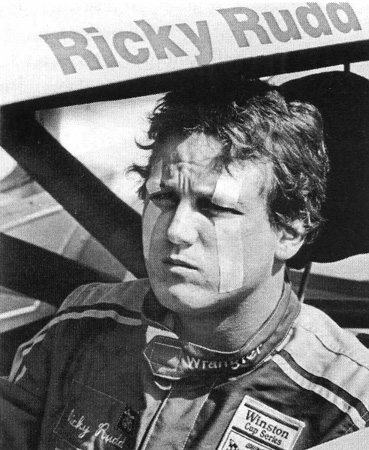 #1377 - In the Busch Clash in 1984, Jody Ridley and Ricky Rudd made contact going over the bump in turn four at Daytona. Rudd turned over ten or twelve times in a most spectacular fashion. The next morning Bud Moore picked Rudd up at the hospital and took him to the track to test the backup car. Rudd was in pretty bad shape, his face all swollen up. He came in after a lap and said he couldn't keep his eyes open. They were bright red, surrounded by black. Bud could fix things. Out came the cellophane tape, and Rudd went back out, too. He ran an admirable seventh in the 500 and won Richmond the next week. From BUD MOORE – Memoir of a Country Mechanic from D-Day to NASCAR Glory, by Bud Moore with Perry Allen Wood. (Smyle Media Photo)
a
---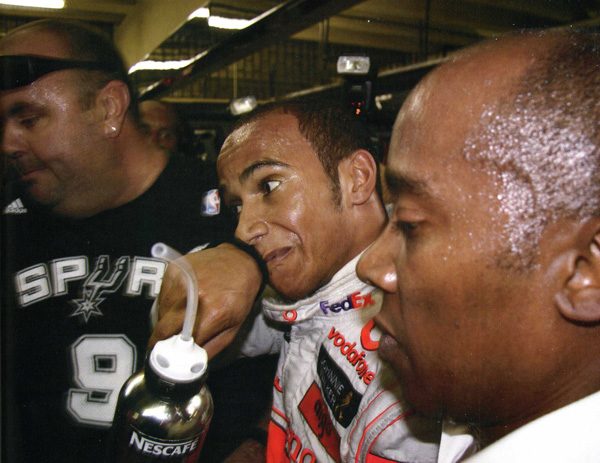 #1376 - Here were Lewis Hamilton and his father and bodyguard just after the rainy Brazilian Grand Prix in 2008. Hamilton thought he had won, but a penalty dropped him to third. Still, he had won the Formula 1 World Championship – at age 23 the youngest winner ever, first black winner, and first Brit since Damon Hill in 1996. From TYLER ALEXANDER: A LIFE AND TIMES WITH McLAREN, by Tyler Alexander.
(Tyler Alexander Photo)
A
---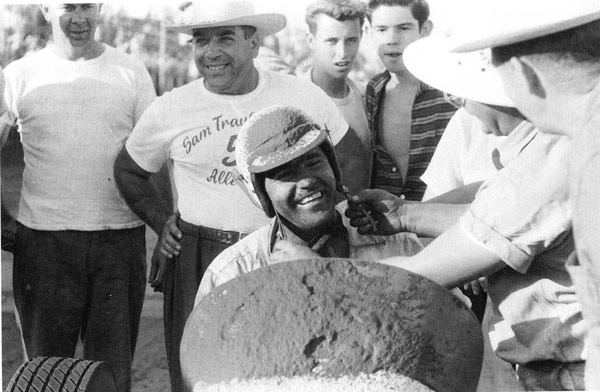 #1375 - It was September 1, 1957, the one-miler at Langhorne, PA. Ralph Liguori, one of the coolest racers ever, had just finished up some kind of battle. With a few to go, Liguori was way upstairs with little available real estate and dueling with Van Johnson, when Johnson's right rear blew and its tread sailed right into Liguori's cockpit, nearly knocking him out. He persevered, though, and won it at an all-time Langhorne 50-mile record of 104.07mph. Liguori, who had been running on financial empty, later commented, "I came to Langhorne without a ride. I did have a ride for the champ car race at DuQuoin, but no money to go on. But after Langhorne, I took a plane out there. I sure enjoyed running Langhorne, except for that welt on my right side from that tire." From LANGHORNE – No Man's Land, by L. Spencer Riggs. (Joe Braig Photo) Note: This book is being reprinted and will be available again Fall 2015.
A
---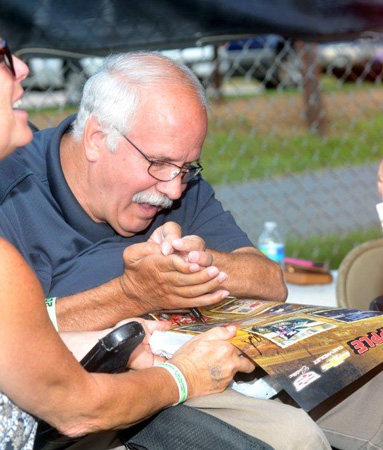 #1374 - By every account, Fred Rahmer's Legends Show last week at Lincoln (PA) Speedway was an incredible event. Current competitors mingled with broadsliders of yesteryear, surrounded by thousands of fans. Among the most notable was Paul Lotier, Dick Tobias's son-in-law. Paul was a standout Modified and Sprint Car chauffeur, 1987 Port Royal Champion, and on his way to national fame after the 1991 Rookie of the Race title from Knoxville. But that Labor Day weekend, flipping over the fence at Sharon (OH) Speedway, he was hit by a board and has been confined to a wheelchair ever since. Paul's son, Paul Jr., has continued the family wheelman tradition. (Photo by Frank "The Guy with the Hat" Simek)
a
---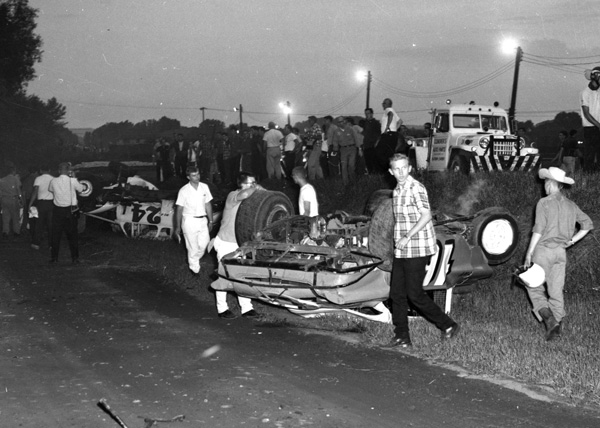 #1373 - Kenny Shoemaker was the definition of an old-time, dirt-slinging East Coast Modified driver. He was self-confident and irrevocably fast. Each night you could count on him winning the warmups in an attempt to terrify anyone watching. He was the subject of our very first book, and along the way we had many conversations about his win-filled years on dirt (and asphalt) with the famous Wright-Zaunter #24. Even though he was released from the ride (as was the subsequent driver, Richie Evans), Kenny claimed repeatedly that he never wrecked the car. Kenny's memory must have been on the trailer in July of 1963 when this shot was taken of him and Dick Clark (#16) on the backstretch of Fonda NY Speedway. (Coastal 181 Collection)
a
---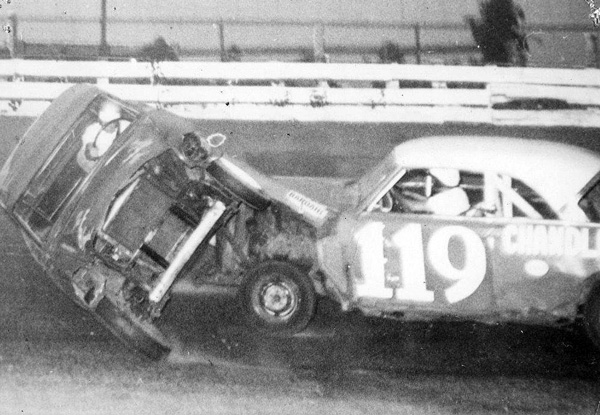 #1372 - Rick Falconi, who with his family ran Westboro (MA) Speedway and race cars for years, is headed to Brigham & Women's Hospital in Boston to have a lung repaired. He'll need positive energy from all of us. He's had a passing scare once before. Back at Westboro in 1965 he had to leave the track to go back to the garage for some parts. I was driving for him, our heat race came up, so out I went. You can see what happened. (That's me on the receiving end). Ricky about had a heart attack when he got back to the track – there wasn't too much left. (Bill Balser Photo, Coastal 181 Collection)
a
---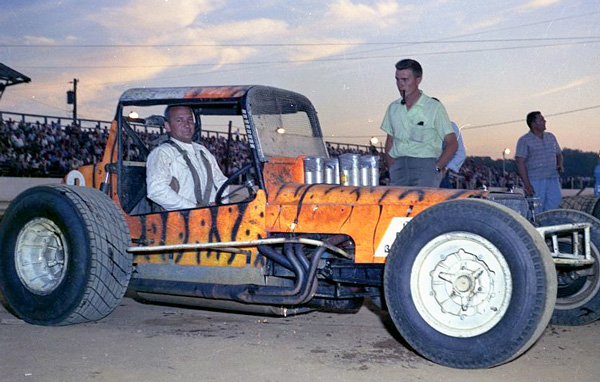 #1371 - The racing "bug" craze in central PA was a transitional phenomenon. Also known as "30x90s" for their legal dimensions, the very cool little cars were featured in the mid-1960s in-between Modifieds and Sprint Cars. Arguably the most popular of them was the "Flying Tiger," wheeled by Mitch Smith, remembered for the enormity of his testosterone. The car itself is said to have had its own fan club. (Dale Snyder Collection)
A
---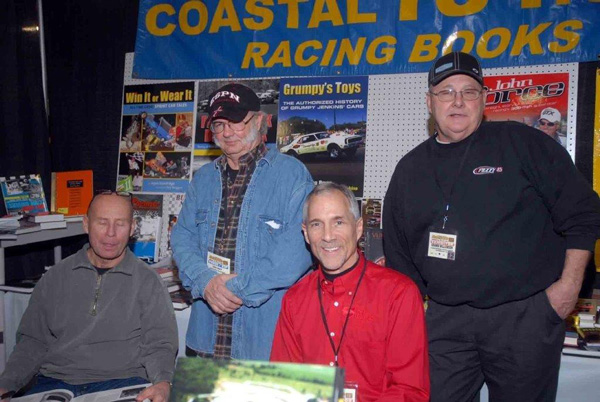 #1370 - Here's a pretty serious lineup at the Coastal 181 booth at Area Auto Racing's Motorsports show a couple of winters back. L to R that's Doug Wolfgang, Van May, Brad Doty, and everyone's favorite, the late Kramer Williamson. Looks like the plane from Sioux Falls, South Dakota, got in a little late for the Wolf the night before. Or maybe he's just reading about finishing second to Steve Kinser. (Coastal 181 Collection)
A
---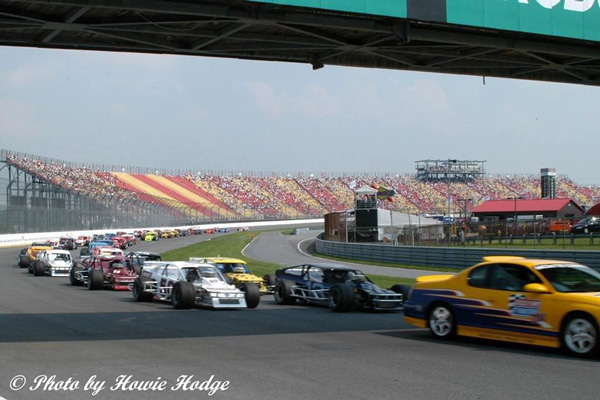 #1369 - Nazareth Raceway (AKA Pennsylvania International Raceway) was a one-mile paved tri-oval located just to the south of Nazareth's half-mile dirt track. The Raceway was originally built by Jerry Fried in 1965. After some seasons of dormancy and some promoted by Lindy Vicari, it was rebuilt in 1987 by Roger Penske to a design largely authored by Rick Mears. CART, NASCAR, and USAC all held shows there until it shut down for good in 2004. This day was a time for a glorious field of Modifieds, led down to the stripe by Ted Christopher (#13) and Todd Szegedy. (Photo by the most Honorable Howie Hodge)
A
---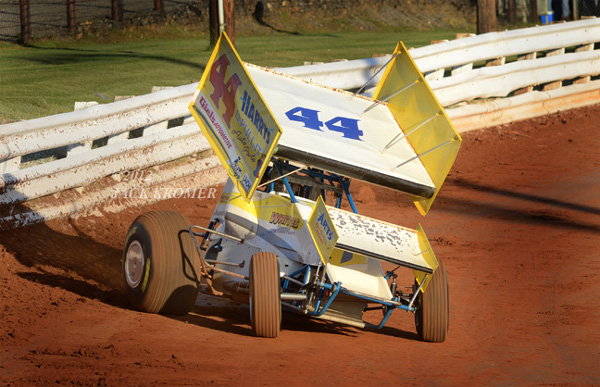 #1368 - Janis Cozze has seen her husband win a lot of races. (See previous Photo of the Day). Frank races all kinds of cars and says it's just a matter of getting used to the seat and the venue. Case in point: "When I first went to Williams Grove with a 410, I was runnin' all out up against the wall down the backstretch and all of a sudden I was way down on the inside groove. I went into the pits and told my crew there was something really wrong with steering box. Fortunately Lance Dewease was standing right nearby. 'Oh, that's nothing,' he said. 'It's just the way the wind gusts by the infield bridge sometimes.'" (Photo by Jack Kromer)
A
---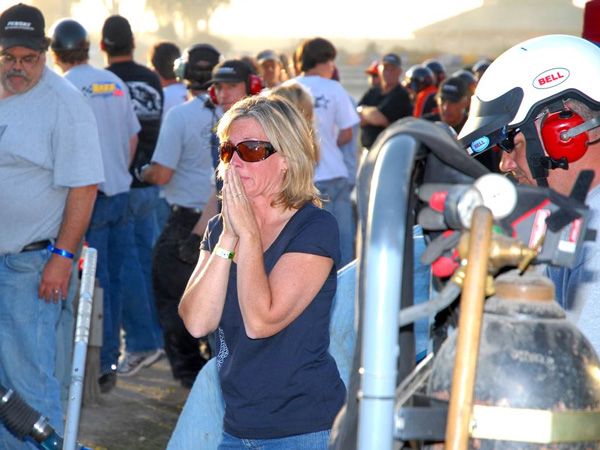 -#1367 - Deep breaths, Janis! It was 2008 and her husband, Frank Cozze, was leading the 200-lap main at Super Dirt Week, with five to go. He won. (Mel Stettler Photo)
A
---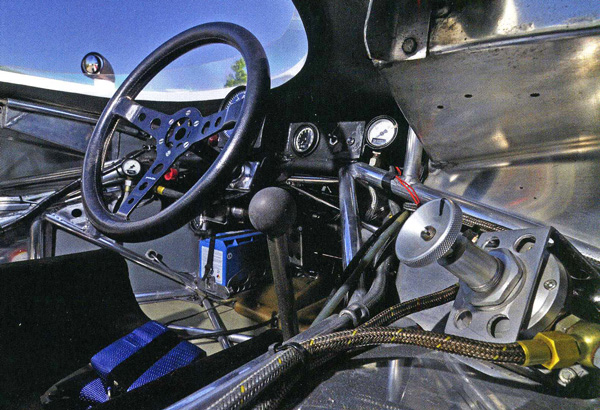 #1366 - Shifter, boost knob, and no nonsense. This the cockpit of George Follmer's 1972 Porsche 917/10 Can-Am car. The git-go was from a massive 12-cyclinder, twin-turbocharged engine, offering up 1000 horsepower. Everybody move back! From FOLLMER: AMERICAN WHEELMAN, by Tom Madigan. (David Newhardt Photo, courtesy Mecum Auctions)
A
---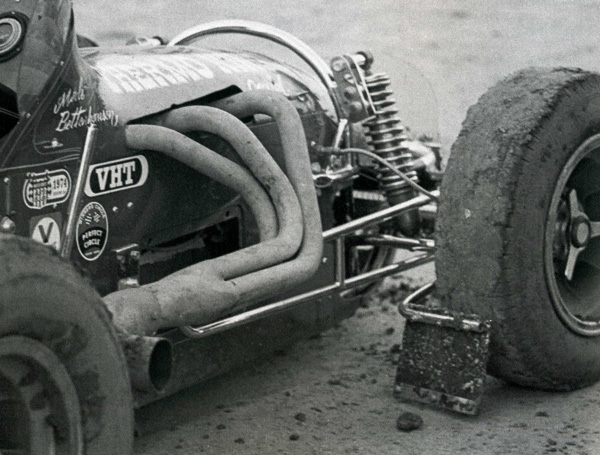 #1365 - Joyce Standridge confirms that this would be a mud-flap on Merle Bettenhausen's Midget at Illinois' old "Little Springfield" Speedway. It was some dirt track. Joyce's husband, Rick, would regularly come home all bruised from clods flipped up by tires, especially with his Sprint Car. For lots more, see just-released FAST MEMORIES: Springfield Speedway 1947-1987, by Joyce Standridge and Terry Young. (Allen Horcher Photo).
a
---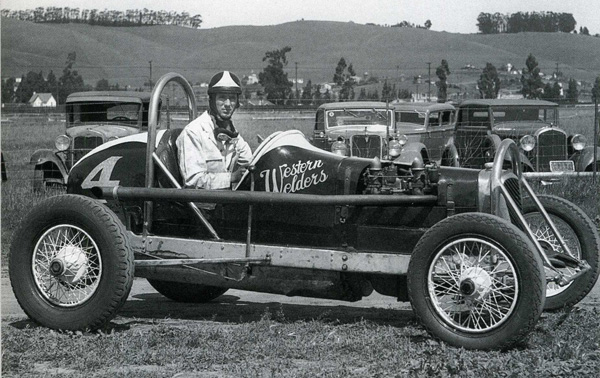 #1364 - Duane Carter showed up to drive the Western Welders Special at Oakland (CA) Speedway on March 28, 1937. The car is thought to have been among the very first to have a roll bar, which was unofficially approved by AAA. Oakland's superintendent, Lynn Mathewson, wrote, "Our main difficulty in introducing safety features is with the drivers themselves. They fight such innovations. It was a long time before crash helmets would be used, and even now many of the boys refuse to be bothered with headgear. No doubt similar difficulties will be encountered, so we're hoping the AAA makes it mandatory." From A HISTORY OF OAKLAND SPEEDWAY 1931-1941, by Tom Motter.
A
---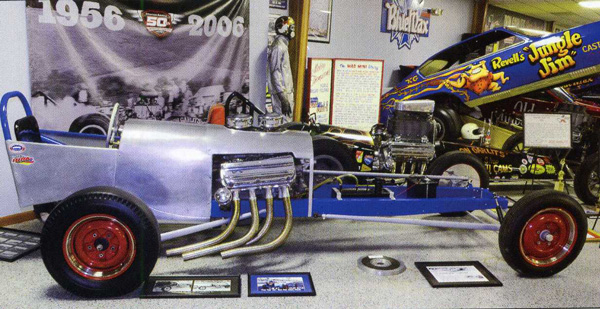 #1363 - In the mid-'50s, Don Garlits found a wrecked '54 Chrysler sedan with a 354-ci Hemi in a junkyard. He'd been looking around for a perkier tow vehicle. When it was all patched up, he was amazed by how quick it was. So, he replaced the fuel Flathead he had in his first dragster (re-created above) with the Hemi and flat-towed over to Brooksville, Florida, to the drags. Unhappily, the engine was so heavy it bent the race car's rails on the way. Don promptly built a new chassis and began experimenting with increasing splashes of nitromethane in the Hemi. That was the beginning of Swamp Rat history. From HEMI – A History of Chrysler's Iconic V-8 in Competition, by Geoff Stunkhard.
a
---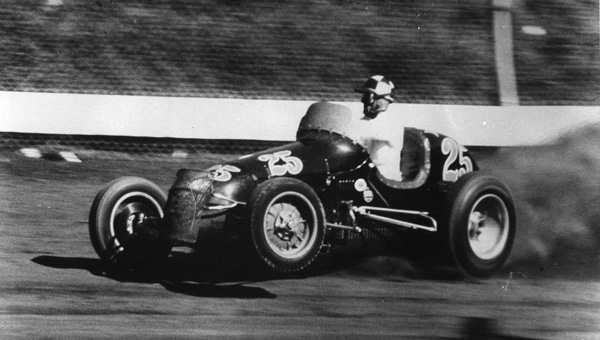 #1362 - Taut, upright, and strapless in the seat, Eddie Sachs tosses the black #25 Cheesman Offy around Reading, PA, on October 9, 1955. He may not have been the image of stylistic grace, but he got 'er dun. He won. (Walter T. Chernokal Photo)
a
---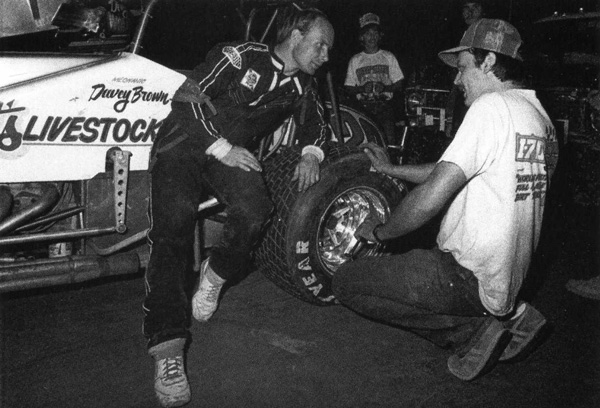 #1361 - When this photo was chosen for Doug Wolfgang's book, he commented, "If I had a time machine, I'd rewind it to a moment just like this." Well, getting back to Williams Grove in 1985 and noodling about setups again with Davey Brown just isn't possible, but the South Dakota Wolf will be coming close on August 26. That Wednesday night Fred Rahmer will be promoting a Sprint Car extravaganza at Lincoln (PA) Speedway. Along with a full card, it will be featuring a Legends race for Doug and a whole cast of other famous old-time dirt slingers. Photo from LONE WOLF by Doug Wolfgang with Dave Argabright. (Photo by everyone's friend, Jack Kromer)
A
---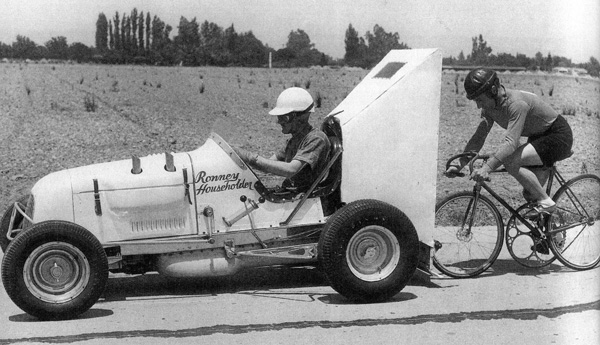 #1360 - It was early air, decades before the Intimidator. Back in 1941 Schwinn rider Alfred Letourneur donned a bike helmet while his buddy Ronney Householder put on Cromwell-style protection and added an unsightly aero package. It wasn't quite as rag-tag as it looked. They set a bicycle speed record of 108 miles an hour, cruising in tandem down some road in California. From OFFENHAUSER: The Legendary Racing Engine and the Men Who Built It, by Gordon Eliot White. (Bruce Craig Photo)
a
---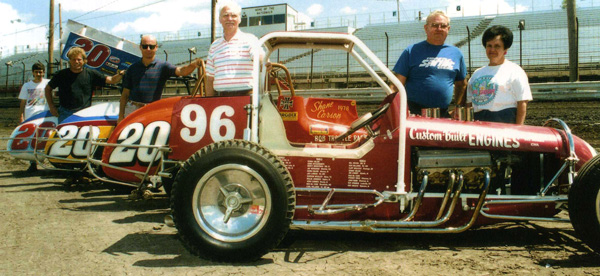 #1359 - This is the cover photo of a must-have new book for sprint car folk - LIFE'S TOUGH ON THE CIRCUIT: The Autobiography of Bob Trostle, by Bob Trostle with Larry Weeks. It's just about 400 pages with lots of photos. Here's the caption for that photo: "Four decades of Trostle cars. Front to back: Bob and Dorotha Trostle with chassis #1 and driver John Babb. This car had fast time at the 1964 Knoxville Nationals; Doug Wolfgang with his 1977 Nationals winning Trostle; Steve Kinser stands beside the Trostle he drove to victory in the 1980 Nationals; Bob's grandson, Mark Wilson, is with his 1991 Trostle. (Jeneanne Visser Photo)
a
---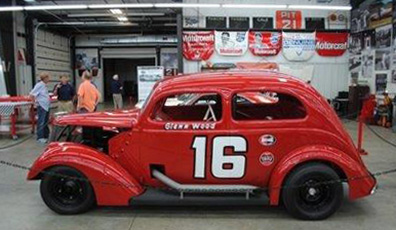 #1357 - This is the infamous Glen Wood "Backseater" car, one of the greatest coach Modifieds ever, now parked in perpetuity in the Wood Brothers Museum. It was lightning-fast, but certainly more driver-friendly on flat or semi-banked tracks. How much of the next straightaway could you see going through the turns at a track like Bristol, sitting way out there in the back forty like that? (Lavern Zachary Photo, Wood Brothers Collection)
A
---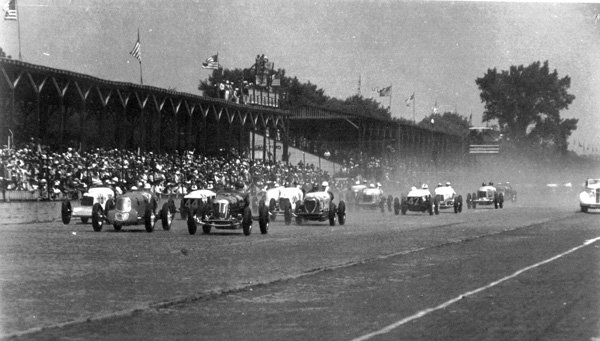 #1357 - Rex Mays' day at the Brickyard in 1935 must have been a total bummer. Starting on the pole, he led for the majority of 300 miles before dropping out with a spring problem, earning 17th-place money. Once again in 1936, he brought them down for the green. As shown above, the Packard pace car has pulled aside, and Mays and rider Takeo Harishima, already ahead of Babe Stapp and Chet Miller, were leading handily through the first turn. But, once again, it was all to little avail. The crew had forgotten the cotter pins in the throttle linkage, and the #33 sputtered home to 15th. Meanwhile, Louis Meyer became the first three-time winner. He celebrated with a bottle of buttermilk, launching a curious but enduring tradition. From POLE POSITION: – Rex Mays, by Bob Schilling. (Mays Family Collection)
A
---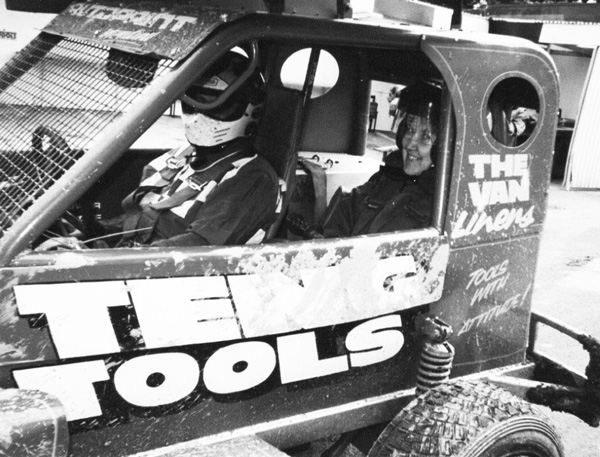 #1356 - Yup, that's everyone's favorite, Joyce Standridge, ready to take a qualifying lap inside that Formula 1 stock car with Ian Higgins at the World Finals event in Coventry, England. In a write-up called "Wet Pants Fun," Joyce had this to say: "I loved every second of it. You've heard how racing is as good as sex. Well, I understand now why nobody wants to give it up - racing, that is. I came back into the pit area flashing a stupid, big grin, exposing more teeth than Julia Roberts at the Oscars - especially when I found out that we had turned the fastest lap of the day.... Faster than my husband, faster than the British champion." Joyce is now finishing up a neat book on her racing experiences called Auto Racing – I Gave You the Best Years of My Life. Watch this space this at Christmas! (Photo, Joyce Standridge Collection)
A
---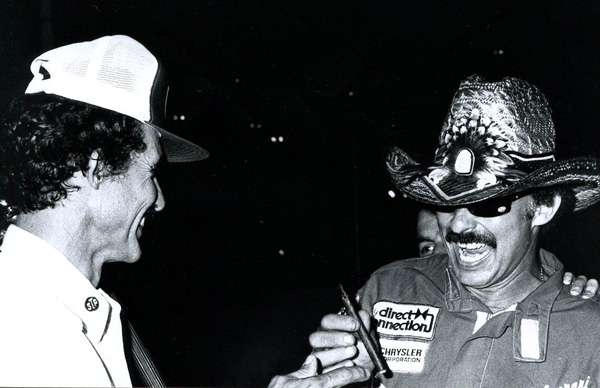 #1355 - How many times have you seen Richard Petty without that hat? Joanne Biondi, who wrote the Ed Otto book we published a few years back, once asked Richard if he wore it to bed. We know of one time for sure the hat did descend from its lofty perch, and it took a Northerner to get it done. In the mid-'80s Winston Cup stars often came to New England under the auspices of NESMRA, the Supermodified group, to compete with the locals. In 1984 a group of them were at Thompson (CT) Speedway for a shoot-out. It was high noon when Richard and Bob Polverari, the ultra-popular NEAR Hall of Famer, performed a hat swap. (Howie Hodge Photo)
A
---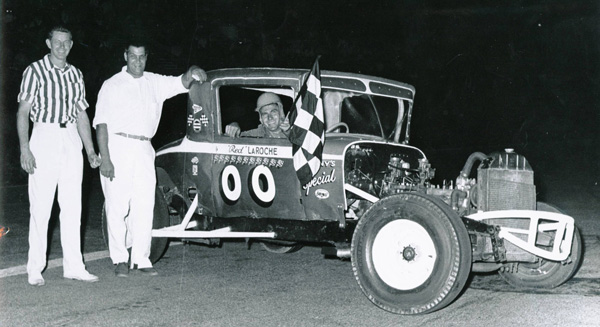 #1354 - Maurice "Red" LaRoche was a great guy who became a longtime caregiver to the injured Ollie Silva and raced quite a bit in the Northeast back in the '50s and '60s. He even ventured across the border into Canada and won. One afternoon, however, he faced a mountainous horror show just getting out of town. Here's what the Salem, NH, paper reported: "Maurice LaRoche, a roofer and part-time jalopy racer, was traveling west on Main Street with his racing car attached to his automobile. He was headed for the races. While passing the Consoli Building, Maurice was surprised to see his jalopy rolling along his car, trying to pass him, as it were. The machine had broken away from its towing connection. Leaping from behind the wheel of his car but failing to bring it to a stop, Maurice bounded to the foot loose jalopy and managed to steer it into the bank parking space but had to let go when it jumped the cement step and rammed the front door of the bank building. It was estimated by police that the jalopy struck while traveling about 25 mph. It smashed a screen door and forced open the wooden door snapping the lock. Meanwhile, the LaRoche car was rumbling over Main Street and as it approached Rt 28, it struck and damaged the left side of the car driven by Fred Burger of Lawrence. There were two passengers in the Burger car which was traveling east when hit. The contact did not stop the LaRoche car and did not change its course. It moved right across the four lane highway with the Salem Depot Square red light holding north and south traffic in line. Once across the highway, the driverless LaRoche car ran into trouble again, but not before it was observed by Officer Paul who happened to be standing on the southwest corner at the time. For a moment, he couldn't believe his eyes. He first thought it was a hot rod driver showing off at the wheel by ducking out of sight. He started out for the moving car and looked into an open window, at the same time grabbing the steering wheel as he ran along with it. Heading for the LaRoche car in the same lane, but traveling east was the automobile of Charles Boehm Jr. of Salem. Officer Paul maneuvered the runaway just enough to get it by with only a brush with the Boehm car. Others in the Square took hold of the car to slow it down, giving the policeman an opportunity to jump aboard and get at the brake to stop it." Photo from HOT CARS COOL DRIVERS, by Lew Boyd. (Bill Balser Photo)
a
---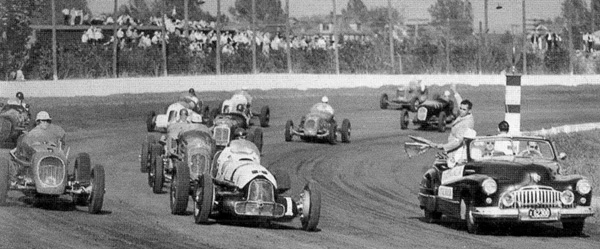 #1353 - Some guys always have that special flair. Case in point was Bill Vandewater, the veteran starter in the Midwest. He was as natty as they come, normally attired in a sport coat and slacks, earning the nickname "Fashion Plate Starter." His usual technique was known as "the Ascot Crossover." He'd wave off the field roaring down upon him from right in the middle of the track. But on this day at the Milwaukee Mile in the 1940s, Vandewater lines 'em up in a '45 DeSoto. From THE MILWAUKEE MILE, by Brenda Magee.
AA
---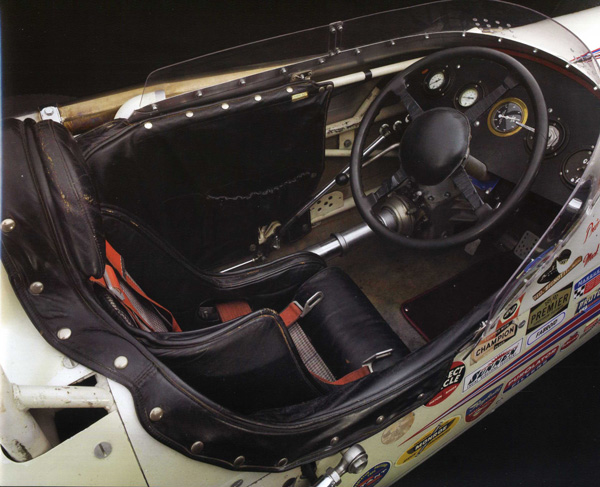 #1352 - It is painful to see so many old-time race cars being "restored" these days with all kinds of chrome and doodads that make them something they never were. This is the office of one of the greatest roadsters in the world, the 1964 Watson Sheraton Thompson Special. Mercifully, it has been saved just exactly as it was, replete with pockmarks and oil stains. A.J. Foyt sat in that chair six times and won five of them, including the star-crossed Indy 500 in '64. It was the last roadster to best the Bricks. From 1964 WATSON Sheraton Thompson Special – Stance and Speed Monograph No. 4, by Donald Davidson. (Peter Harholdt Photo)
a
---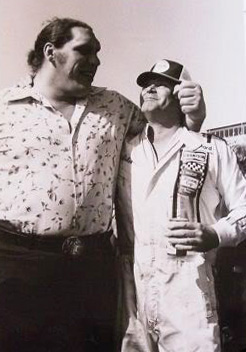 #1351 - At 6'-6", Buddy Baker never quite reached the heights of the giant André René Roussimoff, but he will always be NASCAR's "Gentle Giant." Last fall, the widely popular Baker, loved for his keen though slow-talking Southern wit, went in for rotator cup surgery. The actual culprit has turned out to be far more nasty – a huge, inoperable tumor on his right lung. Not one to pussy-foot about, Buddy says he asked the doctor, "How long? The answer was, 'We don't know, but it is something that we can't fix.'" Buddy's typically admirable message to the racing community: "I'm not going to carry on about how I wish I had done this or that. How many people can say they have had as charmed as life as I have." Photo from FLAT OUT AND HALF TURNED OVER: Tales From Pit Road, by Buddy Baker and David Poole.
A
---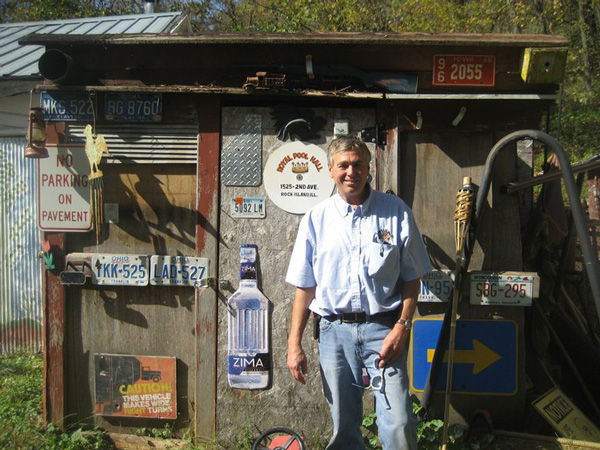 #1350 - We got a message today from all-time good guy and multi-time Midget champion Kevin Olson. KO is terminally on the gas, even if his relationship with the month of July seems a bit strained. "I had a little set back two weeks ago so I wasn't on the computer much. I had a car on an in-ground hoist fall on me as I was under it and shortened me up to about 3' 2". I had to crawl to the front of the house and laid in the driveway until I got help. I thought I broke my neck or back again and I had my head swell up pretty good. Fortunately, after CT scans and x-rays, I had no new broken bones and no bleeding on the brain. I got hurt in the 1980s 3 years in a row with a broken neck at Hales Corners and a broken back in Seattle. I broke my neck and back two years in a row on the same day, July 19th, and this happened last week on the 15th. Hopefully I can get back to race at Sun Prairie yet this year if I can find a ride."
(Kevin Olson Collection)
a
---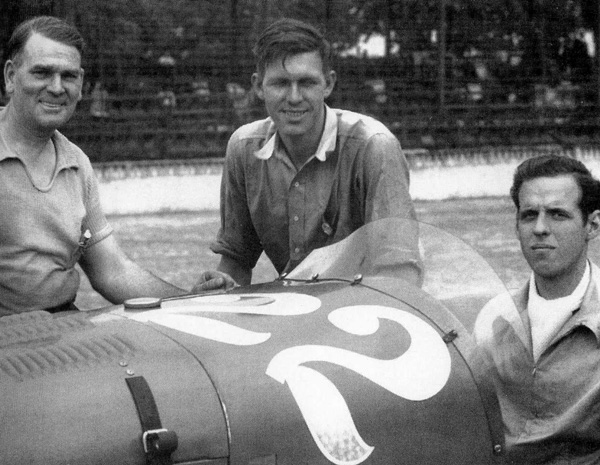 #1349 - Let there be no question of how deeply Big Bill France loved racing. By 1938 he was promoting races at the Beach in Daytona and throughout North Carolina. Additionally, he was competing and often winning. And, like racers everywhere, he was into the Brickyard. That year and the next he served on the pit crew of Joel Thorne (in car). They were fast and hustled to two top 10s. From BIG BILL: The Life and Times of NASCAR Founder Bill France Sr., by H.A. Branham.
A
---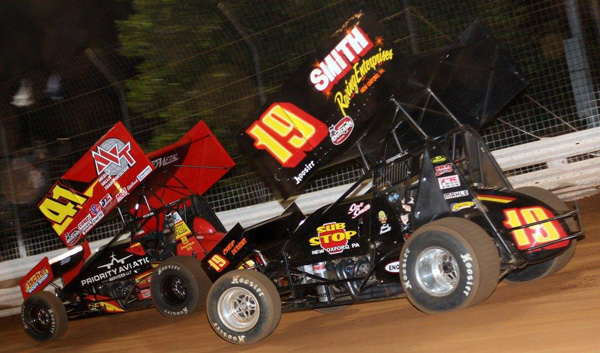 #1348 - Wouldn't you have liked to be in Williams Grove, PA, last weekend! The gypsy World of Outlaws top guns were in town, but the Pennsylvania posse locked 'em in the jailhouse. On Friday night, local Danny Dietrich of Gettysburg put them in handcuffs while on Saturday it was Stevie Smith. Stevie is shown here dealing with Jason "Ragin' Cajun" Johnson on his way to the wildly popular win. Stevie was aboard a Freddie Rahmer car, detailed as a replica of Steve Smith Sr.'s "Black Bandit" Sprinters. (Photo by Dave Dalesandro and RaceProWeekly.com)
a
---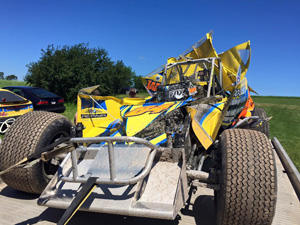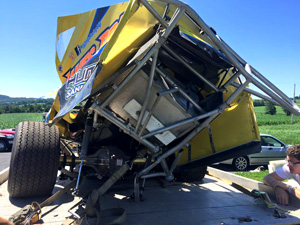 #1347 - To try to paraphrase the ever eloquent Ken Squier, there's no milk and honey 'til the checkered flag blesses the meal. Case in point came last Sunday night at Utica-Rome Speedway in New York. Going into the last lap of the Open Sportsman feature, mechanical engineer and racer Claude Hutchings Jr. was looking good, leading the show. However, going into three on the dirt half-miler with grand momentum, there was contact, and Claude left the premises. Off the bank he went, hitting a tree sideways at an estimated 100 mph. He was pretty banged up but was discharged from the crash house in the wee hours Monday morning. "Man, I'll tell you, you've not felt anything until you've hit a tree in a race car. I'm going to be out of work for a few days, but at least I can walk today….You can bet your butt we'll be back next Sunday night. If I can turn the wheel, get back in the car, and she stays together, we'll be out in victory lane." (Photos Claude Hutchings Jr. Collection)
A
---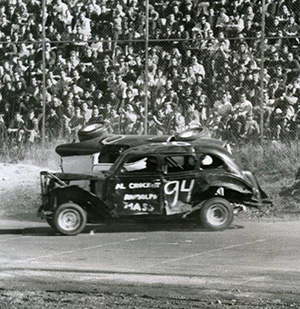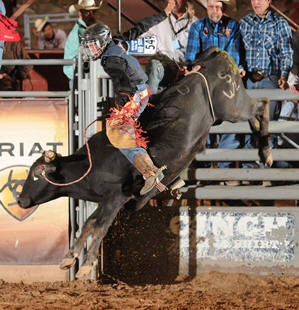 #1346 - It's definitely in the genes. That's Al Crockett, a.k.a. "Blackie" or "the Mayor of Randolph," on the left, arguably the most colorful character in the amazing cast of Bomber drivers in the Northeast in the 1960s. Al was a serious case, though also a frequent winner. One night I was parked next to him at Hudson (NH) Speedway. He came in from warm-ups mumbling about his massive, sky-high six-cylinder Chrysler sedan. He jacked that coach up right there in the pits, turned it over, removed the oil pan, took out a torch, cut off the misbehaving connecting rod and piston, put back the pan, and went out and raced – probably not for too long. Another day at Hudson, he ran right off the backstretch and the #94 was headed for the boonies and into the swamp below. He decided not to go along with it, so he jumped out… At the recent Boston Louie Midget and Modified race at Seekonk (MA) Speedway, a 16-year-old named Cody Hamilton stopped by our book table. Turns out he is Al's great-grandson. It probably should be no surprise that Cody is a tad unusual as well. He's been riding bulls since age four under the nom de bull "Cody Lane." Here he is at 105 pounds aboard a 1700-pounder. He was the first Massachusetts kid qualifier for the National Finals Rodeo in Gallup, NM. (Photos Coastal 181 Collection and Richard Naphen Collection)
A
---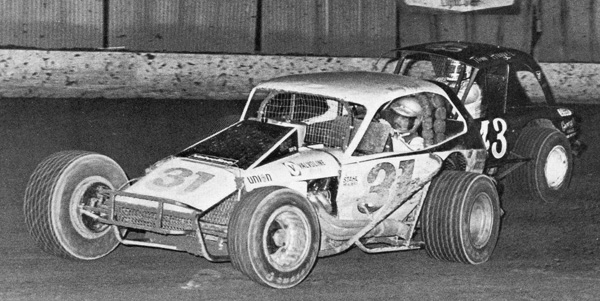 #1345 - John Kozak of Wernersville, PA, was not quite typical in the seriously big boy Modified roster at Reading Fairgrounds in the 1970s. Kozak appeared in 1973 with virtually no experience behind the wheel. Quite predictably, he struggled mightily at the outset, but his finishes began to improve. His career took a shot of nitrous oxide in 1976 when he purchased Kenny Brightbill's Pinto. On May 27, 1977 he won the Beader Kennedy Memorial, whupping Brightbill in the process. His best year was '78 when he finished second in the points chase. Railbirds point out that quite likely that Pinto ended up accumulating more of Lindy Vicari's purse money than any car in Reading history. From READING FAIRGROUNDS: Modified Memories. Edited by Vince Vicari
a
---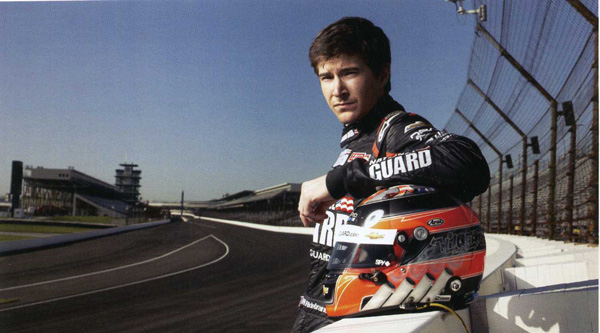 #1344 - That's IndyCar driver and Southern California's JR Hildebrand leaning against a part of the wall at Indy he will never forget. Incredibly, in the 2011 500, still a scarcely known rookie, he led the field into the final third turn and attempted to pass a backmarker, Charlie Kimball. JR slid up, got into the marbles, and brushed the wall. He kept his foot in it and slid towards the finish line, but, just before he got there, Dan Wheldon, the 2005 winner, slipped by on the inside and won. It was among the most incredible finishes ever at the Brickyard. Hildebrand, finishing second, will always be remembered for his gracious and gentlemanly calm during interviews in what must have been a moment of personal devastation. Ironically, JR was involved in the subsequent 25-car wreck at Las Vegas in which Wheldon perished. From SECOND TO ONE: All But for Indy, by Joe Freeman and Gordon Kirby. (Photo Doug Mockett Collection)
A
---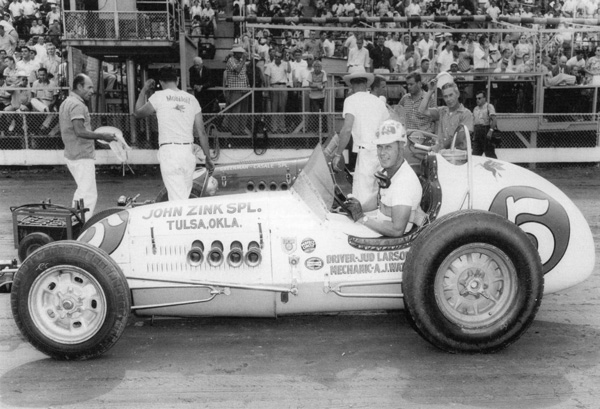 #1343 - "Joltin' Jud Larson looks relaxed and carefree before the start of the 1958 Springfield Century. When the mechanically inept Texan made his debut in this same race in 1956, his mechanic, A.J. Watson, asked him how he wanted the car set up. 'Might as well set this shitbox on win, because that's what it's gonna to do!' the cocky Larson drawled. Jud proceeded to lead the first 71 laps when a shock broke and dropped him to fourth at the finish. In the next race in Sacramento, Larson drove the car to victory lane." Caption and photo from COMPETITION PORTRAITS: The Dirt Champion Cars, by Bob Mays. (Bob Scott Photo)
A
---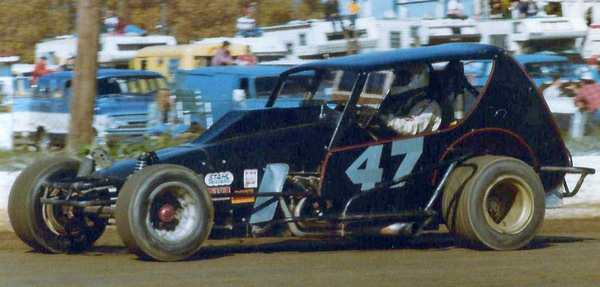 #1342 - Mike Grbac at Reading, PA, on October 29, 1978 prepping to qualify for the Daniel Boone 200, thought to be the final stock car show at the Fairgrounds. He made the feature through the consi and was looking strong until the 98th lap when he was in a lethal frontstretch crash. He passed away a month later from the injuries. Mike's career as a dirt-track Sportsman and Modified driver was creditable but it was his charismatic personality that is most fondly remembered today, 36 years later. He steered Modifieds to many wins at New Jersey's East Windsor and Flemington Speedways. He was born into a racing family, his father, Tom, having driven and promoted stock car races in the late 1940a and early '50s. Mike was the "life of the party" after the races and admired by competitors, particularly during those phases of his career when he made the most out of substandard equipment. (Photo Coastal 181 Collection, caption by Steve Barrick)
A
---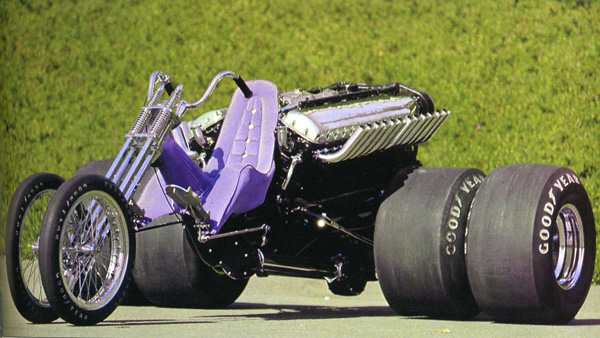 #1341 - Bob Reisner and Jay Ohrberg built five vehicles for auto-show promoter Paul Bender in the California Show Cars shop back in the day. This outrageous bike really blew the top off the lot. As Ohrberg once demonstrated at a show in Philadelphia, the engine did ignite, but it lit the place on fire. Mercifully, the drivetrain was never bolted up, and the drive shaft tube is empty, as everyone knew that the power would blow out the Ford banjo rear. From America's Wildest Show Rods of the 1960s and 1970s, by Scotty Gosson. (Jay Ohrberg Collection)
a
---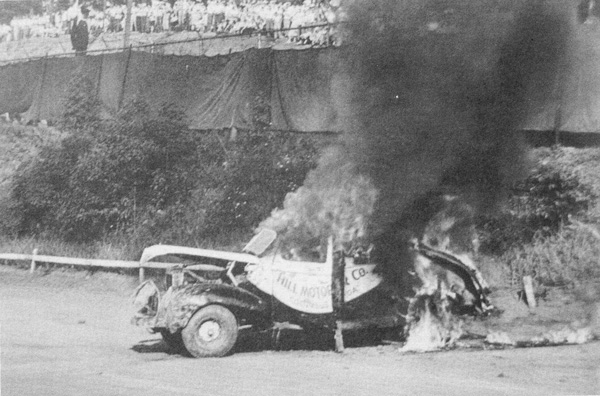 #1340 - Atlanta's Lakewood Speedway was once quite the deal. In the 1950s it ran NASCAR shows on the fast but less than symmetrical one-mile dirt oval. Safety standards were not quite up to 21st-century standards. When Carroll Tillman out of Mableton, GA, flipped, he was able to scramble out of his Ford coupe before it lit up. Onlookers were quick to the scene, and they helped him push the car into the lake that took up most of the infield. Surely no one had any trouble getting over that guardrail to reach the scene. From REAL RACERS: Heroes and Record Writers from Stock Car Racing's Forgotten Era, by Greg Fielden.
A
---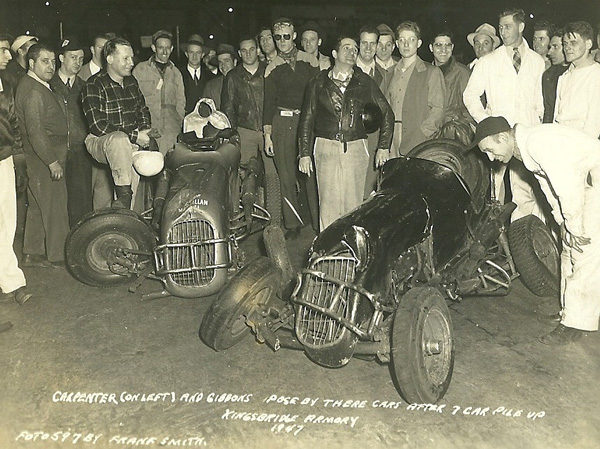 #1339 - The 1/5th mile Kingsbridge Armory Speedrome in the Bronx held Midget races in the 1940s and later some NASCAR stock cars. This 1947 image of the aftermath of a seven-car pile-up shows drivers Johnny Carpenter and Chet "Wild Cat" Gibbons. We wondered why everyone would look so amused after such a fierce mishap. We called motorsports historian R.A. Silvia in Rhode Island for an opinion. He points out that it may have stemmed from Gibbons' original nickname that today would be considered a tad politically incorrect. It was "Pussy." (Frank Smith Photo, George Koyt/Jeffrey Hardifer Collection)
A
---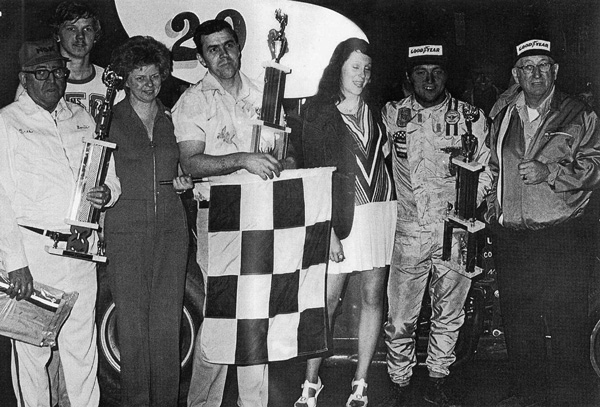 #1338 - Some guys were born to play baseball and some just weren't. Lively Jimmy Winks, a native of Cicero, NY, could wheel anything. It could have been a Late Model, a Modified, a Super, Sprinter – dirt or asphalt, and he would win with great applause from every corner. Here he is at the Memorial Day URC show at Fonda, NY, having smoked 'em in Karl Mueller's Chevy Sprinter. At the end of his career he was in Edgewater, Florida, retired there with so many racers, but still racing, often aboard Bobby Judkins' #2x Modified. He passed away in November of 2013 at age 65. From TOW MONEY: The History of the United Racing Club, by Buzz Rose and Jim Chini. (David Greenwalt Photo)
A
---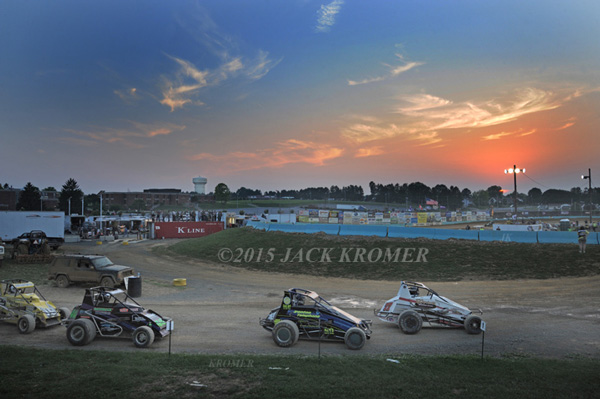 #1337 - It's those fabulous "Speedsters" lining up at Kutztown, PA. This is the show that everyone on the East Coast is talking about – in addition to this summer's weather. (Jack Kromer Photo)
A
---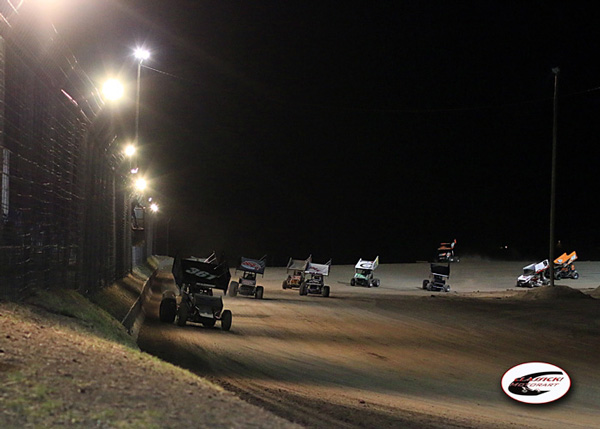 #1336 - One racy looking place. It's March 27 of this year, the night of the 305 Sprint Shootout at Southern New Mexico Speedway (aka Mesilla Valley Speedway). Oklahoman Tyler Thomas won the show. The Las Cruces 5/16th of a mile clay is in its 48th season. (Southern New Mexico Speedway Collection)
a
---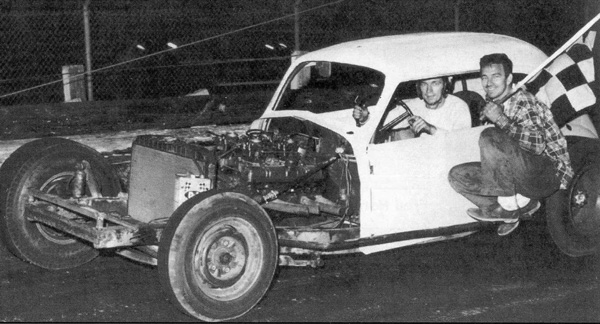 #1335 - It was before the gathering of the racers in Hueytown and the assemblage of the Alabama gang. Donnie Allison and his ultra-mechanical brother Eddie (on nerf bar) were red hot in Florida. In 1962 they copped seven of 12 features in this HC Wilcox modified. It sported a '46 Ford chassis with a Crosley shell and a 401 Buick motor.
From FLORIDA MOTORSPORTS RETROSPECTIVE, by Eddie Roche.
a
---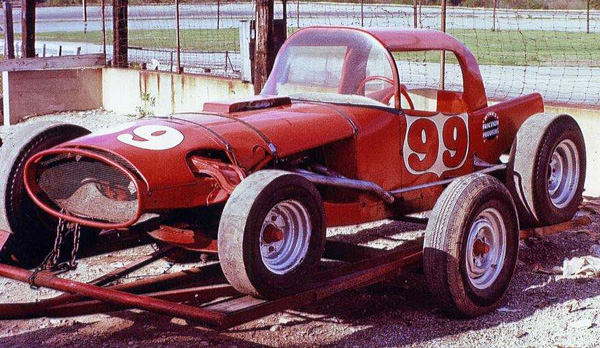 #1334 - This cool-looking cutdown, shown at Thompson, CT, in the early sixties, was owned by Andy Smith and driven mostly by Hall of Famer Freddie Borden. When the coupes and coaches took over Southern New England, another Hall of Famer, Jimmy Martel, bought the car and took it north to the Pines and Hudson Speedways. It was a flyweight, very unusually built on a '55 Chevy chassis with A-frames. "I liked Andy Smith," says Jim. "He was cool, smart, and a pain in the ass. His house was a homeowner's nightmare, but a racer's dream. He had every piece of equipment imaginable. I bought the car because it was so short and so light. I liked that." But, in the end, that lightness likely shortened the car's history. Following an encounter with racer Whitey Hoyt on the fence next to the Pines' pit gate, the car was so bent Jimmy could not fix it. (Coastal 181 Collection)
A
---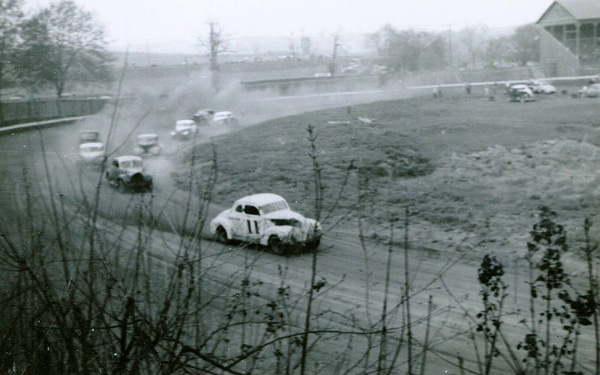 #1333 - Twenty-one-year-old Fireball Roberts had quite a well-traveled summer in 1950. As well as competing in the NASCAR Grand National chase (which he almost won), he barnstormed up and down the East Coast with Roy Jones' '39 Ford Modified. Jones' coupe, named "White Lightning," was wicked fast, and they usually won. That was certainly the case this day when they visited the old half-miler in Nazareth, PA. They cleaned house. Whenever things didn't go well, Fireball would take a night off and seek some good pool table action to replenish their treasury. They say he ALWAYS won on the velvet. From PAVED TRACK, DIRT TRACK: Racing at Old Bridge Stadium and Nazareth Raceway, by Lew Boyd. (Jack Kromer Collection)
A
---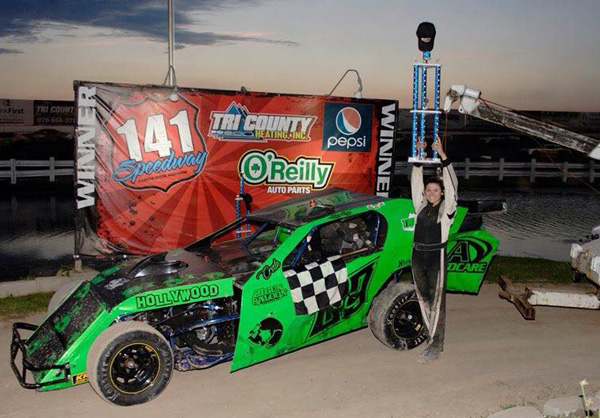 #1332 - That sport mod shoe, Kelsy "Hollywood"Hayes out in Sturgeon Bay, has had quite the spring. She graduated from U of Wisconsin in media and graphics and she and beau Jamie Miller celebrated by putting a new chassis together. She's put together one four-win streak already – and a second one includes the Clash at the Creek at 141 Speedway. In the Wednesday night of Clash week she gave everyone a heart attack by landing in victory lane on a wrecker after a fourth-turn jingle with the second-place finisher. He was penalized to last. "There was huge commotion. Most were cheering," smiles Kelsy, "but there are always those few who have other comments."
(Kelsy Hayes Collection )
a
---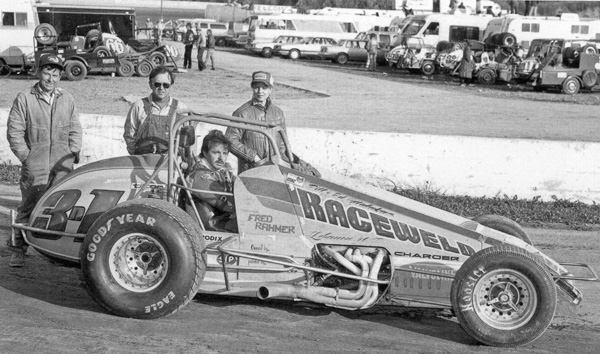 #1331 - "'Fast' Freddie Rahmer looks just a tad uncomfortable in the Mataka Brothers #3n1 at the Eldora Four Crown in 1985. It would be Rahmer's only start in the [dirt Champ Car] series, a phenomenon not uncommon to the Matakas. They built their own cars and tended to grab drivers close to the headquarters of their business, Raceweld, Inc., in Lebanon, New Jersey. In fact, the Matakas' only win in the series came with Jimmy Horton, a long-time modified chauffeur, at Nazareth in 1983; incredibly, it was Horton's only appearance in a dirt car! The #3n1 number goes back to the day in 1963, when a very young Mario Andretti won three races in one day driving a Mataka Brothers midget." Photo and caption from Bob Mays' brand new book COMPETITION PORTRAITS: The Dirt Championship Cars, by Bob Mays. (Gene Crucean Photo)
a
---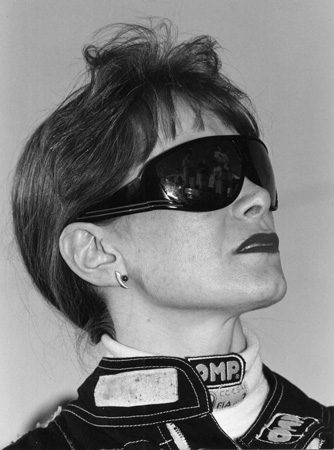 #1330 - That's Sprint Car racin' Mares Stellfox listening up at the drivers' meeting at Grandview (PA) Speedway in May of 1993. She certainly was paying attention. Later that night she became the first female in history to qualify for a CRA feature. (Arthur Ruppert Photo, Dick Berggren Collection)
a
---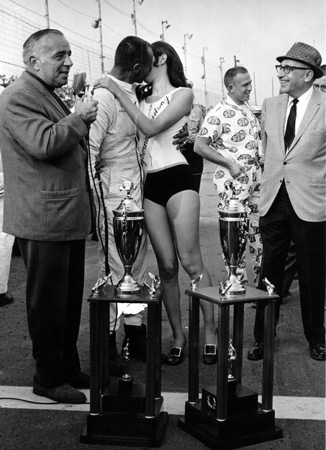 #1329 - It just doesn't seem reasonable that Dutch Hoag got to do this so often at Langhorne, PA. Let's see, there was his National Open win in 1956, in 1960, in 1963,
and in 1967. He must have really looked forward to it. He won by a full lap in 1968.
(Ray Masser Photo, Dick Berggren Collection)
A
---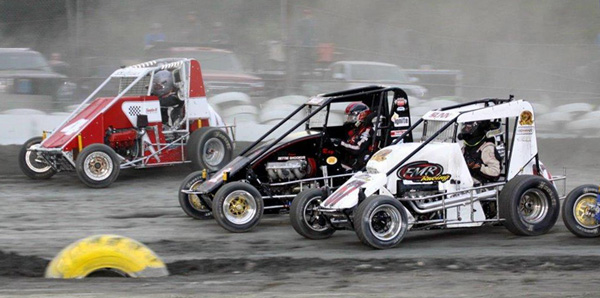 #1328 - It is amazing what has happened in just the last few seasons after Connecticut's Hall of Famer owner, Skip Matzcak, introduced a USAC midget division to Bear Ridge Speedway, the quarter-mile dirt track way up in the Green Mountains of Vermont. Full fields appear for each show, the cars driven by very racy guys sporting everything from peach fuzz to grizzled gray. Jeff Horn, a 70-something racer from Massachusetts began in a flathead Modified at Catamount Stadium in 1964. He has run everything, with especial success in pavement Midgets and Supermodifieds. He always wanted to try the dirt - and he's hooked: "In all the years I've been goin' around, I've never seen a level of competition as intense as this." (Alan Ward Photo)
A
---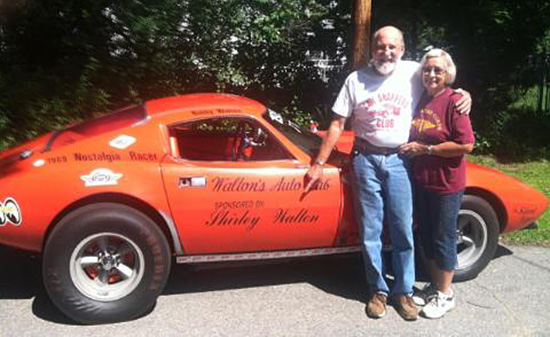 #1327 - On a weekend back in September of 1959, student nurse Shirley Tryon, and three of her nursing buddies decided to take a day trip up to Maine. They ended up at the drag races in Sanford, and the stars were surely crossed. All four of them ended up marrying racers, and three couples remain so today. Shirley recalls seeing a young tech man, Bob Walton, up there "with those flashy white coveralls and curly hair. It was love at first sight. We were married the next spring." Bob smiles. "Yup, it really worked out. Shortly afterwards, a bunch of us started New England Dragway in Epping, NH. We built this car in 1969 for Epping. It's on a 93-inch Austin Healey frame with a 351 Windsor. And you know the best part? Shirley sponsors it…still." (Coastal 181 Collection)
a
---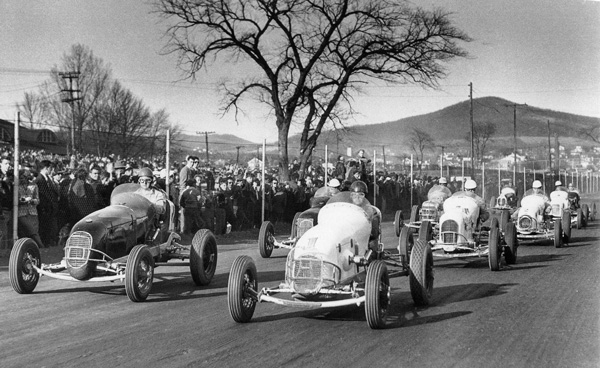 #1326 - The opener at Reading, Pennsylvania, 4/4/48. As were the ways of the times, no roll bars, no cages, no nerf bars, no shoulder harnesses, and likely most had no seat belt. But how about that guard rail! From HARD DRIVING MEN: Images of Speed, 1895-1960, by Dick Wallen (Dick Wallen Collection)
A
---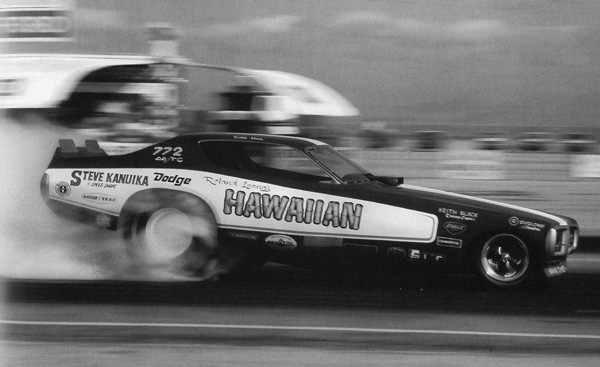 #1325 - Roland Leong had his "Hawaiian" Charger funny car hummin' in 1971. Butch Maas at the wheel, they won the Winternationals at Pomona for the second year in a row and then cracked the six-second mark at Bakersfield. It was a Logghe car with a Keith Black Hemi and a two-speed Lenco transmission. From DRAG RACING FUNNY CARS: Factory Flyers to Flip-Top Fuelers, by Lou Hart.
A
---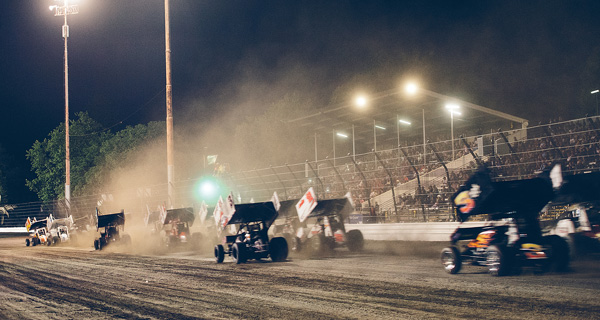 #1324 - It was a racy scene last year at the start of the King of the West feature at California's NAPA County Fairgrounds, a.k.a. Calistoga Speedway, the largest and fastest track in the region. The image is from the brand new GUIDE TO NORTHERN & CENTRAL CALIFORNIA RACEWAYS, by Saroyan Humphrey. The book is an amazing effort, 440 pages, 250 color photos, with a foreword by Kyle Larson.
(Saroyan Humphrey Photo)
a
---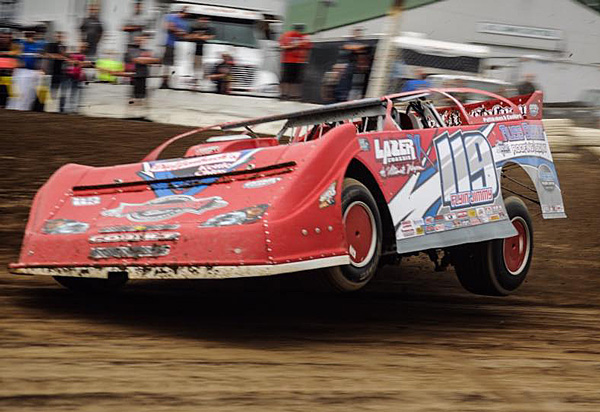 #1323 - Lebanon, PA's Jim Berheisel sure looked fast with his World of Outlaws Late Model at the Great Northern Tour event at Fonda Speedway last week. In fact, he was. He time trialed at 18.012 seconds, while the previous Late Model record mark of 18.367 was set in 2010 by Tennessee's Jimmy Owens. However, everyone seemed to be on point. The top 20 qualifiers were ALL under the track record. In the end it was Smilin' Shane Clanton, up from Zebulon, GA, in victory lane, continuing his 2015 hot streak. (Jim Ellis Photo)
a
---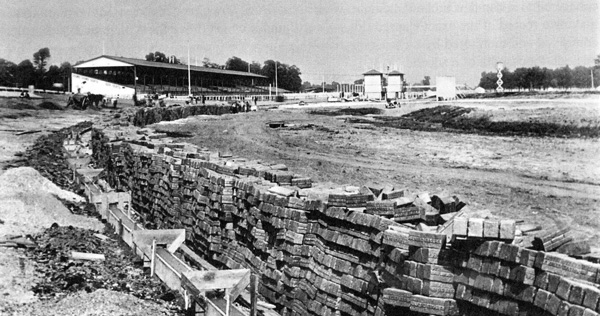 #1322 - It was September of 1909 that the Partners of Indianapolis Motor Speedway decided that they would have to upgrade their dangerous surface, oil-soaked and full of holes. They decided on bricks, and 3,200,000 of them were laid and smoothed by loads of concrete and sand filler, applied by shovel. The project was tested on a frigid day the following December, and driver Lewis Strang said it was the fastest track he had ever been on. From INDY: RACING BEFORE THE 500 – The Untold Story of the Brickyard, by D. Bruce Scott. (Photo, Courtesy John Darlington)
a
---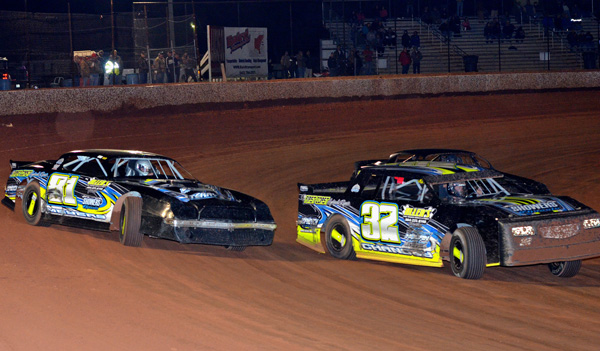 #1321 - It's about dirt. Do you think teammates Brian Wootan (# 81) and Bud Chancey (#32) were smiling as they dueled opening night at Golden Isles Speedway, in Waynesville, GA? (Troy Bregy Photo)
a
---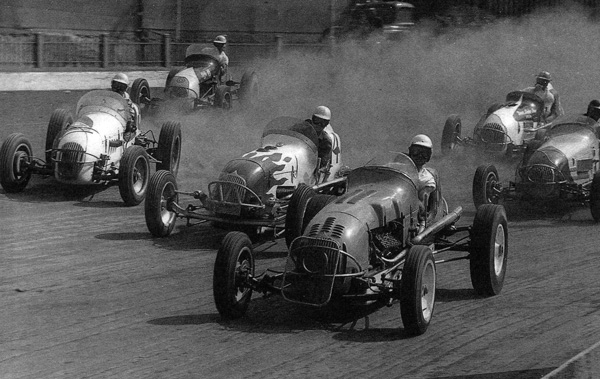 #1320 - This racy photo for the ages is the cover shot of Gordon White's just reprinted OFFENHAUSER: The Legendary Racing Engine and the Men Who Built It. It was the Sprinters on the Reading (PA) Fairgrounds in 1957. Up front are two Fords, Donald Woods in a car vacated by Wally Campbell and John Ryder in the #44, chased by Rex Records in the white Ed Stone Offy out of Massachusetts, the high-flying Herb Swan in the ex-Tommy Hinnershitz Miracle Power Offy, Joe Mattera aboard the Deer Lake Inn Ford, and Hank Rogers in the Steffen #6 Offy. As Gordon White points out, "This race, ironically, was won by Joe Barzda in his Chevy-powered #33 stretched Kurtis midget, the first-ever Chevy win in the east. The big Chevy, while fast, generally overheated, but rain cut the race short while Barzda was leading." (Venlo Wolfsohn Collection)
a
---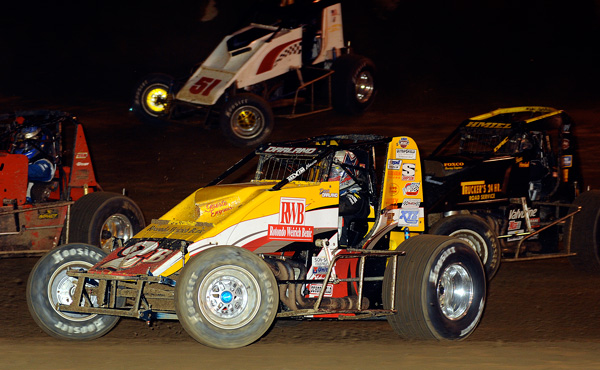 #1319 - Here's Dave Darland looking down low at Kokomo, Indiana. Generally, he likes to run upstairs, but, he goes where he has to go. In his words, "you spend lots of time figuring out which ones are the squirrels and which ones are the nuts."
From THE PEOPLE'S CHAMP: A Racing Life, by Dave Darland with Bones Bourcier.
(John DaDalt Photo)
a
---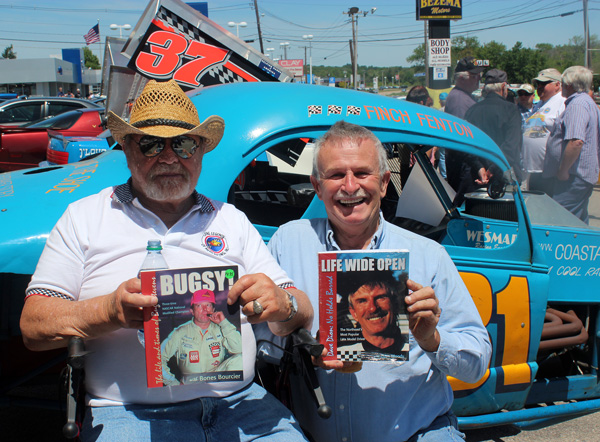 #1318 - On June 6 Lou Modestino held his annual Norwood Arena Reunion at Bezema
Motors, across Rt, 1 in Norwood, MA, where the famous track once flourished. This year's event was particularly lively, with cars and characters galore under beautiful spring skies. Bugs Stevens (L) and Dave Dion, both huge winners on the oval, both members of the NEAR's New England Racing Hall of Fame, and both a half-bubble off center, held court next to the Coastal 181 book table. Warn the wives and widows. (Chuck White Photo)
a
---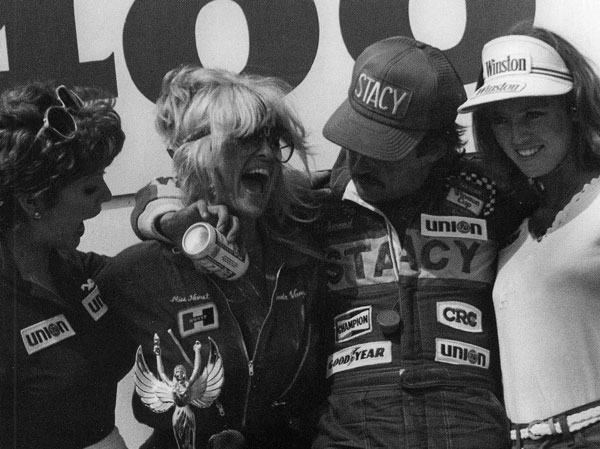 #1317 - In the season-ending Riverside NASCAR Cup race in 1982, that feisty Tim Richmond was red hot. But, apparently, he felt the need to cool Linda Vaughn down a bit. From RIVERSIDE INTERNATIONAL RACEWAY, by Pete Lyons. (Bob Tronolone Photo)
a
---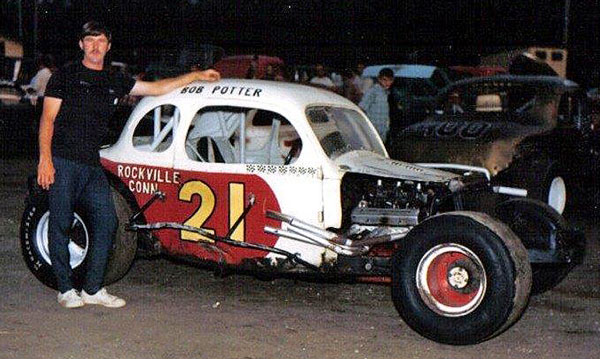 #1316 - Here's one of Norm Keis' enduring succession of first-class #21 New England Modifieds. He ran lots of tracks and hired lots of shoes. His stint with the feisty Hall of Famer Bob Potter must have been particularly spicy. Bob later learned that Norm would occasionally heat up a welding rod and – no one watching – poke into and enlarge the depth hole in the M&H tires on the car. The idea was to pump Bob up with the confidence that he was goin' out to that feature with spongy new rubber.
From www.davedykesracingthroughtime.com
A
---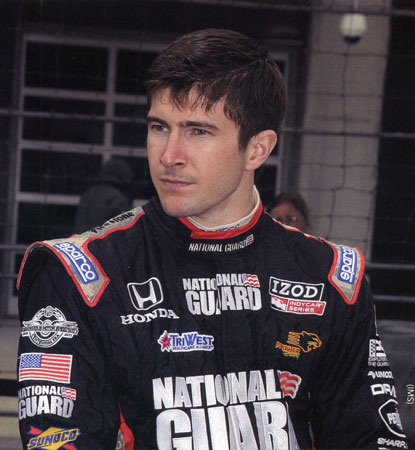 #1315 - JR Hildebrand was the unfortunate but notably gentlemanly player in one of the most dramatic Indy 500 finishes ever. In 2011, he assumed the lead with two laps to go, led right into the third turn of the last lap looking like a sure winner, but ended up runner-up to Dan Wheldon by two seconds. "Knowing that the cars in second and third were coming on pretty strong," calmly explained Hildebrand in the post-race conference, "I quickly decided that rather than downshifting a bunch to risk slowing the car down coming onto the front straight, I thought I'd breathe it and go to the high side. It was a move I used earlier in the race to get around some slower cars, but I guess with the tires as worn as they were and the run being as long as it was, there were a bunch of marbles on the outside. Once I got up there, there wasn't a lot I could do." He hit the wall and slid all the way down to the starting line for second before an incredulous crowd. From a fabulous new book by Joe Freeman and Gordon Kirby, SECOND TO ONE: All But For Indy. (IMS Photo)
A
---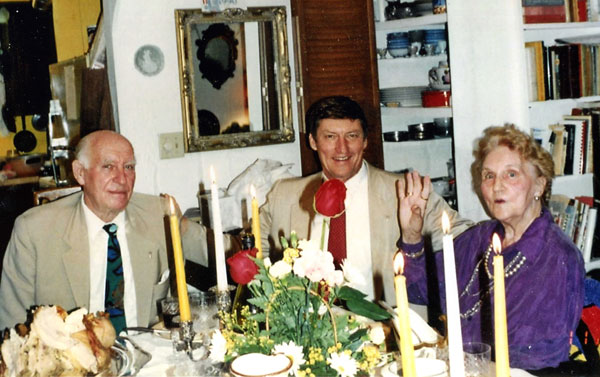 #1314 - That's that scamp Bentley Warren dining with his parents back in the day. Don't let the tweedy look fool you. The minute we got done with his book, WICKED FAST, so full of outrageous Bentley stories, the phone began ringing with people offering even more. Some would have been printable; some not so much. One that Wilbur Drew, an old-time New England racing official, told us is beyond remarkable. On Saturday at about 7:00am back in the '70s, Wilbur was driving down Rt. 495, the beltway around Greater Boston, and he saw some commotion in the breakdown lane. He pulled over, and, as he recalls, "I couldn't believe my eyes. There was Bentley's Supermodified stuck way up in the air, halfway through a highway sign." All the crew guys were running around to get it back on terra firma – and the trailer – before the Staties showed up. Fortunately for them, they were able to do so. We asked Bentley this week if that could have been true. "As a matter of fact, I think I remember that. Kinda sounds like me, doesn't it?" Photo from WICKED FAST – Racing Through Life with Bentley Warren, by Bones Bourcier. (Warren Family Collection)
a
---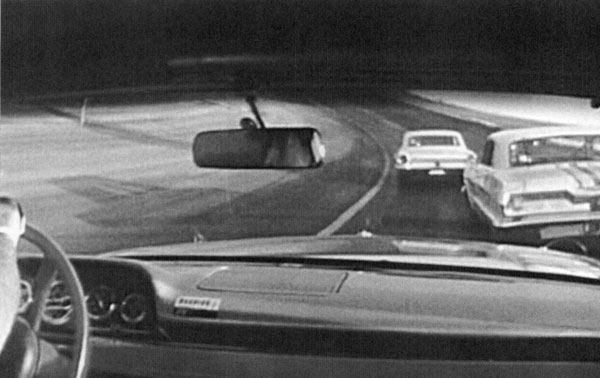 #1313 - The window of time. Looking out of the cockpit of Joe Weatherly's Mercury, prepared by Bud Moore, at Darlington 1963. From BUD MOORE: Man and Machine, by Dr. John A. Craft. (J.D. Craft Collection)
a
---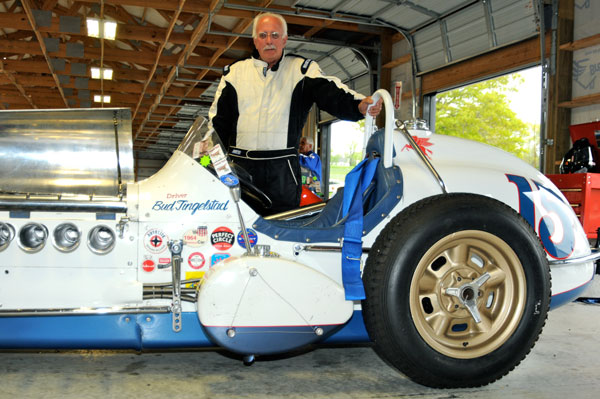 #1312 - Around here, we understand that there's big interest in racing's past. Many of our books are about drivers, tracks and events from an earlier time. So, we were happy when Thompson (CT) Speedway returned a vintage-oval event to its schedule following some time off for the complete rebuild of the track's road course. The first time back, May 2015, drew 58 cars, which track GM Josh Vanada was happy with. Some clubs only run events where they are admitted free so their members unfortunately skipped Thompson, but Vanada kept the cost low for everything from admission to use of the new garage. "We're grass roots. We know what we are and want to keep this affordable," Vanada said. Everyone had a good time so the event will surely grow.

Among the most interesting entries was this 1964 Wally Meskowski dirt car in which Bud Tingelstad won DuQuoin in 1966. Ft. Pierce, Florida, orthopedic surgeon Paul Mondo has owned the car for nearly a decade and ran it at Thompson. A 255 CID Offy puts out around 400 HP on methanol. The car had actually done some road racing many years ago so it has a four-speed gearbox. The sight of the car on Thompson's high banks was a beautiful thing.

Thompson's vintage road race event will take place June 18-21, 2015. The first running of that event was last year when it drew 240 cars. (Dick Berggren Photo)
A
---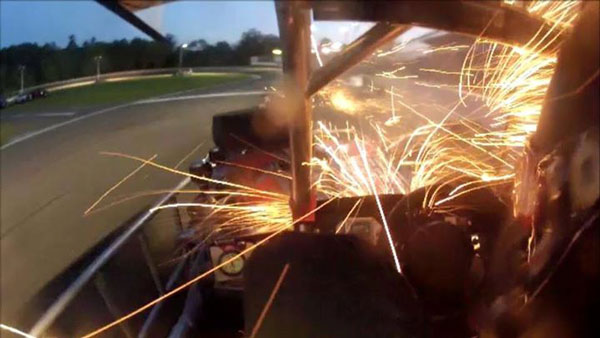 #1311 - There was a huge, shattering wreck along the front stretch wall in the Supermodified race at Star (NH) Speedway last Saturday night. Fortunately, no one was injured. Veteran racer Mike Netishen was right behind. He says, "My view. Can't get much closer than that." Remember how at this year's Indy pulse-rater monitors were shown on some of the drivers at tense moments. Wonder how high Mike's went….. (Thomas Netishen Photo)
a
---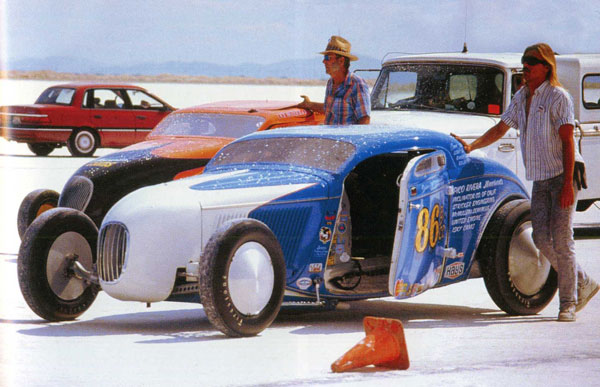 #1310 - Some people are just plain special, and the same can be said for cars. Certainly among them would be the '34 So-Cal Ford, known on the cover of a 1954 Hot Rod magazine cover as the "Double Threat Coupe," a big winner at Bonneville and Southern California drag strips in the fifties. The streamlined cruiser went through multiple owners with great success and one major tragedy. Dave DeLangton died after its unshielded clutch exploded at Bonneville. Over time it was purchased by Salty Jim Travis, whose first run on the sands with a 296 Flathead delivered a class-winning 142.99mph. Later with a blown 300 small block he turned a remarkably speedier 236mph. Travis campaigned at Bonneville for 28 years with the car itself basically unchanged. From HOT ROD MILESTONES: America's Coolest Coupes, Roadsters, and Racers, by Ken Gross and Robert Genat. (Alex Xydias Photo)
a
---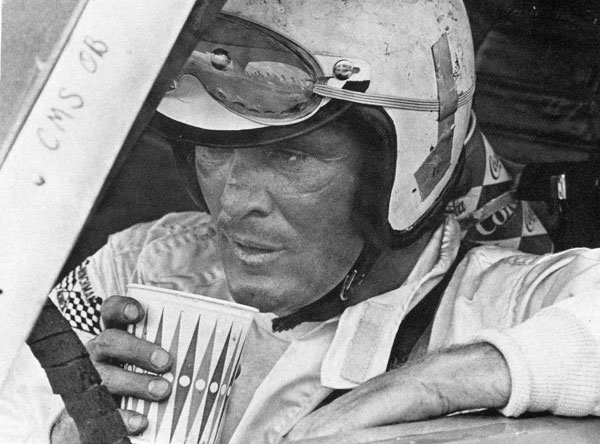 #1309 - Fred Lorenzen had a lot to offer NASCAR in the '60s, and NASCAR saw him coming. The clinically handsome "Golden Boy" was a first-rate driver and a great interview, but, unlike everyone else, he had never run on dirt, and – from Elmhurst, Illinois – he was no Southerner. Publicity mavens like Russ Caitlin and Humpy Wheeler made him a huge gate-draw, and it sure worked. In 1998 he was voted one of NASCAR's top 50 drivers, and this year he was elected to the NASCAR Hall of Fame. From THE STORY OF STOCK CAR RACING: Fast As White Lightning, by Kim Chapin.
(Don Hunter Photo)
a
---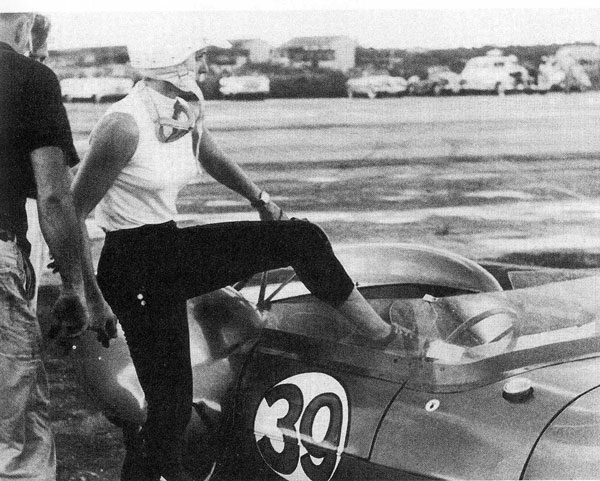 #1308 - Denise McCluggage had quite the life. A journalist from San Francisco and then New York, she had that 1950s Bohemian flare. Surprisingly, though, she was infatuated with MG TCs, as was her neighbor in Greenwich Village, Steve McQueen. They shared a brief romance and a lasting friendship. By 1957 she had become a lead player in a small but extraordinary troupe of women sports-car racers. She won at Sebring and Monte Carlo - and even raced at the Nurburgring. She passed away on May 6 at age 88, still a Senior Contributing Editor of AutoWeek magazine. From FAST WOMEN: The Legendary Ladies of Racing, by Todd McCarthy (Bahama News Agency)
A
---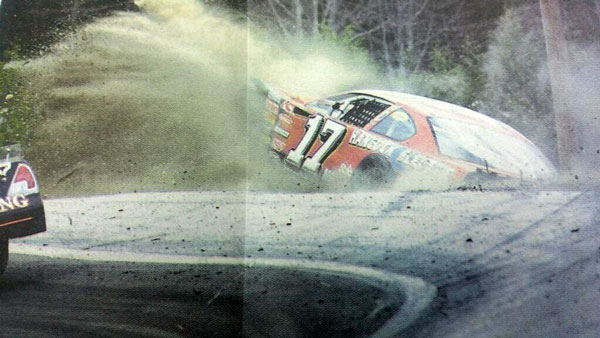 #1307 - Eddie MacDonald is one of the most popular and successful of all the Late Model drivers in the Northeast. But he seems to be just a little unusual: Somehow he doesn't have the normal human need to lift for turns, yet he VERY seldom finds himself in compromised situations. This time he did, however, in the first turn at Thunder Road in Barre, Vermont. How do you think he did that? Look at what direction things are flying in. (Red Dog Racer Photo)
a
---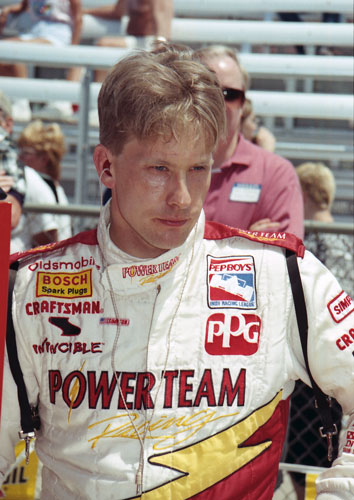 1306 - "KENNY BRACK, Arvika, Sweden. A six-time 500 starter, Brack cemented his place in Indy history by returning Foyt to victory lane in 1999; A.J. hadn't visited that hallowed ground since his own fourth win in '77. Memorable moment: Leaving their post-race interview, Brack paused to take a congratulatory phone call. Foyt, tired after his long day, was unimpressed that the caller was Carl XVI Gustav, King of Sweden. 'Tell him the King of Texas wants to get back to his garage,' barked A.J."
(Caption from The Stinger: 273 Drivers Speeding Toward Hope, by Bones Bourcier and John Andretti. John Mahoney Photo)
A
---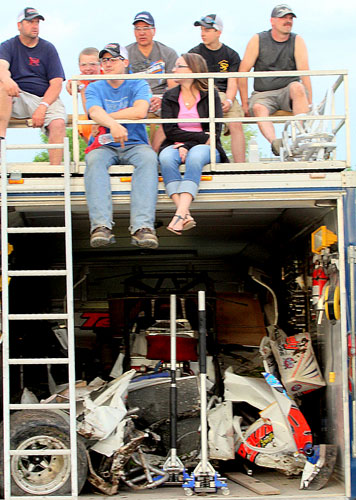 #1305 - After 13 successful summers under the ownership of Gene and Gloria Cole, the reins of Utica-Rome (NY) Speedway were handed over to Bill and Kim Shea, longtime race fans and owners of Willy Decker's machine. Things are going well for most everyone involved, but racing will be racing. As Dave Dalesandro reports, "You know you've had a bad night when you load up the trailer and it looks like this." Elden Payne, Jr. executed an off-the-track, into the trees adventure, resulting in this image of devastation. (Dave Dalesandro Photo, RACEPROWeekly.com)
a
---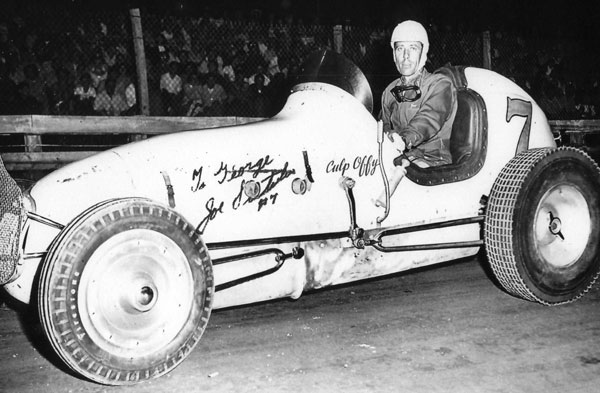 #1304 - That's "Rosey Joe" Sostilio at an AAA show in Morristown, NJ. He was a serious gasser – the 1951 AAA Eastern Sprint Car Champ – and he is said to have accumulated over 300 open-cockpit wins. He also had a softer side, and rumors are that he would never race unless he was carrying his daughter's baby shoes. His best days may well have been in the late 1940s with the Bay State Midget Racing Association. He recalled, "In the 1940s we ran the Midgets every night of the week and the Sprints on Sundays. The Boston Post ran an article on me in 1947, when I won over 49 races and claimed I made more money than President Truman." (Dan Hicks Collection)
a
---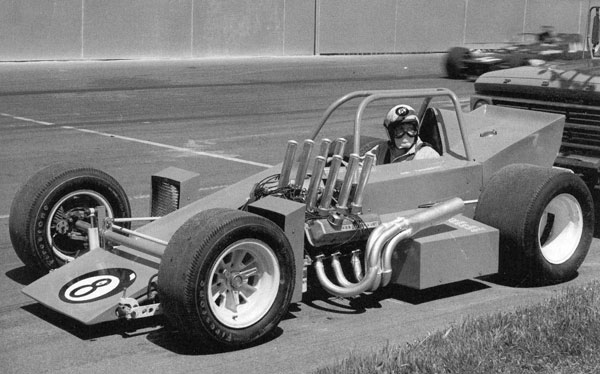 #1303 - When Jim Shampine bought a couple of Farm-All tractor radiators in December of 1968, he was asked why. "'I dunno know,' shrugged The Pine….Jimmy knew exactly why he wanted those radiators. He was building a new super, modeled after the STP-sponsored car which Andy Granatelli had brought to Indy the previous May. That car featured a body that looked like a wedge of cheese. Its engine was cooled by dual side mounted radiators. When Jimmy debuted his own version…the press and Oswego fans dubbed it 'the Wedge'….He won a total of 55 (Oswego) features with the car, including a seven-straight skein in '74." From THE PINE: The Authorized Biography of Jim Shampine, The Greatest Open Wheel Short Tracker of All Time, by Andy Fusco with George Caruso Jr.
a
---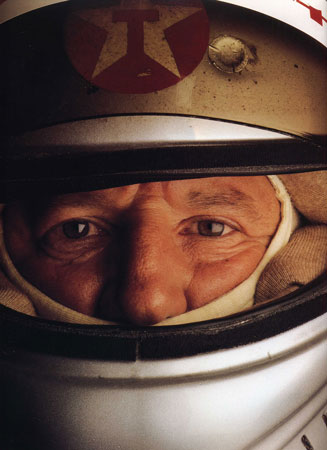 #1302 - Mario Andretti: "In order for me to succeed, I needed to be serene, to have a clear mind. I needed to have peace back home, where things are important to me. I had to be sure everything was fine with my family. Any disruption there would have played hell with the mental side of my work. It could have destroyed me because I'm very fragile. I really am. A lot of things bother me. The unfortunate thing is that I am like an open book. I show my emotions a lot. So as a parent and a husband I had to do what felt good to me. That focus was the natural thing. It wasn't forced. I mean, I was doing it for selfish reasons to some degree. But you see, I wanted to have it all." From ANDRETTI, edited by Mark Vancil. (Sandro Miller Photo)
Z
---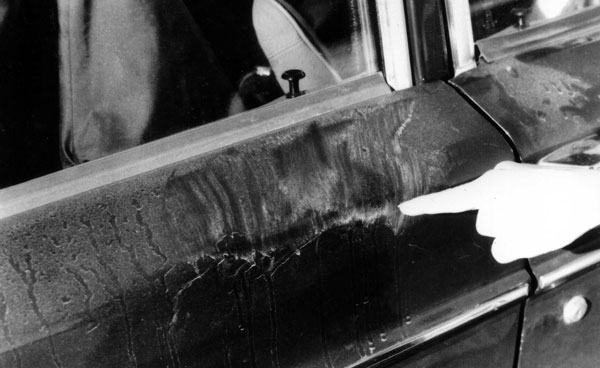 #1301 - Warwick, Rhode Island's RA Silvia, New England's acknowledged racing historian, seems to have been everywhere and done everything for our sport. This image was taken in August 1974 on a weekend that he entertained his girlfriend in the Green Mountains of Vermont. That, of course, involved a Saturday night at the races in Bradford, after which they camped out in RA's car right there in the parking lot. In the wee hours there was some commotion outside as if someone – very large – was trying to tip the car over. RA declined to disembark to take a look. The next morning, when he got up, this is what he saw. Do you think, along with everything else, RA is responsible for the name "Bear Ridge Speedway?" (RA Silvia Photo)
A
---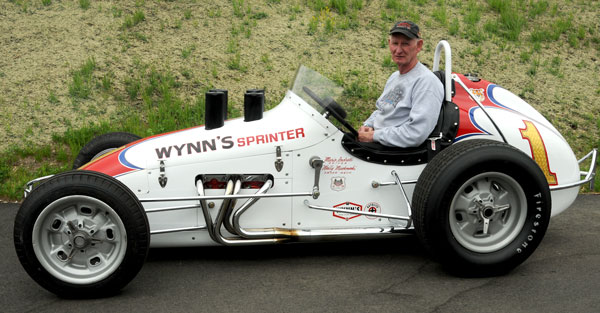 #1300 - That's Joe Fiore aboard the Wally Meskowski Wynn #1 Sprinter at the Thompson, CT, Vintage Festival last weekend. Joe massaged the intolerably beautiful machine back to life. It was originally built back in 1966 and has five wins with Mario Andretti in the office, one with Mick Shaw, and one with A.J. Foyt. It is also familiar to rail birds for Johnny Rutherford's arm-waving aerial exit in it, right out of the park at Eldora Speedway. Fortunately, says Joe, the car landed on all four that day and required only bolt-on parts. (Dick Berggren Photo, North East Motor Sports Museum Collection)
a
---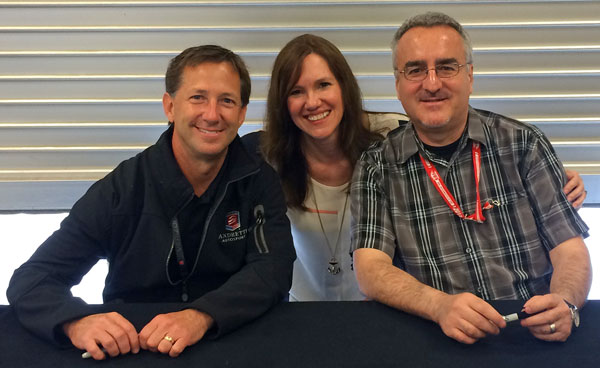 #1299 - The rain on the plain fell directly on our game. Last Saturday, John Andretti and Bones Bourcier were at Indy to sign copies of our brand new book, THE STINGER – 273 Drivers Speeding Toward Hope, about Andretti's collaboration with Window World to raise money for St. Jude Children's Research Hospital. The pens and smiles were ready but Mother Nature had other plans and poured it on. So Bones and John will be back at IMS on Carb Day, May 22. If they are lucky, the lovely Dori Bourcier will join them again! (Coastal 181 Collection)
,
---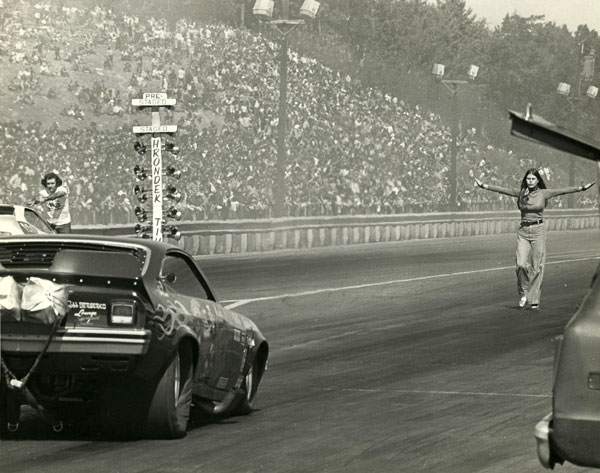 #1298 - "Jungle Pam" Hardy recalls a day she pulled into Epping, New Hampshire's New England Dragway with her beau, "Jungle Jim" Lieberman. "I came with Jungle on tour, racing with the mini-Camaro. Epping seemed like a friendly place, a nice way station for us between something like Maryland and Cayuga. Jungle made a full pass fine, and then he went end over end. He was upside down in the trees and couldn't get out because his weight was pressing down on the belts. He was up there for what seemed like half an hour, and I was freaking out. They hauled him off to the hospital, but he was okay, and it was back on the road." Photo and quote from A HISTORY OF AUTO RACING IN NEW ENGLAND – A Project of the North East Motor Sports Museum.
(Gil Coraine Collection)
A
---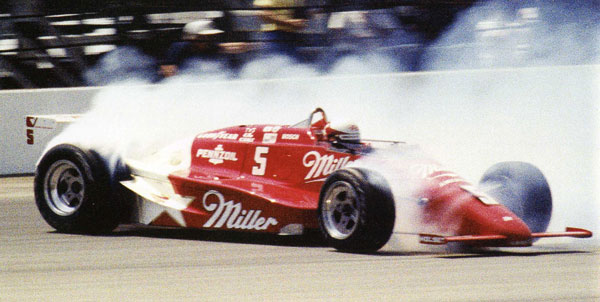 #1297 - On lap 120 of the 1985 Indy 500, Danny Sullivan snuck his March/Cosworth under Mario Andretti in turn one for the lead. But, as soon as he did, his #5 car swapped ends. Amazingly, Andretti was able to avoid him, and Sullivan was also able to continue. On lap 140 it was the same move, same place. Sullivan motored on incident-free to celebrate in Victory Lane with owner Roger Penske, while Andretti fought off increasing handling problems for second, From AUTOCOURSE: Official History of the Indianapolis 500, by Donald Davidson and Rick Shaffer. (IMS Photo)
A
---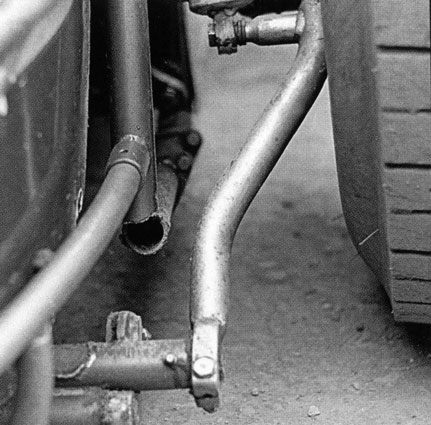 #1296 - It was a horrible harbinger of things to come. On May 26, 1978, Dick "Toby" Tobias of Lebanon, PA, won one of the biggest victories of a highly credentialed career in both Modifieds and open wheelers. It was a Hoosier USAC Sprint win on the one-mile Indiana State Fairgrounds. Mike Arthur was there and noticed this break in the frame of the #17 Sprinter right after the checkered flag. Not even a month later at Flemington, NJ, Toby was back with the USAC cars. In his heat he clipped the inside wall in the first turn, and the car began flipping towards the outside. On the first hit back on the track, the cage collapsed, and the popular 46-year-old was killed. From OLD SCHOOL Vol. 2, 1978-1979, text and photos by Mike Arthur.
a
---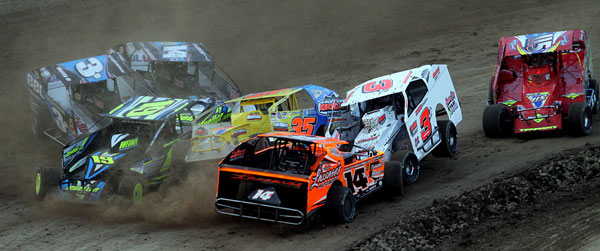 #1295 - Here's a call for some new sheet metal and heim ends. They sure are packin' 'em in at the rejuvenated Albany-Saratoga (NY) Speedway each Friday night – both in the stands and on the track. Here racy Fonda Speedway promoter, Matt Delorenzo #3; Brian Gleason #14; Jessie Mullar #19; Mike Perrotte (DIRTcar's new Northeast Series Director) #35; Mark Johnson #3; and Kenny Tremont #115 (red hot so far in 2015 save in this moment) got a little closer than they might have liked last Friday night. (Photo by "Our Man From Amsterdam," Dave Dalesandro, www.raceproweekly.com)
aa
---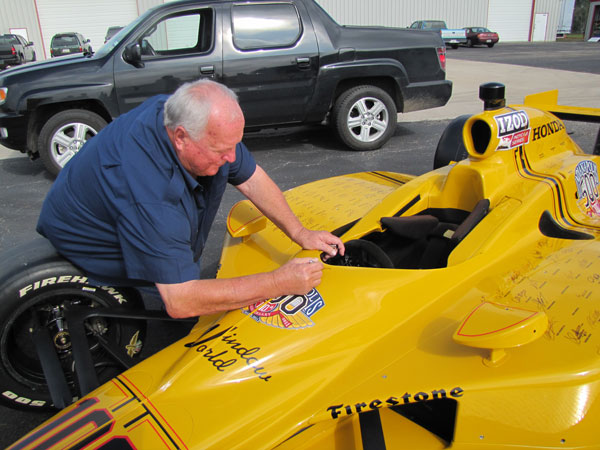 #1294 - This is key moment in an incredible charitable initiative. John Andretti and his friends and associates at Window World, his Indy Car sponsors, have long been associated with St. Jude Children's Research Hospital in Memphis. In thinking how they might celebrate and further support St. Jude, they decided to tie in to the 100-year anniversary of the Indianapolis 500. They would build a modern-day reinvention of the Marmon Wasp, the winner of the initial running, and label it "The Stinger," have it signed by every Indy veteran driver they could round up, and auction the car off for the Hospital's benefit. Here A.J. Foyt, honored as the first four-time winner of the event, inscribes the Stinger just ahead of the cockpit. Amazingly, Andretti has been able to track down just about all of the other 272 competitors living as of May 2011. John and his buddy Bones Bourcier have just now finished up a book with Coastal 181, THE STINGER – 273 Drivers Speeding Toward Hope. It describes the 500, the Wasp and the Stinger, and the tale of reaching out worldwide to all those racers, all with beautiful photography. (Photo Courtesy Window World)
A
---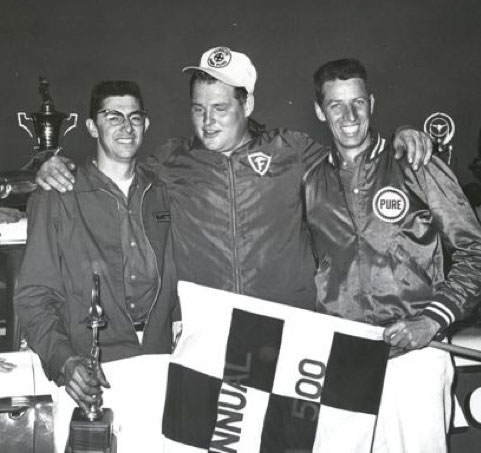 #1293 - Here's that colorful Tiny Lund right after his surprising first Grand National triumph. It was the1963 Daytona 500 aboard a Wood Brothers car, while subbing for an injured Marvin Panch. Lund's first NASCAR start, 134 races earlier, was at a 200-miler on the 1.5-mile dirt of Memphis-Ark Speedway in Lehi, Arkansas, in October 1955. It didn't go so well. Rookie Lund was dicing with his new buddy, Ralph Liguori, both in '55 Chevys, and both were broke. Liguori recalls very clearly following Lund's Chevy when it launched into a unending rollover. In the midst of it all, Lund came flying out the window with a broken seat belt. Liguori says he just couldn't avoid him and ran him right over. After finishing eighth, he was back in the pits, consumed by the thought that his friend had been killed. Liguori rushed over to the hospital and was given a room number. There was Tiny, in a horizontal mode for sure, but still full of beans. He hollered, "Ralph, what the hell were you doing running me over like that?" Ralph's reply: "I thought you were dead anyway, and I really needed the money."
(Photo, Wood Brothers Collection)
A
---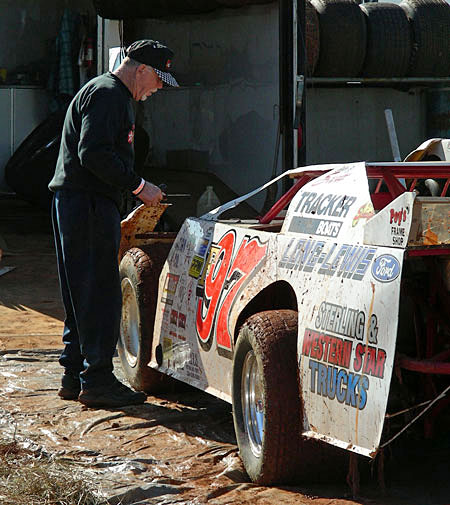 #1292 - As Red Farmer points out, "It ain't in a slide, it ain't worth the ride."
(Coastal 181 Photo)
a
---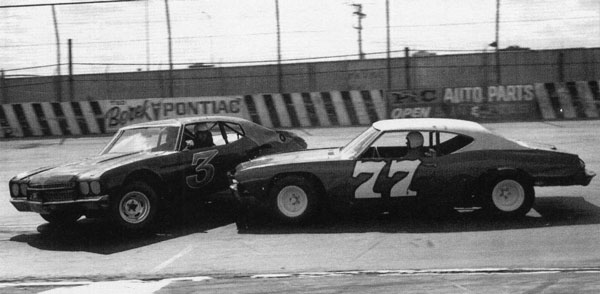 #1291 - It was opening day in 1971 at Blue Island's Raceway Park near Chicago, and the scene seemed so perfectly normal. Bob Pronger in the #3 and Bud Koehler were roughing each other up, as they had done so many times before at what was called "the world's busiest track." Maybe Pronger and Koehler didn't get along because they were both so good and therefore frequently in one another's way. Koehler with an incredible 490 Late Model features and 10 more in a Midget was first on the quarter-mile's all-time winner list, followed by Pronger. But, in the end, the rivalry was never resolved. After a feature win a little later in the season, Pronger disappeared, never to be seen again. He was known to be involved in some hot cars and chopping activities, and the assumption was that he was taken out by the mob. From BLUE ISLAND'S RACEWAY PARK, by Stan Kalwasinski and Samuel Beck. (Stan Kalwasinski Photo)
a
---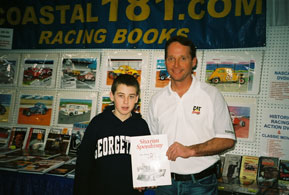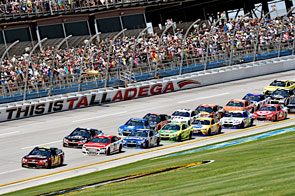 #1290 - Sometimes time seems as fast as Talladega. One January weekend in 2008 we went down to the Area Auto Racing News Motorsports event, held that year in Atlantic City. Dave Blaney was a popular visitor to the Coastal 181 space, signing autographs in the Sharon Speedway book He brought Ryan along with him, which was a treat. Even though Ryan looked so young, he seemed quietly together, just like his Dad. You had to wonder whether he, too, would grow up to be another Blaney gasser. Last weekend, just seven years later, it was Ryan Blaney dancing with the stars in the Wood Brothers #21 on those ultra-racy banks in Alabama. He wound up an astounding fourth.
(Left, Coastal 181; Right, Wood Brothers Racing Collection)
a
---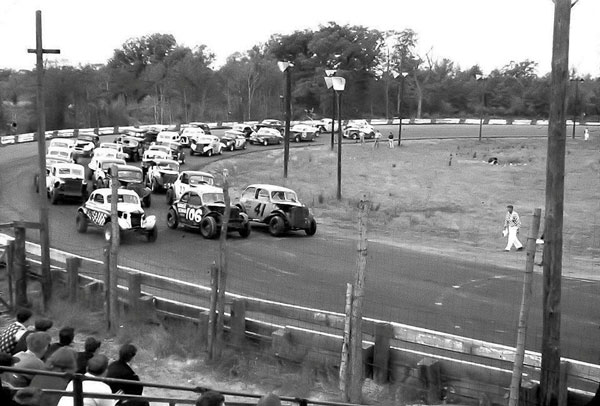 #1289 - Ed Otto, the aggressive early NASCAR promoter, brought the first long-distance race to Old Bridge (NJ) Stadium, a 200-lapper on October 2, 1956. Tommie Elliott (41), Pete Frazee (106), and Lenny Brown (162) brought them down for the green before a packed house. Elliott and then Frazee were hot dogs, running way out front. But in the end it was Parker Bohn, a picture of patience, who chugged around all day, requiring no stop for fuel. He stopped Tony Cognetta's little #11 out of Staten Island only in Victory Lane. The photo just came to Ed Duncan, who researched our book on Old Bridge (PAVED TRACK, DIRT TRACK) from the Chervenak Family. Sure wish we had the image back when we published the book! (Chervenak Family Collection)
a
---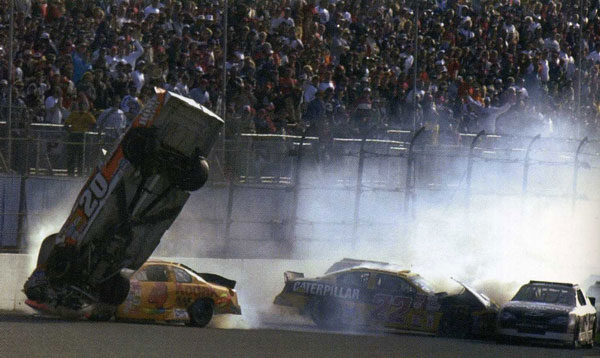 #1288 - The Daytona 500 on February 18, 2001 will be remembered always for its tragic ending and Mike Helton's solemn words, "NASCAR has just lost its greatest driver." The race along the way had been incredible. It was thought by many to be the most competitive since 1974, featuring 49 lead changes among 14 drivers. And on lap 174, in huge incident followed a backstretch bump between Ward Burton and Robby Gordon. Nineteen cars were caught up, and Tony Stewart went aerial. From NASCAR: The Complete History, by Greg Fielden
a
---

#1287 - Seventies-era racer Jon Backlund had plenty of experiences along his racy way. In 1971 he headed to the Labor Day Nebraska State Fair to run the IMCA show with Jim Mahoney's Chevy roadster shown above. They had already won the BCRA seasonal title, but things didn't go so well for the team that weekend. The car never appeared. The night before the opening race the IRS foreclosed on Mahoney, scooping up the car and all the equipment. That wasn't such a big deal for Backlund, though. He went into the pit area with his helmet, hopped a ride in Hank Smith's car for the weekend, and ended up with two top fives. Smith's regular shoe, Earl Wagner, was doing sheet time from a crash in Sedalia. From BIG CAR THUNDER: Sprint Cars on America's Fair Circuits, Vol. 1, by Bob Mays. (Leroy Byers Photo)
A
---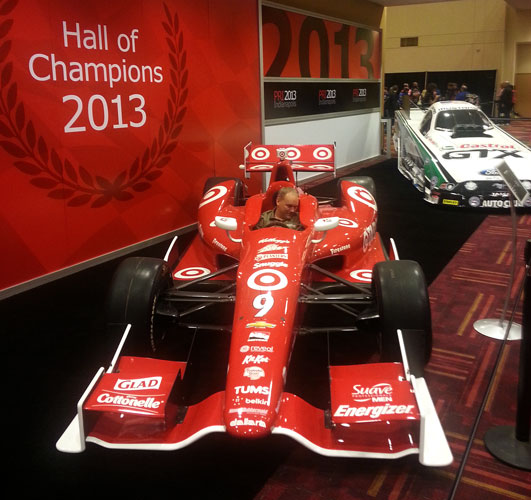 #1286 - Karl Fredrickson, honcho of Speedway Illustrated magazine, once commented, "If I could pick one person who would climb over the ropes and behind the wheel of a show car at a trade show, it would be Rich Mersereau." Guess what happened? And this is what Rich, veteran Super Late Model driver and Sweet Manufacturing employee, had to say: "I just couldn't help myself. A chance to get in Chip Ganassi's Indy Car – heck, he'll never know. And John Force, he might get me down the straightaways, but the corners would be tough." (Larry Moore Photo)
4
---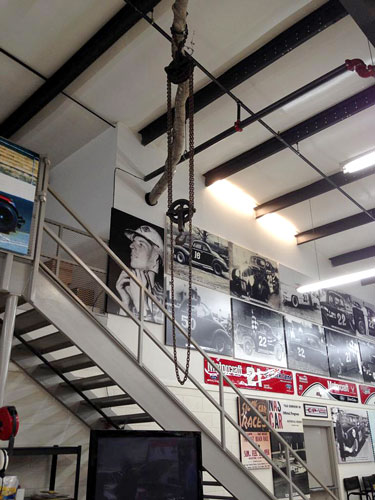 #1285 - The Wood Brothers, the patriarchs of the longest-running Cup team in NASCAR, have a wonderful museum in their home in Stuart, Virginia, just a lap or two from Martinsville. That Wood touch is everywhere. Note the branch that appears to be growing out of the wall. It was taken from a tree outside the team's original – and totally ramshackle ­– garage about a mile away. The chain fall hanging on it is the one that lowered a flathead into that #50 Ford coupe seen on the wall back in 1950. Their first night of racing could have been cheerier. Glen got into a tangle and bent the rear end so badly it wouldn't go straight on the track. It wasn't so good on the street either. They were flat-towing it home when it caught fire and burned up. (Coastal 181 Photo)
a
---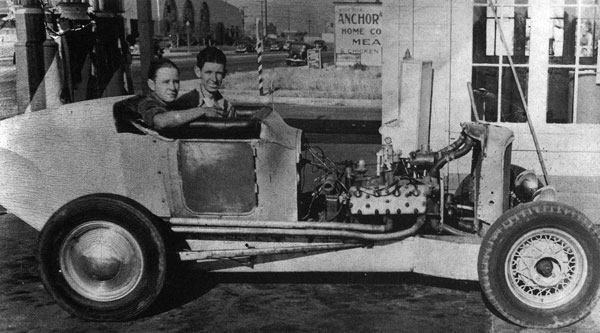 #1284 - Originally from Boyle Heights, California, Wally Parks was a member of the Road Runners hot rod club and a racer, running the dry lakes. He's shown here in quite the roadster. He was huge in moving racing off the street and onto the track. He helped create the Southern California Timing Association in 1938, he was the first editor of Hot Rod magazine, and was founder of the National Hot Rod Association. From EDELBROCK: Made in the USA, by Tom Madigan
m
---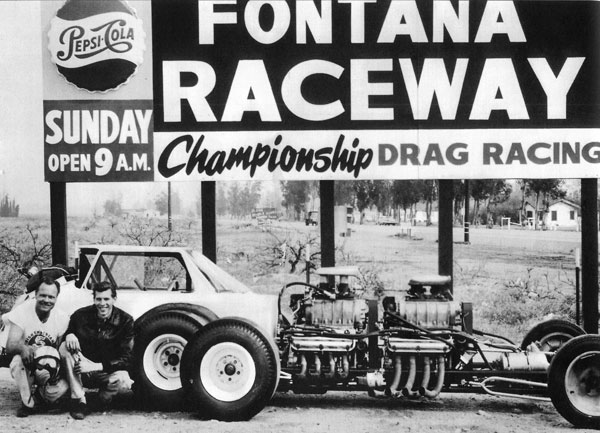 #1283 - Here are Bill Colburn and Neil Leffler with their "Iron Mistress" dragster back in the sixties. Sure looks like she could have been trouble. Note two blown in-line Chrysler Hemis and two offset Halibrand quick-change rears, all gussied up with a Messerschmitt body. From SLINGHOT DRAGSTERS, by Lou Hart. (Tommy Ivo Collection)
a
---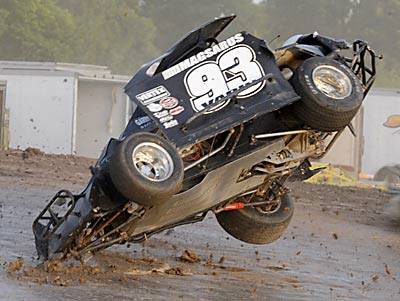 #1282 - Upstate New York dirt modified runners, father and son, Bobby and Danny Varin, are reliably on the gas. Last year Danny had some tough moments, the most intense of which was likely this incident on a mid-summer night at Utica-Rome Speedway. He looked about as black and blue as his car for a couple of days, but young bones are quick to recover, and he was soon back with a new chassis. Last Saturday night he was a strong second in Fonda Speedway's opener. (Otto Graham Photo)
a
---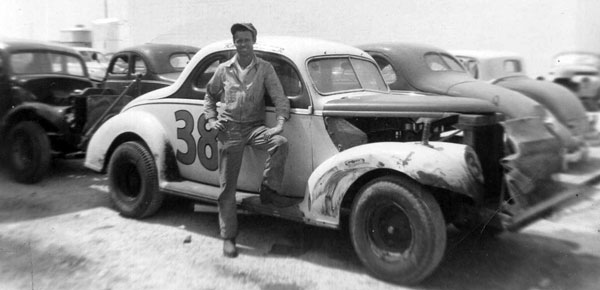 #1281 - That's the great Eastern States wheelman Rags Carter in the spring of 1954 in Miami. In those early years Rags would pack up his family and head to the Carolinas to race. His son Alan recalls, "We'd flat-tow all over up there with Banjo Matthews. It was racing six nights a week, all seven of us staying in one apartment. I remember at six years old waking up in the back window of a car and seeing a pit gate. What a fun way to grow up. I don't remember any bad times. You see, you didn't mess with my dad. The only thing he did fast was drive. He was a slow talkin', slow walkin' Southerner who took no shit." (Alan Carter Collection)
A
---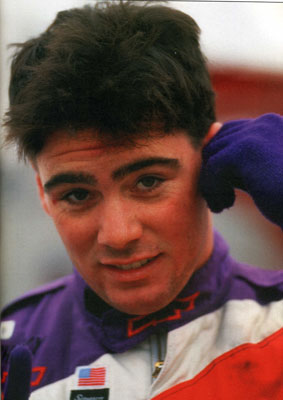 #1280 -

Would you recognize this guy? He's from El Cajon, CA, born in 1975, and he began racing motorcycles at age four. In school he was a varsity water polo player, a swimmer, and a diver. He subsequently went off road racing and won six off-road championships before joining ASA and then NASCAR. He married Chandra Janway and now lives in Charlotte. He is Jimmie Johnson. (From Racers' Faces: Photographs by Pete Biro)
A
---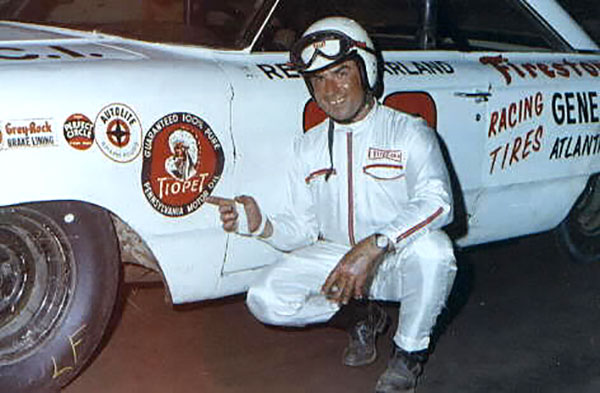 #1279 -

Here's Rene Charland at a NASCAR Grand National race at Fonda, New York, in 1966. He was no slouch - he was third that night, but he sure was a scamp. Just ask long-suffering New England Auto Racing Hall of Famer Fred Rosner, who was his chief mechanic during those Eastern Bandit days. One year the two competed in an eye-popping 109 races all over the East Coast. Freddie held down a full-time job the whole time and was never paid by Rene. One day, cruising down the Mass Pike, they got to feuding. Freddie remembers, "I grabbed that box of cigars of his and tossed them right out the window. Was I ever pissed, and now he was, too. He insisted we stop and he went running all over the road picking up those stogies. I just sat in the truck fuming, wondering where he scoffed those damn cigars from in the first place." (Coastal 181 Collection)
a
---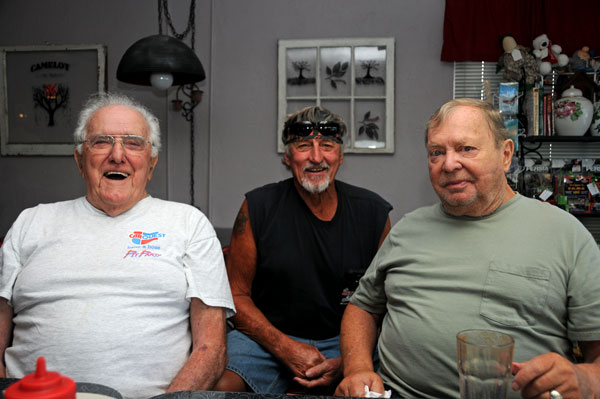 #1278 -

A significant contingent of the Senior Set in Northeast auto racing winters in the Daytona area. Recently, three of the all-time greats gathered for breakfast in Edgewater. Leo Cleary (left), Bentley Warren (center) and Bugs Stevens laughed their way through a breakfast that was much slower than they drove back in the day. None of the three remembers how many races they won, but all three won championships. Certainly, the win total is in the several hundred. At 86 Cleary is the oldest with Stevens at 80. Warren is a youthful 74. (Photo and caption by Dick Berggren)
A
---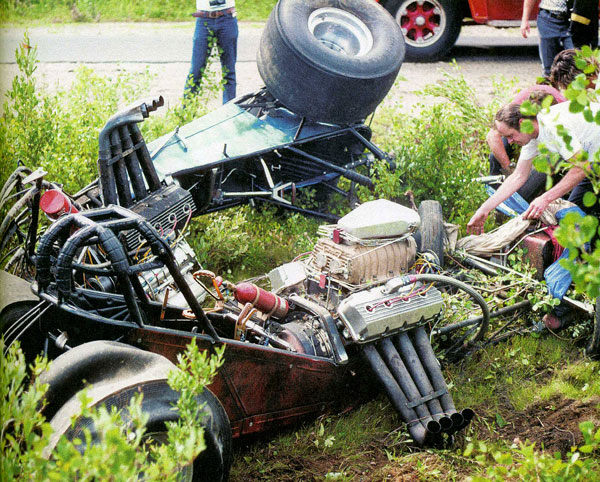 #1277 -

This is the aftermath of a huge crash in 1978 at Epping, New Hampshire – and a huge set-back in the career of "TV Tommy Ivo." In the shutdown area of the track while still at high speed, Ivo's Plymouth Arrow-bodied Funny Car was drilled from behind by Tim Kushi's "Yankee Sizzler." Both cars were somewhat salvageable, but Ivo's operating loss for the year was $40,000. He decided to go Jet Car exhibition racing instead for the next couple of seasons. He commented, "You could buy one of those jet engines for twenty-five dollars (in a military junkyard in Arizona). Not too bad for 8,000 horsepower….It would accelerate just like a Super Stock car at the starting line, but, instead of running from zero to one hundred in an instant like the dragsters did, then begin to slow down the acceleration curve, the jet would go from two hundred to three hundred in an instant as it started packing even more air into the compressor. It was the most awesome thing I ever drove." Photo and Quote from TV TOMMY IVO: Drag Racing's Master Showman, by Tom Cotter. (Dave Milcarek Photo)
a
---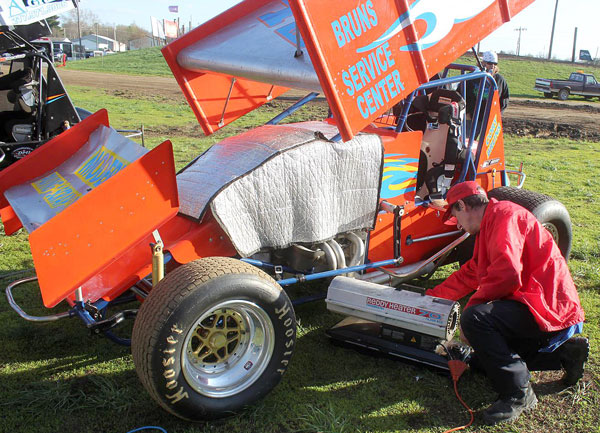 #1276 -

The MOWA (Mid-West Open Wheel Association) Sprint Cars were out in force in the chilly air on the dirt at Jacksonville, IL, on Friday night. Last year hot dog Cory Bruns blew a motor early on and missed much of the season. This year his dad, Roger, was taking no chances, making that motor warm and cozy. It worked. Cory ran first in his heat and the dash. In the feature, it was Jerrod Hull, USAC's Brady Bacon, Parker Price-Miller, Cory, and Jimmy Hurley. (Photo by Bill Baker, MOWA )
a
---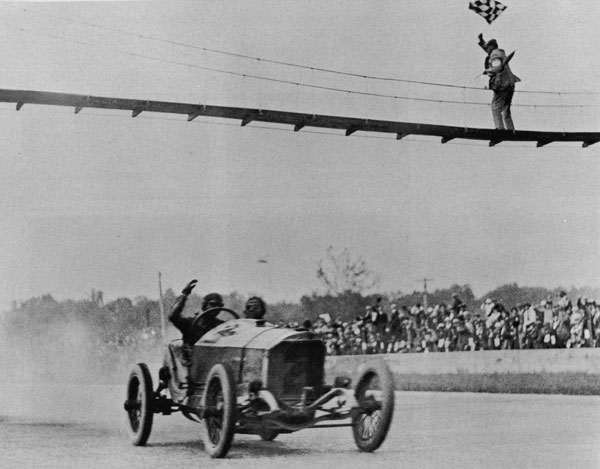 #1275 -

Ralph DePalma's wave of the hand was high, acknowledging his victory in the 1915 Indy 500. It was his moment after the heartbreaker three years before when his Mercedes, in the lead, threw a rod with a lap and a half to go. DePalma disembarked famously and pushed the car back to the pits with the help of mechanic Rupert Jeffkins and the encouraging roars of the crowd. The starter's congratulatory wave of the hand was high, too. Very high. Photo from THE ILLUSTRATED HISTORY OF THE INDIANAPOLIS 500, 1911-1994, by Jack C. Fox
A
---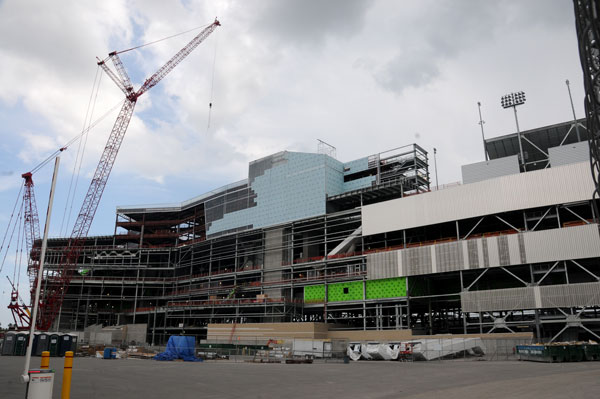 #1274 -

No race track in America has seen the capital infusion in spectator seating and comfort as grand as that going on right now at Daytona. The $400 million project called "Daytona Rising" will result in the elimination of one-third of the track's seats, most of them on the backstretch, but the seats that are newly built on the frontstretch are spectacular. On full employment days, 1000 people are working on the project to raise the height of the frontstretch grandstand. The new seats offer a spectacular view of the racing and the pit area. While the workmen have been at it, there are all new concessions, TV monitors everywhere, elevators and escalators, rest rooms and common areas where fans can get out of the weather.

This has been a very well done, fan-friendly, construction project. It included "Big Red," the huge crane seen in our photo. It's so big, the crane came to the track in pieces on 40 tractor trailers. Its first job, once it was rebuilt on the property, was to take down the press box/control tower/Winston suites and put them into the parking lot where they were cut up for scrap. By mid-April, Big Red was hauling steel to the area where all that stuff stood to make a better, bigger, higher, nicer press box/control tower/Sprint suites. The new grandstand is nearly a mile long and mind-blowing when entered. The amount of money that's at risk here is sizable, a huge investment with the hope that the new stadium will attract a full house for the 2016 Daytona 500. Those who have seen what's been done at the track, are believers. Daytona Speedway is becoming a world-class stadium. (Caption and Photo, Dick Berggren)
a
---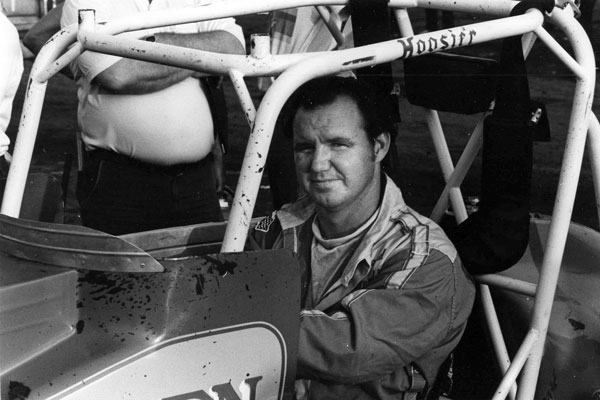 #1273 -

That's everyone's favorite, the "Tempe Tornado," Lealand McSpadden. "At Erie, Colorado, Lealand McSpadden did an end-over-end flip down the front straight. A few minutes late a rescue helicopter came in to land. Kenny Schrader was in a group standing beside the track watching, when he felt a tap on the shoulder. 'Who's that
for?' he was asked. Schrader turned around and saw who had tapped on his shoulder. 'Umm, it's for you,' he told McSpadden." Quote from WIN IT OR WEAR IT: All-Time Great Sprint Car Tales, by Joyce Standridge. (Photo by Dick Berggren)
a
---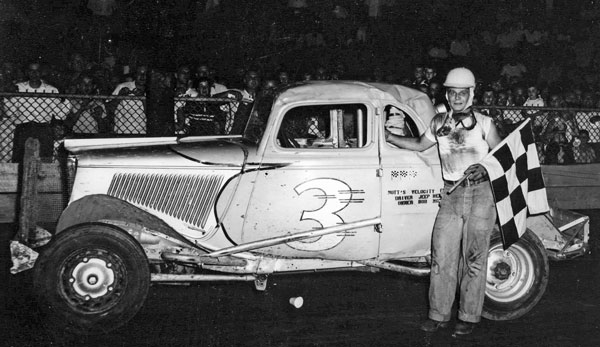 #1272 -

In the early 1950s, before NASCAR outlawed "square tops" in favor of later model coupes and coaches, Howard "L'il Jeep" Herbert was a terror on Northeastern dirt tracks. He punctured Steve Danish's five win streak at Fonda in 1953 aboard this totally cool yellow and silver flathead Ford owned by Bob Mott. Jeep mused later in a Coastal 181 interview that he "never knew whether to be proud of that #3 or not. It was so beaten up. But we won a lot. You look at Bob Mott (and Bob Whitbeck, Bob Burns, and Steve Danish) – they were the Ray Evernhams of the times. You had to be very smart – to use your own ingenuity." And "L'il Jeep" sure used his right foot.
(Photo Cal Lane Collection)
AA
---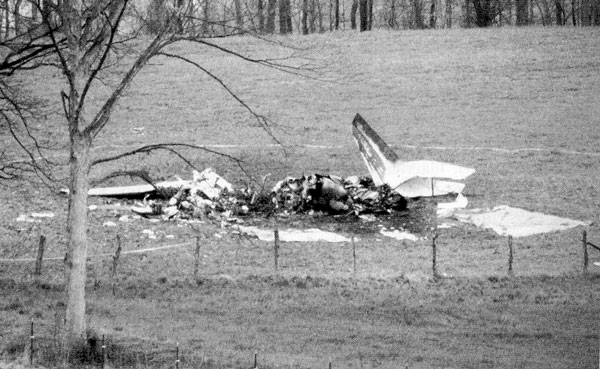 #1271 -

"NTSB officials said the board was looking into engine failure and weather conditions as possible causes of the April 1 (1993) crash of a twin-engine Fairchild Merlin 300 approaching Tri-City Regional Airport in Blountville, Tennessee. (Alan) Kulwicki, 38, a Charlotte, NC, resident, was on his way from a promotional appearance in Knoxville to the Bristol International Raceway in Tennessee. Planes in front of and behind Kulwicki's reported icing conditions on the night of the crash." Quote from ALAN KULWICKI – NASCAR Champion: Against All Odds, by Fr. Dale Grubba.
Photo from TALES OF BRISTOL MOTOR SPEEDWAY, by David McGee.
A
---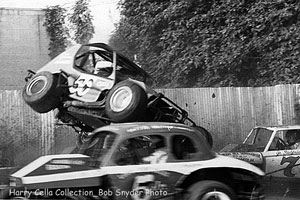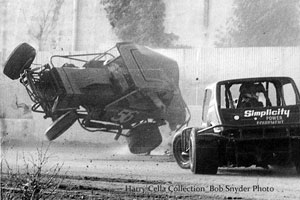 #1270 -

Our buddy, Harry Cella, the honored racing photographer, once saw the action even closer up than he does these days. Here's what he recalls from an afternoon on the old half-miler in Nazareth, PA. "Coming off turn 2 at Nazareth a car got turned around in front of me, I hopped his wheel and was drilled from behind, which sent me up and over. I remember I tucked myself down and grabbed the wheel tight. I blacked out after going over a number of times, as this photo shows my hands off the wheel with my arms in the air. One image shows my left arm straight out the window of the car. That is how I broke my shoulder blade. Came to a stop landing upright. I looked out the front of the car and saw fellow photographer Bill Nuver running up the backstretch hill, screaming at me, 'Harry are you all right?' I was fine, I was helped out of the car, walked around and looked at the damage, and that is when I got scared. I went blind, I could not see a damn thing and my eyes were open. I did not get my vision back, until I got to the hospital. Asked how the ride felt, the only thing I could compare it to was going on an amusement park ride you didn't like after you were on, but had to ride it out to the end. I raced a little after that and had another wreck that fractured 2 vertebrae in my back. That's when I called it a career. I had to make a living, I could not afford to be out of work getting injured in a race car. Would I do it all over again, if I had the chance, YOU BET!" (Bob Snyder Photo, Harry Cella Collection)
a
---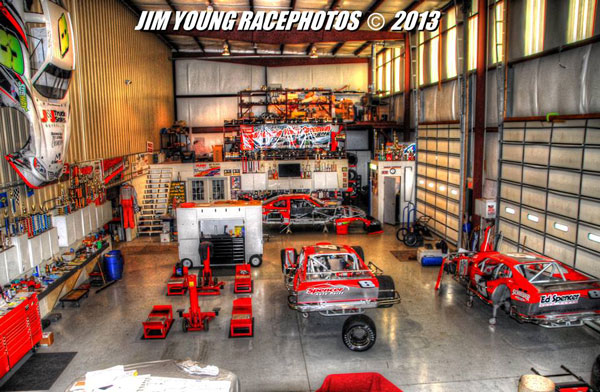 #1269 -

"This work palace is that of 'The Hurricane' Earl Paules, and, judging by its surrounding, it's easy to see why he is one of the premier talents in eastern Pennsylvania short-track action. Every car in his shop has garnered numerous wins and championships. Take notice of the Late Model body hanging on the wall to left. In 2012 at Mahoning Valley Speedway that car completed every lap of every race it ran in, both heats and features en route to winning the track title. Paules hasn't lost a Late Model title since! The Modifieds are pretty much the same deal, consistent winning cars. The shop also houses his SpeedSTR and TQ cars that, you guessed it, he won with. Proof of all that comes from the many trophies that are lined along the walls. Paules is second on the all-time Pennsylvania asphalt short-track winners list, with 74 career victories." Quote from Dino Oberto, Jim Young Photo, Danielle Paules Collection
A
---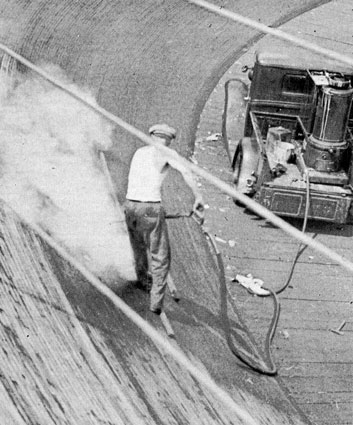 #1268 -

There was nothing normal about the Nutley Velodrome in Nutley, NJ. Built originally in 1933 for bicycle racing, Jack "Boy Promoter" Kochman began running Midget shows on the 1/6-mile board track in April 1938. The place was lethally fast. With bankings at an astoundingly steep 45 degrees, anyone who could walk up to the top of them would be offered free tickets. No one made it, and, as seen here, even track workers who steam-cleaned oil off the boards had to nail in steps to keep their footing. Huge purses and drivers from all over the country brought intense competition and drew legions of new fans to the sport. One night Babe Bower lost a wheel and ventured up into the stands to retrieve it. It was at the feet of an elderly woman who refused to let it go. She demanded to know the difference between the wheel and an errant baseball. But it was all too short-lived. In just 60 events three drivers were fatally injured, and, by August of 1938, the show was over. (Photo, CAR LIFE magazine, February 1954 )
A
---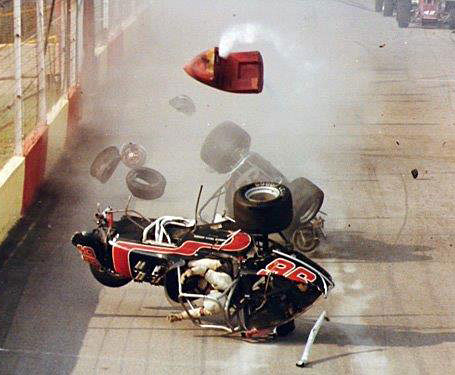 #1267 -

This incident ended quite a ways down the front stretch from where it started. Dana Carter, foreground, and Billy Cassella tangled in the fourth turn in a USAC Sprint Car race at Winchester in 1978. They tumbled along spectacularly, shedding all manner of componentry. Given safety improvements over the previous decade, the two survived. Ten years earlier, that likely would not have been the case. (Gene Crucean Photo)
A
---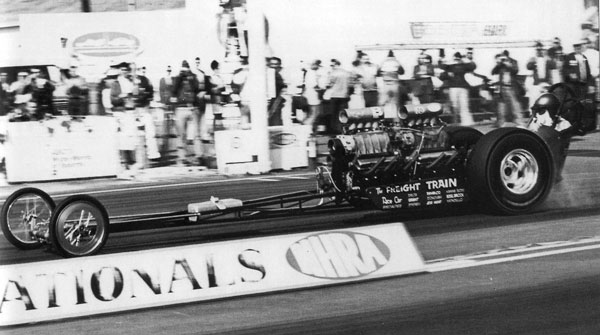 #1266 -

"The 'Monster on the Midway', the twin Chevrolet-powered 'Freight Train' of John Peters with Bob Muravez at the wheel, turned in a 7.81mph at the 1969 Winternationals (at Pomona). The 'Freight Train' received its name from Mickey Thompson's wife, Trudy, who heard the sounds the dragster made rumbling down the strip." Quote and Photo from SLINGSHOT DRAGSTERS of the 1960s, Photo Archive, by Lou Hart. (Arthur W. Bombay Photo)
A
---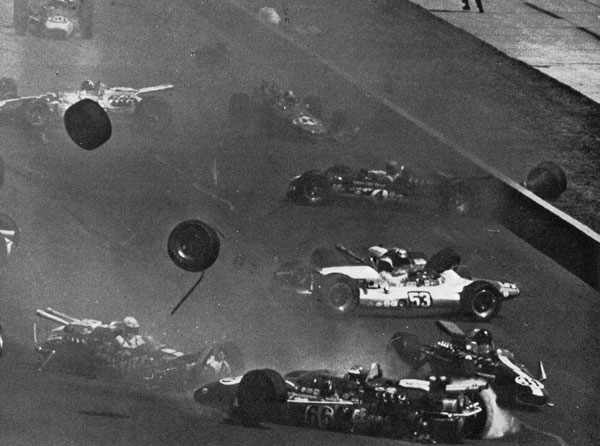 #
1265 - Before even reaching the first turn of the 1966 Indy 500, the field raced into chaos. Billy Foster bumped the rear end of Gordon Johncock, and half the field instantly joined the fray. Amazingly, there were no injuries, save to the Texan. A.J. Foyt cut his hand and bruised a knee when he exited his car and attempted to climb over the wheel fence into the grandstand. He was likely not amused. From
THE 500: 1911 to 1990
, produced by The Indianapolis Star, Ted Daniels Editor.
---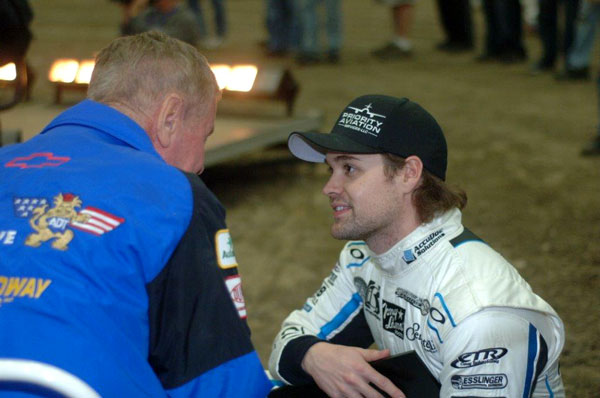 #1264 - Do NASCAR drivers have heroes? The look on Ricky Stenhouse's face as he chats with Bobby Unser at this year's Chili Bowl sure answers that question. The shot was taken by the knowledgeable British photographer Colin Casserley.
a
---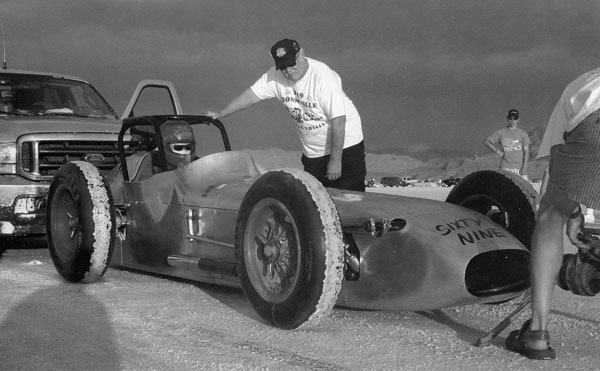 #1263 - Can you imagine the glorious roar over Bonneville when Bill Latten did his
Salt Flats run in 2005 aboard this 255 CI Offy-powered 1959 Kusma Indy car? From Bonneville Salt Flats 2006 - World's Fastest Calendar (Huntimer Photography)
a
---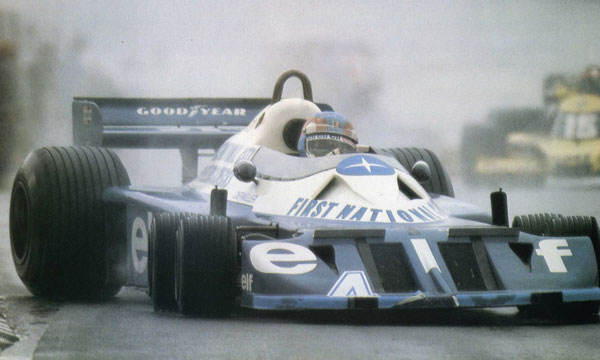 #1262 - "The six-wheel Elf Tyrrell P34s had a disappointing season [in the 1977 World Championship], although Patrick Depailler never gave up trying with his and finished a good second in Canada. The complicated machines were overweight and consequently unable to utilise the soft-compound tyres like their rivals." Photo and Quote from AUTOCOURSE 1977-78 (Phipps Photographic Photo)
a
---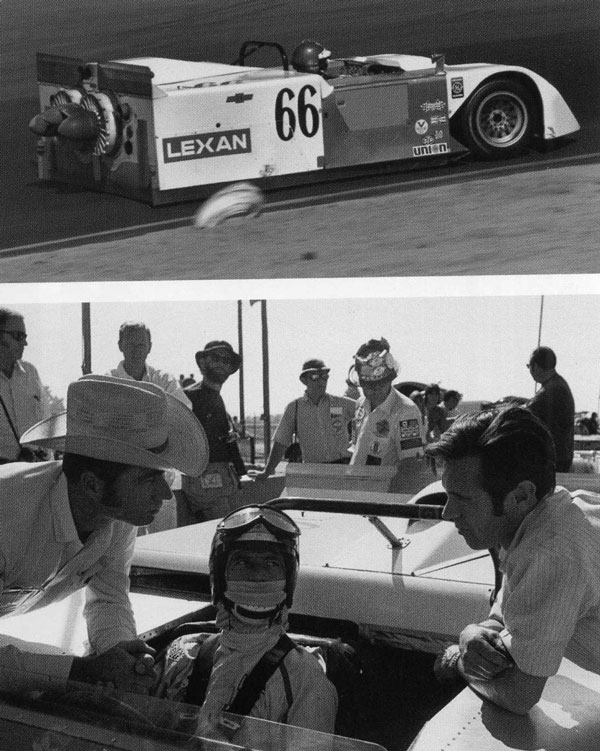 #1261 - 1970 was a tough year in Can-Am racing. Bruce McLaren died testing his new M8D in England in June. By the fall, SCCA had restricted the once unrestricted rule book, and teams were forced to abandon some of their pleasing technical creativity. "However, showing fight, Jim Hall and Chevrolet fielded a shocking new Chaparral (#66) that introduced "ground effects" – via a second engine driving two extractor fans on the boxy car's tail. Driver Vic Elford, (bottom between Hall in hat and crew chief Franz Weiss) was fast, but the novel machine would not last." Photo and Quote from RIVERSIDE INTERNATIONAL RACEWAY: A Photographic Tour of the Historic Track, its Legendary Races, and Unforgettable Drivers, by Pete Lyons. (Pete Lyons Photo)
a
---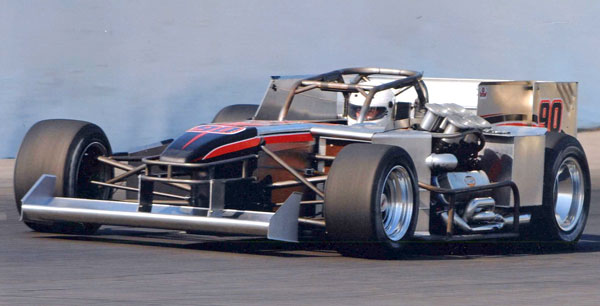 #1260 - Ray Graham, Oswego, NY, in 2012. (Chris Burgess Photo)
a
---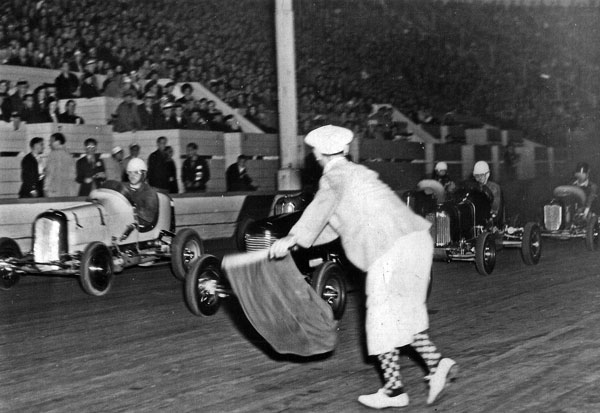 #1259 - Midget racing sure came on strong in the 1930s. In 1936 California's Gilmore Stadium took over Legion Ascot's tradition of a Wednesday-night race card. Colorful starter Domini "Pee Wee" Distarce waves off the Midgets here before a full house of 18,000. The natty Distarce's likeness became a widely seen plywood sign used at Gilmore gas stations and is a big-time collectible today. From ROAR WITH GILMORE: The Story of American's Most Unusual Oil Company, by Charles Seims and Alan Darr.
a
---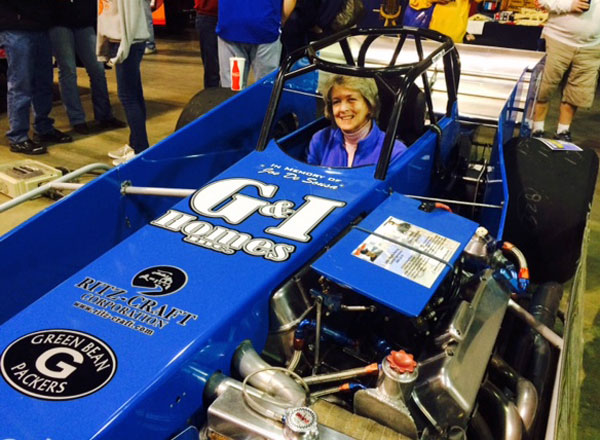 #1258 - Coastal 181's Cary Stratton has read and edited so many thousands of pages about folks driving race cars that she is apparently going to give it a try herself. She has decided that she will not be messing around with the regulated classes. Here she is trying out Otto Sitterly's Oswego Supermodified. Oh boy! (Photo by Otto Sitterly)
a
---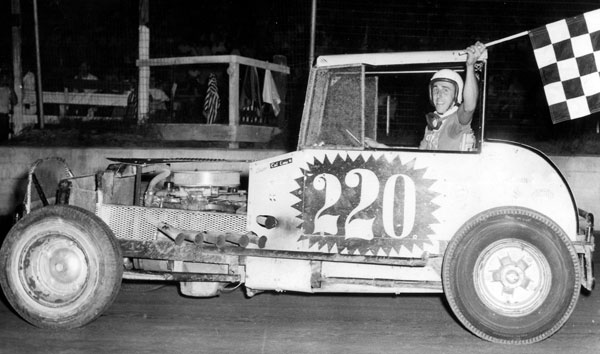 #1257 - The Chemung (NY) Speedrome was built in 1951 by Eli Bodine, grandfather of Geoff, Brett and Todd. And, as well as running the place, it seems like the Bodines sure won their share of races there. Back in the 1960s, Earl Bodine was just about the hottest thing around. Local runner and former motorcycle whiz Cal Lane was determined to beat him, so, for the 1963 season, he built the flyweight upright pictured above. He had to sneak away weekends for basic training, but he finally got it all welded up and debuted it at nearby Dundee Raceway Park. Earl won his heat; Cal won his. Earl won his semi; Cal followed with his. And in the feature it was one-two – Lane and Bodine. (Cal Lane Collection)
A
---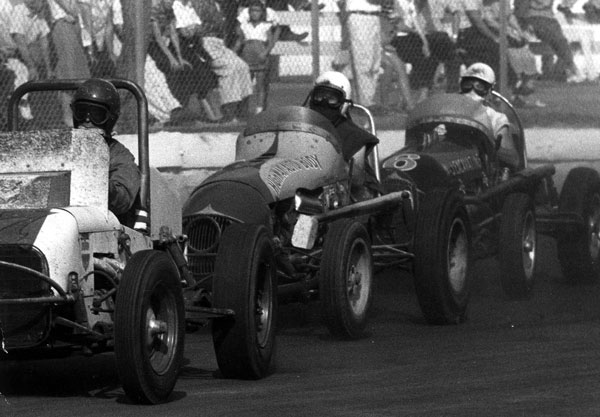 #1256 - Three URC sprinters on the hammer big time in 1960. Up front is George Monsen in the Dexter-Whitney Chevy, followed by Beau Clerke in Scats Anfuso's Highway Auto Body Thunderbird, and Earl Halaquist, Nesler-Jackson Chevy. They ran 4th, 2nd, and 3rd respectively in the annual point chase. Monsen's car was a creative wonder out of Massachusetts. Dick Monahan recalls that "Dan and Link Dexter, along with George, built it in sister Lila Dexter's garage over the winter of '59-60. Dan had been running a dirt modified. That's where the parts came from. The frame was a large single tube. Neither of them had had more than a casual look at a sprinter before. They just read the rule book and drew some lines on the garage floor. Link build the body molds and cured the 'glass in Lily's basement (where it was warm). I can still remember the smell. Don't know how Lila stood it all winter." (Gil Pfaff Photo, Cal Lane Collection)
A
---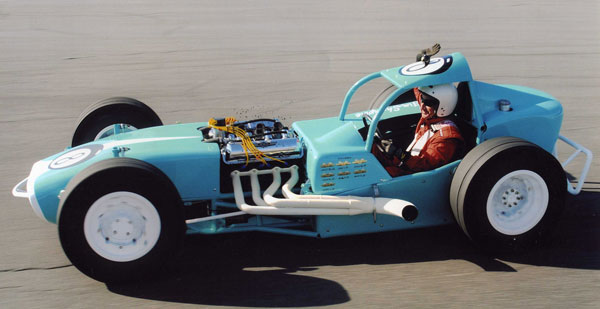 #1255 - Who wouldn't have a smile like John Torrese Jr.'s? He got to wheel this Jim Shampine car when it reappeared at Oswego (NY) Speedway on Memorial Day 2011. Owned by Dave Hollinger in Florida, the car was a rocket ship back in the mid-1960s. Eventually, Shampine flipped it in the first turn, wrecking it badly. The original little eight ball (note the top of the roof near John's glove) was torn off and was thought to have flown over the first-turn wall. It was never found. (Chris Burgess Photo)
A
---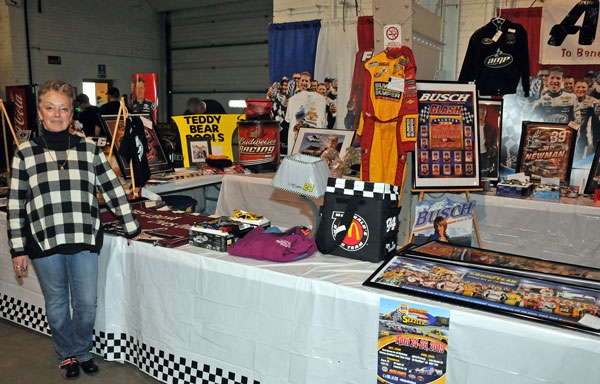 #1254 - Motorized Angel. Talk about touching other people's lives! Betty Sherwood, matriarch of the Sherwood Family of Racing in Owego, NY, has been raising money for the Spalding Foundation for Injured Drivers for more than 25 years. She's shown here at the Gater Motorsports Expo in Syracuse last weekend, surrounded by donations for her annual auction. Over the years her efforts have brought in over $125,000. Thank you, Betty! (Jim Feeney Photo)
A
---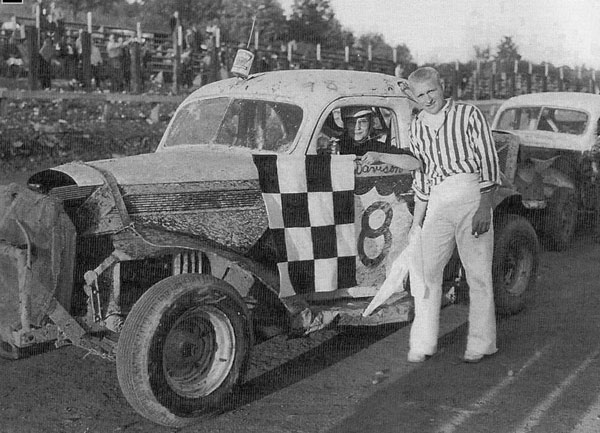 #1253 - Cuba Lake Raceway, located in the southwestern section of upstate New York, opened in 1954. The high-banked dirt quarter was extremely popular in its four years of operation. Regular competitors at CLR included Jim Hurtubise, Eddie Ortiz, and Bill Rafter. Here hot shoe Dolly Gosper appears with the flag after a powder puff. Note the guard rail between the track surface and the stands. It was the undoing of the place. After a few races into the 1958 season, someone drilled the fence and a huge plank was dislodged and went flying, an estimated 100 feet out and 35-40 feet up. Unfortunately, it did not clear the bleachers, and six spectators were injured, several quite seriously. The insurance company was quick to return with such lofty increases to the track's premium that the operation was forced to shut down. From STOCK CAR RACING IN THE FIFTIES: Pictures and Memories from Western New York and Northwestern Pennsylvania, by Ford Easton.
AA
---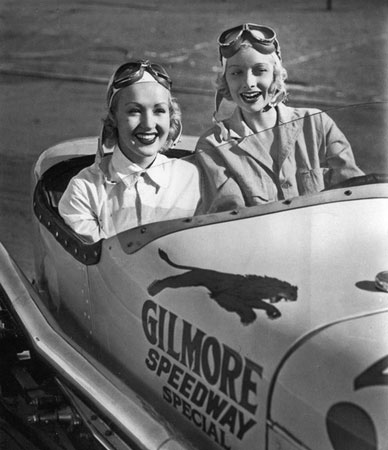 #1252 - Here's what just about every soldier and sailor dreamed about in the late thirties and early forties. Betty Grable and Goldwyn Girl Lucille Ball grace the two seats of the Gilmore Oil Company's Indy car. The shot was taken at the Gilmore Stadium in Los Angeles, the first American facility to be constructed for Midget racing. From ROAR WITH GILMORE: The Story of America's Most Unusual Oil Company, by Charles Seims and Alan Darr.
AA
---

#1251 - "During an AAA 100-mile championship race at Milwaukee in 1947, Duke Dinsmore rammed his Schoof Spl. into the first turn wall. The impact tossed Dinsmore onto the track. A quick-thinking Rex Mays, right, who had purposefully spun his second-running Bowes Seal Fast Spl. to a stop, sprints up-track to warn on-coming drivers.... Following a period of recuperation, Dinsmore was able to resume his career." Caption and photo from FEARLESS: Dangerous Days in American Open Wheel Racing, by Gene Crucean. (International News Photo)
four
---

Previous Photos of the Day - PAGE 6

Previous Photos of the Day - PAGE 5

Previous Photos of the Day - PAGE 4

Previous Photos of the Day - PAGE 3

Previous Photos of the Day - PAGE 2

Previous Photos of the Day - PAGE 1