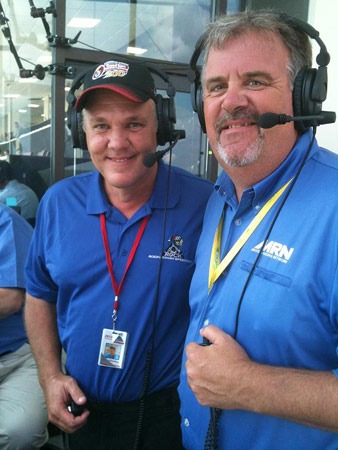 Dave Moody interviews Andy Hillenburg (L) and gives Rockingham Speedway
a clean bill of health. (Photo www.godfathermotorsports.com Collection)
---
4/18/12

RACE TRACKS IN REHAB
"It really was an amazing day," exclaimed MRN commentator, Dave Moody. "It was so emotional when Andy Hillenburg gave the call to start the engines, but it was over the top when he tried to walk up through the stands from the straightaway to the tower. It must have taken him 20 minutes. He was overwhelmed with fans thanking and high-fiving him, patting him on the back."

The occasion, of course, was the return of a national NASCAR division – the Camping World Truck Series – to "The Rock," Rockingham Speedway, the once-marquee one-mile oval in North Carolina. The track was dormant and debilitated when racer Hillenburg, in a seriously gutsy move, purchased it in 2007 and promptly enrolled it in five years of aggressive therapy.

The Speedway once again glistened gloriously last Saturday under a cloudless blue sky in front of an animated throng of 28,000. Said former midget and ARCA champion Hillenburg, "If you'd put a pin in me, I would have burst."

This was not the first time a nationally ranked racer has stepped up to help resuscitate our sport. Good ol' Kenny Schrader sure has been doing his part – with Bob Sargent at I-55 Speedway in Pevely, Missouri; with Junior at Paducah, Kentucky; and with buddies Kenny Wallace and Tony Stewart at Macon, Illinois.

Meanwhile, Ray Evernham took over the reins at North Carolina's East Lincoln Speedway and Tony Stewart's Eldora Speedway gains even more altitude each season, especially under the guidance now of Roger Slack.

Less known, but oh, so welcome, is a cadre of regional racers around the country who are taking stakes in local short tracks to keep them lit up. It's an interesting dynamic. The guys who do it seem to be accomplished racers with success in business ventures as well as a well-honed grasp of reality. It only makes sense. Running a speedway today is hardly a freebie pass to a fat 401k.

Royal Jones in Las Cruces, New Mexico, is the definition of an entrepreneur. The trucking magnate's holdings include an insurance company, rental properties, a truck dealership and leasing operation, a truck driver's school, ownership of the $200 million Mesilla Valley Transportation (MVT), and a garage fully stocked with race cars. He's also promoter and co-owner of Southern New Mexico Speedway and El Paso Speedway Park.

Jones told www.onedirt.com that one year "the tracks made 8,000 bucks but MTV lost a million when I was screwing around with the tracks. I told my racetrack partner that I can make MTV more money than you guys can lose. Hopefully the track can make money, and any money we make, we put back into it. MTV has always been there to offer support because we love racing so much."

No question there's some family passion. Royal, his daughter Holly and son Bumper are all standout dirt trackers.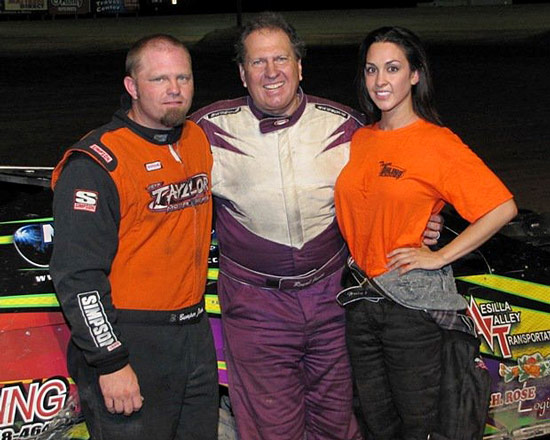 Whether you run a sprinter or a modified, you gotta be on your toes to keep up
with the Joneses. (Southern New Mexico Speedway Collection)
A more typical example, though, may be Darin Toot in Albert Lea, Minnesota. Now that he is running both his modest trucking business and his track, Chateau Raceway in Lansing, "there is little light at the end of the day for my own racing. Gosh, the last one I won was the Oskaloosa (Iowa) Shootout in 2010."

Toot figures that even with today's down economy and with promoters struggling to focus some of the diffused attention of the younger generation, it is possible to "cash flow a race track. It's tough because we are living off the hard-core racer. Actually, I wouldn't mind if I had to pay some taxes because that would mean I'm actually making a little money! But, truthfully, we are getting by – a little better each year. And I keep telling my wife it's when we sell the track some day that we will get some reward."

Probably someone who will have wait a few moons for his treasures will be Len West down in Flippin, Arkansas. A racing character beyond normal definition, West acquired, hastily re-energized, and reopened a facility that was morbidly ill just last autumn.

We first ran into Lenny West at Bear Ridge Speedway, way up in the Green Mountains of Vermont. He won an IMCA feature that cool September evening in 2006 and unceremoniously loaded up at midnight. Incredibly, the National Guard recruiter/instructor faced a 23-hour tow – alone – to take on the Boone Nationals.

Not long afterwards, West retired from the Guard and moved to Arkansas where he ran the Texas-Arkansas circuit widely as he approached age 60. Then, just this last March, he closed on the acquisition of North Central Arkansas Speedway in Flippin.

It has not been an easy month. Every bit of equipment was obsolescent and dysfunctional. The local cars were getting rusty, too. The facility had been so unenthusiastically operated that last fall the typical roster counted a paltry 30 entries.

Lenny's opener was last Friday night – the night before the truck race at the Rock. It went well, though a bit more understated than Hillenburg's. Lenny says everyone from the local banker (who fortunately is knowledgeable about racing), to the racers, to the general community have been beyond supportive.

"Even with the rough financial conditions here in Marion County," Lenny reflects, "I think we will be okay. It is incredibly beautiful here in the Ozarks and there are some other tracks around. Some of the little ones are on the ragged edge and some don't even have insurance. Just a release sheet for competitors and fans. But the ones with steady management seem to be doing OK. Believe me, we will be steady. I'm living in a double-wide here at the track and devoting all I have to it. I've even parked my race car. By the end of the season, we are targeting 60 cars in the pits and 80 by 2014. We seat 1,000, and I'm going to fill that up."
A season ago, it was all about fuel mixture for Lenny West. Now it's all about stuffin' those seats. (Photo left, Coastal 181; Photo right, Lenny West Collection)

And it just goes on. By coincidence, Lenny used to race at Devil's Bowl Speedway in Vermont. On Friday, May 6, noted Northeast wheelman Mike Bruno will light up the scenic half-mile asphalt oval for the center-steer modifieds under his new ownership.

Here's to thanking all of racing's racy therapists. Andy, Darin, Royal, Lenny, Mike – go for it. And may many follow.

© 2012 Lew Boyd, Coastal 181
If you were interested in this Tearoff, you might enjoy the books below:
-