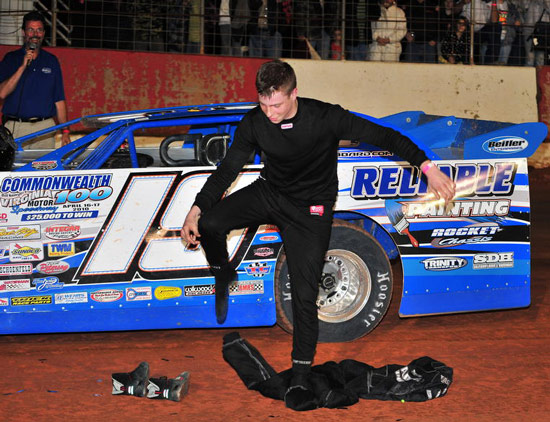 Austin Hubbard "separates" himself at Screven (GA) Speedway in 2010.
(Craig Whyte, whyteracingphotos.com)
---
4/4/12

EASTBOUND, SOMEWHERE IN TEXAS
We've been keeping an eye on Austin Hubbard. You know, he's that supercharged teeny-bopper they started calling "the Delaware Destroyer" a couple of seasons back, the kid who got so excited winning his first WoO Late Model feature that he stripped in Victory Lane.

Now, just barely a car length past age 20, Hubbard is on the Lucas Oil Series full time, prancing about with the cream of the country's dirt trackers. From every appearance, he is lightning fast, seemingly capable of wrapping the world with a stagger tape in one hand.

But what's it really like out there?

We caught up with Austin today. He was workin' his way "Eastbound, somewhere across Texas" after some Lucas shows. It's immediately obvious that Austin still has that bounce in his step, but racing's highway has its road hazards.


Austin, what in the world were you thinking when you did your Peach Tree State striptease that frigid night at Screven Speedway?

You know, lots of people are sitting up in those stands envying what we drivers get to do. They might think, 'Good Lord, what would I do if I won a big race like that?! I might just take off my clothes and run down the straightaway.' So, that's what I did.

To me a big thing in professional sports is to get a tag on yourself. A different sense of personality and style – get yourself separated. Hopefully as a good guy, not just a villain.

There's a picture of you and Scott Bloomquist going into a turn at East Bay and clearly neither of you bothered to lift. What were you guys thinking – you the upstart and he the Professor who won his first championship way back in 1982?

Well, I just turned 20 and I've been racing for fifteen years, so maybe the sensation is over and we are all old drivers! But I do remember that moment. Sure, I have much respect for Bloomquist. We started on the front row with Jared Landers right behind. But Jared asked me if I was going to move over for Scott. I said, 'Just watch turn one.' No way I was going to give up. If I have that mentality, I don't have the right to be out there calling myself a race car driver.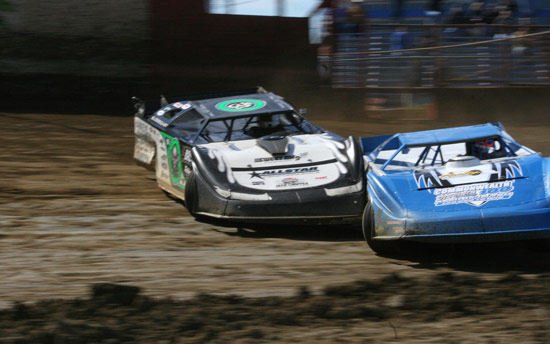 Austin Hubbard and Scott Bloomquist test each other in a heat race.

Scott spun; Austin won. (Tim "Cub" Wetmore/www.racewaymagazine.net)
How good are you?

I ask myself that question all day, every day. Sometimes I feel I really have it; sometimes I wonder why I'm even doing this. To be honest, it still has to be determined. As far as the guys like Bloomquist goes, If there is a moment I can actually beat them, I had better not waste it. They have had so many more chances to win than I have.

Does that make you tense and pressurized pre-race?

I may be young, but I'm a veteran with the butterflies. Again, if you don't get 'em, you better hang it up. It's strange, though. In my case the pressure often shows itself in another way. I usually get to yawning before going out. I guess it's reverse adrenalin.

When you came to visit our Coastal 181 booth at the Motorsports show in Philly a couple months back, you spent a long time talking with Brad Doty. What was that about?

It was just jaw-dropping for me that he knew who I am. I really wanted his advice and I listened. How can I keep going? What's the smartest way to stay alive in this space? He is so wise. He told me to fan my fire, to keep it alive at all costs, no matter what happens. Never mind all those big-buck teams and house cars I race against. Never mind the swings and cycles. Just stay up, always ready. You can bet everyone else is.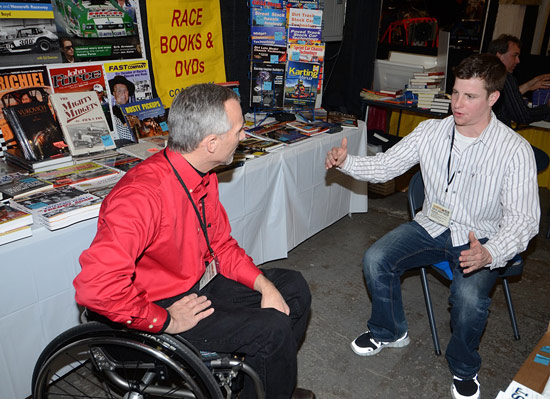 Austin in Brady Doty class at the Coastal 181 booth, January 2012.
(Jack Kromer Photo)

Whom do you admire most out there on the circuit right now?

Jimmy Owens. Calm and collected. Even with all the success he's had, he's still nice, with that cool poise that lots of people seem to lose. Since I'm the guy who streaked at Screven, I don't think I could ever be like him, but I sure respect his ability to react to anything – on the track or off.

How much do you do on the car yourself?

A lot. It's so much work, constantly to keep this all going. Not just the car, but the transporter, the generators, everything. I can weld, but I wouldn't want anyone to be under a roll cage I installed. And I can pull out a rear end, but I need to find someone good to rebuild it. My thing is tires. I do all the rubber, all the time. I'm very anal about it. That's my fetish.

Who's out there on the road with you?

It's tough going right now. We are running my dad's car, and there are just three of us. We've got our crew chief, Nick Hoover, who is 25 and there's Josh Willin, my buddy from high school. He's my age.

Do you have a girl friend?

Sure do! Kelsie's over in Erie, Pennsylvania. I see her a lot during the winter months, but it's every now and then during the season.

So, do you like the mobile lifestyle?

It does get old. And there is so much tension about making a living. Thank goodness for Dad being behind this as much as he can. We do so many miles. Last week was Indiana, Mississippi, and Texas. We did have a little time off before the races in Texas and we cooked out and hung around the pool a little. It's fun to do that and get away from our worlds at home. But then it's good to be back home and a little relief from the world of racing.

And how's it actually going?

We had to put this whole effort together so quickly because I had thought I was going to have some other rides. We built the car in two weeks. And then last weekend we blew both our motors and have had major truck trouble. Quite honestly, right now is just about as shitty as it can get. We're trying to figure out how to piece some equipment together to run Virginia next week. I keep hearing Brad Doty in the back of my mind. I guess this is the kind of time that makes your skin tougher.

So back to basics, Austin. "2012 will be a good season for me if…."

For sure I would have won – VERY SOON – a Lucas race paying $20,000 or more. Then I want to win the Knoxville Nationals for late models. It is possible. We've run well there for the last two years. Along with Virginia, it's my favorite track.

Is it probable?

I think I can do it. I've got the heart. But I have no idea how I'm going to do it. I can't tell you what I'm doing three days from now. I'm just truckin', Man.
.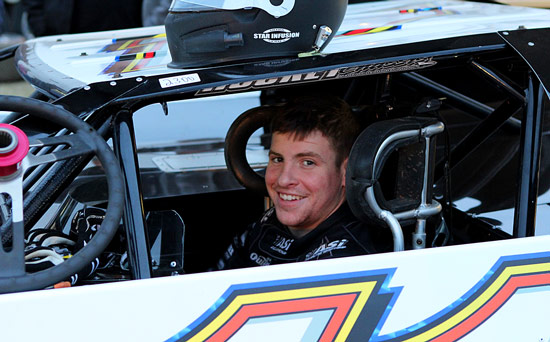 (Alison Williams Photo)


© 2012 Lew Boyd, Coastal 181
If you were interested in this Tearoff, you might enjoy the books below:
-