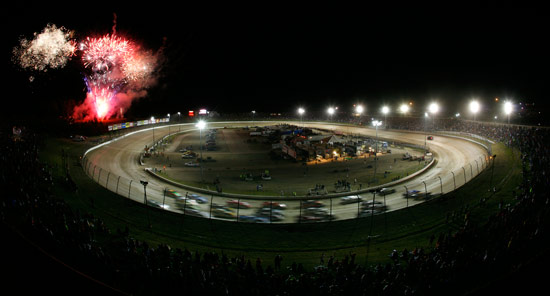 Thunder on the race track, fire in the sky. The Prelude 2012.
(Photo: Getty Images/Tyler Barrick)


Click Thumbnail for Full Image

---
6/12/12

PRELUDE TO THE DREAM

By Dick Berggren
NASCAR's most successful driver-organized charity event is Tony Stewart's Prelude to the Dream. Held annually at Stewart's Eldora Speedway in Rossburg, Ohio (go to the middle of Nowhere, turn left, then drive miles past the corn fields), Stewart's handlers place well-known drivers from multiple racing series against each other in borrowed high-quality dirt late models.

There have been no surprise winners, including this year's champion, Kyle Busch, who has very limited experience on dirt but straps in with a skill that's extraordinary even in motorsports' top series. Past year's winners include Carl Edwards, Kenny Wallace, Clint Bowyer, Jimmie Johnson and Stewart himself, who has won three of the eight runnings. Only Wallace in the above-named group had limited experience going sideways before he won. Eldora, he said, introduced him to dirt track racing which he fell in love with. It's likely that when the year ends, Wallace will have run 50 times on the mud and will win one-third of his starts.

In an era in which everyone counts the empty seats in big-league stock car racing's grandstands, so many fans come to this one that they fill the seats and flow to blankets on the hillsides that neighbor the stands. Most come for the week, staying through to the race long ago named "The Dream" that is run on the following Saturday night. It's an energetic crowd, a group that comes to have a good time and make a lot of noise. Eldora serves not only beer but hard liquor as well, so the already jacked-up fans can drink a little more emotion into their evening if they choose to do so.

Roger Slack, who is destined to go down in history as one of the best short-track promoters of all time, is in charge of the show and made his presence known this year in the most dramatic of all ways: The place this year exploded with fire and fireworks. When each driver was introduced to the crowd, flame cannons behind them belched fire. When the race rolled off pace laps in four-wide formation, the sky went ablaze with color. Same when the race ended. It was a dazzling addition to an already spectacular evening.

Two from drag racing–funny car drivers Cruz Pedregon and Ron Capps–are regulars, as is Indy car star Tony Kanaan. In a very serious moment, Kanaan, who has run three times at Eldora as his only experience racing on dirt, calls his appearance in the events as "the craziest thing I've ever done." Even Danica Patrick joined the event this year, racing on dirt for the first time in her life.

This year's event featured something fans hadn't seen all season in big-league NASCAR: wrecks. The evening began with 2010 winner Jimmie Johnson tagging the wall in warm-ups. Some just couldn't get the hang of it and kept finding the wall. Kurt Busch parked his car before the feature with all four corners bent, claiming on HBO Pay Per View that crashing out before the main event "was like premature ejaculation." Really, that's what he said.

Clint Bowyer, last year's winner, drove his own car again and was fast enough and smooth enough to make it two wins in a row. However, a particularly caffeinated Kasey Kahne slide-jobbed Bowyer into the wall while Bowyer was leading. A few laps later, Kahne himself evacuated the lead when coming off turn two he slammed into Bobby Labonte's car that was sitting in the groove, having spun out yet again. Kahne's car, owned by Chris Madden, was severely damaged. The entire right side including the right rear wheel, hub, axle and some of the housing were all ripped from the chassis. It was doubtful that the frame itself could be saved.

With that, Kyle Busch inherited the lead. Busch had earlier in the evening found the wall with enough force in his second time-trial lap that the entire right front suspension had to be replaced on his Scott Bloomquist-owned car. Busch had run the Prelude five times, finishing in the top-four in four of those attempts. He had come to win this time and now has won in every division of racing he has ever attempted except Dwarf cars. Expect Mr. Busch to rectify that shortcoming in his resumé with appropriate haste.

The Prelude is all about people having a good time. Many of the drivers call the race the most enjoyable of the year. Smiles abound in the stands and in the pits. It is above all else a fun night.

A different charity benefits from the event each year. This year, "Feed the Children" received an infusion of cash. The money generated for charity is considerable, nearing $1 million at one of the events, in part because of the income from HBO, in part from the huge crowd that pays to see the race in person, and in part because so many people donate their time and services. Nobody in the TV crew, including the announcers, is paid and there's only enough money paid out to teams to help cover expenses. Stewart writes checks to repair crash damage, which this year certainly cut the amount donated to charity. But, such is the way of this event in which drivers run as hard for a trophy as they would for a million dollars to win.
© 2012 Dick Berggren, Coastal 181

If you were interested in this Tearoff, you might enjoy the books below:
Inside Herman's World

by Kenny Wallace
with Joyce Standridge
GOTTA RACE!

By Ken Schrader
with Joyce Standridge
Larry Phillips: NASCAR's Only Five-time


Winston Racing Series Champion

by Kendall Bell and David Zeszutek