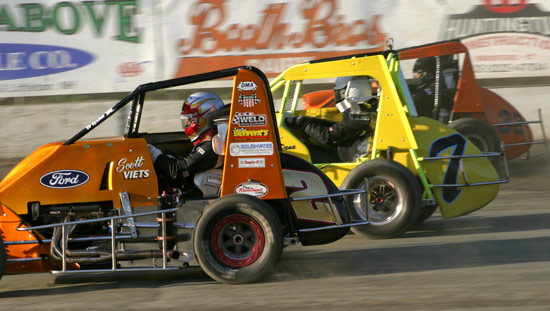 Scott Viets hustling through traffic at the DMA USAC midget opener in Vermont.
(Alan Ward Photo)

---
5/17/12

SCOTTY AND THE SUPER MOON
The psych needle was pegged when the USAC midgets came down for the green. It was May 5th, opening night at Bear Ridge Speedway in Bradford, Vermont. The stands were packed and there was hardly a place to park in the pits for all the stock cars and open wheelers.

This was the first of two midget features, and in that first one a lot of eyes focused on a scrappy 55-year- old runner from East Granby, Connecticut, Scott Viets. Previously a consistent winner, Viets had come off a substandard season, and over the winter his car owner and teammate, New England Hall of Famer modified star Ray Miller, bought him a new XXX chassis. The car glistened on the parade lap with the luxuriously deep copper-colored paint job Scott had laid on.

From the first lap in warm-ups, it was clear the car was working. Scott was right back to his old ďBack íem in VietsĒ nickname, pitching it early and powering through the turns in lock-right powerslides. And in feature one, he did not disappoint. He motored from 17th to third in an aggressive but contact-free driving display on a rough springtime dirt surface.

Scott climbed from the car afterwards, wound with adrenalin and delight. ďGosh, I didnít even feel like I was running fast! What a car! Whereís that Ray Miller? I want to kiss him.Ē

But, while crews freshened the cars for round two, racing rail birds were picking up on a time-honored warning signal. Just over the mountain to the south rose Mayís Corn Planting Moon, oversized in super phase, imposing and bright against a blackened sky. Beware strange things happening with a full moon. And, as it turns out, that is about the last thing Scott remembers from the night.

Hereís what he had to say eight days later.

I was so pleased with my finish. It had been bothering me that I might have lost it as a driver. I was troubled deep inside, but it all went away instantly when I ran those first few laps. It was really special because there is so much history with the Miller and Viets families. All that was swirling around in my head.

You see, Rayís dad Pat and my dad Mike were friends forever. My dad grew up following Pat and his Kurtis Kraft that was driven by Charlie Ethier. After Charlie was killed in a stretch midget at Salem, Indiana, in 1951, my dad had stock cars driven by my Uncle Chick. Ray used to baby sit for me back then and by the time he started driving modifieds, he was my ultimate hero.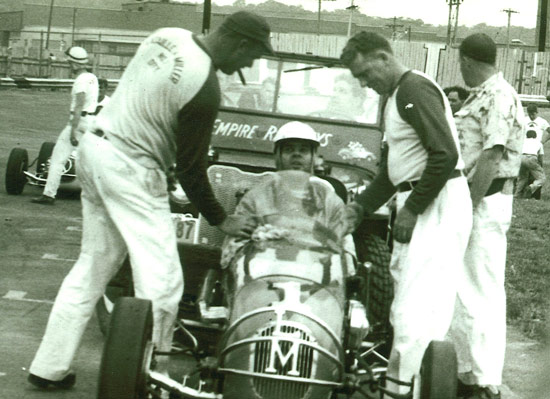 Pat Miller, on the left, sends off driver Charlie Ethier at Empire Speedway
in Menands, NY, back in 1951. (Miller Family Collection)
I was one nutso motorhead with zero money. The closest I could get to having a race car was to go into the woods, find an old junk, sit in it and make motor noises. In 1975, I went down South with the Marines and was there ten years. I did a little racing in one heavy old Banjo Matthews car, but it didnít amount to much.

When I got back, my dad took me to Whip City, a mini-sprint track in Massachusetts and eventually I landed a ride in a dwarf car. It was a slow start. It handled so badly that my dad suggested I wear white gloves and he would video me so we could see what my hands were doing. They were a blur.

We got better, and the best part was a good Ė and exciting, I think Ė win in the TEAM USA (Dwarf) Mod Lite Nationals.

Then Don Douville took a chance with me in his midget. It worked out well and we had a real good time. After that, I got in a D&G car. I owe Don a ton. Iíve now got 36 wins, 34 of which have come in midgets.

Over time, things came apart at Whip City and I got out of racing for a little while. I guess, as a family man, I was getting a little guilty about all the time I was putting in it.

Then in 2010 Ray called me. He said that after all those years of modified racing, he wanted to come full circle. Back to midget racing, just like his dad. He would get a car; I would maintain and drive it. I couldnít believe my ears, but it turned out to be a beautiful thing. We won the second night out. That victory marked eight decades of winning cars coming out of that Miller family garage. What a thrill!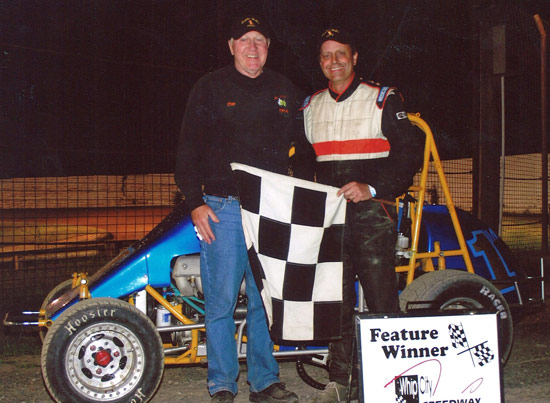 Thatís Scott Viets, celebrating his win with Ray Miller. Quite remarkably, it
marked the eighth decade that winning race cars had come out of the
Millerís East Granby garage. (Viets Family Collection)

.
At Bear Ridge last week we had three team cars Ė one with Ray driving, one Dean Christensen was in, and the new XXX. I must have been feeling pretty positive when we pushed off for that second feature.

I started 15th, but I didnít even make it to the starterís box. They say the race got off to a jagged start Ė way too fast. I always worry about false starts, and I was probably lagging back a little. Then someone drilled me hard from the back and I launched over Deanís right rear, got to flipping, and augured into that wall big time.

I was upside down with my foot stuck on the throttle, and the tell-tale read 9300 rpm. My great friend Charlie Gunther was the first one there, and he got the motor shut off. I was shut off, too. Out for the count.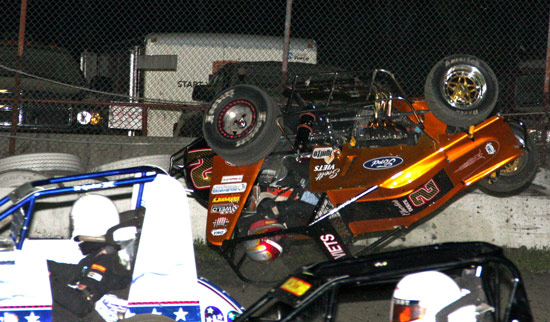 Dean Christiansen said, ďI felt a nudge from the back and I looked right.
Scott was passing me upside down. (Alan Ward Photo)


I donít remember much from the Dartmouth Hospital, except being very achy and nauseous when they released me early the next day. Itís been over a week now and I still have pain and dizziness. I can only walk a few steps Ė just like a drunk. I guess Iíll snap out of it eventually.

I hate to say this, but I think the reason I got hurt is that I couldnít fit my Hans device on my new helmet that night. Guess I should have done that long before. I ended up using just my donut. There was no indication that I hit my head. The injury apparently came from snapping my neck so violently. Itís certainly a concussion. A doozy.

I know about concussions because Iíve had them before. Two in the Marines and one bad one in a wreck at New London, Connecticut in Donís midget. I had no idea who I was or where I was. That was much worse than the one at Whip City when I flipped down the front stretch and caught fire.

We all are hearing a lot about concussions these days Ė especially multiple ones Ė and what the long term implications can be. The doctors right now are giving me some stern warnings about what could happen if it happened again.

Iím an opinionated guy who always knows just what Iím going to do. Now I donít.

Racing has been my life. I know I am selfish to even think about racing again. Robin, my wife, and I have been through so much together. She hasnít been after me about it since Bear Ridge, but she has seen me before with foggy eyes, staggering around with that ďmidget driver shuffle.Ē I know it bothers her.

And my dad! He was up there in Vermont, so excited after that first feature. When I wrecked, they let him out on the track and, when he got there, the medics were saying ďstill no responsiveness.Ē I think it scared the hell out of him and that makes me feel bad.

Itís just not like me, but I figure Iím just going to have to ride this one out and see what happens.


All New England will be watching what Scott Viets decides to do. Do you stand on lifeís pedal and follow your bliss Ė or do you back off, fearing Alzheimerís and other nasty repercussions from hard hits? We need to take on board that racers are just as susceptible to head injuries as NFL players.

Whatever your choice, though, Scott, donít you ever dare to race under a full moon again!
© 2012 Lew Boyd, Coastal 181

If you were interested in this Tearoff, you might enjoy the books below: