Veteran and racer, the late Hully Bunn.
(Mark McKeon Collection)

---
6/1/12

MEMORIAL DAYS
As was so totally obvious last weekend, the Indy 500 owns Memorial Day weekend. What an event this year!

Watching parade laps prior to the grind on the bricks is a tingly, near-spiritual experience. You can only imagine what is going through the minds of 33 great racing drivers. You get to thinking of those 100 years of Indys past – the long-distance bravery, the joyous victories and spillage of milk, the tragic, gladiatorial deaths. And all this comes on that same weekend we honor our country's veterans of foreign wars.

No one could question the enormity of the role those same veterans have played in racing here in the US. At no time was that greater than the couple of decades following the Second World War, the years when passion for American motorsports went on a rampage. Indy fields were chock full of vets from WW II and the Korean conflict. They were also on the roster of virtually every other automotive competition.

On a Sunday afternoon back in 1974, we took a modified out to an open competition at the newly opened Cairo Fairgrounds in upstate New York. The sun was hot, and to say that the track was a gritty, hole-filled dust bowl would be kind. But a standing-room-only crowd packed the place, psyched to see a special feature for old-time drivers from the great stock car days of the '50s in the Empire State. It was at the very dawn of what we know now as the vintage movement.

Our car was an already-elderly big block coach with a water pipe cage on a '54 Chevy frame. It was outdated and under-funded. Dick Berggren and I had both won with it in New England in earlier years, but no dice with the much stiffer competition out in New York. I was surprised when a tall, lanky, and mild- mannered gentleman came up and asked if he could drive it. When he introduced himself as Hully Bunn, we all stood at immediate attention.

A Connecticut native born in 1920, Hully Bunn had been ready for the bugle call in 1941, and off to the European theatre he went. As we got to know one another over time in more recent years, he confided how horridly unforgettable the conflict was, most particularly the Battle of the Bulge.

Hully came home with a raft of medical problems. No question there was some of what was once called "shell shock" and that we now label PTSD. He said he sought to engage in something unpredictable, loud, and dangerous that could capture – and calm – his soul. That something became midgets and then stock cars.

Hully's need and ability to survive in chaos were likely reasons that he was a racing success from the start. His mastery of long races was renowned. He won the inaugural Race of Champions at Langhorne, dodging all the fire-filled devastation. During the race, he nonchalantly poured quarts of oil into a radiator-type hose running from the cockpit to the oil pan. He had purposely gone down there with a flathead that was "nice and loose."

He had wins at Bainbridge, Ohio; Morristown, NJ; opening day at Lebanon Valley, NY; and on and on. He claimed to make a good living out on the racin' road for almost 20 years until expense creep overwhelmed him. The tipping point was a spectacular rollover at Lebanon Valley in 1965. He hurt his back, and it ended his career. Almost.

That day at Cairo was something. Over 20 enthusiastic old-time heroes suited up for battle, as in days of yore. Former NY State Champion Jeep Herbert, aboard Joe Leto's potent, state-of-the-art Pinto, egged them all on with wild broadslides during warm-ups.

But during the actual race, there was no contest. Hully just plain smoked 'em with that unlikely #181 coach.

With a smoothness I still remember vividly, Hully - with no warm-ups or even seat time for ten years - cruised around the bottom, deftly avoiding every rut and crater. He didn't look that fast, but that, of course, meant he was. In no time he was in the lead. He won it handily by a quarter lap.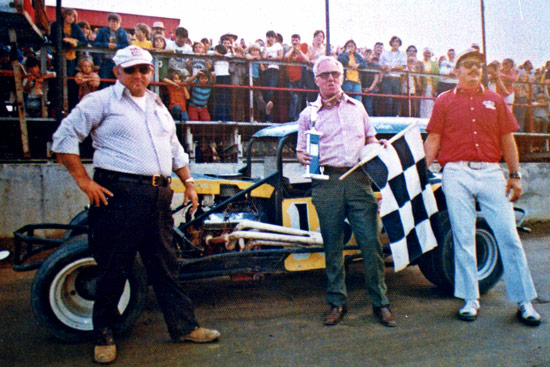 Cairo promoter Kenny Shoemaker greets Hully and the #181
in Victory Lane at Cairo. (Coastal 181 Collection)
Bergie, Bruce Cohen, and all of us were flabbergasted. When we rushed up and congratulated him for getting us our only win out there, he just smiled. He thanked us and said he'd really enjoyed it because he had brought along his son who had never seen him race. And here's what he had to say about the car: "This thing is GREAT. You don't need to do a thing to it, except maybe to look for a new driver."

Hully died at 91 last August. He was in another league, just like so many veterans from that "Greatest Generation."

May you be honored forever, Hully – and American Vets one and all.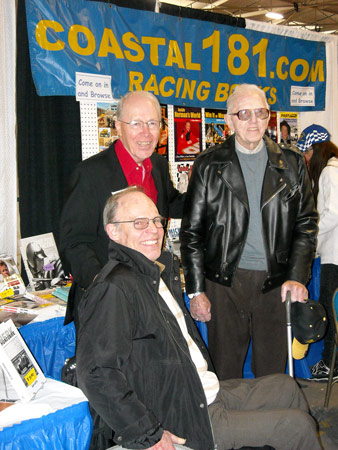 Hully (R) joined other Langhorne stars Bill Wimble
and Roger Treichler (in chair) at Lenny Sammons'
Motorsports Show in January 2010.
(Coastal 181 Photo)
© 2012 Lew Boyd, Coastal 181

If you were interested in this Tearoff, you might enjoy the books below:
PAVED TRACK
DIRT TRACK

by Lew Boyd
Old Speedways – Langhorne



DVD