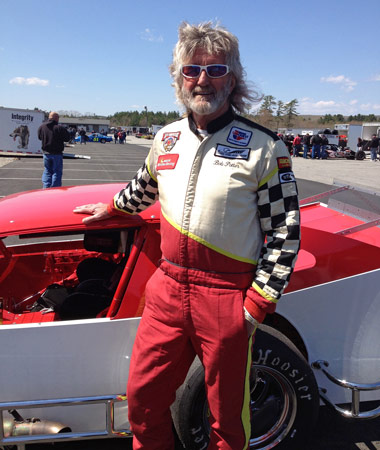 No one would question that Hall of Famer Bob Potter is one of the coolest
and most unusual characters in New England racing history. How typical
that he would be the only one of 128 drivers at the original Sizzler to
suit up again last Sunday, 40 years later.
(Photo by Cathy Lent, an enthusiastic fan who rode with him in the two-seater)

---
5/4/12

SIZZLER REFLECTIONS 1972/2012
Driving down last Sunday to the Spring Sizzler, the Whelen Modified Series race at Stafford Springs (CT) Speedway, was one sentimental journey. Dick Berggren, Bruce Cohen, and I had promoted the first Sizzler 40 years ago. We didn't have a clue what we were getting into. We were just some racing kids wanting to make some extra bucks to run our cars that summer.

My wife Cary and I got to the track about 5:00 a.m. that moist Sunday morning back in April 1972. Totally anxious about what the day had in store, we motored around to the pit gate for a sight I will never forget. A dreamy double-file line of cars on open trailers stretched as far as the eye could see in the foggy first light. Up front were Don Diffendorf, our poster boy for the race in the outrageous "Flying Cockroach" #S/360 and the Cozze Pinto that would be wheeled that afternoon by Budd Olsen. And on and on it went. It looked like every race car in the North East was there – coupes, compacts, late models, dirt cars – 128 strong. Our race was to be the definition of open competition.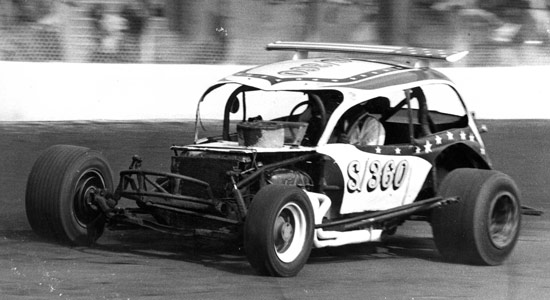 That's Don Diffendorf in his coach on the Syracuse mile. There were some Connecticut Valley folks who were not pleased that we so thoroughly
publicized a dirt car from New York when we advertised the first Sizzler.
Truth is, the car was built in Ipswich, MA, for Bentley Warren, who scored
with it big time on the pavement. (Ink Inc. Corporate Photo)
Bergie, Bruce, and I, along with our long-suffering wives, had worked so hard all winter for this day. It was perspiration, not inspiration. We wanted to develop a show that would please both racers and fans. We gambled and offered the biggest purse ever paid in New England. Tickets were just $5.00 in advance and $6.50 on race day. Mercifully, the fans responded as enthusiastically as the racers. By 11:00 a.m. the State Police demanded that we shut down ticket sales and go on all available radio stations to say we were sold out. There was a helluva mob – and a helluva traffic jam.

The heats went smoothly despite the occasional flip, especially given the number of cars and the vast differences in their speeds. A fabulously classic standoff, though, went down near the start of the feature. Racing's revered "Professor" Ed Flemke tried a couple of times to get a jump on the field. But our very authoritative starter, Earl Grant, wasn't having any. He was captain of the show, thank you very much. He demonstrated his displeasure with Flemke the third time around by turning his back on the entire field and walking off the flag stand, much to the delight of thousands of wound-up fans. Eddie got the message.

Thickening clouds looked threatening as the race took shape. Then, mid-race, there was a real problem. Roger Treichler drilled the wall mightily in Sonny Koszela's Log Roller #10 and was extracted from the car, blood flowing from his ears. We were totally freaked out. Not just for Rog, but for the show: We had just one ambulance….and no rain date.

In the end our friend the sailor, Freddie DeSarro, beat the weather and won it in the late Lenny Boehler's clapped-out "Ole Blue" coupe. By the time of the payoff, there was great merriment in the pits, despite the soaking rains that had started within minutes of the finish. We had made sure every team would get some award beyond just purse money. First there was beer, then camshafts, miscellaneous racing parts, tools, and donated gifts of every description that we had rounded up throughout the winter. Gasser Bobby Turner from up in Maine won a telephone pole for his qualifying effort, but, quite honestly, he never picked it up.

The next day we sold the whole race package to Jack Arute – and, essentially, donated the sale proceeds to the track point fund. We were serious that we just wanted to go racing. Sure, we did well with the Sizzler, but remember how low ticket prices were back then. Bruce and I brought home enough money to buy a big block and a newish trailer, and to go racing in six states that year, winning three features. Close enough to perfect for me. Bergie bought himself one pretty little Edmunds Sprinter that he ran later on with great success.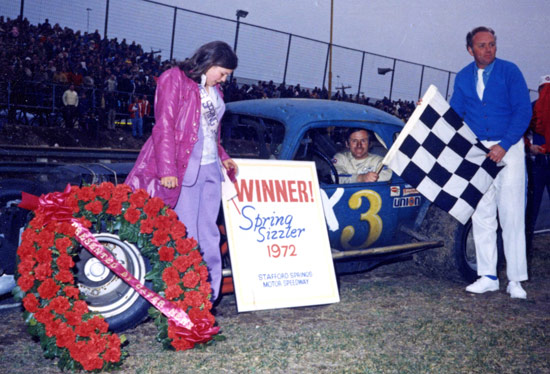 Earl Grant and Annie Flanders, our trophy girl, greet Fred DeSarro in Victory Lane in '72. Freddie died a couple of years later after a crash at Thompson Speedway, and sadly Annie, who was terminally ill, also passed away. Earl Grant remains authoritative today, even though he has handed the flags over to his son Steve. (Coastal 181 Photo)

.
Over the years the Arute Family has continued the annual Spring Sizzler tradition with gusto and class. It is hard to believe that the event has become the longest-running date on the NASCAR Modified Series Schedule. Quite a few of us, though, were disappointed that for whatever reasons, the feature was changed from an 80-lap shootout to another 200-lap grind. Our view was that the Sizzler had been special with its uniquely on-the-hammer model.

Remarkably, the Sizzler has now seen over 7,000 laps of racing with 23 winners, among whom Ted "TC" Christopher and Mike Stefanik have been dominant. With this much action in something as intense as modified racing, things can go wrong. Everyone in the racing community was broken-hearted about the savage, career-ending injuries suffered by Canadian Denis Giroux in the 1974 running and by the death of popular Tony Jankowiak in 1990.

Quite faithfully each year, the Arutes have improved the physical plant of their facility, without doubt now one of the finest short tracks in the country. This last Sunday the whole place literally glistened in bright springtime sun. A large crowd, though, was bundled up against a pesky west wind bringing with it the chill of the Great Lakes.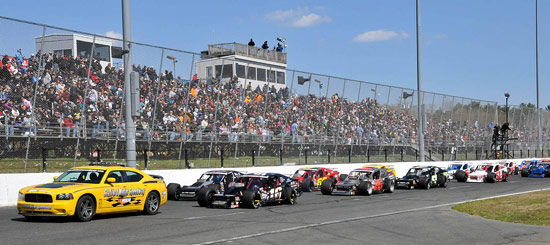 The start was an imposingly beautiful sight. (Howie Hodge Photo)


Gone this year were about 100 modifieds and all the open trailers. Massive haulers towed in 28 entries, cookie-cutter but all beautifully maintained rocket ships, all chromed out, with every possible bell and whistle. It is simply unimaginable to think what it must cost a team to field this kind of operation.

The racing was fast and evenly matched. As Eddie Flemke Jr. pointed out before the feature, just .2 seconds separated the top 15 starters. Pole sitter Ryan Preece waltzed to a new track record of 17.924, 100.424 mph on the flat asphalt half-mile.

Just two competitors from Sizzler One were part of Sunday's presentation. Bob Garbarino, the highly respected marina owner from Mystic, CT, was there with his familiar yellow Mystic Missile #4. Bobby Santos won the race for him last year. This year Bob was very deservedly Grand Marshal and he watched his current driver, Donnie Lia, soldier home 14th. Meanwhile, everyone's favorite Hall-of-Famer, smilin' Bob Potter, who ran in the top ten in 1972, suited up to terrorize a fan or two in the track's two-seater modified.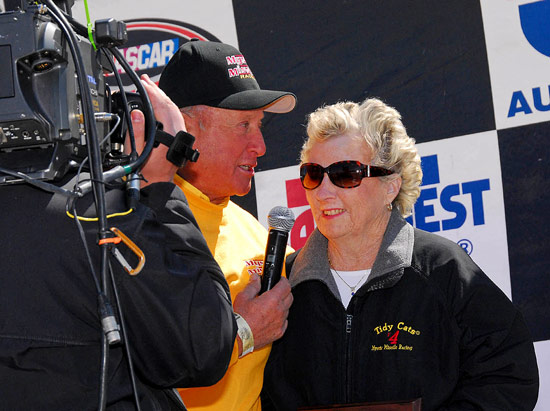 Bob Garbarino and his wife Joan were appropriately lauded as
Grand Marshals for the event this year. They have been pillars
of the sport for decades. (Mary Hodge Photo)


Two teenyboppers, Ryan Preece and Corey Lajoie, whose grandfathers both had cars in the first Sizzler, brought the field down to the green. The driving display those kids – and 26 others – put on was simply amazing. They ran inches apart – admittedly nose to tail after two laps – and hardly any chrome was scratched all afternoon. It was very precise, disciplined, strategic competition – motorized chess. After 200 circuits, Doug Coby had outmaneuvered everyone else for his second Sizzler trophy.

I snuck out right after the end. There was so much to think about on the way home. I got to ruminating about how I never ever could have commanded the money and technology required in modified racing today. And, frankly, I never could have presumed to be good enough to compete with guys like Preece and Lajoie and Coby.

But, getting right to it, there was another reason for sneaking out. I sure didn't want those Stafford folks to ask Bergie, Bruce, and me to clean up the ladies' rooms like we had to in '72.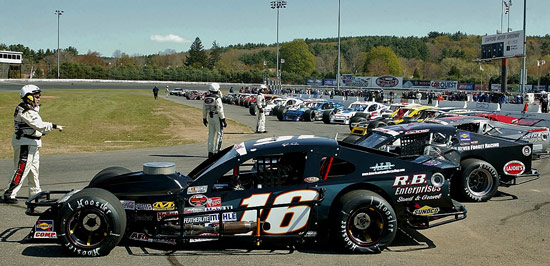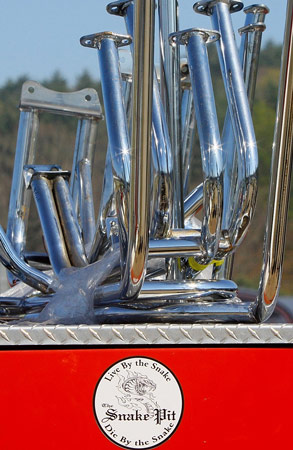 (Dave Dalesandro Photos)

© 2012 Lew Boyd, Coastal 181

If you were interested in this Tearoff, you might enjoy the books below:
RICHIE!
The Fast Life and Times of NASCAR's
Greatest Modified Driver

By Bones Bourcier
STEADY EDDIE!
Memories of Ed Flemke
Modified Racing's Fastest Professor

Edited & annotated by
Bones Bourcier

Regularly $23.95


SuperSpecial: $16.95

BUGSY! — The Life and Times
of Bugs Stevens, three-time NASCAR
National Modified Champion

By Bones Bourcier

Regularly $19.95


SuperSpecial: $ 14.95