1/15/13

HOOKER HOOD: THE TOP CAT OF MEMPHIS
GUEST TEAROFF by JOYCE STANDRIDGE
Research for the book Win It or Wear It was closer to a racing fan's idea of nirvana than any definition of work. I started with a dream list of people I thought would be excellent resources for our anecdotal wander through the history of sprint car racing, and topping that list was Hooker Hood.

My affinity began quite a few years ago when I got to see Hooker drive. He was into his late 40s or early 50s at the time, so some might say he was past his prime. Couldn't have proven that by the performance I saw then or subsequently. He drove like the hungriest rookie, which meant a great show for fans, even though this wasn't at his beloved home track of Riverside Speedway in West Memphis, Arkansas, aka The Ditch. It was a typical performance when Hooker took to the road and treated every track—and every group of fans in the grandstand—like this was the one and only time he would ever be allowed to race. As you might imagine, it was a show unto itself. High, wide and hell-bent for the checkered flag, followed by epic socializing afterward that excluded no one—even fierce on-track rivals.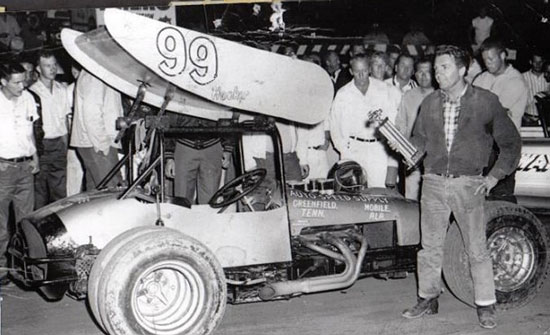 Back in the day, not only did Hooker Hood wear street clothes to race–that's him by the right front wheel–but he gave away nearly all his trophies to kids from the grandstand. Talk about a smart way to build a fan base, but with Hooker it wasn't calculated. He just loved the smiles on their faces. (Hooker Hood Collection)


"I just met so many good people (in racing). And I've had fights with every one of them," Hooker once said. "And an hour later, we was out in the parking lot having a beer together."

One of Hooker's legendary "fights" occurred following a Ditch race. No one saw it coming as he strolled down the track, acknowledging the fans with a wave and a big smile. But after he climbed the ladder to the flagman's stand—and cold-cocked the son-of-a-gun when he got lippy with Hooker's assessment of having been wronged during the race—the grandstand went wild. Apparently, they concurred with Hooker's opinion and approved the resultant prone position of the flagman. Hooker, just as calmly as before, climbed back down the ladder and strolled on back to the pits. It was an extraordinarily satisfying suspension that followed.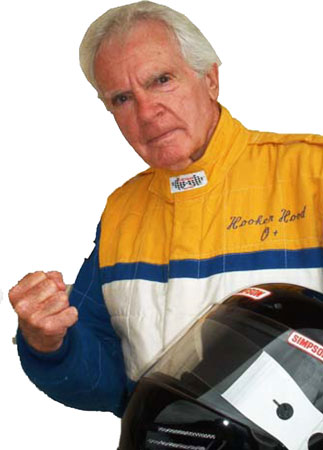 Hooker playfully posed for a photo reminiscent of his Golden Gloves days, not to mention a few legendary fisticuffs at the race track. But that was only a small part of his big personality. In fact he says, "I fought with everybody. And then we made up after the races and had a beer together in the parking lot!"
(Hooker Hood Collection)
You can't have been from Hooker's generation or raced as many years without some pretty spectacular wrecks. A stuck throttle once ran him off the track, through the fence and under the grandstand. Most people scattered but to those who came to his aid, Hooker yelled, "Get outta here! She's got a full load of nitro and she's gonna blow!"

The most memorable wreck of his storied career, he felt, was one in which he again ran through the fence. At The Ditch, there were no grandstands at the ends, but there were walkways for fans moving between the front and back stands. When he went through the fence, unfortunately he pinned a pregnant woman inside the wire walkway fence. Although Hooker himself was injured, he refused immediate treatment, even from his imploring father. "I can't yet, Daddy. I gotta help this lady."

Happily, the woman was really just scared, with a few bruises and scrapes. After her baby was born, she and her husband returned to the track, and to Hooker's amazement, "They became just the best fans I ever had."

It's sometimes said of racers that they were born too soon or too late for their style of driving or how they lived their lives. Hooker was born at exactly the right time. Drivers didn't specialize so much in his prime era, so as a result he drove everything, including fledgling NASCAR rides—and cars loaded with hooch. Like his friend, Junior Johnson, he got caught running moonshine, but his jail time only added to the legend. While wearing street clothes he ran errands for the warden and spent almost no time behind bars, even at night. He got conjugal visits before anybody had even heard of them, and his race track promoter secured early release because it was racing season and a track without Hooker was a track minus paying fans, too.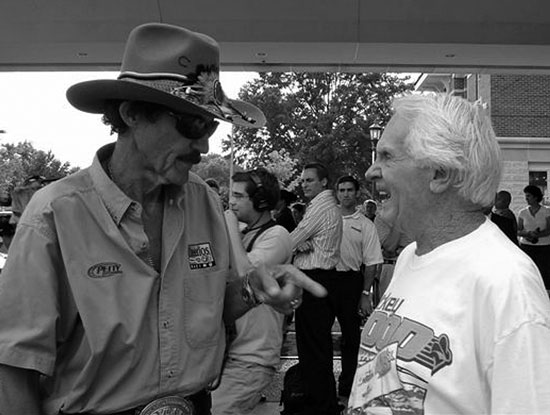 Two of the best ever, and during Hooker's brief NASCAR career, they competed. So when Richard Petty came to town for an appearance, he had to spend a little time with an old pal. (Hooker Hood Collection)
Even his nickname was better suited for his time. There are people who claim he got the moniker when he was a Golden Gloves fighter in the service, but he told me it came from being "hooked" by a cow and tossed over a fence when he was a kid. But can you imagine trying to secure sponsorship in the hoity-toity world of big-time racing these days with a nickname of Hooker? People might misunderstand. Personally, I love that alliterative one-of-a-kind tag and it fit him much more comfortably than his birth name of Clarence.

As it turned out, even after "Win It or Wear It" was completed, I kept finding excuses to call, email and Facebook Hooker, his wife Carolyn and daughter Stormi. I never wanted it to end. But we are all given only so many laps.

Hooker's checkered flag waved on Christmas Eve. He'd been sick for a long time, even astounding doctors by coming back from a heart attack and stroke while in surgery several years ago. But the kids, including fellow National Sprint Car Hall of Fame son Rickey, and the grandkids kept him going better than any had a right to expect. He lived in the same neighborhood of Memphis for over a half century, a magnet of a little garage that includes a photo of Elvis sitting on one of Hooker's race cars in the back yard. Yes, that Elvis. Because the King sometimes wanted to slip out of the grandeur of Graceland and into the comfortable neighborhood where The Top Cat (he called everybody, including Elvis, "Cat") was the real star.

Race Car Heaven just got a whole lot more fun. Put the beer on ice for later and tune that car on the pole. Released of his aged, tired body, Hooker will show 'em how it's done.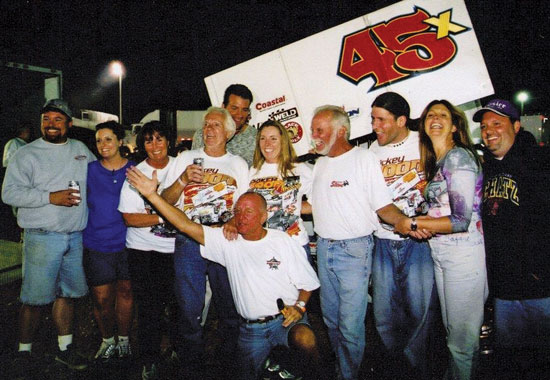 First and foremost, it was always about family for Hooker, pictured here with many of them. The laughter says it all - this is a wonderful, loving group who adored
their patriarch. (Hooker Hood Collection)


© 2013 Joyce Standridge

If you were interested in this Tearoff, you might enjoy the books below: