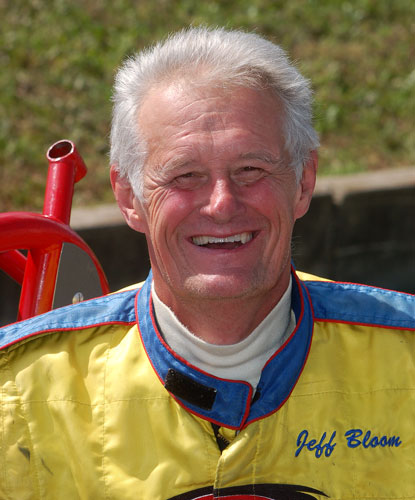 Jeff Bloom
(Dave Sink Photo)
---
11/20/12

BEING TOUGH - Jeff & Linda Bloom
"My husband, Jeff," says Linda Bloom, "is as strong and focused as they come. From February to October he's a race car driver, and November through January he's a hunter. He called me yesterday to say he'd just got himself a four-point. That was pretty neat. That's the 37th consecutive year he's got one."

But that wasn't exactly the full story. Fact is, an eight-point wandered right up toward Jeff, and he tried to pull the trigger, but just couldn't muster the energy. His trigger finger was useless from the fire 12 weeks ago, his middle finger barely bendable – and that with effort and pain.

Michigan Sports Hall of Famer and three-time winner of the Little 500, 63-year-old Jeff Bloom is, no contest, one of the greatest pavement open-wheel artists in the nation.

Whenever congenial Jeff gets to pondering his racing career, two things come to mind. One is certainly his uncanny feel for a car and his obvious comfort with extreme speed. He is known for track records, like the 9.908 around the quarter-mile at Slinger Super Speedway. And it's the same on the bigger venues. He has solidly whupped rear-engined Indy cars, perched way up in the cockpit of a Champ Dirt Car on the 2.5 mile Pocono flight path.

Linda credits Jeff's dad with teaching him hands-on the fundamentals of going fast – with a stagger tape and scales. Jeff acknowledges that, but goes further. "I know I have something special. A driver has it or he doesn't. If I could, I'd bottle it up and sell it."

And, if Jeff is unusually fast, he also seems inhumanly tough. He'd have to be to have ventured to the Little 500 in 1972, considered the most mentally and physically grueling short-track race there is, and win it in his dad's homebuilt "Ol' Yeller" sprint car as a rookie. Then there was the broken transmission case on the track at Texas that sliced his tire and flung him full-tilt into the wall in a Smokey Yunick/USAC stock car. When they extricated him from the wreck, he had to be resuscitated. But five days later he was loaded from his crutches into a sprinter and he ran second over in on the intimidating Winchester asphalt..

And then there's just the inherent toughness of what he does. Still, after 47 years on the exhaust circuit, he tours with Jim Hanks' Must See Extreme Series, the blindingly fast winged pavement sprinters. He does it with minimum finance, save some blessed help from "Smoke" each year with tires. Personnel is minimal as well. It's often just Jeff and Linda motoring down that endless highway. They have 1,000 top- ten finishes.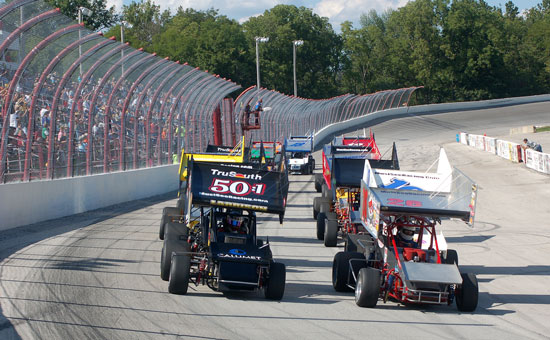 Jeff brings down a MUST SEE field to the green at Winchester.
(Dave Sink Photo)

Although Jeff did get his deer, this hunting season started far differently from the other 36.

On August 25, Jeff and Linda pulled into Berlin (MI) Raceway for a combo ISMA/Must See program.

"The infield was so packed with cars that I could hardly see," Linda recalls. "Someone said Jeff's oil cooler was dragging in the heat. I saw him get loose coming off two and then gather it up. Then, as he went into three – it's a flat out turn – there was a huge ball of fire, and he snapped into the wall.

"I thought the engine blew, and it was just an oil fire that would go out. And I thought I saw him move. Then the whole thing really exploded when a fuel fitting broke, and I realized he was still in there. Everyone was frantic, trying to get him out. I could hear the fans in the grandstands screaming. It was awful.

"He was inside there maybe three minutes. When I finally got up to the car, they had him out and he was lying beside the car, and his whole right side was burning. He was in and out of consciousness and convulsion, but he asked them to drag him away from the car and he ripped the glove off his right hand that had all but melted.

"Off to the hospital we went, and, in a moment of alertness, he told the nurse that of course he would race again. So I urged the doctors not to amputate any fingers, and, in the end, they didn't. He was burned down to the bone in places on the right side, over 15% of his body. His Guardian Angels held the other 85%."

Jeff doesn't remember all that much of the early rehab, but it consisted of all the normally tortuous burn therapy. He did question Linda once or twice about the wisdom of racing more and possibly "putting her through it again," but these thoughts faded with the autumn sun.

Until Jeff's skin begins to heal and seal over, all he can do is to concentrate a bit on flexibility. Strength training will come later, both to his fingers and especially his arm where the triceps muscle was burned off.

Given the severity of what he has endured, Jeff appears placidly purposeful. He's working on both himself and his equipment for 2013. The non-wing car is all ready, and the winged car, remarkably not diamonded by the crash, is in Ohio being repaired.

"It is what it is," Jeff reflects. "I've told Linda I'll run a few lesser shows next spring getting ready. I know I can do it."

What is "it"? He intends to win the Little 500.


.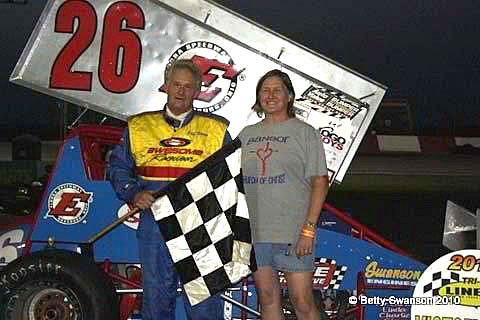 Jeff and Linda in Victory Circle at Angola, Indiana in 2010.
(Bloom Collection)
© 2012 Lew Boyd, Coastal 181

If you were interested in this Tearoff, you might enjoy the books below:
LONE WOLF

by Doug Wolfgang
with Dave Argabright

Win It or Wear It



by Joyce Standridge

Big Car Thunder - Sprint Cars on America's Fair Circuits, Vol. l



By Bob Mays

Big Car Thunder - More Sprint Cars
on America's Fair Circuits, Vol. ll



By Bob Mays