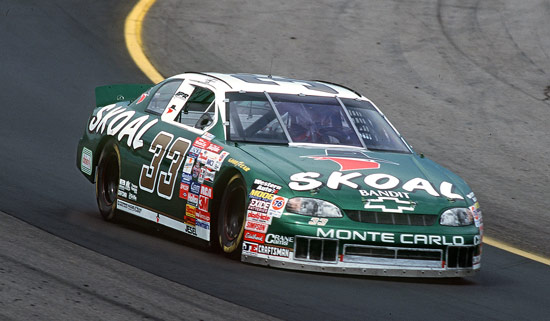 Kenny Schrader in Andy Petree's Skoal Bandit Monte Carlo.
(Gotta Race! Mike Adaskaveg Photo)
---
10/12/12

KENNY DOES DAYTONA
Of all the books Coastal 181 has produced, the most widely read is still GOTTA RACE! by Ken Schrader and Joyce Standridge, published in 2006. That's probably because Kenny Schrader may well be America's image of what a race driver should be: the guy next door and everyone's buddy, smart, considerate, articulate, funny, equally fast at his fifth-mile track in Macon, Illinois, as at Talladega, and tough as nails.

Take a minute and just consider the history, passion, and personality he weaves into this description of that remarkable Speed Week 15 years ago:
During the time I drove for Andy [Petree], we seemed to be kind of snake-bitten at Daytona, which is odd because it always has been a really good track for me. Slap a restrictor plate on one of those suckers, even up the horsepower, and I'll make a race out of it. Like a Saturday night shootout at a short track, but at 175 miles an hour, so when you wreck it hurts a lot more.

Obviously, it makes a lot of sense to get up front because most of the wrecks happen back in the pack. Proof of this theory came during 1998 Twin 125s. We had qualified well so we were locked into the running of the 500 on Sunday. During the race, we pitted late and we were running at the back of the pack but decided that since we weren't running real well, we needed to take care of the car and think about Sunday. A starting spot in a 500-mile race isn't always critical, so we thought we'd go conservative in our approach this time.

Of course, we wrecked.

Big time.

Broke my sternum.

I'm over at the Halifax Hospital with Andy, Ann, Patty [Petree] and Heidi Stoddard, who was our PR person…I was laying there and I asked where we'd qualified.

Qualifying had been several days earlier. They looked at each other, but answered me anyway.

"So, how did we wreck so far back in the 125?" I asked.

Again they were patient and explained the late pit stop, and so on.

Thirty seconds later I asked, "Where did we qualify?"

Rung my bell pretty good, I guess. They're all used to me being goofy, but I think they really were worried about how bad I was hurt when I started asking the same questions over and over.

And, man, I was hurt. I've been injured in race cars before. Broken shoulder blade, collarbones and such, but the difference when you break your sternums is that you can raise your arms.

You just don't want to.

And you don't want to breathe.

The Twin 125s traditionally are run on Thursday. On Friday I didn't even get in the race car because I hurt too much. Morgan Shepherd shook down the back-up car for us that day, and then on Saturday I got in it for the final test session. The shocks we were running on the car at that time had so much rebound in them that they pulled the cars down aerodynamically and it was almost like they didn't have a suspension. I mean, you could run over seagull shit on the back straightaway and feel it.

We ran decently but when I got back to the pits, I told Andy, "Hey, this thing doesn't feel like it did.

What did you do to it?"

"Well, I changed the rear shocks. The other ones would beat you apart."

"Yeah, but it's a lot faster with them on."

"But I don't know if you can make it with them on."

"Well, I ain't gonna feel good regardless, so let's put them back on."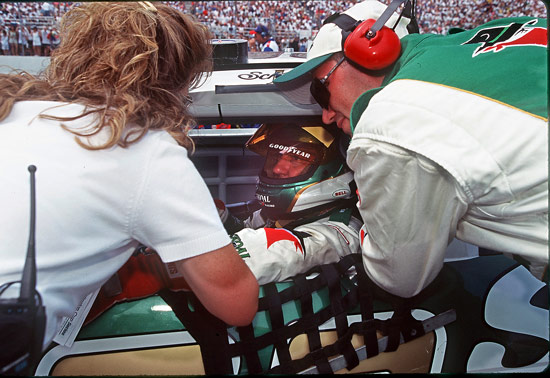 Kenny confers with PR person Heidi Stoddard and Wally Rogers prior to the start. (Gotta Race! Mike Adaskaveg Photo)

We did….

Now, because of the 125 wreck, I had to start at the back of the 500 on Sunday. For some reason, maybe the Big Guy felt sorry for us, I was able to find holes all day and run in them about two thirds of the way back in the pack. I felt safe and didn't need the relief driver who was standing by. I definitely didn't want to be in the Big One…Shoot, I didn't even want to see the Big One.

About fifty laps to go, I realized that everything was cool.

Okay, we need to go to work.

And so, we headed to the front….

Coming down toward the end there was a pack that included Dale (Sr.), Bobby Labonte, Jeremy Mayfield, Rusty Wallace, and me…

Dale was in the lead, but there was no way he was going to be able to block all of us. Maybe two of us, but we were all fast enough – and hungry enough – that we didn't care about a storybook ending for Dale. We all had our own stories to write.

So much for strategy.

On the 199th lap of 200, coming for the white flag, we also saw the yellow flag. John Andretti, Jimmy Spencer, and Lake Speed had tangled and brought out the caution.

The field froze as soon as we crossed that line with that yellow flag.

We all know what that meant…When we knew that Dale had achieved the prize that he wanted so badly, we all quit thinking about our own situation and got really happy for him….

Andy Petree was one of the first people among the hundreds lined up on pit road to high-five Dale. I would have been one of the first drivers to congratulate him, but, damn, I couldn't get out of the car!… We did have a chance to talk later, though, when I could stop gritting my teeth with pain.

And, as this is written, the rest of us in that lead pack have yet to win the Daytona 500, so maybe you have some sense of how hard we were all willing to race. You only get so many opportunities. But, when one passes you by, you can't help being happy to see a friend have his moment in the sun.

And on that February day in 1998, we got fourth place: That meant Mr. Petree was a happy camper.

I had to have help getting out of the race car: That meant I wanted to cry. But I couldn't catch my breath to sob.


.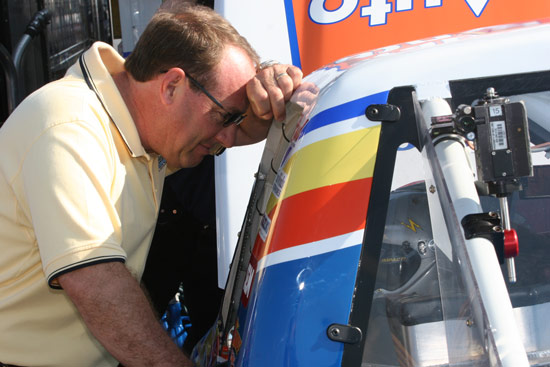 (Gotta Race! Jim Compton Photo)
© 2012 Lew Boyd, Coastal 181

If you were interested in this Tearoff, you might enjoy the books below: