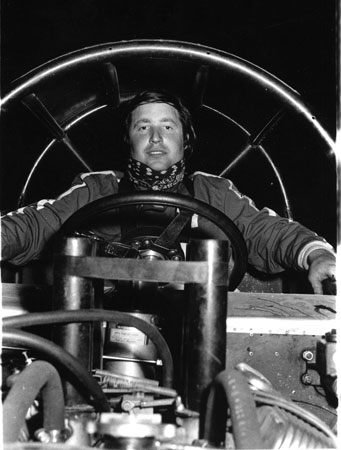 Jeff Horn in a super, early seventies.
(Dick Berggren Photo)
---
10/29/12

HORN ATTACK
Two weeks ago at the annual World Series at Thompson (CT) Speedway, Steve Grant threw the green to a feisty field of NEMA midgets before a bulging grandstand. It was one colorfully sunbathed sight, but also a pretty scary one. Some will tell you the flyweight rocket ships are simply too fast for the daunting high-banked 5/8.

One jockey, Jeff Horn, was particularly notable for his balance of patience and aggression as he motored up through. What memories that conjured up for me, watching him fly down that runway of a backstretch.

In the late sixties, a loose-fit group of us, long on hair and short on experience, got into dirt modifieds and commandeered an old garage in Framingham, Mass. In no time a tough but gentle and ever-smiling guy was at the door, signing on to help however he could. Jeff Horn was our age, but far more mature and knowledgeable. He was just back from 'Nam, had just married the uncommonly beautiful Carmen Rock, and he sure could get around Norwood Arena in a late model. You can bet all of us were also impressed with the way he drove Ray Kelly's midget, the last ride in the Northeast with no roll cage.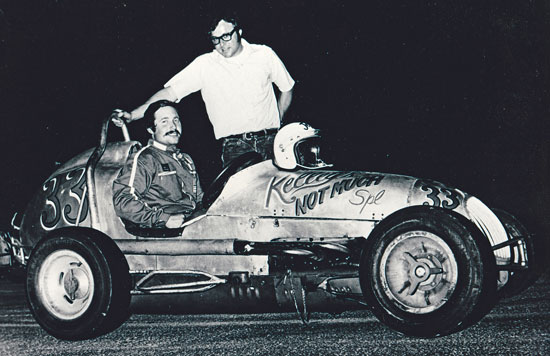 Wingless and cageless.
(Jeff Horn Collection)

What we didn't know then was how deeply Jeff's racing threads were woven. His great-grandfather, Norbert Horn, raced the Vanderbilt Cup shows a hundred years ago; his grandfather raced early open wheelers. Jeff's own first rides were in Carmen's dad's car. Clarence "Cornfield" Rock was a great dirt track wheelman in the North Country and Canada back in the day.

In the seventies Jeff moved into NESMRA supermodifieds, usually his own, constantly flexing his muscles, especially aboard Timmy T's #77.

Carmen and smiling Jeff and their race-obsessed son Mike also had a decade of successful seasons with Bay Hays and his #47 midget. Jeff replaced legendary Armond Holley in the ride. They were simply outrageously fast, winning virtually everywhere.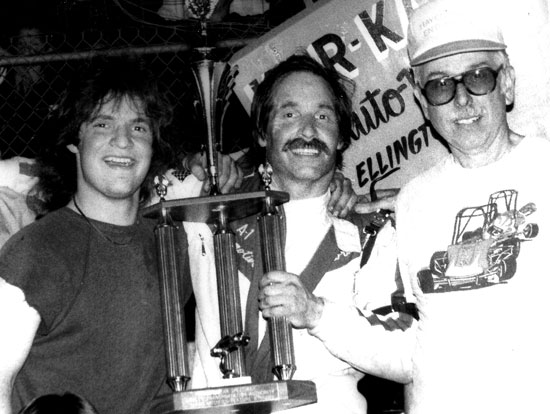 Jeff and Mike Horn celebrate with Bay Hayes (right)
following a midget win at Star Speedway
(John Daalt Collection)
In recent years it has been more midget – and the occasional super – racing, along with some runs in sprinters. With a teenager's delight, Jeff discovered dirt.

The only serious misadventure along the way was a thunderous trip into the pit wall at Monadnock, all four wheels of his midget still off the ground. It knocked him silly.

So, how neat that Jeff, mostly doing it all by himself with his own wallet, got a strong third at Thompson. He had a real shot at the win. But what was really cool was that Mike, who has two NEMA wins this year, was right behind him in fourth.

At age 67, with almost 50 years behind the wheel, Jeff may well have been the oldest driver of the 337 signed into the World Series this year. But, popular as he is, no one seems to be blowing the horn about Horn. That's when I decided to do this TEAROFF. Little did I know about the action to follow.

Last week the midgets towed into Lee, NH, for their season-ending Octoberfest. Jeff looked fast and so did Mike. Mike started on the inside row a bit further toward the front and, as he approached turn one, there was a scramble. He got up on two wheels and headed up the bank, into and over other cars. Mike hit the wall with explosive impact, while Jeff was caught up in the crunchy gathering behind. It looked like a war zone.

Jeff jumped out of his car immediately and ran over to see about Mike whose car was splattered, upside down. "As soon as I got near him, I knew he might be banged up but he was basically okay. He was swearing up a storm," says Jeff.

Eventually Mike was whisked off to the hospital with a broken collarbone, arm injuries, and all the normal bangs and bruises. Jeff, meanwhile, oversaw the complicated extraction of his own car from the tangle. When he got back to his pit, however, there was a commotion. Carmen had witnessed the whole deal and fainted. When the ambulance got to her, she was coming to, but with major chest pains. A heart attack.

So, with the two family cars wrecked and his wife and his son both on the way to the emergency room, Jeff took off after them, Thompson fresh in his mind, muttering "from the White House to the Out House!"

Everyone is back home now. Carmen's event was mild and will be manageable, and Mike is fine, if still swearing. And they're all talking about opening day, 2013.

As you can imagine, after all these years, Carmen's attitude is quite philosophical. "Jeff and I have talked about it seriously, and he's finally decided when he is going to quit. The day of his 80th birthday. But, of course, I don't believe him for a minute."

Nor do I.
.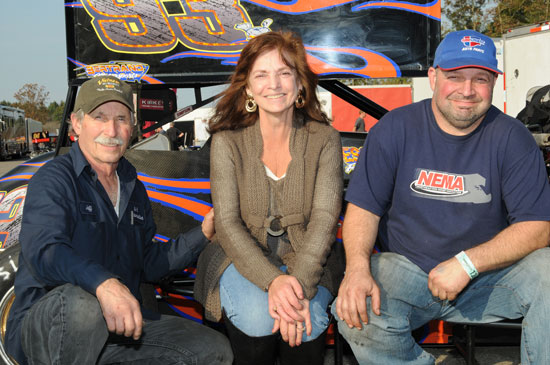 Jeff, Carmen, and Mike
(Dick Berggren Photo
)
© 2012 Lew Boyd, Coastal 181

If you were interested in this Tearoff, you might enjoy the books below: