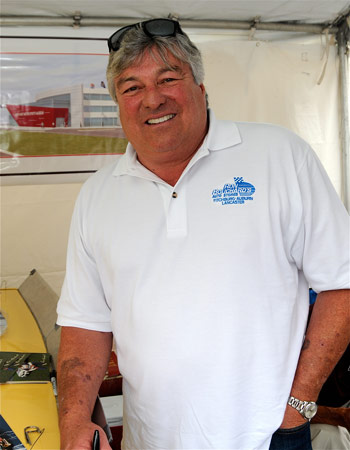 Ronnie Bouchard – Master Winston Cup Performer
and auto dealership magnate. (Dick Berggren Photo)
---
9/25/12

FAST FITCHBURGERS
On Saturday, September 15, popular Fitchburg, Mass., resident and New England Auto Racing Hall of Famer Ron Bouchard held a cookout for the racing community at his pristine new auto dealership in nearby Lancaster. It was a warm, friendly event with lively discourse about our sport, past and present.

One of the most curious threads of discussion was about Ron's hometown itself. That moon over Fitchburg, a small city an hour west of Boston, must be a rare one – the one that shines on those special places that grow great race car drivers.

The roster of Fast Fitchburgers goes on and on, with no sign of slowing. There are the Bouchard Brothers, Ron and Kenny, both Winston Cup stars; Ray Hill; Reino "the Flying Finn" Tulonen; top-flight midgeteer Ray Burke; Frank Michaelson; Pete Fiandaca; Tinker Progin; Al Becker; and Jean Michaud, just to name a few. Each towed back to Fitchburg a trove of tales from wheelin' down the exhaust circuit.

Ron Bouchard himself was a natural, born in the right setting – a championship racing family. He won his very first outing at age 14 in Brookline, New Hampshire. By the end of the seventies, he had notched north of 200 modified victories. He ran for luminaries such as Marvin Rifchen, Lenny Boehler, and Bob Johnson.

In 1981 he became one of the very first Northerners to campaign seriously in Winston Cup, running 160 events. In just his 11th appearance, he snatched the Talladega 500.

Ron wears one big ol' grin when he tells about the 1986 Daytona 500 aboard Mike Curb's Valvoline hunchback Pontiac. "We still had a ways to go and a pit stop but we were running strong – about fifth. I radioed in to Mike Beam that the throttle was stuck wide open. He said to bring it in, but I said no way. He asked how in the hell were we going to pit. I told him I'd come in, shut it down, jam on the brakes. Then I'd put it in gear, they'd push me a little, I'd snap it on, and then speed shift through the gears. We did it and got a good finish, but Mike was just shaking his head!"

Talk about on the gas. Can you imagine what the other drivers were thinking about that Valvoline car? It must have looked pretty jumpy with Ron switching it on and off in restarts. And good thing that was before pit road speeding penalties!

And then there's Fitchburg's own "Travelin' Man," Pete Fiandaca. He was in bombers in the '60s, modifieds in the '70s, and late models in the '80s, '90s, and 21st century. Is it possible that anyone in the Northeast has done more racing – from Canada to New Smyrna – than this understated, industrial variety Hall of Famer?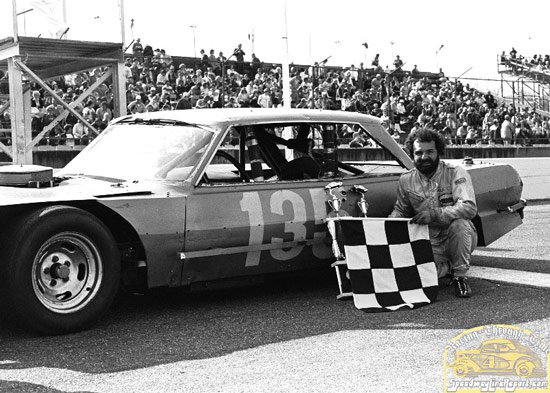 Fitchburg's Pete Fiandaca, likely one of the East Coast's most traveled short trackers ever. (Howie Hodge Photo, Dave Dykes Collection)


One time in the fall of 1974 Peter heard about a show in Fort Dix, New Jersey. He recalls, "I'd never been there, but all the names were in the pits. I won the heat and started behind Frankie Schneider. I was nervous – all wound up – and I got to hammering his bumper. He motioned me to back off and I did. Then, a few laps later when took the lead, he waved me by. It was something. He just wanted to get a good finish. And he did. Third, behind Gil Hearne.

"When I won, Gil came over and said, 'I've never seen anyone so fast in the middle of the turns since Ed Flemke was here, but I've seen much better tires in my junk pile than those on your car.' I thought, 'Geez, they were like that when I got here.'

"We got to be buddies. He invited me to his house and gave Stevie Bird and me enough used tires to run a couple of weeks. Gil also had a whole bunch of used and broken parts piled up. I asked him about that. He said he was going to return all that to his sponsor, so his sponsor would know he used everything and was honest and had not sold anything. I learned that lesson from him and have always tried to do that since. So, you could say that Gil helped me that day and for the rest of my life."

Down the street is Jean Michaud who arrived in Fitchburg with a bit of Quebecois in his voice. He started racing up there at the turn of the sixties, winning every race but one with a flathead-powered square top his first year. Two years later he was sportsman track champ at Granby.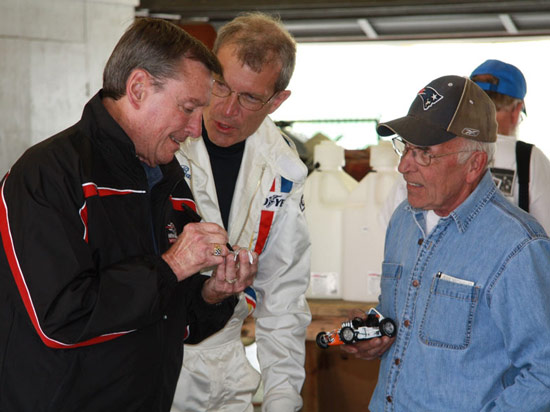 Johnny Rutherford (L) signs a hood for nationally acknowledged Offy expert
Jean Michaud. (Ken Paulsen Photo)
One of Jean's most passionate memories involves Monroe County Fairgrounds, the wide and majestic half miler near Rochester, New York, a mandatory Friday night stop in the heyday of the NASCAR sportsman division. In one of the track's final races, Jean recalls driving for the famed owner Germain Chouinard and outrunning Dutch Hoag and the rest of a full, throaty field. He led for 170 laps and began "counting them down" for what would have been his biggest win ever. That's when one of the rear end housings broke. Still today, 50 years later, he wears the disappointment on his sleeve.

When Jean came to Fitchburg, he jumped into asphalt modifieds. And he sure had a way with a welder. He built cars that won for many teams – for the likes of Bobby Smith and George Summers at the Oxford, Maine, opens and Fred Doolittle at Martinsville.

After a fling with Busch North, genial Jean hung up his goggles in the 1990s, but his notoriety only grew. He soon purchased the Offy equipment owned by retiring Johnny Pawl out in Indiana and has become known in vintage circles nationwide for his exquisite workmanship in rebuilding racing's most sonorous engines.

Who wouldn't have wanted to grow up in Fitchburg?

© 2012 Lew Boyd, Coastal 181

If you were interested in this Tearoff, you might enjoy the books below: