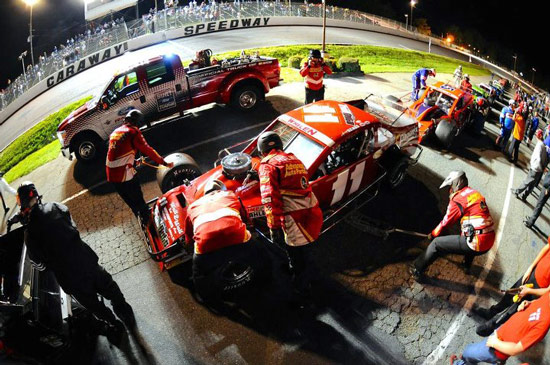 Andy drops in for service in the Ideal Racing modified at Caraway this last April. (Seuss Family Collection)
---
8/2/12

ANDY DOES DIXIE
No question that Andy Seuss can wheel a modified. The fresh-faced kid from New Hampshire has been a warhead missile since jumping into a TVRMS car eight years ago at age 17. He's won everywhere – Oxford, ME; Monadnock, NH; Thompson, CT; South Boston and Langley, VA; Caraway, NC; New Smyrna, FL, etc., etc. And now he is about to go on this little trip with his girlfriend, Jennifer DeMarco. They'll do the Southern Modified Tour race at Winston-Salem on Aug. 5, the modified show at Bristol on August 19, and then head to their new home in North Carolina. They're goin' racin'. No return tickets.

In fact, there's no big money and no assurance whatsoever behind them. You have to think about when the last time would be that anyone has done this successfully – maybe Mike McLaughlin or Jeff Fuller. That was 20 odd years ago.

We had to talk with Andy about all this:

Coastal: Are you crazy?

Andy: Yup. It scares the crap out of me. Talk about leaving the nest! I'm leaving my family and my job at our little family boat business. I could screw the whole thing up!

Coastal: And what of Jennifer? She must be nuts, too.

Andy: Not. We're similar but opposite. We both have mechanical engineering backgrounds, but she's a calculating person. Obviously, I'm not. She just graduated from Wentworth Institute of Technology in Boston and she's already found a job down south at Schneider Electric, just five minutes from where we'll be living.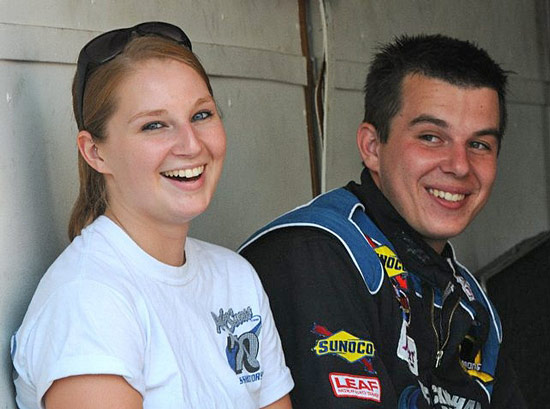 Jenn and Andy will be joined in North Carolina by Andy's sister Michelle. who will attend the Paul Mitchell hair styling school. (Seuss Family Collection)

Coastal: Did you get a degree?

Andy: Nope. I was working on it, but the economy went bad and racing went good. We were coming home from the races one night and I was working on a school project on my laptop. It quit. I had to do it all on paper and hand it in. The teacher really questioned me about that. I told him he was right to do that – that I really should be giving my fullest attention to what I was doing. He was quite surprised when I told him I was quitting school so I could give more focus to racing.

Coastal: So, Andy, you must be pretty talented, because you sure came up the ladder pretty quickly.

Andy: I wish that was so, but it isn't. Fact is, I flubbed around in karts for four years before winning anything. I was no Joey Logano. Then my parents were able to scrape enough money together to get me a new kart for Christmas and a new motor for my birthday – with an ultimatum. If I didn't win by the end of the year, I would be on my own. We won three championships that year. They joke about it now, saying maybe they should have given me the ultimatum earlier.

Coastal: You have won a lot in the modifieds. Was there a personal breakthrough moment there?

Andy: Yeah. After I broke our car on the wall at New Smyrna in the 2007 Speedweeks. We were so broke in every way. We cobbled together a jig ourselves and cut off the front clip. Then we cut the clip apart, straightened the pieces, re-welded it, and put it back on. We changed nothing else but the gears and headed to Nashville. Before the race, Bobby Hutchins said that whoever wins would need to have all three bases covered – car, driver, and motor. We won with our wrinkled car and peashooter motor. I was proud.

Coastal: Was that the moment you started connecting with guys from the Southern Modified Tour?

Andy: Yes. After the race Jeff Riggs, Junior Miller's owner, asked me to come by his trailer. I was terrified because I thought I had screwed up somehow. But it led to a ride down south, and everyone up here was very supportive of my making a change.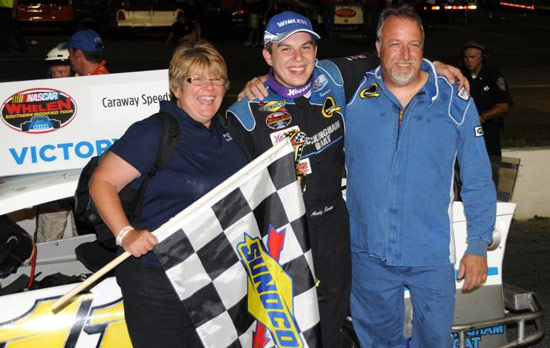 Andy and his parents, Bobbi and Steve, join in the spoils at Caraway.
(Seuss Family Collection)

Coastal: Why do you think you were chosen? What are you best at as a driver?

Andy: When I was growing up at Lee Speedway, I watched guys every week drive too hot, burn up their tires, and fade. I did that once and never will again. It still eats me up. I pride myself about that. Before Myrtle Beach was repaved, I ran well there. On that worn-out surface, I would run up front, driving like my 80-year-old grandmother was in the back seat.

Coastal: What's your weakness?

Andy: The same darn thing. I've been running some SCoNE sprint car shows recently, and those boys threw me for a loop, they are so good. They run just 25 laps, and when the green waves, they are GONE. Maybe I've run too many 150-lappers in the modifieds. I have to learn to get going sooner.

Coastal: How different will it be down there for you in a cultural sense?

Andy: Well, the biggest challenge might be communication. Down there you don't have a pit "cart," you have a "buggy." And you don't "haul" the car to the races, you "carry" it. And, God forbid, you do what I once did and call the car "wicked good." Wicked isn't good at all down there. It's very bad. Everyone kinda stopped in their tracks and looked at me funny.

To be honest, in the beginning I had to have my Dad as translator on the radio between me and the pit guys. But, you know, what I'm even more concerned about? I'm teamed with George Brunnhoelzl in Eddie Harvey's Ideal Racing team, so I'm with those Brunnhoelzls all the time. What if I pick up that Long Island accent!?!

Coastal: So, we've got to ask: What's it like running a modified at Bristol?

Andy: It's a space shuttle launch. You don't lift when you have sticker tires on, and the banks are so high you don't even have to close your eyes when you're scared. You can't see anyway.

Coastal: So why are you making this leap?

Andy: You know in that book you guys did about Dave Dion it talks about how much he missed by not going south. I have missed opportunities being up here in New Hampshire working on boats. It's not enough to be willing to drop everything and drive all night to get down there. I know that what I am doing is a tall order and I don't know anyone else who is trying it. The biggest thing that scares me is the thought of not racing at all. I would like to run for the championship with Ideal Racing and then get in a full-bodied car or a truck. But no start and park stuff. Seriously, I think I am the luckiest guy in the world that I can do this with full support of family and friends. If it turns out that in a few years the racing community has forgotten me completely, so be it. As long as I gave it my best shot.

Coastal: Happy Trails and go get 'em, Kiddo!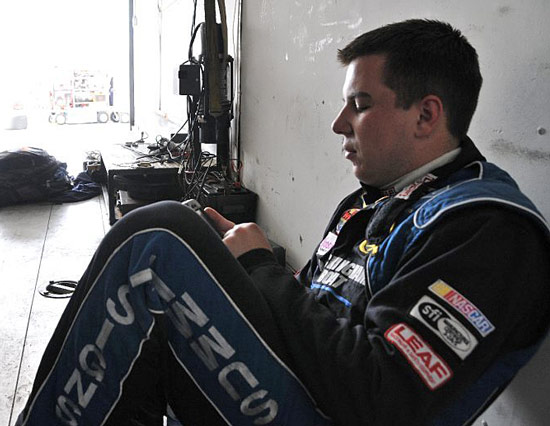 (Seuss Family Collection)



© 2012 Lew Boyd, Coastal 181

If you were interested in this Tearoff, you might enjoy the books below:
Life Wide Open




Dave Dion: No Holds Barred





By Dave Dion with Dave Moody

RICHIE!
The Fast Life and Times of NASCAR's
Greatest Modified Driver

By Bones Bourcier
STEADY EDDIE!
Memories of Ed Flemke
Modified Racing's Fastest Professor

Edited & annotated by
Bones Bourcier

Regularly $23.95


SuperSpecial: $16.95

BUGSY! — The Life and Times
of Bugs Stevens, three-time NASCAR
National Modified Champion

By Bones Bourcier

Regularly $19.95


SuperSpecial: $ 14.95