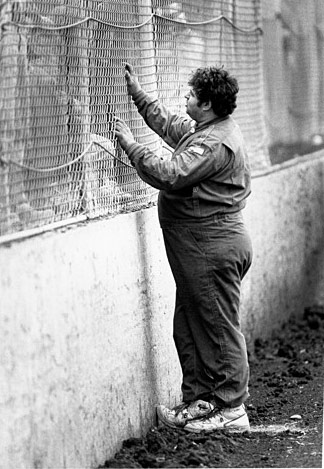 Basic Beef
(Jack Kromer Photo)
---
6/28/12

BEEF
"Beef" was his handle, and it fit him to a T.

If anyone has ever been the definition of raw, rugged, old-school dirt-track racing in the Mid-Atlantic states, that person would be Tommy Hager, the mountain of a man from Pennsylvania's Lehigh Valley.

Back in the seventies, Tommy and I banged bumpers a time or two in those 100-lap qualifying races for Syracuse. He was one tough customer, so it was with a little trepidation that I went down to interview him six years ago for Coastal 181's book on Nazareth Raceway, PAVED TRACK DIRT TRACK. What a day we ended up having – and what stories he had to tell.

Here's a piece from the book:

Tommy Hager is no racing yuppie. He's… the vestige of a time men raced with wits and guts rather than PR managers and checkbooks…. Somehow Tommy managed to make a living racing modifieds for over three decades. Bob Snyder [the photographer/promoter] said "Tommy never took any shit from anyone but he could take a piece of shit and win with it."

There's nothing spit-shined about Beef. There was no glitz, no pretense, no wrapper. One night during a TV show, he jumped out of his car on the parade lap and ran behind a sign. Broadcaster Gary London joked that he must have had to relieve himself. In fact, that's just what he did. John Burnett had just told him that he would lose concentration if he had to pee.

You've got to be strong to swim against the tides for so long. Well over 300 pounds, Beef's shadow was hardly that of a runway model. But his bulk wasn't all fat. When he first got into racing in the sixties, he got in a spat with his brother about a 289 Ford engine. 'Finally he gave up,' said Tommy. 'He said, 'You can have the damn thing if you carry it out of here.' It didn't have a carb on it. I looked at it for a minute, gave the thing a bear hug, and walked right down the street in Easton with it.'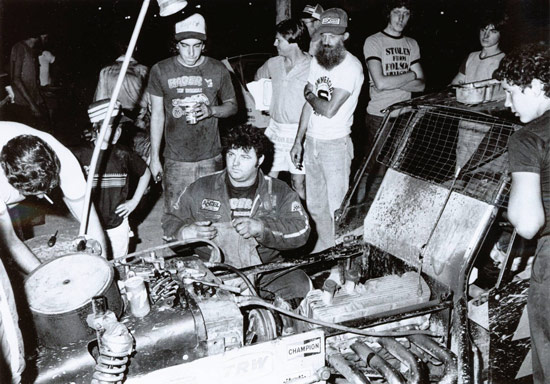 Beef did what he had to do. Note those roller rockers sitting right on
top of the mud-splattered nose cone and radiator.
From Paved Track Dirt Track, by Lew Boyd. (Jack Kromer Photo)

Over the seasons, Tommy became an acknowledged master of his craft – both as a performer and as a technical innovator. He won a couple hundred features and, despite his grainy appearance, attracted a huge and enthusiastic following.

But the years had their ups and downs. Despite all his strength and determination, at one point the fates seemed so completely against him that he decided to pull the plug. His turnaround strength came from a single conversation with a remarkable man everyone called "Double O Joe."

The late Joe Hoff was a beloved farmer from New Jersey paralyzed from the waist down in an agricultural accident. He was an endearing benefactor to Buzzie and Linda Reutimann, and he was there at the right moment for Tommy. He told Tommy that he had the goods, that he should get back to work, and that he should appreciate that he had two legs to get it done.
That late winter day in 2006 when I visited Easton, Tommy was working on his car, but he did not look well. And it turned out that he wasn't.

He soldiered on behind the wheel as long as he could, but his diabetes grew more and more complicated, more and more savage. By 2009 he had lost both legs below the knee. Many people in the racing community rallied round him, and former rival, good guy Tighe Scott, along with close friend Judge Leonard Zito, even donated a handicapped-accessible van.

But, strangely, even then those poignant words of Double O Joe seemed to reverberate in Beef's mind. His cousin, racing journalist Steve Pados, says Tommy put in a major effort to equip his car with hand controls. He was simply determined to race again – with the convenience of two legs, with one, or with none at all.

It was never to happen. Those physical problems were simply overwhelming. Tommy Hager died of a heart attack three weeks ago, on June 7.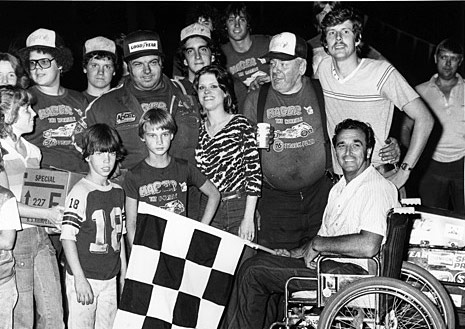 Double O Joe and a throng of fans greet Tommy in victory lane at
Jerry Fried's old half-mile oval in Nazareth, PA.
(Jack Kromer Photo)

© 2012 Lew Boyd, Coastal 181

If you were interested in this Tearoff, you might enjoy the books below:
PAVED TRACK
DIRT TRACK

by Lew Boyd
The Life and Times of the "Kutztown Komet":The Freddy Adam Story

by Paul Weisel Jr.