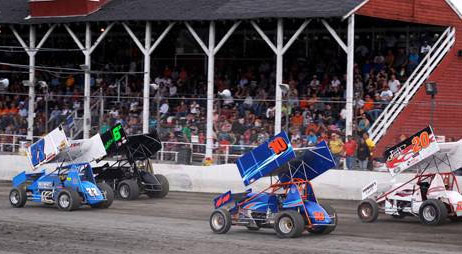 The SCoNE cars at Canaan. (John Dadalt Photo)
---
7/14/12

CHARLIE
From the north or south you have to take the beautiful, but endless, Interstate Route 89. From east or west, you really can't get there.

But what a treat for a couple thousand folk who did make the haul to the tiny, nearly forgotten town of Canaan, New Hampshire, a couple of Tuesdays ago, the night before the Fourth of July. Coming around that bend in Route 118 – right in the middle of logging country and little else – set those funky, old, wooden covered grandstands of the Canaan Fair Dirt Speedway. They were literally packed to the rafters. And the pits were a-roar with 31 center-steer dirt modifieds and 25 SCoNE 360 sprint cars.

Sure, there were fireworks and lots of kids and families to see them, but something else was in the air, too.

"I'm not sure just what happened," emoted promoter Dick Therrien. "Quite honestly, I didn't spend a dime advertising. It was all mailing to every racer I know and word of mouth, but we've never had a crowd like this. It was standing-room only. We even had people sitting watching from the top of the grandstands of our neighboring asphalt track."

There was old-time racing joy in the breeze. Other tracks weren't open, so the fresh-faced kids were intermingled with familiar racing zealots from all over New England and eastern New York. And, when the cars came out, there was that old-time hootin' and hollerin'. With good reason. The racing was fabulous.

The mods queued up for two 20-lap features, the overall winner averaging best in both. Both were scrappy and hotly contested, sparing nary the nerf bar along the way. The victor – but winner of neither – was Adam Pierson, the acknowledged super-stud of the modifieds at Butch Elms' Bear Ridge Speedway in Bradford, Vermont.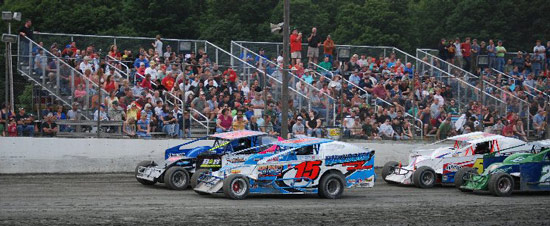 The top mod dog from the area, Adam Pierson, brings 'em down for a restart. (LINMAT Photo)

The sprinters ran a 25-lapper, definitely the most spectacular race many spectators had seen all year. Young Clay Dow and veteran Danny Douville put on a dramatic "Double D" driving demonstration. Both started deep in the pack and chose every conceivable groove to push to the front. Their duel ended about ten feet from the finish. Clay prevailed, and, like Adam Pierson, earned himself a Coastal 181 Cup, as well as a bulked-up purse.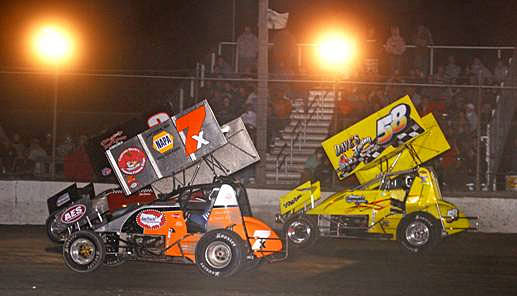 It was this close. Douville leads here in the 7x, but Dow took it in the 58.
(John Dadalt photo)

It was pretty late driving back down I-89 afterwards, but I, for one, was pretty wound up. All I could think was "Where's Charlie?!?"

********

Charlie Elliott is the rightful father of auto racing in northern New England. He's a rugged individualist from another world, another time.

A lifelong lover of fairs and common people's entertainment, there's a carny streak to the guy, affixed to a 90-year passion for race cars.

After doing some roadster racing before the stock-car craze, Charlie, armed with nothing but his hands and certainly no money, began revamping crumbling race tracks and putting on shows. He worked tirelessly, completing Herculean projects virtually by himself, one after another.

First , in the early 1950s, there was Sanford (ME) Speedway, up by the old drag strip. Then there was the Spartan but racy little fairgrounds oval in Dover, New Hampshire.

With a wisp of good luck, Charlie hooked up with Ken Smith and Russ Conway and formed the New England Super Modified Racing Association in 1965. That led to his construction of Star Speedway in Epping, New Hampshire, home of the Supers for decades. It was perfect for Charlie. Supers. No rules.

The NESMRA trio also took on Hudson and Lee Speedways in New Hampshire, both of which Charlie refurbished in major ways. Lee, especially, was enlarged and reconfigured. But Charlie loved that good ole carny stuff. He still joked about the "hoochie-koochie girls," so he left ample acreage for the adjoining nudist camp.

When these facilities had been purchased by others by the '90s, Charlie had done some blue-highways touring further north and came upon the dilapidated fairgrounds in Canaan. It had been the local country fair site forever and more recently had hosted some loosely organized races.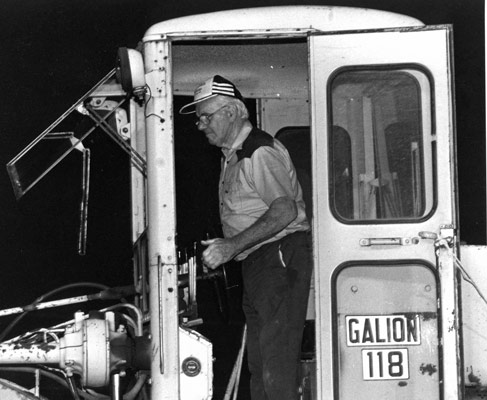 Charlie cuttin' a groove. (Dick Berggren Photo)
Charlie bought it and put that Yankee ingenuity to work once again, first straightening out the sagging but glorious old grandstands, with just chains, binders, and his hands. He built it, and they came. Within a couple of seasons, the pits housed a hundred cars for Friday night wars on the dirt quarter.
It was actually pretty warlike. I remember calling Charlie because I had heard about the track and wanted to go way up there to race, but my car was kind of a weapon. I asked him if it was open comp. I could hear him smile over the phone. "Lew," he said, "We've got two rules up here: The driver has to sit behind the engine and the driver can't be drunk. But this is weekends in northern New Hampshire, so we sometimes have to make exceptions on the second one." I told him I'd be right up.
Charlie also built a beautifully symmetrical banked asphalt oval right next to the dirt track and was inducted in the New England Auto Racing Hall of Fame.. But it was clear that by this time even he was getting a bit weary. A few years back, he sold the whole facility and began wintering in Florida. Quite recently he lost his balance and became wheelchair-bound. He did not come north for this summer.
Today, if you take a peek through the outbuildings at the fairgrounds, you can see the legacy of Charlie Elliott. There's old equipment and engines, some cobbled together for something quite divorced from original purpose. There are horses from merry-go-rounds of many, many summers past and funky old cars built for totally memorable kiddie rides. It's a walk through American history and anthropology.
Ken Smith, Charlie's partner from NESMRA days, says, "That man was just one of a kind. He ran his life chasing big dreams, and most of them came true."
I just hope Charlie will make it up for the Fourth next summer so he will know with all certainty that Canaan is one of them.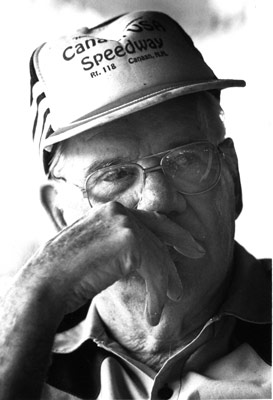 (Dick Berggren Photo)



© 2012 Lew Boyd, Coastal 181

If you were interested in this Tearoff, you might enjoy the books below:
To Beat The Beaver



by William Ladabouche

Thunder Road - Fifty Years of Exceitement

by Justin St. Louis and Dave Moody

Maine Vintage Race Car Association: Tenth Anniversary 2002-2011



Ten Years of Preserving and Reliving Motorsports History in Maine

Hot Cars
Cool Drivers



By Lew Boyd