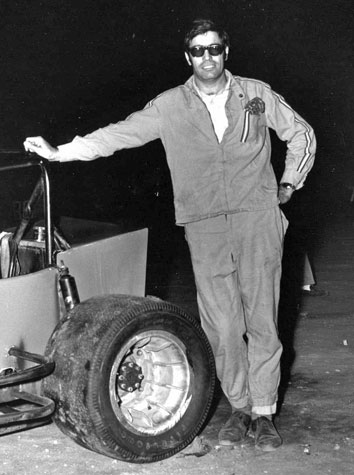 Ollie Silva, one of the most consummately professional and popular New England racers ever, was surprisingly quiet and private. He won an estimated 500 features before an essentially career-ending modified collision in 1978. He died in 2004.
(North East Motorsports Museum Collection, Dick Berggren Photo)
---
12/27/12

OLLIE SILVA – WINNING WITHOUT WORDS
Racing folk sure do like to talk. There is hardly a subject that can't go 200 laps.

When people call about our books, they often want to speak a bit about their favorite
driver and ask where we are located. And the New England driver they asked about most this year was, no contest, the late Ollie Silva.

Back in the fifties, sixties, and seventies, Dynamite Ollie compiled hundreds of features in cut-downs, supers, and modifieds here in the Northeast. And in his day he ventured down distant highways, too. He won stunningly in California, in Florida, and in the Midwest. His buddy, New England Super Modified Association co-founder Russ Conway, tells of the time Ollie dominated a Canadian-American cut-down classic in Toronto with a tiny flathead coupe. The Canadians were so speechless at his performance that they started to throw money at the car. They bought it piece by piece – the engine, the tires, the chassis…. Ollie and owner Andy Cody headed home light in the trailer but heavy in the pocketbook.

Certainly something that added to the fans' decades-long fervor had to do with
appearance. Ollie's visual impression was powerful. He was strongly athletic, clinically handsome and yet calm and slightly mysterious in his omnipresent sunglasses.

And no question this guy was something to behold behind the wheel. It was flat out,
high-drama showmanship. His cars were often marginally funded, and many considered some of them markedly obsolescent, but did he ever make them scream. The left front often reaching for outer space, he would storm off the turn, up on the wheel, torso taut, head stretching his belts forward, arms flapping like a gorilla on Red Bull. This was no picture of smooth; rather he drove with raw, ragged-edge speed, lap after lap. "He didn't ride in the car," says Dick Batchelder, another New England Hall of Famer. "He wore it."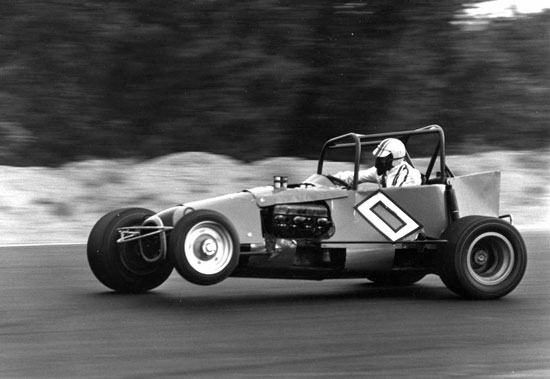 Silva in his most-recognized early super. You can tell that both car and driver were very busy. (North East Motorsports Museum Collection, Dick Berggren Photo)


Ollie made his living by racing a lot, big tracks and small. He was smart and keenly aware that it was the fans who paid his bills. He always tried to connect with the grandstands. Racing historian Wes Pettengill recalls Ollie telling him that he liked to "hear engines right on my shoulders when I win a race." Wes goes on to say, "How many times have we seen a headline like this in an old Speedway News – 'It's Silva by a nose!'"

It was all intentional, and there were very few exceptions of Silva making an egocentric show of it. A famous one came one night in 1974 when Ollie got some strange bee in his helmet. He starred in the most dominating performance in the history of New London, Connecticut's Waterford Speedbowl by whupping the stellar All Star field of the HOT WHEELS 100 by two full laps.

Ollie was spectacular, but he was by no means sociable and or talkative In person, he was quiet to the point of shyness. No Kenny Wallace for sure. Rather than sharing a beer after the races along with tales of his achievements, he would typically slide off in the night for a quiet coffee and his personal peace.

When he returned to racing for a short spell following a horrific accident at Monadnock (NH) Speedway, people swarmed him in the pits, seeking a glimpse or the chance just to be close to the fabled Quick Silva. Ollie was palpably uncomfortable with the whole thing, remarking to friend Rick Eastman, "I just can't understand what all the fuss is about…."

In the late seventies, an incident kind of summed all this up for me. Ollie was running a pretty funky Gremlin modified at Hudson (NH) Speedway on Sunday nights. I was offered a ride up there, and the first night we were in the heat with Ollie. I got out front early but was almost immediately eerily aware of some presence surrounding me. It was a black one – Silva in that #0. One second he would seem to be on the outside behind me, then on the inside. A second later, he was nowhere to be seen in the mirror. It went on like that for seven or eight laps, and I won.

When I came back into the pits, my crew was jumping up and down. "We just beat Ollie Silva. We're gonna be hot tonight!"

I remember cautioning, "I don't think so. That was Ollie Silva, but that was not the
feature."

Sure am glad I said that. As I climbed out, there was Ollie leaning into the passenger
window of my Pinto. He had heard the whole thing. He looked a me with those penetrating eyes and then he smiled. He took a step or two back and looked over my car. I'm sure he took it all in in that instant – right down to the gas-welded roll cage that used to be conduit – and he walked away.

I don't recall having a conversation with Ollie for the rest of the summer, but I do recall the feeling that we had just become friends.

And nary a word had been spoken.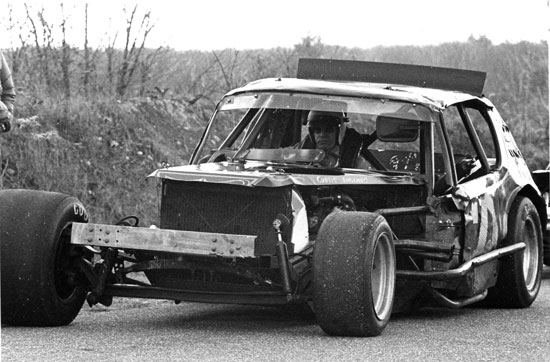 Ollie with his race face on in his Gremlin modified. Note the dated straight front axle and the suicide front end, an approach some of his younger competitors had never even seen before. And note where Ollie positioned himself. I sat in that car once and admired Ollie even more. The seat, no bar, no body panel was straight, even when it was new. It was unimaginable that he could have raced it at all. How could he have had any frame of reference? How could he have known if someone was near his left rear? (North East Motorsports Museum Collection, Dick Berggren Photo)
© 2012 Lew Boyd, Coastal 181

If you were interested in this Tearoff, you might enjoy the books below:


Hot Cars
Cool Drivers

by Lew Boyd


The Pines Speedway:
10th Reunion Program

5

0 Years: Oswego Speedway
International Classic

by George Caruso Jr.,
with Carol D. Haynes