jJOIN OUR
MAILING LIST


for advance notice




of special offers!




(emails are never




shared or sold)

.LINE



Monthly
Racing Commentary
with
LEW BOYD
Email Lew at lewboyd@coastal181.com

PUTT MOSSMAN – CHARACTER FOR THE AGES
(Frank Smith Photo, Jeff Hardifer/George Koyt Collection)
---
3/25/15

PUTT MOSSMAN – CHARACTER FOR THE AGES
Motorsports historian Jeff Hardifer sent in a disk of Frank Smith photos and mentioned some might be useful for Coastal 181 TEAROFFS. He sure got that right.

One of the coolest images is the one above - one that challenges the old country song "it ain't how you look, it's what you got under your hood." This remarkable guy had his prize "over the hood." He was Iowan Putt Mossman, a traveling racer/performer of great renown - along with his comely passenger, Ruby Story.

A colorful theme in American culture in the 1900s involved "the road" and its entertainers, wandering the country in constant motion, village to village. There were old-time medicine shows, carnivals and their side shows, touring rodeos, and auto-racing events on the national fair schedule. The lifestyle was restless and gritty, the pay poor, and the roadies typically frowned upon by locals as soon as the stage lights were out. A telling example, certainly, was the so-called Chitlin' Circuit around Louisiana and neighboring states. Early black blues and rock & roll performers often resorted to sleeping in coffins in funeral homes, as access to hotels and restaurants was so limited in the white South.

But then there was Oren "Putt" Mossman.

Mossman was born on a farm in Eldora, Iowa, in 1906, and by age 18 it was clear the kid was not common clay. He won the horseshoe-pitching "world championship tournament" that summer. It was a very big deal at the time, but his heart was not still.

Two years later he bought a motorcycle and, riding it home, came across two pleasing damsels. Seeking to impress, he stood up on the seat of the bike as he passed by, somewhat awkwardly acknowledging their presence. They, in turn, acknowledged his with applause and smiles, and the light went on. It was a tipping point. Young Oren was determined to make a lot of money and he knew that growing corn was not the answer. He would become a stunt man. He would also soon be married - on the first of at least three occasions.

Ruggedly handsome, it appears there was no challenge that Mossman would not take on and conquer, sooner or later. He became alternately a motorcycle racer, a Midget driver, a champion boxer and wrestler, a movie actor, vaudeville entertainer, and a mid-1920s Boston Braves try-out.

Blindfold stunts became Putt's specialty. One fateful day in Iowa early in his career a crowd gathered by a river to watch Putt jump it - or into it - on his bike. But it wouldn't start. So off he went and, using his grand self-promoting skills, persuaded a surprised bystander named Pee Wee Cullen to lend him some wheels. Cullen tagged along to the jump and continued on to the boxing match hundreds of miles away the next day. He never left - and the two traveled together for decades.

The pace became frenetic for the growing Mossman troupe, appearing virtually nightly at stadiums, fairgrounds, speedways. Mossman's sister or wife might stand on his shoulders as he zoomed around the grounds; or Pee Wee might set off balloons that Putt would shoot from the bike; or Mossman might whiz around the arena perched up on a ladder on the bike. Predictably, sometimes it hurt. Putt broke lots of bones, and he thought nothing of performing while injured. He involved his family fully, as well. One night he blasted up a ramp, missed, and landed his Indian on top of his wife. She faced weeks of sheet time.


-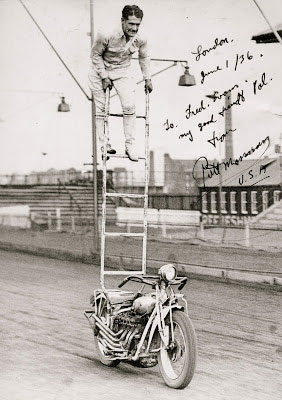 Mossman does his ladder walk in England in 1936.
Note that 4-cylinder Triumph with quite the exhaust system.
(Chris Illman Collection)


Putt's two- and four-wheel runs in oval-track races in California and on the beach at Daytona were crowd-pleasing. He had the stuff to be a marquee competitor, but he couldn't seem to sit still. He will be remembered more on the speedways for his blindfold laps in his Midget, along with Miss Story. It is thought he pulled off the stunt by monitoring his distance from the wall holding a broom stick in his right hand.

Mossman's ambitions were not restricted to his homeland. Remarkably, even in the 1930s he was able to arrange international dates for "Putt Mossman and his American Motorcycle Rodeo Circus and Speedway Aces." In 1935 in Yokohama, Japan, he drew a crowd of 80,000, including family of the emperor. He ended up performing in 45 countries.

Perhaps the most dramatic stop of all, however, came in a most unlikely place - far from California's Ascot or from Yokohama. In a swing through Africa, Putt held up for a few days in Uganda waiting for supplies. He befriended the locals and promised them some excitement before he left. Word leaked out. Throngs of people appeared and were transfixed as Mossman gallantly donned his blindfolding burlap soaked in gasoline, lit it ablaze, and jumped over a waterfall and into a river far below. He left the villagers as their newest deity.

By the 1960s Putt's 40 years of travel wound down. Radio, television, and team sports had largely silenced the call of the road and its generation of itinerant entertainers. Putt never seemed to completely lose his edge, however. For years he continued to hold smaller local performances for charity. One of his final national gigs came on The Tonight Show where he pitched horseshoes - between Johnny's legs.


-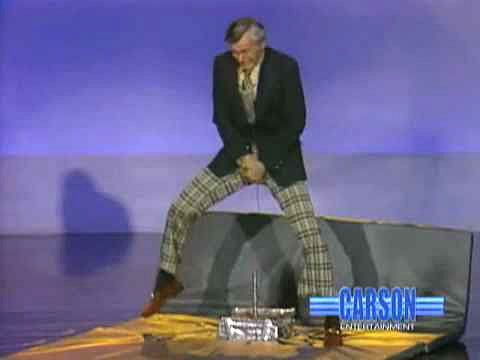 Looks like Johnny Carson trusted Mossman kinda-sorta on
The Tonight Show in 1973. (Carson Entertainment)


No question Oren Mossman had broken the odds to pieces when he passed away at age 88. Not only had he cheated his Maker a million times with his stunts, but those crowds had made him a wealthy man. Unlike the thousands and thousands who worked the road and died broke and unknown, he had amassed an enviable estate with major land holdings in five states.
© 2015 Lew Boyd, Coastal 181
Stop by our Book Store Directory for a look at our book and DVD selections:

.: Previous Tearoffs :.
INDEX BY SUBJECT
OF ALL PREVIOUS TEAROFFS
SINCE THE FIRST ON 7/15/07

3/3/15 - Four Bounces of Bergie

2/15/15 - On Golden Ice

9/3/14 - The Lindsey Flash



8/7/14 - Two Lucky Guys and Their Modifieds

7/7/14 - George and Art's Sweet Sorrow

6/9/14 - The Ring and Its Ringmasters



5/11/14 - Inner Tough



4/17/14 - Being Eddie MacDonald

3/25/14 - Matty D and the Track of Champions

2/25/14 - In the Southlands with Bugsy Stevens

2/10/14 - In the Moment with Jessica Zemken

1/23/14 - On the Plane from Tulsa


© 2007-15 Lew Boyd, Coastal 181