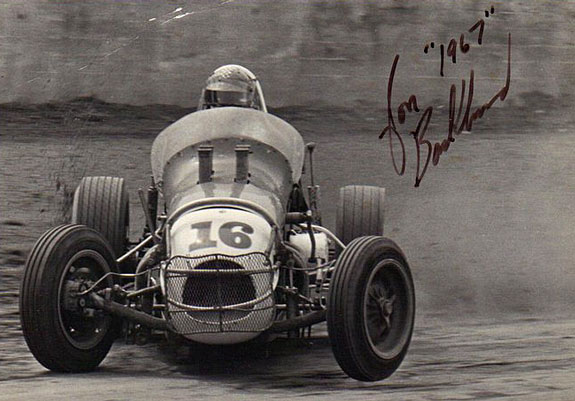 Jon Backlund at Allentown, PA, in 1967 in Bill Hodack's IMCA car. Backlund ran
13 states that year in this car alone. (Backlund Family Collection)
---
1/31/12

Jon's Joy
It's that dark January/February nadir of the year, with the sun swinging as low as the thermometer on the wall.

But It was a bright and cheery gift to see an email from Jon Backlund, who had read the TEAROFF about Daryl Ahrend (11/7/11), one of his car owners along the way. There's nothing like a Jon jolt in your cup. Just mention racing to the Kansas City oval track legend, a Hall of Famer four times over, and he'll fill you with old-time motorized joy. He knows a thing or two about it, as he's had victories in each of the last seven decades.


In 1965, I won my first race at Olympic Stadium in Kansas City. Now that was something. That place was the best school in the world if you wanted to be a race car driver. There were 50, 60 cars each week in the pits. It was a 1/5 mile, fast cars at the back.

When I got in my first open wheel ride, I flipped it four times that year. But, you know, I was willing to drive it hard enough that the guys began to give me rides the next year.

In 1968, Kenny Weld was thinking about Pennsylvania, and Pappy Weld put me in his Supermodified. Man, did I ever get hurt over at Saline County in Marshall, Missouri. When I got to the hospital, I didn't know if I'd fallen out of an airplane or what. When I finally got back to racing, Pappy let Jay Woodside go and put me back in. Damn if I didn't get messed up going into the turn and I almost wrecked it again. Then I realized what had happened, both times. You see I was a little bigger than Kenny, and I was smacking my head on the roll bar when I pitched it. Pappy did widen out the bars for me, but I was spooked by that car by that time. I went on my way. So did the car. It's in the Knoxville Museum these days, back with the narrower cage.

A guy like Ray Lee Goodwin was good – real good. He drove good cars and he was sensitive to that. I got into anything that had four wheels – sort of like Kenny Schrader. I was the designated driver, waiting for someone to get hurt.

I never had the success of a Weld or a Sutcliffe because of some of the cars I drove, but I raced a lot. I always had to find jobs that would let me go off and race. And I quit a couple of real good ones cause they didn't. Heck, I even worked once for Mike Edwards, Carl's dad, as a VW mechanic. He had some truckin' VW race cars himself.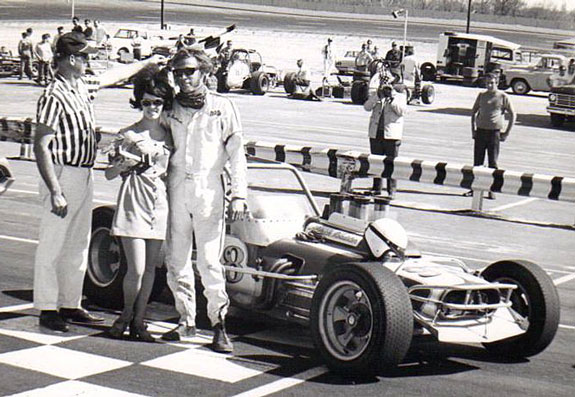 Here's Jon with Charlie Aldrich's asphalt roadster at I-70 in Odessa, MO. He won the track championship, beating out Jan Opperman in Speedy Bill Smith's car. (Backlund Family Collection)
I did win the first night out for 12 different owners. Bob Mays says I drove for 200 different guys. I think it was a lot more. Sometimes I'd drive for three or four guys in one weekend. In fact, I am sure I drove for more owners than are out there right now! But, when I drove for myself, I was awful. I couldn't see cause I was always looking at the gauges.

Silver Crown, modifieds, late models, I drove them all. How I loved it. But I liked the midgets the best – and those Belleville high banks. You wrestle a stock car, drive a sprint car, but a midget you slip on and it becomes a part of your body.

Bill Darnell had a midget that was my favorite. I drove it for ten years. Never wrecked it, never flipped. Just one bent nerf bar. It was a magic midget. I won the first night with it and the last night on the same date ten years later.

Darnell was something. He paid me 40%, 50% for a win. We could just scrape by. He made everything himself. Filled tubing with sand and bent it up right in his garage. I wish we could have run some USAC shows, but he had no interest in buying a fuel bladder. He had a Chevy II, but had a box on front of his open trailer. He kept an Offy in there. One time at Winchester it was 35 degrees out. We blew warming up 'cause we didn't get the engine up to temperature. Bill actually changed engines between warm-ups and qualifying. I pulled out, though. Winchester was the only track that intimidated me.

Gosh, we raced everywhere. Very often three or four nights in a row in different states. Coast to coast. Sometimes we'd have chartered flights. Sometimes things were leaner. Kenny Schrader and I went down to Florida to race one year. We both had rides but not really even enough money for the gas to get down there. We stopped at a motel one night goin' down. It was Kenny, his wife, and me. Kenny slept in the middle.

Back when I was growing up, my dad, my hero, used to take me down to Riverside Stadium in Kansas City. Somehow it captured me immediately. I was horrible at school work, and everyone was saying I would never amount to anything, so I grew up with real low self-esteem. Racing is what saved me. I just had to be a driver. I had to excel at something. I've had a lifelong desire to please people. I found that if I ran well, I pleased the owner and I pleased the fans in the stands. And, when they were pleased, I was, too.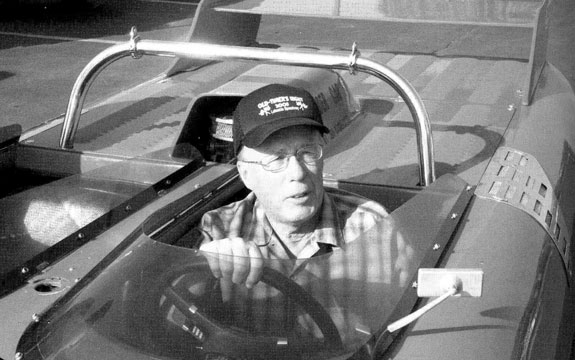 The one thing Jon always wanted to run was a Can Am car. So he built his own look-alike for the street. Everyone is very pleased. Mike Caraway Photo from
UP ON THE WHEEL – Kansas City Auto Racing, by Bud Hunnicutt

© 2012 Lew Boyd, Coastal 181

If you were interested in this Tearoff, you might enjoy the books below: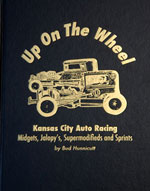 Up On The Wheel: Kansas City Auto Racing – Midgets, Jalopies, Supermodifieds and Sprints
by Bud Hunnicutt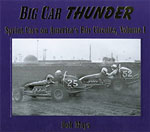 Big Car Thunder - Sprints on America's Fair Circuits, Vol. 1
By Bob Mays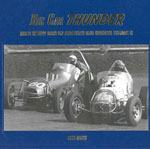 Big Car Thunder - More Sprint Cars
on America's Fair Circuits, Vol. ll
By Bob Mays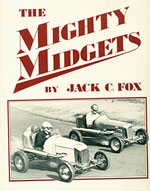 THE MIGHTY MIDGETS
by Jack C. Fox
Back in Print

!